2014 GRIFFINS FOOTBALL
Grossmont College Spring Offensive Line Clinic
© East County Sports.com
EL CAJON (4-10-15) — Grossmont College Football is presenting a Spring Offensive Line Clinic on Saturday (Apr. 25) intended for student-athletes in grades 9 through 12 in the fall of 2015.
The Offensive Line Techniques Camp will be held at the college, 8800 Grossmont College Drive, El Cajon 92020. Check in time is 8 a.m. at the Grossmont College Football Field. The camp runs from 9 a.m. – 1 p.m.
The focus of the camp is to provide young offensive linemen the opportunity to further develop their fundamentals, skills and techniques for offensive line play. High school and youth coaches are more than welcome to attend the techniques camp.
Camp activities will include conditioning drills, running game fundamentals and techniques, passing game fundamentals and techniques.
The fees for Individuals is $25; Group Rate of 5 Linemen is $100; 6 or more $20 per Linemen. Registration will be done the day of the camp during the check in time.
Required equipment will be shorts or sweats and football shoes.
Insurance – Each camper must be covered by a parent's or guardian's medical insurance. Campers may not participate in any activities without this information on file with the Grossmont College coaching staff. Liability release and medical forms will be available online (see below) and upon registration the day of the camp.
For more information and to obtain the camp brochure, registration form and the medical consent and liability forms they can be downloaded from the Grossmont College athletic website: www.grossmont.edu/athletics or contact Camp Director and Griffins Offensive Line coach KEN WILMESHERR at (619) 370-0765 or email him at kwilmesh@cox.net.
In Coach Wilmesherr's eight years at Grossmont College he has developed two JC All-Americans, had two Academic All-Americans, and 13 All Conference linemen. In the last eight years, 28 of his linemen have received scholarships to 4-year universities: 12 D-I, 2 FCS, 10 D-II, and 4 NAIA. Wilmesherr has written a book, soon to be published on offensive line play titled, "Living in the Trenches: Offensive Line Techniques and Fundamentals."
Another Griffin signs
© East County Sports.com
WASHINGTON, D.C. (1-23-15) — Former Grossmont College offensive guard AARON HUTCHINS has signed with the Howard University Bisons of Washington, D.C.
The 6-foot-2, 270 pound lineman from Landstown High in Virginia Beach, VA is a mid-year recruit and is already taking classes at Howard.
Three Griffin offensive football players have signed major college scholarships – all three are mid-year recruits.
The other two Grossmont College linemen are offensive tackle JORDAN FAGAN (University of Illinois – Champaign) and offensive lineman DOM ROLDAN (Georgia State University).
More college recruiting news:
Steele Canyon alum (2010) MATT BRUDER broke the football all-time scoring record at Humboldt State University. He holds the school record at 85-87 in career extra points in 2011, and set a Humboldt State record for extra points in a season with a perfect 44 in 44 attempts.
Grossmont College lands a major spot at Illini
Special to East County Sports.com
CHAMPAIGN, Ill (1-19-15) — The University of Illinois – Champaign landed its third offensive lineman from the junior college ranks on Wednesday (Dec. 10) with a pledge from tackle JORDAN FAGAN of Grossmont College in El Cajon, CA.
Veteran offensive line coach KEN WILMESHERR, master recruiter of the Grossmont College football staff, has turned out another gem. The 6-foot-6, 280 pound Fagan said academics played a large role in his college choice, and he plans to major in engineering.
OT Jordan Fagan signs with the Univeristy of Illinois after only playing one season in El Cajon.
"My biggest thing is that Illinois is the No. 6 engineering school in the country," Fagan said. "It's the best education that I had an opportunity to get."
A full qualifier coming out of Olympian High School in the San Diego area, Fagan will be a mid-year transfer and have four years to play three at Illinois.
Fagan is the sixth offensive lineman to commit to Illinois in the 2015 class, and the third OL from the JUCO ranks. He talked about what the Illini staff saw in him.
"They love my athleticism," Fagan said. "I'm a real athletic guy. I played basketball in high school. They like the technique that I bring to the table. Also my physicality and toughness."
Early playing time is available for Fagan with the Illini graduating tackle Simon Cvijanovich.
"They told me I can come in in January and compete for that starting spot at left tackle," Fagan said. "They said they really need a left tackle right now."
At 280 pounds, Fagan said he would like to bulk up some before the 2015 season kicks off, but he doesn't want to sacrifice any of his foot speed.
"I'm going to get in the weight room and get a lot stronger," he said. "The biggest thing is getting bigger without losing my quickness. If I can get to 295 and be strong and still have my quickness, that's probably as big as I will get."
Offensive line coach Tom Brattan and head coach Tim Beckman were the main coaches recruiting Fagan to Illinois. Fagan was on campus in December in Champaign for his official visit.
"I loved the facilities, and the football team has a family atmosphere," Fagan said. "When I was there on Saturday, I did a tour of the engineering school."
Griffs' OL Dom Roldan commits to GSU
© East County Sports.com
ATLANTA (1-3-15) — Georgia State added its 15th commitment of the 2015 recruiting cycle recently as the second Grossmont College offensive tackle, DOM ROLDAN, made his pledge to Georgia State University.
Massive 6-foot-5, 350-pound Roldan visited GSU in December and committed to assistant coach Luke Huard shortly after. He has the ability to play guard or tackle but says the coaching staff is recruiting him at right tackle.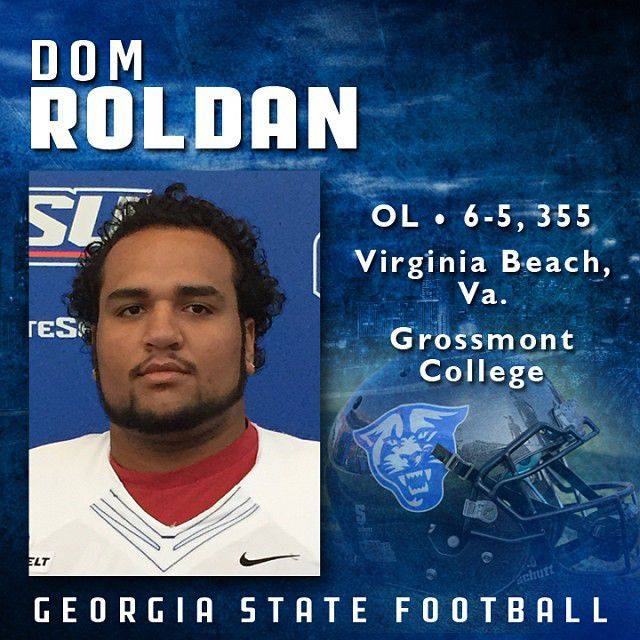 Dom Roldan's bio picture on
Georgia State University's
website.
Former Griffins quarterback Bonner producing wins at CSU-Pueblo
Griffins can see bowl picture after start-to-finish win over Santa Ana

By Bill Dickens
©EastCountySports.com
SANTA ANA (11-9-14) — Grossmont College scored in all four quarters en route to a 30-23 victory over host Santa Ana College Saturday (Nov. 8) in Orange County at Eddie West Field.

Quarterback MICHAEL CARRILLO completed 10 of 23 passes for 723 yards as the Griffins improved their record to 4-5 overall, 2-3 in conference.

THOMAS McDONALD led Grossmont's offensive ground charge with 78 yards and 2 touchdowns on 20 carries.

Grossmont got sure-handed receiving from CHRISTOPHER LACHANCE, who caught 3 passes for 131 yards.

Defensively RYDEN KERR had 8 tackles against the Dons, while JEMEIL JACKSON had 7 tackles and a pass breakup. BEN MOA had 2 sacks and DE'SHAWN TONE, ITAGIA POUMELE, DAVID SOLOMON each had a sack. AIRRIC PARKER registered an interception.

Griffin Graffiti: Ben Moa has accepted a scholarship to Boise State University . . . The Griffins won their first game in school history 14-6 over San Bernardino Valley, but then tripped over Fullerton 22-0 . . . The key to the Grossmont-Fullerton game in 1962 was it was the only televised home game in Grossmont College history . . . The Griffins have also played Saddleback College twice and San Francisco City College in the post-season, also twice . . . In 19734 and 1975 the Griffins split against San Francisco, winning the State Championship in 1975 . . . The Griffs are still eyeballing a .500 finish, which may land them a bowl game this season.
©EastCountySports.com
Pueblo, Colo. (10-29-14) — Former Grossmont College quarterback CHRIS BONNER has led Colorado State University-Pueblo to a 17-2 record in two seasons.
At Grossmont College Bonner thrived as a sophomore, throwing for 2,470 yards and 19 TDs in 10 games. The 6-foot-7, 235-pound signal caller developed into a big league player but didn't attract a lot of major college attention.
"I didn't learn a lot about the quarterback position in high school," Bonner said. "Once I got to JC, I got some coaching, played with better guys, raised my game."
Still, college recruiters weren't beating down his door.
So when Colorado State-Pueblo flew him out, told him there was an opportunity to start, "I jumped at it," Bonner said.
Last season, Bonner threw for 3,413 yards and 33 TDs as the ThunderWolves went 11-1.
The team is 6-1 this season and Bonner is a candidate for the Harlon Hill Award, the Division II version of the Heisman Trophy.
"Pueblo is great," Bonner said. "The community is awesome. The facilities and coaching are great."
CSU's offensive coordinator Daren Wilkinson said of Bonner, "He has a chance to play at the next level, but the NFL tries to find ways not to draft Division II guys.
"We've struggled with injuries at receiver. But we're healthy now, so our last five games will be a huge test for Chris."
The SportsXchange has Bonner ranked No. 1 at the Division II level.
"As a Division II player I'm an underdog, but the NFL is definitely the goal," Bonner said. "I've got to perform down the stretch to help the team. If I perform, maybe I'll get drafted, but at least get to camp with an NFL team.
"Really, it's all pretty exciting."
Griffins' comeback falls short against Hornets

By Bill Dickens
©EastCountySports.com
FULLERTON (10-26-14) — Visiting Grossmont College had Fullerton on the ropes, trailing 33-22 late in the 2nd half in Saturday's (Oct. 27) Southern Conference League game.

But the Griffins could not maintain their momentum and eventually succumbed to the Hornets 40-22.

THOMAS McDONALD scored on a 19-yard rushing touchdown in the 2nd quarter. Down 26-6 the Griffins managed to keep themselves in the game, scoring two consecutive touchdowns on a 1-yard plunge by quarterback MICHAEL CARRILLO and a 5-yard dive by PARIS MILLER.

In the 4th quarter BRANDON DUARTE kicked a 31-yard field goal to add 3 points to the Griffs' score.

It was a physical game in which three kickoff returns went for touchdowns by Fullerton, but one was nullified by penalty.

The Griffins have a bye Saturday (Nov. 1) but will return to action when they travel to Santa Ana on Saturday (Nov. 8) for a 1 p.m. league game.

The next ­– and last – home game for the Griffs will be on Saturday (Nov. 15) when Grossmont hosts OrangeCoast at 1 p.m. at Mashin-Roth Stadium.
Griffins turn over winning leaf to snap losing streak

By Bill Dickens
©EastCountySports.com
EL CAJON (10-19-14) — Grossmont College pulled off its second major victory when the Griffins defeated the Saddleback Gauchos 41-27 on Saturday (Oct. 18) at Mashin-Roth Field.

After tripping up No. 1 ranked Riverside City College, the Griffins were dealt three straight losses but facing the Gauchos, the Griffins rebounded in hopes of gaining a late ticket to the playoffs.

Unfortunately, such luck has not fallen their way. Grossmont needed at least of 6 victories and no losses to keep their playoff hopes alive. The Griffins now rank 3-4 overall, 1-2 in the National Southern Conference.

Freshman quarterback MICHAEL CARRILLO threw a 45-yard scoring strike to THOMAS McDONALD, who followed that up with runs of 23 and 5 yards for the trifecta. McDonald finished with 114 total yards rushing.

Carrillo would also hook up with JEFFERY STEPHENS on a 30-yard pass and with PAUL GOODEN for a 50-yard aerial.

Carrillo completed 21 of 35 passes for 382 yards and 3 touchdowns.

Wide receiver CHRISTOPHER LACHANCE hauled in a 20-yard halfback pass from CHRISTIAN BROOKS.

Defensively the Griffins registered 4 interceptions – 2 by BRANDON PAYNE and one each by AIRRIC PARKER, who also had 5 tackles, and DERRIC MENEELY.

Freshman fullback DAVID SOLOMON recorded 2 sacks, and RYDEN KERR came up with 2 fumble recoveries and a sack. JEFFREY BRANCH led all tacklers with 9, while former Valhalla star De'SHAWN TONE forced a fumble and had a 1 1/2 sacks.
Griffins avoid shutout, but have little for Mounties

By Bill Dickens
©EastCountySports.com
WALNUT (10-9-14) — Visiting Grossmont College could not find the endzone until the 3rd quarter of Saturday's (Oct. 11) non-conference game at Mt. San Antonio College, falling to the Mounties 52-7.

That lone score was a 4-yard run by THOMAS McDONALD. McDonald had a total of 11 rushes for 24 yards and the TD.

The Griffins (2-4) fell behind 38-0 before scoring their first – and only – touchdown.

MICHAEL CARRILLO completed 5 of 11 passes for 60 yards, plus 4 rushes for 25 yards.

PARIS MILLER caught 6 passes for 44 yards, while CHRISTOPHER LACHANCE pulled in 3 passes for 67 yards.
Topsy-turvy Griffins get another big target to shoot for in No. 2 Mounties

By Bill Dickens
©EastCountySports.com
WALNUT (10-9-14) — Grossmont College registered a major victory over No. 1 ranked Riverside City College in the third week of the season. They face No. 2 rated Mt. San Antonio College on Saturday (Oct. 11) on the Mounties' field at 6 p.m.

MICHAEL CARRILLO is the Griffins No. 1 shotgun, having hit 78-172, 1172 yds, and 6 TDs.

Griffins running back THOMAS McDONALD carries the mail for the offense with 57 totes for 354 yards and a touchdown. He has also caught 11 passes for 201 yards and a TD. RYAN WILLIAMS has 38 carries for 152 yards and 2 touchdowns.

Receiver CHRISTIAN BROOKS has hauled in 18 passes for 236 yards and a touchdown, while PARIS MILLER has caught 8 passes for 81 yards and a TD.

Mt. San Antonio is 4-1 overall.

Griffin Graffiti: Grossmont College opened their first season in 1962 with a 14-6 victory against San Bernardino Valley College in Game 1 . . . In Grossmont's second game of that season, the Griffins fell to the Mounties 22-0 . . . The Griffins trail the all-time series with MSAC 3-16.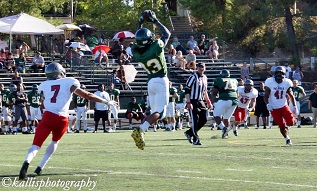 Grossmont freshman Adonis Todd, of Henderson, Nev., goes up for a reception against Palomar on Saturday, Oct. 4, at Mashin-Roth Field.
Griffins fall flat against Comets' approach
By Bill Dickens
©EastCountySports.com
EL CAJON (10-6-14) — After knocking off No. 1 ranked Riverside City College two weeks ago, it looked like it was going to be a banner season for Grossmont College.

But after the fourth round game, the Griffins stalled, losing to visiting Palomar College 41-24 on Saturday (Oct. 4) at Mashin-Roth Field.

Quarterback MICHAEL CARRILLO completed 20 of 34 passes for 307 yards and 2 touchdowns and ran for a third.

Running back THOMAS McDONALD rushed for 108 yards and a touchdown for the Griffins, who fell to 2-3, 0-2.

Fourteen Griffin receivers shared in the passing attack that included touchdown receptions to CHRISTIAN BROOKS, MICHAEL ZAKHAR and McDonald.

Grossmont's biggest problem was they threw 3 interceptions and lost 2 fumbles.

Grossmont trailed 20-0 at halftime, but rallied for 24 second-half points.

Things don't figure to get much better for the Griffins, who will travel to Mt. San Antonio College next Saturday (Oct. 11) for a 1 p.m. encounter.

Grossmont had one serious injury when defensive lineman CHRISTOPHER ERBY was knocked unconscious. After a 25 minute delay Erby was removed by ambulance and taken to Grossmont Sharp Hospital. Later reports indicate that Erby was going to be released within the next day or two.
---
Grossmont suffers from letdown in lopsided loss at Golden West

By Bill Dickens
©EastCountySports.com
COSTA MESA (9-28-14) — The topsy-turvy Grossmont College Griffins are unpredictable, to say the least.

A week ago after knocking off Riverside City College – the No. 1 ranked team in the state at the time – the Griffins were unable to mount a drive in the National Southern Conference against Golden West College on Saturday (Sept. 27) at Orange Coast College's LeBard Stadium.

In fact, the Griffins fell on their collective faces as they succumbed to the Rustlers 41-6. Golden West runs its record to 3-1, 1-0, while Grossmont tumbled to 2-2, 0-1.

Statistically speaking the game would appear to be closer than it was, as the Rustlers lassoed up 399 yards compared to Grossmont's 327. The difference, however, was Grossmont could not find the endzone.

Rustlers quarterback Christopher d'Entremont passed for 4 touchdowns and ran for a fifth to ignite the Golden West offense. Golden West took a 35-0 lead before Grossmont could punch one across the goal line.

Ironically, freshman fullback DAVID SOLOMON from West High in Salt Lake City scored from the 1-yard line for his only carry of the contest.

Grossmont quarterbacks MICHAEL CARRILLO and TOMMY PISTONE completed 22 of 45 passes for a combined 204 yards. The two quarterbacks spread their passes among 11 receivers, led by JAVON HASTEN (4-46).

THOMAS McDONALD spearheaded the Grossmont running game with 55 yards on 10 carries.

---
Griffins Shock State's No. 1 Team in Stunner
Grossmont turns five first-half turnovers into 31 points against Riverside
By Bill Dickens
©EastCountySports.com
EL CAJON (9-21-14) — Grossmont College freshman defensive lineman De'SHAWN TONE was basically bouncing off the wall in the Griffins' locker room after the Griffins registered a stunning 38-28 upset victory over No. 1 state-ranked Riverside City College on Saturday (Sept. 20) at Mashin-Roth Field.

No doubt this victory was Grossmont's biggest since capturing the state championship in 2005.

"I guess we've had bigger victories, but this one has to rank at the top of the list," said Grossmont head coach MIKE JORDAN.

The words "rebuilding" and "young" are routinely dealt by coaches fielding a basically freshman team. This Grossmont unit is the same.

The Griffins proved their youth in a 35-6 loss to Southwestern in the opener, however, the Griffins have rebounded swiftly, topping Pasadena 17-14 the following week and overpowering Riverside in the latest contest.

The Griffins jumped on top of the Riverside Tigers 31-14 in the first half, using a balanced attack to take that advantage as freshman quarterback MICHAEL CARRILLO, a Christian High graduate, completed 16 of 33 passes for 237 yards and 3 touchdowns.

Hard-nosed running back THOMAS McDONALD out of West Palm Beach, Fla. barged for 87 yards rushing on 11 carries and caught 4 passes for 82 yards for 169 total offense yards.

"I would say this is the biggest game I've ever played in," McDonald said. "When you beat the No. 1 team in California, that says a lot. We were fired up and we knew we could do it. I think the bottom line between the two teams was speed – we were more quick than they were."

Jordan credited his offensive line for knocking Riverside back on its heels.

"When you play a team the caliber of Riverside it's pretty intense when you can push them back like we did," he said.

Griffin Graffiti: Scouts have been flocking to the Grossmont College campus, including Iowa State . . . Arizona State appeared a week earlier.

Griffins host state's top-ranked team Riverside on Saturday

By Bill Dickens
©EastCountySports.com
EL CAJON (9-19-14) – One of the most famous duels between No. 1 ranked Riverside City College and Grossmont College took place in 1974. Talk about a cast of characters.

JOE ROTH guided the Griffins' offense to a 9-9 tie at Aztec Bowl in front of a crowd of 5,000, and Riverside countered with 3 field goals by Frank Corral, who wound up playing for the Los Angeles Rams in the NFL.

These two legendary teams will face off on Saturday (Sept. 19) at Mashin-Roth Stadium at 3 p.m.

Riverside (2-0) rolls into town No. 1 ranked in the state and undefeated.

The Griffins (1-1) are a youthful team with only three returning starters. Quarterback MICHAEL CARRILLO, a 5-foot-11 freshman, directs the Griffins' attack. Carrillo has completed 33 of 73 passes for 385 yards and a touchdown.

Running backs THOMAS McDONALD (27-85) and RYAN WILLIAMS (10-78, 1 TD) are the mainstays of the Grossmont ground game.

Quarterback Kelly Hilinski is the triggerman for the Tigers, having completed 24-of-42 yards for 414 yards and 4 touchdowns. Denzel Foster spearheads the ground game with 186 yards on 29 carries and a touchdown.

The Tigers won their first two games, rolling over Bakersfield College 51-3, and then destroyed Saddleback 37-34 in overtime.

Griffin Graffiti: A special screening of "The Joe Roth Story: Don't Quit" will be shown in La Costa on Saturday (Sept. 20) by invitation only. . . Roth, who played quarterback at Granite Hills High and Grossmont College, was a first team JC All-American in 1974. He went on to Cal Berkley where he earned many honors before his career was cut short by cancer. At the time Roth was considered a potential first team NFL pick. . . Grossmont leads the all-time series with the Riverside City College Tigers 7-6-1 but picked up two extra victories due to forfeits. . . Grossmont is ranked No. 20 in Southern California.
Carrillo completed 15 of 25 passes for 176 yards and one touchdown as Grossmont defeated visiting Pasadena City College 17-14 on Saturday (Sept. 13) at Mashin-Roth Field.

"I don't really think about my size," Carrillo said. "I just try to deliver the ball to my receivers."

The Christian High graduate led the Patriots to the San Diego Section Division IV championships a year ago. His first touchdown pass of the season was a 9-yard strike to former Patriots teammate, PARIS MILLER, giving Grossmont a 7-0 lead over the Lancers.

"My ultimate goal is to play Division I football, and I believe with the help of God I'll be able to do that," Carrillo said.

Running back RYAN WILLIAMS, a product of West Hills High, scored on an 8-yard run in the third quarter, giving the Griffins a 14-7 lead. Williams finished with a team-leading 66 yards on 8 carries.

"Our offensive line really took charge this week," Williams noted. "There were a lot of holes and all I had to do was follow my blocks."

After being pummeled by Southwestern 35-6 in the season opener, the Griffins were a completely different team, echoed wide receiver CHRISTIAN BROOKS (Grossmont High).

"I don't know how he does it but Carrillo can really take a hit. If he gets knocked down he just gets up and throws it again," Brooks said.

The Griffins eventually decided the issue on a 34-yard field goal by BRENDON CHITURA with 2:20 to play.

Defensive back MATTHEW MENDIOLA sparked the Griffins with 8 tackles, and BEN MOA notched 2 sacks. MAURICE CARNELL made 7 tackles, one fumble recovery and had an interception nullified by penalty. JEFFREY BRANCH also had a fumble recovery and CHRISTOPHER ERBY registered 2 tackles and a sack.
This game was a blowout as Grossmont did not score until the final two minutes of the contest when JEFFERY STEPHENS scored on a 2-yard plunge.

"We played a pretty sound defensive game," said Southwestern coach ED CARBERRY.

"Grossmont, on the other hand, had only two players returning," Griffins coach MIKE JORDAN said.

The difference between the two teams' experience was obvious.

The Griffins' high point was running back THOMAS McDONALD, a Christian High alum, who bolted for 13 yards on four carries.

Freshman quarterback MICHAEL CARRILLO (also a Christian graduate) clicked on 18 of 25 attempts for 209 yards.

JOHN BARNES caught 4 passes for 60 yards and TONY JOHNSON pulled in 5 for 43 yards for the Griffins.

The Griffins will open their home campaign on Saturday (Sept. 13) when they host the Mt. Pasadena Lancers at 3 p.m.

The Jaguars are coming off a season where they averaged 45 points per game. Grossmont, on the other hand, averaged 44.4 ppg in a different conference, which should make for a high-scoring affair.

Plenty of new faces appear in the alignments. Luis Perez returns at quarterback for Southwestern after having the season cut short two years ago with a broken leg.

The Griffins will look to Christian High graduate MICHAEL CARRILLO to take the snaps. BRANDON KELLER (Goodyear, Ariz.) and TOMMY PISTONE (Yuma, Ariz) will also share the quarterbacking chores.

Grossmont has pretty good size in the trenches, with fullbacks JEFFERY STEPHENS (5-10, 245) and DAVID SOLOMON (6-2, 250), and defensive linemen HUNTER WHARTON (6-3, 245), BEN MOA (6-4, 275), ULALEI TAUSAGA (6-0, 280, Mount Miguel), MICHAEL CHARLES (5-11, 255, West Hills), JAMAL OGEESE (6-0, 260, Steele Canyon), PHILLIP de LEON (6-4, 270) and CHRISTOPHER ERBY (6-3, 310).

On the offense side of the ball are offensive linemen CALEB KINNIKIN (6-3, 295), AARON HUTCHINS (6-2, 270), JORDAN FAGAN (6-5, 270), BRENT WILLIAMS (6-4, 255, West Hills), JOVANN LETULI (6-5, 315), EVAN PUMPHREY (6-3, 310), and CHRISTIAN FESSIA (6-6, 350).