PREP BASEBALL – CIF PLAYOFFS
Mount Miguel's Daniel Ronk fired a no-hitter at top-seeded Castle Park
during second round action of the CIF Division 4 baseball championship.
(Photo by Philip Brents, Chula Vista Star News)
CIF SCOREBOARD
Wed., May 22
Open Division
Rancho Bernardo 2, Rancho Buena Vista 0
Vista 4, Poway 3
Helix 5, at La Costa Canyon 4
Granite Hills 9, Torrey Pines 2
Division 1
Carlsbad 6, Mira Mesa 0
Montgomery 5, Cathedral Catholic 4 (8 inn.)
Valhalla 4, at St. Augustine 1
Grossmont 2, Patrick Henry 0
Division 2
Mission Hills 9, La Jolla Country Day 4
El Camino 4, Hilltop 1 (9 inn.)
Madison 7, Brawley 0
Westview 16, San Marcos 6
Division 3
San Dieguito 3, Christian 1
Escondido 7, Vista-Calvary Christian 1
San Ysidro 4, Serra 1
Canyon Crest 12, Del Norte 10
Division 4
Mount Miguel 3, at Castle Park 0
Mt. Carmel 10, Imperial 2
EC-Southwest 8, Kearny 1
Olympian 6, Orange Glen 0
Ronk rolls in CIF no-hit
triumph over C-Park
By Bill Dickens
© East County Sports.com
CHULA VISTA (5-23-13) — Mount Miguel pitcher DANNY RONK can hardly recall those rocky days when the Matadors began the season with 12 consecutive losses.
As far as the Matadors are concerned those dismal days are in the past. Since then Mount Miguel has posted 13 wins in 18 starts, the biggest of which was a 3-0 no-hitter by Ronk against top-seeded Castle Park (18-11-1) in Wednesday's (May 22) San Diego CIF Division IV first round opener.
Ronk noted he really wasn't focused on the fact that he was pitching a no-hitter.
PREP GIRLS FASTPITCH – CIF PLAYOFFS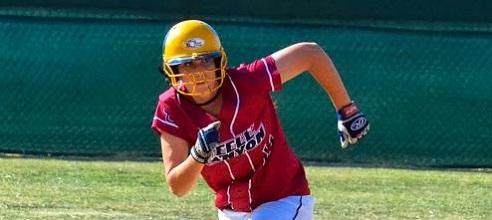 Steele Canyon's Molly Hutchison smashed a tape-measure home run which
landed in the swimming pool at West Hills, shocking the Pack, 4-3, in Thursday's
first-round contest in the CIF San Diego Section Division II championship.
(Photo by Linda Byerline)
Third Round
Tue., May 21
Division 1
Poway 2, Calexico 0 (C.Shaw, P, no-hitter, 9 Ks, 1 BB)
Rancho Buena Vista 7, Otay Ranch 4
Division 2
Scripps Ranch 7, San Marcos 2
Westview 5, Steele Canyon 3
Division 3
Cathedral Cath. 3, Del Norte 2
OLP 3, San Dieguito 1
Division 4
Imperial 3, LJCDS 0
Valley Center 7, Clairemont 2
Division 5
Tri-City Chr. at Santa Fe Chr., no report
Calipatria 5, Mtn. Empire 2
Scripps Ranch again meets Westview
Wolverines eliminate Steele Canyon

© East County Sports.com
SCRIPPS RANCH (5-22-13) — For the fourth time this season, Scripps Ranch and Westview high schools will meet after posting victories in Tuesday's (May 21) San Diego CIF Division II elimination games.
Another Grabowski headed to USD
By Nick Pellegrino
© East County Sports.com
ALCALA PARK (5-23-13) — Christian High sophomore GABY GRABOWSKI, a standout pitcher for the Rowdies U18 club program, became the first Class of '15 softball player from East County to make a college commitment by accepting a scholarship offer from the University of San Diego.
PREP ATHLETES OF THE WEEK
Sponsor needed
Week 11 Baseball/Softball winners... HERE
PREP BASKETBALL
Grossmont High Girls Summer Tourney

El Cap, ECVHS starting new D-4 boys event
PREP FOOTBALL
'Golden Gun' quarterbacks seek to advance
© East County Sports.com
EL CAJON (5-21-13) — Many of California's top prep quarterbacks heading into the 2013 season gathered in Santa Clara on Friday (May 17) seeking recognition and perhaps gain an invite to this year's Elite 11 finals in Beaverton, Ore.
At the conclusion of the nearly four-hour event, which attracted more than 90 quarterbacks, eight of the players were selected to participate in coach Trent Dilfer's two-minute drill, and then seven were handed "Golden Gun" jerseys.
COMMUNITY COLLEGES
WOMEN'S FASTPITCH
Grossmont wins season series from Palomar,
but Comets capture state championship

BASKETBALL
Grossmont College youth basketball camp

Open to boys and girls of all
skill levels entering grades 3-9

THE ALUMNI PAGE
FORMER EAST COUNTY STANDOUTS
COLLEGE WOMEN'S FASTPITCH
Another All-Academic honor for WHHS alum
CSUSM keeps winning NAIA College World Series / Brackets

USD's Coleman snaps another strikeout mark
© East County Sports.com
SANTA CLARA (5-6-13) — On the final day of the regular season, USD junior right-hander CASSIDY COLEMAN became the Toreros' all-time strikeout leader in Sunday's (May 5) 6-0 victory over Santa Clara in game one behind Coleman's one-hit shutout.
SEMIPRO SPORTS
SAN DIEGO SURGE WOMEN'S FOOTBALL
Defending WFA national champions defeat
Las Vegas Showgirls, 32-22 MORE

SAN DIEGO STARS BASEBALL
Stars open season vs. Alaska Goldpanners
IN THE COMMUNITY
NBA's Dudley hosts local hoops camp
Features guest appearances by NBA players

© East County Sports.com
SCRIPPS RANCH (5-22-13) – Phoenix Suns forward JARED DUDLEY will host "Camp of Opportunity," a three-day basketball camp for high school players at Alliant International University from June 17-19.at the Sol City (Hawk) SportsCenter.

Women's fast-pitch leagues forming for former college, high school players

The future in mountain biking

What's Happening in El Cajon (May 22 update)
Get all the local sports headlines and stories you
care about right to your tablet or mobile device...
follow East County Sports on TWITTER!