PREP GIRLS FASTPITCH
Madara, Norsemen, avenge setback
By Nick Pellegrino
East County Sports.com
RANCHO SAN DIEGO (4-19-14) — University City High may be depleted in the pitching ranks, but the ballclub continues to pound the ball.. Entering Friday's (Apr. 18) action, the Centurions had amassed 99 runs in their first 13 games this season (7.6 avg.).
The numbers are impressive, yet meant little to Valhalla senior ASHLEY MADARA, who limited UC to just three basehits in backing the Norsemen to an easy 10-1 non-league triumph.
In 2013, University City took a 7-0 decision. However, with six runs in the 2nd inning, Valhalla was able to turn the tables to register its fourth consecutive victory.
PREP BASEBALL — 64th annual Lions Tournament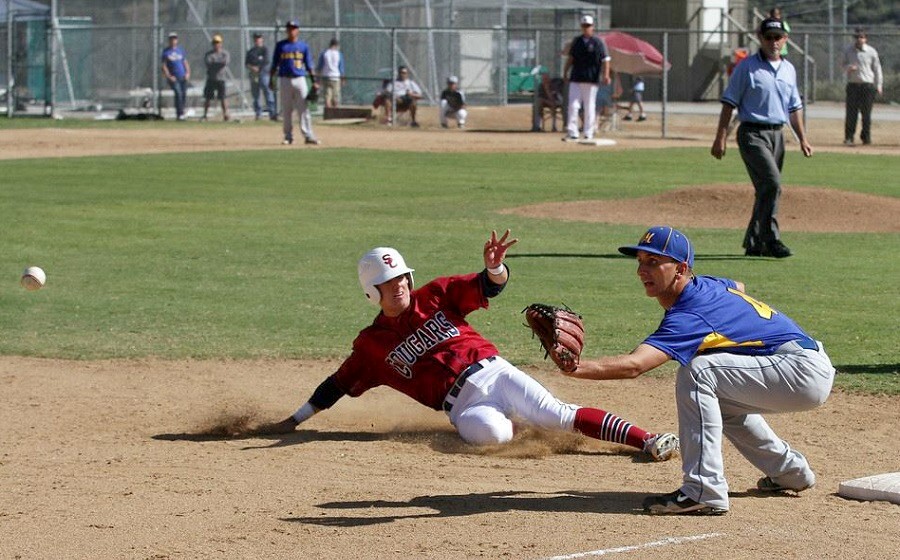 Steele Canyon's Kenneth Bagdasar, who reached base on an error,
races to third base after another Mira Mesa error in a 7-5 triumph.
(Photo by Don DeMars Photography)
ADDITIONAL PHOTOS HERE
Scotties earn Lions' Premier championship
By Bill Dickens
© East County Sports.com
POINT LOMA (4-18-14) — Helix High head coach COLE HOLLAND would be the first to admit that the Highlanders are never going to overpower their opponents with their bats or their pitching.
"We like to think of ourselves as being a scrappy team that takes advantage of the short game," he said.
And that was the case in the Premier Division championship game of the 64th annual Lions Tournament on Thursday (Apr. 17) against Steele Canyon, becoming the only East County team to win a Lions Tournament championship this year.
PREP ATHLETES OF THE WEEK
PREP FOOTBALL
10th annual Christian High coaches clinic
THE ALUMNI PAGE — FORMER EAST COUNTY ATHLETES
COLLEGE FOOTBALL: Havird earns starting berth at Gardner-Webb
© East County Sports.com
BOILING SPRINGS, N.C. (4-13-14) – One player who had arguably the biggest leap this spring at Gardner-Webb University was 6-foot-2, 188-pound redshirt freshman safety SPENCER HAVIRD, who won the starting spot at free safety and fared well in coverage and run support.
COLLEGE BASEBALL: Jenner receives National player of the week laurels

© East County Sports.com
INDIANAPOLIS (4-7-14) — JESSE JENNER, a recent member of the San Diego Stars semipro baseball team, has been named the NCAA National Player of the Week, as selected by Collegiate Baseball.
Jenner, a catcher for the University of San Diego, was also named West Coast Conference player of the week. He prepped at Steele Canyon High.


| | |
| --- | --- |
| Kelsey Townsend | |
COLLEGE WOMEN'S FASTPITCH:
Townsend displaying her stripes for
SWAC leading Jackson State

© East County Sports.com
JACKSON, Miss. (4-1-14) —Former Grossmont College standout KELSEY TOWNSEND is pitching Jackson State University to the top of the Southwestern Athletic Conference (SWAC) standings.

Townsend, a junior, leads the Tigers pitching staff in victories, including two of the team's win in an 8-0 start in conference play to lead Texas Southern by two games.
EAST COUNTY SPORTS.COM
Celebrating 14 YEARS
of Local Sports Coverage
Founded, Feb. 1 2000
INDIVIDUAL/CORPORATE SPONSORS NEEDED
CLICK HERE to donate $10 or $20 Today!

Baseball & Softball Display Advertising Rates
for your company HERE
We need 10 businesses (now 7) for each sport
this spring. Please Help Today!
GROSSMONT COLLEGE
WOMEN'S FASTPITCH:
Mirror, mirror, on the wall,
Griffins finish second once again
© East County Sports.com
MENIFEE (4-19-14) — With mirror-like efficiency, every time Grossmont College scored, so did host Mt. San Jacinto College.
The Griffins scored once in the 2nd, two in the 4th, and another in the 5th. And so did the Eagles.
But when Grossmont tallied five runs in the 8th inning, it proved to be too much as the Griffins officially clinched second place outright in the Pacific Coast Athletic Conference by downing MSJC, 9-4.
It was a school-record, third consecutive extra-inning game – all victories – for the G-House.
It was also the 10th second-place finish for the school over the last 16 season, along with four championships.
BASEBALL: Postseason plans on hold

© East County Sports.com
EL CAJON (4-19-14) — Grossmont College's chances for a postseason playoff berth are fading fast following Friday's (Apr. 18) loss to visiting Mt. San Jacinto, 12-6. The Griffins have slipped into third place at 13-8 in the Pacific Coast Athletic Conference and 21-11 overall.
IN THE COMMUNITY
Doug Harvey's "They Call Me God"
Former MLB umpire coming to Al's for book signing

© East County Sports.com
SANTEE (4-19-14) — DOUG HARVEY, the former Major League Baseball umpire who was enshrined into baseball's Hall of Fame in 2010, will be holding a book-signing for his autobiography, "They Call Me God."
The personal appearance will be held at Al's Sports Shop on Mission Gorge Road on Thurs., Apr. 25, from 4-6 p.m. Copies of Harvey's book will be available to the public; all proceeds will go to charity.
© East County Sports.com
EL CAJON (4-11-14) --- The San Diego Women's Fast-pitch Softball Association will conduct player placement (tryouts) for the 2014 summer season at Grossmont College on April 27 and May 4 (both Sundays), running from 11 a.m. to 1 p.m.
The league partakes in a 10-game season, plus a week of playoffs, with ballgames on Sundays at Grossmont College 's top-flight softball diamond. The association also runs a North County league out of Palomar College.
What's Happening in El Cajon, Apr. 19 update
Yancey memorial scholarship golf, May 18
Holiday Bowl's Hoops at the Beach

El Cajon Parks & Rec for April
SAN DIEGO STARS SEMIPRO BASEBALL
Jenner named NCAA Nat'l. player of the week
Stars to play 'Moneyball' in Vegas
Stars owner/manager Deutschman elected
to National Semipro Baseball Hall of Fame
S.D. SURGE SEMIPRO WOMEN'S FOOTBALL
Get all the local sports headlines and stories you
care about right to your tablet or mobile device...
follow East County Sports on TWITTER!