East County Sportsline
To report scores, highlights, news stories and tips, schedules and announcements,
please call or text
(619) 300-9868
PREP FOOTBALL
WEEK 5
Christian High junior running back Adrian Petty gets around the corner in the Patriots' win over Mission Bay Friday night at Granite Hills High.
(photo by Ruth Mims)
Patriots club Mission Bay to set stage for special season
©EastCountySports.com
EL CAJON (9-28-14) — Christian offensive coordinator DAVID BEEZER labeled Saturday's (Sept. 27) non-league encounter as a pivotal point in the season.

"We figured if we could win this one we'd have a chance to run the table," he said.

Friday's varsity scores
Non-League
Helix 42, Ramona 0
Steele Canyon 38, Otay Ranch 16
Mount Miguel 14, Serra 7
Valhalla 42, Francis Parker 13
Granite Hills 24, Hoover 21
Monte Vista 49, Kearny 7
West Hills 34, Valley Center 20
El Cajon Valley 21, SD-Southwest 6
Point Loma 47, Santana 33
Crawford 41, Foothills Christian 7
Considering the Patriots are playing in the substandard Central League, a clean sweep is definitely in the cards. Christian, which hammered Mission Bay 49-10 this weekend doesn't plan to stumble.

The Patriots played the majority of the second half with a running clock as they built a 42-3 halftime lead. Each team scored a touchdown after intermission.

"Our goal this week was to manage the pressure," Beezer said.

And the Christian offensive line of TY NICHOLS, MATTHEW CARRILLO, NATE CAZARES, JON STINE and LAITHE ISENMANN didn't allow a sack against the Bucs.

"Of course, that's not unusual since we haven't given up a sack in our last several games," Beezer added.

ADRIAN PETTY led the ground assault for Christian, slashing his way for 190 yards and 3 touchdowns on 10 carries. He also scored off a fake punt in the second quarter.

But the Patriots, who are averaging more than 50 points a game, also got a lift from quarterback DAVID TODD JEREMIAH, who completed 10 of 15 for 291 and 3 touchdowns.

"Our line has done such a great job for us because we haven't allowed a sack or an interception over the last 5 games," Beezer noted.

Nine Christian receivers caught passes against the Buccaneers, including CHAD HUMPHRIES, who hauled in 2 scoring passes and BRANDON HESTER, who grabbed a 3rd scoring strike.

Mission Bay did not complete a pass against the Christian defense.
Monte Vista defenders team up to stop a Kearny runner Friday night in the Monarchs' win at Clairemont High.
(EastCountySports.com photo)
Ledesma leads Eagles past Hoover for fifth-straight win

©EastCountySports.com
EL CAJON (9-27-14) — For the first time in more than a decade the Granite Hills Eagles are undefeated with a 5-0 mark at the midway point of the regular season.

The Eagles knocked off the visiting Hoover Cardinals 24-21 in Friday's (Sept. 26) non-league action.

The Cardinals got a couple of big touchdown plays in the first half and were able to slug with the Eagles for nearly four quarters, but senior MICHAEL LEDESMA had the game-deciding score on a 42-yard touchdown run with 7:06 left in game.
JV/Frosh scores
Junior Varsity
Friday, Sept 26
Steele Canyon 13, Otay Ranch 7
Helix 29, Ramona 10
Valhalla 50, Francis Parker 0
Only scores reported
Freshmen
Thursday, Sept. 25
Helix 36, Ramona 22
Valhalla 49, Cathedral Catholic 8
Mount Migyel 53, Serra 12
Granite Hills 34, Mar Vista 16
Point Loma 21, Santana 0
Only scores reported
Monte Vista offense on the attack against host Kearny Friday night at Clairemont High.
(EastCountySports.com photo)
Complete East County season statistical leaders - through week 4 - click here
U-T SAN DIEGO
SPORTSWRITERS/SPORTSCASTERS
PREP FOOTBALL POLL
(through 9-22-14)
TEAM;RECORD;POINTS;LW
(First-place votes in parenthesis)
Points awarded on a 10-9-8-7-6-5-4-3-2-1 basis
1. Oceanside (19)/ 5-0/ 190/ 1
2. Mission Hills/ 4-1/ 159 / 2
3. Cathedral Catholic/ 4-1/ 154 / 3
4. Helix / 3-1/ 137/ 4

5. El Capitan/ 4-0/ 108 / 5

6. San Marcos/ 5-0/ 61/ 8

7. La Costa Canyon/ 4-1/ 60/ 9

7. Eastlake/ 3-2/ 60/ 10
9. Steele Canyon/ 5-0/ 35 /----
10. Ramona/ 4-1/ 33/ 6

Others receiving votes: Granite Hills (14), Sweetwater (12), Christian (9), St, Augustine (4), Point Loma (3), Carlsbad (1).
Week 4
Cal-Hi Sports Southern California
CIF Bowl Rankings

DIVISION I SOUTH
Dropped Out: Previous No. 8 Helix (La Mesa)
Bubble Teams: Helix (La Mesa) 3-1.
DIVISION III SOUTH
2. (2) El Capitan (Lakeside) 4-0
DIVISION IV SOUTH
1. (1) Christian (El Cajon) 4-0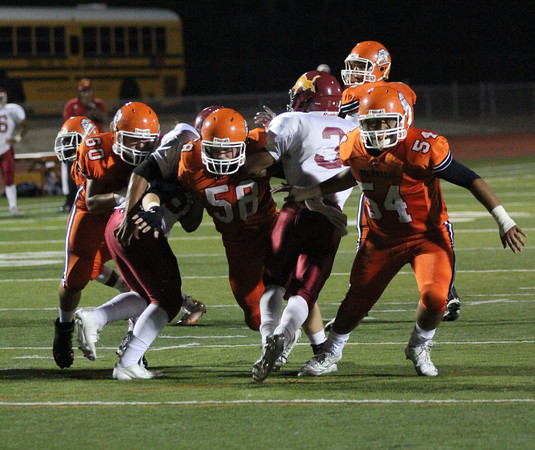 Valhalla linemen Michael Rivera (54) and Tyler Eastlick (58) protect against Monte Vista earlier this season.. (Photo by DonDeMarsPhotography)
PREP BASEBALL

Valhalla's contact-man Houghtby to attend USD; Abruzzo completes move to Grossmont; Havird is new Matadors' skipper
THE ALUMNI PAGE — FORMER EAST COUNTY ATHLETES
El Capitan Alum Signs with Chargers
© EastCountySports.com
SAN DIEGO (9-1-14) — RYAN LINDLEY began his football career as a Lakeside-Santee Pop Warner offensive lineman way back when.
Eventually a record-breaking varsity quarterback at El Capitan under head coach RON BURNER, Lindley was heavily recruited and cast his lot with San Diego State where he was convinced he was a better quarterback by West Hills alum LON SHERIFF, who also called signals for the Aztecs.
Lindley was drafted in 2012 as a sixth round pick as a quarterback by the NFL Arizona Cardinals.
He's come a long way and is now on the edge of earning a back-up quarterback berth with the San Diego Chargers.
Local Pair Contribute in Aztecs Victory
©EastCountySports.com
SAN DIEGO (8-31-14) — Former El Capitan tight end ROBERT CRAIGHEAD, a two-time All-East County performer, caught a 2-yard touchdown pass from quarterback Poe Kyren in San Diego State's 38-7 season opening victory over Northern Arizona University in Saturday's (Aug. 29) non-league contest at Qualcomm Stadium.

Punter JOEL ALESI, a Christian High graduate, averaged 35 yards on three punts in the Aztecs' victory.
PRO BASEBALL: Summer Notebook

COLLEGE WOMEN'S FASTPITCH
Gourley shares National Championship memories
BASKETBALL
Matadors' Branch selects Fresno State over CSUN, UNLV
© EastCountySports.com

SPRING VALLEY (8-25-14) — Mount Miguel senior-to-be guard ZARIA BRANCH has accepted a scholarship to Division I Fresno State, selecting the Bulldogs over Cal State Northridge and UNLV.

The Mountain West Conference school features a student body of 21,500.

The 5-foot-8 Branch captured a fistful of postseason honors, including first team All-EastCountySports.com and first team All-Grossmont Valley League. She was named to the California All State Division 3 second team as selected by MaxPreps.com.

She finished her junior year averaging 13.9 points per game for the Matadors.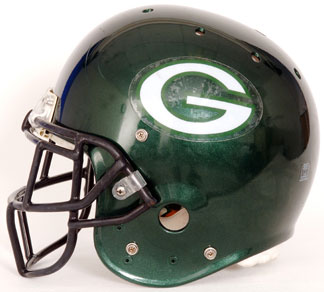 GROSSMONT COLLEGE FOOTBALL
Grossmont suffers from letdown in lopsided loss at Golden West

By Bill Dickens
©EastCountySports.com
COSTA MESA (9-28-14) — The topsy-turvy Grossmont College Griffins are unpredictable, to say the least.

A week ago after knocking off Riverside City College – the No. 1 ranked team in the state at the time – the Griffins were unable to mount a drive in the National Southern Conference against Golden West College on Saturday (Sept. 27) at Orange Coast College's LeBard Stadium. (more ...)

For complete regional coverage, click here for the Southern California Football Association
Grossmont schedule
Date -- Site/Opponent/Time
Sept. 6 – SOUTHWESTERN 35, Grossmont 6
Sept. 13 – GROSSMONT 17, Pasadena 14
Sept. 20 – GROSSMONT 38, Riverside 28
Sept. 27 – GOLDEN WEST 41, Grossmont 6
Oct. 4 – *PALOMAR, 1
Oct. 11 – at Mt.San Antonio, 6
Oct. 18 – *SADDLEBACK, 1
Oct. 25 – *at Fullerton, 6
Nov. 1 – Bye
Nov. 8 – *at Santa Ana, 1
Nov. 15 – *ORANGE COAST, 1

Nov. 22 – Bowl Games – TBA

*National Southern Conference games
BOLD FACE – home games
---
2014 EAST COUNTY
ATHLETES OF THE WEEK
PREP FOOTBALL

Week 5
#2

NATHAN STINSON, Helix

The 5-foot-6, 175-pound junior scored 4 touchdowns (plus one called back by penalty) in the Highlanders' contest with previously undefeated Ramona. Stinson, a fleet-footed running back, led a track meet over the Bulldogs in a battle of Top 10 competitors. Stinson rushed for 218 yards and also scored on a 36-yard pass.

#1

MERITON HASANI, El Cajon Valley

Hasani had 3 touchdown runs to lead the Braves past the visiting San Diego-Southwest Raiders. The 5-foot-11, 175-pound senior quarterback/linebacker
finished with 19 carries for 84 yards and 3 TDs.
---
Week 4 - 9-19-14

ROOSEVELT JOHNSON,
Steele Canyon
The 6-foot, 175-pound senior wide receiver scored on a 45-yard pass to spark the Cougars to a 23-0 lead over West Hills.

RAPHY CARR, West Hills
The 5-foot-7, 152-pound senior DB-WR had an 80-yard catch-and-run touchdown and 2 interceptions before halftime in the Wolf Pack's victory over the La Jolla Vikings.
---
Week 3 - 9-14-14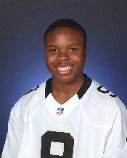 JEROME JOHNSON - Valhalla
The 6-foot, 202-pound sophomore was involved in a triple play against Monte Vista. Johnson rushed for 108 yards and 2 touchdowns in that victory.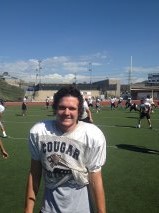 RILEY JONES - Steele Canyon
The 6-foot, 197-pound senior linebacker-running back recorded 2 sacks – one in each half – as the Cougars remain undefeated with a 26-7 victory over the Panthers of Vista.
---
Week 2 — 9-07-14


ZACH LEWIS, Santana

Lewis, a 5-foot-11, 165-pound junior who plays both sides of the ball, has made an impact every time he touches the pigskin. He blocked 2 kicks in the Sultans' 30-0 shutout of the Kearny Komets. He also had his 4th sack in two games for the undefeated Sultans.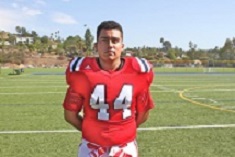 JOEY MORONES, Christian

The versatile 5-foot-10, 220-pound sophomore scored 3 touchdowns and one 2-point conversion in the Patriots' march past West Hills 43-29 in the second week of the season. Morones excels as a running back, tight end and inside linebacker. He finished with 20 points for Christian (2-0).
EAST COUNTY SPORTS.COM
Celebrating Our 15th Year
of Local Sports Coverage
Founded, Feb. 1 2000
SPONSORS NEEDED
CLICK HERE to donate $10 or $20 Today!

Display Advertising Rates for your company HERE
IN THE COMMUNITY
Sockers sign Futsal standout
©EastCountySports.com
SAN DIEGO (9-19-14) — American sports fans may know "futbol" as the international term for soccer, but what about "futsal"?
Futsal - it's Portuguese - is the term in Latin America for indoor soccer (being re-marketed as "arena soccer" in the USA), with Brazil and Argentina finding the most success in the hybrid sport which is sweeping through our continental neighbors to the south.
Among the best players is Argentine attacking midfielder Matias Kruger, who just signed a 1-year contract to join the 14-time champion San Diego Sockers.
"Mati is a name our fans should quickly get to know," said Sockers general manager John Kentera. "He's among the very best players in Argentina, and will be one of the very best in the MASL."
Kruger is expected to join the Sockers in October following his Argentina pro season. He is a member of America Dol Sud, which played in the prestigious Libertadores de America Cup.
He should be available for the Major Arena Soccer League opener on Sat., Nov. 1, when the Sockers host the Las Vegas Legends, a club which shared the Pacific Division crown with San Diego (13-3 each) last season.
"We're tremendously excited to welcome him to the Sockers family," added Kentera, "In our quest for another championship, we will go wherever it takes to find talent. We think we've found a good one in Mati."
Kruger, 22, has been a member of the Argentinean National Futsal Team since he was 16 years old and recently played in front of 58,000 fans (see photo) in a national team match against Brazil. At age 21 Matias was selected to travel with the National Futsal Team to Venezuela for the South American Cup, where Argentina posted a 3-0 record.
"I'm very happy and excited to come and play for the Sockers," said Kruger (@matikruger) via Twitter from Buenos Aires, "I hope I be able to do everything that Coach Salvagio wants and to perform as well as I can."
Meanwhile, Kentera hinted that the Sockers, which captured four straight league titles until the streak was snapped this past season, may be bringing in some players from Brazil, aiding in the replacement of retired Sockers standouts Aaron Susi and Paul Wright (Grossmont High).
Along with their continental record of 14 championships dating back to the origins of the sport in the United States during the late 1970s, the Sockers are also seeking an eighth consecutive division crown in 2014-15.
Notes: The Sockers will host an international exhibition doubleheader as part of their preseason schedule. On Sat., Oct. 18, the Sockers will host Tijuana's Los Toros de Mexico at 6 p.m., followed by a friendly between the USA and Mexico, both at the Valley View Casino Center on Sports Arena Boulevard.

The complete schedule is now available on the Sockers website.