WEEK 1 / Aug. 30-31
SETH COLLINS, Granite Hills - The San Jose State commit senior quarterback carried the ball only five times for 222 yards and 4 touchdowns, including a 51-yard scoring strike that set the stage for the Eagles' 41-0 victory over San Diego High. The 6-4, 175-pounder scored on an 88-yard keeper and threw one TD pass.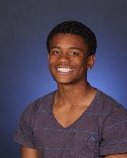 ALIJAH AVANT, Grossmont - The senior running back accumulated 330 total yards in the Hillers' season opening victory over Patrick Henry. He had 6 catches for 132 yards, including one 2-point conversion, 5 rushes for 109 yards, including a 62-yard TD run and 2 kickoff returns for a total of 89 yards.
Week 2 / Sept. 7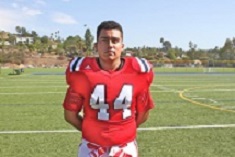 JOEY MORONES, Christian - The versatile 5-foot-10, 220-pound sophomore scored 3 touchdowns and one 2-point conversion in the Patriots' march past West Hills 43-29 in the second week of the season. Morones excels as a running back, tight end and inside linebacker. He finished with 20 points for Christian (2-0)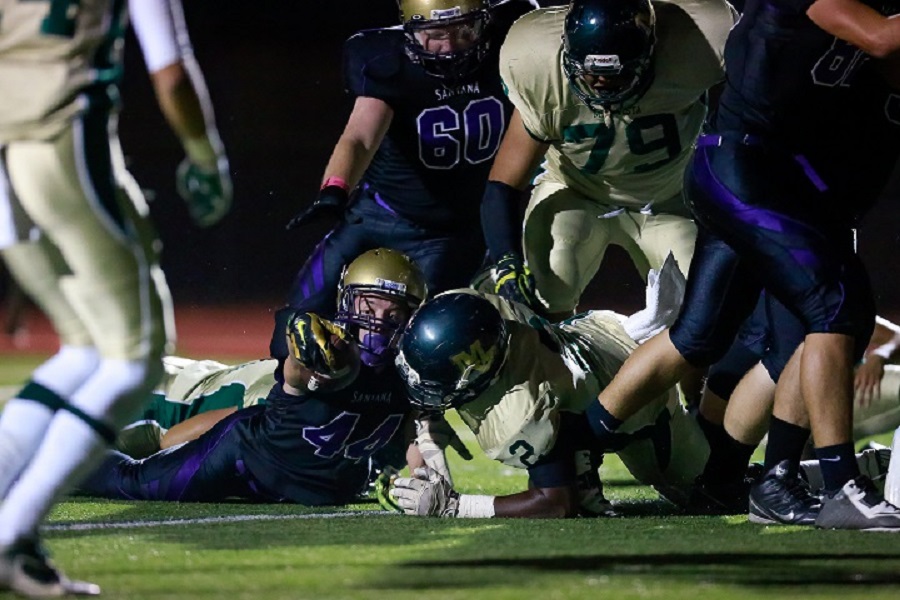 ZACH LEWIS, Santana
Lewis, a 5-foot-11, 165-pound junior who plays both sides of the ball, has made an impact every time he touches the pigskin. He blocked 2 kicks in the Sultans' 30-0 shutout of the Kearny Komets. He also had his 4th sack in two games for the undefeated Sultans. (photo courtesy youatplay.com)
WEEK 3 / Sept. 13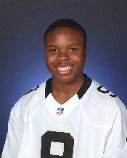 JEROME JOHNSON, Valhalla – The 6-foot, 202-pound sophomore was involved in a triple play against Monte Vista. Johnson rushed for 108 yards and 2 touchdowns in that victory.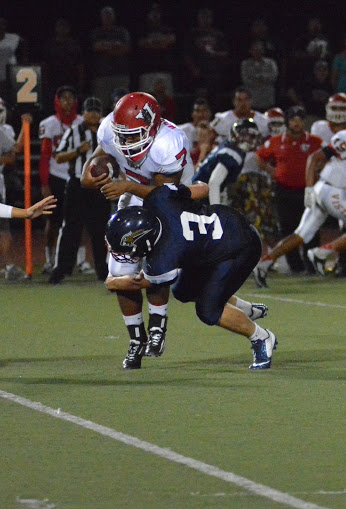 RILEY JONES - Steele Canyon The 6-foot, 197-pound senior linebacker-running back recorded 2 sacks – one in each half – as the Cougars remain undefeated with a 26-7 victory over the Panthers of Vista.
Week 4 / Sept. 19
ROOSEVELT JOHNSON, Steele Canyon The 6-foot, 175-pound senior wide receiver scored on a 45-yard pass to spark the Cougars to a 23-0 lead over West Hills.
RAPHY CARR, West Hills The 5-foot-7, 152-pound senior DB-WR had an 80-yard catch-and-run touchdown and 2 interceptions before halftime in the Wolf Pack's victory over the La Jolla Vikings.
WEEK 5 / Sept. 26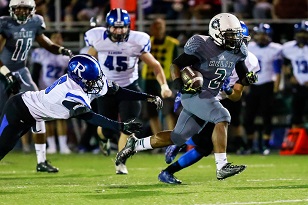 NATHAN STINSON, Helix The 5-foot-6, 175-pound junior scored 4 touchdowns (plus one called back by penalty) in the Highlanders' contest with previously undefeated Ramona. Stinson, a fleet-footed running back, led a track meet over the Bulldogs in a battle of Top 10 competitors. Stinson rushed for 218 yards and also scored on a 36-yard pass. (photo courtesy youatplay.com)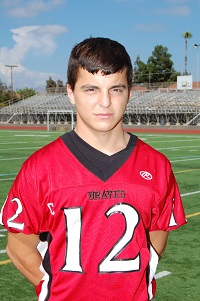 MERITON HASANI, El Cajon Valley
Hasani had 3 touchdown runs to lead the Braves past the visiting San Diego-Southwest Raiders. The 5-foot-11, 175-pound senior quarterback/linebacker finished with 19 carries for 84 yards and 3 TDs.
Week 6 / Oct. 6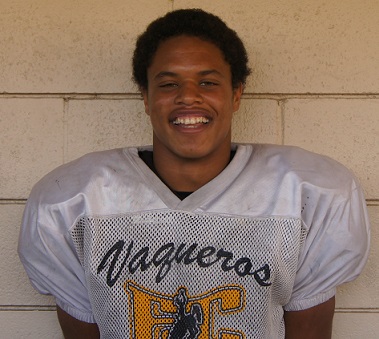 ISAIAH CAPOOCIA, El Capitan Senior 180-pound slotback ISAIAH CAPOOCIA threw a 71-yard designed option pass, hauled in a 28-yard reception, then later connected for an 8-yard TD pass in the Vaqueros victory over Granite Hills.
MICHAEL AUSTIN, Helix The 6-foot-1 junior quarterback, threw for two touchdowns of 21 and 44 yards and rushed for a 53-yard touchdown in the first quarter, which sparked the Scotties to a win over Bonita Vista.
WEEK 7 / Oct. 13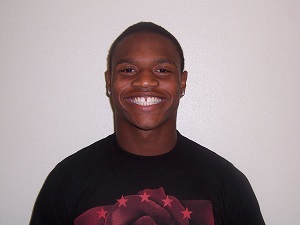 LEE WADE, Jr., Monte Vista The 5-foot-6, 145-pound senior defensive back-running back scored a touchdown in the 2nd quarter of the Monte Vista-El Cajon Valley game, and then scored another marker for the Monarchs on a 54-yard burst up the field.
WEEK 8 / Oct. 20
LAITHE ISENMANN, Christian All his life the 6-foot-four, 300-pound left tackle has been anchoring the offensive line blocking for teammates. On this night however, he got his chance to get his mitts on the ball as he took an inside hand off on a reverse and darted 13 yards for a touchdown.
Week 8 / Oct. 20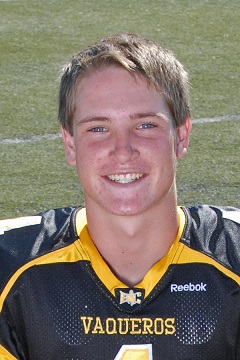 BRAD CAGLE, El Capitan The senior, 6-foot-1, 195-pound quarterback for the Vaqueros connected on 21 of 30 passes for 369 yards and two touchdowns as El Capitan vanquished Valhalla.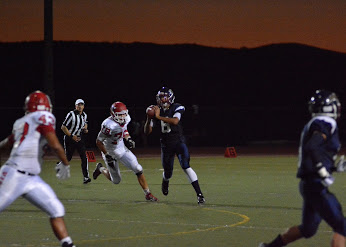 DOMINICK WOOD-ANDERSON, Steele Canyon The junior 6-foot-4, 210-pound quarterback completed 41 of 82 passes for the Cougars for 297 yards and four touchdowns in Steele Canyon's victory over Grossmont.
Week 9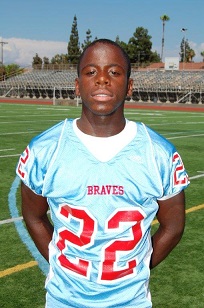 MATTHEW SHEARIN, El Cajon Valley Shearin, an Ivy League bound 5-foot-7, 160 pound running back-free safety ran for a 55-yard score in the second quarter in a losing effort to Santana. However, the Braves came back to tie the game at 21-21 in the third quarter thanks to their superstar back, who also had touchdown runs of 75 and 80 yards.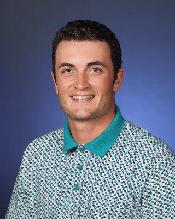 CALVIN FARRIS, Grossmont Quarterback CALVIN FARRIS, a 6-foot, 200-pound junior, threw for 6 touchdowns and had another pair rushing as the Foothillers defeated Grossmont Hills League opponent Mount Miguel.
WEEK 10 / Nov. 2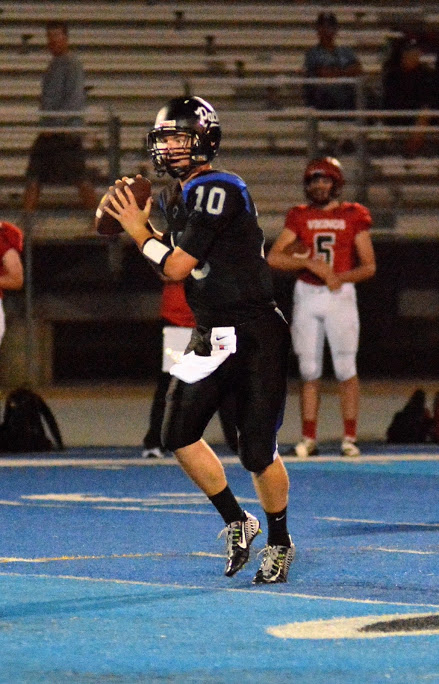 SPENCER MOYER, West Hills The 6-foot-4, 210-pound quarterback completed 9 of 12 passes for 208 yards and scored three times in West Hills' 53-11 defeat of Santana.
JACOB SHAW, West Hills The senior, 5-foot-9, 200-pound running back-linebacker scored twice against Santana, once on a 7-yard gain and again on a 3-yard TD.
WEEK 11 / Nov. 9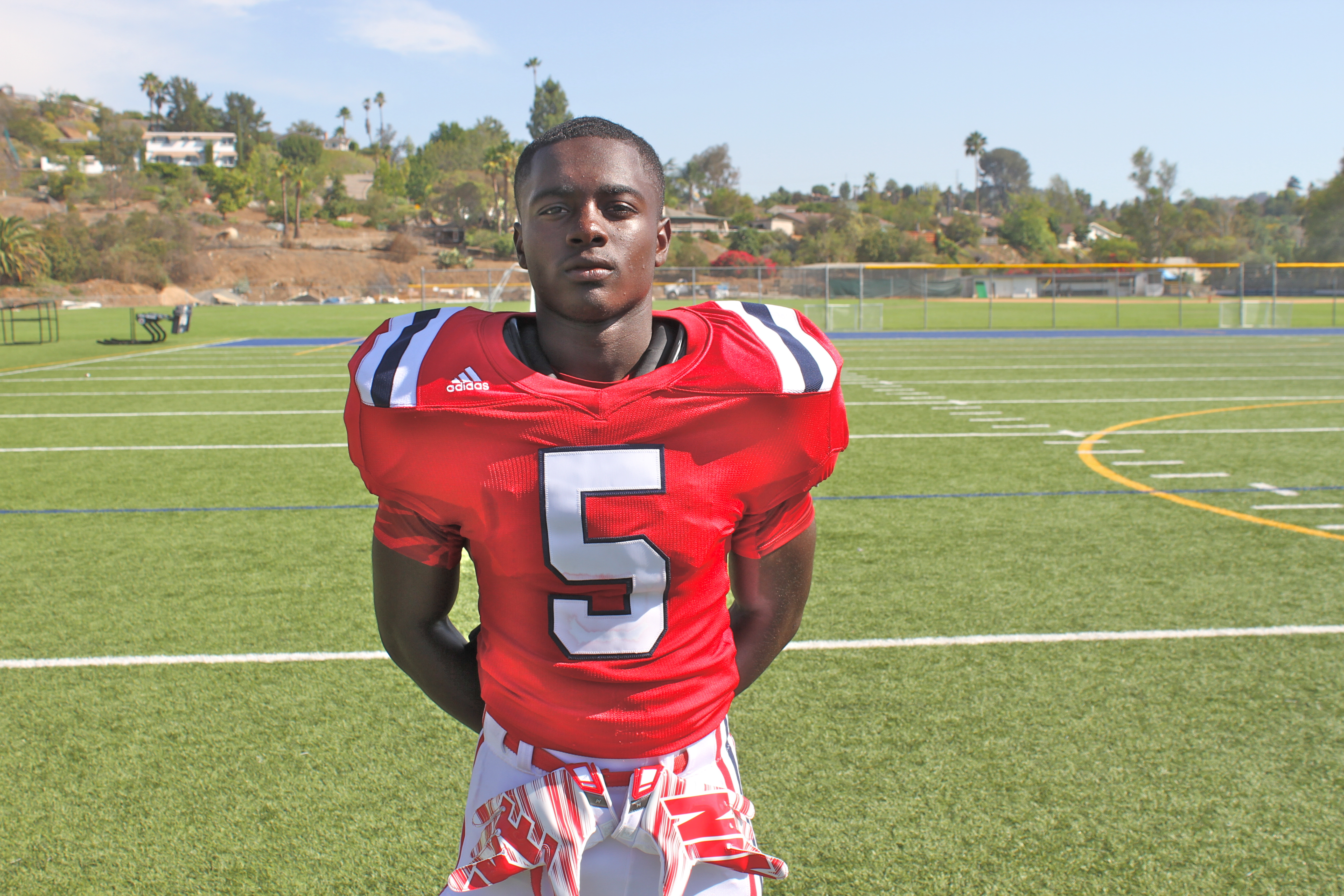 ADRIAN PETTY, Christian Petty, a 5-foot-7, 153-pound junior running back, rushed for over 360 yards on just 17 carries as Christian won the Central League championship. He had an 80-yard touchdown run in the first quarter, a TD run of 65 yards midway through the second quarter, and added a 44-yard touchdown run in the third.
D.J. SMITH, El Capitan The 6-foot, 225-pound senior running back-linebacker plowed in from 3 yards out in the fourth quarter to log the final winning score for the 10-0 Vaqueros as they defeated Helix and won the Grossmont Hills League championship.
WEEK 12 / Nov. 16 (SD CIF Round 1)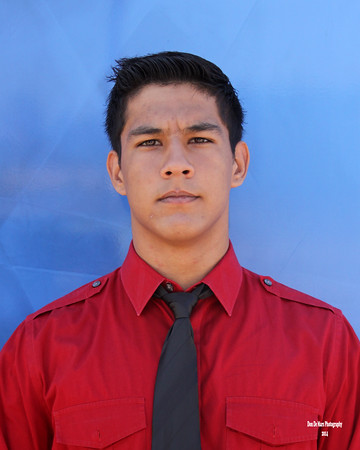 PHILLIP NASEH, Valhalla The 6-foot-2, 209-pound quarterback finished 16-for-30 for 225 yards with an interception and a TD in a losing effort versus El Camino in the first round of the San Diego Section playoffs.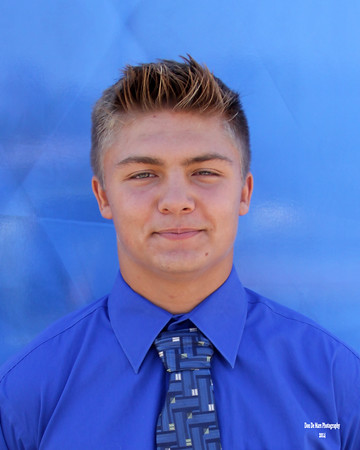 LOGAN BAKER, Valhalla The 5-foot-11, 200-pound junior outside linebacker made 11 tackles, including 2 for loss, against El Camino in the first round of the San Diego Section playoffs. For the season to date Baker has 132 tackles to his credit.
WEEK 13 / Jan. 4
KAMREE HARRISON, Mount MiguelThe 5-foot-5 point guard scored 23 points, snagged three rebounds, made one assist and recorded three steals in the Matadors' victory over Olympian.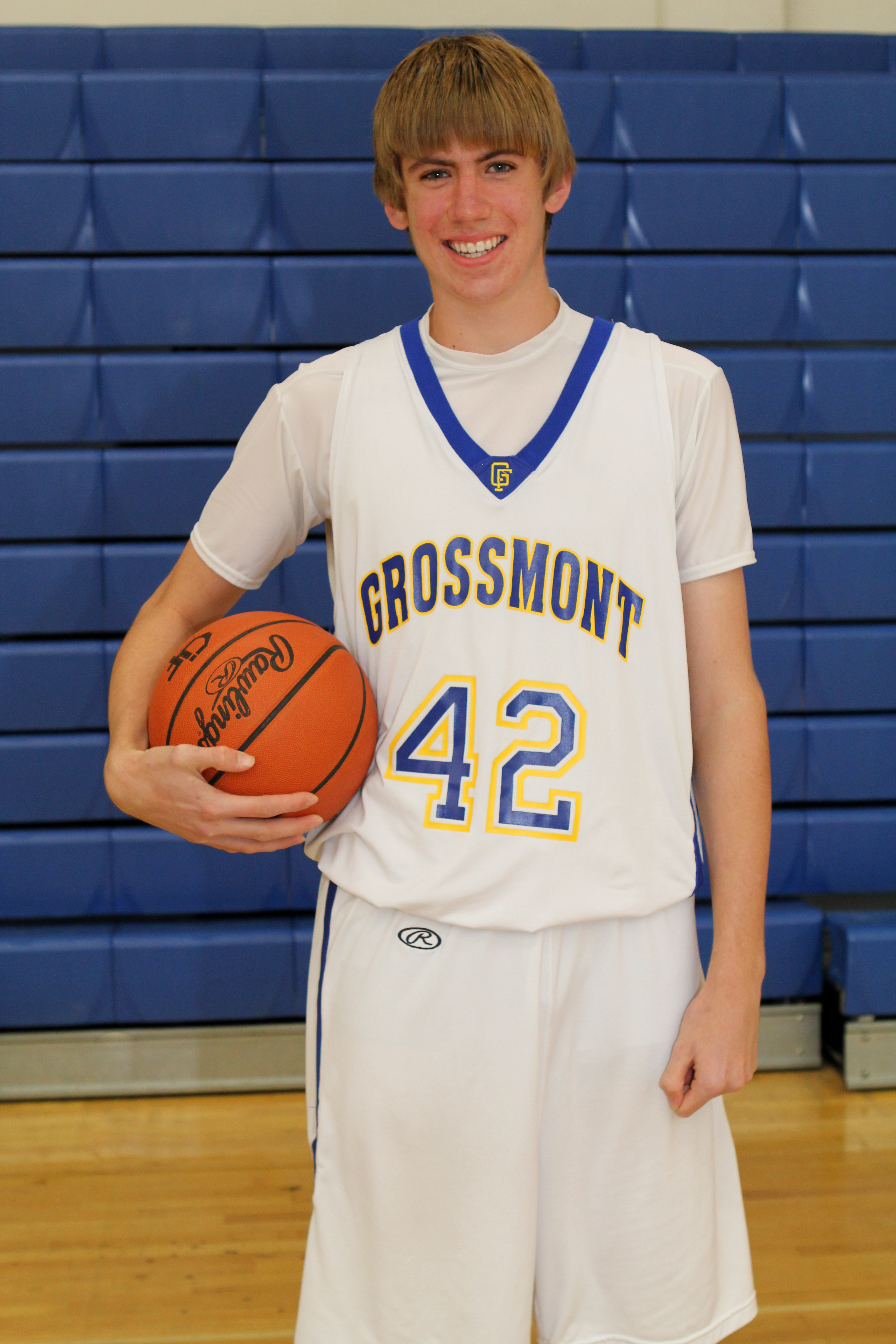 TOMMY RUTHERFORD,The 6-foot-10 junior poured in 31 points, grabbed 27 rebounds, blocked 15 shots and dished two assists in the Foothillers' victory over Oceanside.
WEEK 14 / Jan. 11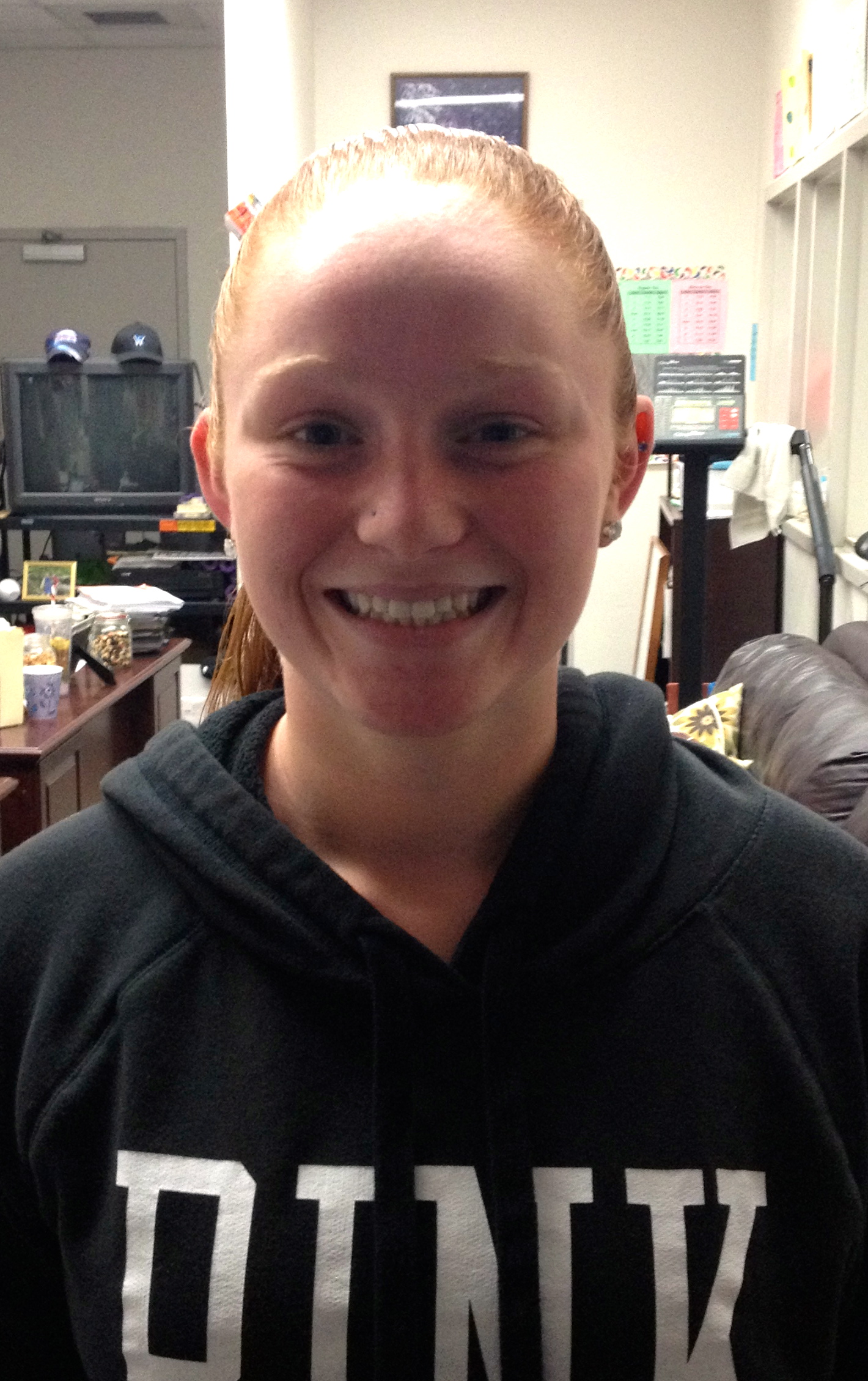 BAILEY ALBERS, West HillsThe 5-foot-7 senior forward scored 58 points and reeled in 19 boards in four games for the evenly balanced Wolf Pack over the holiday tournaments.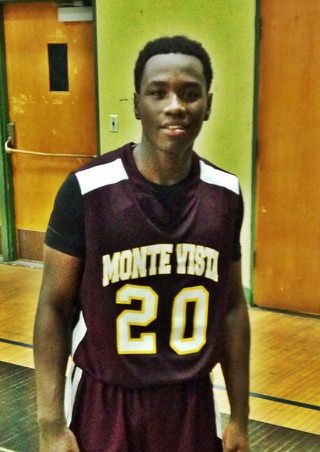 DONNELL PAYNE, Mount MiguelThe 6-foot-4 senior guard scored 99 points and grabbed 30 rebounds in four games for the Matadors over the holiday tournaments.
WEEK 15 / Jan. 18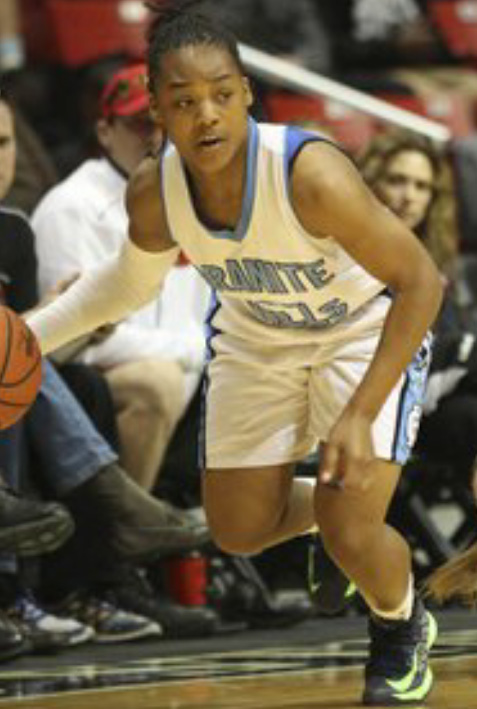 DEAJANAE HARVEY, Granite HillsThe 5-foot-1 junior point guard rolled a rare triple-double against Valhalla with 20 points, 13 assists, 11 steals and seven rebounds.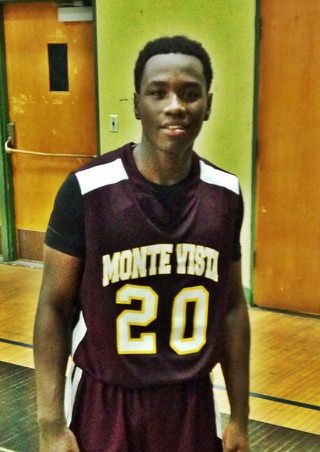 DEVRON YOUNG, Monte VistaThe 5-foot-10, 178-pound senior guard scored 45 points, grabbed eight rebounds and made five steals for the Monarchs over two games.
WEEK 16 / Jan. 25
RAELLEAH MOORE, Granite HillsThe 5-foot-9 junior power forward scored 20 points, including a 3-pointer, grabbed 15 rebounds and dished an assist in a losing effort to Bishop&rsquot;s.
LUIS SALGADO, Foothills ChristianThe 6-foot-1, 175 pound junior guard nailed 21 points, including three treys to spark the No. 1 ranked Knights to a 76-52 Coastal League victory over La Jolla Country Day. Salgado was 3-for-3 from above the arc, grabbed six rebounds and dished four assists.
WEEK 17 / Feb. 1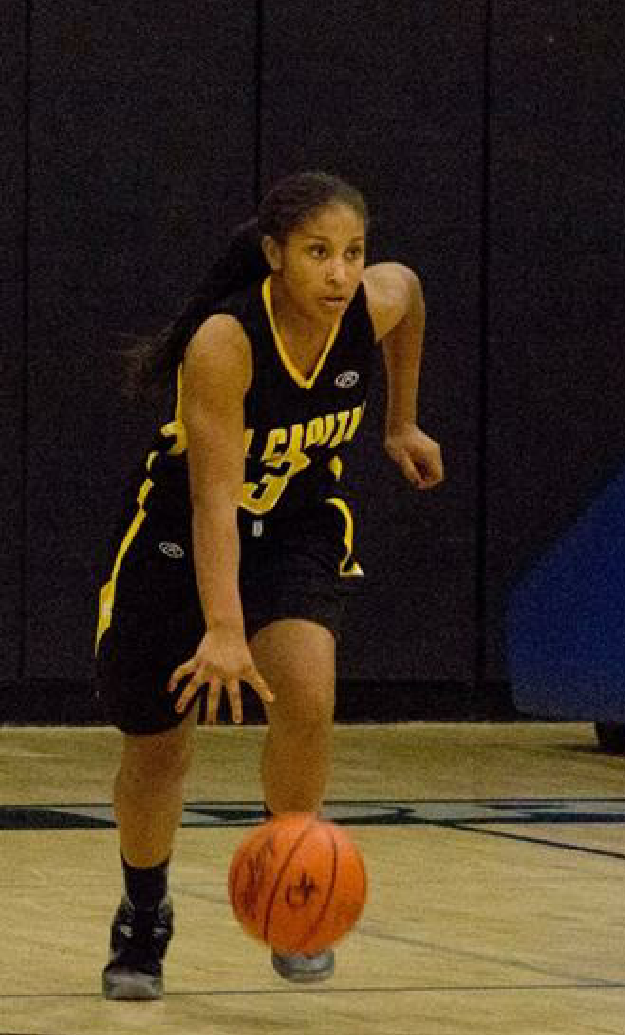 BRIAJUNAE SHEPARD, HelixThe 5-foot-6 senior guard scored 29 points and dished eight assists vs. Fontana Summit, and scored 10 points, including a trey and dished five assists vs. Monte Vista. Shepard has committed to Portland State University.
COLE HENDERSON, ValhallaThe 6-foot-3, 180 pound junior forward scored 21 points and grabbed 12 rebounds in a Grossmont Valley League victory over Granite Hills on Friday (Feb. 23).
WEEK 18 / Feb. 8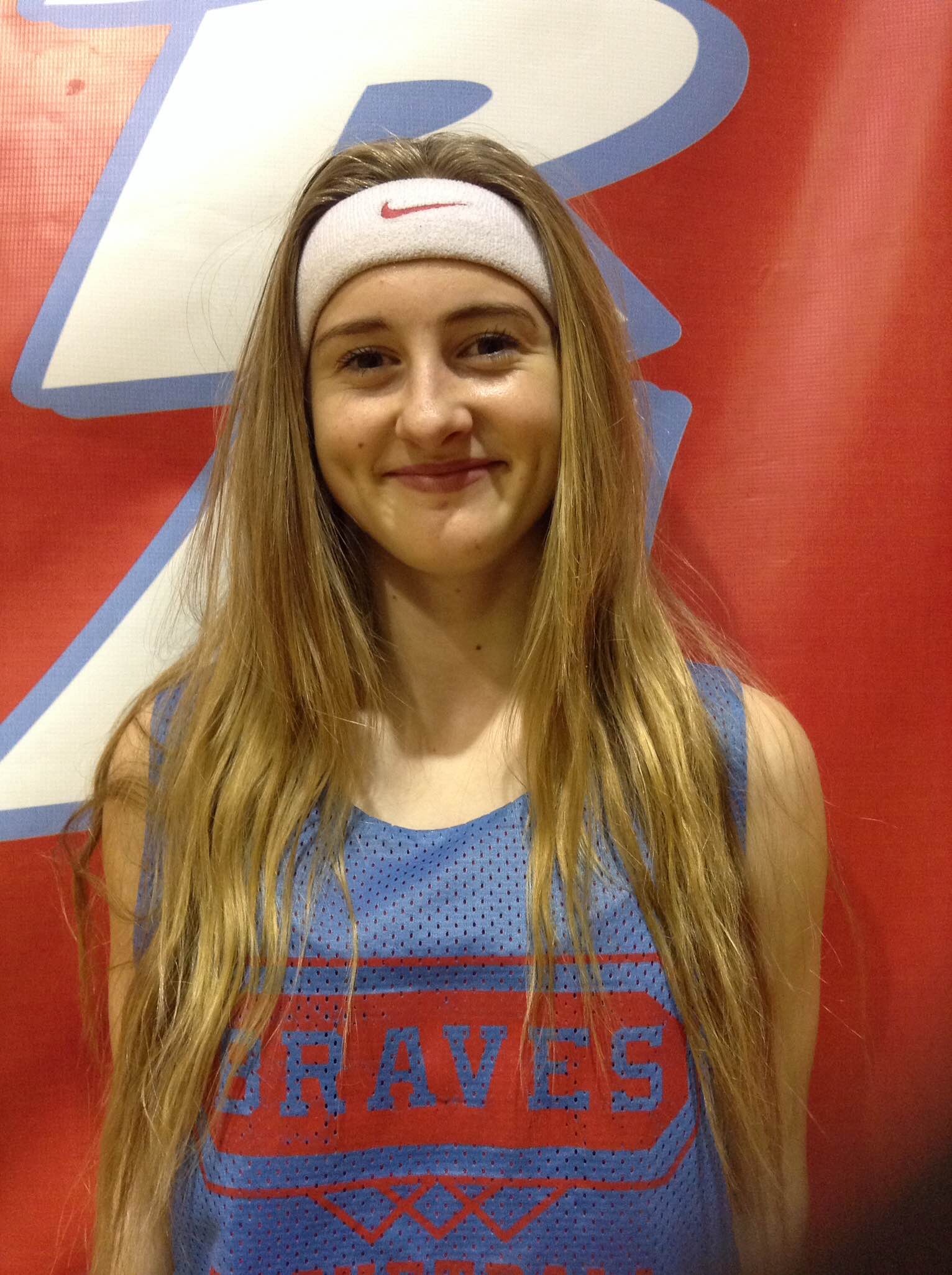 LEANNA WATSON, El Cajon ValleyThe freshman guard scored a career high 21 points, including three 3-pointers in a close victory over Valhalla.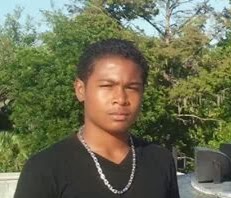 SYON HICKS, El Cajon ValleyThe senior guard scored 26 points, made two steals and three blocks for the Braves in a victory over El Capitan.
WEEK 19 / Feb. 15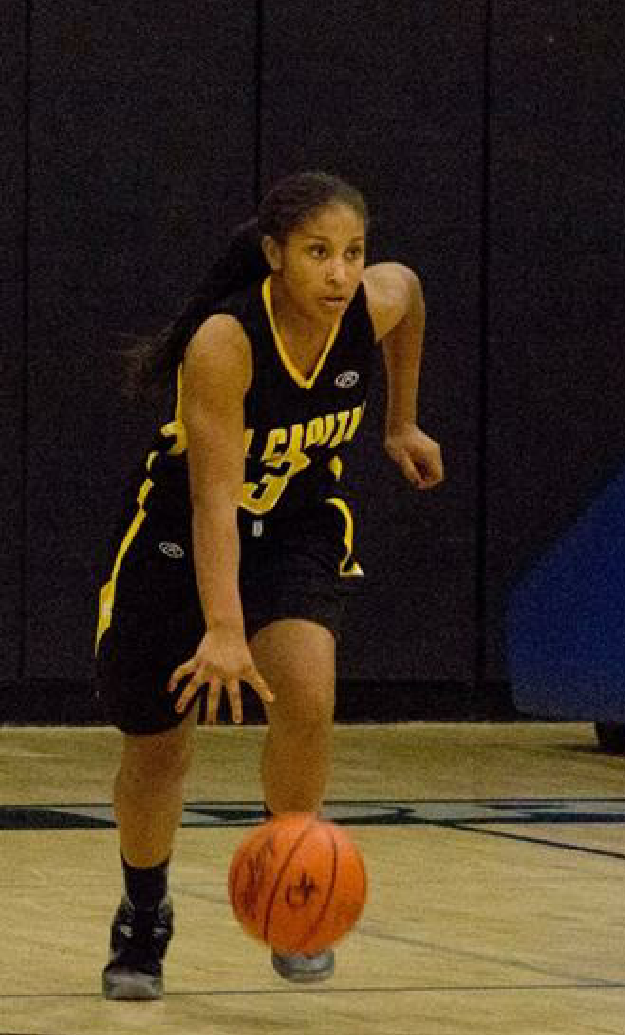 CIERRA CUTLER, El CapitanThe 5-foot-6, four-year starter for the El Capitan Vaqueros scored 28 points in her last time out against Steele Canyon and totaled 39 for the week. She also logged eight rebounds, five steals and five assists.
NATE GILBERT, Mount MiguelThe 6-foot-2 senior forward scored 60 points, 10 rebounds and eight steals for the Mount Miguel Matadors (12-11, 0-4) in two games last week. During the game against Crawford he scored five 3-pointers.
WEEK 20 / Feb. 22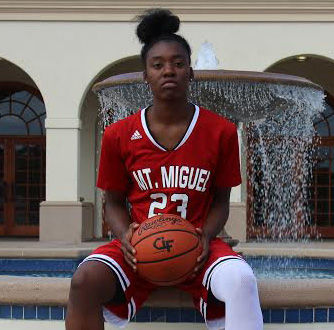 ZARIA BRANCH, Mount MiguelThe 5-foot-8 senior guard scored 55 points, grabbed 12 rebounds, dished five assists, made 11 steals and had three blocks in last week's work.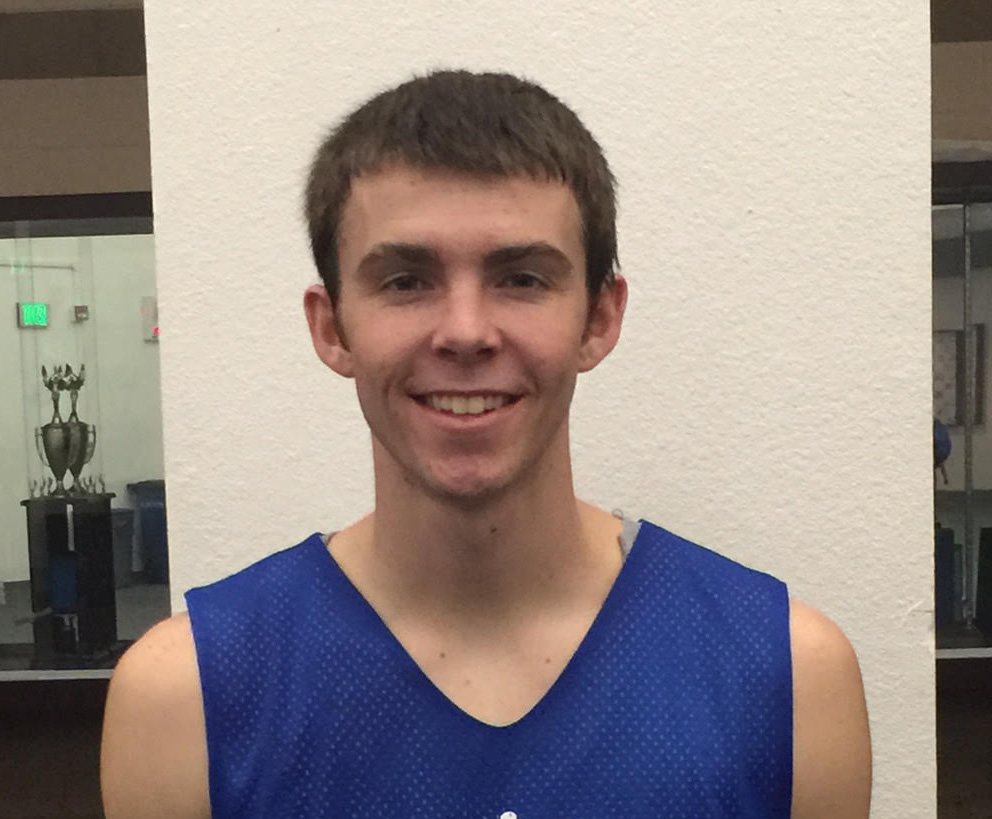 THOMAS REANEY, West HillsThe 6-foot-3 senior forward scored 38 points, hauled down 23 rebounds, dished four assists, made four steals and blocked a shot in two games last week.
WEEK 21 / Mar. 1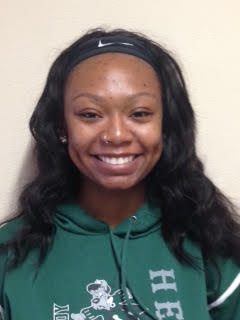 SHIRAH HANCOCK, HelixThe 5-foot-8 senior shooting guard scored 25 points, grabbed 13 rebounds, dished nine assists and made nine steals in the first round and quarterfinal playoff games for the Highlanders.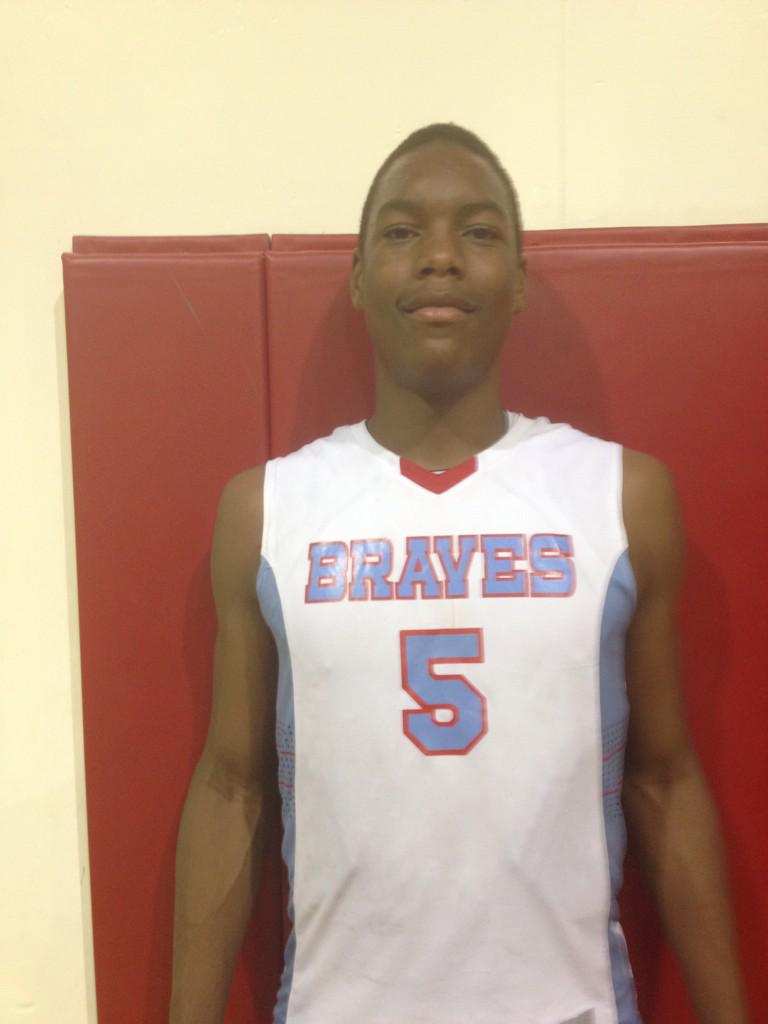 RONNE READUS, El Cajon ValleyThe 6-foot-8, 170 pound junior center grabbed 53 rebounds in the first round and the quarterfinal playoff games for the Braves to go with 18 blocks and 24 points.
WEEK 22 / Mar. 8
VALERIE RENFROW, El CapitanThe junior Renfrow dropped in 32 points, 17 rebounds, eight assists, five steals and two blocks in the Vaqueros sweep of the San Diego Section Division IV semifinals and finals.

T.J. LEAF, Foothills ChristianThe 6-foot-11 junior scored 25 points and grabbed a dozen rebounds in the Knights San Diego Section Division I championship game against Mira Mesa. In the semifinal victory over Kearny, Leaf powered in 33 points, grabbed 15 rebounds, dished seven assists and made one block.