GROSSMONT COLLEGE 'GRIFFINS'
2010 SCHEDULE
Date
Opponent

Time

Sept. 4
Sept. 11
Sept. 18
Sept. 25
Oct. 2
Oct. 9
Oct. 16
Oct. 23
Oct. 30
Nov. 6
Nov. 13

SAN DIEGO MESA
EL CAMINO
at Southwestern
ORANGE COAST
at College of the Canyons
BYE
*at Saddleback
*MT. SAN ANTONIO
*at Fullerton (Fullerton HS)
*PASADENA
*at Palomar (Escondido HS)

1 pm
1 pm
6 pm
1 pm
7 pm

6 pm
1 pm
6 pm
1 pm
1 pm
Grossmont enters season at No. 20
© East County Sports.com
SANTA ANA (7-21-10) — Grossmont College is ranked 20th in the nation according to the JC Gridiron preseason community college football rankings.
Such ratings – no matter who they are compiled by – carry little impact. Case in point is Grossmont was rated No. 1 by The Sports News a couple years back and fell a half-dozen rungs shy of achieving the lofty mark.
Arizona Western College out of Yuma is ranked No. 1 by JC Gridiron in this year's preseason guessing. Blinn (Texas) is No. 2, while El Camino, which lost to the Griffins in the 2009 U.S. Bank Beach Bowl last fall, is third.
Griffins' list hits 25
© East County Sports.com
EL CAJON (7-21-10) — Three additional Grossmont College football players have signed scholarship letters, bringing the number of signees to a school-record 25.
Latest to ink a pact is cornerback ARTHUR HOBBS, who signed with NCAA II University of Nebraska Kearney of the Rocky Mountain Athletic Conference.
A 5-foot-11, 180-pound sophomore, Hobbs is the second Griffin to join UNK this year. In January, corner KENNY HILL transferred to UNK. Last fall, Hobbs made 20 tackles and had six pass breakups to help Grossmont go 8-3 and win the U.S. Bank Beach Bowl.
As a senior at Mount Miguel High, Hobbs earned 1st-team all-Grossmont South League honors.
Six-foot, 190-pound sophomore wide receiver NICK HILL, a product of Patrick Henry High, has signed with Central Methodist University in Fayette, Mo. The Eagles play in the NAIA Heart of America Conference.
Last season Hill caught 17 passes for the Griffins for 199 yards for an average of 11.7 ypg.
In another late signing, sophomore quarterback MATT JARVIS (6-2, 230), an El Capitan alum, has signed with NCAA II St. Cloud State University of the Northern Sun Conference. Jarvis is a case of perseverance as he returned to the Grossmont College huddle after graduating from El Capitan in 2005.
In seven games at Grossmont, Jarvis completed 50 of 102 passes for 909 yards and 11 TDs last season.
---
Griffins' scholarship roll reaches 22
© East County Sports.com
EL CAJON (7-8-10) — The list of four-year scholarships off the 2009 Grossmont College football team has swelled to 22 as sophomore offensive lineman BILLY DAWSON and freshman running back JOSEPH DeMARTINO have advanced to the next level.
Dawson, a 6-foot-3, 310-pound center out of Helix High, has accepted a full ride to Division I-AA Lamar University in Beaumont, Texas.
DeMartino, a 5-11, 205-pound graduate of Mt. Carmel, will attend Utah State in Logan in the fall with four years to play three. He led the Griffins (8-3) with 107 all-purpose yards last year as a freshman. DeMartino averaged 91.8 yards rushing, scored 7 touchdowns and caught 12 passes in nine games.
Clearly a multiple threat, DeMartino figures to be a double threat for the Aggies. He joins former Griffins teammate, receiver-kick return specialist XAVIER MARTIN, who previously signed with Utah State.
"Joey is definitely a catch and run guy," Grossmont coach MIKE JORDAN said. "I think he could make an immediate impact for them."
Dawson has the size and experience to step into a starter's role at Lamar University.
---
McAloney hitches 'ride
© East County Sports.com
TOWSON, Md. (6-18-10) – Well-traveled linebacker WINN McALONEY has accepted a football scholarship to NCAA I-FCS (formerly1AA) Towson University.
A 6-foot-1, 225-pound linebacker, McAloney is a 2004 graduate of Monte Vista High. He received a four-year college ride out of high school, but didn't play. Injuries haunted him for two seasons before he returned closer to home where he played on the offensive side of the football at San Diego Mesa College in 2008.
An All-Grossmont South League team defensive selection as well as an All-East County pick as a prep senior, McAloney finally found a home last season at Grossmont College.
For the Griffins, McAloney accounted for 41 tackles (24 solo), 2 interceptions, forced a fumble and recovered a fumble, blocked a kick and made 3 pass break-ups.
The Towson Tigers, members of the Colonial Athletic Association, went 2-9 in 2009. They return 10 linebackers, yet all but one have sophomore experience or less.
The more experienced McAloney figures to step into the Towson starting lineup right away considering the Tigers will face powerhouse Indiana, as well as upcoming foes Coastal Carolina and Villanova this season.
---
Griffins scholarshiplist continues to grow
© East County Sports.com
EL CAJON (5-5-10) — One of the advantages coaches from Grossmont College remind recruits is you will always get a chance to demonstrate your talent and gain starting time.
This truth was again apparent when Griffins coaches announced that both of the football team's sophomore quarterbacks garnered scholarships from 4-year colleges, with BRANDON FRICKE now headed to Central Michigan while MATT JARVIS (El Capitan) is ticketed to St. Cloud State in Minnesota.
Fricke, Jarvis and freshman DORIAN STATON took turns as a starter for Grossmont (8-3 overall). Despite the lack of continuity, the Griffins were in the hunt for a state playoff berth to the final moments of the regular season, then advanced to the U.S. Bank Beach Bowl and defeated state power El Camino for the school's fifth consecutive bowl victory.
In earning a Division I ride to the Mid-America Conference school, Fricke (6-2, 200, Simi Valley HS) threw for 780 yards and 8 touchdowns in just five appearances. Jarvis (6-3, 220) posted similar stats in seven games, with 905 yards and 11 scores to gain his Division II ride.
With the signing of the quarterbacks, Grossmont has now placed 20 sophomores from the 2009 squad onto rosters of 4-year colleges with scholarships (not walk-on promises). Four more players are also in line for potential offers, making it the best season for advancing players since the Griffins captured the J.C. Grid-Wire national championship after defeating CC San Francisco for the state championship in 2005.
Current scholarship list:
GROSSMONT COLLEGE 'GRIFFINS'
2010 SCHOLARSHIP RECIPIENTS
| | | |
| --- | --- | --- |
| Pos. | Player | College |
| QB | Brandon Fricke | Central Michigan |
| QB | Matt Jarvis | St. Cloud State |
| OL | Juan Bolanos | San Diego State |
| OL | Charles Wiley | Idaho |
| DL | Ja'Rodd Watson | San Jose State |
| WR | Xavier Martin | Utah State |
| LB | Homer Magua | Idaho |
| LB | Elliott Chapman | Idaho |
| DB | Kyle Monson | Sacramento State |
| WR | Chris Smith | Central Washington |
| SS | Abraham Muheize | Central Washington |
| DL | Cody Furr | Missouri Southern State |
| LB | Alex Wong | Missouri Southern State |
| SS | Jonathan Darby | Southwestern Oklahoma St. |
| TE | John Adams | Southwest Missouri State |
| DB | Kenny Hill | Neb.-Kearney |
| DL | Jericho Maxwell | New Mexico Highlands |
| DB | Cory Bell | Lamar |
| WR | Kianie Brooks | Baker (Kan.) |
| WR | Jon Molzen | William Jewel (Mo.) |
---
From O-line to Oh!-line
© East County Sports.com
EL CAJON (3-23-10) — The popular Grossmont College technique camp for offensive linemen will be held at the Fletcher Hills campus on Sat., Apr. 24, from 9 a.m. to 1 p.m. The camp will cover fundamentals and techniques in both the running and passing game.
More than 60 high school players participated last season, yet there is still a generous player-to-coach ratio, ensuring solid instruction and provide young offensive linemen the opportunity to further develop their fundamentals, skills and techniques for offensive line play.

The camp is operated by Griffins line coach KEN WILMESHERR, who has developed an All-American, an All-State selection and a half-dozen All-Conference performers over the past four seasons. Included is former Mount Miguel High standout JUAN BOLANOS, who is expected to start for San Diego State this fall.
Grossmont, the 2005 JC Grid-Wire national champions, also has produced a pair of All-Academic linemen under Wilmesherr.
Registration forms are available on the Grossmont football webpage HERE, including a liability release/medical consent form. The fee if $35, with an Early Bird rate of just $25 if payment is made by Apr. 17.
All 2010 high school players (except incoming freshmen) may participate. High school coaches are also welcome to attend the techniques camp.
---
Wiley, Magua sign with Idaho Vandals
© East County Sports.com
MOSCOW, Idaho (2-4-10) — The Grossmont College duo of linebacker HOMER MAUGA and offensive lineman CHARLES WILEY hope to make an immediate impact at the University of Idaho next fall.
Both have accepted scholarships to play football for the Vandals, who are attempting to make an immediate turn-around after suffering through eight losing seasons in the last nine years.
Football games are won and lost in the trenches, and having a deep pool of steak-eaters to work with is key. Grossmont College head coach MIKE JORDAN confirmed that 6-foot-6, 310-pound standout offensive tackle CHARLES WILEY made his intentions official by committing to the Idaho this weekend. A two-year starter with three years to play two at Idaho, Wiley joins a Vandal offensive line looking to replace four starters.
Sack-happy Mauga was honored as a JC All-Southern California pick and team defensive MVP. The 6-foot, 220-pound linebacker terrorized opposing offenses for 15 sacks, 7 QB hurries, two picks and 72 total tackles in 2009.
"He didn't get Player of the Year in the league but he probably should have," said Jordan. "He's very good off the edge, just a good player all-around."
Mauga is the fourth member of his family to play football at a Division I school. MAGNUM MAUGA is a starting defensive tackle at Utah State. DALLAS MAUGA and RAINBOW MAUGA concluded their football careers at Sacramento State.
---
SCFA changes mean little to Grossmont
© East County Sports.com
BURBANK (1-30-10) — Conference realignment has again hit community college football in Southern California, but Friday's (Jan. 29) announced changes will mean little to Grossmont College.
The Griffins, the 2005 California state and national champions, will remain in a conference that is essentially the same at the highest level of the Southern California Football Association after commissioner Jim Sartoris made the announcement of a restructured, 3-tier alignment.
"The whole impetus for the change is the state budget situation and the amount of playoff games needed to crown a Southern California champion," said Grossmont athletics director JIM SPILLERS. "We used to need 14 games to win a state title – the road is far less in the north – so the south is working to emulate the north."
"It's budget driven and matches the model in the north."
Previously, 21 colleges were divided equally among three conferences. Now the highest tier consists of 12 programs in two conferences, including Grossmont's continued membership in the Southern Conference. The Griffins are joined by holdovers in Palomar, Fullerton and Saddleback, then welcome a pair of powerhouse teams in defending state champion Mt. San Antonio and Pasadena.
"There's so much competition in the south. Our conference had two teams go to the playoffs and two bowl teams – we had the strongest conference based on those outcomes," added Spillers. "And now we're adding two great programs."
"The top 12 teams are strong, but it also makes geographic sense while achieving cost containment."
The committee, using a combination of recent two-year records, a 2009 power ranking formula and geographical considerations, placed the 37 member colleges into three separate competitive divisions. Among the other schools, 13 will be split into a pair of Tier 2 conferences, with the remaining 12 playing in a pair of Tier 3 conferences.
The committee voted 9-1 in favor of the restructuring measure.
"Our schedule won't alter too much. We'll have one less conference game, yet one additional crossover game," added the AD.
In addition, the playoff structure has changed slightly.
Instead of an 8-team tournament to determine a representative to the state title game – a path of four total contests – the Southland will hold a 4-team, 2-round event to gain a berth against the North. All remaining top teams will advance to bowl games.
The four tournament teams will consist of the two champions from the highest tier, plus the next two top teams regardless of conference, division or tier, giving all schools a legitimate opportunity to advance. The wild card berths will be based on rankings by the coaches' poll.
"Four teams now go to the playoffs to determine the Southern California champion and the representative to the state championship," Spillers added. "So all schools must play a multi-tier schedule in their crossover games. Otherwise, if you remove that chance or that motivation that you could play for a state championship, you hurt the program and football overall in the long run."
The SCFA Executive Committee will continue to schedule non-conference games on a regional basis, maintaining local and historical rivals. Thus, Grossmont should continue to meet Southwestern (a Tier 2 team) and San Diego Mesa (which dropped to Tier 3), plus at least two ballgames against the Tier 1 Northern Conference, which now consists of Bakersfield, College of the Canyons, Cerritos, El Camino, Allan Hancock and Ventura.
"It's extremely important to football in the San Diego County community for us to continue playing Southwestern and Mesa. It's very important for these rivalries to be sustained."

The Griffins defeated host El Camino, 27-22, last season at the US Bank Beach Bowl in Torrance.
The final placement of colleges:
SCFA Conference Alignment 2010
National Division (Tier 1)

Southern Conference
Fullerton
Grossmont
Mt. San Antonio
Palomar
Pasadena
Saddleback
Northern Conference
Bakersfield
Canyons
Cerritos
El Camino
Allan Hancock
Ventura

Central Division (Tier 2)

West Conference
Antelope Valley
Citrus
Glendale
Long Beach
L.A. Harbor
Moorpark
East Conference
Chaffey
Desert
Golden West
Orange Coast
Riverside
Santa Ana
Southwestern

American Conference (Tier 3)

Pacific Conference
L.A. Pierce
L.A. Southwest
L.A. Valley
Santa Barbara
Santa Monica
West LA
Mountain Conference
Compton
East Los Angeles
Mt. San Jacinto
San Bernardino Valley
San Diego Mesa
Victor Valley
---
Roth Award winner Darby joins Oklahoma invasion
© East County Sports.com
WEATHERFORD, Okla. (1-20-10) – Grossmont College sophomore safety JONATHAN DARBY has accepted a football scholarship to Southwestern Oklahoma State University.
Darby is one of 12 community college players – 10 from California – signed by Bulldogs second-year head coach Dan Cocannouer.
Darby was the Griffins' second leading tackler with 64 stops. He also logged four interceptions and recovered a fumble for Grossmont, which finished 8-3 and captured the US Bank Beach Bowl over El Camino.
An NCAA Division II school, SWOSU is coming off a 1-10 season where the Bulldogs started no fewer than 10 different freshmen at one time or another. The Bulldogs 54-player travel roster was made up of 27 freshmen during the final two road games.
Cocannouer and his staff scoured the nation's 2-year colleges looking for immediate help.
"We needed to get older and in a hurry," Cocannouer said. "With the amount of freshman and sophomores we already have in place, it was important to add kids that can provide some leadership and experience."
Cocannouer said his staff spent considerable time poring over lists and watching hours of film from schools in Texas, Oklahoma, Kansas and California.
"This group of players met all the criteria we were looking for when we started this process," Cocannouer said. "They are all good character guys and someone who really wants to be here and work with us to make our program better."
A product of West Hills High, Darby proved his quality character when he was selected the winner of Grossmont College's 33rd annual Joe Roth Memorial Award.
This award is given to the San Diego County community college football player that best exemplifies the high academic standards, athletic excellence, humility, leadership, character and class that the late Joe Roth exhibited during his All-America career.
---
Griffins' scholarship list grows
© East County Sports.com
EL CAJON (1-16-10) – Six more Grossmont College Griffins have signed scholarships to continue their football career at the four-year college level.
Defensive end Ja'RODD WATSON will move on to San Jose State, while nose guard JERICHO MAXWELL will check in at New Mexico Highlands.
Defensive back ABRAHAM MUHEIZE, who has been dogged with injuries the past two seasons, has landed at Central Washington, after turning down bids from Florida A&M, Texas State, Delta State (Mississippi), and a return to Montana State, which originally landed the 2005 CIF Player of the Year out of high school.
Central Washington posted an 11-0 record a year ago – the best record in Division II football – before falling in the NCAA national quarterfinals. The Wildcats were the Great Northwest Athletic Conference champions.
El Capitan graduate CODY FURR, a defensive end, has accepted a football ride to Missouri Southern, a Division II institution based in Joplin, Mo.
Others advancing to the next level are wide receiver NICK HILL (17 catches, 199 yards) to Baker (Kansas) University and tight end JOHN ADAMS to Southwest Missouri State. Hill was the Griffins' fourth-leading receiver with 17 catches for 199 yards.
Grossmont College head coach MIKE JORDAN assures there are more scholarships to come, including prize pupil HOMER MAUGA, who has turned down offers from major schools such as BYU and Indiana.
---
Hill lands scholarship to Nebraska-Kearney
© East County Sports.com
EL CAJON (1-13-10) – KENNY HILL never played a down for the Grossmont College Griffins, yet he earned a scholarship to NCAA Division II powerhouse Nebraska-Kearney.
Hill, a defensive back, greyshirted at Grossmont last season and is presently in Nebraska competing for a starting job for the Antelopes as a true freshman.
During his senior year at St. Augustine, Hill was set to go to Washington until Huskies head coach Ty Willingham was fired.
---
CCCAA State Championship
Sat., Dec. 12
Mt. San Antonio 7,
College of San Mateo 6
Mauga, Monson named
to all SoCal defense team
© East County Sports.com
EL CAJON (1-1-10) – Linebacker HOMER MAUGA and corner KYLE MONSON of Grossmont College have been selected to the JC Athletic Bureau All-Southern California first team defense.
Both Griffins are being heavily recruited by major universities, but as yet have not made a commitment.
---
SCFA Championship
Sat., Dec. 5
Mt. San Antonio 27, Palomar 2
SCFA Semifinals
Sat., Nov. 28
Palomar 38, Fullerton 36 (3-OT)
Mt. San Antonio 39, Bakersfield 17
Aztecs sign OL standout Bolanos
© East County Sports.com
EL CAJON (12-08-09) – Grossmont College offensive lineman JUAN BOLANOS has accepted a football scholarship to San Diego State. The 6-foot-7, 330-pound Bolanos, a graduate of Mount Miguel High, was a two-year starter for the Griffins.
It is believed that SDSU is also interested in linebacker HOMER MAUGA. Of course, the 6-foot, 220-pound All-National Division Southern Conference unanimous pick is also being wooed by BYU, UTEP, Idaho State and Kansas State.
Syracuse, Rutgers, Nevada and Central Florida are interested in defensive end Ja'RODD WATSON, while offensive lineman CHARLES WILEY has received multiple offers, including Eastern Michigan and Liberty University.
Offensive lineman BILLY DAWSON has been offered by Idaho State.
Grossmont MVP and cover corner KYLE MONSON has BYU, UTEP and UMass as well as multiple Division IAA and Division II schools checking him out.
Wide receiver XAVIER MARTIN has been offered by Wyoming, Utah State, and Massachusetts. Corner ARTHUR HOBBS is also being looked at by UMass and a couple others.
Safety JONATHAN DARBY has trips set up to Liberty and Stony Brook, while receiver MOHOMED FOFANA is visiting Syracuse.
Grossmont head coach MIKE JORDAN said college coaches are flooding his office every day looking for players. The aforementioned are just a sampling of what has been going on the past week.
---
Griffins enjoy outing at the Beach
Huge 4th quarter topples El Camino, 27-22;
Grossmont's 5th straight bowl triumph


WEEK 12 SCOREBOARD
Sat., Nov. 21
SCFA PLAYOFFS
Quarterfinals
So. California Bowl
(1) at Mt. San Antonio 69
(8) L.A. Pierce 31
---
Golden Empire Bowl
(4) at Bakersfield 24
(5) Allan Hancock 21
---
American Bowl
(2) at Fullerton 49
(7) L.A. Harbor 19
---
National Bowl
(6) Palomar 31
(3) at Cerritos 17
SCFA BOWL GAMES
US Bank Beach Bowl
Grossmont 27
at El Camino 22
---
Western State Bowl
at Saddleback 31
Coll. of the Canyons 20
---
Orange County Bowl
At Orange Coast
Golden West 37
Ventura 36 (OT)
---
Note – 'Super 7' Conference
teams posted a perfect 4-0
record in playoffs/bowls.
© East County Sports.com
TORRANCE (11-22-09) — With both the offense and defense performing at peak efficiency, Grossmont College will truly enjoy a satisfying offseason following a near-perfect fourth quarter to rally past host El Camino, 27-22, in the US Bank Beach Bowl.
The Griffins scored over three straight possessions to turn a 12-3 deficit into a 27-15 advantage. Meanwhile, the defense limited the potent Warriors, who averaged a state-best 40.4 points per game during the regular season, to their lowest point total of the season.
The victory again added to Grossmont's incredible string of postseason victories away from Mashin-Roth Memorial Field, as Saturday's (Nov. 21) verdict at El Camino's Murdock Stadium made its six wins in nine outings dating back to 2003.
"In the second half, we played like a real team and look how it turned out," said sophomore left tackle CHARLES WILEY, the main cog to an offensive line which allowed Griffins running back DARRIN ALIX to gain Offensive Player of the Game honors. "As a unit, we destroyed their defensive line."
Wiley & Co. took charge just before switching sides in the second half when Alix closed the third period with a 20-yard burst through a gaping hole. Grossmont, which collected just 159 total yards through three quarters, then would post an additional 176 total yards in the final 15 minutes to overwhelm the Warriors defense.
The scoring included touchdown passes by both Grossmont quarterbacks.
DORIAN STATON found SEAN BURR all alone in the left corner of the endzone for 12 yards on a fake draw to take the lead at 17-15. On the next possession, BRANDON FRICKE capped an 80-yard drive on an out-pass to PATRICK MAULL, who turned the corner and raced 47 yards down the sideline.
"We've had that play all year, but never used it until tonight," said Maull, who plays a hybrid tight end role. "The first time we threw it, they were all over it, but the next time, Brandon found me."
And when TROY MUENZER capped the next drive with his second field goal – a 34-yarder – Grossmont owned a 12-point lead with 2:39 remaining.
The Griffins defense then helped run out much of the clock by preventing anything deep as El Camino needed 12 plays to finally score with 48 seconds remaining. But the celebration began early when NICK HILL recovered the onside kick, giving Grossmont its fifth consecutive bowl win.
RECENT GRIFFINS BOWL SUCCESS
| | | | |
| --- | --- | --- | --- |
| Year | Bowl | Site | Result |
| 2009 | Beach Bowl | El Camino | df. El Camino, 27-22 |
| 2006 | So. Calif. Bowl | Grossmont | df. Victor Valley, 49-7 |
| 2005 | So. County Bowl | Southwestern | df. Glendale, 42-10 |
| 2004 | Verizon Bowl | Chaffey | df. Chaffey, 26-7 |
| 2003 | So. Calif. Bowl | Southwestern | df. Citrus, 38-28 |
Downing El Camino is by far the most momentous in the bowling streak.
"We came here for a win and played a beautiful game," noted defensive leader HOMER MAUGA, who registered a sack among his team-high 7 tackles. "We kept hyped up and gave 110 percent against a really good team."
"It's a great way to end my career here."
Mauga, who finished with 15 sacks this season, has received interest from more than half of Pac-10 Conference schools, plus San Diego State and Central Florida.
Along with Mauga, MIKA VAIMASANUU and CODY FURR recorded sacks, while JOSHUA UDEH also reached the quarterback, with his takedown also causing a fumble.
An important momentum shift occurred late in the third quarter.
A Muenzer punt of 45 yards barely landed inbounds, then bounded back towards the center of the playing field. El Camino's Andre Buford tried to collect the football, but the muff was recovered by Grossmont freshman ROLAND BROOKS.
"That punt return changed everything," El Camino coach John Featherstone told The Daily Breeze. "That gave them so much momentum and changed the complexion of the game."
Another key special teams play included a first-quarter punt block, as DEREK HOLSAPPLE and KEVEN WOODS both seemed to get a hand to the ball.
El Camino opened the scoring when Terran Williams stripped the ball from a Grossmont running back, rumbling 84 yards for the score. The Warriors missed on the 2-point conversion try for a 6-0 lead.
Muenzer answered with a 25-yard field goal, but El Camino's Jeremy Tucker opened the second period with a 7-yard TD run to cap a 75-yard march for a 12-3 lead.
Except for this El Camino drive and the final 70-yard march when the Griffins played near-perfect prevent defense, Grossmont yielded just 85 yards over the remainder of the contest. Grossmont won the total offense battle, 337-230.
"After that first drive, we never looked back," said Griffins middle linebacker ALEXANDER WONG, one of the team's tackling leaders throughout the season. "That little bit of adversity made us tighter.
"We proved that we play in the toughest conference in the state, so even though we were one of the teams on the playoff bubble just like El Camino, we still wanted to prove we're No. 1."
Added defensive end JA'RODD WATSON, "We had to get it done upstairs, then we knew we could bust on them. There was no need for crazy twists up front – we just played solid basic Grossmont defense to get it done."
Staton's first of two scoring strikes went to DUSTIN DISCOL to trim the deficit to 12-10 by the intermission.
Alix finished with 142 rushing yards on 23 carries.
Fricke completed 11-of-25 passes for 130 yards and a touchdown, while Staton was just 4-for-9, yet half of his completions went for scores.
Maull, XAVIER MARTIN and JUSTIN SALUM each collected three receptions. Martin also prevented a turnover with a fumble recovery in the El Camino secondary.
---
Darby gains Roth Award
© East County Sports.com
SAN DIEGO (11-20-08) – Grossmont College sophomore safety JONATHAN DARBY has been named the winner of the 33rd annual Joe Roth Memorial Award.
A graduate of West Hills High, Darby was presented the Griffins' most coveted honor at Thursday's (Nov. 19) team awards banquet held at Marina Village.
This award is given to the San Diego County community college football player that best exemplifies the high academic standards, athletic excellence, humility, leadership, character and class that the late Joe Roth exhibited during his All-America career.
Roth, a gifted quarterback, guided the Griffins to their only undefeated season and first state championship in 1974. He led Cal to its only Pac-10 championship in 1975 and was considered a potential NFL first-round draft pick before he died of cancer in February 1977.
The 6-foot-2, 200 Darby, who boasts a 4.0 grade-point average, has 72 tackles, four interceptions and one fumble recovery heading into Saturday's (Nov. 21) US Bank Beach Bowl against El Camino in Torrance.
Sophomore KYLE MONSON, a unanimous All-Southern Conference corner from Saugus, was selected Grossmont's Most Valuable Player. The 5-foot-7, 175-pound Monson led the conference with six interceptions and a dozen pass break-ups. He recorded 45 tackles in eight games.
Other award winners at the banquet were: outside linebacker HOMER MAUGA (MVP-Defense); running back JOEY DEMARTINO (MVP-Offense); linebacker ELLIOT CHAPMAN (Defensive captain); tackle JUAN BOLANOS (Offensive captain); kicker PAUL JONES (Most improved player); quarterback DORIAN STATON (top offensive freshman); ZACH MOORE (top defensive freshman); and CHARLES BOLDEN (MVP-Special teams).
All of these awards were selected in a vote by the Grossmont College players except the Joe Roth Award, which was determined by the coaches.
For Grossmont, it's a Beach

Griffins headed to US Bank Beach Bowl
© East County Sports.com
EL CAJON (11-16-09) — Grossmont College will make its seventh postseason appearance in nine years on Saturday (Nov. 21) when the Griffins tackle perennial power El Camino (8-2) in the 9th annual US Bank Beach Bowl at Torrance. Kickoff is set for 6 p.m.
The Griffins (7-3), who lost their final two regular season games to Santa Ana (13-10) and Saddleback (44-27), saw their SoCal playoff hopes evaporate. But they have received a challenging consolation prize by meeting the Warriors (8-2).
"I think both of us thought we were going to the state playoffs," said former Griffins assistant coach and long-time El Camino head coach John Featherstone. "I know it is disappointing on our side, and I'm sure Grossmont isn't happy about it."
Featherstone wants to make sure his players are "up" for this game.
"I know our guys are disappointed," he said. "I'm sure Grossmont's players feel the same way. But these bowl games have a way of becoming among the best we play all season. I expect it will be that way again."
El Camino's losses were to playoff participants Mt. San Antonio (42-26) and Cerritos (42-28).
"We were ranked No. 1 in SoCal for four weeks and were the best defense in terms of turnover ratio," Featherstone said. "But we shot ourselves in the foot too many times. Instead of forcing turnovers like we had been doing in our first six games, we started making the turnovers."
Disappointed yes, but Grossmont is happy to have one more game.
"We play in the toughest conference in Southern California," said Grossmont defensive coordinator and former head coach DAVE JORDAN. "When (head coach MIKE JORDAN) texted our players they seemed happy to have one more chance to play. It should be a great game."
GRIFFIN GRAFFITI — Not one of the state's 72 community college football teams went undefeated this season... Grossmont defensive lineman JA'RODD WATSON is the fourth Griffin to be invited to the JC All-American Bowl, which pits the California CC All-Stars against the NJCAA stars Dec. 12 in Chandler, Ariz... Palomar (8-2), which gained a SoCal playoff berth when the Griffins stumbled at Saddleback in the regular season finale, opens postseason play at Cerritos (9-1) in Norwalk Saturday (Nov. 21) at 7 p.m... Grossmont and El Camino have split four previous meetings, with the Warriors registering a 56-13 blowout in the 2007 season opener – their latest get-together.
---
For Griffins' Mauga, Monson,
unanimous was obvious
Both clear All-Conference picks
© East County Sports.com
EL CAJON (11-18-09) — Grossmont College sophomores HOMER MAUGA and KYLE MONSON were unanimous picks to the All-National Division, Southern Conference defense team.
That means that Mauga, a 6-foot-0, 220-pound outside linebacker, and Monson, a 5-8, 170-pound cornerback, are eligible for all-state recognition.
Four other Griffins were recognized in voting by the seven head coaches in the "Super 7" conference. Sophomore offensive tackle JUAN BOLANOS (6-7, 330), sophomore wide receiver XAVIER MARTIN (5-11, 205) and freshman running back JOEY DeMARTINO (5-11, 190) were named to the 2nd team offense.
Martin, the Griffins leading receiver with 338 yards and 5 touchdowns, would have obviously padded his stats further had he not been hampered by injuries in the last two games of the season. Martin also returned kicks and averaged 107.2 all-purpose yards per game.
Despite missing two games DeMartino led the Griffins in rushing, averaging 101.5 yards per game with 6 touchdowns. He was also Grossmont's top all-purpose runner, averaging 118.5 yards per game while scoring 42 points.
Rounding out Grossmont's all-conference selections was sophomore defensive tackle Ja'RODD WATSON (6-3, 275), who was selected to the 2nd team defense.
Southwestern College 's record-breaking freshman running back AARON HARRIS (Granite Hills), was a unanimous pick to the All-American Division, Mountain Conference 1st team, which makes him eligible for all-state honors. Harris broke the Jaguars single-season rushing record with 1,169 yards and 14 touchdowns on 200 carries.
Other inlanders named to the All-American Division, Mountain Conference 2nd team included San Diego Mesa's return specialist LARRY GIST (Helix) and long snapper VICENTE STAFFORD (Granite Hills).
---
WEEK ELEVEN SCOREBOARD
SCFA DIVISION I
Southern Conference
Saddleback 44, Grossmont 27
Fullerton 41, Santa Ana 7
Long Beach 42, Orange Coast 38
Palomar - bye
Northern Conference
Pasadena 38, Glendale 22
Bakersfield 24, Canyons 9
Venutra 41, Moorpark 28
Allan Hancock - bye
Central Conference
Mt. San Antonio 41, Chaffey 33
Citrus 26, Riverside 16
Cerritos 42, El Camino 28
Desert - bye

SCFA DIVISION II
Mountain Conference
Golden West 56, Southwestern 10
San Diego Mesa 33, Compton 12
SBVC 29, L.A. Harbor 21
Victor Valley 42, Mt. San Jacinto 36
Pacific Conference
East L.A. 52, Santa Barbara 46
Antrlopr Valley 41, L.A. Valley 10
west L.A. 25, L.A. Southwest 23
Santa Monica 49, L.A. Pierce 41
Saddleback halts Griffins' playoff hopes

Bowl berth still a possibility for Grossmont
© East County Sports.com
MISSION VIEJO (11-15-09) — No playoffs for the Grossmont College Griffins this year. But chances are they will earn a postseason bowl bid when those invitations are handed out Sunday (Nov. 15) afternoon.
The visiting Griffins (7-3) saw their shot at earning a position in the eight-team Southern California Regional playoffs blown out the window with Saturday's (Nov. 14) loss at Saddleback 44-27.
The Gauchos scored 44 points in a span of 34 minutes to finish the regular season 8-2 and tied with Palomar (8-2) for second place in the National Division Southern Conference at 4-2. The Griffins, who split six conference contests to place fourth, beat Palomar 29-26 but lost to last place Santa Ana. Palomar got the playoff berth by virtue of its 27-21 triumph over Saddleback last month.
Had Grossmont beaten Saddleback the Griffins would be headed to the regionals. For awhile, the Griffins appeared on a pace to do just that as they jumped in front of the Gauchos 14-0 before the game was eight minutes old.
Quarterback BRANDON FRICKE, who supplied the bulk of the Grossmont offense, hitting 21 of 48 passes for 270 yards and three touchdowns, lofted a 37-yard scoring screen pass to running back JOEY DeMARTINO to make it 7-0. Following a short Saddleback punt and a pass interference call against the Gauchos, the Griffins were on the march again. Fricke flipped a 6-yard aerial to KENYON PETTIS in the endzone to make it 14-0.
It took Saddleback 17 seconds to cut Grossmont's early lead in half. The Gauchos executed a double pass to wide open 6-foot-8, 235-pound TJ KNOWLES that covered 76 yards.
Two 15-yard unsportsmanlike penalties against Grossmont provided the spark for Saddleback's tying drive that left the score at 14-14 with 3:49 left in the first period.
The next two-plus quarters, however, would turn out to be a nightmare for Grossmont as Saddleback scored at will, churning out close to 350 yards of offense over the last three quarters.
The first of two TROY MUENZER field goals – this one from 23 yards – gave the Griffins a 17-14 edge at the close of the 1st quarter.
"This had a championship flavor, a playoff atmosphere," said Grossmont College defensive coordinator and former head coach DAVE JORDAN. "It was a real good game for 2 ½ quarters."
KYLE MONSON, a 5-7, 175-pound corner who batted away two passes and limited the Gauchos' 6-8 giant to 5 receptions, intercepted his sixth pass and returned it 44 yards to set up a second Fricke-to-Pettis TD. That scoring strike covered 20 yards, knotting the score at 24-all with 6:52 left in the half.
After that Grossmont's offense went south. The Griffins were unable to muster any kind of running game and finished with a net 20 yards on 19 carries. They totaled 290 yards for the night in glaring contrast to Saddleback's 453.
Trailing 31-24 after Jai Morris put Saddleback on top, the Griffins made perhaps their biggest blunder of the game right before the end of the first half. CHARLES BOLDEN blocked a Saddleback punt, giving the Griffins possession at the Gauchos 29. A 24-yard sprint by DeMartino made it first-and-goal from the 5.
A second DeMartino rush took the ball to the 2-yard line where the Griffins were assessed a 15-yard personal foul penalty. Following back-to-back losses on running plays Grossmont was suddenly back at the Saddleback 28, where Muenzer eventually missed a 45-yard field goal.
"Our special teams really hurt us," Jordan said. "We gave up too much yardage on kickoffs, our punting was inconsistent and we didn't do much on our own returns. You can't get away with sloppy play like that against a team like Saddleback."
The Gauchos burned the Griffins out of the Wildcat formation throughout the second half. And they brought over some players from the defensive side that had not shown up much in the previous games and films thereof.
Defensive back Cameron Chadwick lined up as the featured back in the increasingly popular Wildcat offense, rushing for 54 yards and a touchdown as the Gauchos racked up 212 yards on the ground.
Starting linebacker Kory Johnson was used at running back and bullied Grossmont's defense for 130 yards on 17 carries
The Saddleback defense wreaked havoc on Grossmont's quarterbacks Fricke and DORIAN STATON all night long. They settled for four sacks but forced the duo to throw too many balls away.
DeMartino chipped in a net 38 yards rushing and caught five passes for 74 yards and the one score for Grossmont.
Linebacker HOMER MAUGA kept his sack string alive with two against the Gauchos to go along with 8 tackles. The sophomore standout has recorded sacks in seven consecutive games, including 11 in the last six games. Five of those were multi-sack efforts.
---
WEEK TEN SCOREBOARD
SCFA DIVISION I
Southern Conference
Santa Ana 13, Grossmont 10
Fullerton 35, Long Beach 10
Palomar 41, Orange Coast 9
Saddleback - bye
Northern Conference
Canyons 29, Pasadena 22 (OT)
Allan Hancock 28, Ventura 21
Glendale 41, Moorpark 27
Glendale - bye
Central Conference
Mt. San Antonio 27, Cerritos 26 (OT)
El Camino 35, Citrus 26
Chaffey 10, Desert 7
Riverside - bye

SCFA DIVISION II
Mountain Conference
Southwestern 21, SD Mesa 19
Golden West 41, SBVC 21
L.A. Harbor 54, Mt. San Jacinto 10
Victor Valley 45, Compton 0
Pacific Conference
East L.A. 35, West L.A. 29
Santa Barbara 41, L.A. Valley 24
L.A. So'west 19, Santa Monica 18
L.A. Pierce 44, Antelope Valley 41
Griffins make crucial stand at Saddleback
© East County Sports.com
MISSION VIEJO (11-13-09) — It's come down to this for the Grossmont College Griffins and Saddleback Gauchos... Win or go home.
That may sound a bit cut throat, but a loss Saturday (Nov. 14) when these teams conclude the regular National Division Southern Conference season at the Gauchos' Snakepit Stadium could spell the end for one of them. Kickoff is set for 6 p.m.
If Grossmont (7-2, 3-2) wins, the Griffins will clinch a berth in the SoCal playoffs. If Saddleback wins, idle Palomar advances to the SoCal playoffs. That would leave Grossmont and Saddleback both groping for a postseason bowl game. There are no guarantees for gaining a bowl berth.
Saddleback (7-2, 3-2), which had a bye last week, defeated the Griffins, 38-21, when the Gauchos offense rolled up 478 yards last year. In that game, Saddleback held a 20-minute advantage in time-of-possession despite committing 12 penalties.
The Griffins played musical chairs at quarterback last week in a stunning 13-10 loss to Santa Ana. MATT JARVIS, BRANDON FRICKE and DORIAN STATON rotated taking snaps. None of the trio was dominant. Fricke is listed as the probable starter against Saddleback.
Gauchos QB David Ingram has passed for 1,263 yards and 8 TDs by completing close to 53 percent of his 212 attempts. Saddleback is currently 11th in the state in scoring, averaging 37.4 points-per-game for the season. Grossmont is 15th, cranking out 35 points per outing.
The Griffins rank 8th among state defenses permitting 268.3 yards and 18 points per game.
GRIFFIN GRAFITTI: Grossmont linebacker HOMER MAUGA has been named the Southern Conference Defensive Player of the Week for his 6 tackles and 2 sacks, a QB hurry and a fumble recovery against Santa Ana. Mauga now owns sacks in six consecutive contests, including nine over the past five games – 4 were multi-sack efforts... Saddleback leads the all-time series 12-4-1 (including one GC forfeit)... The game will be broadcast live on the Gaucho Sports Network, starting at 6 p.m. Windows Media Player is required to view the event and you can purchase the streaming by visiting the Gaucho Sports Network web page at the following LINK. Any questions check Saddleback College website. The play-per-view fee is $10... The Grossmont College team banquet is Thursday, Nov. 19. For details and reservations call (619) 644-7412.
---
Sloppy play puts Griffins' backs to the wall
© East County Sports.com
EL CAJON (11-07-09) — OK, so now the Grossmont College Griffins have to do it the hard way. That is if they expect to stand any chance of qualifying for the eight-team SoCal playoffs.
Grossmont (7-2, 3-2 National Division Southern Conference) stubbed its toe and did a pratfall in its final home game Saturday (Nov. 7), falling to last place Santa Ana, 13-10, at Mashin-Roth Memorial Field. Seven turnovers and a muffed onsides kick proved costly as those miscues led to 10 of Santa Ana 's points.
Because of that untimely setback, the Griffins are now facing a must-win situation when they close the regular season Saturday (Nov. 14) at Saddleback (7-2, 3-2 NatSo) in Mission Viejo at 7 p.m. If the Griffins are successful, they will tie idle Palomar for second place in the National Division Southern Conference behind champion Fullerton.
"It all hinges on the Saddleback game now," said Grossmont coach MIKE JORDAN said. At the very least this game includes a bowl game invite to the winner. The loser may be on the outside looking in.
Against Santa Ana, it was an afternoon of misfires for the Griffins, who contributed to their demise more than the Dons' stout defense. Sure, the Griffins outgained the visiting Dons (4-5, 1-4 NatSo) by a 338-236 count, but could well have lost the game on the final play of the first half. No question that was a huge momentum boost for Santa Ana.
With BRANDON FRICKE – who hadn't played since week two due to injury – at the helm, the Griffins, trailing 10-0 at the time, made one final charge for the end zone as time was running out in the first half. A 21-yard pass from Fricke to GREG CORDER lanced what would be a 64-yard drive. Things were well on schedule as the Griffins advanced the ball to a first-and-goal from the 10-yard line. Three plays later and less than a minute remaining, Grossmont had positioned itself at the 1-yard line.
Grossmont coach MIKE JORDAN replaced the smaller Fricke with 6-foot-2, 230-pound MATT JARVIS at quarterback. At that point a QB sneak loomed obvious, and that was the play call. Somehow Jarvis was unable to cover the 32 inches needed to put Grossmont on the scoreboard and Santa Ana pranced off the field with a 10-0 advantage at the break.
"Obviously that was a big disappointment," Jordan said. "If we score there, who knows how the second half turns out."
Nonetheless, Grossmont started fast in the 3rd quarter. On the Griffins' third play following intermission, Jarvis lofted a 60-yard scoring pass to JON MOLZEN to put Grossmont on the board less than three minutes into the second half.
When Santa Ana bobbled the ensuing kickoff DAMIEN SMITH fell on the loose ball for Grossmont, giving the Griffins possession at the Dons' 18-yard line. The golden scoring opportunity turned to bronze when the Griffins had to settle for a game-tying 28-yard field goal by TROY MUENZER.
Even in defeat Grossmont's defense was rock solid. The Griffins were led by outside linebacker HOMER MAUGA, who recorded 6 tackles and 2 sacks, a QB hurry and a fumble recovery. Mauga's credentials are worthy of conference player of the year as he now owns sacks in six consecutive contests, including nine over the past five games – four were multi-sack efforts.
The problem was Grossmont's offense kept putting its defense in the hole. But time after time the Griffins defenders came up with the big play down the stretch.
With the score tied 10-10 Grossmont's CORY BELL blocked a Chase Lansford (son of former California Angels baseball standout Carney Lansford) field goal attempt.
That set the Griffins' offense in motion as they drove to the Santa Ana 25-yard line where a 4th down DORIAN STATON pass fell incomplete. Once again Santa Ana stormed back down to Grossmont's end of the field only to see Lansford miss a 34-yard field goal.
Credit for that miss belongs to Grossmont's special teams for putting on the pressure.
But the Griffins failed to capitalize and they were forced to punt out of their own endzone. For the third time the Dons stalked the red zone but were stopped at the 3-yard line as the clock was winding down.
This time Lansford didn't miss as he kicked a game-winning field goal from 20 yards out with 20 seconds remaining.
Grossmont made one final charge as KI'ANIE BROOKS returned a kickoff out of the endzone for 34 yards.
With 11 seconds left Jarvis connected with ALEX McLELAND for a 21-yard gain that carried the ball into Santa Ana territory. But McLeland fumbled after being tackled and Santa Ana recovered to end the game.
Jarvis finished with 168 yards, completing 10 of 22 passes. He was sacked twice and threw three interceptions. Fricke was 6 of 10 for 69 yards and was sacked twice.
JOEY DeMARTINO led Grossmont's ground game with 89 yards rushing on 24 carries. A shortcoming for the Griffins that must be shored up before they face Saddleback is convincing their running backs that they have to block to allow their quarterbacks time to complete a pass.
If that doesn't happen at Saddleback, it may be a case of see ya next year.
---
Mauga tabbed for national
All-Star game
© East County Sports.com
EL CAJON (11-3-09/Updated 11-5-09) — Grossmont College's HOMER MAUGA has been invited to participate in the 2nd annual National Junior College All American Game, which will be held at Chandler High in Chandler, Ariz., on Sat., Dec. 12. Kickoff is set for 1:15 p.m.
Triumphant Sports has invited the top 85 football players from around nation to compete in this event, which pits the NJCAA All-American USA Team against the CACC All-Americans from California.
A 6-foot-1, 230-pound sophomore linebacker, Mauga has recorded nine sacks and averages seven tackles per game for the Griffins (7-1). Mauga is the first Grossmont College football player to be invited to this postseason classic.
Triumphant Sports expects that more than 7,500 fans will attend this all-star football game.
GRIFFIN GRAFFITI — Offensive linemen CHARLES WILEY (6-6, 305) and JUAN BOLANOS (6-7, 330) will join OLB HOMER MAUGA in participating in the 2nd annual National Junior College All American Game.
No. 13 Griffins begin playoff drive,
host Santa Ana in home finale
© East County Sports.com
EL CAJON (11-05-09) — Grossmont College's quest for the Southern California playoffs begins Saturday (Nov. 7) when the Griffins host Santa Ana in a National Division Southern Conference football clash beginning at 1 p.m. at Mashin-Roth Memorial Field.
This is the final regular season home game for Grossmont (7-1, 3-1), which needs a win over the Dons (3-5, 0-4) and a season-ending win at Saddleback on Nov. 20. Should the Griffins execute a sweep they will be guaranteed a berth in the playoffs.
While Grossmont is coming off a bye, the Dons, led by defensive back Aaron Garbutt's had 13 tackles, succumbed to Long Beach 29-13. The Griffins lone setback was 30-17 to conference-leading Fullerton. Santa Ana ends the season hosting the Hornets.
Grossmont head coach MIKE JORDAN made it clear that his Griffins have no reason to be cocky, considering the visiting Dons are capable of springing an upset. The coach doesn't even think about Saddleback at this juncture.
"Santa Ana is plenty good enough to beat us," Jordan said.
Not that Jordan believes that will happen. The fact that the Griffins are coming off a bye is a wrinkle he is not sure will be a plus or a minus.
"Our job is the task at hand," Jordan said. "We hope what is at stake will keep our kids on edge."
Grossmont has three quarterbacks in the running for the starting job – BRANDON FRICKE, MATT JARVIS and DORIAN STATON.
"It's a dead heat right now," Jordan said. "Whoever has the hot hand will get the ball. All three could handle the ball when all is said and done."
Jordan believes the Griffins are physically fit to tackle the remainder of the season.
"I feel good about our chances," Jordan said.
RANKINGS — Grossmont is nationally ranked No. 13 by JC Grid-Wire and No. 12 in the JC Gridiron.com Dirty 30. In the COA Southern California Poll, the Griffins are tied with Santa Maria's Allan Hancock at No. 7.
GRIFFIN GRAFFITI — Santa Ana leads the all-time series 7-4, including a last-minute 18-15 victory last year... JOEY DeMARTINO is third in the conference with 685 yards and 6 TDs on 103 carries... Freshman QB DORIAN STATON is 4th in the conference with 159.4 yards per game... GC corner KYLE MONSON leads the conference with 5 interceptions and safety JONATHAN DARBY is third with four thefts... XAXIER MARTIN ranks 4th in kick return average with a 27.9 average on 15 returns... DeMartino is tied for third in scoring averaging with six points per game.
---
SCFA playoff possibilities almost endless
Griffins get bye while others will get eliminated

WEEK NINE SCOREBOARD
SCFA DIVISION I
Southern Conference
Fullerton 20, Palomar 17
Saddleback 52, Orange Coast 14
Long Beach 29, Santa Ana 13
Grossmont - bye
Northern Conference
Allan Hancock 55, Glendale 27
Bakersfield 44, Ventura 14
Pasadena 27, Moorpark 20
Coll. of the Canyons - bye
Central Conference
Mt. San Antonio 42, El Camino 26
Cerritos 27, Coll. of the Desert 17
Chaffey 34, Riverside 14
Citrus - bye

SCFA DIVISION II
Mountain Conference
Victor Valley 42, San Diego Mesa 3
L.A. Harbor 72, Compton 0
Golden West 49, Mt. San Jacinto 21
SBVC 42, Southwestern 38
Pacific Conference
West L.A. 42, Santa Barbara 40
East L.A. 51, Santa Monica 37
L.A. Pierce 45, L.A. Valley 28
Antelope Valley 35, L.A. So'west 7
© East County Sports.com
EL CAJON (10-25-09) — Based on some of the various polls, it would appear that many of those casting ballots are discounting Grossmont College from making the Southern California playoffs.
Yet, the Griffins remain on the bubble for one of the eight coveted playoff positions, which will be determined over the next three weeks.
Grossmont (7-1, 3-1) has a bye this week.
The Griffins return to action with their final home game against upset-minded Santa Ana on Saturday (Nov. 7) followed by the regular season closing bout on Nov. 14 against contender Saddleback (6-2, 2-2) in Mission Viejo.
If the Griffins can execute a sweep, they'll be in. If they split – and include a win over the Saddleback Gauchos in that great divide – they may still make the grade.
The Gauchos hope to keep their playoff fire flickering when they travel to Orange Coast (5-2, 1-2) in a must-win situation against the Pirates on Saturday (Oct. 31).
The Southern Conference definitely has a slant of Orange County favoritism to its scheduling – at least as far a Grossmont College is concerned. Long Beach, Fullerton, Orange Coast and Saddleback all received a bye week prior to meeting the Griffins.
Advantage to the OC? No doubt.
For now, the Griffins must make like cheerleaders and root for the nationally-ranked No. 10 Palomar Comets (7-1, 3-1), who host No. 12 Fullerton (6-1, 3-0) Saturday (Oct. 31) at Escondido High School. Kickoff in the crucial contest is 6 p.m.
Here's the deal. Grossmont handed Palomar its lone loss, 29-26, but Fullerton dropped the Griffins 30-17. Thus, a Comets win over the Hornets would lock the Southern Conference title into a three-way tie between Grossmont, Palomar and Fullerton.
Should that potential tie hold down the stretch, one of those three teams will probably wind up on the outside looking in when the SoCal berths are announced. The odd-team out would likely land a post-season bowl game, however.
As many as 14 teams remain in the running for those eight berths heading into this weekend.
GRIFFIN GRAFFITI — Quarterback MATT JARVIS, tight end JACOB PODPORA and linebacker HOMER MAUGA were selected National Division Southern Conference honorable mention players of the week.
---
Orange Coast Pirates-Grossmont Griffins
(Slideshow by Donna Rohmer)
No notice? No problem for
Grossmont quarterback Jarvis
4 long TD passes, 367 yards
sinks Orange Coast, 43-12
© East County Sports.com
EL CAJON (10-25-09) — Grossmont College sophomore MATT JARVIS didn't know he was starting Saturday's (Oct. 24) National Division Southern Conference showdown against visiting Orange Coast College at Mashin-Roth Memorial Field until after Friday's practice.
He didn't have 24 hours to get nervous even though he was leading the Griffins into a must-win situation against the Pirates (5-1, 1-1) from Costa Mesa.
Add to a possible case of butterflies for Jarvis that this was to be only his second start since 2005 – when he was a senior at El Capitan – one could see the pressure was on.
OTHER VIEWS
Orange County Register
inc. Fullerton-Saddleback coverage

---
SignOn San Diego
---
Costa Mesa Daily Pilot
"The Pirates were plagued by an inefficient passing game and an overmatched secondary in what was their most lopsided loss in 73 games. Not since Palomar topped them, 43-6, in 2002, have the Pirates been beaten so thoroughly."
No worries – Jarvis was magnificent. And so were the Griffins, who pulverized the Pirates, 43-12, to maintain a share of second place in the "Super 7" conference.
The 6-foot-3, 230-pound Jarvis, who last started against Southwestern in Week 3, completed 16 of 30 passes for a career-high 367 yards and four touchdowns.
"The line did a great job of letting me drop back and pick people apart," said Jarvis, who has appeared in all but two of Grossmont's eight games. "We were coming off a tough loss last week (at Fullerton ) so we know we have to win out to make the (state) playoffs and have a shot at winning our conference."
WEEK EIGHT SCOREBOARD
SCFA DIVISION I
Southern Conference
Grossmont 43, Orange Coast 12
Palomar 44, Long Beach 23
Fullerton 22, Saddleback 13
Santa Ana - bye
Northern Conference
Bakersfield 49, Glendale 3
Allan Hancock 62, Moorpark 28
Ventura 23, Canyons 6
Pasadena - bye
Central Conference
Citrus 20, Chaffey 17
Cerritos 58, Riverside 17
Mt. San Antonio 63, Desert 0
El Camino - bye

SCFA DIVISION II
Mountain Conference
Victor Valley 35, Southwestern 24
L.A. Harbor 42, San Diego Mesa 31
Golden West 66, Compton 0
San Bernardino Valley 28, Mt. San Jacinto 17
Pacific Conference
Santa Monica 29, West L.A. 28
L.A. Valley 48, L.A. Southwest 10
L.A. Pierce 46, Santa Barbara 14
Antelope Valley 41, East L.A. 27
On the Griffins' third play from scrimmage Jarvis connected with a wide open JACOB PODPORA with a 50-yard touchdown play. In the next series Jarvis led the Griffins to a 20-yard field goal by TROY MUENZER, and suddenly it was 10-0 with 4:47 left in the 1st quarter.
After basically spinning their wheels the remainder of the 1st half Jarvis dialed long-distance in the 3rd quarter, hitting KENYON PETTIS with a 60-yard scoring strike and then finding Podpora in the open again to complete a 61-yard TD pass.
With little more than seven minutes into the 2nd half Grossmont had a commanding 24-3 lead.
"He throws a real accurate downfield ball," said coach MIKE JORDAN. "When we protect him we have the receivers who can catch the ball."
Jarvis' final touchdown pass came on a 37-yarder to ALEX McLELAND, expanding the Griffins lead to 30-3 with 2:29 remaining. But he still wasn't through.
On the ensuing series he hooked up with PATRICK MAULL on a 42-yard pass. JOEY DeMARTINO took over from there, jogging the final five yards to turn the game into a rout, 36-3.
Podpora, an unheralded tight end, caught more passes in this game than he had in his first five games combined, finishing with 6 receptions for 156 yards and the two scores.
"It's always exciting to catch the ball," said Podpora, a former Santana High defensive end. "Usually as the tight end, you expect the safety to be back there to hit you. When I caught that first ball I was bracing to get hit, but there was nobody there. So I just kept on running. On the second touchdown I got a great block by DUSTIN (DRISCOL)."
Quarterback NICK CARY came off the Grossmont bench to guide the Griffins over the last 7½ minutes. He completed 2 of 4 passes for 49 yards, including a 33-yard touchdown connection with MOHAMMED FOFANA. Cary was also the Griffins second leading rusher with 7 yards on 2 carries.
DeMartino topped the Griffins' run game with 52 yards on 16 carries.
If not for wholesale substitutions the Griffins would have kept Orange Coast out of the endzone. The Pirates' offensive showing consisted of two field goals until they finally scored a touchdown with 55 seconds left.
Grossmont's HOMER MAUGA once again proved that he is one of the top linebackers in community college football with 8 tackles – 4 of them for losses – and a pair of sacks.
Mauga now owns sacks in five consecutive contests, including seven over the past four games – three were multi-sack efforts.
Griffins corner KYLE MONSON had another big game. The 5-foot-7, 175-pound freshman recorded 8 tackles and his 5th interception of the season. A second theft that he returned 39 yards for an apparent touchdown was nullified by a penalty.
CORY BELL accounted for 2 of the Griffins' 4 interceptions and JONATHAN DARBY picked off his 4th of the season. WINN McALONEY and CHARLES BOLDEN each blocked a kick.
Grossmont will have Halloween weekend off before welcoming Santa Ana on Saturday (Nov. 4).
---
It's must win time for both Griffins, Orange Coast

With one loss each, there's no more room for mistakes
© East County Sports.com
EL CAJON (10-23-09) — Between them, the Grossmont College Griffins and the visiting Orange Coast Pirates have compiled an overall record of 11-2. Both are rated among the upper echelon of the various polls.
Bottom line though is this is a must-win for both squads if they have aspirations of earning a berth in the 8-team Southern California playoffs.
Orange Coast (5-1, 1-1 National Division–Southern Conference), out of Costa Mesa, will tackle the Griffins (6-1, 2-1 (NatSo) on Saturday (Oct. 24) at Mashin-Roth Memorial Field at 1 p.m.
Front-running Fullerton put the squeeze on Orange Coast 38-10 before whipping the Griffins 30-17 last week.
Grossmont leads the Southern Conference in total offense with 440.6 yards and 37.4 points per game.
The Griffins look to JOEY DeMARTINO (87-633, 5 TDs, 126.6 ypg), who ranks 2nd among the Southern Conference rushers and is finally back at full strength.
Quarterback DORIAN STATON, the circuit's No. 3 quarterback, has completed 80 of 140 passes for 964 yards and 11 touchdowns. He's also rushed for 152 yards and 3 scores.
Versatile XAVIER MARTIN, averaging 129 all-purpose yards with 6 touchdowns, is the Griffins' leading receiver with 27 catches. He is also a threat returning kickoffs and punts.
Defensively Grossmont ranks No. 3 in the conference, allowing 275.3 yards and 19.9 points per game.
Orange Coast is last in total offense, generating just 280 yards and 19 points a game.
"I don't care what their stats say, Orange Coast 's offensive line is huge – about 325 pounds a man," said Grossmont defensive coordinator DAVE JORDAN. "They are capable of moving the ball and putting up points. We're going to have to beat 'em with our quickness."
That starts with linebackers HOMER MAUGA, ELLIOT CHAPMAN and WINN McALONEY, along with corner KYLE MONSON and safety JONATHAN DARBY.
GRIFFIN GRAFFITI — The University of Wyoming coaching staff attend Thursday's practice at Grossmont... Orange Coast leads the all-time series 14-4-1, but the Griffins won 21-13 last year... Grossmont is ranked 9th in Southern California and 14th in the state... OCC is No. 18 in the state and 11th in Southern California... The Griffins and OCC are tied for second in the circuit with 21 sacks apiece.
---
Fullerton's Turner circles
around Grossmont, 30-17
© East County Sports.com
FULLERTON (10-18-09) — Grossmont College can look internally, lamenting about a series of missed tackles which led to big plays. The Griffins could also bemoan a series of questionable calls by the officiating crew, including three where flags on host Fullerton College were picked up without explanation.
WEEK SEVEN SCOREBOARD
SCFA DIVISION I
Southern Conference
Fullerton 30, Grossmont 17
Palomar 41, Santa Ana 27
Saddleback 28, Long Beach 24
Ornage Coast - bye
Northern Conference
Bakersfield 52, Moorpark 14
Canyons 14, Glendale 6
Allan Hancock 38, Pasadena 23
Ventura - bye
Central Conference
Cerritos 21, Citrus 16
El Camino 42, Desert 20
Mt. San Antonio 45, Riverside 12
Chaffey - bye
SCFA DIVISION II
Mountain Conference
Southwestern 51, Mt. San Jacinto 49
Golden West 18, San Diego Mesa 7
L.A. Harbor 27, Victor Valley 13
San Bernardino Valley 42, Compton 14
Pacific Conference
Antelope Valley 35, West LA 10
East L.A. 41, L.A. Valley 40
L.A. Pierce 24, L.A. Southwest 0
Santa Monica 16, Santa Barbara 13
However, when deciding what determined Saturday's (Oct. 18) "Super 7" Conference ballgame is one ingredient not found wearing green. Hornets running back Kenny Turner again proved to be one of community college football's most elusive backs, rushing for 153 yards and a pair of touchdowns in a 30-17 decision at Fullerton Union District Stadium.
Turner's ability to spin out of tackles or make defenders miss – especially against an opponent already suffering when it comes to making key stops – led to several big plays to move Fullerton (5-1, 2-0 Southern Conference) a half-game ahead of Grossmont (6-1, 2-1 SC) in the standings in a battle of the circuit's two remaining undefeated ballclubs.
"We have opportunities arise, we just try to take advantage of each of them," said Turner, "With our line, we can make big plays. I just do whatever I can with the ball."
The most significant of those plays capped the first half moments after Grossmont bounced back from a 10-0 deficit to seemingly tie the game going into the intermission.
Following a muffed punt which gave Fullerton possession on the Griffins-39 with 12 seconds left, Turner took off with the ball towards the left sideline. He busted through two tackles as he turned up field, spun through two other tacklers near the 10, then fell into the end zone with another Grossmont defender draped on his back.
The touchdown not only gave Fullerton the lead for keeps at 17-10, the momentum swing never returned to the Griffins, who were shutout until the final minute of the ballgame.
"We just couldn't wrap up, thus we allowed some cheap touchdowns," said Grossmont defensive back KYLE MONSON, who registered an interception – his fourth in two weeks – to key the team's first-half comeback. "Sure they had the trick field goal, but they got us for some plays, too."
Following an early field goal in the first quarter, Fullerton lined up for a second boot early in the second quarter. However, holder Matt Heady, the Hornets' second-string quarterback, jumped up after taking the snap and floated a 23-yard TD pass to Justin Dunford.
Grossmont coaches barked that the play was illegal, since the receiver never was in the huddle; he just barely stepped onto the field without checking to at least the numbers painted on the field (the "sleeper" play of sneaking a player onto the playing surface in front of a team's bench was long ago outlawed).
Getting burned on a trick play only woke up the Griffins, who scored 10 points over their next two possessions.
The string started when DORIAN STATON tossed a deep rainbow pass, as KENYON PETTIS got behind the Hornets secondary to catch the ball in stride for the score it make it 10-7. A few minutes later, a quarterback sack by JA'RODD WATSON forced Fullerton to punt. Grossmont eventually cashed in that break to tie it on a 34-yard field goal by TROY MUENZER.
"We kept our composure after the fake field goal," noted Watson, who posted a shared sack with teammate MATT NILMEYER. "But not all the plays are going to go your way. We just need to work harder together."
"I don't expect to lose any more games this season – we should see Fullerton again (in the playoffs)."
The second half was Fullerton's, starting with a 25-yard TD pass to Dunford late in the third period, although Grossmont shared visions of a comeback similar to the Chaffey game in Week 4 when a missed extra point kept the door open enough for a rally – this time, on a blocked PAT by ZACH MOORE.
But on the first snap of the fourth period, Turner rambled for a 29-yard score, making up for his 61-yard TD rush from moments earlier which was chopped down to a 41-yard gain due to a downfield penalty on the Hornets.
MATT JARVIS, Grossmont's back-up quarterback, hit BRANDON CHAMBERS on a 26-yard cosmetic tally with 1:00 remaining. Otherwise, the Griffins collected just 244 total yards, leaving the defense on the field for more than 60 percent of the ballgame.
Still, several of Grossmont's top individual defenders again posted solid outings. Included were a pair of sacks by HOMER MAUGA, while ELLIOT CHAPMAN posted 11 tackles (7 solo).
Staton completed 14 of 27 passes for 159 yards, including a pair of completions for 77 yards to Pettis. Running back JOEY DeMARTINO was limited to 48 yards on 13 carries.
Grossmont will host Orange Coast (5-1, 1-1 NatSo) – its third straight league opponent coming off a bye – on Saturday (Oct. 24).
---
Sat., Oct. 17
Grossmont (6-0, 2-0) at Fullerton (4-1, 1-0)
At Fullerton (HS) District Stadium, 6 p.m.
Super 7 leaders meet
is all the buzz when
Griffins faces Fullerton
© East County Sports.com
FULLERTON (10-16-09) — Grossmont College faces one of its stiffest challenges of the National Division Southern Conference football season on Saturday (Oct. 17) when the Griffins tackle the Fullerton Hornets at 6 p.m. at Fullerton High School.
This is a pivotal game for the Griffins (6-0, 2-0), who lead the division going in. Fullerton (4-1, 1-0) is the only other team among the "Super 7" without a defeat.
"You can't look past anybody in this conference," Grossmont coach MIKE JORDAN said. "Everybody has good players and all are capable of winning on any given day. Obviously, Fullerton is among the best in this elite conference."
Fullerton opened division activity by bowling over Orange Coast 38-10. The Hornets also own an impressive 70-17 romp over Moorpark, but folded their wings in a 26-13 loss to College of the Canyons.
The unofficial motto at Grossmont is "find a way." And so far, despite different inadequacies, the Griffins have done exactly that. Injuries have caused some inconsistency, but Grossmont appears to be at full strength.
One thing that has stung the Griffins each of the past two seasons is the schedule has worked against them. Every week Grossmont's conference foe is coming off a bye prior to tackling the Griffins.
"Having two weeks to prepare for a team is a definite advantage," Jordan said. "But it's just something we have to deal with. We'll be ready."
GRIFFIN GRAFFITI — For the fifth time in six weeks, the Griffins have captured one of the three National Division Southern Conference player of the week awards. Freshman corner KYLE MONSON was selected the Defensive Player of the Week for his three interceptions in last week's win over Long Beach... Linebacker ANDREW WONG and JERICHO MAXWELL received honorable mention... Fullerton OT John Cullen (6-6, 280) is rated the fifth-best Division I college prospect by Rivals.com. Hornets DE Joel Bonomolo (6-3, 245) is rated the 17th-best prospect at his position by Rivals.com.
DID YOU KNOW? Grossmont's second football game in its inaugural 1962 season was at Fullerton and televised locally by Los Angeles' KCOP Channel 13. For the record, the Hornets won that one 22-0... Fullerton leads the all-time series 13-4, including a 44-15 victory last year.
---
Grossmont 21, Long Beach 9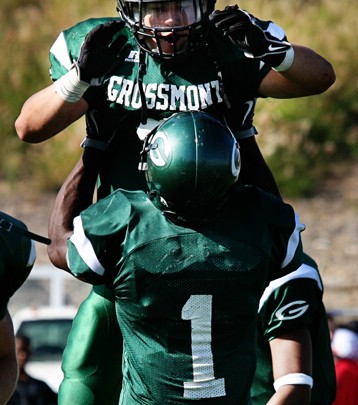 The Griffins have "fun, fun, fun;" surf past Beach.
(Photo by Donna Rohmer)
Long Beach Vikings at Grossmont Griffins
(Slideshow by Donna Rohmer)
GROSSMONT GRIFFINS ON KGTV-10 VIDEO
Griffins (6-0) paste
visiting Long Beach
© East County Sports.com
EL CAJON (10-11-09) — Considering Grossmont College was facing a Long Beach City College defense which was allowing a state-high 56.6 points per game on Saturday (Oct. 10), you'd think the Griffins would be licking their chops.
Turns out they were fortunate not to be licking their wounds after claiming a 21-9 National Division Southern Conference win over the pesky Vikings at Mashin-Roth Field.
The Griffins, who led only 7-3 nine minutes into the third quarter, finished with a season scoring low.
"We're a pretty tight team," said linebacker ALEXANDER WONG. "We don't like pointing fingers to adversity. We pull together, not blaming anybody."
Even though they didn't sparkle, Grossmont did manage to produce 421 yards against a Long Beach crew that came in allowing 546 yards per game.
Bottom line: Grossmont is 6-0 and leads the National Southern Division with a 2-0 mark. The Griffins will take on the second-place Fullerton College on Saturday (Oct. 17). Kickoff from Fullerton (Union HS) District Stadium is 6 p.m.
The only finger Wong needed was one to signify that he was No. 1 in tackles as he led the Griffins with 13 stops.
A transfer from San Jose State, the 5-foot-10, 230-pound Wong exhibited extraordinary quickness all afternoon, making tackles as far downfield as 40 yards.
"I attribute my playing style to being disciplined and not trying to do too much," Wong said. "I just play within the scheme and play hard. You have to play with your heart and go get 'em like they stole something from you."
Grossmont intercepted 4 passes – 3 of them by corner KYLE MONSON. Two of the thefts by the 5-7, 175-pound freshman from Saugus came in the endzone, stalling potential Long Beach scoring drives. It appeared that Monson had a third pick in the endzone, but his catch was ruled out of bounds. He also picked off a pass near midfield.
"I thought I was inbounds and I should have had four interceptions," Monson said. "But we'll just have to look at the films and see."
At his size Monson realizes that nearly every receiver he is matched up against is going to be taller.
"I know they think they're picking on me because they can send their taller receivers out on a shorter corner, like me," Monson said. "But that doesn't bother me. Based on some of the routes they try to run, it comes down to knowing what they want to do, and anticipating where they want to put the ball."
For Monson it's a matter of positioning and somehow he always seems to wind up on front of the receiver, which can cause the offensive player to try to go over Monson's back. And that can lead to offensive pass interference.
Grossmont blocked a field goal and a punt. The field goal rejection, made by JERICHO MAXWELL on the final play of the 1st half was picked up by MARKUS PEIRCE-BREWSTER, who rambled 25 yards before lateraling to HOMER MAUGA, who traveled an additional 25 yards before tossing the ball to CORY BELL who advanced another 20 yards to the Long Beach 10-yard line before he was knocked out of bounds with two seconds to play.
Unfortunately for Grossmont, the referees failed to stop the clock, so the half ended with the Griffins clinging to a 4-point lead.
OTHNIEL MAIAVA blocked a punt in the 3rd quarter after the Griffins had extended their lead to 14-3 on a 20-yard touchdown pass from DORIAN STATON to PATRICK MAULL. A product of Helix High, Maull did some fancy dancing to shake two Long Beach tacklers on his way to the endzone.
DARRIN ALIX capped a nine play, 81-yard scoring drive with a 5-yard run to make it 21-3 with 5:33 left in the game.
RAMON JUDKINS led the Griffins' running game with 83 yards on a dozen carries.
WEEK SIX SCOREBOARD
SCFA DIVISION I
Southern Conf./'The Super 7'
Grossmont 21, Long Beach 9
Palomar 27, Saddleback 21
Orange Cst. 33, Santa Ana 27 (3OT)
Fullerton - bye
Central Conference
Mt. San Antonio 55, Citrus 0
El Camino 24, Chaffey 13
Desert 41, Riverside 40 (OT)
Cerritos - bye
Northern Conference
Ventura 26, Pasadena 20
Canyons 31, Moorpark 7
Bakersfield 31, Allan Hancock 24
Glendale - bye

---
SCFA DIVISION II
Mountain Conference
All have byes
Pacific Conference
L.A. Pierce 62, West L.A. 55 (OT)
All others have byes
Staton completed 20 of 36 passes for 225 yards and a touchdown. Staton's 1-yard run accounted for Grossmont's only touchdown in the 1st half. It was setup by an interception and 22-yard return by WINN McALONEY with 2:44 left in the 1st quarter.
However, Staton was sacked four times as Long Beach's defense did not live up to its miserable press clippings.
"It's like every game in our conference," said Griffins coach MIKE JORDAN. "It's gonna be tough. And it's not going to get any easier the rest of the way."
Asked if last week's 29-26 victory over Palomar may have sapped the Griffins' emotions for this joust against the Vikings (1-4, 0-1 NatSo), Jordan acknowledged "Yeah, we were maybe a little flat, which we talked about before this game. But we were still functional. We won the game, right?"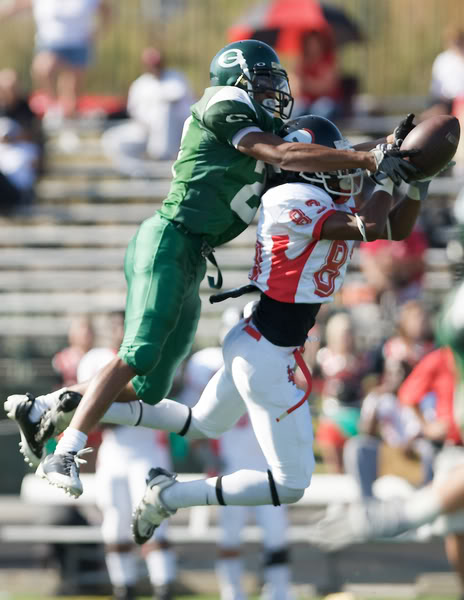 (Photo by John Fajardo, Long Beach Post)
---
SATURDAY
Long Beach City College
at Grossmont College
Mashin-Roth Memorial
Stadium, 1 p.m.
Imperfect Griffins place
perfect record on the line,
play ball with The Beach
© East County Sports.com
EL CAJON (10-09-09) — Riding high in the saddle at the moment, Grossmont College, which is ranked No. 12 in the nation in JC Grid-Wire/JC Football.com's Top 25, will entertain Long Beach City Saturday (Oct. 10) in a 1 p.m. National Division-Southern Conference contest at Mashin-Roth Memorial Field.
Although far from perfect in their means to arrive at the halfway point in the season unbeaten, the Griffins (5-0, 1-0 SC) always seem to find a way to finish on top. That's a mark of a championship football team.
It's also a bit risky. Teams that repeatedly walk the tightrope as do these Griffins, have been known to trip.
No question the Griffins – ranked No. 7 in the state and No. 4 in Southern California – are heavily favored to handle the visiting Vikings (1-3, 0-0 SC) this weekend.
But there are no givens. Victories are earned not granted.
Grossmont, which has been blanked in four of its last eight quarters, should welcome a chance to rack up some points against a LBCC team surrendering an average of 56.5 points in four games. But the Vikings can put the ball in the endzone, as they are averaging close to 30 points per game. So the Griffins might be surprised if they attempt to win this one in cruise control.
Freshman quarterback DORIAN STATON has been a pleasant surprise for the Griffins, and figures to draw the starting nod for the second week in a row.
Running back JOEY DeMARTINO (74-585, 5 TDs) ranks third among state rushers, while versatile receiver-return specialist XAVIER MARTIN is a threat wherever he lines up.
Defensively, the Griffins' front seven is well regarded. Linemen JERICHO MAXWELL, CODY FURR, Ja'RODD WATSON, and linebackers HOMER MAUGA and ALEXANDER WONG are among Grossmont's defensive leaders
GRIFFIN GRAFFITI — Sophomore strong safety JONATHAN DARBY was the fourth Grossmont player to earn National Division-Southern Conference Player of the Week honors. Darby, a product of West Hills High, was recognized for making 12 tackles in the Griffins triumph over Palomar... Grossmont vanquished the Vikings 33-7 a year ago, but LBCC leads the all-time series 7-5... Of Long Beach's 19 touchdowns, 16 have come through the air... All three of LBCC's losses have come to undefeated teams – Los Angeles Harbor (71-43), El Camino (65-20) and Cerritos (47-10). The Vikings edged West Los Angeles 44-43 two weeks ago and had a bye last weekend.
---
Hand it to the G-House
Griffins survive rally by No. 7 Palomar
© East County Sports
ESCONDIDO (10-4-09) — Grossmont College linebacker HOMER MAUGA spent a few extra hours fine-tuning his craft for Saturday's (Oct. 3) National Division Southern Conference opener against powerful Palomar College.
WEEK FIVE SCOREBOARD
SCFA DIVISION I
Southern Conference
'The Super 7'
Grossmont 29, Palomar 26
Saddleback 42, Santa Ana 38
Fullerton 38, Orange Coast 10
Long Beach - bye
Central Conference
Cerritos 31, Chaffey 14
Desert 17, Citrus 10
El Camino 41, Riverside 16
Mt. San Antonio - bye
Northern Conference
Bakersfield 34, Pasadena 13
Allan Hancock 19, Canyons 16
Ventura 20, Glendale 13
Moorpark - bye

---
SCFA DIVISION II
Mountain Conference
L.A. Harbor 56, Southwestern 51
San Bernardino Valley 14, Mesa 10
Golden West 21, Victor Valley 9
Mt. San Jacinto 27, Compton 2
Pacific Conference
L.A. Pierce 35, East L.A. 27
Antelope Valley 55, Santa Monica 0
L.A. Valley 34, West L.A. 20
Santa Barbara 28, L.A. Southwest 3
"I knew this was one we had to win," said the 6-foot, 220-pound sophomore. "I didn't go to bed 'til about 2 a.m. because I was doing a lot of studying and working on my hand techniques."
Turns out Mauga was in on 7 tackles and recorded 3 sacks as the visiting Griffins edged Palomar, 29-26, at Escondido High School.
"I had to play a role but they didn't seem to know when I was coming," Mauga added. "So I did a pretty good job of disguising it."
Grossmont (5-0, 1-0 SC) used a 26-0 scoring run in the second quarter to take a 29-10 halftime lead. Quarterback DORIAN STATON contributed scoring passes of 14 yards to JON MOLZEN and 20 yards to MOHAMMED FOFANA to close out the period that began with JOEY DeMARTINO's 13-yard scoring burst. DARRIN ALIX also delivered a 46-yard scoring dash on his first carry of the game.
As smoothly as that quarter went, the Griffins were shut out in the second half. It was the second week in a row that Grossmont was held scoreless over a 30-minute stretch. Chaffey blanked the Griffins in the first half a week ago. Grossmont came back to win that game by a single point.
Palomar (4-1, 0-1 SC), ranked No. 7 in the nation, narrowly missed pulling a reversal on the Griffins in the division opener.
Slowly Grossmont's offense ground to a near standstill as Palomar made it a three-point game. A major reason was the loss of leading rusher DeMartino, who finished with 97 yards on 24 carries.
"When Joey pulled his hamstring, we didn't want to take any chances so we pulled him out of the game (for all of the 4th quarter), and that changed things," said Grossmont coach MIKE JORDAN.
The Griffins, leading 29-19 with 3:48 remaining, began to see control of the game slipping through their hands after the Comets stopped Staton a yard short on a 4th-and-11 scramble at their own 10-yard line.
That seemed to pump new life into the Palomar offense as quarterback Nate Ong completed three straight passes, covering 90 yards to make it a 3-point game. Martavious Lee made a fine catch for the final 29 yards and the TD with 2:27 remaining. Earlier in the game Lee dropped two passes – one of which would have been a sure touchdown.
Palomar had to use all three of its timeouts as the Griffins attempted to run the final 2:25 off the clock. Grossmont came up 22 seconds short, leaving the Comets with one last chance, starting at their own 37-yard line.
"They were playing blitz every down and we were trying to get first downs and keep possession," Jordan said. "We might have got conservative a little too soon."
Palomar would launch six more passes. With :02 left the Comets had the ball at the Grossmont-43. They had the option of trying a 60-yard field goal or going for a Hail Mary pass. They went for the latter and Ong's pass landed out of bounds at the 2-yard line as time ran out.
"That was a hard one," Jordan said of the narrow victory. "Luckily, we got off to a good start. The second half was a little bit disappointing for us, but we did what we wanted to do as far as controlling the ball."
Staton completed 16 of 27 passes for 152 yards and also rushed for 61 yards on 11 carries.
"He managed the game real well – threw some nice balls," said Jordan. "And he got out of some bad situations with his speed. He did a great job, especially considering this was his first start."
XAVIER MARTIN had 6 receptions but could never break loose, settling for 41 yards total. Alix finished with 66 yards on 10 carries.
Although there were 65 passes thrown by the two teams, only Grossmont's MATT NILMEYER came down with an interception.
CODY FURR and CORY BELL had fumble recoveries for the Griffins.
"This is a huge start to our league season," Grossmont safety JONATHAN DARBY declared. The 6-foot-2, 200-pound sophomore racked up a team high 12 tackles.
---
Hometown flavor in Super 7 opener
between nationally-ranked unbeatens
© East County Sports.com
SAN MARCOS (10-2-09) — Riding the strength of one of their greatest come-from-behind victories in recent memory, the Grossmont Griffins open the National Division Southern Conference season against powerful Palomar Saturday (Oct. 3) at Escondido High School. Kickoff is set for 1 p.m.
Both enter the contest at 4-0, and each thinks they are pretty good. Of course, it's all relative considering they play in the toughest conference in the state. All seven members of the Super-7 conference have won a state title in the past.
"Just because you're 4-0 right now doesn't mean you invented the game," said Palomar coach JOE EARLY. "Since this is the conference opener, both of us are trying to get the same thing – a leg up. Add to that, this is a renewed rivalry with a lot of emotion."
Early notes that a fast start is not essential but is close to it.
"I don't look at the rankings that much but I know that 6 of our 7 seven teams are ranked either nationally or in the state," he added. "One thing's for sure, there aren't going to be any easy ones from here on out."
Grossmont crushed Palomar 49-3 last season and the Comets haven't forgotten.
"We have a lot of kids that played in that game and they haven't forgotten that Grossmont is one of the teams that kept us out of the state playoffs last year,"
Early pointed out. "We know what's at stake."
Early also noted that the Comets have started their last three seasons at 4-0 only to stumble in game five.
Grossmont coach MIKE JORDAN recognizes that Palomar is the best team so far that the Griffins will face.
"They have a big offensive line that blocks very well," Jordan said. "They throw a lot of different looks at you. In a lot of ways they're like us."
Unpredictable?
Offensively the Griffins are led by running back JOEY DeMARTINO (162.7 ypg, 5 TDs), wide receiver/return specialist XAVIER MARTIN (164.3 ypg, 5 TDs) and a big offensive line anchored by tackle JUAN BOLANOS (6-foot-7, 330 pounds).
Just who will start at quarterback for the Griffins will always be a last minute decision.
"DeMartino is about the best runner we've ever had," said Jordan. "He's so elusive that he's a breakaway threat every time he touches the ball. So we've got to find a way to get him the ball as much as possible."
Linebackers HOMER MAUGA, ELLIOT CHAPMAN, WINN McALONEY and ALEXANDER WONG, plus defensive backs KYLE MONSON, ARTHUR HOBBS and JOSHUA UDEH, along with safety JONATHAN DARBY and defensive lineman Ja'RODD WATSON are among the mainstays of the Grossmont defense.
Palomar, which, like Grossmont has taken its lumps at the QB position, is counting on Nate Ong to call the signals against the Griffins.
The Comets have a horde of running backs led by Orenzo Davis (87.5 ypg, 3 TDs) and Tyler Lavea (66 ypg, 2 TDs). Lavea is also an excellent receiver although his statistics don't reflect that.
Palomar's defense ranks with the best in the state, led by safeties Tevan McCaskill and Chris Boudreaux who combined for 17 tackles in the victory over COD. Linebackers Gator Pugh, Tyler Seau, Matt Segi and DeMarcus Williams give the Comets a solid linebacking corps.
The Griffins scored four touchdowns over the final 19 minutes, including a trio of fourth-quarter touchdown passes by quarterback DORIAN STATON in dealing Chaffey a stunning 28-27 defeat last Saturday (Sept. 25) in Rancho Cucamonga.
Staton, who staggered to a 3-for-11 passing start in relief, made a torrid closing, completing 9 of his final 10 aerials for 170 yards, including a 42-yard strike to ALEX McLELAND with 1:01 remaining to tie the game 27-27. TROY MUENZER's PAT provided the Griffins with the game-winner.
"Grossmont's like most times," Early said. "There are times they look very good and other times they look not so good. Considering they were down 21-0 in the 2nd half (against Chaffey) and came back to win – that's something you have to take notice of. That's the mark of a good team."
Meanwhile, Palomar's visit to Palm Desert was no picnic, as the Comets railroaded the Roadrunners of College of the Desert 17-7. Davis rushed for 127 yards on 14 carries, including a 3-yard touchdown run with 6:42 left in the game to clinch the victory.
RATINGS GAME — The Comets hold the edge over the Griffins in every community poll. From a national perspective, Palomar is ranked No. 7 by J.C. Gridiron.com of Lake Forest, Wash., and No. 8 by JC Grid-Wire.com of Seattle... Grossmont is ranked No. 16 in the nation by the JC Grid-Wire and No. 17 by J.C. Gridiron.com... In the California Community College Football Coaches Association state poll. Palomar is No. 5, Grossmont No. 8... In the California Community College Southern Regional State Football Poll, released by the California Community College Athletic Association and the California Community College Football Coaches Association, Palomar is ranked No. 3. Grossmont is No. 5.
GRIFFIN GRAFFITI — For the third consecutive week the Griffins captured one of the major Southern California Football Association National Division Southern Conference's top three awards when freshman quarterback DORIAN STATON was tabbed the offensive player of the week. Staton came off the bench to throw three TD passes to complete Grossmont's win over Chaffey... Other Griffins recognized by the conference for the Chaffey game were safety JONATHAN DARBY and wide receiver-return specialist XAVIER MARTIN... Palomar leads the all-time series over Grossmont 14-10... There have been some thrillers in this series, none more memorable than the 4th annual South County Bowl at Southwestern College. Palomar pulled that one out 20-19 with 1:12 remaining.
---
Grossmont 28, Chaffey 27
Grossmont Griffins at Chaffey Panthers
(Slideshow by Donna Rohmer)
Griffins running back Joseph DeMartino (21) races
around right end and down the sideline en route
to a 31-yard touchdown romp to get Grossmont
on the scoreboard late in the third quarter.
(Photo by Donna Rohmer)

Griffins late rally
shocks Chaffey

© East County Sports.com
RANCHO CUCAMONGA (9-27-09) — Grossmont College, a notoriously slow-starting platoon on offense all season, may have outdone themselves with perhaps one of the poorest first-half showings in school history Saturday (Sept. 26).

Which perhaps makes the ballclub's fourth-quarter rally all the more remarkable.

The Griffins scored four touchdowns over the final 19 minutes, including a trio of fourth-quarter touchdown passes by quarterback DORIAN STATON in dealing host Chaffey a stunning 28-27 defeat at Grigsby Field.

Staton, who overcame a miserable 3-for-11 passing stint in relief, suddenly found the On Switch in the final 15 minutes. His torrid closing saw the Helix High product complete 9 of his final 10 aerials for 170 yards, including a 42-yard strike to ALEX McLELAND with 1:01 remaining.

Other Views

Inland Empire Daily Bulletin HERE

"It's deceptive speed," mused McLeland, a Scripps Ranch alum. "But really, it's all about route-running there. And it was a new up-route we just added this week – it got them good for the crucial touchdown."

The PAT kick by TROY MUENZER gave the lead to Grossmont (4-0), which trailed 21-0 late in the third period.

Chaffey (2-2) had one last opportunity, but instead of attempting a go-ahead 39-yard field goal with 15 seconds to play, the Panthers took one shot at the end zone from the Griffins-22. However, with two defenders in the area, safety JONATHAN DARBY registered the victory-clinching interception for a touchback. It was Darby's third theft of the season.

"I knew they were going to throw the hitch-and-go because they've been going with hitches all game," said Darby. "The quarterback threw the ball a little too far and I was exactly where I was supposed to be."

The Grossmont defense did everything possible to keep the contest close while waiting for the team's offense to awaken, but the hosts still mounted a 14-0 lead.

The Griffins completed just 1-of-9 passes between two quarterbacks in the first half, but the lone catch was fumbled following a mere 3-yard gain. It also setup a short 15-yard TD drive for a 7-0 first-quarter lead, then Chaffey's Daimion Stafford registered a 63-yard punt runback in the second period.

"In the first half our past protection wasn't picking up their blitzes," Grossmont head coach MIKE JORDAN said. "They had us stymied until we made some adjustments at halftime."

Chaffey, which also rotated quarterbacks throughout the contest, saw A.J. Springer run a draw up the middle when the Griffins blitzed to the outside, skating 31 yards untouched to gain a 21-0 lead.

But the momentum swing again was initialized by the Grossmont defense, this time by a pair of Bay Area products. A big hit by linebacker ELLIOT CHAPMAN (San Francisco) forced a fumble which was recovered by ALEXANDER WONG (San Jose).

Two plays later, Griffins running back JOSEPH DeMARTINO went around right end on a 31-yard TD score, finally breathing life into the offense with 3:49 left in the third.

"It was rough coming in after I pulled my hammy (hamstring) last week," said DeMartino, who rushed 14 times for 123 yards. "But coach gave me the go tonight and we finally made it happen."

"We kept pushing and the line kept blocking – that's all you can ask for."

On the next series, Grossmont, which gained just a single first down – by penalty – in the first half, suddenly moved the chains over four straight plays. Included was a 16-yard burst by DeMartino, plus a trio of Staton completions. He found former Helix teammate PATRICK MAULL for 9 yards, SEAN BURR for 25 more, then a 37-yard TD hookup with XAVIER MARTIN to make it 21-14.

"As one of the team captains and leaders, I have to set the tone and set the team on fire," said Martin. "This team is not a fluke."

"We hope to play 11 more games (including a state playoff run) starting with Palomar next week, but it'll be tough because Palomar's secondary is filled with Pac-10, D-1 material."

Chaffey, the longtime rival of the Griffins during the teams' era in the Foothill Conference (which ended in 2007), got one score back but missed the conversion which gave Grossmont the opening needed to complete the comeback.

The next drive, aided by a pair of Panthers penalties, saw Staton find MOHAMMAD FOFANA on a 5-yard TD pass with 8:32 left.

Southland Scoreboard

WEEK FOUR
Non-Conference
Grossmont 28, Chaffey 27
Coll. of the Canyons 26, Fullerton 13
Long Beach 44, West L.A. 43
Orange Coast 10, Glendale 6
Palomar 17, Coll. of the Desert 7
Saddleback 24, Mt. San Antonio 14
Santa Ana 51, Moorpark 36
Cerritos 36, Ventura 35
El Camino 40, Bakersfield 24
Allan Hancock 48, Citrus 23
Pasadena 38, Riverside 7
Mountain Conference
San Diego Mesa 38, Mt. San Jacinto 27
Southwestern 13, Compton 6
L.A. Harbor 35, Golden West 32
Victor Valley 41, San Bernardino Valley 29
Pacific Conference
Antelope Valley 32, Santa Barbara 7
East L.A. 41, L.A. Southwest 3
L.A. Valley 34, Santa Monica 30

Grossmont's defense, which yielded just 117 yards through the air, saw defensive end JA'RODD WATSON lead the pass rush with 2.5 sacks.

"We were able to make a push and keep us in the game," said Watson. "It was only a matter of time before the offense got going. All three units – defense, offense and special teams – were going pretty good at the end."

So what is needed for the Griffins to avert a slow start entering next week's conference opener at cross-county rival Palomar?

"Starting out slow is nothing new to us – we have to get the jitters out," added McLeLand, a transfer from the University of New Mexico. "But we always find a way to comeback and win."

Added DeMartino, "We're trying to become a first-half team, too."
---
CCCFCA Coaches'
Southland Poll
1. El Camino
2. Mr. San Antonio
3. Fullerton
4. Palomar
5. Bakersfield
6. Saddleback
7. Cerritos
8. Grossmont
9. Allan Hancock
10. Orange Coast
11. Ventura
12. L.A. Harbor
13. Glendale
14. Pasadena
15. Canyons
Grossmont meets former
conference rival Chaffey
© East County Sports.com
RANCHO CUCAMONGA (9-25-09) — Grossmont College will renew a long-time rivalry with former Foothill Conference force Chaffey on Saturday (Sept. 26) in a non-league clash in the Panthers' den at 6 p.m.
The Griffins arrive in town with a 3-0 record, while the Panthers stand in at 2-1.
These teams have one common opponent in Southwestern. The Griffins riddled the Jaguars 59-20, while Chaffey succumbed to Southwestern 21-7.
Whatever that means is debatable. Despite their unblemished record, the Griffins have walked a treacherous line, as they've been turnover laden (15) and penalty prone (41-407).
Chaffey is paced by running back Jahmal Rover (44-267) who scored two TDs in last week's 20-12 win over Mt. San Jacinto in a game that was scoreless at halftime. Panthers' QB Michael Leonard (23-41, 265 yards, 2 TDs) hit Del Wilson with the victory-clinching touchdown in that contest.
Perhaps the word that describes the Griffins best is inconsistent. They closed out Southwestern by scoring the final 36 points.
Another mystery is who will start at quarterback. Will the Griffins have their third different starter in four games or will MATT JARVIS make his second straight start under center. Freshman DORIAN STATON may get the call for his first collegiate start. The season starter, BRANDON FRICKE, is out of the mix with an injury for now.
Defense remains Grossmont's trump card. Take your pick... this unit – led by outside linebacker HOMER MAUGA, middle LBs ELLIOT CHAPMAN and WINN McALONEY, and safety JONATHAN DARBY – is loaded.
GRIFFIN GRAFFITI — For the second week in a row a Grossmont athlete was selected the Southern California Football Association Player of the Week. Defensive end Ja'RODD WATSON, a 6-foot-2, 285-pound sophomore out of La Jolla High, tied a Griffins record with three fumble recoveries... Jarvis and running back DARRIN ALIX (20 carries, 138 yards) were also SCFA honorable mention... Grossmont leads this series 15-9, including 51-16 last year... The Griffs have beaten the Panthers seven in a row (once in the state playoffs) since suffering a 43-35 loss in triple-overtime in 2002.
---
Grossmont 59, Southwestern 20
Southwestern Jaguars at Grossmont Griffins
(Slideshows by Donna Rohmer)
(Slideshow by Travis Downs)
Fumble fortunes
for Watson

DE recovers 3 fumbles; Griffins post 36 straight
points to paste visiting
Southwestern, 59-20
© East County Sports.com
EL CAJON (9-20-09) – Shadowed by yet another Grossmont College scoring fest, defensive tackle JA'RODD WATSON etched his name in the Griffins football record book.
And the 6-foot-2, 285-pound sophomore didn't score single point as the Griffins smashed visiting Southwestern 59-20 in a non-league game Saturday (Sept. 19) at Mashin-Roth Memorial Field.
The graduate of La Jolla High recovered a Grossmont record three fumbles which led to 17 Griffins points. For good measure Watson forced one of the turnovers and also registered the Griffins' only sack of Southwestern quarterback Cody Peterson.
"We shut them down with our quickness and speed," Watson said of the Jaguars (1-2). "Our main focus in practice this week was gang tackle – get everybody to the ball to be successful. I feel like we accomplished that today. We were focused for the task at hand."
Recent Scores
GC vs. SWC
Year

2009
2008
2007
2006
2005
2004
2003
2002
2001

59
10
34
49
31
45
76
39
28

20
14
14
6
6
9
34
16
17

Pts

371

136

Avg

41.2

15.1
Southwestern coach ED CARBERRY, who saw his Jaguars limited to 54 yards passing and 203 yards overall, agreed.

"The front seven guys in their defense are really tough," he said. "They stopped our run and kept the pressure on our quarterback. That's a pretty tough combination to beat if you're on the offensive side."

The majority of Southwestern's yardage came on long runs by AARON HARRIS, who bolted 35 yards on the first play from scrimmage and scored on a 69-yard run early in the 2nd half. Other than those two breakaways, Harris had 21 carries for 20 yards.

"That running back of theirs (Harris) likes to do a lot of talking," added Watson. "But we held him down. He and his teammates were talking about how they beat us last year (14-10), so we had to get some vengeance for that game. The way we stopped him was we pretty much took away the perimeter game and attacked him in the backfield before he could get going.

Harris officially finished with 23 total carries for 124 yards. He scored both of Southwestern's touchdowns.

"Don't get me wrong, he's a good running back, but we came prepared for him today," Watson said of the freshman sprinter out of Granite Hills.

Grossmont's secondary also put the clamps on Southwestern's George Bell, a preseason All-American wide receiver. Bell caught 6 balls for 19 yards.

The Griffins forced six turnovers, including interceptions by JONATHAN DARBY and DAMIEN SMITH.

Outside linebacker HOMER MAUGA led the Griffins with 9 tackles – 5 for losses.

Due to an injury to first-string quarterback BRANDON FRICKE, sophomore MATT JARVIS drew the starting call from head coach MIKE JORDAN. Up to then, Jarvis' contributions had been in a relief role during each of the Griffins first two games.

Jarvis had not started a football game since his senior season at El Capitan in 2005.

"At first it was kind of weird, at first," Jarvis said. "I was nervous because it's been awhile since I've been in this role." After a sluggish beginning he picked up the pace as the Griffins erased an early 10-0 deficit.

The 6-foot-3, 230-pounder had a hand in five touchdowns in his three quarters – passing for three and rushing for two. He completed 12 of 27 passes for 209 yards, including scoring strikes to XAVIER MARTIN (63 yards), MOHAMMED FOFANA (28 yards) and JON MOLZEN (32 yards). Jarvis scored on a pair of quarterback sneaks from 1 yard out.

Like Jarvis, Molzen played his high school ball at El Capitan.

"We never played together there because I graduated before he got to El Cap," Jarvis noted.

Grossmont was playing without JOEY DeMARTINO, the No. 2 rusher in Southern California. He was sidelined with a tight hamstring.

Freshman DARRIN ALIX (Patrick Henry) picked up the slack, rushing for a game high 138 yards on 20 carries.

"We didn't have our heads on straight in the 1st half," said Alix, noting that Grossmont was heavily penalized and seemed out of synch. "We were just not quite clicking."

Grossmont was whistled for 20 penalties, causing them 220 yards in walk-offs; Southwestern was flagged a dozen times for 76 yards.

SOUTHLAND SCOREBOARD

WEEK THREE
Sat., Sept. 19
Grossmont 59, Southwestern 20
Palomar 27, San Diego Mesa 17
Bakersfield 43, Santa Monica 0
Coll. of the Canyons 59, L.A. Valley 7
Cerritos 47, Long Beach 10
Chaffey 20, Antelope Valley 12
Citrus 32, L.A. Southwest 24
El Camino 57, Compton 0
Fullerton 70, Moorpark 17 (FC: school scoring record; old mark: 68, vs. Cypress, 1967, 68-8)
Glendale 10, Riverside 7
Allan Hancock 42, L.A. Pierce 17
L.A. Harbor 47, Santa Ana 45
Mt. San Antonio 32, Victor Valley 20
Orange Coast 24, Golden West 21 (GW misses FG on final play)
Pasadena 49, East L.A. 27
Saddleback 52, San Bernardino Valley 0
Ventura 35, Santa Barbara 7
Coll. of the Desert 31, Mt. San Jacinto 17

The Griffins (3-0) tied the game 10-10 on a 21-yard field goal by Fofana and took the lead on the first of Jarvis' touchdowns. Then Fofana and Jarvis teamed up for their TD pass and pushed the Griffins' lead to 23-10 at halftime.

Southwestern closed the lead, scoring 10 points in the opening two minutes of the third quarter in an attempt to make a game of it. But after that it was all Grossmont as the Griffins scored the final 36 points.

Freshman quarterback DORIAN STATON led the Griffins in the 4th quarter, completing 7 of 10 passes for 73 yards and a touchdown. He also scored once.

Ten Griffins caught at least one pass and eight contributed to the rushing totals.

"In the second half we did a better job of banding together," Alix said. "And it showed on the scoreboard."
---
'The Super 7'
Standings
Grossmont
Palomar
Fullerton
Orange Coast
Saddleback
Santa Ana
Long Beach

2-0
2-0
2-0
2-0
2-0
2-0
0-2
Jaguars visit The G-House
© East County Sports.com
EL CAJON (9-18-09) — This will be one of those throw away the record book type games when Grossmont and Southwestern conduct their annual donnybrook Saturday (Sep. 19) at Mashin-Roth Field at 1 p.m.
Grossmont rolls in with a 2-0 record having outscored San Diego Mesa and College of the Desert by a composite 108-27. Southwestern (1-1), meanwhile, recovered from a 55-0 season-opening pounding at the hands of Palomar before rebounding to drop Chaffey 21-7.
Freshman quarterback Cody Peterson (22-37, 185 yds, TD) took over for injured Steven Carroll and made his first collegiate start a memorable one. Peterson had a hand in all three Southwestern scores against Chaffey.
Granite Hills alum AARON HARRIS scored two touchdowns for the Jaguars against the Panthers and aims to run over the Grossmont defense. In two starts, Harris has rushed for 165 yards on 36 carries as well as averaging 12 yards on four kickoff returns.
Defensive end Jared Jackson and linebacker Andrew Feaster are Southwestern's defensive leaders.
Grossmont running back JOEY DeMARTINO is the Griffins' top offensive threat with 365 yards rushing (second highest in So Cal) and 3 TDs on 36 carries in two games. Wide receiver XAVIER MARTIN (9-147, 3 TDs and 278 all-purpose yards) is a breakaway threat.
Just who will start at quarterback is always a mystery at Grossmont. BRANDON FRICKE, who completed 15 of 30 passes for 203 yards and 4 TDs in the rout of Desert, was chosen the Southern California Football Association Offensive Player of the Week. Martin caught 6 passes for 127 yards and 3 TDs in the win over COD.
Defensive leaders for Grossmont include end HOMER MAUGA (Helix), tackle La'RODD WATSON (La Jolla), linebacker ELLIOT CHAPMAN (Mater Dei), safety JONATHAN DARBY (West Hills), linebacker WINN McALONEY, corner ARTHUR HOBBS (Mount Miguel), and JERICHO MAXWELL (Crawford).
Griffin Graffiti — Quarterbacks Fricke, DORIAN STATON (Helix) and MATT JARVIS (El Capitan) combined for seven TD passes against Desert, tying a Grossmont team record set against Arizona Western in 1974 and matched against Mt. San Jacinto in 2005 and 2007... Southwestern's George Bell, a preseason All-America, has 15 catches for 216 yards... The Griffins and Jaguars have the longest running series in San Diego County history, with Grossmont holding a 23-13-1 lead... The Jaguars edged the Griffins 14-10 last year to snap an eight-game losing streak to Grossmont... SC's Abel Perez is 3-for-3 on PATs, and three of his five kickoffs have resulted in touchbacks.
---
Polished Griffins dump Desert
7 TD passes would equal NFL mark

© East County Sports.com
EL CAJON (9-13-09) – It's difficult to imagine that a team averaging 54 points a game has been able to do so despite averaging more than five turnovers per game.

But that's where the Grossmont College Griffins stand, two games into the season, after dusting College of the Desert 61-14 in a non-league contest on Saturday (Sept. 12) at Mashin-Roth Field.

The Griffins have produced 1,135 yards in back-to-back lopsided victories.

In their conquest of the Roadrunners out of Palm Desert, the Griffins jumped in front 20-0 and led 54-7 before Desert would score a second touchdown with 6:11 remaining.

WEEK TWO SCORES
Sat., Sept. 12
Grossmont 61, Coll. of the Desert 14
Fullerton 37, L.A. Pierce 21
Orange Coast 26, L.A. Southwest 9
Palomar 23, Victor Valley 7
Saddleback 72, Mt. San Jacinto 7
Santa Ana 44, San Diego Mesa 13
El Camino 65, Long Beach 20
Cerritos 66, Santa Monica 2
Glendale 35, East L.A. 26
Allan Hancock 10, Reedley 3
L.A. Harbor 47, Citrus 14
Mt. San Antonio 33, Golden West 14
Pasadena 53, Compton 0
Riverside 40, San Bernardino Valley 17
Santa Barbara 17, Coll. of the Canyons 14
Southwestern 21, Chaffey 7
Ventura 27, Antelope Valley 11
West L.A. 27, Moorpark 12
BOLD are National/South teams

Sophomore quarterback BRANDON FRICKE, who struggled miserably with turnovers in the season opener, had a little more polish to his game against the Roadrunners (1-1). He completed 15 of 30 passes, including touchdown strikes to XAVIER MARTIN of 29 and 30 yards.

Martin, who hails from Joppa Town, Md., caught 6 passes for 127 yards and 3 touchdowns.

"That's the Fricke I know," Martin said. "I chalk up his slow start to first-game jitters. It's all about trust. We trust him and he needs to trust us. Just like I always tell him, 'you put the ball where it's supposed to be and I'll get under it.' I'll sell out for every ball thrown."

The 6-foot-2, 205-pound Fricke, who played his high school football in Simi Valley and lives during the offseason in Chico, also lofted scoring passes of 6 yards to MOHAMMED FOFANA and a 24-yarder to El Capitan grad JON MOLZEN.

"I was pretty nervous last week," Fricke admitted. "I was more comfortable and definitely improved my focus this week."

The Griffins tested Fricke's patience early against Desert by giving the ball up on fumbles in two of their first three possessions.

"I was concerned a little bit, but this is a long, 60-minute game out there," Fricke said. "We can't just get down on one or two turnovers."

By the time Fricke retreated to the sidelines Grossmont was sitting on a 33-7 cushion with 8:19 to go in the 3rd quarter.

"I felt I was throwing the ball better today," he said. "I was making the right reads. I felt pretty good after making that first touchdown (pass to Martin). Everything started coming a lot easier after that."

Fricke didn't grow up in a passing offense at Simi Valley.

"We were mainly a running team because we had an all-everything tailback who is now at Cal," the quarterback said. "So we ran the ball at least 60 percent of the time."

Fricke said adjusting to the passing game at Grossmont hasn't been that difficult.

"Throwing the ball is what I've trained to do and prepared to do," he said. "Yeah, I like this offense at Grossmont a lot more because we throw more. But we also have a good running game that helps open things up a lot. Our running backs were great today, just like they were last week."

The leader of the Griffins' backfield pack was once again freshman JOEY DeMARTINO, who rushed for 179 yards and a touchdown on 16 carries. In little more than six quarters of play DeMartino has rushed for 365 yards and 3 touchdowns on 36 carries. Do the math – it's about 10 yards per run.

DeMartino scored on a 61-yard burst against Desert.

"Joey, he's a great runner," Fricke said. "You saw his power today and his speed is obvious."

Eight Griffins shared in Grossmont's 245 rushing effort.

Freshman DORIAN STATON – out of Helix – came off the bench to relieve Fricke, completing 4 of 8 passes for 60 yards, including an 11-yard touchdown connection with PATRICK MAULL and one to Martin for a 32-yard score.

Once again the Griffins played three quarterbacks. Sophomore MATT JARVIS (El Capitan) completed 3 of 4 passes for 57 yards, capped by a 23-yard scoring toss to tight end SEAN BURR.

"The main reason we played a lot better is we stopped turning the ball over," said Griffins head coach MIKE JORDAN. "It's just a matter of hanging onto the ball because we know we have guys who can make plays."

Nearly overshadowed by the Grossmont offensive onslaught was another superlative defensive stand by the Griffins.

Led by former West Hills safety JONATHAN DARBY (6 tackles, one interception) and end JARROD WATSON (4 tackles, one sack, fumble recovery), the Griffins rationed the Roadrunners to 176 yards on 70 plays.

Other Grossmont standouts included NATHAN TURNWALL, who made a circus catch of an interception, and El Capitan's CODY FURR, who had 4 tackles and a sack. Mount Miguel product ARTHUR HOBBS broke up 3 passes and recorded 4 tackles for the aggressive Griffins.
---
Grossmont seeks to
turn over their fortunes
© East County Sports.com
EL CAJON (9-11-09) – The two-faced Grossmont College Griffins will attempt to become a straight-faced football team when they open their home season by hosting College of the Desert Saturday (Sept. 12) at Mashin-Roth Memorial Field at 1 p.m.
Although the Griffins walked off the field with a season-opening 47-13 win over San Diego Mesa last week, it clearly had markings of a Charles Dickens novel labeled "A Tale of Two Cities."
Eight turnovers – second highest total in Grossmont history – allowed Mesa to maintain a headlock on the Griffins into the second half. Yet, the Olympians led only 10-6 with 29 minutes to play.
The Griffins got a better grip on things and totaled 570 yards against Mesa for the evening as they bulldozed last year's state playoff participant.
A year ago, Grossmont pulled a similar number when these teams collided. In Palm Desert turnovers once again plagued the Griffins. The Roadrunners, who capitalized on three Grossmont miscues to lead 24-0 in the first quarter, maintained a 40-14 advantage midway through the third quarter.
The Griffins made a belated charge and still had a chance to win with less than two minutes remaining, but failed to execute an onsides kick.
Even in defeat Grossmont outgained Desert, 472-300, in total offense.
A memorable defeat indeed.
Desert opened this season by knocking off San Bernardino 13-6 in overtime. Gaston Bailey caught a 9-yard touchdown pass from quarterback Cameron Epting for the winning score. It was Bailey's only catch of the game. Epting went 12 for 21 with 106 yards and the touchdown pass.
The Roadrunners rely more on their defense and the kicking of Brett Symonds, who connected on field goals of 32 and 39 yards.
Grossmont's JOEY "Jay-Mar" DeMARTINO ran wild over Mesa with 186 yards and two touchdowns on 20 carries and ranks second among SCFA rushers. DORIAN STATON and MATT JARVIS came off the bench to spark Grossmont's comeback against Mesa after starter BRANDON FRICKE sputtered through the first half.
Defensively, Grossmont limited Mesa to minus-13 rushing and a total of 135 yards.
GRIFFIN GRAFFITI — Three members of the Griffins – DeMartino, end HOMER MAUGA, and linebacker ELLIOT CHAPMAN – have been recognized as SCFA Southern National Conference Players of the Week for the Mesa game... Grossmont leads the all-time series over Desert 13-7-3.
---
Grossmont Griffins at San Diego Mesa Olympians,
Mancheser Stadium, Cathedral Catholic HS
(Top slideshow by Ed Piper;
Bottom slideshow by Donna Rohmer)
WEEK ONE SCORES
Grossmont 47, San Diego Mesa 13
Bakersfield 33, Fresno 14
College of the Canyons 27, Antelope Balley 17
Cerritos 49, East L.A. 7
Chaffey 17, Mt. San Jacinto 12
College of the Desert 13, San Bernardino Valley 6
El Camino 46, L.A. Southwest 12
Fullerton 41, Compton 6
Glendale 51, West L.A. 29
Allan Hancock 42, Santa Barbara 6
L.A. Harbor 71, Long Beach 43
L.A. Pierce 37, Moorpark 20
Mt. San Antonio 35, Pasadena 30
Orange Coast 44, Santa Monica 28
Palomar 55, Southwestern 0
Saddleback 33, Golden West 23
Santa Ana 38, Citrus 7
Ventura 35, L.A. Valley 13
Victor Valley 27, Riverside 14
BOLD are National/South teams
ONLY ONE MEDIA SOURCE HAD ALL SOUTHLAND SCORES FROM WEEK ONE by the very next day. Not JCFootball.com, Not JC Athletic Bureau (they called us for scores... lol ), Not JC Grid-Wire, no newspaper, even the SCFA own website, which still doesn't list all scores some five days later... it was, of course, East County Sports.com.
No Ordinary Joe
Griffins RB Joseph DeMartino
plows over San Diego Mesa.
(Photo by Donna Rohmer)
Another Griffins romp over Mesa
Big second-half propels Grossmont

© East County Sports.com
CARMEL VALLEY (9-6-09) – Even when the Grossmont College Griffins aren't playing at their best, they're still pretty good.
Let's just say that Saturday's (Sept. 5) season opener against San Diego Mesa at Cathedral Catholic High was not a thing of beauty. But it wound up a convincing 47-13 victory for the Griffins.
Six first-half turnovers helped Mesa take a 10-6 halftime lead. It most certainly could have been worse if not for the Griffins defense.
One might think that Grossmont head coach MIKE JORDAN would have been screaming at the top of his lungs at intermission.
Recent Scores
GC vs. Mesa
Year

2009
2008
2007
2006
2005
2004
2003
2002

47
31
66
58
64
70
24
48

13
14
17
0
3
7
17
28

Pts

409

99

Avg

51.1

12.4
Not so.

"I didn't really say much," Jordan recalled. "I mean, with all those turnovers we made we were still only four points behind. I told the guys 'Just hang onto the ball and make the plays you're capable of making.'"

And that's exactly what happened in the 2nd half. Despite turning the ball over on the first play of the 3rd quarter, the Griffins caught fire and completely dominated the final two quarters.

It's almost scary to think how many yards and points the Griffins might have rolled up had they been able to maintain control of the ball for four quarters. In spite of making eight turnovers in the game, Grossmont finished with 570 yards (304 rushing, 266 passing) on 91 plays.

On the flip side, Mesa mustered just 135 yards on 63 plays. All 13 of the Olympians' points were the result of Grossmont turnovers.

"We knew we had a pretty solid defense, and I think that showed today," Jordan said. "The only problem our defense had was our offense kept putting them in bad field position."

Mesa 's only touchdown came on a 3-yard drive after a Grossmont fumble in the 1st quarter.

The Griffins pushed the Olympians back for a net minus-13 yards rushing on 27 attempts. That total is the third lowest in Grossmont College history. The Griffins set the mark of minus-31 yards on 31 attempts against Mt. San Jacinto in 1984.

One of the stamps of success administered by Grossmont in this go-round was the play of the Griffins linebackers, led by ELLIOT CHAPMAN, WINN McALONEY and HOMER MAUGA.

Although no Griffin logged a record number of tackles, Chapman registered a couple of bellringers with knockout hits on Mesa receivers.

Mauga was simply too quick for the Mesa line to block and made two sacks, consistently rushing Mesa quarterback Mike Hachadorian (15-36-2, 148 yards) into throwing the ball away.

"We started off real bad but we ended up pretty strong," said Mauga. "We're gonna be a great team. It's just gonna take us a little time to get everything to mesh like it did tonight."

McAloney also had six tackles and an interception where he actually stole the ball from a Mesa receiver.

"I couldn't wait for this season," said McAloney, who sat out last year after transferring from Mesa to Grossmont. "I just took the time to get my grades up and work in the weight room."

Both have proved beneficial.

"I appreciate being taken in by this team," he added. "I feel comfortable here."

Once the Griffins found the stick'em for their offensive hands they ran roughshod over the Olympians with their 12th straight victory over Mesa.

JOEY DeMARTINO ran wild against the Olympians, stacking 186 yards and 2 touchdowns on 20 carries. His yardage total is the 6th best rushing count ever by a Grossmont back. DeMartino scored on runs of 74 and 7 yards, which gave Grossmont a 13-10 lead midway through the 3rd quarter.

Grossmont totaled 304 yards rushing on 48 carries, involving nine ball carriers.

Three Grossmont quarterbacks – BRANDON FRICKE, DORIAN STATON and MATT JARVIS – combined to complete 26 of 43 passes for 266 yards.

Mesa didn't roll over in the first half as it kept the pressure on Fricke, who threw three interceptions during the first two quarters.

"We didn't provide him with very good protection in the first half, so he was always under pressure," Jordan said. "He's been bothered by shin splints so he's hobbling around a little bit and that's why we took him out."

To begin the 2nd half Grossmont made a couple of key changes on its offensive line and it made a glaring difference.

Staton, who took over for Fricke, provided the 2nd half spark with his superior agility and quickness. He completed 7 of 11 passes for 95 yards, including a 32-yard TD strike to JON MOLZEN.

Jarvis connected on 5 of 9 passes for 63 yards, including a victory-capping 24-yard scoring toss to KENYON PETTIS with 3:58 remaining.

Not to be overlooked was the 89-yard kickoff return by XAVIER MARTIN in the waning seconds of the 3rd quarter to give Grossmont a 26-13 advantage.

Grossmont opens its home season on Saturday (Sept. 12) when it hosts College of the Desert in Mashin-Roth Field. Kickoff is 1 p.m.
---
JC Grid-Wire
Preseason Top 25 (8-28-09) — 1. Mississippi Gulf Coast; 2. Mt. San Antonio; 3. Blinn (Texas); 4. Butler (Kan.); 5. El Camino; 6. Fullerton; 7. Navarro (Texas); 8. Georgia Military; 9. East Mississippi; 10. Fresno. Others: 14. Palomar; 17. Grossmont; 20. Saddleback; 25. Santa Ana.
Note: In the Aug. 27 season opener, No. 1 MGC lost to Northwest MS, 30-25.
---
SCFA National/Southern Conference Preseason Media Poll
(8-28-09) — 1. Saddleback 60 points (3 first-place votes); 2. Palomar 58 (3); 3. Fullerton 56 (4);
4. Grossmont 36;
5. Santa Ana 33; 6. Orange Coast 24; 7. Long Beach 13.
No. 17 Griffins open vs. Mesa

Game moved to Cathedral Catholic
© East County Sports.com
CARMEL VALLEY (9-4-09) – Grossmont College will kick off the season against long-time area rival San Diego Mesa College Saturday (Sept. 5) in a non-conference contest at Cathedral Catholic High School at 6 p.m.
The game was originally slated for Mesa's new synthetic surface field, but the stadium construction was not completed.
"We have a lot of older freshmen in the skill positions," Grossmont coach MIKE JORDAN said.
BRANDON FRICKE will make the start at quarterback for the 17th-ranked Griffins, who are coming off a 5-5 season. He was 4-for-6 passing with a couple of touchdowns in last week's scrimmage.
J.C.Grid-Wire/J.C.Football.com preseason All-American JUAN BOLANOS (6-7, 330) returns to anchor the offensive line.
"We did some good things in our scrimmage, some not so good," Jordan said.
Former Monte Vista High standout and Mesa College transfer WINN McALONEY will make his first start for the Griffins as an inside linebacker. He'll be flanked by returning sophomore linebacker ELLIOTT CHAPMAN. Returning defensive end HOMER MAUGA should also make an impact.
GRIFFINS GRAFFITI — Grossmont leads the all-time series 21-15-1... The Griffins have won 11 in a row over the Olympians, including 31-14 last year... Mesa 's last win came in the rain 28-27 in 1993 on a two-point conversion with 0:07 remaining.
---
Griffins Notepad: SNM tabs G-House at nation's best
© East County Sports.com
EL CAJON (6-9-09) — Albeit it is a bit presumptuous for making community college football predictions in early June, Sporting News Magazine has rated Grossmont College the No. 1 team in the nation in its preseason rankings.
The Griffins' coaching staff looks upon that recognition as flattering, but little else. Grossmont, which finished 5-5 a year ago, is still in the process of building its team.
It's a long time before the Griffins kick off the season Sept. 5 at San Diego Mesa College, so who knows who has what in terms of player personnel.
Scholarships — Grossmont must have set some sort of record when all three of last season's tight ends signed Division I scholarships. KYLE HIPP (Cathedral Catholic) is headed for New Mexico State, converted linebacker A.J. CAZARES (Chula Vista) is bound for Northern Arizona University and KYLE HOWARD (Hilltop) is on his way to Northwestern State (Natchitoches, La.).
Other late signings include freshman defensive back LARRY PARKER (St. Augustine) to San Diego State University; GAREN DEMERY (Valhalla) to St. Francis of Fort Wayne, Ind.; corner LUIS VILLAVICENCIO (Point Loma) to the University of San Diego; and safety AUSTIN BEDART to NAIA Southern Oregon (Ashland, Ore.).
Parker was a man of many choices. An All-Southern Conference National Division selection in his freshman season, Parker received scholarship offers from the University of Houston, BYU and Louisville. He wanted to stay closer to home and was prepared to play his sophomore season at Grossmont College.
When SDSU made a scholarship pitch, Parker was sold.
So far Grossmont has landed a dozen scholarships, including Patrick Henry kicker BRANDON BOGOTAY (Georgia), Christian High's CHAD O'DONNELL (Idaho State) and El Cajon Valley safety ABRAHAM MUHEIZE (Delta State).
Ex-Charger joins staff — Former San Diego Chargers linebacker CARLOS POLK has joined the Grossmont College football staff. He will coach the Griffins' outside linebackers this season.
Polk, a 4th round pick out of the University of Nebraska by the Chargers in the 2001 National Football League draft, played seven seasons in San Diego before concluding his career with the Dallas Cowboys in 2008. During his stay with the Chargers, Polk was named Special Teams Player of the Year in 2002 and was tabbed the Most inspirational Player in 2007.
Another addition to the Griffins coaching staff is LUI FUGA, a 6-foot-1, 301-pound four-year starter as a defensive tackle at Hawai'i. Fuga, signed by the Chargers as an undrafted free agent in 2007, has taken over chores as Grossmont's defensive line coach. He could well still be playing with the Chargers had an injury not ended his career a year ago.
---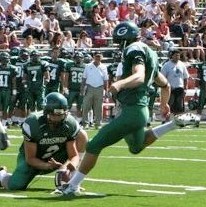 Griffins kicker Brandon Bogotay
signed a full-ride scholarship
with the University of Georgia.
(Photo by Tori Mills)
Bogotay signs with Georgia Bulldogs
© East County Sports.com
EL CAJON (4-15-09) – It's not very often that the University of Georgia's football recruiting net stretches as far as California in search of talent.
That's what makes the Bulldogs' scholarship award to Grossmont College freshman kicker BRANDON BOGOTAY so special.
"We're excited to have Brandon joining our 2009 signing class and look forward to him competing on our kick off, field goal and extra point teams," Georgia head coach Mark Richt said.
Bogotay arrived at Grossmont College last fall as a virtual unknown. The 6-foot-3, 200-pounder was a four-year starter and all-league soccer player at Patrick Henry High School. Football was merely a secondary adventure when he was in high school.
Bogotay came into his own in his only football season with the Griffins. In 2008, he was successful on 15 of 23 field goal attempts and ranked third in the state in kick scoring with 72 points.
Georgia's football tradition attracted Bogotay, who also had a scholarship offer from Hawaii on the table.
"I want to play at the highest level I can and Georgia gives me that opportunity," Bogotay said. "I was so excited when they offered that scholarship that I went out and bought as much Bulldog gear as I could find."
Grossmont College defensive coordinator and special teams coach DAVE JORDAN recalls when Bogotay first walked onto the Griffins' Mashin-Roth Memorial Field.
"He could barely kick the ball between the uprights," Jordan said. "But he was a worker, you could tell that from the start. He was willing to spend hours perfecting his kicking technique."
Bogotay said all he did as a football senior at Patrick Henry was kick off.
"I had so much fun at Grossmont College," he said. "I never saw myself playing college football. I never dreamed it would get me where I'm going."
More than its football tradition wooed Bogotay to Georgia.
"When I made my (official recruiting) visit back there (Athens, Ga.), I was amazed," Bogotay said. "There are so many trees, tall trees. And the facilities are brand new, top notch."
Bogotay noted the expanded football facilities, which include three practice fields.
"Things are a lot more intense and organized at Georgia," he said. "The whole town is passionate about football."
Bogotay visited the Hawaiian Islands first, which one might think would catch his eye. But Georgia got the final word.
"Hawai'i is nice, but too laid back for me," he said.
Sounds like Bogotay is ready for the big time.
---
Griffins safety Abraham Muheize
signs with Florida A&M Univ.
(File photo by Tori Mills)
Muheize accepts FAMU offer
© East County Sports.com
TALLAHASSEE, Fla. (2-10-09) – Grossmont College sophomore safety ABRAHAM MUHEIZE has accepted a football scholarship to Florida A&M University.
"I was looking for a school that really wanted me, one that would let me come in and play right away," Muheize said. "FAMU fit the bill in all areas."
Another attraction to the NCAA Division I-AA university is FAMU will face the University of Miami (Fla.) in week five (Oct. 10) at Dolphin Stadium.
"That's pretty exciting," said Muheize, the Griffins defensive MVP of a year ago. "It doesn't get much bigger than that."
FAMU is directly across the street from Florida State University.
"When I tripped to Florida A&M I loved it," Muheize said. "They have so many alumni that are still part of the program. The support for football is unbelievable."
Muheize said people he'd never met came up to shake his hand and welcome him to the FAMU family.
"I don't know where they got them but a lot of people said they'd seen my highlight films and that's how they knew of me."
A handful of other schools also expressed interest in Muheize. Probably No. 2 on that list was Texas State in San Marcos, Texas.
"The guy who recruited me out of high school for Montana State is on the Texas State staff," Muheize said. "He wanted me to come there, but the head coach apparently didn't agree."
The 6-foot, 190-pound Muheize led the Griffins in tackles with 136 tackles, notched seven career interceptions and blocked five punts.
At FAMU, Muheize will be playing for the legendary coach of the Rattlers, Joe Taylor, who posted more than 200 victories during his lengthy career. The Rattlers were 9-3 a year ago.
Muheize, who holds several records as a running back, quarterback and defensive back at El Cajon Valley High, was a two-year starter for the Griffins after bouncing back from Montana State. His 4,050 yards passing as a senior remains a San Diego CIF record.
A Kinesiology major, Muheize hopes to "go into coaching some day."
---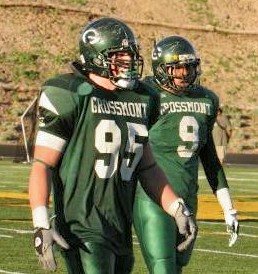 Grossmont College DE Chad O'Donnell (95, left), pictured with LB Jesse Swann,
accepted a scholarship at Idaho State.
(File photo by Tori Mills)
O'Donnell accepts
starting DE role
with Idaho State
© East County Sports.com
EL CAJON (01-29-09) – It was a tough decision to be sure for Grossmont College sophomore CHAD O'DONNELL when he declined football scholarship offers from Oklahoma and Arizona State University.
Instead, the 6-foot-2, 260-pound defensive end out of Christian High has accepted a football ride to Idaho State University in Pocatello, Idaho. The Bengals, coming off a dismal 1-10 season, expect O'Donnell to start.
"Yeah, I know people might think I'm crazy for passing up a chance to play at Oklahoma or ASU," O'Donnell said. "But that's just it. How much would I play if I went to either of those places? I don't want to sit on the bench."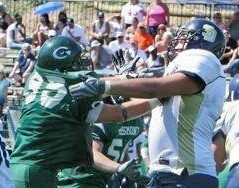 DE Chad O'Donnell (95, left) gets held
by a San Diego Mesa College player.
(File photo by Tori Mills )

That's a moot point now. O'Donnell will call Idaho State home for the next two years. He plans an accounting major.

"This is a nationally renowned college for accounting," said O'Donnell. "And I'm really excited about the opportunity I'll have in football."

"Unlike those bigger schools, I don't feel like I'm just a number here."

O'Donnell played both ways in the trenches at Christian High, but specialized on defense at Grossmont. He spent two seasons with the Griffins where he logged 58 tackles and 6 sacks last season and earning All-Southern Conference as a sophomore.

Three other East County products have one more year at Idaho State – fullback KEN CORNIST, running back KENYON BLUE and JASON WRIGHT. All three are products of Helix High.

BOAT LOAD OF UNDECIDED
Grossmont College freshman defensive back LARRY PARKER (St. Augustine) is a hot ticket, but seems to be a bit choosy about who wants him to come their way. The speedy Parker has already turned down offers from the University of Houston and BYU.

The Griffins freshman place-kicker BRANDON BOGOTAY turned down a scholarship offer from Nevada-Reno.

More opportunities are sure to spring up for these two in the future.

Grossmont's All-American tight end KYLE HIPP and safety ABRAHAM MUHEIZE are still shopping around. Muheize had Texas State and Florida A&M on his list, while Hipp has yet to identify who is courting him.
---
SOUTHERN CALIFORNIA FOOTBALL ALLIANCE
2009 CONFERENCE ALIGNMENT
NATIONAL DIVISION
(Top 2 teams from each conference advance to state playoffs)
Southern Conference
Central Conference
Northern Conference
Grossmont
Palomar
Saddleback
Orange Coast
Santa Ana
Fullerton
Long Beach
Chaffey
Citrus
College of the Desert
El Camino
Mt. San Antonio
Riverside
Victor Valley
Allan Hancock
Bakersfield
College of the Canyons
Compton
Glendale
L.A. Harbor
Moorpark
AMERICAN DIVISION
(Conference champions only advance to state playoffs)
Pacific Conference
Mountain Conference
Antelope Valley
East L.A.
L.A. Pierce
L.A. Southwest
L.A. Valley
Santa Barbara
Ventura
West L.A
Cerritos
Golden West
Pasadena
Mt. San Jacinto
San Bernardino Valley
San Diego Mesa
Santa Monica
Southwestern
---
---
<< Back