Griffins '07 schedule released
© East County Sports.com
EL CAJON (7-10-07) -- Grossmont College has announced its 2007 football schedule, which starts with a pair of non-conference games, followed by eight Foothill Conference contests, as the Griffins seek a fifth consecutive conference championship.
The opening games are of great interest, as Grossmont (10-2 in 2006), the 2005 state champions, meet defending state titlist El Camino on the road Sept. 1. The Griffins home opener is the following weekend on Sept. 8, hosting San Diego County rival Palomar, although the teams have not met since the Comets nipped the G-House, 20-19, in te 2002 South County Bowl. In fact, Palomar has not lost to a county foe in more than 20 years, but rarely played Grossmont since the schools are in different conferences and the COA now slates each schools' complete schedule.
However, since that setback, Grossmont has finished ranked in the California state Top 10 each of the past four seasons, finishing 2nd (2003), 3rd (2004), 1st (2005) and 7th (2006) -- also placing in the national Top 10 each year, too.
In the opener against El Camino, the Warriors are coached by John Featherstone, the brother of Grossmont men's volleyball coach Fred Featherstone. It will be the second time in three seasons that Grossmont will meet the defeneding state or national champions in the non-conference portion of the schedule ('04 champion College of the Canyons).
The 2007 Griffin Football Schedule is as follows:
Date -- Site/Opponent/Time
Sept. 1 -- @ El Camino (Torrance), 6 pm
Sept. 8 -- Palomar, 3 pm
Sept. 15 -- Southwestern, 3 pm
Sept. 22 -- @ San Bernardino Valley, 7 pm (time change)
Sept. 29 -- @ Chaffey (Rancho Cucamonga), 5 pm
Oct. 6 -- College of the Desert, 1 pm
Oct. 13 -- Victor Valley, 1 pm
Oct. 20 -- @ Antelope Valley (Lancaster), 1 pm
Oct. 27 -- BYE
Nov.3 -- @ San Diego Mesa, 1 pm
Nov. 10 -- Mt. San Jacinto, 1 pm
Nov. 17 -- COA Playoffs
---
Taunau'u blazes to Alabama
© East County Sports.com
BIRMINGHAM , Ala. (6-11-07) -- A three-time San Diego CIF finalist, former Helix High and Grossmont College linebacker JACOB TAUNAU'U has received a football scholarship to Alabama-Birmingham. The Blazers finished 4-8 overall last season (3-5 in Conference USA).
Taunau'u, a two-time All-East County selection, played part-time as a sophomore for the 2002 REGGIE BUSH led Highlanders which reached Qualcomm Stadium, only to fall to Oceanside. Then as a starter for two seasons, the Scotties again reached the stadium, but fell in consecutive SDCIF Division II title contests to Grossmont South League rival Monte Vista (2003) and again to Oceanside (2004).
Taunau'u was a two-time GSL selection, and later made the All-CIF team as a senior as a two-way performer. In addition to his linebacking duties in '04, he served part-time as a fullback in specialty situations, yet ranked among the rushing leaders with 531 yards on 69 carries (7.7 average), with 12 touchdowns, including an 85-yarder. For the season, he scored 74 points (including a 2-PAT) to rank among the GSL and East County leaders.
Among his junior year highlights included a 28-yard fumble return for a score in a 12-9 victory over Monte Vista during the regular season. As a sophomore, in addition to football, Taunau'u was a talented track athlete, receiving top marks in the shot put.
Standing at 6-1, 220 pounds, Taunau'u spent his freshman season of college at Mt. San Antonio College in Walnut, but did not play. He then transferred to defending national champion Grossmont College for the 2006 season, when the Griffins (10-2) finished ranked 9th in the nation.
---
Muheize signs with Montana State
Former CIF Player of the Year
to join Bobcats program this week
© East County Sports.com
EL CAJON (1-19-07) -- Grossmont College freshman ABRAHAM MUHEIZE plans to enroll at Montana State University this week.
A heavily decorated defensive back, Muheize has accepted a scholarship to play for the Bobcats of the NCAA Division I-AA Big Sky Conference next season.
"I liked the coaches and the campus and there's big-time football interest around the town," said the 6-foot, 193-pound Muheize.
Muheize was a standout safety for the Griffins last season, helping Grossmont reach the Southern California semifinals.
Prior to coming to Grossmont, however, Muheize stenciled his name on the offensive side of the El Cajon Valley High and the Grossmont Conference record books. As a junior for the Braves, he rushed for an El Cajon Valley record 1,286 (on 222 carries) in 2004.
A year later, Muheize was asked to quarterback El Cajon Vallley's five-wide offense. Once again, he answered the challenge, shattering all the Braves' passing records while setting a San Diego Section mark for passing yards in a season with 4,050.
In spite of all the offensive hoopla, Muheize never lost his focus concerning his future.
"Ever since I was a sophomore in high school, I knew for me to make it to the next level it would have to be as a DB," said Muheize.
As an El Cajon Valley senior, Muheize intercepted a school record 10 passes, which also tied him for second on the all-time Grossmont Conference list. In addition, he holds the El Cajon Valley record for career thefts with 12.
A major factor in Muheize's decision to leave Grossmont a year early was the inviting opening at Montana State. The Bobcats, who are 8-5 and reached the I-AA quarterfinal playoffs before falling to eventual champion Appalachian State, have no veteran safeties returning in the fall.
"That's what we're here for," said Grossmont assistant defensive coach and former head coach DAVE JORDAN. "We're gonna miss him, but our job is to prepare kids for the next level and we wish him the best of luck. He's gonna be a good one."
Another lure that caught Muheize's attention was the potential exposure he and his teammates will receive when Montana State opens the 2007 season at Texas A&M.
---
Ballman commits to Washington Huskies

Howard punches ticket to UNLV
© East County Sports.com
SEATTLE (12-16-06) -- On the same day one All-America punter left the University of Washington, another with lofty credentials announced his intention to step onto the Pac-10 Conference campus.
Leaving the Huskies is senior punter Sean Douglas, who was given an honorable mention All-America berth by the editors of Pro Football Weekly, capping a career where he became the school's career punting average leader.
Douglas' replacement: Grossmont College kicker-punter JARED BALLMAN, who transformed from an unknown performer at Patrick Henry High into an All-Foothill Conference performer.
Joining Ballman in accepting an NCAA Division I scholarship is GEOFFERY HOWARD, a graduate of Horizon Christian High, who continues a long progression of Griffins advancing to UNLV.
The pair increases the list of Grossmont players to accept D-1 offers to five. The others are linebacker AVENI LEUNG-WAI (Brigham Young), TERRY MIXON ( Arizona State ) and SHARROD DAVIS ( Fresno State ). Declaring for 2008 is defensive lineman MAGNUM MAUGA, who was injured and did not play this past season.
During the regular season as a placekicker, Ballman was the Griffins' leading scorer with 71 points, including a strong 11-for-18 on field goals and converting all but two of 40 PATs. Included was a Foothill Conference high 16-point game against San Diego Mesa, which was one of two ballgames when he kicked three field goals -- also a conference high.
When punting, Ballman averaged 40.8 yards, including a long of 71 yards against Mt. San Jacinto -- also a Foothill best this past season.
During the COA state playoffs, Ballman was even better. In the South region semifinals at Bakersfield, Ballman averaged 43 yards on six punts -- including his 67-yarder -- with three downed inside the 20.
Howard will join a UNLV program which has featured several former Griffins over the years. Playing there currently is Marcus Bryan, the older brother to Grossmont receiver BRANDON BRYAN. Howard finished second on the ballclub in interceptions, including one for a 23-yard touchdown against College of the Desert.
---
JC Grid-Wire
Final Top 30 National Rankings

Rk

School

Record

2005

1

Blinn (Texas)

12-0

--

2

El Camino

12-2

4

3

Saddleback

11-1

--

4

Snow (Utah)

11-1

7

5

Foothill

10-1

19

6

CC San Francisco

10-2

6

7

Santa Rosa

10-1

11

8

Bakersfield

11-2

14

9

Grossmont

10-2

1

10

Bulter (Kan.)

11-1

10

11

Pearl River (Miss.)

10-2

8

12

Mt. San Antonio

9-2

--

13

Moorpark

9-2

--

14

Copiah-Lincoln (Ill.)

9-3

--

15

Lackawanna (N.Y.)

10-0

--

16

Glendale (Ariz.)

9-2

2

17

Fresno

8-3

00

18

Nassau (N.Y.)

9-1

24

19

Grand Rapids (Mich.)

9-2

23

20

San Mateo

6-4

9

21

Glendale

9-2

28

22

Laney

9-2

21

23

Iowa Central

9-2

--

24

Allan Hancock

7-3

00

25

Victor Valley

9-2

--

26

Miss. Gulf Coast

7-2

29

27

Fort Scott (Kan.)

7-5

--

28

Diablo Valley

8-3

--

29

Orange Coast

7-4

--

30

Sacramento

7-4

--

California schools unless noted.
Blinn named national champs
Griffs gain another Top 10 ranking
© East County Sports.com
SANTA ANA (12-12-06) -- Blinn College, located in Brenham, Texas, which finished as the only undefeated team in the nation, has been decalred the J.C.Grid-Wire community college national champions for 2006. The announcement came from Hank Ives,the 47-year editor of the ratings service.
The Buccaneers replaced Grossmont College as national champions after racing through all 12 opponents this past season, including Saturday's (Dec. 9) 19-6 decision over Pearl River (Miss.) in the Pilgram's Pride Bowl. Pearl River finished 10-1 this season.
The title is the second for Blinn, which first won Grid-Wire's top award in 1996.
El Camino (Torrance, Calif.), which defeated Moorpark, Saddleback, Bakersfield and City College of San Francisco to capture the COA California state crown, finished as national runner-up. The Warriors (12-2) lost a pair of games by less than a touchdown.
Grossmont, the 2005 state and national champions, again ranked in the Top 10 nationally. The Griffins (10-2) finished in ninth place, one position behind No. 8 Bakersfield, which nipped Grossmont, 13-6, in the South regional semifinals.
---
Sat., Dec. 9
COA State Championship
At Chukchansi Park (former Grizzlies Stadium), Fresno
El Camino 49,. CC San Francisco 35
---
Grimm earns J.C. Grid-Wire Scholar-Athlete honor
© East County Sports.com
EL CAJON (12-10-06) -- Grossmont College offensive lineman ANDREW GRIMM didn't draw the weekly recognition that maybe some of his teammates did. But the 6-foot-4, 310-pound sophomore out of Palo Verde Valley High was steady throughout the Griffins 10-2 season.
Grimm was named to the J.C. Grid-Wire Scholar-Athlete Community College All-America football team. He started every game for the Foothill Conference champion Griffins, who reached the Southern California semifinals before falling to Bakersfield.
A sports medicine major, Grimm is one of nine players with a 4.0 grade-point-average to make the 25-member honor squad.
---
Offensive lineman captures 30th Roth Award
© East County Sports.com
EL CAJON (12-6-06/REVISED 12-7-06) -- Named for a quarterback, it's not surprising that the annual Joe Roth Memorial Award is often awarded to a quarterback, considering that San Diego County community colleges often produce some of the best passers in the country.
However, on the 30th anniversary of the prestigious award, following 19 previous honorees who played quarterback, the 2006 Roth has been awarded to an offensive lineman for the first time ever when Grossmont College left tackle CODY GOCKE was selected for excellence on the field and in the classroom.
Gocke, a sophomore who carries a 3.2 grade-point average, became the 17th member of the Griffins to claim the prize, when honored at the team banquet.
"I was very surprised -- I couldn't believe they called my name," said Gocke, who until Thursday (Nov. 30) was part of an unanimous brotherhood of performers to protect so-called "skill" position players.
The award is given to the San Diego County community college football player that best meets the high academic standards and athletic excellence that the late Joe Roth exhibited during his All-America career. Roth, a gifted quarterback, guided the Griffins to their only undefeated season and first state championship in 1974. He led Cal to its only Pac-10 championship in 1975 and was considered a potential NFL first-round draft pick before he died of cancer in February, 1977.
"To be selected for an award such as this is something," added Gocke. "I really don't remember much about the presentation. Coach (MIKE) JORDAN called my name, I went up and shook hands, and my mom was bawling when I got back to my seat -- we wereboth very happy to get the award."
Gocke has several colleges interested in his services for next season, including UC Davis and Southwest Missouri State, programs which already utilize the Griffins' program as a main recruiting source.

Others honored at the ceremonies included:

GROSSMNT COLLEGE "GRIFFINS"
2006 FOOTBALL AWARD WINNERS

Cody Gocke -- Joe Roth Memorial Award

OFFENSE
Kevin Smith
Justin Johnson
Perry Gardner
Charles Millenbah
Cedric Warren
John Soli
Brandon Bryan

MVP-Offense
Best Wide Receiver
Best Running Back
Best Offensive Lineman
Best Offensive Hitter
Most Improved
Rookie of the Year
DEFENSE
Nate Dolan & Terry Mixon
Sharrod Davis
Geoffery Howatd
Junior Faliuga
Matt Moss & Ryan Glazer
Abraham Muheize &
-- Jericho Maxwell
Tanu Paleafei

MVPs-Defense
Best Corner
Best Corner
Best Linebacker
Best Defensive Linemen
Most Improved

Rookie of the Year
OTHERS
Sean Tuiofu
Andrew Grimm
Jared Ballman
Justin Johnson

Team Captain
Scholar Athlete
Best Specialist
Best Special Teams
---
Sat., Dec. 2
Southern Calif. regional final
El Camino 23, Bakersfield 20 (OT)

Hawaiian Punch Bowl
Northern Calif. regional final
San Francisco 26, Fresno 10

Sat., Dec. 9
COA Championship
El Camino vs. CC San Francisco, at Chukchansi Park (former Grizzlies Stadium), Fresno, 1 p.m.
---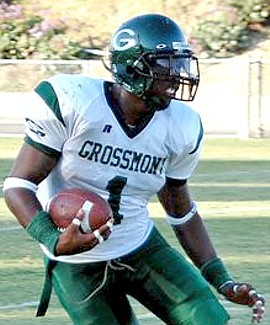 Terry Mixon, shown returning an interception against Southwestern, was selected to
the All-America first-team by J.C. Grid-Wire.
(File Photo by Dawn Adams)
Mixon tabbed
JCGW first-team
All-America
© East County Sports.com
SANTA ANA (11-30-06) -- Grossmont College cornerback TERRY MIXON was the top selection among five Griffins named to the 47th annual J.C. Grid-Wire All-America football teams for the 2006 season.
Mixon, who accepted a scholarship offer from Arizona State earlier this year, was Grossmont's lone selection to the Grid-Wire first-team of honorees. The selections were made by longtime JCGW editor Hank Ives, who is a member of both the California and NJCAA halls of fame.
The other Grossmont honorees feature: offensive lineman CODY GOCKE (third-team offense), receiver-kick returner JUSTIN JOHNSON (third-team all-purpose performer), defensive end MATT MOSS (honorable mention) and cornerback SHARROD DAVIS (honorable mention). All are sophomores except Moss, who is a freshman.
Mixon earned his status as one of three defensive backs on the first team after ranking among the Griffins leaders in pass breakups and interceptions. At one point, he was among the team leaders in tackles, too, until opponents started going to the other side of the field when passing the football.
Mixon, who came to Grossmont from Compton-Dominguez, also returned a pair of kickoffs for touchdowns in a Foothill Conference contest at Southwestern.
Gocke (El Capitan) and Moss (West Hills) are both East County products, with Moss rating among the conference leaders in quarterback sacks. Johnson, who led the Griffins in receptions while returning three punts for touchdowns, is out of St. Augustine. Meanwhile, Davis, who hails from Monte Vista, tied for team honors in interceptions.
---
Bakersfield running back J.R. Rogers (3)
was held to a mere 30 yards on 19 carries
by Grossmont's state-leading defense.
(Photo by Gary Grimm)
Bakersfield snaps Griffins streak, advance to South region final vs. El Camino

Davis headed for Fresno State
© East County Sports.com
BAKERSFIELD (11-26-06) -- The defensive unit for Grossmont College again put on a performance worthy of a defending state champion. Special teams were pretty solid, too.
But when the Griffins' offense reverted back to opening day form, it meant for a long, long second half, unable to score the game-tying touchdown, as Bakersfield College ran its winning streak to 10 straight games by subduing Grossmont, 13-6, in Saturday's (Nov.25) COA South region semifinals before 3,775 fans at Bakersfield Memorial Stadium.
The second-seeded Renegades (11-1) will host the region final against El Camino after the Warriors survived a wild fourth quarter to nip top-ranked and previously undefeated Saddleback, 31-29.
Grossmont (10-2), winners of 10 consecutive ballgames and 23-of-24 entering the contest, saw a developing offense operate at peak efficiency in recent weeks, scoring 164 points in its last three outings (54.7 average).
However, the Renegades limited the G-House to just 161 yards in offense, with the only scoring coming via a pair of 20-yard field goals by JARED BALLMAN. The later boot came on the final play of the first half to even the score at 6-6. But things only got worse for the Griffins' offense.
Bakersfield played ball-control over the final 30 minutes, at one stage controlling the ball for five minutes by running just nine rushing plays. But even when Grossmont owned possession, they managed just a single first-down in the second half, coming with two minutes left in regulation time.
"They were by far the best team we've played all season," said cornerback SHARROD DAVIS. "They have good receivers that gave us good looks, and their defense was just as quick as ours."
Davis, an All-America candidate, will return to the Central Valley next season. Following the contest, Davis announced he committed to play football for head coach Pat Hill at Fresno State in 2007. He finished the day with four tackles and his team-leading fifth interception.
Several other defenders are also expected to accept NCAA Division I scholarship offers in the coming weeks, especially after handling Bakersfield's offense as well as any team they played this year, finishing the regular season ranked No. 1 in California.
Renegades standout running back J.R. Rogers, who averaged more than 100 yard per game, was held to a meager 30 yards on 19 carries. Bakersfield also went with two freshmen quarterbacks to supply offense, although both Cody Stone and Dustin Powell each tossed one TD pass.
Following a Ballman field goal on the game's opening series for a quick 3-0 lead, he entered the game in the second quarter and boomed a 67-yard punt to pin back the hosts. However, Stone answered by throwing an 89-yard scoring pass to Brandon Banks for a 6-3 lead; the conversion was blocked.
After Ballman tied the game at the gun to close the half, Bakersfield switched quarterbacks to open the third period, as Powell immediately connected with T.J. Lee on a 39-yard touchdown pass. Entering the game, Grossmont had allowed just a single field goal in the third quarter all season.
Meanwhile, Grossmont quarterback JOHN SOLI struggled all afternoon, hitting just 4-of-18 passes for 51 yards. And there was no reserve to go to because back-up HUNTER FLYNN quit the ballclub prior to the Oct. 21 game at Victor Valley, and converted defensive lineman SEMIKA TAALA was injured on his only pass attempt (and completion) of the season against Antelope Valley on Oct. 29.
Back-up KRYS CASH only had a few token appearances in several blowouts. And free safety ABRAHAM MUHEIZE, who played quarterback for El Cajon Valley last year, had not taken a snap all season and was not considered an option.
"We were just a play short today," added Davis.
Muheize starred on defense, leading the Griffins with a game-high 11 tackles and an interception. Grossmont also registered five sacks, including a pair by linebacker TANU PALEAFEI, despite the absence of Arizona State-bound cornerback TERRY MIXON (ankle).
GROSSMONT COLLEGE
FOOTBALL PLAYOFF LOG
Since Re-Institution
of State Playoffs in'03

Year/Opponent

Result

2006
Victor Valley
at Bakersfield


W
L


49-07
06-13

2005
Glendale
at El Camino
at Canyons
San Francisco (F)


W
W
W
W


42-10
52-43
24-19
41-38

2004
at Chaffey
at Canyons


W
L


26-07
00-30

2003
Citrus (SW)
Canyons
Fullerton
San Francisco (F)


W
W
W
L


38-28
14-10
47-30
35-38

(F) -- State Final At Fresno
(SW) -- At Southwestern
"We have a ton of great freshmen coming back," noted defensive end RYAN GLAZER. "It was a great season and lots of good things happened, but we plan to go all the way next year."
Ballman averaged 43 yards on six punts -- including his 67-yarder -- with three downed inside the 20.
For the season, Grossmont allowed just eight touchdowns in 12 contests to establish one of several school records.
COA South Region Semifinals
At Bakersfield Memorial Stadium
RENEGADES 13, GRIFFINS 6
Grossmont (10-2)...... 3 3 0 0 -- 06
Bakersfield (11-1)...... 0 6 7 0 -- 13
GC -- FG Ballman 20
BC -- Banks 89 pass from Stone (kick blocked)
GC -- FG Ballman 20
BC -- Lee 39 pass from Powell (Johnson kick)
Att.: 3,775.
---
Heavyweights battle
in SoCal semifinals

© East County Sports.com
BAKERSFIELD (11-24-06) -- A pair of teams which haven't lost since early September do battle Saturday (Nov. 25), when Grossmont College puts its 10-game winning streak on the line against Bakersfield College, which has captured nine consecutive, in the Southern California Regional semifinals. Kickoff at Bakersfield Memorial Stadium is set for 4 p.m.

The Griffins (10-1), the third seeds and winners in 22 of their last 23 contests, lost on opening day to Mt. San Antonio, 13-10. A week later, the Renegaes (10-1) fell to top-ranked and undefeated Saddleback, 48-21. For second-seeded Bakersfield to gain a rematch with the Gauchos, they must get past a Grossmont side which rates No. 1 in California in defense after capturing the 2005 state title.

In the other South semifinal, Saddleback (11-0) hosts Mission Conference rival El Camino (9-2) in a 5 p.m. start in Mission Viejo -- indeed, all four remaining contenders are the heavyweights in community college football.

While Grossmont's defense remains at the top of the state leaderboard, the offense is quickly gaining respect. The Griffins have posted 164 points in their last three outings -- a cool 54.7 average -- including a 49-7 pounding of Victor Valley in the opening-round playoff dubbed the Southern California Bowl.

The victory gave the G-House five consecutive postseason victories, and nine playoff wins over the past four seasons -- the best mark in California. Meanwhile, BC stopped Western State Conference rival Citrus, 36-12, in the Golden Empire Bowl.

Grossmont has suffered only one home loss since the installation of an artificial surface at Mashin-Roth Memorial Field five years ago. But this game will be contested in the Central Valley, where the Renegades are undefeated this season in six ballgames. The reason for much of their success is creating turnovers, including the forcing five (three interceptions, two fumbles) to down the Owls last weekend.

The teams have one common opponent in College of the Canyons, Grossmont's main opposition the past four postseasons. The Griffins downed the Cougars, 25-3, on Sept. 9; the Renegades slipped past COC, 33-22, three weeks later.

Although both programs are annually in the playoffs, they haven't met since a pair of Potato Bowl encounters in 1998 and 2000. Grossmont took the first game, 23-17, but Bakersfield took the rematch by a similar 22-17 count.

Bakersfield received recognition from WSC coaches with 12 first-team all-conference selections. Heading the list was sophomore running back J.R. Rogers and sophomore linebacker Curtis Cornelson, who were tabbed the circuit's offensive and defensive players of the year,

Both teams suddenly have injuries in the secondary, perhaps the defensive strengths for both sides. Grossmont may be without the services of TERRY MIXON due to an undisclosed ankle injury; his status in questionable. Bakersfield lost sophomore cornerback Ahearn Lucas, who broke his ankle against Citrus and is gone for the season.
---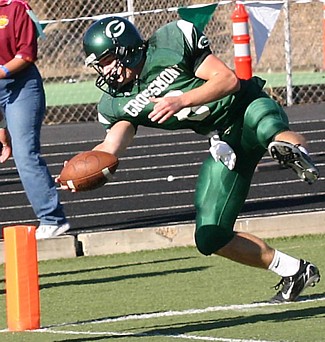 John Soli extends the football over the plane of the goalline just before stepping out of bounds for his second touchdown -- a 10-yarder -- to power Grossmont past Victor Valley, 49-7, in the COA opener.
(Photo by Greg Eichelberger)

Griffins dust Rams, 49-7, in SoCal playoff opener

© East County Sports.com
EL CAJON (11-19-06) -- For all of the trophies bestowed on Victor Valley College, memories of the accomplishments will be left covered in dust following an old-fashioned whupping they received from the disrespected Grossmont Griffins.

After Victor Valley swept the top Foothill Conference awards for coach and players of the year (both offensive and defensive), the Griffins made piecemeal of the Rams'highly-touted defense en route to a 49-7 demolition in Saturday's (Nov. 18) Southern California Bowl, which also serves as the opening round to the Southern California Regionals and, ultimately, the Commission on Athletics state football championship.

"We stepped up to the challenge -- we weren't worried about trophies."
-- Brandon Bryan

Grossmont quarterback JOHN SOLI accounted for six of the team's seven touchdowns, rushing for a pair of scores to build a 21-7 halftime lead, while throwing for four others -- including a pair of TD receptions each by JUSTIN JOHNSON and BRANDON BRYAN.

"We stepped up to the challenge -- we weren't worried about trophies," noted Bryan, who collected scoring passes of 24 and 10 yards in the fourth quarter to ice Grossmont's state-leading ninth postseason victory over the past four seasons. "We played team ball and everyone did their assignments."

COA Football Schedule/Results

Sat., Nov. 18
Southern California Regionals
Southern California Bowl
Grossmont (10-1) 49, Victor Valley (9-2) 7
Golden Empire Bowl
Bakersfield (10-1) 36, Citrus (7-4) 12
National Bowl
Saddleback (11-0) 30, Palomar (6-5) 28
American Bowl
El Camino (9-2) 31, Moorpark (8-3) 29


Bowl Games
U.S. Bank Beach Bowl
Mt. San Antonio (9-2) 29, Orange Coast (7-4) 20
Bulldog Bowl
San Mateo (7-4), 29, Sequoias (7-4) 23 (OT)
Century Holiday Bowl
Yuba (6-5) 29, Monterey Peninsula (9-2) 8
East County Bowl
Diablo Valley (8-3) 33, Siskiyous (6-5) 23
Graffiti Bowl
Laney (9-2) 34, Modesto (7-4) 28
Silicon Valley Bowl
Foothill (10-1) 23, Sierra (6-5) 0
State Center Bowl
Santa Rosa (10-1) 21, Reedley (6-4) 20


Sat., Nov. 25
Southern California Semifinals
Bakersfield 13, Grossmont 6
El Camino 31, Saddleback 29

Capital Shrine Bowl
Sacramento (7-4) 31, Feather River (6-5) 13
Western State Bowl
Glendale (9-2) 23, Santa Ana (7-4) 14

Sat., Dec. 2
Southern Calif. regional final
El Camino 23, Bakersfield 20 (OT)

Hawaiian Punch Bowl
Northern Calif. regional final
San Francisco 26, Fresno 10

Sat., Dec. 9
COA Championship
At Chukchansi Park (former Grizzlies Stadium), Fresno
El Camino 49,. CC San Francisco 35

Meanwhile, Grossmont's defense, which allowed the fewest points in the state this season, tossed another shutout; the Rams'lone score came on a 53-yard interception runback by Kendrell Barthelemy on a tipped pass just 3:48 into the contest. Victor Valley (9-2) could only muster 181 yards in total offense and seven first downs, although it was slightly more than in the game between the teams last month when Grossmont won, 16-7, in Victorville, tagging the Rams with both of their season losses.

"We went out and proved them wrong," noted nose guard VALENTINO TOFAEONO, a main cog among Grossmont's Polynesian Posse. "They kept talking about having the No. 1 players, but our defense dominated them. They can't say anything about that, period."

Indeed, Victor Valley quarterback Michael Woods was tabbed player of the year on offense by the Foothill coaches, while inside linebacker Justin Halas was named the top performer on defense.

Instead, Woods collected for a paltry 66 yards on 6-for-16 passing, with three interceptions -- including a pair by STEFAN WILLIAMS -- and a pair of sacks. Meanwhile, Halas was tagged for a pair of major penalties, including a key 15-yarder for face masking to keep alive a Grossmont march which led to a touchdown. Halas had but three tackles.

"You learn to practice hard when you come to Grossmont, so you play hard when it's game time," said Williams, who returned his thefts 32 and 36 yards. "Our linemen stayed in their gaps, then the ball went right to me both times."

Soli shrugged off his early miscue, finishing with 226 yards on 18-for-31 passing.

"Nobody expects to get blown out like this," said Soli, who quarterbacked the Jimtown High "Jimmies" to a 14-1 record and the Indiana state Class 2A championship in 2005, capped by a 55-7 title game victory at RCA Dome (home of the Indianapolis Colts). "The long ball was working well against what they were trying to do defensively."

Soli directed Grossmont to three touchdowns over the final four possessions of the first half, The first march, capped by a Soli sneak from the VVC-1, was aided by 25 yards of Rams penalties, as Victor Valley played undisciplined football after being flagged 15 times for 135 yards. Four other fouls worth 50 additional yards were declined, including a pass inter-ference call on Bryan's second TD grab.
John Soli lifts the Indiana State
2A Football Championship trophy.
(Courtesy Indiana High School Football Coaches Assoc.)

"I was leaning forward, so I didn't even know I was pushed in the back," noted Bryan, whose brother, Marcus, plays for UNLV. "I was too worried trying to find the ball."

Next possession, Soli looped the ball to Johnson for the go-ahead score, and Grossmont went on to score the game's final 49 consecutive points. On the Rams last visit to Mashin-Roth Memorial Field in 2005, the Griffins ran off 38 straight points in a 59-26 pasting -- the G-House has never fallen to Victor Valley in 14 all-time meetings.

Soli made it 21-7 on a rollout to the right side. Unable to find a receiver, he scampered 10 yards to touch the pylon for his second rushing touchdown. Soli added three additional TD passes in the second half, including a 33-yarder to Johnson to convert on a 3rd-and-32 situation. PERRY GARDNER capped the triumph with a 17-yard TD run.


However, the second half belonged to the Griffins defense, which allowed just 88 total yards over the final 30 minutes. For the contest, JERICHO MAXWELL and MATT MOSS shared one sack of Woods, RYAN GLAZER and NATE DOLAN shared another, while ABRAHAM MUHEIZE snagged the team's other interception, racing 28 yards on the runback. Muheize had a team-best seven tackles.

The third-seeded Griffins advance to the Southland semifinals, traveling to Memorial Stadium to meet host Bakersfield College next Saturday at 4 p.m. The second-seeded Renegades advanced by whipping Western State Conference rival Citrus, 36-12.

Notes -- The seven points allowed by Grossmont equals the team's best effort in postseason play since defeating another Foothill Conference opponent Chaffey, 26-7, in 2004... Grossmont has now won 23 of its last 24 contests... Former Griffins linebacker MOZIQUE "Zeke" McCURTIS registered the victory-clinching interception for 4th-ranked USC in the Trojans' 23-9 triumph over No.17 California on Saturday. McCurtis, who played for Grossmont in 2004, is a cornerback for Troy.


Southern California Bowl
COA State Playoffs -- South Region Quarterfinals
At Mashin-Roth Memorial Field, El Cajon
GRIFFINS 49, RAMS 7
Victor Valley (9-2)....................................... 7 00 00 00 -- 07
Grossmont (10-1)........................................ 7 14 07 21 -- 49

FIRST QUARTER
Scoring Play (PAT), Time of Score/Qtr. (Drive: Plays, Yards, TOP)
VV -- Barthelemy 53 interception return (Hoegerl kick), 11:12
GC -- Soli 1 run (Ballman kick), 4:07 (4-39-2:01)

SECOND QUARTER
GC -- J.Johnson 29 pass from Soli (Ballman kick), 9:58 (6-50-2:46)
GC -- Soli 10 run (Ballman kick), 3:13 (8-60-3:04)

THIRD QUARTER
GC -- J.Johnson 33 pass from Soli (Ballman kick), 1:20 (4-36-2:02)

FOURTH QUARTER
GC -- Bryan 24 pass from Soli (Ballman kick), 13:32 (3-23-1:01)
GC -- Bryan 10 pass from Soli (Ballman kick), 7:03 (7-68-3:10)
GC -- Gardner 17 run (Ballman kick), 0:38 (7-47-3:14)
Att.: 1,000.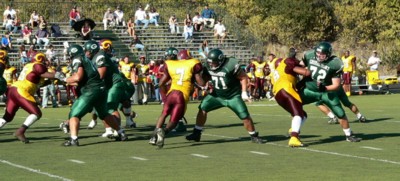 The Griffins offensive line protects QB John Soli against Victor Valley.
(Photo by Gary Grimm)
---
Griffins-Rams collide in SoCal Bowl
All-Foothill selections announced

© East County Sports.com
EL CAJON (11-17-06) -- The most successful community college football team in the playoffs over the past three seasons meets a school making its first venture into postseason play, when defending state champion Grossmont College opens the 2006 COA Southern California Regionals against Foothill Conference rival Victor Valley College.

The South regional quarterfinal-round game, dubbed the Southern California Bowl by state officials, kicks off at 1 p.m. Saturday (Nov. 18) at Grossmont's Mashin-Roth Memorial Field.

With eight playoff victories over the past three seasons, including two appearances in the state finals, Grossmont College (9-1) has an edge in experience. However, the Rams, also 9-1, are in major grudge mode, suffering their lone setback to the Griffins, 16-7, at VVC's Burt Trimble Field on Oct. 21.

The schools rank 1-2 in the state in scoring defense, as Grossmont posted a shutout of Mesa, 58-0, to close the regular season with a 9-game winning streak and taking the state defense crown from the Rams.

Indeed, defense has been a forte for both sides, but in the teams' meeting five weeks ago, Victor Valley forced a series of punts, but only one turnover. Meanwhile, Grossmont registered six turnovers (3 interceptions, all by NATE SCHAD, and 3 fumbles, including a key stop at each goal line.

The Griffins picked up a safety when a forced fumble by MATT MOSS and NATE DOLAN bounced out of the end zone. The other was a dramatic goal line stand late in the fourth quarter, when the Rams owned a 1st-and-goal at the Grossmont-1 en route to collecting the go-ahead score. However, VALENTINO TOFAEONO and RYAN GLAZER slammed VVC running back Isaac Newton for a fumble, which Dolan recovered in the end zone for a key touchback.

Five plays later, CEDRIC WARREN rumbled 42 yards for the victory-clinching touchdown with 2:03 remaining, leaving the Rams hopeful to: 1) advance to the playoffs for the first-time ever, and, 2) gain a rematch with the Griffins.

Last Sunday, both wishes were fulfilled when the COA seeding committee awarded Victor Valley the third and final at-large bid to the playoffs and the sixth seed. Grossmont is seeded third. The other half of the bracket features No.7 Citrus (7-3) at No. 2 Bakersfield (9-1).

Statistically, everything went smoothly as if the game was planned by a computer. Entering the contest, the teams had four common opponents, but Grossmont held an 8.8 point scoring advantage when compared to the Rams' scores against the same teams. And the Griffins actually won by that very 9-point margin -- Nevada handicappers would be proud.

However, football is a physical game filled with emotion. And with Victor Valley seeking revenge and respect on several fronts, it will be important for Grossmont to withstand any adrenalin rush by the Rams in the opening minutes.

All-Conference Team
Newton bounced back from his ill-timed fumble, scoring three touchdowns to beat Mt. San Jacinto last week, to clinch second place in the Foothill. Newton recently was named to the all-conference second-team, topped by first-team selections KEVIN SMITH of Grossmont (613 yards) and Erin Madden of San Bernardino Valley.

Heading the All-Foothill team are a pair of Victor Valley standouts: quarterback Mike Woods, the Player of the Year on offense, and inside linebacker Justin Halas, who was tabbed the best defender. In addition, the Rams completed a sweep of the major awards as Dave Hoover out-pointed Grossmont's MIKE JORDAN as the Coach of the Year, Hmmm, didn't the Griffins win the conference title... for the fourth consecutive season?

Along with Smith, Grossmont claimed eight other first-team spots, including a majority of special teams performers in kicker JARED BALLMAN and kick returner JUSTIN JOHNSON, who also gained a second-team berth as a receiver.

On defense, the Griffins took five of 12 berths, featuring defensive backs TERRY MIXON and SHARROD DAVIS, lineman MATT MOSS, and linebackers AVENI LEUNG-WAI (ILB) and NATE DOLAN (OLB). Also tabbed was CODY GOCKE as as a first-team offensive lineman.

Mixon also gained a second-team berth as a kick returner. Other second-team selections, as picked by conference coaches, include defensive lineman TANU PALEAFEI and offensive lineman DANIEL TUFELE.

Other East County athletes earning post-season recognition include a pair of West Hills High products playing for Mesa (2-8) -- second teamers KAMY AHMADIAN at quarterback and RYAN SEVIER as an all-purpose performer. And at Southwestern, El Capitan product PATRICK COOK was also tabbed to the second team. Complete Team HERE.


Rankings -- The J.C. Grid-Wire national poll has Grossmont ranked 10th, while Victor Valley is 16th. Among California schools in the ratings, Grossmont is 7th and the Rams are 12th... Grossmont was the preseason No. 1 choice by Street & Smith Magazine after winning the 2005 mythical national championship as selected by The J.C. Grid-Wire.

Bowls -- Victor Valley has never been in the playoffs, but they have been to a bowl game, participating in the 2003 Potato Bowl in Bakersfield... Grossmont seeks its third consecutive Southern California Bowl title, previously defeating Chaffey (26-7 in 2004) and Glendale (42-10 in 2005)... The Griffins have won three consecutive bowl games, including a victory in the South Bay Bowl over Citrus (38-28 in 2003).

Numbers -- The Griffins have allowed only six touchdowns all season (4 passing, 2 rushing) and yield just 163.0 yards per contest despite free substitution in the second half of at least five contests this season... Second half adjustments: Grossmont gave up just a single field goal in the third quarter all season (23 total points in the second half). Wow!

Grossmont may be known for defense this season, but everyone gets to contribute for an improving offense which averaged more than 40 points over its last seven outings following a slow start. A total of 18 different players scored points this season, while passes were caught by 21 different receivers, led by Johnson's 24 receptions. He also returned three punts for TDs this season.

Where are they now? -- Former Griffin quarterback BRYAN HALSEY is now an assistant coach on offense for Columbine High School in Colorado.
---
Land of the free
Former Grossmont head coach Dave Jordan, the 2005 national community college coach of the year, sings the National Anthem prior to Saturday's game with San Diego Mesa College.
(Photo by Frank Gregorek)
Griffins open playoffs
by hosting Victor Valley
© East County Sports.com
SACRAMENTO (11-13-06) -- A year ago, Grossmont College suffered a single regular-season setback, yet earned a chance to avenge its loss to College of the Canyons en route to capturing the COA state football championship.
This season, the Griffins' lone loss came in the season opener against Mt. San Antonio. But instead of a rematch with the Mounties, the tables were turned.
Such is the selection of which teams desire a berth in the playoffs.
Victor Valley College earned its first-ever playoff berth to join the 8-team Southern California regional. The Rams (9-1) out-pointed Mt. San Antonio College (8-2) to sneak in with the third and final at-large bid. The Victorville-based school posted its best-ever record at 9-1, with its lone defeat coming at home to Grossmont, 16-7, back on Oct. 21.
"They say it is hard to beat somebody twice in the same season," Griffins coach MIKE JORDAN said. "But I feel good about this game. We're a lot better team than when we faced them the first time. Plus, we're playing at home."
The COA has garnered sponsors for all four of Saturday's (Nov. 18) South Regional contests and dubbed them with bowl names. Grossmont will play for its third consecutive Southern California Bowl crown. Kickoff is set for 1 p.m. at Mashin-Roth Memorial Field at Grossmont College.
Victor Valley was awarded the sixth seed since a pair of conference or division champions -- 7th-seed Palomar (6-4) and 8th-seed Citrus (7-3) - were ranked lower than the Rams in the final COA coaches' poll. However, both the Comets and Owls won championships in their respective leagues.
Meanwhile, Grossmont moved up one notch to finish third in the Southland ratings behind undefeated and top-ranked Saddleback and No. 2 Bakersfield. The No. 1 Gauchos (10-0) will host Citrus, while the Renegades (9-1) entertain Palomar. The other playoff pairing shows No. 5 Moorpark (8-2) traveling to No. 4 El Camino (8-2).
Grossmont and Victor Valley finished the regular season rated 1-2 in the state in fewest points allowed. The match-up is also the second time in three seasons that the Griffins were forced to meet a fellow Foothill Conference school in the first round. In 2004, Grossmont defeated Chaffey, 26-7.
---
---
<< Back