WEEK 9
Fearless Forecaster
County division top-ranked Vaqueros host challenge from hungry Cougars
Steele Canyon looking to shake up Hills title race at El Capitan

By Bill Dickens
©EastCountySports.com
LAKESIDE (10-23-14) — This encounter should be one of the best match-ups in the Grossmont Hills League when the Steele Canyon Cougars (6-1, 1-1) travel to El Capitan (7-0, 2-0) on Friday night (Oct. 24) to face the Vaqueros in a battle between Top 10 teams. These teams have only met four times before, with the outcome standing at 2 apiece.

Complete updated East County season statistical leaders - through week 8 10/21/14 - click here
D.J. SMITH leads the running game for El Capitan with 84 carries for 600 yards and 10 touchdowns. He has registered 50 tackles and 3.5 sacks.
Quarterback BRAD CAGLE has completed 91 of 149 passes for 1463 yards through the air and 11 touchdowns.
Receiver ISAIAH CAPOOCIA has caught 41 passes for 619 yards and 10 touchdowns. JAMES OWEN has contributed 6.5 sacks for the Vaqueros.

Steele Canyon will rely on the strong arm of quarterback DOMINICK WOOD-ANDERSON, who in just 5 games has completed 41 of 82 passes for 723 yards and 6 touchdowns.
The running backs for the Cougars – MALCOLM ANDERS 62-287, 2 TDs) and RILEY JONES (52-287, 5 TDs) will bolster the offense for Steele Canyon.
Receiver DEREK TYLER (14-376, 3 TDs) and ROOSEVELT JOHNSON (19-292, 1 TD) will help round out the corps.

The Cougars will put up a fight, but the nod goes to . . . EL CAPITAN 37-7.

JV/Frosh scores
Junior Varsity
Friday, Oct. 17
Helix 14, Mount Miguel 10
Steele Canyon 29, Grossmont 27
Valhalla 35, El Capitan 7
Only scores reported
Freshmen
Thursday, Oct. 23
Granite Hills 27, Monte Vista 6
Steele Canyon 13, El Capitan 12
Grossmont 73, Mount Miguel 46
Helix 33, Valhalla 12
Only scores reported
Valhalla's Joseph Thomas is pursued by Mount Miguel's Travis Chalke-Daly during the Norsemen's victory over the Matadors earlier this season.
(photo courtesy dondemarsphotography.com)
VALHALLA (3-4, 1-1) at HELIX* (6-1, 2-0), 7 – Homecoming has annually been a big deal at Helix High School and it certainly will be a crowd pleaser again on Friday night (Oct. 24) in the Grossmont Hills League match-up with Valhalla.

The Norsemen beat the Highlanders 18-13 in 1975 in their very first contest. Since then the Highlanders have led the all-time series 36-5-2.

Speedy NATHAN STINSON ranks second in East County rushing with 98 carries for 948 yards and 12 touchdowns. Versatile MICHAEL AUSTIN, who handles the quarterbacking duties, has rushed 42 times for 313 yards and 5 touchdowns. As a passer he is 53 of 89 for 724 yards and 4 touchdowns.

Valhalla will look to junior quarterback PHILLIP NASEH who has completed 94 of 170 passes for 1242 yards and 8 touchdowns. Running back JEROME JOHNSON has carried for 130 times for 648 yards and 7 touchdowns, and RASHAUN SHARPE has run for 59 times for 297 yards and 2 scores.
Receiver JULIUS FRAZIER has caught 34 passes for 433 yards and 3 touchdowns. East County leading tackler LOGAN BAKER has logged 87 tackles, 2 sacks, 2 fumble recoveries and an interception. Teammate CADE LOGAN, is close behind him with 83 tackles.

The chances of an upset are unlikely for the Norsemen this time around because Helix is ranked in the Top 3, but you never know . . . Helix 16-14.
Granite Hills' Billy Cummings sacks the Vaqueros' Brad Cagle in a matchup earlier this season.
(EastCountySports.com photo)
GRANITE HILLS (5-2, 0-1) at MONTE VISTA (5-3, 0-1), 7 – Not many players are more versatile than Granite Hills senior SETH COLLINS, who – despite injuries – picked up 10 touchdowns on 538 yards on mere 88 carries.
MICHAEL LEDESMA has also been a big gun for the Eagles with 326 yards on 56 carries for 7 touchdowns. RILEY REYES has 73 tackles and 3 sacks to his credit.

Monte Vista counts on the leadership of running backs JORDAN JOHNSON (97-861, 7 TDs) and LEE WADE, Jr. (81-664, 6 TDs) in the Friday night (Oct. 24) Grossmont Valley League joust with Granite Hills.

Granite Hills leads the all-time series 29-20, but an upset is not out of reach . . . Granite Hills 28-26.

MOUNT MIGUEL (3-4, 0-2) at GROSSMONT (3-4, 0-2), 7 – Two teams that are attempting to escape the Grossmont Hills League cellar will square off Friday night (Oct. 24) when the Foothillers host the Matadors.

Mount Miguel is led by fleet-footed ANTHONY GILMORE, who has rushed for 386 yards and 5 touchdowns.
The Matadors' quarterback, JACOB CASTILLO has completed 837 yards and 9 touchdowns. Wide receivers JAYVON JONES (22-319 yds, 5 TDs), GARY HASKINS (7-86) and KIKO BORJA (3-5, 98 yds, 1 TD) will be looking for the pigskin.

CALVIN FARRIS (62-148, 1146 yds, 11 TDs) has returned to take over the quarterbacking duties for the Foothillers.
HUNTER REINER (40-525 yds, 6 TDs) leads the receiving corps along with A.J. SHAW (16-624 yds, 3 TDs).

This one's a toss-up, but give the edge to . . . Mount Miguel 23-21.
U-T SAN DIEGO
SPORTSWRITERS/SPORTSCASTERS
PREP FOOTBALL POLL
(through 10-19-14)
TEAM;RECORD;POINTS;LW
(First-place votes in parenthesis)
Points awarded on a 10-9-8-7-6-5-4-3-2-1 basis
1. Oceanside (17)/ 7-0/ 188/ 1

2. Cathedral Catholic/ 7-1/ 163 / 2

3. Helix (2) / 6-1/ 154/ 3

4. El Capitan/ 7-0/ 125 / 4

5. Mission Hills/ 5-2/ 110 / 5

6. San Marcos/ 7-0/ 84/ 6

7. Ramona/ 6-1/ 75 / 7

8. Eastlake/ 4- 3/ 49 / 8

9. Steele Canyon/ 6-1 / 29 / ----

10. Christian/ 7-0/ 26 / 10

Others receiving votes: Sweetwater (19), Point Loma (11), Bishop's (2), West Hills (1), Rancho Bernardo (1), Vista (1), El Camino (1) .
SAN DIEGO CIF
Power Rankings and Standings
Visit SDSCIF for the latest official section power rankings in all current season varsity sports
Visit SDSCIF for league standings in all current season varsity sports
CHRISTIAN (7-0, 1-0) at CLAIREMONT (3-5, 1-1), 7 – Christian High, which is averaging 55.9 points per game, has wrapped up the Central League championship. The Patriots are led by East County rushing leader ADRIAN PETTY (71-970, 12 TDs) and JOEY MORONES (66-292, 14 TDs).

Quarterback DAVID TODD JEREMIAH is also EastCounty's leading passer with 115-161 for 1842 yards and 23 touchdowns. His favorite targets are NICK SEXTON (30 receptions,480 yds, 5 TDs) and CHAD HUMPHRIES (18-413 yds, 8 TDs).

Christian should roll with this one . . . Christian 57-7.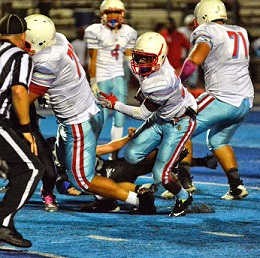 El Cajon Valley's Matthew Shearin
(EastCountySports.com photo)
SANTANA (3-4, 0-1) at EL CAJON VALLEY* (2-5, 0-2), 7 – The Santana Sultans remain in the running for a post-season playoff berth in the Grossmont Valley League. However, El CajonValley has eyes for an upset against the Sultans in Friday's (Oct. 24) Homecoming game.

Santana has a one-two punch in running back ZACH LEWIS (73-337, 8 TDs) and quarterback FRANKIE GUTIERREZ (68-113, 875 yds, 6 TDs) who will lead the charge for the Sultans. Lewis also has 36 tackles and 3 sacks to his credit.

El Cajon Valley will counter with fleet-footed MICHAEL SHEARIN, who has rushed for 912 yards on 101 carries and 12 touchdowns.
The nod in this one should go to . . . Santana 28-26.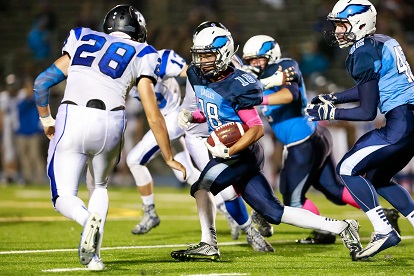 Granite Hills star Michael Ledesma runs through traffic Friday night against visiting West Hills in El Cajon.
(photo courtesy Nathan Price, youatplay.com)
---
WEEK 8
Stingy Defense Claims Claymore Sword
By Andrew Smith
©EastCountySports.com
SPRING VALLEY (10-17-14) —Three years ago, after losing to Eastlake 21-14 in their season opener the Helix Highlanders went on to outscore their opponents by an average score of 45-8 en route to a Division II State Championship. Four games after suffering their lone loss this season, the turnaround is beginning to look eerily similar.
Their battle for the Claymore Sword with Mount Miguel got off to an exciting start after the Matadors scrambled to recover an onside kick on the game's first play. On third down, they went for the home run ball, but it barely slipped through the receiver's hands. Thereafter, the game quickly slipped away as well, as the Highlanders went on to claim the sword 42-0.
Four weeks after their 9-7 defeat at the hands of Cathedral Catholic, the Highlanders have outscored their opponents 167-0 and haven't allowed a point for 19 straight quarters.
"There's no doubt about it our defense is playing reall well," said head coach TROY STARR before adding a scary thought, "We can still play better."
Dual-threat quarterback MICHAEL AUSTIN took a play fake 40 yards down the right side for a score and NATHAN STINSON put his speed on display a few plays later with a 45-yards score putting Helix (6-1, 2-0 GHL) up 14-0 midway through the first quarter.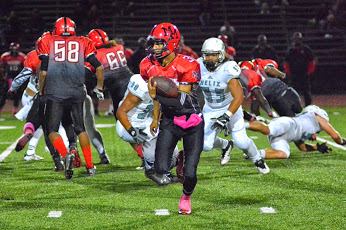 Mount Miguel's Jacob Castillo on a keeper Friday night against visiting Helix.
(EastCountySports.com photo)
The Mt. Miguel (3-3, 1-1) defense looked as if it had finally figured things out when TRAVIS CHALKE-DALY got first down sack and then combined with TITO ORTIZ on another, two plays later. Then a stop on fourth down gave them the ball at midfield, but a penalty and botched snap on a punt gave Helix the ball and a short field.
However, the defense turned them over on downs and ANTHONY GILMORE ripped off a 25-yard run to get the crowd back into it. The drive enventually led to another punt and Stinson took in his second rushing score of the game from 1 yard out to build a 3-score lead.
Holding a 28-0 lead just before the half, sophomore EVAN PERKINS intercepted a pass for the Highlanders and nearly turned it into a pick-six, but came up just short. Austin then added a pair of touchdowns passes to MEKHI STEVENSON (24 yds) and NICK SOLIZ (19 yds) in the third quarter to put the game out of reach, ensuring the Claymore Sword will be back in the library of their La Mesa campus for at least one more year.
CHRISTIAN 63, HILLTOP 7 – One of the unsung offensive coordinators in the San Diego Section is Christian High's DAVID BEEZER. The Patriots' (7-0) offensive designer has his team averaging 55.9 points per game.

Thus it was no surprise that the Patriots hammered Hilltop in Friday's (Oct. 7) non-league encounter.

Christian had plenty of stars in this one. ADRIAN PETTY pounded the ground forces with 125 yards and a touchdown in 9 carries.

Not to be overlooked was the running of MICHAEL TOBIASON, who averaged 10 yards on 3 carries, and JOEY MORONES, who carried the ball only 7 times for 24 yards and 3 touchdowns.

Quarterback DAVID TODD JEREMIAH led the charge for the unbeaten Patriots by completing 12 of 14 passes for 180 yards and 4 touchdowns.

Two Patriots pulled down scoring passes, including CHAD HUMPHRIES and TREVOR HOWELL – two apiece.

Also not to be overlooked was Christian place kicker KYLE THOMPSON, who was 9-for-9 on PATs.
Among the standouts for Christian were ETHAN CONTRERAS, who intercepted two passes.
Humphries, who caught 3 passes for 70 yards and 2 touchdowns, also had an interception.

"Our kids look at every week as a challenge," said Beezer.
Steele Canyon QB Dominick Wood-Anderson is sacked by Nathan Hamilton, of Grossmont, Friday night in Jamul.
(photo courtesy Linda Byerline)
For more coverage click here
http://photosbylb.zenfolio.com/f167182419
STEELE CANYON 20, GROSSMONT 14 – After being dealt consecutive defeats by Grossmont in Grossmont Hills League action, the Steele Canyon Cougars rebounded with a victory over the Foothillers on Friday (Oct. 17) in Cougar Canyon.
The key to the Cougars' success was the passing and rushing of quarterback DOMINICK WOOD-ANDERSON.

The Cougars came out alive as ROOSEVELT JOHNSON raced 85 yards on a Wood-Anderson pass for the touchdown early in the first quarter.

MALCOLM ANDERS scored for the Cougars on the first play of the second quarter on a 4-yard run, and PIERRE ALEXANDER did the same thing on the first play of the 3rd quarter, on a 60-yard run.

Grossmont regrouped in the second half with a momentum change as quarterback CALVIN FARRIS completed a 2-yard run into the endzone with 1:39 left in the 3rd quarter.

The Foothillers would score once more, in the 4th quarter when KHALEED DAVIS scored on a 15-yard pass from Farris.
Helix's Nathan Stinson looks to get to the corner en route to a 45-yard score against Mount Miguel Friday night in Spring Valley.
(EastCountySports.com photo)
SCORES
Fri., Oct. 17
Grossmont Hills League
Helix 42, Mount Miguel 0
Steele Canyon 20, Grossmont 14
El Capitan 34, Valhalla 14
Grossmont Valley League
West Hills 24, Granite Hills (H) 21
Monte Vista (H) 57, El Cajon Valley 7
Pacific League
Army-Navy 47, Foothills Christian 14
Non-League
Christian 63, Hilltop 7
EL CAPITAN 34, VALHALLA 14 – The old cliché "football is a game of inches" really hit home to the boys of the visiting Valhalla football team Friday evening (Oct. 17), as they were trying to upset unbeaten El Capitan on the Vaqueros' home turf.

Down 21-0 after halftime, the Norsemen came storming back to start the second half. After junior kicker CODY MATTISON boomed his usual kickoff deep into the endzone for a touchback, Valhalla's junior quarterback, PHILLIP NASEH, went to work — quickly and efficiently. First he threw a dart to senior wide receiver JULIUS FRAZIER for an 18-yard gain to the Valhalla 38-yard line. Then senior slotback SKYLER COLEMAN swept left and cut right for a 9-yard pickup.

A Vaquero personal foul penalty moved the visitors into El Capitan territory, where Naseh hooked up with junior wide receiver CONNOR CHAMBERLAIN for another 9-yard gain to the 27-yard line. The Norsemen continued to march to the El Cap 6-yard line when Frazier leapt above the defender to snag a pass from Naseh in the left corner of the end zone for the Norsemen's first score of the game. After sophomore kicker JACOB PAAPE split the uprights, it was 21-7, with 7:27 left in the third quarter.

Trying to claw its way back into the game, Valhalla's defense also put the Vaqueros on notice that the game wasn't over. On El Cap's first play of the second half, Valhalla's ANTHONY HANNA swatted a pass before it got to the line of scrimmage. On the next play, senior quarterback BRAD CAGLE (21-30-0, 369 yards, 2 TDs), was flushed from the pocket, but turned on the jets and started racing up the sideline only to be hammered out of bounds by junior linebacker CADE BAKER, which caused a minor uproar on the Vaqueros' side of the field, costing the home team a 15-yard penalty. Unable to convert, El Capitan had to punt.

Starting at their 14-yard line, the Norsemen responded in a hurry. On second down, Naseh zinged the ball to receiver SPENCER HENDERSON on a slant pass over the middle; Henderson broke a tackle and headed for the end zone about 70 yards away. However, El Capitan safety JARED TURNER managed to catch Henderson at the Vaqueros' 21-yard line, saving the sure touchdown.
Faced with a 4th and 2 at the Vaqueros' 13-yard line, and trailing by 14, Valhalla head coach CHARLES BUSSEY called a time-out to hatch a play. Sophomore running back JEROME JOHNSON tested the left side and appeared to be tackled at the 10 -yard line, but a questionable spot resulted in the ball being placed a couple of inches short, thwarting Valhalla's touchdown chance and turning the ball over to the Vaqueros at the 11-yard line.

Once again, Valhalla's rejuvenated defense forced another 3-and-out; but this time, junior linebacker LOGAN BAKER blocked the Vaqueros' punt and, for the second week in a row, linebacker TREY SCHIMKE recovered the ball in the end zone for a Valhalla touchdown. Paape's kick was true and El Cap's lead was reduced to 21-14, with 3:15 left to play in the penultimate period.

After the ensuing kickoff, El Capitan opened for business at its 36-yard line. Cagle threw a quick-hitter to his brother, ZACH CAGLE, who galloped for a 22-yard gain to the Valhalla 34-yard line. On second down and still at the 34-yard line, Brad Cagle was flushed from the pocket and was being chased fervently towards the sideline where he appeared to step a few inches out of bounds (remember, it's a game of inches) and then threw a desperation pass that appeared to land on the ground a few inches before the receiver scooped it in. Regardless, it resulted in a 27-yard gain to the Valhalla 17-yard line.

Undeterred, the Norsemen defense hung tough. First, junior nose tackle CHRIS YOHE stuffed the runner for a 4-yard loss. Then junior linebacker DANIEL BENDER batted a pass which fell to the ground. On third down, a misdirection pass play was sniffed out by senior free safety TYLER BUZZEL, who tackled the receiver for a 2-yard loss at the Norsemen 23-yard line.


El Capitan coach RON BURNER, who was honored before the game after being selected by the San Diego Chargers as high school Coach of the Week, called a timeout to see if he could devise a play to slow down the charged-up Valhalla defense. On 4th and 16, Cagle threw a screen pass to D.J. SMITH, who scrambled for an 11-yard gain, but it was well short of the first down, turning the ball back to the Norsemen with just 6 seconds left in the third quarter,

It looked like Valhalla would be able to maintain its second-half surge when, on the last play of the third period Johnson literally dragged several would-be tacklers for more than 10 yards for a 16-yard gain on first down to the Valhalla 28-yard line, but the Vaqueros, perhaps remembering having to come from behind to defeat Granite Hills a few weeks earlier, put the clamps on the Norsemen offense, forcing a Paape punt to the El Cap 28-yard line.

Cagle then showed his stuff, directing a 13-play, time-consuming drive highlighted by a diving 30-yard catch by senior wide receiver FRANKIE LIMA at the Valhalla 16-yard-line; the drive culminated in a one yard TD run by Smith. This time the PAT fizzled, and the Lakeside team led, 27-14, with only 5:30 remaining in the game.

Valhalla's offense started moving the ball, but after getting a first down at its own 37, a ferocious pass rush by the El Cap front seven throttled the visitors — on third down, Naseh was sacked by senior linebacker JOHN LaCHAPPA, forcing another punt.

Starting at his 36-yard line, Cagle didn't waste any time putting the proverbial dagger into Valhalla's chance of victory when he found a wide-open ISAIAH CAPOOCIA for a 64-yard TD pass-catch. This time, TAKOTA CURO's kick was good, making the final score 34-14.

In the first half, El Cap led 7-0 after Smith cruised into the end zone at the end of an 8-yard Iun. Brad Cagle added another touchdown in the second quarter when he was flushed out of the pocket but managed to scramble down the left sideline for an 11-yard TD. SAM MELERO caught a 47-yard touchdown pass from Cagle with 3:39 remaining in the first half, which gave the Vaqueros' their 21-0 halftime lead.

For Valhalla, Naseh was 17-36-1 for 215 yards and 1 TD. Altogether, El Capitan amassed 483 yards of total offense.

El Cap senior defensive lineman ROBBY CALLAWAY and senior linebacker JOEY LaCHAPPA had several key tackles for the Vaqueros.
WEST HILLS 24, GRANITE HILLS 21 – After allowing dual-threat quarterback SETH COLLINS to run for a pair of first-quarter touchdowns, the Wolf Pack defense stopped the multi-faceted Eagles' offense until late in the fourth quarter, providing the support for SPENCER MOYER and Co. to direct an impressive road victory in front of a Granite Hills Homecoming crowd to win a Grossmont Valley League showdown in El Cajon on Friday night (Oct. 17).

The anticipated matchup of two headline-making quarterbacks figured to be all of that, after Collins' early scores of 19 and 3 yards, and a run during one of the scoring drives where he jumped over a would-be tackler before a defender took him down to set up a first-and-goal inside the 5. His first scoring run from 19 yards away came on a play-fake option keeper that allowed him to take off up the right hash and dive into the end zone.

But then, following the staunch effort of the West Hills defense following the early deficit, Moyer was able to soak up the spotlight in front of the big crowd by throwing two touchdowns to senior star RAPHY CARR and running for another, as the Wolf Pack took the lead in the third quarter following a 14-14 tie at halftime.

Moyer took a page out of Collins' playbook when he took off running for a 38-yard run, as Pack linemen DOMINIC TUFI, RICHARD IMBIMBO, ALFONSO GREGG and GARRETT MEAD cleared the way to get West Hills back in the game.

Granite Hills senior Jalen Carter tries to elude the grasp of West Hills senior Devon Hathaway Friday night.
(photo courtesy Nathan Price, youatplay.com)
Moyer connected with Carr in the second quarter from 36 yards out to tie the game, then in the third quarter, a West Hills drive was helped by a pass interference call to put the Wolf Pack in scoring position, and Moyer would find Carr again, as the senior would make space behind the defender following a fake move to the inside, and he hauled in a 19-yard perfectly thrown ball from Moyer.

The Eagles were able to march a third-quarter drive down to the West Hills 33, but Carr broke up a fourth-down pass attempt by Collins.

In the fourth, Granite Hills thought they had made an interception in West Hills territory following one officials' signal, but the 50/50-ball was ruled a completion. The Wolf Pack extended the drive with a completion to Carr, then senior CADE CALVERT booted a 27-yard field goal for a two-score lead with 3:30 left in the game.

Collins moved the Eagles swiftly, then got a Play-of-the-Week-type catch from MICHAEL LEDESMA, who made a one-handed diving grab at the 4. Collins scored on a short keeper to the left, to make it 24-21.

Granite Hills' on-side attempt was short of ten yards, but the Eagles were able to hold with the aid of a penalty, and get the ball back at their own 14 with 59.4 seconds remaining. The Eagles were able to pick up a first down, but couldn't move into scoring position nor have a short enough field for a last-second bomb, as the game ended on a deflection near the Wolf Pack 30.

Ledesma broke up a fourth-down pass attempt at the goal line in the first quarter to squelch a Wolf Pack scoring attempt.

"JACOB SHAW ran the ball over 100 yards – broke the century mark," said West Hills coach CASEY ASH.

TYLER HOWARD had a fumble recovery on the kickoff in the second quarter that led to the Pack's 2nd touchdown.

Calvert contributed 3 PATs.

"The kicker made some kicks and that was the difference in the game," Ash said. "With one minute remaining and Granite Hills down by 3, we stopped them on defense," the coach added. "Defensively the standouts in the game for us were Mead and Gregg."
MONTE VISTA 57, EL CAJON VALLEY 7 – The Monte Vista Monarchs scored 29 points in the first quarter and built a 43-7 halftime lead in Friday's (Oct. 17) Grossmont Valley League Homecoming game.

The Monarchs hammered out 456 yards and 7 touchdowns as they improved their season record to 5-3, 2-0 GVL. The victory allowed Monte Vista to earn a share of the GVL lead.

TRE OWENS and FREDDIE SIMS set the scoring pace for Monte Vista as they each scored 2 touchdowns.

Ten Monarchs contributed to the scoring, including kicker MATT GOFIGAN, who was 6-for-6 on PATs.

El Cajon Valley (2-5, 0-2) avoided the shutout with an 80-yard touchdown run by MATTHEW SHEARIN in the opening quarter.

ARMY-NAVY 47, FOOTHILLS CHRISTIAN 14 – Army-Navy opened up a 27-0 lead on the visiting Knights in Pacific League action Friday night (Oct. 17). Foothills Christian closed the game to 27-7, but trailed 34-7 at halftime.

After Army-Navy opened the lead again, The Knights got a score to make it 41-14.
Fearless Forecaster
Seething Cougars face-off against injury-riddled Foothillers in Hills League showdown
By Bill Dickens
Steele Canyon got stung last week with their loss to Helix and will be fired up to boost their record (5-1, 0-1).

Grossmont, on the other hand, is charged up and figures they can run with best of them in order to raise their record (3-3, 0-1) in the Grossmont Hills League in Friday's (Oct. 17) meeting in Cougar Canyon.
With offensive stars JAKE HARR (107.8 ypg, 6 TDs) and ALIJAH AVANT (21-for-370, 3 TDs) out for the season with injuries, the workhorse for the Foothillers in the passing game is expected to be receiver HUNTER REINER (39-for-485, 6 TDs). Grossmont has had some tough luck with their quarterbacks getting injured, as well, so the QB call is up in the air. Harr suffered a broken collarbone last week, while Avant is sidelined with a knee injury.

Defensively for Grossmont MALIK HAYES has logged 43 tackles, JACOB DENSON (42 tackles, 2 fumble recoveries), JAKE LOPEZ (37 tackles), CHAZ CADWALADER (30 tackles) and JOSH McFAUL (29 tackles).

Steele Canyon counts on the powerful arm of junior quarterback DOMINICK WOOD-ANDERSON (31-for-56, 5 TDs). Two of his favorite targets are DEREK TYLER (12-for-331 catches, 3 TDs) and ROOSEVELT JOHNSON (17-for-264 and a touchdown). RILEY JONES will handle the ground game, averaging 47.7 ypg and recording 5 TDs.

On the defensive side WILLIE FAIR (42 tackles, 3 sacks, a fumble recovery and 2 interceptions) leads the Cougars

This one will be close, but the pick goes to (more...)


WEEK 7
Highlanders defense a steel curtain following third-straight shutout

By Bill Dickens
©EastCountySports.com
LA MESA (10-11-14) — When it comes to perfect games the Helix Highlanders are right at the top of the list. In fact, Helix has posted three consecutive shutouts.

The Highlanders' (5-1, 1-0) latest victim was Grossmont Hills League opponent Steele Canyon (5-1, 0-1), which Helix dealt their first defeat of the season with a shocking 41-0 shutout.

One thing about the Highlanders that tends to get overlooked is their defense, which has allowed slightly more than 100 yards a game. Are the Highlanders a runaway defense? There is plenty of argument to suggest that assessment. CHRISTIAN CHAVEZ logged 2 sacks, and MICHAEL BENJAMIN and FORREST HANLON each had a sack.

This is not to say that the Highlanders can't register points on the scoreboard, because they certainly can. DaSHAWN KEIRSEY exploded for a 22-yard pass from quarterback MICHAEL AUSTIN for the Highlanders' first score.

NATHAN STINSON bolted for two touchdowns – one for 39 yards, the other for 92 – outracing a pack of defenders with ease.

ZEKE NOA would stun the Cougars when he intercepted a ball and raced 77 yards for the touchdown.

Not to be overlooked in the running game was Austin, who dashed on a quarterback keeper for 66 yards. Sophomore receiver MUGEN BLUE picked up the final score for Helix with a 10-yard run.

Kicker MATTHIAS LAYTON was 5-for-6 on PAT kicks.

Steele Canyon struggled mightily but the game belonged to the Highlanders from start to finish.

VALHALLA 38, MOUNT MIGUEL 26 – Valhalla picked a perfect night for its Homecoming Friday (Oct. 10). For the first time this season, there was a nip in the air as the temperature dropped just enough to be called "football weather." It was a lot hotter on the field, as the two foes amassed nearly 1,000 yards of offense to the delight of the crowd.

Valhalla, junior quarterback PHILLIP NASEH was on fire. He lit up the scoreboard, throwing 4 touchdown passes and gaining 372 yards, while completing 18 of his 29 tosses, as the Norsemen vanquished Mount Miguel, 38-26. He also rushed for 66 yards on 18 of 29 carries.

The Norsemen got the ball first, starting at their 20-yard line. Sophomore running back JEROME JOHNSON smashed through the defensive line on his first carry, picking up 9 yards. Naseh then threw a dart to wide receiver JAKE BASSETT for a 15-yard gain to the Valhalla 39-yard line. The drive quickly stalled, however, after linebacker CHRIS CALZADILLAS dragged down the runner for a 1-yard loss on 2nd-and-5 at the Norsemen 44-yard line.

Valhalla was unable to convert on third down and had to punt, giving the Matadors an opportunity to show their stuff. The Norsemen defense set the tone early, forcing the Matadors to punt without getting a first down
With great field position at the Moun tMiguel 49-yard line after the punt, Valhalla quickly advanced to the 31-yard line. where a hard hit dislodged the ball from the runner; senior linebacker MICHAEL NODALO recovered the fumble for the Matadors at their own 33 yard line. This time, the Matadors didn't disappoint its fans. Senior quarterback JACOB CASTILLO connected with senior wide receiver CHRISTIAN GARCIA for a 73-yard TD bomb. After sophomore kicker JOEL BEAS split the uprights, MountMiguel jumped to an early 7-0 lead, with 6:07 left in the first quarter.

Starting once again at their 20-yard line, the Norsemen put it in gear. Naseh rifled a pass to senior wide receiver JULIUS FRAZIER for a 22-yard gain on first down. On the next play, he hit wide receiver SKYLAR COLEMAN for 17 more to the Matadors' 36-yard line. After a couple of nifty runs by Johnson and RAHSHAUN SHARPE, Valhalla was knocking on the door inside the 10-yard line.

"We had excellent balance," said Valhalla coach CHARLES BUSSEY. "We did a great job of spreading the ball around. When you can do that you're gonna win games."

Naseh picked up his first TD of the evening for Valhalla when he found Bassett open in the left flat for a 5-yard touchdown, receiving great pass protection from sophomore offensive lineman JACOB SMITH . Sophomore kicker JACOB PAAPE (5-5 PATs), knotted the game at 7-7, with 3:33 left to play in the initial period.
Mid-way through the second quarter, Valhalla took the lead when DASHAWN KINISTON blocked a punt deep in Mount Miguel territory that was recovered by junior linebacker TREY SCHIMKE in the end zone, giving the Norsemen a 14-7 lead with 7:01 left in the second stanza.

Later in the same quarter, Valhalla extended its lead to 21-7 when Sharpe hauled in a perfect center screen pass from Naseh and quickly turned on the afterburners for a 69-yard touchdown, with 2:36 left to play before intermission.

The Matadors got fired up on the ensuing kickoff when junior running back ANTOINNE HAMILTON broke several tackles returning the kick 33 yards to the MountMiguel 42-yard line. On second down, running back CURTIS HIBLER slashed his way to the Valhalla 8-yard line for a 39-yard gain. He followed that up with an 8-yard TD burst on the next play, narrowing the gap to 21-14 at halftime.

It was a good omen at halftime when Valhalla senior defensive back JOHNNY TOMA was crowned Homecoming King, but as the second half opened, it appeared that the Matadors were going to tie the game on their first possession. Hamilton ripped off back-to-back runs of 27 and 28 yards, all the way to the Valhalla 3-yard line, but at the end of the last scamper, Norsemen defensive back JAMES WOODS ripped the ball loose and linebacker CADE BAKER, who was a force on defense all evening, recovered the fumble for the Norsemen.

Well rested after the halftime festivities, Valhalla's offense put together a 17-play drive that culminated in a 19-yard Paape field goal, and, with 5:59 remaining in the third quarter, Valhalla upped its lead to 24-14.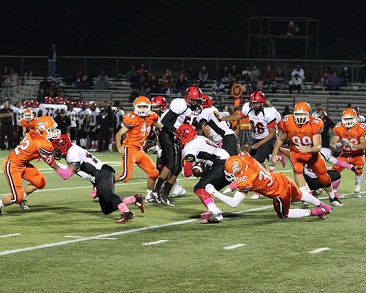 Valhalla's Daniel Bender (32) attempts a tackle against the Matadors Friday night.
(photo courtesy dondemarsphotography.com)
The Norsemen defense responded in kind. MountMiguel started its next drive at its 34-yard line, but after quickly getting to its 46-yard line, Valhalla defenders DANIEL BENDER and JACOB WALZ smothered the ball carrier for a 5-yard loss. Castillo then threw a quick-hitter to Hibler for a 9-yard gain, but on 4th and 1 at the Norsemen 46-yard line, East County's leading tackler, junior linebacker LOGAN BAKER, caught the ball carrier from behind in the backfield and dragged him to the ground for a 1-yard loss, giving Naseh and the Valhalla offense another opportunity.

It took one play to do so. Coleman got behind his defender and Naseh lofted a strike to his receiver's outstretched arms. Coleman had to extend to catch it on the dead run, and – just as he was losing his balance – he dove across the goal line for a spectacular 53-yard pass-catch-run, increasing the Valhalla lead to 31-14, at the 3:06 mark in the third quarter.

Not to be outdone, on the opening drive of the fourth quarter, Frazier grabbed a pass from Naseh at the Mount Miguel 35-yard line, abruptly stopped to make the defender miss him, immediately changed direction, juked a would-be tackler, and sprinted to the end zone to put the game out of reach, 38-14, with 8:55 remaining.

The Matadors scored two TDs late in the 4th quarter, with Castillo galloping into the end zone for a 7-yard score, and senior wide receiver JAYVON JONES hauling in an 8-yard pass from Castillo.

"The fact that we won this game gives us an excellent chance of making the playoffs," Bussey said. "We figure if we win one more, we're in."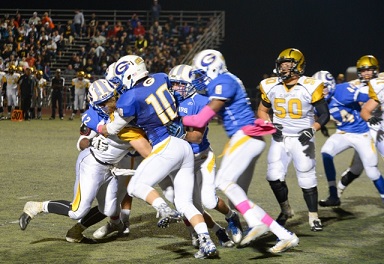 Grossmont's Jacob Denson (10) and teammates tackle an El Capitan ball carrier Friday night in La Mesa.
(photo courtesy Linda Byerline)
For more coverage click here
http://photosbylb.zenfolio.com/f167182419
EL CAPITAN 63, GROSSMONT 28 – Two years ago, El Capitan head coach RON BURNER stated, "I don't know how good we will be this year, but in two years, we will be awfully tough."
The time has come.
The 5th ranked Vaqueros (6-0, 1-0 Grossmont Hills League) invaded El Cajon to tackle the resurgent Grossmont High Foothillers (3-3, 0-1 GHL) on Friday night (Oct. 10). And El Cap was bringing a load. A scary combination of offense and a punch of defense the likes the school has never seen. The result was an overwhelming 63-28 win in the opening of league play.

"We saw a few things on tape and put them into our game plan", said Burner. "We thought if we could get settled early, we had a great opportunity for success."
Getting 'settled early' is code for BRAD CAGLE. The senior QB is in his 3rd full season at the helm of the El Capitan offense and he looked every bit the leader from the opening kickoff. Cagle did it through the air (302 yards and 4 TD's) and he did it with his legs (82 yards rushing, 2 TD's).

"We knew Grossmont wanted to prove something tonight," said Cagle. "When they tried to take away the run, it gave us an opportunity to open some things up."

That might be the understatement of the year.

Cagle needed just 51 seconds on the first drive. After a short pass to ISAIAH CAPOOCIA and a short Capoocia run, Cagle surveyed the field on 3rd down and 4 on his own 48-yard line. As Capoocia broke free over the middle, Cagle's pass found him in midstride and 52 yards later, El Capitan led 7-0.

High flying offense is certainly a Foothillers trademark though. And the Hillers responded with a drive of their own. It would take them a little over 3 minutes to answer. JAKE HARR had runs of 7 and 12 yards and hauled in a 20-yard reception. On a first and 10 from the Vaquero's 37-yard line QB CALVIN FARRIS scanned the near sideline and found wideout AJ SHAW for the 37-yard grab. With 8:45 left in the first quarter, the game was knotted at 7-7.

If ever there was sign of things to come, it was on the next El Capitan drive. After a 5 play drive stalled at the Grossmont 11-yard line, they lined up for a short 28 yard field goal attempt. Grossmont burst up the middle and blocked the attempt and it appeared that the drive was thwarted. But the block had moved past the line of scrimmage and was touched by a Grossmont player and recovered by the Vaqueros.

It took Cagle only 3 plays to torture the Foothillers with his 2nd TD pass of 10 yards.
Grossmont's Jake Harr (32) prepares to receive a handoff during the first half against El Capitan Friday night in La Mesa.
(photo courtesy Linda Byerline)
For more coverage click here
http://photosbylb.zenfolio.com/f167182419
Farris wasn't nearly done though. Starting on his own 20, Farris found HUNTER REINER for a quick-hitting catch and run for 50 yards to the El Cap 30-yard line. Farris then gained 6 yards on a keeper. Then on a rollout to his right he located KAHLEED DAVIS for a 26-yard score. The two teams had played only 7 minutes and 20 seconds in the first quarter and were tied 14-14.

Those anticipating a shootout were not being disappointed. The teams were on a pace for 60-plus points apiece. Unfortunately for Grossmont, El Capitan would be the only team to get there. The Vaqueros reeled off the next 42 straight points.

The downpour started when the Foothillers had Cagle stopped at the Grossmont 21-yard line. The Vaqueros decided to forgo another field goal and go for it.

Having bottled up Cagle in the backfield, Cagle spun quickly to his left to avoid the rush and as he neared the far side line, he found a seam up the sideline and went untouched 21 yards for his first rushing TD.

Grossmont wasn't doing themselves any favors either. At one point they had 5 of their 6 drives end in interceptions. The first ended with a Capoocia (7 catches, 142 yards, 3 TD) touchdown from Cagle to make it 28-14. The next found another Cagle scramble that made it 35-14 on the 25-yard TD run.

"Both running TD's were on broken plays," said Cagle. "I was just trying to keep the play alive and managed to shake free."
Cagle would next find Capoocia on a 19-yard hook-up to extend the lead to 42-14.

"Coach put in some new formations for me this week to try and single me up," stated Capoocia. "We thought we'd be in a dogfight tonight but we were prepared."

This wasn't only the Cagle and Capoocia show though. Senior running back DJ SMITH (19 rushes, 82 yards, 2 TD) got into the action on the next series with a 3 yard bashing up the gut. The defense had 5 picks and a fumble recovery, and senior safety SAM CÉLÈBRE decided to get in on the fun. Having already intercepted Farris once, Mueller snagged a tipped pass at the 35-yard line and raced into the end zone for a 56-14 bulge.

Grossmont would add 2 late TD's on passes to KHALEED DAVIS (7 receptions, 124 yards 2 TD) and Reiner (8 for 111, 1 TD). While Farris would end up throwing for 368 yards and 4 TD's, those stats were offset by the 5 interceptions.

"We didn't help our cause much with the turnovers," Foothillers coach TOM KARLO said.
"We stressed all week that we wanted to get off to a good start in league," said coach Burner. "We've done that, but now it's all about Valhalla, and we will start those preparations tomorrow."
Harr left the game in the first half with a possible broken collar bone.
— Mark Meadows
MONTE VISTA 45, SANTANA 10 – Santana presented its homecoming crowd with a rousing start, jumping out to a 10-0 lead early in the second quarter of the Grossmont Valley League opener. However, the Monarchs carried the game from there behind a pair of touchdowns for both LEE WADE JR. and JORDAN JOHNSON.
The duo have now accounted for 13 touchdowns this season for Monte Vista
Running back ZACH LEWIS scored on a 14-yard touchdown run around the right side in the second quarter for Santana, his sixth touchdown of the season, which put the Sultans ahead 7-0 after a scoreless first. Reliable senior kicker JACOB HAMPSON continued to show why he is one of the EastCounty's best place-kickers, as he booted a 46-yarder to give the Sultans their lead.

A turnover led to the start of Monte Vista's comeback.

Wade and Johnson both had a touchdown in the second quarter, while MATT GOFIGAN would provide a 25-yard field goal to send the Monarchs into halftime with a 17-10 lead.

Monte Vista linebacker CHRISTIAN TOVES intercepted a pass and returned it 36 yards down the right side on the Sultans first drive of the second half.

The Monarchs' defense then held Santana to a three-and-out, then put together a 55-yard drive, capped by a 3-yard TD run by Johnson for a 31-10 lead.

After another three-down stop by the Monarchs, Wade turned in a 54-yard burst up the field for a touchdown, asserting the Monte Vista advantage.

Putting the work in up front for the Monarchs were senior JOSH CASTANEDA, ALEJANDRO BUSTOS and ERIC LASGASSE.

Senior DOMINIC KOSTAMO had three receptions for 33 yards for the Sultans, while sophomore SPENCER GULIHUR paced the defense with 10 tackles. DAKOTA HARP recovered a fumble for Santana.

West Hills senior lineman Esteban Flores (58) wraps up an El Cajon Valley ball carrier during the Wolf Pack's 36-7 win over the Braves Friday night.
(EastCountySports.com photo)
WEST HILLS 36, EL CAJON VALLEY 7 – The Wolf Pack (5-2) won its inaugural Grossmont Valley League opener over the Braves in front of the Homecoming crowd Friday (Oct. 10).

After the Braves opened the game with a modest drive, the Wolf Pack went 87 yards on their first drive of the game behind the running of JACOB SHAW, to set up a play-action pass from quarterback SPENCER MOYER to senior receiver DEVON HATHAWAY for a 23-yard touchdown connection at 3:53 of the first quarter.

After the Wolf Pack defense held El Cajon Valley to a three-and-out, they ran Shaw to near midfield, then Moyer scrambled left in a short play design, then Carr took the route upfield, and the quarterback floated an open pass for a catch-and-run hook-up of 40 yards, giving West Hills a 13-0 lead.

"JACOB SHAW … He's an old school football player," Wolf Pack coach CASEY ASH said. "He's one tough kid who won't back down."

El Cajon Valley's ensuing drive gave promise to the visitors' chances, as quarterback MERITON HASANI took off running for a pair of first-down gains, which moved the ball to the Wolf Pack 30. Braves' star back MATTHEW SHEARIN needed just two carries from there, including a 3-yard score to close the gap to 13-7.

After the teams traded special teams highlights – as both teams pinned the other inside the 2 on back-to-back possessions – West Hills got a big defensive play to send the momentum to the home side for halftime.

El Cajon Valley failed to execute the short snap, as they were backed up near the goal line, and Wolf Pack senior ALFONSO GREGG fell on the scramble for the football for a defensive score in the final minute of the first half.

Moyer threw a 3-yard touchdown pass to 6-foot receiver RAPHY CARR with 11 minutes remaining in the game.

CHRISTIAN 56, CORONADO 0 – Many believed that last year's Patriots (6-0, 1-0 Central League) team that won a San Diego C.I.F. Division III championship was the best to ever step foot on the field. If that was true, this year's squad is putting forth a good argument that they are just as good, if not better.
Every year it's a homecoming ritual for alumni to pack the stands at Granite's Hills Valley Stadium and this year they got a real treat as the Patriots pitched a perfect game and threw in a few wrinkles to keep them entertained.
Perhaps the lone mistake was on the opening kickoff when ADRIAN PETTY bobbled the ball a bit. Even that though is nitpicking because he calmly picked it up and took it 92 yards for a touchdown and the rout was officially on.
Then the fun began...
All his life six-foot-four, 300 pound left tackle LAITHE ISENMANN has been anchoring the offensive line blocking for teammates. On this night however, he got his chance to his mitts on the ball as he took an inside hand off on a reverse and darted 13 yards for a touchdown.
Junior quarterback DAVID TODD JEREMIAH was 25-for-31 passing on the night for 307 yards and 5 touchdowns, but his favorite pass of the night came straight out of Christian's bag of tricks.
He took a snap and threw a lateral pass to BRANDON HESTER who quickly returned the favor by tossing it right back. Jeremiah caught it and calmly chucked a perfect strike down field to TREVOR HOWELL for a 40-yard touchdown.
Howell finished the game with 9 receptions, 175 yards and 2 touchdowns. CHAD HUMPHRIES scored touchdowns on each of his two catches and MICHAEL TOBIASON had 3 catches for 21 yards and a score.

TRI-CITY CHRISTIAN 50, FOOTHILLS CHRISTIAN 33 - In a wild affair Saturday afternoon in Vista, the Knights took a 14-12 lead in the first half, but Tri-City struck back, and quickly, to go into halftime ahead 42-20.
But Foothills offense would continue to show its steady improvement, putting up two more touchdowns on the hosts to close to within 43-33. (more)...

CIF announces renovated DeVore Stadium to host championship games

SAN DIEGO - The CIF San Diego Section 2014 Toyota Football Championships will be held on Nov. 28 and Dec. 5-6, 2014 at Southwestern Community College's DeVore Stadium.
"We're excited to be holding our championships at Southwestern Community College," said CIF San Diego Section Commissioner Jerry Schniepp. "The new facilities at Southwestern are fantastic for players and coaches. And the seating for spectators puts them right on top of the action. It's a great venue for high school football championships. Last year's championships were held at both Qualcomm Stadium and Mesa College.
The 2014 championship schedule at Southwestern College is below:

Division V
Friday, November 28, 2014 7:00 p.m.
Division IV
Friday, December 5, 2014 3:30 p.m.
Division I
Friday, December 5, 2014 7:00 p.m.
Division III
Saturday, December 6, 2014 12:00 p.m.
Division II
Saturday, December 6, 2014 3:30 p.m.
Open Division
Saturday, December 6, 2014 7:00 p.m.