PREP BASEBALL — 64th annual Lions Tournament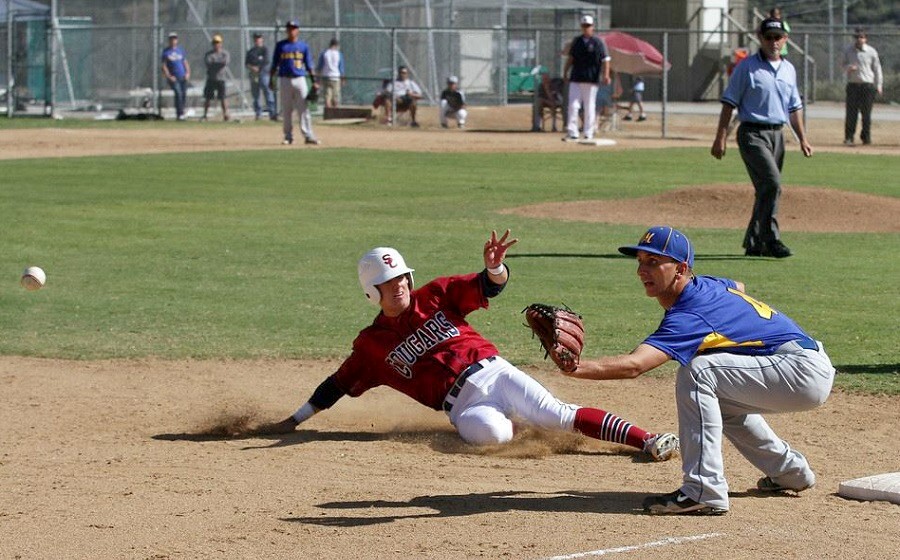 Steele Canyon's Kenneth Bagdasar, who reached base on an error,
races to third base after another Mira Mesa error in a 7-5 triumph.
(Photo by Don DeMars Photography)
ADDITIONAL PHOTOS HERE
East County well-represented in Liona' Final Four
By Bill Dickens
© East County Sports.com
EL CAJON (4-17-14) — Seven East County teams qualified for the semifinals of the 64th annual Lions Tournament. What that means is two victories by these teams would give them a division championship in the nation's oldest high school tournament.
Semifinal games on Thursday (Apr. 17) will begin at 9:30 a.m. at various sites (check schedule). The championship game will be played at 3:30 (same sites).
There are also consolation games involving Grossmont at San Ysidro at 3:30 and Valhalla at Montgomery at 4 p.m.
PREP GIRLS FASTPITCH
Marauders overcome glitches,
grab first placs in Eastern League

By Nick Pellegrino
© East County Sports.com
MIRA MESA (4-17-14) — Every time Mira Mesa High catcher KORDYN NOWAKOWSKI turned, something absurd seemed to occur. Despite the glitches, the Marauders rallied from a 3-0 deficit to assume first place in the Eastern League after racing past 6th-ranked Patrick Henry, 4-3.

A bases-loaded, infield single by TAYLOR TOMPKINS allowed QUIRISA MAUGA to score for a "second time" in the 5th inning for the go-ahead run.

Nowakowski, the Mira Mesa catcher, had a front row seat on the first glitch by the Marauders.
PREP ATHLETES OF THE WEEK
16th annual EAST COUNTY ALL-STAR BASKETBALL GAMES
S.D. County All-Star Game
set for Apr. 18
© East County Sports.com
LINDA VISTA (4-8-14) ---- The San Diego County Basketball Coaches Association will host its annual county all-star game for graduating high school seniors on Fri., Apr. 18 at Francis Parker High.
Just like last week's successful East County All-Star event, the girls game will start at 5:30 p.m., with a 3-point shooting contest at halftime. The boys will follow with a dunking contest at 7:15 p.m., followed by game action, with a 3-point contest also at halftime.
GIRLS: Cruz-in' to a Valley Stars victory
By Bill Dickens
© East County Sports.com
EL CAJON (4-5-14) — El Cajon Valley's JOANNA DELA CRUZ scored 18 points, including hitting four 3-pointers as the Grossmont Valley All-Stars rolled over the Grossmont Hills All-Stars, 70-26, in Friday night's (Apr. 4) 16th annual East County Sports.com Senior Girls All-Star game.
Dela Cruz was named the Grossmont Valley MVP.

BOYS: Steele Canyon's Kissel
'breaks' through for Hills Stars
By Bill Dickens
© East County Sports.com
EL CAJON (4-5-14) — The Grossmont Hills All-Stars outran their Grossmont Valley counterparts, 100-87, Friday night (Apr. 4) at Grossmont College in the 16th annual East County Sports.com Senior Boys All-Star game.
ZACH KISSEL of Steele Canyon was named the Grossmont Hills MVP. He hit 6 of 11 shots from the field, including a pair of 3s, snagged 6 rebounds and pirated 3 steals before he got clobbered on a drive to the basket in the final 45 seconds, resulting in a broken nose.
THE ALUMNI PAGE — FORMER EAST COUNTY ATHLETES
COLLEGE FOOTBALL: Havird gets starting berth at Gardner-Webb
© East County Sports.com
BOILING SPRINGS, N.C. (4-13-14) – One player who had arguably the biggest leap this spring at Gardner-Webb University was 6-foot-2, 188-pound redshirt freshman safety SPENCER HAVIRD, who won the starting spot at free safety and fared well in coverage and run support.
COLLEGE BASEBALL: Jenner receives National player of the week laurels

© East County Sports.com
INDIANAPOLIS (4-7-14) — JESSE JENNER, a recent member of the San Diego Stars semipro baseball team, has been named the NCAA National Player of the Week, as selected by Collegiate Baseball.
Jenner, a catcher for the University of San Diego, was also named West Coast Conference player of the week. He prepped at Steele Canyon High.


| | |
| --- | --- |
| Kelsey Townsend | |
COLLEGE WOMEN'S FASTPITCH:
Townsend displaying her stripes for
SWAC leading Jackson State

© East County Sports.com
JACKSON, Miss. (4-1-14) —Former Grossmont College standout KELSEY TOWNSEND is pitching Jackson State University to the top of the Southwestern Athletic Conference (SWAC) standings.

Townsend, a junior, leads the Tigers pitching staff in victories, including two of the team's win in an 8-0 start in conference play to lead Texas Southern by two games.
EAST COUNTY SPORTS.COM
Celebrating 14 YEARS
of Local Sports Coverage
Founded, Feb. 1 2000
INDIVIDUAL/CORPORATE SPONSORS NEEDED
CLICK HERE to donate $10 or $20 Today!

Baseball & Softball Display Advertising Rates
for your company HERE
We need 10 businesses (now 7) for each sport
this spring. Please Help Today!
GROSSMONT COLLEGE
WOMEN'S FASTPITCH:
Balinger, Schuff remain hot,
Griffins clinch second place in PCAC
© East County Sports.com
EL CAJON (4-17-14) — Sophomore Recognition Day at Grossmont College ended as planned – with an important victory to aid a late-season rush to garner an CCCAA playoff berth.
Behind yet another strong pitching performance by NICOLE BALINGER, the Griffins clinched second place in the Pacific Coast Athletic Conference following a 3-2 win in 8 innings over visiting Imperial Valley College .
JENNIFER SCHUFF continued her torrid hitting to produce both runs during regulation.
BASEBALL: One inning costs Grossmont

© East County Sports.com
EL CAJON (4-16-14) — Visiting Mt. San Jacinto College scored seven runs in the 2nd inning to take an 8-1 lead over host Grossmont College in Tuesday's (Apr. 15) Pacific Coast Athletic Conference action.
The result was the Eagles registering a 13-2 victory, which has all but eliminated Grossmont from winning the conference championship.
The Griffins are now 20-10 (12-7 PCAC) with its hopes focused on gaining a berth in the Southern California Regional playoffs as an at-large team.
SAN DIEGO STARS SEMIPRO BASEBALL
Jenner named NCAA Nat'l. player of the week
Stars to play 'Moneyball' in Vegas
Stars owner/manager Deutschman elected
to National Semipro Baseball Hall of Fame
S.D. SURGE SEMIPRO WOMEN'S FOOTBALL
Surge roll past the Showgirlz / VIDEO
By Nick Pellegrino
© East County Sports.com
SANTEE (4-6-24) — The San Diego Surge women's semipro football team, the 2012 national champions of the 71-team Women's Football Alliance, opened the 2014 season Saturday (Apr. 5) with an easy 59-6 conquest of the Las Vegas Showgirlz at Santee Community Stadium.
PREP FOOTBALL
10th annual Christian High coaches clinic
IN THE COMMUNITY
© East County Sports.com
EL CAJON (4-11-14) --- The San Diego Women's Fast-pitch Softball Association will conduct player placement (tryouts) for the 2014 summer season at Grossmont College on April 27 and May 4 (both Sundays), running from 11 a.m. to 1 p.m.
The league partakes in a 10-game season, plus a week of playoffs, with ballgames on Sundays at Grossmont College 's top-flight softball diamond. The association also runs a North County league out of Palomar College.
Yancey memorial scholarship golf, May 18
Holiday Bowl's Hoops at the Beach
What's Happening in El Cajon, Apr. 9 update
El Cajon Parks & Rec for April
Get all the local sports headlines and stories you
care about right to your tablet or mobile device...
follow East County Sports on TWITTER!