Griffins ranked No. 1 by Street & Smith
Preseason perch will be challenged early
East County Sports.com
EL CAJON (7-15-06) -- Preseason ratings tend to be a reflection of the previous season's results. Grossmont College won National and State championships with a school-record 13 victories a year ago to anchor itself among the country's elite community colleges football programs.
Winning is nothing new to these Griffins, who have compiled a 64-9 record over the past six seasons. Grossmont has earned three straight Foothill Conference championships and won 37 of its last 40 games. The Griffins have reached the state finals two of the last three years.
Perennial power?
The editors of the highly regarded national publication Street & Smith's 2006 College Football Yearbook certainly think so. Grossmont College is ranked No. 1 with rival College of the Canyons of Valencia rated No. 2 in the 2006 preseason poll. To fuel the fire 'these teams will meet on Sept. 9 at Grossmont College.
So what do these preseason polls mean? Little more than to fan the flames among interested parties.
Street & Smith, however, is no small time outfit in that they have been producing their annual college football yearbook since the 1950s.
Some 40 players return from last year's championship squad, including defensive stalwarts -- linemen MAGNUM MAUGA and AVENI LEUNG WAI, both of whom have Mountain West Conference scholarships in tow along with can't-miss safety TERRY MIXON – blue chip receiver CHRIS JOHNSON and hard-charging running back KEVIN SMITH.
In all, 13 starters return for the Griffins, who have received an influx of Division I bounce-backs and a host of talented freshmen that includes San Diego CIF Player of the Year ABRAHAM MUEHEIZE and speedy receiver JEREMY YOUNG, products of El Cajon Valley's 10-3 Division II finalist.
---
Brunker heads to Saginaw Valley State
East County Sports.com
SAGINAW, Mich. (7-1-06) -- MARIO BRUNKER, the second-leading receiver on the 2005 California state and national champion Grossmont College football team, will transfer to NCAA Division II power Saginaw Valley State for the 2006 season.
Brunker, a 6-2, 190-pound wide receiver, caught 26 passes in nine regular season contests last season, going for 514 yards and six touchdowns. Two of the scores came during Grossmont's record-setting 83-35 scorefest against Mt. San Jacinto.
"Bronc" also collected a 27-yard score in the Southland semifinals against El Camino, a touchdown which capped a streak of 31 consecutive points to rally the Griffins from a 34-14 deficit.
---
Mauga makes '07 commitment to BYU
East County Sports.com
PROVO, Utah (6-14-06) -- Less than two months after losing former Helix High receiver TODD WATKINS in the National Football League draft to the Arizona Cardinals, Brigham Young University is reloading on its share of talent from the Highlanders.
On Friday (June 9), Cougars head coach Bronco Mendenhall announced a verbal commitment from MAGNUM MAUGA, a 6-foot, 265-pound defensive end prospect who played a variety of positions for Grossmont College as a freshman last season, helping the Griffins capture both the state and national community college football titles.
"BYU is the right place for me," Mauga recently told The Total Blue Network. "It has what I need to become a better person and achieve my football, spiritual and academic goals. It has everything. I love the coaches, the players, and just everything about BYU, and that's why I committed while on my trip."
Mauga filled in at defensive tackle and middle linebacker for Grossmont, while also playing a touch at fullback. However, Mauga is penciled in at defensive end for the 2007 Cougars after he concludes his playing career with the Griffins this season.
According to the website CougarBlue.com, among others, Mauga was recruited by Washington State, Auburn, Arizona, Florida, Boston College, Nebraska, UCLA, Colorado, Colorado State, Kansas State, Oregon State and SDSU. In addition to BYU, Mauga received scholarship offers from Arizona, Washington State and Auburn.
In other words, Mauga is a hot commodity.
Mauga was a consistent force for Grossmont College last season, including a 6-tackle performance against El Camino in the Southern California semifinals, and a season-high 8 tackles in the regular season home finale against Victor Valley.
Mauga was also a turnover maker, grabbing a key interception to help the Griffins rally from 21 points downs to upend Chaffey for the Foothill Conference title, and caused an important fumble which ignited a 31-6 rout of Southwestern.
Mauga also returned an intentionally short kickoff, racing 25 yards to setup a touchdown against Mt. San Jacinto.
During the current offseason, two of Mauga's brothers -- defensive lineman DALLAS and fullback RAINBOW -- committed to play for Sacramento State.
---
Grossmont's King overcomes severe injury
East County Sports.com
HONOLULU (6-5-06) -- During the California state championship game last December, Grossmont College defender Stephen King was injured while making a tackle. Little did anyone know at the time, but the damage to his neck was life-threatening.
Although his football career is over, luckily for King, he is on his way to a full recovery, as detailed in this story published in The Honolulu Advertiser.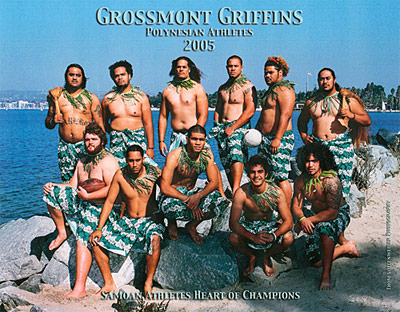 The Polynesian athletes of the 2005 Grossmont Griffins.
(Grossmont College courtesy photo)
---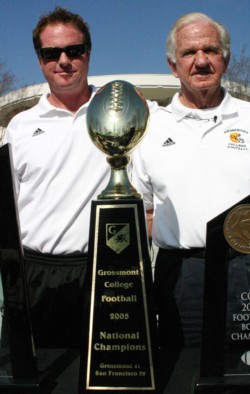 The father-son coaching combination of Mike (son, left) and Dave Jordan pose with the
J.C. Grid-Wire National Championship Trophy, awarded to the school at ceremonies on the Fletcher Hills campus Wednesday (Feb. 1st).
(Photo by Greg Eichelberger)
---
JCAB National
Coach of the Year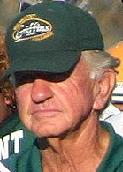 Following more than 30 seasons with the Griffins, head coach Dave Jordan has his second state crown.
Nat'l. Co-Player of the Year/Offense
Derrell Hutsona, the J.C. Athletic Bureau national co-player of the year on offense.
RECENT HEADLINES (Full stories below)
Twice as nice: Mauga brothers head
to Sacramento State on full scholarships
East County Sports.com
SACRAMENTO (1-27-06) -- Sacramento State University bolstered the lines on both sides of the football by offering scholarships to three players this past week, including a pair to former Grossmont College football players: brothers DALLAS MAUGA and RAINBOW MAUGA.
Dallas Mauga was considered quite a coup for the Hornets, after learning the new coaching staff at San Diego State decided to focus on freshmen recruits instead of a player whose teams have posted a composite 37-2 record over his last three seasons. MORE
Campus celebration slated for Feb. 1
Public invited to honor Jordan, players, staff
East County Sports.com
EL CAJON (1-24-06) -- The Associated Students of Grossmont College will hold an on-campus reception for the 2005 Griffins football team and head coach DAVE JORDAN in recognition of capturing the J.C. Grid-Wire mythical national community college football championship. The public is invited to the celebration, scheduled for the Main Quad area of the Fletcher Hills campus, on Wed., Feb. 1, starting at noon. MORE
Is Wright headed to professional football?
Trio of Griffins headed for Montezuma Mesa
East County Sports.com
EL CAJON (1-26-06) -- Grossmont College football All-America defensive end RODERKUS WRIGHT could become the school's first athlete to move directly to the pro ranks without additional seasoning at a four-year school in any team sport. MORE
Hutsona, five others receive 4-year rides
Running back headed for Wazzou in Pac-10

> Wazzou, K-State fighting for Hutsona
> More postseason honors for GC
> Griffins declared National Champions
> State Championship: The Ultimate retirement gift for Dave Jordan
> Grossmont quarterback Reilly Murphy earns Joe Roth Memorial Award
> Grossmont takes SoCal crown
> Hutsona, Wright named JC Grid-Wire first-team All-Americas
---
Twice as nice: Mauga brothers head
to Sacramento State on full scholarships
East County Sports.com
SACRAMENTO (1-27-06) -- Sacramento State University bolstered the lines on both sides of the football by offering scholarships to three players this past week, including a pair to former Grossmont College football players: brothers DALLAS MAUGA and RAINBOW MAUGA.
Dallas Mauga was considered quite a coup for the Hornets, after learning the new coaching staff at San Diego State decided to focus on freshmen recruits instead of a player whose teams have posted a composite 37-2 record over his last three seasons.
"He's an impact player," said Hornets coach Steve Mooshagian.
Lineman Mauga was named a first-team J.C. Grid-Wire All-America selection and was listed as one of the top 30 defensive line recruits (high school and junior college) in America by Scout.com. The 6-foot-1, 300-pounder was a two-time first team All-Foothill Conference selection and was the league's defensive MVP during his final season. That year, Mauga tallied 62 tackles, 11 quarterback sacks and forced five fumbles. As a freshman, he had 51 tackles, including seven sacks. Grossmont posted a 24-2 record during his tenure and never lost a regular season game.
Dallas graduated from Helix High School in 2003, where he was an All-San Diego CIF first team selection while also earning All-East CountySports.com and All-Grossmont South League honors. As a senior, he posted 84 tackles with 15 sacks while starting at inside and outside linebacker. The Highlanders went 13-0 that season.
And since the spring semester has already started at Sacramento State, Mauga has already moved to the state capitol and started classes this past Monday (Jan. 23) allowing him to compete in spring drills to earn a starting berth. He completed his Associates' degree last semester at Grossmont.
"Dallas already completed his AA degree," said BENSON T. MAUGA, his father. "And it's thanks to (Grossmont College) coach (DAVE) JORDAN and his support in believing in our local athletes and that they can make a difference in our community."
"Now Dallas gets to attend early and participate in spring football, getting to know his peers and coaching staff. And being with his brother, Rainbow, they will be able to help boost Sac State to another level."
Rainbow Mauga, a fullback, was the blocking back for the Griffins in 2003, although he did score a touchdown in the state championship contest against City College of San Francisco.
The Hornets were one of five schools -- Boise State, Texas Tech, Arizona State and Montana State were the others -- which offered scholarships to Dallas Mauga.
However, Sac State held the edge thanks to special teams and tight ends coach RICHARD SANCHEZ, a former assistant coach at Grossmont and USD according to Jordan.
The Mauga brothers increase the list of Griffins gaining scholarships this off-season to 10, with another potential this weekend. Cornerback DEVON JONES (Valhalla High) is currently on a recruiting visit to the University of Hawai'i, coached by JUNE JONES, the former interim head coach of the San Diego Chargers.
Devon Jones registered an interception in the 2005 state title game, helping Grossmont avenge its 2003 loss to CCSF by claiming its second state title following a 41-38 triumph in Fresno.
Sacramento State (2-9 overall and 1-6 in the Big Sky Conference last season) hopes it has taken a step forward with the signing of the Maugas. They also signed Solano Community College transfer Matt Russell, a 6-5, 315-pound offensive lineman.
---
Is Wright headed to professional football?
East County Sports.com
EL CAJON (1-26-06) -- Grossmont College owns its share of players who continued their athletic success and eventually moved on to the professional level. Included are current performers in football (Atlanta Falcons free safety KEVIN McCADAM), baseball (Oakland A's starting pitcher JOE KENNEDY, Atlanta Braves second baseman MARCUS GILES, Giants pitcher KEVIN CORREIA), and women's pro beach volleyball (JENNIFER MURRELL HOLDREN), among others.
Griffins football All-America defensive end RODERKUS WRIGHT could become the school's first athlete to move directly to the pro ranks without additional seasoning at a four-year school in team sports.
Wright has an agent and is seeking a position in some form of professional football, most likely that will be on foreign soil. That could be in the Canadian Football League or NFL Europe.
As a player with parts of three seasons of college football under his belt, Wright, who started his career at Oregon, could apply to be granted special eligibility for the NFL draft on Apr. 29-30. However, the application deadline passed last week with only 48 listed players -- including REGGIE BUSH of USC and Vince Young of Texas -- but Wright could still be placed on another supplemental list or be signed as a free agent by the NFL should he officially declare to turn pro.
At 6-foot-6, 275 pounds and a lineman with 4.9 speed in the 40-yard dash, Wright, 24, has the criterion many NFL teams seek.
MAUGA MAZE
DALLAS MAUGA, another former Griffins defensive standout who was named an All-America lineman by J.C. Grid-Wire in 2004, may still join the roster at San Diego State.
After his 11-sack performance in 2004, the 6-foot-2, 297-pound Mauga signed with the Aztecs, but was declared academically ineligible. Now with his grades in order, Mauga has attracted the attention of new Aztecs head coach Chuck Long.
The problem here is Mauga reportedly has only one year of college eligibility left. The majority of colleges aren't interested in a player with that limited of playing time. Long, though, knows talent when he sees it.
Long, unlike the previous football coaching administration at Montezuma Mesa, has made an effort to recruit several players from Grossmont's national championship squad. The latest commitments: Griffins offensive lineman DANNY HATHAWAY (Grossmont High), and defensive end BRIAN STANBRA, who originally wanted to attend SDSU out of high school but attended Cal Poly instead.
Stanbra's other major-college choice was Louisville, while BYU showed interest, but Stanbra is happy to see San Diego State change its opinion of the two-way, high school standout, who actually received more notoriety on offense than defense.
However, the Aztecs weren't interested at the time, so Stanbra went to Cal Poly after graduating from USDHS (now Cathedral Catholic). But when things didn't work along the central California coast, Stanbra joined Mauga at Grossmont.
Now, hopefully, Mauga, Stanbra and Hathaway will all wear the Aztecs' Red & Black.
"I always said I'd like to stay local, even out of high school, but Cal Poly was my only solid offer," recalled Stanbra. "I'm glad coach Long took another look at me."
MONTEZUMA COUP
Hathaway, who stands 6-foot-7, and weighs 290 pounds, was on the 2003 All-East County team as a prep, then became an All-Foothill Conference performer with the Griffins. He was considering offers from Louisville and Cincinnati (schools he visited), plus Wyoming and Ole Miss.
Another Grossmont defender catching the 4-year college recruiter's eyes is corner DEVON JONES. Hawaii is most interested in Jones, who also has a couple of Big Sky Conference schools looking his way.
And Grossmont College head coach DAVE JORDAN says the list of Griffins advancing to play four-year college level will continue to grow in the coming weeks. At present, eight players from last year's national championship team have found a new home.
---
Campus celebration slated for Feb. 1

Public invited to honor Jordan, players, staff
East County Sports.com
EL CAJON (1-24-06) -- The Associated Students of Grossmont College will hold a campus reception for the 2005 Griffins football team and head coach DAVE JORDAN in recognition of capturing the J.C. Grid-Wire mythical national community college football championship.
Following a 4-0 sweep of the playoffs, Grossmont (13-1) captured its second California state championship -- the first was in 1974 -- after outlasting City College of San Francisco, 41-38, in Fresno. The J.C. Grid-Wire, based in Santa Ana, then tabbed the Griffins as the top team in the country this past season, beating out Glendale (Ariz.) College. Meanwhile, the J.C. Athletic Bureau of San Mateo and the California Community College Football Coaches Association tabbed Jordan its coach of the year.
The public is invited to the celebration, scheduled for the Main Quad area of the Fletcher Hills campus, on Wed., Feb. 1, starting at noon.
ASGC will feature a brief program and presentation of trophies for its third consecutive Foothill Conference title, its second consecutive Southern California Bowl crown, plus the COA Championship Trophy for the school's first state title since 1974.
In addition, the Grossmont College cheer squad will perform, plus brief remarks from Jordan and the college's Acting President Dr. Dean C. Colli.
"These incredible championships reflect not only the quality of Grossmont College athletic programs, but the college's commitment to academic rigor," noted Colli. "The outstanding transfer rate for student athletes does not happen by itself. It is everyone's goal to help students get to the next level and succeed."
James Spillers, the Associate Dean for Athletics, noted, "These students are outstanding in every way. They have great futures at major four-year institutions, including several Division IA colleges. This team received universal support, from academic counselors to professors riding on the booster busses to our away games. The team's success reflects back on the entire campus."
---
Hutsona, five others receive 4-year rides
East County Sports.com
EL CAJON (1-20-06/REVISED 1-21-06) -- DERRELL HUTSONA, the national co-player of the year on offense for the 2005 national champion Grossmont College football team, made his selection from among more than a dozen teams and will continue his playing career with a scholarship at Washington State of the Pac-10.
The state rushing and kickoff returns champion, Hutsona capped his brief Fletcher Hills career by also being named the MVP of the state title game, as Grossmont defeated City College of San Francisco, 41-38, in Fresno, for the school's second state crown (1974). For the season, the sophomore rushed for 1,291 yards on 177 carries.
"It is wide open for me to come in and play right away," said Hutsona noting that the Cougars do not have an experienced back returning. "Basically, they have all freshmen backs returning."
Hutsona sees the Cougars as contenders for a bowl game next season.
"They lost a lot of close games last season," he said. "I think we can turn that around."
Winning is something Hutsona does well. He helped the Griffins to a 13-1 finish last season.
The former backfield running mate at Helix High with Heisman Trophy winner REGGIE BUSH of USC, Hutsona, a transfer from San Jose State, considered firm offers from, Kansas State, Arkansas, New Mexico State and Utah. More than a half-dozen other schools also expressed interest in the 5-foot-10, 185-pound back, including UCLA and Tennessee.
Hutsona is one of six Griffins to announce their four-year college plans so far.
Quarterback REILLY MURPHY signed with Indiana State, receiver MICHAEL OMAR signed with Massachusetts and Sacramento State reeled in tight end JERRY MAREKO, and offensive linemen MATT GAUGHEN and FRANCISCO CRUZ.
Grossmont College coach DAVE JORDAN says a second wave of scholarships for the Griffins is forthcoming.
---
Wazzou, K-State fighting for Hutsona
By BARRY BOLTON
Cougfan.com Senior Editor
Special to East County Sports.com
EL CAJON (1-17-06) -- This town just east of San Diego, home to Grossmont College, was named after the 'Big Box Canyon' in which it is situated. Ironic then, that Grossmont's Derrell Hutsona has rarely been boxed in on a football field. A pair of Cougar coaches recently came through the San Diego area, with designs on mining more gold as the recruiting season hits the homestretch. WSU is currently tied for the lead with Hutsona, who holds a Cougar offer and trips to Pullman in about two weeks time.
Hutsona (5-10, 183) holds offers from Washington State, Kansas State, New Mexico State, Utah and Arkansas. Also lurking are UCLA, Tennessee, Nevada and Colorado, with Dan Hawkins first recruiting Hutsona for Boise State and now the Buffaloes.
Hutsona's two frontrunners are WSU and KSU, but he was quick to add he remains open to everyone. He trips to Washington State Jan. 13 and Kansas State the following weekend.
Hutsona is fast, especially over the 40-yard range, and has plenty of moves. How fast? He clocked a 4.28 in the 40 at San Jose State last year at the Spartans' Pro Day. But conditions were perfect and he might not be quite that fast these days.
"I'm more like a 4.33 now," said Hutsona.
What's also opened eyes -- Hutsona honed his craft in '05 to develop into an accomplished blocker, and more complete back.
THE COUGS ARE recruiting Hutsona at running back and for special teams, with the former a good situation for someone looking to earn early playing time. The departure of senior Jerome Harrison leaves a talented, but inexperienced corps of backs with no WSU starts to their credit. And as a return man, Hutsona could earn instant playing time. He churned up over 1,000 yards on the season -- on punt and kickoff returns alone.
On the year, Hutsona racked up a ridiculous 2,534 all-purpose yards including the playoffs -- gaining nearly 1,000 of the total in crunch time over a four game playoff run.
Hutsona, a key factor in helping Grossmont lay claim to the JC national title this season was not only an All-America, he was the All-America Co-Offensive Player of the Year as named by the JC Athletic Bureau and the CCCFCA. He also was selected the all-California offensive player of the year and first team offense (Region III) by the same panel.
Derrell Hutsona
SOME SCHOOLS ARE talking to Hutsona, as they did coming out of high school, about playing defensive back. But Hutsona has never played DB and isn't in any hurry to make the switch. Given what he's done in limited turns from the backfield, it's not hard to see why.
He wasn't the featured back for Grossmont but Hutsona still became a 1,000 yard back for the Griffins in 2005 with 1,291 rushing yards, (534 yards in playoffs). But a high average per carry is nothing new for Hutsona.
JUST ABOUT EVERY story you read on Hutsona, including this one, makes some mention of Reggie Bush. The two played side by side in the same backfield at Helix High for a couple of years, along with quarterback Alex Smith. And while Bush has deservedly earned a very large spotlight, Hutsona is a player in his own right.
His final two seasons at Helix, Hutsona rushed for 2,052 yards on but 154 carries, a 13.3-yard average that still stands as the San Diego Section career record. Bush gained 4,925 yards on 407 carries at Helix, good for third (12.1).
The two are very close friends, with Bush and Hutsona getting together this Thanksgiving and Christmas. And during a Southern Cal bye and the following week's down time, Bush was sitting with the Hutsona's during a pair of Grossmont's playoff games.
But the two are not competitive, and the inevitable media comparisons between the two are a way to spice up a storyline more than anything else, says Hutsona.
"They compare me to Reggie because we do the same things," said Hutsona. "I just smile because you can't really (make comparisons). We have different types of styles."
OTHER SCHOOLS such as K-State and Nevada have dropped by the school and talked with Hutsona, with WSU assistants Kelly Skipper (running backs) and George Yarno (offensive line) the two coaches thus far having made an in-home. Hutsona said the duo made a solid impression on him and his family over mother Sheena Hutsona's fried chicken.
And talk about a gene pool, Derrell's older brother, Damon Hutsona, was drafted out of high school by the Florida Marlins in 1993. Their father Rodney was a fleet footed high school wide receiver and served as an assistant at Helix and as Derrell's sprint coach. Mother Sheena was a running back for the San Diego Lobos of the Women's Professional Football League in the 70's. She also had some wheels out on the track during her prep days, anchoring the relay.
Integral to Hutsona's decision making process will be the opportunity to compete for playing time, education and the coaching staff.
Link to: Derrell Hutsona on Scout.com.
NOTES: There's some question as to whether Hutsona, if he graduates on time, could get a year back and have three years to play at the next level. It looks, however, like he would have two years at a D-IA school. He's on pace to graduate this spring.
Hutsona spent two years at San Jose State, signing with the Spartans in 2003. One year was lost to injury, which will likely be counted as a redshirt season, while the other saw Hutsona not seeing much of the field. After two disappointing years, the coach's resignation ending a stint marked by controversies, and a football program in danger of being dropped altogether, Hutsona made the decision to transfer to Grossmont.
At Helix, Hutsona won the '03 California High School state title with a 24-5.75 leap in the long jump. Hutsona also took home gold in the 4x100 relay team in the '01 California state CIF championship.
---
More post-season honors for Griffins
East County Sports.com
EL CAJON (12-25-05) -- When you win the national championship, it's not uncommon that your team is loaded with individual honors. Grossmont running back DERRELL HUTSONA was named J.C. Athletic Bureau All-America Co-Offensive Player of the Year and Griffins head coach DAVE JORDAN was selected JCAB National Coach of the Year.
Grossmont College center MATT GAUGHEN was chosen to the JCAB All-America first team offense, while end RODERKUS WRIGHT was named to the first team defense.
All-State Offense Player of the Year honors went to Hutsona, Gaughen, Wright and defensive back TERRY MIXON.
---
Griffins declared National Champions of community college football
East County Sports.com
SANTA ANA (12-12-05) -- Grossmont College has been named the mythical national champions of community college football by J.C. Grid-Wire, the No. 1 authority on junior college football.
The official announcement was made to the San Diego Union-Tribune by long time J.C.Grid-Wire director HANK IVES only minutes following the Griffins 41-38 state-championship victory over City College of San Francisco Saturday (Dec. 10) in Fresno.
Although J.C. Grid-Wire's Final 30, a poll that has combines California and NJCAA schools for nearly 50 years, won't be released until Tuesday (Dec. 13), The Harvey Hyde Show on KDWN-AM 720 radio in Las Vegas confirmed that Grossmont was the national kingpin for 2005. Hyde, a former head coach at UNLV and Pasadena City College, is a longtime friend of Ives.
The previous best national ranking for the Griffins was at No. 3 in 1974 and 2003.
Following an early-season setback to defending state and J.C. Grid-Wire national titlist College of the Canyons, the Griffins finished the season with a string of 12 consecutive victories. Included were playoff victories over Glendale (42-10), nation top-ranked El Camino (52-43) and a revenge triumph over Canyons' Cougars (24-19) to claim Grossmont's second Southern California championship in three seasons.
Final 2005 National Rankings by J.C. Grid-Wire

Rk

Team (CA, unless noted)

Record

Last Game

1

GROSSMONT

13-1

df. CC San Francisco, 41-38

2

Glendale (Ariz.)

11-0

df. Grand Rapids (Mich.), 50-48

3

College of the Canyons

12-1

lost to GROSSMONT, 24-19

4

El Camino

11-1

lost to GROSSMONT, 52-43

5

Reedley

10-1

lost to CC San Francisco, 40-35

6

CC San Francisco

10-2

lost to GROSSMONT, 41-38

7

Snow (Utah)

10-2

df. Butler County (Kan.), 17-14

8

Pearl River (Miss.)

8-1

df. Gulf Coast (Miss.), 25-19

9

College of San Mateo

8-3

df. College of the Sequoias, 41-39

10

Butler County (Kan.)

9-2

lost to Snow (Utah), 17-14

11

Santa Rosa

8-3

df. Fresno City, 35-12

12

Georgia Military

9-2

df. Coffeyville (Kan.), 21-17

13

Trintiy Valley (Texas)

9-3

f. Northeast Mississippi, 24-14

14

Bakersfield

9-3

lost to College of the Canyons, 48-26

15

Coffeyville (Kan.)

9-3

lost to Georgia Military, 21-17

16

College of the Sequoias

8-3

lost to College of San Mateo, 41-39

17

N.E. Oklahoma

9-3

df. Gulf Coast (Miss), 21-19

18

Dixie State (Utah)

9-3

df. Garden City (Kan.), 35-31

19

Foothill

8-3

df. Feather River, 35-33

20

Long Beach City

8-3

df. Allan Hancock, 49-37

21

Laney

9-2

df. American River, 20-17

22

American River

10-1

lost to Laney, 20-17

23

Grand Rapids (Mich.)

9-2

lost to Glendale (Ariz.), 50-48

24

Nassau (N.Y.)

9-2

df. Erie (N.Y.), 42-31

25

Sierra

9-2

df. Butte, 37-24

26

Northeast Mississippi

7-2

lost to Trinity Valley (Tex.), 30-27

27

Blinn (Texas)

7-3

lost to Trinity Valley (Tex.), 30-27 ot

28

Glendale

8-3

lost to GROSSMONT, 42-10

29

Mississippi Gulf Coast

7-3

lost to N.E. Oklahoma, 21-19

30

Minnesota West

10-1

lost to Rochester (Minn.), 26-21
---
Kudos to 'Old School'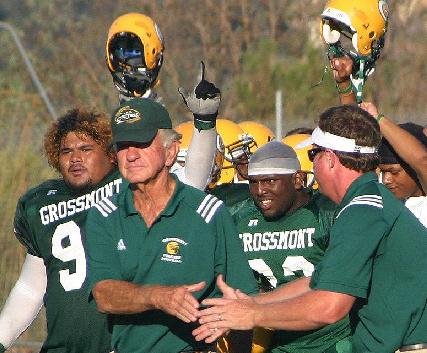 Grossmont head coach Dave Jordan (old guy) receives congratulations from his son, co-head coach and offensive coordinator Mike Jordan, following a Week 1 victory over Mt. San Antonio College, 21-17.
Congratulations to 'Old School' foir capturing the California State community college football championship, defeating CCSF, 41-38.
(Photo by Greg Eichelberger)
Griffins wide receiver Michael Omar (5) returns to his teammates after collecting the state championship trophy following Grossmont's 41-38 win over City College of San Francisco, completing a sweep of four straight postseason victories to gain the Griffins' second-ever state crown.
(COA Courtesy Photo)
---
Murphy honored
Grossmont quarterback Reilly Murphy was the Outstanding Player of the Game in the state final victory over CCSF.
(ECS.com File Photo)
Going "Out In Style," Head Coach Dave Jordan receives the ultimate retirement gift -- The California State Championship
East County Sports.com
FRESNO (12-10-05) -- The year-long goal to send Grossmont College head coach DAVE JORDAN "out in style" with a pending retirement came to fruition Saturday (Dec. 10), as the Griffins downed CC San Francisco, 41-38, to capture the California state community college football championship at Grizzlies Stadium.
It's the second state trophy for Jordan and Grossmont, which took its other crown with a Joe Roth-led team in 1974.
Unlike the 2003 state title game, when CCSF rallied in the final seconds for a 38-35 decision, Grossmont made a 38-10 lead standup -- but barely. The Rams stormed back behind reserve quarterback Andrew Strom, moving to within three points with 0:09 left. However, the Griffins' DERRELL HUTSONA made a fair catch on the ensuing onside kick to cinch the biggest victory in school history.
Grossmont quarterback REILLY MURPHY was named Most Valuable Player of the game. He completed 18 of 29 passes, including an early 39-yard TD strike less than 2 minutes into the game to CHRIS JOHNSON that made it 7-0. Murphy later rushed for a touchdown on a 1-yard plunge.
Defensive player of the game honors went to linebacker LEE PALEAFEI, who wasn't even a starter to open the year, but came through with a magical season which included several key TDs on defense and special teams to lift Grossmont to a 13-1 overall record. Paleafei notched a game-high 14 tackles, including five for losses.
"This is one of the greatest feelings I've ever had in my life," said Paleafei.
The Grossmont defense dictated the contest early, forcing eight turnovers and sending starting Rams quarterback Timothy Sonnenburg to the bench. However, backup QB Andrew Strom almost turned in a rally similar to the 2003 state title game. But the Griffins blunted the Rams' rally just in time.
Grossmont's TERRY MIXON and BRETT ST. JAMES had two interceptions apiece, while DEVON JONES added a fifth. RANDY HORN, JIM PINKNEY and TONY AUGAFA had fumble recoveries for the Griffins.
It wasn't all about the Griffins' defense, though, as Hustona rushed for 129 yards and a TD on 19 carries. Receiver MICHAEL OMAR made some brilliant catches, totaling 154 yards on six grabs.
"My emotions are wonderful," related Grossmont coach DAVE JORDAN of his feelings following the Griffins victory. "My emotions are real deep. Going out with a big win like this is one the greatest things that's ever happened to me."
Jordan plans to retire from teaching while stepping down as Grossmont's head coach after 35 seasons in the Griffins' football program. Jordan will continue to help his son -- 36-year-old offensive coordinator MIKE JORDAN -- in the football arena next season and probably longer.
Even when the Griffins led 38-10 early in the second half Dave Jordan didn't feel secure. "We had some key injuries on defense, especially in the secondary, that hurt us," Jordan said. "And it showed there at the end."
The bottom line is Grossmont held on to earn the title of 2005 California CC State Champions.
"We all feel like we are the national champions," said Grossmont linebacker RANDY HORN. "It feels great."
The jury's still out on that.
"I'm just happy we did this for coach Dave Jordan," said Grossmont defensive end RODERKUS WRIGHT. "We wanted to make this the most memorable season of his career."
'Nuf said.
Griffin Graffiti -- Grossmont's 13 victories this season equals the school record set in 2003... The team's total of 8 postseason victories over the past three seasons is also the best in the nation over that span.

| | | | | | |
| --- | --- | --- | --- | --- | --- |
| State Championship, at Fresno | 1 | 2 | 3 | 4 | TOTAL |
| Grossmont "Griffins" (13-1) | 17 | 14 | 7 | 3 | 41 |
| CC San Francisco "Rams" (10-2) | 10 | 0 | 7 | 21 | 38 |
FIRST QTR.
GC -- C. Johnson 39 pass from Murphy (Ballman kick), 13:38
SF -- Sonnenburg 1 run (Abrams kick), 8:13
SF -- FG Abrams 32, 5:01
GC -- FG Ballman 29, 1:39
GC -- Hutsona 15 run (Ballman kick), 0:09
SECOND QTR.
GC -- K. Smith 3 run (Ballman kick), 13:10
GC -- Murphy 1 run (Ballman kick), 2:43
THIRD QTR.
GC -- Mixon 17 interception return (Ballman kick), 7:50
SF -- McBean 17 pass from Strom (Abrams kick), 5:47
FOURTH QTR.
SF -- James fumble recovery in end zone (Abrams kick), 14:55
SF -- Purify 20 pass from Strom (Abrams kick), 6:04
GC -- FG Ballman 30, 1:46
SF -- Purify 12 pass from Strom (Abrams kick), 0:09

---
Griffins seek second state crown, and maybe more
East County Sports.com
FRESNO (12-9-05) -- Over the past three seasons, no community college football program in the nation has posted more postseason victories than Grossmont College. However, the Griffins still need one additional triumph to make all the previous hard work worthwhile.
Grossmont (12-1) seeks more than just the California state championship when the Griffins meet North regional titlist City College of San Francisco (10-1) in Saturday's (Dec. 10) final at Grizzlies Stadium. To the winner of this battle, could go the national championship.
All season long, every member of the Griffins, from the players to the coaches to the support staff, has indicated they all wanted to send head coach DAVE JORDAN "out in style" with a state banner. Then the players received extra motivation following their mentor's administrative difficulties with the school board, setting the tone for three straight Southland wins, whipping Glendale (42-10), El Camino (52-43) and College of the Canyon (24-19) in succession.
But now, with only one other community college in the nation finishing with a perfect record -- Glendale (Ariz.), at 11-0, but playing a relatively average schedule -- the stakes are now raised, with the door wide open for Grossmont to slip past the Gauchos and be proclaimed the nation's No. 1 team by J.C. Grid-Wire, the only ratings service which combines teams from California and the NJCAA.
So the state title game with the Rams could result in triple-motivation.
A win gives Jordan his second long sought-after state title; a win gives the players a potential national title, with all its perks and benefits, including a scholarship offers from 4-year schools; and a win avenges a 38-35 last-second loss to CCSF in the 2003 state title contest in Bakersfield.
Not that the Griffins need any assistance.
While Grossmont is playing at peak form and is relatively healthy, the Rams demonstrated some blemishes to their armor of late, struggling to reach the title game after sweeping through their first seven games by a combined score of 323-53.
CCSF closed the regular season with a pair of narrow wins over San Mateo (41-40) and Santa Rosa (24-20), then saw its 10-year home-field winning streak snapped by Foothill (21-14) to close the regular season.
The Rams then advanced to the North regional final -- also known as the Hawaiian Punch Bowl -- but escaped with a 40-35 decision over favored Reedley, nearly blowing a 34-14 lead. The Tigers moved into scoring position in the final minute of play, yet couldn't score after gaining a first down at the Rams-4, then failed on a fourth-down pass from the 2-yard line
The Griffins will need to stop CCSF receivers Aaron Straiten, who had touchdown receptions of 15, 74 and 32 yards, then averaged more than 12 yards per punt return, and Maurice Purify, who scored twice against Reedley on screen passes.
Kickoff is slated for 1 p.m. (time change), with a webcast available HERE, starting at 12:45 p.m.
---
Roth Award winner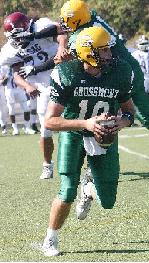 Griffins quarterback Reilly Murphy was awarded the 29th annual Joe Roth Memorial Award as the San Diego County community college player of the year. (File Photo by Greg Eichelberger)
Murphy earns Joe Roth Award, JC-Grid Wire Scholar All-America honors
East County Sports.com
EL CAJON (12-7-05) -- Grossmont College quarterback REILLY MURPHY was a big winner Tuesday (Dec. 6), as he was named the recipient of the prestigious Joe Roth Memorial Award and also was selected to the J.C. Grid-Wire Scholar-Athlete All-America Team.
This was the 29th year of the Joe Roth Memorial Award, which goes to the San Diego County community college football player that best meets the high academic standards and athletic excellence that the late Joe Roth exhibited during his All-America career. Roth, a gifted quarterback, guided the Griffins to their only undefeated season and state championship in 1974. He led Cal to its only Pac-10 championship in 1975 and was considered a potential NFL first-round draft pick before he died of cancer in February, 1977.
Murphy, who has passed for 3,056 yards and 28 touchdowns for the Southern California champion Griffins (12-1), was the only community college player from San Diego County selected to the J.C. Grid-Wire Scholar-Athlete team.
Meanwhile, running back DERRELL HUTSONA was chosen the Griffins' team MVP at the Grossmont College awards banquet Tuesday night. The Offensive MVP award went to tackle JAKE BINGHAM and the Defensive MVP honor went to end BRIAN STANBRA.
---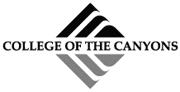 Southern California Championship
Grossmont College 24,
College of the Canyons 19
Grossmont's Road Warriors clip Canyons to claim Southern California football crown
East County Sports.com
SANTA CLARITA (12-4-05) -- Should the persistent rumors become true that USC tailback REGGIE BUSH will turn professional and forego his senior season should he capture the Heisman Trophy, Bush can easily direct the Trojans to his possible replacement: Former Helix High teammate DERRELL HUTSONA.
"I told the offensive line and the other backs before the game that we're going out there to win the Heisman," said Hutsona. "The coaches told me I'd be a workhorse tonight."
And Hutsona and his teammmates ran the ball all night long.
In his second stellar playoff performance in as many weeks, Hutsona rushed the ball 31 times for 179 yards Saturday (Dec. 3), powering Grossmont College to a convincing 24-19 victory over defending state and national champion College of the Canyons. The triumph gives the Griffins (12-1) their second Southern California community college football championship in three seasons.
CLICK HERE to see what The Daily News published about this game.
Grossmont, which captured its fourth road playoff victory since 2003, will meet a team its failed to defeat on the road in recent postseasons runs in City College of San Francisco. The Rams (10-1) stunned undefeated Northern California kingpin Reedley College, 40-35, to gain a berth to next week's state championship game at Grizzlies Stadium in Fresno to setup a rematch of the 2003 title contest against the Griffins.
CLICK HERE to see what The Signal newspaper of the Santa Clarita Valley published about this game.

Note: The writer blames the weather for seven COC turnovers -- we think not!
The Griffins' running game, which gained 296 yards on 60 carries, kept Canyons off-balance to setup a pair of early touchdown passes, as Grossmont built a 24-7 lead, then hung on in the final minutes.
"They were bending me -- a linebacker was shadowing me everywhere I went," noted Hutsona, who successfully gobbled up yardage between the 20s.
But when in the red zone, quarterback REILLY MURPHY tossed a pair of scoring passes to wide receiver CHRIS JOHNSON, connecting on TD strikes of 22 and 20 yards to build an early 14-0 lead.
Meanwhile, Grossmont's defense hounded Cougars quarterback Marcel Marquez all contest, forcing seven turnovers from the second-team All-America selection. Marquez threw three interceptions, including a pair by ADAM COOPER, while fumbling four times, as defensive end BRIAN STANBRA and cornerback TERRY MIXON registered a sack and a fumble recovery each.
"This is about as good a defensive game as we can play," Griffins coach DAVE JORDAN said of the G-House of Pain. "And I think the cold weather motivated us to play harder."
After typically playing in mild, afternoon conditions all season, Grossmont faced a windy, cold night at Cougar Stadium, where the Griffins suffered a 30-0 playoff setback to Canyons in similar conditions last season. But on this occassion, it was the Cougars offense that was unable to score for three quarters, watching their 30-game home winning streak of five years come to an end.
"Marquez got so frustrated because we kept hitting him all night," noted Grossmont secondary coach MARK DEESING. "Soon, he stared throwing the ball right to us or coughing it up. He took a lot of abuse out there."
"He still is the best quarterback we've faced this season, but our defense contained him all night except for one play."
Included was the work of defensive end RODERKUS WRIGHT, who sacked Marquez once and added a collection of hits on the quarterback. GEOFFREY HOWARD also recorded a sack, while hard hits allowed RANDY HORN and NICK MARTINEZ to collect fumble recoveries.
Noted Jordan, "He's going to be sore tomorrow."
Following Johnson's pair of TD catches, Grossmont committed its only major mistake of the first half by longtime Griffins tormentor, Canyons cornerback Michael Carr.
In both of two previous ballgames between the schools, Carr returned interceptions for touchdowns. And the honorable mention All-America did it again against Grossmont, stepping in front of a Murphy pass and streaking 58 yards for his third career score against the Green & Gold.
However, kicker JARED BALLMAN, who missed a 39-yard field goal into the wind in the first period, used the wind to his advantage shortly before the half by connecting from 38 yards for a 17-7 lead at the intermission.
Grossmont then went conservative in the second half, keeping the ball on the ground while not completing a pass (only 3 attempts) over the final 30 minutes. Hutsona and Smith (16-83) kept the clock ticking, as Smith carried for a 2-yard score in the third period for a 24-7 lead.
Canyons utilized two big plays to get within striking distance late.
After Jaa'Vonte Holmes returned a punt 40 yards, Marquez raced 15 yards on the very next play to trim the deficit to 24-13 -- the PAT was wide. Then Marquez found Terence Scott behind the secondary for a 77-yard TD strike with exactly 3:00 remaining.
"We only counted at least three holding penalties on the punt return," Jordan added.
However, after Canyons utilized its final timeout, Hutsona closed it out. He rippoed off 10-yards on 3rd-and-5 with 2:36 left for a first down, then galoped for 23 additional yards two plays later to complete another victory by Grossmont's Road Warriors.
After gaining just 142 yards in total offense in a 32-22 loss in Week 2 (Sept. 10) at Canyons, Grossmont collected 405 yards in the rematch. Canyons finished with 314 yards, but 77 came on one play.
Johnson finished with three catches for 46 yards, while MICHAEL OMAR caught four balls for 54, as Murphy finished 8-for-25 for 109 yards, all in the first half.
Cooper, who finished the regular season ranked in a tie for ninth in the state in interceptions, now has picked off Marquez four times this season -- two in each meeting.
Griffin Graffiti -- Grossmont has now captured 23 of its last 25 games, with both setbacks coming to Canyons... Canyons' last loss was in the 2003 playoffs to the Griffins, 14-10... The schools have now alternated winning the Southland titles, with Canyons winning in 2002 and 2004, and now the Griffins in 2003 and 2005... Except for a pair of titles by Palomar, the Mission Conference hasn't captured a Southland crown since Mt. San Antonio went all the way to the 1997 state title -- a stretch of eight seasons... The state title game will kickoff at 1:30 p.m.
---
No surprise! It's the Griffins vs. Canyons yet again for SoCal crown
East County Sports.com
SANTA CLARITA (12-2-05) -- In a match-up Grossmont College's players have been gunning for since suffering their lone setback of the season back on Sept. 10, the Griffins (11-1) will get their rematch with College of the Canyons. However, so much more will be on the line this go-round.
Following a pair of postseason victories by both ballclubs, the teams will again contend for the Southern California community college football championship in a battle of the last two Southland champions. Grossmont, the 2003 champion, will take on a Cougars team that not only claimed the regional title, but went on to collect both the state and national crowns last season.
It can't get much better than this.
Not only is Canyons the defending champions (plus the 2002 title), the Cougars are undefeated this season at 12-0, including last week's 48-26 conquest of Bakersfield, giving the team an incredible 26 consecutive victories.
But if there is a team that can go on the road to win, it might be this set of Griffins.
Grossmont is the only team in the state to go on the road and post at least one playoff victory over each of the past three seasons.
In 2003, when the Griffins claimed the Southland title, head coach DAVE JORDAN's troops defeated Citrus in a neutral site contest at Southwestern College. Last season, although designated the "home team" by goofy COA policies, Grossmont defeated Chaffey in the Panthers' own stadium for another opening-round victory.
And, of course, last week might have been the most impression performance away from Grossmont's Mashin-Roth Memorial Stadium, traveling to Torrance to knock off the nation's top-ranked team in El Camino, 52-43.
Plus, the schools have some recent history. Grossmont downed Canyons during the playoffs en route to the 2003 title, then the Cougars did the same to the Griffins on the way to the 2004 crown. In addition, Canyons topped Grossmont during Week Two, 32-22, this season.
The battle is almost even in the awards category, too. Grossmont had three players selected as J.C. Grid-Wire All-Americas this week, yet Canyons came out better with four honorees. Included were first-team linebacker Joey La Roque, second-teammers in quarterback Marcel Marquez, defensive back Justin Tryon, and return specialist Ja'Vonie Holmes. Canyons also have honorable mention safety Michael Carr, who has returned interceptions for touchdowns in both of his career appearances against Grossmont.
Griffin Graffiti -- The 2005 season will mark the fourth consecutive year that a team from the Mission Conference -- a self-proclaimed kingpin of community college football -- will NOT claim the SoCal title. Since Palomar won it in 2001, the winners were: 2002-Canyons, 2003-Grossmont, and 2004-Canyons... KHTS-AM 1220 in Santa Clarita will be broadcasting the Southern California Championship game, but only on the internet. Please visit their website HERE to log on. The webcast starts 15 minutes prior to kick-off.
---
Hutsona, Wright, tabbed JC Grid-Wire All-Americas
East County Sports.com
SANTA ANA (11-30-05) -- National kickoff return and all-purpose yardage champion DERRELL HUTSONA, along with team sack leader RODERKUS WRIGHT, headed a list of Grossmont College football players which were named first-team All-Americas by JC Grid-Wire.
The pair of Division I transfers were among the leading vote-getters at their respective positions, as cumulated by long-time JC Grid-Wire publisher HANK IVES, who issued his 46th All-America teams among all of the nation's community college football programs -- the only such organization which combines California schools with member schools of the NJCAA.
Also named from Grossmont College was defensive lineman BRIAN STANBRA, who was an honorable mention All-America.
Hutsona, a Helix High product who transferred to Grossmont from San Jose State, set a school record with 365 all-purpose yards in last week's Southern California semifinal playoff triumph at El Camino. The yardage placed the sophomore back into the state lead in the category; Hutsona is also the national leader in average yards per kickoff return, as the Griffins finished as the state's team leader in total offense
Wright, a transfer from the University of Oregon, terrorized opposing quarterbacks all season, ranking at the top of the Griffins leaders in sacks. Meanwhile, Stanbra quietly was a consistent force for the Grossmont defense all season, switching seamlessly from linebacker to the opposite side of the defensive line from Wright.
Grossmont (11-1) will play in its second Southern California Championship game on Saturday (Dec. 3), as the 2003 Southland champions will take on defending titlist and top-seeded College of the Canyons in a 7 p.m. kickoff at Cougar Stadium in Valencia.

---
Bush inspires Hutsona in comeback victory

East County Sports.com
TORRANCE (11-27-05) -- With former Helix High School teammate REGGIE BUSH offering encouragement along the Grossmont College sidelines, Griffins running back DERRELL HUTSONA became not only inspired, he needed to show his stuff.
South Region Semifinals
No. 5 GROSSMONT 52,
No. 1 EL CAMINO 43
No. 2 CANYONS 48,
No. 9 BAKERSFIELD 26
HIGHLIGHTS HERE
"I had to have a big game because my close friend, Reggie Bush, was here," noted Hutsona, who played with USC's Heisman Trophy favorite for two seasons while with the Highlanders. "I wanted to show him I could still do it."
And do it he did.
With the deep passing game shutdown for both teams due to blustery, windy conditions at Murdock Stadium, Hutsona powered a ground attack which collected 308 rushing yards to power the Griffins back from a 19-0 deficit, whipping nationally top-ranked El Camino, 52-43, in Saturday's (Dec. 26) Southern California regional semifinals.
Grossmont (11-1) advances to the Southland championship contest for the second time in three seasons, facing top-seeded College of the Canyons. The Cougars (12-0) are the only team to defeat the Griffins this season, winning 32-22, back in Week 2. Grossmont won the regional title in 2003, while COC's Cougars are the defending state and national champions.
Hutsona rushed 19 times for 160 yards, part of his all-purpose total of 365 yards -- a school record -- to move him back into first place among the state leaders in the category.
Already California's kickoff return titlist, the Warriors still kicked-off to the transfer from San Jose State, yet Hutsona burned them for 157 yards on five returns (31.4 average), while also catching two passes and returning a punt for his career-high yardage total.
"I was just feeding off our team's energy," added Hutsona. "And just knowing Reggie was here gave an extra boost to my game."
El Camino (11-1) took early leads of 19-0 and 27-7 thanks in part to its defense. Nate Ness returned an interception 53 yards for a score, then All-America candidate Moses Manu scooped a fumble and rumbled 71 yards for a 20-point lead with 3:32 left in the first half.
However, it was all Grossmont from there, as Griffins quarterback REILLY MURPHY tossed four touchdown passes.
"It was kind of a rough start, but we were still confident," noted Reilly, who completed 16-of-34 passes for 210 yards. "And it wasn't a false confidence either -- you could see it in people's eyes."
The turnaround resulted in another of the Griffins' patented scoring runs, tallying 31 consecutive points to turn deficits of 27-7 and 34-14 into a 45-34 advantage.
Murphy connected with tight end JEREMIAH MAREKO on scoring passes of 4 and 19 yards. Later, he found MICHAEL OMAR on a 24-yarder, then MARIO BRUNKER from 27 yards out.
But it was the running attack which set-up of the series of short scoring tosses. Along with Hutsona, KEVIN SMITH ran 13 times for 68 yards and a score, as Grossmont collected 52 points and 518 yards against the nation's top-ranked ballclub.
"That's the best game I've ever seen Derrell have," said Grossmont co-head coach MIKE JORDAN. "And it's the best game I've probably ever seen a Grossmont back have."
Murphy agreed, as El Camino failed to sack the Grossmont quarterback, who has suffered just one sack over the last five ballgames.
"Our running game was awesome -- the best we've ever had," noted the sophomore. "Our O-line guys were just pushing them off the ball."
However, the biggest play to spark the turnabout may have came from the special teams unit to open the second half.
Grossmont squib the kick over the front line of the Warriors, as no El Camino player could get to the ball, with reserve linebacker ANDREW LEALOFI making the recovery at the Warriors-27.
Six plays later, Smith romped into the endzone from four yards out, cutting the El Camino lead to 34-28. On the next series, Grossmont again needed six plays to score, marching 80 yards to claim the lead for keeps, 35-34.
Big plays on the go-ahead scoring drive included a 28-yard rush by PERRY GARDNER, a 24-yard burst by Smith, then with Hutsona picking up the blitz, Murphy found Brunker in the corner of the endzone from 27 yards out with 5:50 left in the third period.
"To me, the most special thing about Derrell's game was his job blocking, picking up the blitz," added Jordan.
El Camino freshman quarterback Lyle Moevao completed 24-of-43 passes for 409 yards, but only reached the endzone twice, as Grossmont defenders blanked the Warriors in the third period, then only allowing a late score in the closing seconds after the contest was decided.
ADAM COOPER paced the G-House defense with 10 tackles, while GEOFFERY HOWARD posted seven tackles and intercepted Moevao. In additoion, TERRY MIXON recorded seven tackles and a fumble recovery, while MAGNUM MAUGA had six tackles and repeatedly harassed Moevao with his pass pressure.
In winning the 3-hour, 32-minute marathon, the Griffins have now captured 62 of their last 71 contests.
---
South Region Semifinals
Saturday, Nov. 26, 7 p.m.
Grossmont "Griffins" (10-1)
at El Camino "Warriors" (11-0)
No. 5 Griffins vs. No. 1 El Camino for berth in SoCal final
East County Sports.com
TORRANCE (11-24-05) -- With most of the off-the-field media attention finally cooling down, head coach DAVE JORDAN and his Grossmont College Griffins can focus their full attention on Saturday's (Nov. 26) Southern California Community College semifinal at El Camino College.
"I'd like to think our primary goal at the moment is to beat El Camino and make it to the (SoCal) final," Jordan said. "I know our kids are focused. I think we will be ready to play a good football game."
Good might not be good enough. Coach John Featherstone's Warriors (11-0) are the No. 1-ranked team in the nation and winners of 19 of 22 starts over the past two seasons.
"We have a great group of sophomores," Featherstone said. "As freshmen, this group was only a couple of plays from going undefeated." The Warriors concluded the 2004 campaign 8-3.
The Mission Conference powerhouse is averaging 42.5 points and allowing just 20.1 this year. Grossmont (10-1), meanwhile, is scoring at a 44.5 clip while allowing just 17.7 points per outing.
The Griffins look to quarterback REILLY MURPHY (180-328, 2737 yards, 22 TDs), running backs DERRELL HUTSONA (108-823, 11 TDs) and KEVIN SMITH (82-560, 5 TDs), along with wide receivers MICHAEL OMAR (48-872, 5 TDs) and MARIO BRUNKER (27-540, 6 TDs) and tight end JEREMIAH MAREKO (10-110, 6 TDs).
El Camino kingpin is quarterback Lyle Moevao, who averaged 187 yards per game during the regular season, threw 5 TD passes and accumulated 387 yards as the Warriors rolled off 35 points to snap a 22-22 tie for an eventual 57-22 win over Riverside in the opening round of the playoffs.
Featherstone, a former assistant coach at Grossmont, is quick to note that El Camino plays in the superior Mission Conference.
"Our kids are used to playing four physical quarters of football every week," he said. "I know Grossmont is a top notch team, but I'm not sure they have faced the quality of competition we have week in and week out."
The Griffins and Warriors have common opponents in Chaffey and Mt. San Antonio. Grossmont overcame a 24-3 deficit to edge Chaffey, 38-31, while El Camino whipped the Panthers, 35-24. Against Mt. San Antonio, Grossmont scored in the final three minutes of the season opener pull out a 21-17 victory, while the Warriors clobbered the Mounties, 61-10.
Obviously, offense is the forte of both Grossmont and El Camino. Yet, it will probably be defense that decides the issue.
GRIFFIN GRAFFITI -- These teams have crossed paths only twice, with each side winning once. The Warriors edged the ALIKI SMITH-led Griffins, 35-34, in the 1996 Orange County Simple Green Bowl . . . Grossmont won the first meeting, 37-35, in 1993 . . . Top-seeded and defending state champion College of the Canyons (11-0) hosts Western State Conference rival Bakersfield (9-2) in the other SoCal semifinal at 7 p.m.
---
Easy as 1-2-3... 4!
Grossmont College quarterback Reilly Murphy threw four first-half TD passes Saturday, including strikes to Jeremiah Mareko, Chris Johnson, Michael Omar (not pictured) and Iosef Oberwager. (Photos by Greg Eichelberger)
Grossmont College
Southern California Bowl
2004 & 2005 Champions
Murphy throws 4 first-half TD passes,
Griffins easily claim SoCal Bowl, 42-10

EL CAJON (11-19-05) -- It didn't really matter who the opponent was, because nationally 6th-ranked Grossmont College was playing for more than just a cause or a playoff victory. They were playing for a man they all respected -- and one they suspected was receiving a raw deal.
With veteran coach DAVE JORDAN vanquished from the sidelines on administrative leave (with pay), the Griffins rode the arm of quarterback REILLY MURPHY in a dominant performance. The sophomore threw for four touchdowns in the first half to mount a 42-0 advantage, as the Griffins whipped Western State Conference Southern Division champion Glendale, 42-10, in Saturday's (Nov. 19) Southern California Bowl at Mashin-Roth Memorial Stadium.
Quotables
"We missed the old-timer, man, a lot."
-- Grossmont linebacker Matt Westrick, on the absense of head coach Dave Jordan
It was the second straight season for the Griffins (10-1) to capture the bowl, which also serves as the opening round to the California state community college football playoffs.
Behind Murphy, Grossmont rolled up three scores in both the first and second quarter, out-gaining the Vaqueros (8-3), 394-to-52 in total offense by the intermission.
Every single member of the Griffins asked noted that the contest was dedicated to Jordan, who missed the ballgame while district officials investigate an off-campus incident that occurred more than a year ago involving several former players.
"Coach was still here in spirit," noted Murphy, who completed 10-of-21 passes for 273 yards. "We knew what he wanted us to do -- it definitely got a fire going inside all of us."
Nowhere to hide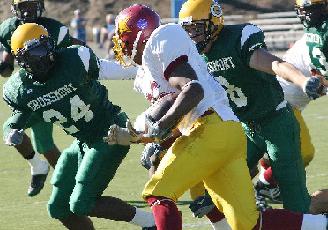 Glendale ball-carrier Brandon McCullough finds no room to run, surrounded by Grossmont defenders Devon Jones (24) and Adam Cooper (8).
(Photo by Greg Eichelberger)
For his efforts, Murphy was selected Offensive Player of the Game by the media, while linebacker MATT WESTRICK was tabbed Defensive Player of the Game following a game-high 11 tackles and one sack.
"We were pumped, knew we had to stop the run force them to throw the ball," Westrick said. "That's exactly what we did."
As for his thoughts on the Jordan's absence, Westrick offered, "We missed the old-timer, man, a lot."
With the triumph, Grossmont advances to the South region semifinals for the third consecutive season, meeting undefeated El Camino (11-0) Saturday (Nov. 26) in Torrance. Kickoff time has been changed to 7 p.m. The second-seeded Warriors only led Riverside, 29-22, at the half before pulling away for a comfortable 57-22 decision over the Tigers.
Glendale had one chance to extend its 7-game winning streak at Grossmont's expense. Following a Glendale punt on its opening series, Grossmont's first play was a quick out to the sideline, but cornerback Carlos Velasquez jumped in front of the pass and had an easy interception for a touchdown -- except he dropped the ball.
Five plays later, tight end JEREMIAH MAREKO got behind the Glendale secondary, as Murphy threw a perfect pass for a 26-yard score. It was all the Griffins needed in winning for the 61st time in their last 70 outings.
"I don't know why Glendale thought they could press us," said Mareko. "They were so worried about our receivers, doubling on MICHAEL (OMAR) and 'Bronc' (MARIO BRUNKER), or their linebackers were covering our backs, there was no one left to cover me."
Nevertheless, Grossmont's receiving corps kept collecting passes, as CHRIS JOHNSON finished with three receptions for 126 yards, including a 56-yard TD to finish the first period with a 21-0 advantage, while Omar (4-87) got free behind the Vaqueros for a 52-yard score in the second period.
Doin' it for the 'Old-Timer'
Lineman Roderkus Wright (left) sacks Glendale quarterback Steve Martinez, while Matt Westrick (pictured in enlargement) strips the ball for a fumble in a 42-10 win.
(Photo by Greg Eichelberger)
Fullback DANTE ANDERSON scored on a 1-yard dive for his first TD of the season for a 14-0 lead. Glendale later fumbled on the first play of the second period when Westrick stripped the ball away while TIMOTEO MAUGA sacked Glendale quarterback Steve Martinez.
One play later, DERRELL HUTSONA rumbled 26 yards for the team's fourth TD. Murphy followed with scoring strikes to Omar and IOSEF OBERWAGER (24 yards) to cap a memorable first half.
"We played the first half for Coach Jordan," noted Mauga. "He always wanted us to play a solid first half and we knew one way or another he'd be watching -- he's always here with us."
Along with the usual strong play of corps defenders, newcomer RANDY HORN stepped in at linebacker like he's been there all season. Working from the bottom of the depth chart back during training camp, the freshman saw significant action.
"It's just great to be playing on a team like this," said Horn, who was credited with 7 tackles. "I'm blessed to play with great competitors and get a chance to play for a championship."
KEVIN SMITH rushed 16 times for 102 yards to lead the Grossmont ground attack. In additional, PERRY GARDNER rushed four times for 46 yards, while DONNEL WILLIAMS gained 40 yards on his four rushes.
Grossmont's offensive line did not surrender a quarterback sack for the third time in the last four games.

---
Playoff Match-Up
GLENDALE "VAQUEROS" (8-2) vs.
GROSSMONT "GRIFFINS" (9-1),
Saturday, 1 p.m.
Mashin-Roth Memorial Stadium
Griffins prepare to tackle
a legendary institution
East County Sports.com
EL CAJON (11-17-05) -- After opening its doors in 1927, Glendale College quickly landed on the international sports map when local Glendale prep standout Frank Wykoff wanted his high school track coach to continue training him, so in 1929, he became a Vaquero in order to remain in town.
A year earlier, Wykoff competed in the U.S. Olympic Trials at the Los Angeles Coliseum, as the 18-year old senior, hitting the tape wearing the famous giant "G" on his Glendale uniform, tied the Olympic Record when he won the 100 meters in 10.6 seconds and also tied the World Record in the 200 meters in 20.45.
A month later at the U.S. Olympic Finals, he equaled the World Record in the 100 four times and his status as a sprinting legend was sealed forever when he won gold medals in the 1928, 1932 and 1936 Olympic Games in the 4x100-meter relay.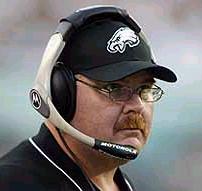 Andy Reid
(Courtesy of Philadelphia Eagles)
The school's only other notables include offensive lineman Andy Reid (1975-76), now the winningest coach in Philadelphia Eagles history; Bob Gagliano (1976-77), who later played quarterback for six NFL and one USFL teams over a 15-year professional career; and Hall of Fame baseball broadcaster Lon Simmons, who has worked San Francisco Giants and Oakland A's ballgames for decades.
Unfortunately for Glendale, the school's fortunes in athletics have not even approached this level again, except for a few instances in football. The Vaqueros captured the Potato Bowl championship in 1961 and 1985, and won the Beach Bowl in 2001. In general, though, the Vaqueros have hardly dominated in the Western State Conference.

Some 15 years later, the Vaqueros are back, capturing the WSC's Southern Division crown after downing East Los Angeles, 24-12, to complete the regular season on a 7-game winning streak. Glendale (8-2) tied for first with Citrus, but by virtue of a win over the Owls, 40-34 in overtime -- one of two victories in extra time by the Vaqueros this season -- gained a berth in the playoffs as the No. 6 seed in the Southern California regional.
Plus, the Vaqueros hold a few psychological advantages when they meet Grossmont College in Saturday's (Nov. 19) Southern California Bowl, which also serves as the opening game of the California Community College Southern California Football Playoffs. The Griffins have never defeated the Vaqueros in more than four decades of football, with Glendale taking a pair of meetings long before Reid and Gagliano graduated from high school.
In addition, Glendale recently had a $3 million renovation of Satoris Field, the Vaqueros' on-campus stadium, which is carpeted with a state-of-the-art Springturf synthetic surface. So playing on the Grossmont rug, where the Griffins have lost just once in six seasons (a triple-overtime setback to Chaffey), will not be unique to the Vaqueros.
Glendale is led by quarterback Steve Martinez, who passed for 206 yards (12-of-19) and one touchdown to bounce the Huskies last week to clinch the conference title. Wide receiver Johnny Serfozo caught four of Martinez' passes for 88 yards and one score. And just like Grossmont running back KEVIN SMITH, Vaqueros ball carrier Jamal Rashad also returned to action this past week, rushing for 129 yards and two touchdowns on 31 carries.
Defensively, linebacker Alonzo Meinfield is among the top tacklers, recording eight stops against East L.A., while sophomore defensive linemen Jason Bonwell and Frank Yee had seven tackles each.
Meanwhile, Grossmont enters with the top-rated offense in California, overtaking both Santa Rosa and College of the Sequoias on the final day of the season at 482.9 yards and 44.7 points per outing.
The Griffins' Derrell Hutsona, making a catch here against Mesa, was tabbed Foothill Conference MVP on offense.
(Photo by Adolfo Villanueva)
Running back DERRELL HUTSONA finished as the state leader in kickoff returns at 38.8 yards per return, but was caught for the All-Purpose Yardage title by Larry "Sweet Pea" Richardson of Southwestern, although Hutsona hasn't played four full quarters of football in weeks after the Griffins won their last four games by an average margin of more than 46 points per contest.
Such numbers have lifted Grossmont's ranking to a tie for sixth in the nation with City College of San Francisco, according to JC Grid-Wire, and fifth in the state by the JC Athletic Bureau's account. In addition, the Grid-Wire made predictions on all California bowl and playoff contests, selecting the Griffins to win this one by a 42-21 count.
GRIFFIN GRAFITTI --The Griffins will play the playoff opener without legendary coach DAVE JORDAN, who has been placed on administrative leave with pay. Jordan is being held accountable by the Grossmont-Cuyamaca Community College District school board for his failure to disclose an incident in September, 2004 involving four of his players in a fight at a frat party in Oak Park hosted by SDSU students. Reports are the Grossmont players involved beat up three SDSU seniors, one of them severely. . . Jordan will not be allowed to coach the game against Glendale because one of the parents of the kids injured in the fight complained to the school board, which blames Jordan for his failure to report the incident to the Grossmont College administration.
---
Shedding the tackler
Running back Derrell Hutsona (2), the California kickoff returns leader, was selected by coaches as 2005 Offensive Player of the Year in the Foothill Conference.

(Photo by Travis Downs)

All-Foothill Conference selections
short-change Griffins
Hutsona tabbed Offensive MVP

East County Sports.com
EL CAJON (11-16-05) -- It seems funny if not downright ludicrous that the state's No. 1-ranked offense could be worthy of only four players -- total -- being named to the All-Foothill Conference first AND second teams. It's obviously a clear case of petty jealousy among the opposing coaches, considering the Griffins have used the Foothill patsies as punching bags for more than a decade. Three straight conference crowns and seven in the past 12 seasons have the meek crying foul.

And it could have been worse. Time and time again, the Grossmont coaches have removed their starters early in the second half to avoid turning the game into a blowout and being accused of running up the score. In most cases, the game has still resulted in a rout. That's because Grossmont's second and third units are THAT good.

Yet, the majority of Foothill Conference head coaches continue to whine. They want the Griffins out of their conference. They were talking about begging for a switch with the Mission Conference, which would send its weakest team to the Foothill circuit and force the Griffins into the Mission circuit. That's not going to happen, although a statewide re-leaguing plan is a possibility in the future.

Meanwhile, the nine conference head coaches did vote Grossmont running back DERRELL HUTSONA the Foothill Conference MVP on offense. Nice gesture. The kid earned it. Hutsona is averaging 177 all-purpose yards per game and has scored 14 touchdowns.

Other than Hutsona, only Grossmont center MATT GAUGHEN was selected to the first-team offense. Receiver MICHAEL OMAR and kicker JARED BALLMAN were anointed with second-team honors.

Omar leads the Griffins in receiving with 44 catches for 785 yards and fourTDs.

Ballman has improved every game and finished the regular season with 68 points, including 9-for-14 field goal kicking. He missed only one of 42 PAT kicks, and averaged 34.3 yards on 23 punts.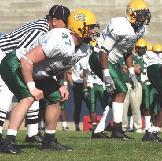 Grossmont defenders Matt Westrick (47) and Terry Mixon (1) get ready to stop Mesa's offense in a 64-3 conquest. Both were selected to the coaches' All-Foothill Conference team.
On the defensive side, Grossmont landed five first-team spots. Ends RODERKUS WRIGHT and BRIAN STANBRA, linebacker MATT WESTRICK, corner TERRY MIXON and strong safety ADAM COOPER all were named to the Foothill circuit's first unit.
No Griffins were named to the second team defense.
Grossmont honorable mention awards went to: quarterback REILLY MURPHY; offensive linemen JAKE BINGHAM and DAN HATHAWAY; running back KEVIN SMITH; wide receiver MARIO BRUNKER; and corner BRETT ST. JAMES.
The Griffins (9-1) host Glendale (8-2) in Saturday's (Nov. 19) opening round of the Southern California Regional playoffs at 1 p.m.
---
Griffins receiver Mario Brunker (20) avoids the tackle of Mesa safety Kyle Greenspan during Saturday's 64-3 whipping of the Olympians to conclude the regular season at 9-1.
(Photo by Travis Downs)
Griffins seeded third, host Glendale
East County Sports.com
SACRAMENTO (11-14-05) -- All of the projections were accurate: the 7th-nationally ranked Grossmont College football team was seeded third in the South Region for the California State community college playoffs, hosting Glendale College in Saturday's quarter-finals, slated for Saturday at 1 p.m. at Mashin-Roth Memorial Stadium.
The game has been designated as the Southern California Bowl, the second straight year that the Griffins have participated in the contest. A year ago, Grossmont easily defeated host Chaffey, 26-7, at Grigsby Field in Rancho Cucamonga before falling in the semifinals to College of the Canyons.
Glendale's Vaqueros posted an8-2 overall record, capturing the Southern Division of the Western State Conference. Canyons, the defending state and national champions, took the WSC's Northern Division to again claim the top seed.
"They're certainly not Mesa," noted Griffins head coach DAVE JORDAN, who is sending a team to the playoffs for the sxith consecutive season. "They're a lot better than any team we've faced except for Canyons and Chaffey."
By coincidence, Canyons will meet Chaffey, the eighth seed, in the Westen State Bowl, one of four quarterfinal-round games slated for Saturday. The other contests feature No. 5 Fullerton going on the road to No. 4 Bakersfield in the Golden Empire Bowl, while No. 7 Riverside will travel to No. 2 El Camino in the National Bowl.
All three of these pairings are rematches from regular season encounters, while the Griffins-Gauchos clash is the lone unique pairing in the regional bracket.
"Every game from here on is a plus," noted Jordan. "The more games we play, the more scouts will be attending and watching our players."
Similar to 2003, when Grossmont hosted all three Southland rounds (including a first-round bowl victory at Southwestern College) en route to the Southern California championship and a berth in the California State title contest, exposure of the team has been positive, as the Griffins have sent more players to NCAA Division I schools than at almost any other time in their history.
Grossmont and Glendale hold two common opponents, with scores comparisons showing a solid advantage to the Griffins. Both teams defeated Antelope Valley, with GC winning 44-11 while the Gauchos slipped past the Marauders, 21-17.
Both sides also played Southwestern, as Grossmont won 31-6, but the Jaguars beat Glendale, 39-36, on a last-second field goal after the Gauchos rallied to tie by scoring 16 points in the final four minutes.
The South Region bracket:
Southern California Bowl:
National Bowl:

(6) Glendale (8-2) at (3) Grossmont (9-1)
(7) Riverside (7-3) at (2) El Camino (10-0)
Golden Empire Bowl:
Western State Bowl:

(5) Fullerton (8-2) at (4) Bakersfield (8-2)
(8) Chaffey (7-3) at (1) Canyons (10-0)
---
Grossmont cornerback Devon Jones (24) knocks a Mesa ball carrier off his feet as the Griffins' Brett St. James (4) looks on.
(Photo by Adolfo Villanueva)
Griffins mutilate Mesa again
East County Sports.com
KEARNY MESA (11-13-05) -- It's easy to think that San Diego Mesa College coach Martin Moss could grow to hate Grossmont College. The former Griffins assistant coach has watched Grossmont pound out a 134-10 scoring advantage the last two seasons, including a 64-3 romp in Saturday's (Nov. 12) regular-season finale at Merrill Douglas Stadium.
The Griffins, as they've been known to do this season, went on one of their patented scoring blitzes by recording the game's closing 51 consecutive points, whipping the outmanned Olympians to complete a perfect Foothill Conference campaign.
The victory gave the Griffins (9-1 overall, 8-0) their 27th straight conference victory, capping a third undefeated conference slate in-a-row as they enter next week's Southern California playoffs.
''We got ourselves to go out there and play for a half,'' Moss said. ''But we knew going in that we didn't have the horses to compete.''
Moss admitted that the Griffins have a galaxy of stars that makes them a cut above.
''They are a talented, very talented team capable of going a long way if they eliminate some of the stupid stuff,'' said Moss, noting that the Griffins racked up 16 penalties for 163 yards.
The fact that Grossmont scored 64 points, the third time the Griffins have scored that many points or more this season, did not please Moss. But the veteran coach did not place blame on his opponents.
''Not at all,'' said Moss when asked if he thought the Griffins were running up the score on his wounded Olympians (3-7, 2-6). ''It's always been my contention that it's not their (Grossmont's) job to stop themselves, it's our job. That running-it-up stuff is baloney. It's our job to see that it doesn't happen. Like I tell our kids, if you don't like it, you've got 60 minutes to do something about it.''
Grossmont ball-carrier Perry Gardner (21) breaks away from Mesa tackler Terrell Totten as the Griffins closed the regular season with a lop-sided victory.
(Photo by Adolfo Villanueva)
DERRELL HUTSONA scored four touchdowns via three different methods, including a pass reception from quarterback REILLY MURPHY to ignite this mismatch. The state leader in all-purpose yardage later rushed for a pair of scores before returning a punt 62 yards for a TD to finish the day with 127 all-purpose yards.
The punt returns were the most satisfying for Hutsona, a Helix High product by way of San Jose State.
''I just had a clear shot, then a dude sniped at my legs,'' said Hutsona. ''It threw me off balance, but I stayed on my feet.''
Meanwhile, Murphy passed for 303 yards and two TDs in less than three quarters of action, yet he feels the Griffins are ready for postseason play.
''We're more than ready,'' noted Murphy, one of the state leaders in completions and passing yardage. ''We've had two weeks to make ourselves healthy and I think we are ready to make a run for the state and national championships.''
With most of the Southland leaders all winning on Saturday, Grossmont figures to remain the third-ranked team in the region, which gives them their first home game in almost a month next weekend at Mashin-Roth Memorial Stadium. The SoCal playoff pairings will be announced Sunday (Nov. 13), with the odds being that Glendale, co-champion of the Western State Conference's Southern Division will be assigned to face the Griffins in El Cajon.
Some questioned whether a bye date in Week 10, then the blowout of Mesa, will properly prep head coach DAVE JORDAN's team for the tournament.
The Grossmont defenders kept both San Diego County-based opponents out of the endzone this season, limiting Southwestern and Mesa to just three field goals. Included was strong play from the Griffins' Samoan posse, led by MAGNUM MAUGA, JOHNATHAN MEREDITH and LIAVAA ATUATASI.
''Today, everyone seemed to have some Samoan in them,'' joked Murphy, who completed 18 of 25 passes (sans three drops).
In stopping the Olympians, the Griffins forced four turnovers, registered a safety, and allowed a mere 160 yards in total offense, even after clearing the bench.
Cornerback TERRY MIXON paced the assault with nine tackles, while BRETT ST. JAMES recorded an interception from the opposite corner.
Grossmont defensive end Roderkus Wright (97) collars San Diego Mesa quarterback Jake Santos for the sack, as Matt Westrick (47) looks on. (Photo by Dawn Adams)
''The pick was just a reflection of what 'T' (Mixon) has done all year,'' noted St. James. ''When things go well like that, you just feel it.''
Head coach DAVE JORDAN focused on the overall performance of his defense, which record 14 tackles for losses and 4 sacks against the Olympians. End RODERKUS WRIGHT was a mean hombre, taking part in three sacks while harassing Mesa QB Jake Santos all afternoon.
While the defense recorded its most prolific outing of the season, including fumble recoveries by LAMONT BUTLER and Wright, the offense was fueled by the return of running back KEVIN SMITH. After missing four contests, Smith's comeback included 78 yards and a TD on 10 rushes.
''This was enough to get us ready for the playoffs,'' noted Smith. ''We're blocking well and scoring, so we'll take whatever they give us for the playoffs.''

---
No. 2 is No. 1 for No. 3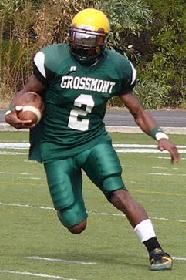 Grossmont back Derrell Hutsona, the current state leader in all-purpose yardage.
(Photo by Dawn Adams)
Griffins return to the Three R's
East County Sports.com
EL CAJON (11-4-05) -- It's back to basics time for the Grossmont Griffins, coming in the form of "The Three R's:" Rest, Rejuvenation and getting Ready for the stretch run.
With another late-season bye to the Griffins' football schedule coming this weekend, the coaching staff hopes to get as many healthy bodies back as possible for the regular-season finale at San Diego Mesa next Saturday (Nov. 12) before highly-probably heading into the COA playoffs.
As anticipated, Grossmont (8-1 overall, 7-0 Foothill Conference) moved up in all of the major polls, including 7th (by both by J.C. Grid-Wire and JuCoFootball.org) nationally, 5th in the state (J.C. Athletic Bureau), and more importantly, third in the Southland according to the COA Coaches Poll, which is the only poll utilized to determine playoff positions.
Season-long No. 1 College of the Canyons remains on top, followed by El Camino, then Grossmont, which flipped positions with Fullerton after the Hornets fell to Long Beach, 20-14.
Individually, the Griffins' DERRELL HUTSONA overtook the Hornets' Joe Chatman for the state leadership in all-purpose yardage.
Get Your Nose In There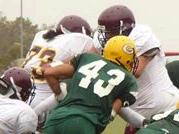 Grossmont defensive back Lee Paleafei (43) encounters several Victor Valley linemen while attempting to make a tackle.
(Photo by Dawn Adams)
In team statistics, the Grossmont offense climbed to third-best in the state (tops in Southern California) at 480.6 yards per contest, trailing only Santa Rosa (486.9) and College of the Sequoias (486.5). The Griffins also average 42.6 points per game.
The Griffins had several players nominated for state player of the week laurels, but the one winner was defensive back LEE PALEAFEI, a player who didn't even play, never mind be a starter, over the first three games of the season.
Paleafei registered his third defensive touchdown of the season after returning a fumble for a score against Antelope Valley last Saturday. Earlier in the season, the freshman raced 73 yards to the end zone with an interception against Mt. San Jacinto and then scooped up a blocked punt and scored against Chaffey, giving him scores via three different methods.
---
Murphy honored by JCAB
Griffins quarterback Reilly Murphy was one of the California state players of the week for his performance against Victory Valley (Photo by Travis Downs)
Griffins whip AVC, 44-11,
clinch another Foothill crown
East County Sports.com
LANCASTER (10-30-05) -- Another slow start. Another fast finish. And another Foothill Conference football title.
The storyline never seems to change for the nationally 8th-ranked Grossmont College Griffins. Leading winless Antelope Valley at the half only 14-3, the Griffins converted three turnovers into touchdowns in the second half to whip the host Marauders, 44-11, to clinch the conference crown for the third straight season. It was also the seventh title in 12 seasons for head coach DAVE JORDAN.
"This is never an easy (3 1/2-hour) trip," Jordan said of the 425-mile (roundtrip) trek to the high desert. "But we got what we came for -- the conference championship. I thought our defense played very well, giving up only 150 yards in the first three quarters."
Grossmont also forced three turnovers, including a fumble recovery by the ever-opportunistic LEE PALEAFEI, who raced 25 yards for his third touchdown of the season.
Once the offense got going, Grossmont rolled up 552 total yards, as running back DERRELL HUTSONA rushed 13 times for 136 yards and two scores, while quarterback REILLY MURPHY passed for a touchdown and ran for another. It helped the Griffins overcome 14 penalties for 135 yards, and six fumbles (three lost) and four turnovers.
However, a huge defensive stop by the Griffins defense late in the first half fueled the effort. Moments following losing the ball on a fumble, Antelope Valley (0-8, 0-6) was unable to punch the ball in from the 3, settling for a field goal to cut the Grossmont lead to 14-3 heading into the locker room.
And per their usual script, the Griffins (8-1 overall, 7-0 conference) went jailbreak in the second half with a 30-8 scoring run to make the long bus ride home more tolerable.
Hutsona opened the second half with a 42-yard burst to the Marauders-8. Two plays later, Murphy powered in from the 1 for a 21-3 lead. Then on the very next play from scrimmage, Antelope Valley fumbled and Paleafei registered the Griffins' second touchdown in a span of seven seconds. It was the fifth time an AVC fumble was returned for a score this season.
Hutsona, who lost a 71-yard dash due to a penalty, started the scoring with a 5-yard TD burst for the only points in the first period. The touchdown was setup on a nifty catch by tight end JEREMIAH MAREKO on third down to give the Griffins a first down at the AVC-8.
Seconds into the second quarter, MICHAEL OMAR, the team's leading receiver with five catches for 68 yards, took a Murphy pass and raced 32 yards for his longest play of the contest. Two plays later, Murphy found Mareko on a 7-yard TD pass in the back of the end zone for a 14-0 lead.
Following Murphy's QB sneak and Paleafei's return, Hutsona scored his second TD on an 11-yard rush, then Grossmont kicker BRET HAASE kicked a 42-yard field goal for a 34-point lead.
Technically, the Marauders registered their second-best offensive display of the season with 233 total yards, but one-fourth of it came late against the reserves. Trailing 37-3, AVC completed its longest play of year when Ron Hamilton found Daniel Ashcraft open on a 59-yard pass play.
However, when the game was still on the line, Grossmont's defense was fantastic. They forced Antelope Valley to go 3-and-out five straight possessions -- including the goal line stand for the field goal -- and forced a punt or a turnover on 8-of-9 possessions.
ADAM COOPER registered the first interception for Grossmont in the third quarter. It was his fourth in five games. MATT WESTRICK picked off a second pass in the fourth quarter and, after rambling 7 yards, lateraled the ball to TERRY MIXON, who raced 18 additional yards.
Grossmont closed the scoring when reserve quarterback BLAKE SUTTON connected with CHRIS JOHNSON from 27 yards in the closing seconds.
Not to be overlooked was the hustle of Grossmont kicker JARED BALLMAN. The freshman out of Patrick Henry High had his first PAT blocked (even though the intruder was off-side). Instead of sulking about having the boot repelled (he is now 33-for-34), Ballman raced downfield to knock out of bounds the AVC defender who scooped up the ball at the Grossmont 7-yard line, denying him the two points.
Griffin Graffiti -- Jordan's troops entered the contest rated fourth in the Coaches Southland Poll, but No. 3 Fullerton was upset by Long Beach, 20-14, so the Griffins should advance a notch in the balloting. The top four teams will host first-round SoCal playoff games, with the two highest rated teams remaining hosting games in the semifinals.
---
Polite Griffins can clinch Foothill title in the High Desert
East County Sports.com
LANCASTER (10-28-05) -- Grossmont College went out its way to be polite when meeting Antelope Valley last season, whitewashing the Marauders, 38-0, without rolling up the score for its fifth straight victory in the series (outscoring AVC by a 277-117 count).
However, what do you do this go-around against a struggling foe who had yet to win a contest this season, scoring a mere 63 points in seven outings; the Griffins have scored that many in a single-game twice this season.
Unfortunately for the Marauders, they don't seem to be an obstacle to prevent the Griffins -- ranked 8th in the nation by JC Grid-Wire, 6th in California and 4th in the Southland -- from clinching their thrird consecutive Foothill Conference football crown. Grossmont is also seeking its 26th straight conference triumph.
Even few Grossmont fans are expected to wake-up early and make the 3-plus-hour commute to the High Desert, as the game will be broadcast live on Magic 1340 (KTPI-AM, Lancaster), which offers a live webcast of the contest (www.communityradio1340.com/main.html), plus a re-broadcast Sunday at 9 a.m. Indeed, the crowd might be the smallest since San Diego City College dropped football after losing 55 consecutive games over six seasons.
Right now, Antelope Valley (0-7, 0-5) are on their way to matching the Knights, currently on a 13-game losing stretch. And they close the season with three of the top four teams in the Foothill standings, meeting College of the Desert and Chaffey to close the season. This has made ife even tougher for Marauders coach Brent Cander, the fifth-winningest coach in state history (11th nationally) at 189-170-5 in his 36th season.
However, interest in the Griffins (7-1 overall, 6-1 conference) is higher than ever, and Internet traffic proves it. By the miracle of computer "cookies," tracking is available to determine which NCAA four-year schools are scoping head coach Dave Jordan's team. Here is a log from a 48-hour period early this week:
Notre Dame, Texas, Texas A&M, Missouri, Michigan, USC, UCLA, Florida State, UNLV, California, South Carolina, SE Louisiana, William & Mary, Arkansas State, Wake Forest, Nevada, Army, Eastern Washington, Ouichita Baptist, Arkansas Tech, Temple, Southern Indiana, Ricks College (Idaho), North Carolina A&T, Howard Univ., Morehouse College, Augustana (S.D.) and many more.
Among the many players being looked at include quarterback REILLY MURPHY, who was tabbed one of the California state players of the week (See article below). Murphy had pushed the team's offense to a ranking of fifth-best in the state (seocnd in the Southland) at 471.6 yards per contest.
Running back and kick returner DERRELL HUTSONA rates second in the state in all-purpose yards, while also ranking second in kickoff returns at 38.8 yards per return, less than 0.1 behind state leader Jerome Morris of East Los Angeles.
Following the Antelope Valley ballgame, the Griffins close the regular season with a bye date, then meet crosstown rival San Diego Mesa on Sat., Nov. 12 at 1 p.m., at Mesa's Merrill Douglas Stadium.
Griffin Grafffiti -- Quarterback Reilly Murphy, a sophomore from Torrey Pines, was named as one of the California State Players of the Week by JC Athletic Bureau.
---
Griffins' magic number is down to 1
East County Sports.com
EL CAJON (10-23-05) -- These early afternoon kickoffs don't' seem to settle too well for the Grossmont Griffins. Nevertheless, following yet another early siesta, the nationally 10th-ranked Griffins pieced together another huge scoring spree, stringing 38 points in a row to offset a 19-14 deficit to waltz past visiting Victor Valley, 59-26, at Mashin-Roth Memorial Field.
With the victory, Grossmont (7-1 overall, 6-0 in conference) moved within a game of clinching its seventh Foothill Conference title over the past 12 seasons.
Griffins quarterback REILLY MURPHY tossed four touchdown passes, but the recent surprise to the offense, which ranks among the top eight in California, is tight end JEREMIAH MAREKO. Known to teammates simply as "a blocking machine," the sophomore caught a pair of scoring passes for the second consecutive week, demonstrating a new dimension to his abilities.
"Yeah, I'm trying to get up there with the scoring leaders, like DERRELL (HUTSONA) and MICHAEL (OMAR)," joked Mareko, who caught three passes for 33 yards. "The only difference to my game now is that I threatened Reilly to throw me the ball!
"But really, the coaches are drawing great plays and we just go out there and execute them."
Execution is the defining word to this, the Griffins' 25th consecutive Foothill Conference victory. Grossmont rolled up 582 yards total offense, including 438 through the air. Murphy accounted for 344 yards on 22-for-33 passing, then BLAKE SUTTON entered late in the third period, going three-of-seven for 94 yards, including a score.
Sophomore MICHAEL OMAR became only the 15th player in Grossmont's pass-happy history to catch as many as 10 passes in a game. The sophomore from Antioch's Deer Valley High snagged 10 aerials for 186 yards and one TD.
"Basically, our offensive line dominated the game and that opened up the passing game," said Omar, whose receiving yardage total ties him for 7th on the all-time Grossmont College books. "Seems like they tried to cover us 'man' and they couldn't keep up with our speed."
In addition to Mareko's pair of scores, MARIO BRUNKER and Hutsona also reached the end zone twice. Brunker caught TD passes of 35 and 46 yards, one from each quarterback, while Hutsona scored on runs of 2 and 47 yards to finish with 104 yards on 15 carries.
"Their defensive backs were playing far off so that helped with our short (passing) game," said Brunker, who made five catches for 120 yards. "When they came up, we just went over the top. It looked like their strategy was not to get beat deep."
Standing in as a heavy favorite has added to some of Grossmont's slow starts. That was what happened on Saturday.
"It's not hard to get for any team because we're looking for a good seed in the (Southern California playoffs)," Brunker added.
After both teams exchanged a pair of scores in the first period, Victor Valley (2-6, 1-5) took a 19-14 lead when Theodore Snodgrass, the in-motion slotback, took the handoff and broke free around the right end for a 26-yard touchdown run.
That's when the Griffins' collective nap was over.
"We came out flat again, but when we pick it up there's no stopping us," said defensive lineman LIAVAA ATUATASI, who made seven tackles for Grossmont. He had plenty of help from nose guard MAGNUM MAUGA (8 tackles), linebackers LAMONT BUTLER (9 stops) and MATT WESTRICK (8 tackles), and tackle AVENI LEUNG-WAI (4 tackles). "And the offense was on again, showing that we belong with anybody out there."
Grossmont scored on five of six possessions during the 38-point streak. Mareko glided behind the linebackers to collect his first scoring pass to start the run. And the rout was on.
Victor Valley running back Antoine Randolph (32-204) also scored twice, opening the ballgame with a 44-run for a quick 6-0 Rams lead. His final tally came in the fourth period against the Griffins' reserves.
Victor Valley attacked the Grossmont defense with 66 running plays, pulling out a net 344 yards.
GRIFFIN GRAFFITI: Grossmont offensive lineman CODY GOCKE was injured in pregame drills, breaking a leg when a teammate accidentally rolled over his legs from behind on the last practice play from scrimmage.

---
Murphy plays role of Wile E. Coyote, blitz Roadrunners, 65-7
East County Sports.com
EL CAJON (10-15-05) -- Art may imitate life, but on Saturday, life definitely didn't imitate art.
Grossmont College quarterback REILLY MURPHY, filling the role of Wile E. Coyote in an award-winning performance, allowed the Warner Bros. cartoon character to finally catch his roadrunner. The sophomore from Torrey Pines High tossed a pair of touchdown passes and ran for two other scores, as the 15th-ranked Griffins scored 58 unanswered points to bury College of the Desert, 65-7, in Saturday's (Oct. 15) Foothill Conference contest at Mashin-Roth Memorial Field.
The victory boosted Grossmont's bid for a third consecutive conference crown with a 5-0 record (6-1 overall), giving the Griffins their 24th consecutive Foothill triumph over the past four seasons.
"It was imperative that we come out early and take their heart out of the game," noted Murphy, who completed 18 of 29 passes for 244 yards in just over two quarters of action. "A lot of times lately we've come out slow, allowing our opponents to think they can play with us."
For the third straight week, 12 different Griffins hauled in passes, including tight end JEREMIAH MAREKO, who collected two of three receptions for 26 yards for scores. The native of Kona, Hawai'i, scored on a pair of 2-yard passes, one from Murphy and another from freshman quarterback BLAKE SUTTON.
"The whole line blocked, like we to have 5 days a week in practice, then I got blessed with the touchdown catches," said Mareko. "But we also go against the best (defense) every day in practice, too."
A year ago, Grossmont's defense established a school-record by sacking COD quarterbacks 11 times. This go-round, the Roadrunners withheld a running back from running pass patterns to block, but that just gave the Griffins secondary fewer options to cover. Thus, the turnovers came in the form of four interceptions, including a pair of cornerback TERRY MIXON.
However, the most dramatic theft came from lineman TIMOTEO MAUGA, the brother of Grossmont starting linebacker MAGNUM MAUGA. Unable to get to the COD quarterback on a screen pass, the ball landed on top of the shoulder pads of running back A.J. Scott. Mauga trapped the ball and the two players turned and fell to the ground grappling for possession, with Mauga eventually awarded possession after two different game officials comicly pointed in opposite directions.
"Really, I read the screen and went for the running back," said the defensive end. "Then I caught it on his shoulder and ripped it away."
Even the few times things seemed to turn badly for Grossmont, the team came out sparkling. Included was a COD sack of Murphy by linebacker Billy Atlas. Murphy fumbled the ball, but offensive lineman MATTHEW GAUGHEN recovered to allow the Griffins to kick a field goal on the final drive of the first half to close with a 38-7 advantage.
"The offensive line has played well all year, but injuries over the past two weeks required the rest of us to get more players in and to do the little things -- like the fumble recovery -- and make plays."
Grossmont accumulated 537 yards in total offense.
"I like the yardage and I like the way our defense is playing," noted Griffins head coach DAVE JORDAN. "We have a Division I secondary out there, and a lot of other players of that same caliber."
CHRIS JOHNSON opened the scoring with an 8-yard TD catch from Murphy just 2:07 into the ballgame. Desert (4-3, 3-2), which entered the contest tied for second place in the Foothill standings, utilized its speed on deep pitch plays to the outside. The strategy worked on the first drive, capped by a 17-yard TD run by running back Josh Fludd, who was listed as a linebacker on the Roadrunners' roster.
However, the Grossmont defense adjusted, limiting the 'Runners to a mere 223 yards in total offense.
DERRELL HUTSONA then returned the ensuing kickoff 54 yards to setup his own TD gallop from the COD-2, starting the string of 58 consecutive points. The score came just 62 seconds after the visitors temporarily tied the score and the rout was on.
Also reaching the end zone for Grossmont was SEAN TUIOFU on a 1-yard run, DUPREE FLENOID on an 11-yard scamper, with the place-kickers were 3-for-3 in converting field goals, as JARED BALLMAN connected on boots from 22 and 33 yards, then BRET HAASE hit from 36 yards for the only score of the final period.
---
Griffins rally from 21 down to stun Chaffey
East County Sports.com
RANCHO CUCAMONGA (10-9-05) -- Moments after Grossmont College linebacker BRIAN STANBRA prevented a Hail Mary pass with a game-ending sack of Chaffey quarterback Casey Hansen, the towering Griffins sophomore quickly jumped to his feet, turned towards the sideline, then raised his hand with a finger extended to the sky to show that his team was once again No. 1.
Mobbed by teammates pouring from the bench, there indeed was reason to celebrate. Trailing 24-3 early in the second half, 16th-ranked Grossmont came out of hibernation to score 35 straight points, eventually stunning the host Panthers, 38-31, in Saturday's dramatic battle for the leadership of the Foothill Conference at Chaffey's Grigsby Field.
"I'm speechless," exclaimed Stanbra. "I can't believe we really came back like that."
Quarterback REILLY MURPHY started the turnaround with a hand in three straight touchdowns, running for one and passing for two more within a 5:39 span late in the third quarter to tie the game at 24-all. Then reserve quarterback CARTER HALLOCK blocked a Panthers punt, as teammate LEE PALEAFEI scooped up the loose ball and rumbled 21 yards for the go-ahead score moments into the fourth period.
Paleafei, a freshman from Pearl City, Oahu, Hawaii, also garnered the Griffins' third interception with 1:53 remaining on a pass first tipped by Stanbra to end Chaffey's final realistic hope of forcing overtime.
"They thought they had the game won in the first quarter," noted defensive end RODERKUS WRIGHT, who was among Grossmont's leaders in tackles and registered a fumble recovery. "But we played hard the entire game because you can take a dog out of a fight, but you can't take the fight out of a dog. And Chaffey couldn't take us out of the fight."
In complete contrast to the first half, when Grossmont looked nothing like a team which had captured two straight Foothill Conference titles, the Griffins once again demonstrated the old adage that it's a 60-minute contest -- Chaffey had its way, but only for the opening 32 minutes en route to a 21-point advantage.
Immediately after Panthers running back Bernard Payton (30 carries, 150 yards) scored on a 5-yard run 1:48 into the second half, every break swung toward the Griffins. They responded with a 17-play, 78-yard march capped by a 2-yard run by Murphy on an option to the left. The drive included a pair of 4th-down conversions, featuring a tough catch over the middle in traffic by DANIEL IMOESIRI and a Murphy scramble for 13 yards on an option-right.
Not only was the touchdown the offense's first in more than four quarters of football -- a span of 78:16 dating back to the second quarter of last week's win at San Bernardino Valley -- it ignited the memories and the confidence the Griffins displayed when they scored 83 points on Mt. San Jacinto in the conference opener.
"Really, no one can really stop us except ourselves," noted Murphy, who threw for 334 yards and three scores on 21-for-47 passing. "We've had a lot of injuries sure, but the only one beating us is ourselves; we need to eliminate all of our little mistakes."
Just 1:21 later, Murphy tossed a 41-yard pass to ANDREW HERNANDEZ for a score, igniting both the sidelines and the large corps of Grossmont supporters who made the trek north.
Grossmont then scored on its third straight possession as Murphy twice connected with JUSTIN JOHNSON on passes of 15 and 24 yards for first downs, then squeezed in a pass between a pair of defenders to Imoesiri in the end zone to knot the contest with 0:29 left in the third.
Then it was the Griffins' defense turn once again. After allowing almost 300 yards in the first 32 minutes of play, Chaffey abruptly was halted to just 40 yards over five ensuing possessions, one ending on Wright's fumble recovery and four others ending on punts.
However, the final punt in the series put the visitors in front as Hallock followed a hole opened by JOHNATHAN MEREDITH in the front line and stuff-blocked the kick of the Panthers' Fortino Amancio. The ball bounced to the defenders' left, where Paleafei made the scoop and the quick, dramatic dash to the end zone.
"I took on the guard, shot his hand down and got through," noted Hallock, a freshman from Warner Creek in the San Francisco Bay area. "I then shot my hands up and went vertical."
The string of 35 points was capped by Murphy's third TD pass, throwing a deep fade along the right sideline to CHRIS JOHNSON for 75 yards and a 38-24 lead.
Hansen (14-35-3, 243 yards) answered with a 12-yard TD run to move within seven points, then the Panthers got the ball back with 2:41 remaining only to see Paleafei register his second interception of the season. Earlier this season, Paleafei raced 73 yards -- also on a tipped pass -- for the record-breaking points to cap the 83-35 romp over Mt. San Jacinto.
The Griffins, who defeated a team unbeaten in conference for the third straight week, now stand as the lone undefeated side remaining in the Foothill at 4-0 (5-1 overall). The Panthers, who fell to No. 1 Canyons and No. 3 El Camino on their tough non-conference slate, fell to 2-1 (2-3 overall).
Payton finished with two scores for Chaffey, also scoring on an early 2-yard run following a short, 16-yard Griffins punt. Later, Grossmont failed on a fourth-down try from its own 23, leaving the Panthers room for a short drive for a 14-0 lead when Hansen hit Donald Brown on an 11-yard pass.
In the second period, both sides exchanged field goals, as Amancio booted a 24-yarder for a 17-0 lead, but BRET HAASE connected from 38 yards.
MAGNUM MAUGA and TERRY MIXON also recorded interceptions for the Griffins.
Grossmont hosts second-place College of the Desert next Saturday at 1 p.m. at Mashin-Roth Memorial Stadium. The Roadrunners are coming off an overtime victory over Southwestern.
---
Late interception return salvages Grossmont
East County Sports.com
SAN BERNARDINO (Oct. 1) -- If you were to tell improving San Bernardino Valley that it would lead two-time defending Foothill Conference champion Grossmont College at halftime, then keep the Griffins offense off the scoreboard in the second half, you'd think the Wolverines would be more than joyous.
Well, both happened in Saturday's clash of undefeated Foothill Conference teams, yet San Bernardino had little to show for it.
Trailing 17-13, reserve cornerback GEOFFREY HOWARD (Horizon Christian) returned an interception 62 yards for a touchdown with 6:12 remaining and the only score by either team in the second half, salvaging a 20-17 victory for visiting Grossmont (4-1, 3-0) over the Wolverines (2-2, 1-1).
"It was just a Dog Red, which is like a Cover 3, but no one was in my area," noted Howard. "So I just saw the quarterback's eyes, stepped up, and it just happened."
Meanwhile, Chaffey (2-2, 2-0) nipped Southwestern, 17-15, in Chula Vista. Grossmont and Chaffey, the combined winners of the last six Foothill crowns, meet next Saturday (Oct.8) at 5 p.m. in Rancho Cucamonga for the inside track to yet another conference championship for one of the schools.
Could both Grossmont and Chaffey be accused of looking ahead?
"No, our defense was there all game and they couldn't do anything except for a pair of big plays," said safety ADAM COOPER (Mira Mesa), who registered a pair of first-half interceptions. "Our line shot them down, which made my picks look easy."
Howard's interception helped overcome a sluggish Grossmont offense, which collected 417 total yards, but turned the ball over five times.
The Wolverines were no better with a mere 322 total yards, including 257 on the ground. Down the stretch, they also had a chance to force overtime , but Griffins linebacker BRIAN STANBRA (USDHS) blocked a 47-yard field goal attempt with 2:25 remaining. TERRY MIXON (Compton Dominguez) recovered, then Grossmont was able to run out the clock.
"The defense really held their own," added Howard. "Some days, the team's not going to be like it should, but a tight game like this is when we really develop."
A pair of big gainers on toss plays to the left side aided SBVC to maintain the lead throughout much of the contest, played in temperatures nearing 100 degrees on the school's new artificial playing surface -- it was just the second SBVC home game on the plastic grass.
Wolverines running back Tim Lewis (20 carries, 99 yards) busted loose on a 54-yard romp in the second quarter, but Cooper raced from behind to make a TD-saving tackle. The defensive line, which was missing starting end RODERKUS WRIGHT to an inflammatory spider bite, followed with three additional stops at the Griffins-3 to eventually force a field goal for a 10-6 SBVC lead.
The Griffins took their initial lead at 13-10 when PERRY GARDNER capped a 72-yard drive with a 10-yard burst. However, SBVC answered on a 62-yard TD gallop by Myron Moore (13-115) on an identical toss-left to reclaim the lead four minutes later.
Grossmont had a chance to gain the lead at intermission, as a 17-yard run by Gardner (15-54) brought the ball to the SBVC-1 with 1:46 to play. However, a goal-line stand by the Wolverines maintained a 17-13 advantage, including a fourth-down stop on Gardner by defensive end Seabrook Graves.
Along with Stanbra's block, Grossmont also rejected a Wolverines punt when STEPHEN KING broke through for the stuff, setting up the second of two JARED BALLMAN field goals (31 and 46 yards), both coming late in the first period.
MICHAEL OMAR paced the Grossmont receivers with seven catches for 130 yards, as quarterback REILLY MURPHY finished with 285 yards on 20-for-38 passing. However, he connected on just six of his last 16 passes as the offense reached the end zone only once all contest against an SBVC unit rated second in total defense in the conference. Several of his passes were dropped.
The Griffins defense held firm with MARCUS VICKERS and TIMOTEO MAUGA filling in for Wright. Mauga registered the team's lone sack of SBVC quarterback Ryan Rising (6-23-3, 65 yards), while brother MAGNUM MAUGA, the middle linebacker, joined teammates LAMONT BUTLER and BRETT ST. JAMES among the team leaders in tackles.
---
Dominos are aligned for attempt to Three-peat
East County Sports.com
SAN BERNARDINO (9-30-05) -- The elimination process to knockout contenders for the Foothill Conference football title just happens to be front-loaded on the 2005 Grossmont Conference schedule.
Last week, there were four undefeated teams remaining in the circuit, as the Griffins (3-1 overall, 2-0 Foothill) downed Southwestern, 31-6, to move the Jaguars among the list of the defeated. Coming up next will be two more contests against undefeated sides as Grossmont travels for road contests at San Bernardino Valley (Oct. 1, at 1 p.m.) and Chaffey (Oct. 8, at 5 p.m.).
Among four Griffins tabbed Foothill players of the week, three were from the defensive side of the line, helping keep Southwestern out of the end zone all afternoon. Included were defensive end RODERKUS WRIGHT, middle linebacker MAGNUM MAUGA and free safety TERRY MIXON.
Wright, a sophomore from San Diego HS, helped halt the Jas run game with four tackles, then was equally effective against the pass with one quarterback sack and five hurries. Included was a pass rush which led to Mixon stepping forward and intercepting a screen pass. Mixon, a freshman out of Compton- Dominguez, also broke up three pass and recorded five tackles. In addition, Mauga, a freshman from Helix, registered eight tackles and forced a fumble on Southwestern running back Larry "Sweet Pea" Richardson.
Meanwhile, Griffins running back DERRELL HUTSONA, a transfer from San Jose State by way of Helix, was also tabbed as a player of the week. Hutsona is the Foothill leader in all-purpose yardage.
The Grossmont defense will need to shine again in meetng a San Bernardino Valley squad which actually ranks higher than the Griffins in total defense. The Wolverines are second among the nine Foothill teams.
Foothill notes -- Mount Miguel High product Halim Abdullah, who now starts at defensive end for San Diego Mesa, also earned a player of the week nof after an 8-tackle, 2-sack performance against Antelope Valley.
---
Defense in spotlight, trips Southwestern
East County Sports.com
EL CAJON (9-26-05) -- One week after the Grossmont College offense starred in the limelight with a school-record 83-point effort, it was the defensive unit's turn to gather the applause from center stage. The defense limited Southwestern to a pair of early field goals Saturday (Sept. 24), then blanked the Jaquars over the final 36 minutes to power the Griffins (3-1, 2-0) to a steady 31-6 Foothill Conference triumph.
Middle linebacker MAGNUM MAUGA, who again led Grossmont in tackles with six, teamed with a defensive front which pressured Southwestern quarterback Robert Riggs all contest. Although the Griffins only registered a pair of sacks, several hurried passes led to a pair of important interceptions by TERRY MIXON to keep the Jaguars out of the end zone.
"We just brought out the competitor in each of us, then gave the glory to God," said Mauga. "It was a lot of work, a lot of conditioning, and it paid off."
The Griffins defense either bailed out or setup the offense throughout, giving the school its 20th consecutive conference victory over four seasons.
After KEVIN SMITH scored the first of his two touchdowns, carrying in from a yard out for a 7-6 lead, Mauga forced an early release of a screen pass, as Mixon charged foward for the theft. The turnover allowed Griffins quarterback REILLY MURPHY to hit DERRELL HUTSONA for 30 yards and Smith for 34 yards on pass plays to setup a field goal for a 10-6 halftime lead.
Two plays into the second half, Mauga caught Southwestern running back Larry "Sweet Pea" Richardson with a shoulder to force a fumble, which was recovered by the Griffs⤙ WES FENTON. Two plays later, Smith galloped home on a 24-yard score and the Griffins offense seemed to find itself.
"It's hard to come off a high-scoring fiasco after scoring 83 points. We found out that we might not be as good as we think we are," noted Grossmont head coach DAVE JORDAN. "And the whole (defensive) front line was really good for us."
Included was strong play from RODERKUS WRIGHT, JESSE BOGARDES and LIAVAA ATUATASI, among others, who kept Richardson off the scoreboard.
"We all came out hard and it showed on the scoreboard," noted Atuatasi, the starting defensive end. "That boy (Richardson) is shifty -- the most shifty guy we've faced -- but he didn't get into the end zone."
Richardson, who rushed 29 times for 157 yards, busted loose on a 54-yard run in the opening quarter. However, BRIAN STANBRA deflected a third-down pass into the end zone, forcing Southwestern to settle for the first of two (20 and 28 yards) field goals by Ryan Bowling.
In the second half, every time the Jaguars were approaching an opportunity to get back into the game, someone on the Grossmont defense -- which featured 22 different players with tackles -- would make a key stop. Included were a blocked field goal attempt and a pair of stops on fourth down.
Grossmont extended the lead on a Hutsona 4-yard TD run, which was setup on a 31-yard Murphy pass to DERRIAN LUCKETT, then reserve quarterback BLAKE SUTTON completed three passes to CHRIS JOHNSON, the last going for a 39-yard score.
Hutsona finished with 164 yards on 16 carries, while returning a pair of kickoffs for 66 yards. Smith collected 79 yards on 11 carries. Among the receiving corps, Johnson caught four balls for 96 yards, while Luckett was 3-for-75.
For Southwestern, Richardson rushed 29 times for 157 yards. He also returned a kickoff 56 yards, but the stalled drive resulted in the blocked field goal on a low kick which caught the hand of BRETT ST. JAMES.
Jaguars punter Martin House averaged 42.1 yards on his eight boots, including a 56-yarder and two others inside the Grossmont-15. Meanwhile, linebacker Justin Hornsby (Steele Canyon) was among the team's leading tacklers.
--

Southwestern's Larry "Sweet Pea" Richardson gets bear-clawed by Grossmont defensive lineman Jonathan Meredith in Saturday's Foothill Conference game. Although Richardson rushed for 157 yards, he never reached the end zone as the Griffins pulled away for a 31-6 victory. (Photo by Travis Downs).
---
Let's (don't) go to the videotape
East County Sports.com
EL CAJON (9-22-05) -- The last time Southwestern College visited the confines of Mashin-Roth Memorial Stadium for a football game, the Griffins set a school scoring record in a 76-28 romp in the contest that featured the famous one-handed catch by Grossmont wide receiver TODD WATKINS, the current All-America candidate at BYU.
So, if you're a member of the Jaguars defensive coaching staff, you might just skip looking at that particiular game tape or, at least, not show it to the players.
Two years later, Southwestern returns for this Saturday's 3 p.m. kickoff with the Griffins. And what piece of videotape did the coaching staff get to look at in order to scout their opponent? Indeed, it was Grossmont's most recent scoring-record performanxce -- 83 points -- against Mt. San Jacinto.
Talk about terrible timing!
In past seasons, Jags coaches might have thrown their hands in the air in disgust. However, this year's team may be the best on the defensive side of the ball in many years. Included was limiting Antelope Valley to just seven points in last week's victory, as both Southwestern and Grossmont enter with identical 2-1 overall (1-0 in the Foothill Conference) records in an early battle of conference co-leaders.
Currently, the Griffins are ranked fifth in the Southland, 10th in the state and 16th nationally. An interesting note: the state COA poll, which determines the playoff pairings, also lists Grossmont fifth in the South, with a potential playoff matchup (if things don't change between now and December) against No. 4 Palomar.
Meanwhile, Southwestern is rated 17th in the South and are two minutes away from being unbeaten after falling late, 12-9, to East Los Angeles in Week 2. The Jaguars pace all Foothill schools in total defense and fewest points allowed per contest.
GRIFFIN GOSSIP -- WR Michael Omar was among this week's California State athletes of the week for football by JC Athletic Bureau.
---
Omar! Oh, my! -- Griffins score record 83 points in romp
East County Sports.com
EL CAJON (9-18-05) -- Hauling in a 55-yard touchdown pass on the game's opening play from scrimmage, Grossmont College receiver MICHAEL OMAR capped a career outing with 155 yards and three TD receptions -- part of seven scorng passes by Grossmont quarterbacks for the afternoon -- as the Griffins rolled up a school-record 83 points in a wild, wild, 83-35 demolition of Mt. San Jacinto in the Foothill Conference opener for both schools.
Talk about a shootout with enough side-plots for several volumes, starting quarterback REILLY MURPHY tossed two of his four TD strikes in the first period for a comfortable 17-0 lead. However, after the visiting Eagles countered and closed to within 31-28 after scoring four times in the second period, the Griffins closed the affair by outscoring MSJC, 52-7 over the final 35 minutes in handing the Eagles -- the lone undefeated team in the conference entering the day -- their first setback to end any asperations of knocking off the two-time defending Foothill champion Griffins.
Omar, a sophomore from Antioch, Calif., collected a pair of 55-yard TD passes -- including a bomb along the right sideline of the game's first play -- along with a 26-yarder. Meawhile, the Grossmont ground game saw a pair of 100-yard rushers in KEVIN SMITH (13 carries, 127 yards, 1 TD) and DERRELL HUTSONA (10-107-1), as Grossmont rolled up 737 yards in total offense -- the third-highest total in school history.
"No, I didn't know the coaches would call that play until we got into the huddle," noted Omar, who scored just 14 seconds into the contest. "I just used my speed to my advantage, then it was a straight shot to the end zone."
Hutsona, who already returned a punt for a score this season, added to his special teams laurels. After Mt. San Jacinto quarterback Matt Ticich threw the first of his three TD passes to get the Eagles on the board at 17-7, Hutsona broke free along the left side in front of the Griffins bench with a 98-yard kickoff return. He also added a 2-yard scoring rush, matching receiver MARIO BRUNKER with a pair of touchdowns for the contest.
"Everything worked better than it had all season," noted Hutsona, a Helix High graduate. "We had to let them know -- and everyone else know -- that you have to beat us if you want to win the league."
The contest was ultimately decided in the second period, when both sides reached the end zone four times each in combining for 56 total points. During the second quarter alone, Ticich hit on 12-of-17 passes for 253 yards. However, a heavy Grossmont pass rush send Ticich to the sidelines with an undisclosed injury, He finished completing 17-of-37 for 316 yards.
Meanwhile, Grossmont's Murphy threw for 227 yards on 15-for-25 accuracy, then releiver BLAKE SUTTON went 5-for-8 and 155 yards -- the balanced Griffins attack collected 382 yards through the air and 355 on the ground.
"We caught fire today," stated Griffins coach DAVE JORDAN. "This is the way we thought we should be playing, it just took us a little longer to get there."
The school scoring record of 76, set two seasons ago at home against Southwestern -- remarkably, in a game that was scoreless through the first 15 minutes -- seemed destined to remain on the books after the Eagles started running the ball in the final minutes while trailing 76-35. However, the visitors then started to throw once again, but defensive back LEE PALAFE -- who wasn't even listed in the game program as Grossmont used every available player -- intercepted a pass first tipped by JAY LUCAS, rumbling 77 yards for the record-breaking points with 4:48 remaining.
The setback for the Eagles was a severe downnote to the homecoming of head coach ED CARBERRY, who was making his first East County appearance after more than a decade as coach at Monte Vista High. He also was a Griffins assistant for one season.
"I've been trying to stop Hutsona for four years now, and I still haven't figured out a way to stop him," noted Carberry. "Our offense was great, but we just haven't figured out how to tackle people, yet a lot of the credit goes to Grossmont."
Even when the Eagles kept the ball away from Hutsona, their plans went array. On one intentionally short kickoff, linebacker MAGNUM MAUGA returned the ball 25 yards into MSJC territory to setup a second-half touchdown. Mauga also gained 29 yards on a fake punt for a first down; Grossmont never needed to punt all contest.
Next Saturday, the Griffins entertain Southwestern at 3 p.m.
---
Grossmont meets surprising Eagles in Foothill Conference opener
East County Sports.com
EL CAJON (9-16-05) -- After facing what could be recognized as the toughest non-conference schedule in the state, Grossmont College came away with a split after downing Mt. San Antonio before falling on the road to defending national champion College of the Canyons.
However, the real path to the postseason begins Saturday (Sept. 17) when former Monte Vista High head coach ED CARBERRY brings surprising Mt. San Jacinto to town for a 3 p.m. kickoff at Mashin-Roth Memorial Stadium.
The Eagles, based just north of Hemet in southern Riverside County, are the lone Foothill squad remaining perfect with a 2-0 record through the opening two weeks of the season. Not bad for a program with just two winning seasons over the past decade, as Carberry's troops were recognized for their accomplishment by gaining the 25th and final berth in this week's state rankings.
Meanwhile, the Griffins (1-1) didn't drop far after watching their 24-game regular-season winning streak over four seasons get snapped. Head coach DAVE JORDAN's side is listed seventh in Southern California, 11th in the state and 24th in the nation, as Grossmont seeks its third consecutive conference crown.
---
Late TD pass lifts Grossmont in season opener
East County Sports.com
EL CAJON -- Unable to generate a long-passing game throughout the afternoon, Grossmont College quarterback REILLY MURPHY took advantage of a busted coverage to connect with receiver MARIO BRUNKER on a 51-yard hook-up with 2:50 remaining Saturday (Sept. 3), as the Griffins came from behind twice to upend visiting Mt. San Antonio, 21-17, in the CACC season opener for both sides.
Brunker, who was allowed to race free by the cornerback, never was picked-up by the free safety, collecting Murphy's pass at the Mounties-20 and walking untouched into the end zone.
The Mounties had three chances to pull out the victory, as a pair of Grossmont interceptions were called back on penalties during the final drive, including a 43-yard return for an apparent touchdown by linebacker MATT WESTRICK.
However, Mt. SAC's last opportunity ended at the Grossmont-24 on a dropped pass on a 4th-and-7 play.
"We had to overcome a lot of stuff to win and it pulled us together," said Grossmont defender TERRY MIXON, who registered nine tackles and recorded the other nullified interception. "It was a big win against a great team, but it's just a taste of what's going to happen the rest of the season."
The taste will become a mouthful next week, when Grossmont travels to Santa Clarita to meet defending JC Grid-Wire national champion College of the Canyons. The Cougars bounced the Griffins out of the state playoffs last season by a 30-0 count in the Southland semifinals after Grossmont downed COC in the playoffs en route to winning the 2003 Southern California championship.
"The defense really banded together at the end and shook off everything that went against us," noted linebacker BRIAN STANBRA, who was among the Griffins' leading tacklers. "And what about that amazing interception by Westrick. The ball tipped off a lineman's head, Matt then tipped it, then dove to make the catch."
The Westrick theft came in the first half after Mt. SAC opened a 10-0 lead. They almost made it 17-0 after dominating on both lines, but the Grossmont defense forced four turnovers and limited the Mounties to just seven points over the final three periods.
Murphy's sneak from the 1-yard line brought Grossmont to within 10-7 at the half, then DERRELL HUTSONA carried in from the 7 yards out just 1:34 into the second half. Mt. SAC running back Randall Brown answered with a 6-yard TD run on the next possession, then both defenses dug in to see who would flinch first.
"We just collected ourselves after the poor start -- it was beautiful how we did it," added Stanbra.
For Brunker, he is enjoying his second chance to make an impression to Division I coaches after his senior season in high school was cut short.
"I broke my wrist in 12th grade at Patrick Henry," noted Brunker, who caught four passes for 101 yards. "I'm just glad to be here, then we got a chance to get it together finally on that last drive. We talked a lot about facing adversity yet never gave up."
Murphy, who was missing a pair of starting offensive linemen due to injuries suffered in practice this past week, rarely had time to throw deep. But he came through on his one chance for the big play.
"My line hung tough all day and we caught their soft spot on a fly route," noted Murphy. "It felt real good to get a fourth-quarter victory against a really good team. Nobody paniced."
With the victory, Grossmont extended its regular-season winning streak to 24 games over four seasons.
---
Canyons snaps Grossmont's 24-game regular-season win streak

East County Sports.com
SANTA CLARITA (9-11-05) -- Grossmont College freshman DERRELL HUTSONA equaled one school record and approached several others with his special teams returns, but the Griffins failed to hold possession of the ball long enough to do much else on offense, as defending national champion College of the Canyons repeated its 2004 playoff performance by mounting an early lead to again whip the Griffins, 32-22, Saturday (Sept. 10) at COC's Cougar Stadium.

The decision snapped Grossmont's school-record, 24-game regular-season winning streak, while Canyons (2-0) ran its overall win streak to 16 contests, last falling to the Griffins in the 2003 postseason.

After returning a kickoff 91 yards on the first touch of the football by Grossmont in the opening quarter, Hutsona raced 54 yards on a punt return for a touchdown to spark a Griffins rally from a 25-point deficit to within 10 points with 13:47 remaining.

However, Canyons continued its vaunted ground game to run more than nine minutes off the clock. Although a goal line stand by the Griffins finally stopped the 17-play, 79-yard drive just inches short of the end zone, Grossmont didn't have enough time available to move closer.

"We made some mistakes on offense and we made some mistakes on defense," noted defensive end RODERKUS WRIGHT, who registered one of Grossmont's two sacks. "But we never were able to make a big play."

Included was striking out on all nine chances to make a third-down conversion by the offense, limiting the team to just 40 plays for the contest – one of the lowest totals in school history. Meanwhile, the defense failed to register a turnover while Canyons went 7-for-12 on third down to keep several long drives alive.

After Canyons took the opening kickoff and marched 76 yards on 13 plays for a quick 7-0 lead, Hutsona took the ensuing kickoff to the left side, cut to his right toward the center of the field, then cut right again before finally getting caught at the COC-5. The 91-yard return equaled the longest, non-scoring return in Grossmont history, matching the 1990 mark by Bob Winnie at home against Palomar.

For the contest, Hutsona totaled 219 return yards (on both punts and kickoffs), one of the top performances on the Grossmont record book.

The Cougars built a 19-7 halftime lead, then scored twice in a 14-second span in the third to produce their big lead. Sean Edwards completed a 10-play drive with an 8-yard gallop after taking the pitch on an option to the right side. Then on the Griffins next play from scrimmage, linebacker Michael Carr stepped in front of the receiver on a quick-out to the right, rambling 23 yards with the interception for another Cougars' score, and a 32-7 lead.

Grossmont answered by temporarily going with a no-huddle offense. Quarterback REILLY MURPHY capped the drive with a 9-yard scoring toss to WILLIAM BOUGHTON.

Hutsona then went directly to the right side with a punt early in the fourth period, receiving a key block by BRETT ST. JAMES in front of the Griffins bench to spring Hutsona.

Canyons running back Brandon Clayton keyed the ball-control game by carrying 29 times for 118 yards, while quarterback Marcel Marquez rushed for a pair of short TDs, then directed a short passing attack by going 16-of-21 for 129 yards.

Meanwhile, Murphy was just 9-for-19 and 89 yards, as the Griffins were outgained, 298-155.

Despite the obvious significance with the top two teams in Southern California meeting, Grossmont's ticket to the playoffs doesn't officially begin until next Saturday when Foothill Conference competition opens.

The Griffins (1-1) will entertain Mt. San Jacinto to start the league slate at 3 p.m. The Eagles, led by former East County coach ED CARBERRY (Monte Vista, Grossmont College assistant coach), are the only undefeated team among the circuit's nine teams at 2-0, including Saturday's 35-14 whipping of L.A. Valley.
---
Grossmont again tabbed among football elite
East County Sports.com
EL CAJON (7-6-05/Modified 7-11-05) -- Among the things that come from perennial success is national attention. In the case of Grossmont College, Street & Smith Magazine, a prestigious annual nationwide publication, has the Griffins slotted No. 6 in the national preseason ratings for 2005. Whether Grossmont is worthy of that lofty spot should be resolved in the first two weeks of the season. Week 2, in fact, calls for a trek to Valencia where the Griffins will take on nationally top-ranked and defending 2004 state-champion College of the Canyons (Sept.10).
Preseason ratings tend to be a reflection of the previous campaign, however. But these Griffins do boast a 51-8 record over the past five seasons and appear to be armed for more this fall.
Without going into a complete preseason preview, the Griffins must be recognized for headliners such as Helix High alum (San Jose State transfer) running back DERRELL HUTSONA -- the 2004 state CIF 100-meter champion. Quarterback REILLY MURPHY also returns as do the majority of offensive linemen that include JAKE BINGHAM (6-4, 330) and DANNY HATHAWAY (6-7, 295).
On the defensive side, the Griffins can count on returning corner DEVON JONES and end BRIAN STANBRA a(6-5, 240) as well as tackle KEN TULLIS (6-3,240). Newcomers such as linebacker MAGNUM MAUGA also figure to make an impact as do an influx of unexpected out-of-area transfers.
The Griffins will need a boatload of talent to test the waters this season, which begins with a non-conference home opener against perennial power Mount San Antonio (Sept. 3 at GC). Seven days later the Griffins challenge Canyons, which has a 29-game winning streak on its home field.
Canyons clubbed the Griffins 30-0 in the quarterfinals last year, eliminated Saddleback in the semifinals and toppled City College of San Francisco 39-32 in the state championship game.
Not to be forgotten is Grossmont eliminated Canyons in the 2003 Southern California semifinals 14-10 and continued on to capture the SoCal crown with a 47-34 triumph over Fullerton. The Griffins narrowly missed securing the state title that season as they led City College of San Francisco with 33 seconds remaining before succumbing 38-35.
This year will be no picnic as every team in the Foothill Conference is promising improvement.

<< Back