Grossmont preps for playoffs
by mauling Mesa in record style

(c) East County Sports.com
EL CAJON (11-12-06) -- A pair of major goals were achieved when Grossmont College completed the regular season by stomping visiting San Diego Mesa, 58-0, in Saturday's (Nov. 11) regular season finale.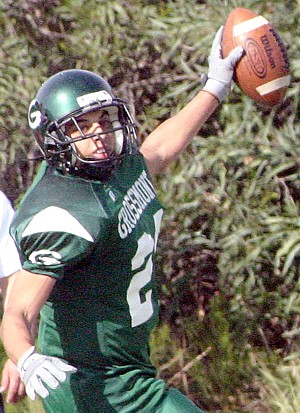 It's another special teams touchdown for the
G-House, as Justin Johnson celebrates his 42-yard punt return, romping untouched for six points.
(Photo by Greg Eichelberger)

The defense first accomplished its mission in allowing the fewest amount of points among California 's 72 community college football programs.

Entering the weekend tied with Foothill Conference rival Victor Valley, the Griffins' second shutout of the season left them with just 62 points allowed. The Rams yielded a pair of touchdowns in a narrow 20-14 win over Mt. San Jacinto, allowing a season total of 76 to give the honor to Grossmont.

"Our main goal as a group was to be known as one of the best defenses in the state," linebacker AVENI LEUNG-WAI said. "And this defense is capable of making things like that happen."

The victory all-but-clinched a first-round home playoff contest at Mashin-Roth Memorial Field. Grossmont (9-1 overall, 8-0) entered the weekend ranked fourth in the Southland, and could conceivably up one notch after No. 2 El Camino suffered its second setback of the season in a 42-37 decision to top-rated Saddleback.

Results of the final COA poll are expected late Sunday afternoon.

Meanwhile, the Griffins' emerging offense continued their upward trend, compiling a season-best 591 yards in total offense in scoring on their first six possessions. Mesa (2-8, 2-6) managed a meager 33 yards -- 15 in the first half and 18 more after the intermission.

PERRY GARDNER accounted for three touchdowns, rushing for a pair, then collecting one of two scoring passes thrown by quarterback JOHN SOLI. The other TD pass went to JUSTIN JOHNSON, who also scored on a 42-yard punt return.

In addition, KEVIN SMITH rushed for 118 yards and two first-half scores, while placekicker JARED BALLMAN -- one of this week's featured players on JCFootball.com -- avoided the website jinx with a career outing, connecting on a trio of first-half field goals (29, 35 and 35 yards) to help the Griffins mount a 30-0 halftime cushion.

On the flip side, Mesa collected just four first-downs all afternoon (one by penalty), with its longest play being a 13-yard swing pass by quarterback KAMY AHMADIAN.

However, the West Hills product connected on just 8-of-23 passes for 56 yards and was the target for five of Grossmont's six sacks. Included were stops by JIMMY PINKNEY, NATE DOLAN, MATT MOSS, JERICHO MAXWELL, TANU PALEAFEI (who returned home from Hawai'i just in time for the contest), and TERRY MIXON.

"It seems unrealistic, but our goal is to allow zero yards, not just no points," added Leung-Wai.

The secondary also gained a piece of the action with three interceptions -- all in the second half -- including thefts by SHARROD DAVIS, GEOFFREY HOWARD and Leung-Wai.

"We wanted all of the records -- fewest points, fewest yards," noted linebacker NATE DOLAN. "And we wanted the school record for fewest points allowed, too, and we got it."

Dolan was part of the 2004 Griffins defensive unit which yielded just 95 points over 10 regular-season outings. The sophomore red-shirted last season due to injury, but has bounced back healthy to help lead the defense yet again.

Now, Dolan and his teammates look forward to the COA state playoffs.

"We just want to be ready to play, no matter who we play," added Dolan. "It's a tough road to get to where we want to be, but we want to defend our championship."

The only play of note by the Olympians was produced by another West Hills alum, RYAN SEVIER, who returned a kickoff 52 yards late in the third period. Olympians cornerback Tito Jose also posted a pair of interceptions.

Notes -- Grossmont has now defeated Mesa by a composite of 192-10 over the past three seasons (70-7 in 2004, 64-3 in 2005)... Against San Diego County oppositioin, Grossmont held a 107-6 scoring advantage in 2006.

GRIFFINS 58, OLYMPIANS 0
At Mashin-Roth Memorial Field, El Cajon
San Diego Mesa (2-8,2-6)................................ 00 00 00 00 -- 00
Grossmont College (9-1, 8-0)........................... 17 13 14 14 -- 58

FIRST QUARTER
Scoring Play (PAT), Time of Score/Qtr. (Drive: Plays, Yards, TOP)
GC -- K.Smith 1 run (Ballman kick), 10:14 (11-53-4:46)
GC -- FG Ballman 29,5:17 (8-29-2:15)
GC -- J.Johnson 42 punt return (Ballman kick), 2:51

SECOND QUARTER
GC -- K.Smith 1 run (Ballman kick), 13:17 (9-60-3:23)
GC -- FG Ballman 35, 7:59 (8-47-3:23)
GC -- FG Ballman 35, 0:54 (12-38-5:00)

THIRD QUARTER
GC -- Gardner 44 pass from Soli (Ballman kick), 12:39 (6-61-0:57)
GC -- J.Johnson 7 pass from Soli (Ballman kick), 1:17 (8-64-3:00)

FOURTH QUARTER
GC -- Gardner 2 run (Ballman kick), 10:16 (11-75-4:22)
GC -- Gardner 7 run (Ballman kick), 2:12 (7-62-3:06)
Att.: 800.
Note -- Over the past two seasons, Grossmont has scored 109 consecutive points on Mesa. The composite score over the last three contests is 192-10.
---
HOMECOMING

Sat., Nov. 11 -- 1 p.m.
Grossmont vs. Mesa
Mashin-Roth Memorial Stadium

Pre-Game Tailgate Party
$20 General Public
$15 Faculty/Staff
$10 Children Under 12

Includes Game Ticket,
Outback Steakhouse meal,
Performance by World-Acclaimed Samoan Dancers,
Griffins Cheerleaders

Campus Parking Lot No. 5
South side of stadium,
behind the Press Box.
Info: (619) 644-7412

Grossmont in position
for home playoff game

(c) East County Sports.com
SACRAMENTO (11-7-06) -- In the past four seasons, whenever Grossmont College had a bye date, they inexplicably fell in the COA rankings. And in 2006, following last Saturday's vacant date, the Griffins were partially bumped yet again.

After sitting in a tie for fourth place with Bakersfield, Monday's (Nov. 6) next-to-last regular season poll shows the Renegades leaping over Grossmont to take over the No. 3 spot from Mt. San Antonio, which fell at home to Palomar.

Thus, Grossmont remains at No. 4, which does give the 8-1 Griffins at least one home game in the opening round of the playoffs, while key games involving the three schools above the G-House still remain.

In one of the most anticipated ballgames of the season, top-ranked Saddleback plays host to No. 2 El Camino to determine the Mission Conference-National Division crown. Meanwhile, Bakersfield still must defeat No. 9 Allan Hancock -- in Santa Maria -- to claim the Western State Conference-North divisional title.
COA Southland Poll -- Nov. 6th
First-place votes in parenthesis

1. Saddleback (14)
09. Allan Hancock
2. El Camino
10. Santa Ana
3. Bakersfield
11. Mt. San Jacinto
4. Grossmont
tie. Chaffey
5. Moorpark
13. Glendale
6. Orange Coast
14. Palomar
7. Victor Valley
15. Citrus
8. Mt. San Antonio
16. Fullerton

Others -- 17. Riverside; 18. San Bernardino Valley; 19. Compton;
20. Canyons.
The next four in the ratings including: Moorpark, Orange Coast, Victor Valley and Mt. San Antonio. However, the bottom two schools still might be relegated to bowl berths rather than playoff berths.

Since all league or division champions are guaranteed slots to play for the state championship, No. 14 Palomar or No. 16 Fullerton could supersede Mt. SAC for the Mission 's American Division crown.

Meanwhile, Citrus already wrapped up the Western State-South Division. The Owls are ranked 15th in the Southland, yet have secured a position in the regional's Elite Eight.

Grossmont (8-1, 6-0) completes the regular season with a homecoming contest against San Diego Mesa (2-7, 2-5) at Mashin-Roth Memorial Stadium. Kickoff is at 1 p.m., with a pregame homecoming luncheon available in campus Parking Lot No. 5 (south of the stadium) at noon.
---
Idle Griffins rise to No. 9 nationally
(c) East County Sports.com
EL CAJON (11-2-06) -- Although the Grossmont College Griffins draw a bye this weekend, they can celebrate the fact that they have cracked the J.C. Grid-Wire National Top 10 for the first time since beginning the campaign with a preseason No. 3 ranking. Street & Smith Magazine rated the Griffins No. 1 in its one and only poll, which was released before summer workouts began.
So, the defending national-champion Griffins of 2005 once again have firm footing among the nation's elite at No. 9 according to Grid-Wire guru Hank Ives. Grossmont should maintain its position or possibly move up as the Griffins close the regular season on Nov. 11 with their homecoming game against San Diego Mesa at 1 p.m.
CLARIFCATION: Much like the BCS four-year college mess, the COA's alignment for the eight-team Southern California playoffs is somewhat confusing.
One thing is certain. All five league champions are supposed to be awarded a first-round home game. The remaining three at-large spots are filled by non-champions and that is where the SoCal poll comes in. The Griffins are presently tied for 4th with Bakersfield in the SoCal ratings and both are on line for a conference championship.
According to Grossmont College Athletic Director JIM SPILLERS, the Griffins are guaranteed a first-round home game on Saturday, Nov. 18.
The polls have their greatest impact in round two (or the SoCal semifinals) where the highest ranked team earns the home field advantage.
Notes -- Former All-America running back DERRELL HUTSONA is expected to miss the remiander of the regular season for 25th-ranked Washington State, including Saturday's game with Arizona, due to a high ankle strain. Hutsona is expected back for the Cougars' bowl appearance.
---
BCS troubles could snag COA poll, too
(c) East County Sports.com
SACRAMENTO (10-30-06) -- In case anyone thought the Bowl Championship Series for NCAA Division I football is a mess, then don't read any further regarding the COA sponsored playoffs for California community colleges.
This week's Southern California regional poll shows a fourth-place deadlock between Grossmont and Bakersfield colleges... and the COA has no rules in place to determine which school would get the home game.
COA Southland Poll -- Oct. 30th
First-place votes in parenthesis

1. Saddleback (14)
09. Victor Valley
2. El Camino
10. Santa Ana
3. Mt. San Antonio
11. Glendale
4. Grossmont
12. Chaffey
tie. Bakersfield
13. Mt. San Jacinto
6. Moorpark
14. Fullerton
7. Allan Hancock
15. Citrus
8. Orange Coast
16. Palomar

Others -- 17. San Bernardino Valley; 18. Riverside; 19. Cerritos;
20. Long Beach City.
Fortunately, this isn't the final regular season poll, so a tiebreaker isn't needed -- yet.
Should the scenario repeat in two weeks, and considering a 350-mile separation between Grossmont and Bakersfield, the governing body for athletics in the state will be hard-pressed to determine the home team.
Based on recent success -- the "beat the champ" philosophy -- the defending state titlist Griffins would get the nod. Based on the rule of the Almighty Dollar, the Renegades get home field, since Bakersfield would draw a larger crowd -- and with it richer gate receipts -- to have the first-round game played at Memorial Stadium.
Plus, Bakersfield's facility has lights.Otherwise, the Renegades may need to travel to San Diego on Friday and spend the night -- an even greater expenditure of limited funds for food and lodging.
The top of the poll falls in perfect sequential order based on season results.
Grossmont lost to No. 3 Mt. San Antonio, which fell to No. 2 El Camino, which dropped a game to unanimous top-ranked and undefeated Saddleback. The remainder of the Top 8, which gain playoff berths, are Moorpark (6th), Allan Hancock (7th) and Orange Coast (8th), who switched places with idle Victor Valley.
---
Another Foothill crown for the Griffins
(c) East County Sports.com
EL CAJON (10-29-06) -- Grossmont College running back KEVIN SMITH needed little time to make his mark.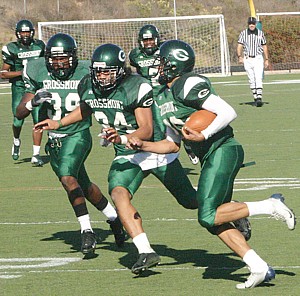 Justin Johnson (with ball) races 51 yards with this
third-quarter punt return. Earlier, Johnson sprinted
48 yards for a touchdown on a punt return.
(Photo by Greg Eichelberger)
Smith's first carry went for a 12-yard touchdown to cap the game's opening drive. By the time the Helix High product reached the endzone three additional times, the nationally 12th-ranked Griffins wrapped-up their fourth consecutive Foothill Conference championship following Saturday's (Oct. 28) 57-3 rout of visiting Antelope Valley at Mashin-Roth Memorial Field.
Smith rushed 10 times for 124 yards to give Grossmont (8-1, 7-0 FC) its 34th consecutive conference triumph. On the flip side, the visiting Marauders (0-8, 0-6) dropped their 24th straight loss.
The 54-point margin was Grossmont's biggest since whipping San Diego Mesa, 64-3, to close the 2005 regular season. The Olympians will again close the G-House schedule in the Griffins' homecoming contest on Sat., Nov. 11, starting at 1 p.m.
Following a 1,400-yard senior season with the Highlanders in 2003, Smith remained patient playing behind All-American DERRELL HUTSONA (now at Washington State) last season. Smith has been banged up much of this year, but now he is enjoying his time as the starting tailback as the Griffins prepare for the playoffs and another run at the state championship.
Antelope Valley running back Micah Littlejohn gets crushed by Griffins reserve lineman Andy Buchanan, as everyone got to play in Grossmont's 57-3 win.
(Photo by Greg Eichelberger)
"We knew they were 0-7, but you still have to play, and the offensive line came on and performed," said Smith. "We didn't want to play at their level, so I was going for six (touchdowns) anyway -- but it's all good."
Smith was referring to the Grossmont College scoring record for points in a game of 30 set by RUSS ECKHARDT in 1963.
Antelope Valley answered with a 28-yard field goal by J.P. Brandvig to trim the lead to 7-3 through the first quarter. That snapped a string of 13 scoreless quarters for AVC.
Grossmont responded with 50 unanswered points, 30 coming in the second quarter for a 37-3 halftime cushion. Included were Smith scoring runs of 1, 48 and 1 yards, plus a JUSTIN JOHNSON punt return for 48 yards and another score.
In all, Grossmont mounted 511 yards in total offense for its best showing of the season. Meanwhile, the Griffins defense limited the Antelope Valley to just 118 yards and a mere eight first downs.
While the first half belonged to the offense, the defense starred following the intermission.
Antelope Valley was forced 3-and-out on its first seven possessions of the second half. Possession No. 8 resulted in the Marauders' initial first down of the second half with a minute to play.
"They couldn't do much against us," noted linebacker NATE DOLAN. "And it was cool since everyone got to play."
Grossmont collected five sacks, including a pair by freshman by ELIJAHA GARDNER (Mount Miguel HS), while TERRY MIXON raced 33 yards with his third interception of the season, moving within a theft of the club lead.
"When I looked back, the ball was right there -- it was perfect timing," said Mixon. "Now we just need to hit the weights and get ready for the playoffs."
ABRAHAM MUHEIZE paced the defense with nine tackles, while JEREMY YOUNG collected a 19-yard TD pass from converted defensive lineman SEMIKA TAALA.
Taala hit 4-of-5 passes for 76 yards in his collegiate quarterback debut in the second half. Even receiver KRYS CASH took a few snaps for the Griffins, too.
Grossmont starting quarterback JOHN SOLI hit on 15-of-26 passes for 174 yards and rushed for 33 yards and a TD on four carries.
The fourth quarter saw Soli run in from the 4, then PERRY GARDNER rushed in from 2 yards to cap the scoring.
Gardner garnered 94 rushing yards on eight carries and caught three passes for 35 yards.
GRIFFINS 57, MARAUDERS 3
At Mashin-Roth Memorial Field, El Cajon
Antelope Valley College (0-8, 0-6)......................... 3 00 00 00 -- 03
Grossmont College (8-1, 7-0)................................. 7 30 07 13 -- 57
FIRST QUARTER
Scoring Play (PAT), Time of Score/Qtr. (Drive: Plays, Yards, TOP)
GC -- K.Smith 12 run (Ballman kick),11:17 (8-54-3:34)
AV -- FG Brandvig 28, 7:03 (8-57-4:02)

SECOND QUARTER
GC -- FG Ballman 25, 14:11 (10-72-3:08)
GC -- K.Smith 1 run (kick failed), 10:14 (2-41-1:22)
GC -- K.Smith 40 run (Ballman kick), 7:55 (1-40-0:14)
GC -- J.Johnson 48 punt return (Ballman kick), 5:05
GC -- K.Smith 1 run (Ballman kick), 1:30 (7-53-1:37)

THIRD QUARTER
GC -- Young 19 pass from Taala (Ballman kick), 4:41(5-75-1:42)
FOURTH QUARTER
GC -- Soli 4 run (kick failed), 7:00 (6-30-1:58)
GC -- Gardner 2 run (Ballman kick), 2:26 (4-25-1:46)
Att.: 400.
---
Best of times, worst of times collide
(c) East County Sports.com
EL CAJON (10-27-06) -- While Grossmont College glides down the home stretch in preparations for next month's COA playoffs, the same cannot be said for Antelope Valley College, the Griffins opponent this Saturday (Oct. 28) afternoon at Mashin-Roth Memorial Field. Kickoff is at 1 p.m.
The visiting Marauders haven't enjoyed the fruits of a victory since Sept. 25, 2004, when they nipped Southwestern, 13-12. Ever since, AVC has dropped 24 consecutive ballgames, including 19 straight in Foothill Conference play.
Grossmont (7-1, 6-0), ranked No. 12 in the nation, No. 7 in the state and No. 6 in Southern California, has won 33 consecutive Foothill contests.
The 2006 ledger for AVC currently stands at 0-7, joining College of the Desert (0-8), College of Marin (0-6) and Los Medanos (0-6) as the remaining winless ballclubs in California.
The Marauders' winless stretch has been especially difficult on Antelope Valley head coach Brent Carder, one of the state's winningest coaches, yet has his 37-year coaching record in danger of slipping under .500 at 189-182-5. His victory total is 11th all time nationally among community and junior colleges, but his mark hasn't budged since defeating the Jaguars. Recently retired Grossmont head coach DAVE JORDAN posted a 135-89-9 mark in 23 seasons as head coach. He now assists his son, current head coach MIKE JORDAN, this season.
Unlike Grossmont, Antelope Valley doesn't show signs of any improvement, having been shut out in its last three outings by Mt. San Jacinto (31-0), Victor Valley (34-0) and San Bernardino Valley (47-0).
And with Grossmont aiming to post the state's top defense by both yardage and points allowed standards, don't look for the Griffins to hold anything back as they seek their seventh straight victory over the Marauders (GC holds a 13-4 series lead).
Allowing just 184.9 yards and 7.4 points per ballgame, Grossmont ranks second to Victor Valley in the state statistics -- yet the Griffins prevailed 16-7 over the Rams in last Saturday in Victorville.
NUMBERS -- Grossmont kicker JARED BALLMAN slipped to 5th in kick scoring and 7th in punting, while remaining 5th in field goals made in the latest state stats. . . The only other Grossmont player in the state statistics is TERRY MIXON in kickoff returns, ranking second with two for scores and in the middle of the pack with a 30.3 average.
NAME GAME -- Yuba College's Marcus Allen -- not the former Super Bowl MVP out of Lincoln High -- leads the state in TD receptions with 14... Former West Hills High standout RYAN SEVIER is 14th in the state in punt returns (14.4 avg.) for Mesa... Former Wolf Pack teammate KAMY AHMADIAN is 28th in passing for the Olympians. The Griffins close the regular season against Mesa on Saturday, Nov. 11 at Mashin-Roth Field.
---
COA Southland Poll -- Oct. 24th
First-place votes in parenthesis

1. Saddleback (14)
09. Orange Coast
2. Moorpark
10. Allan Hancock
3. El Camino
11. Glendale
4. Mt. San Antonio
12. Mt. San Jacinto
5. Santa Ana
13. Chaffey
6. Grossmont
14. Fullerton
7. Bakersfield
15. Citrus
8. Victor Valley
16. Palomar

Others -- 17. Canyons; 18. Cerritos;
19. Riverside; 20. Long Beach.
Griffins learn art of
scoreboard watching

(c) East County Sports.com
SACRAMENTO (10-24-06) -- The aftermath of Grossmont College's important 16-7 victory at Victor Valley last Saturday leaves the Griffins:

-- In position to clinch a fourth-consecutive Foothill Conference crown;

-- In position to clinch a COA state playoff berth;

-- In position to eventually crack the Top 10 in the JC Grid-Wire national rankings (the Griffins were in 15th place last week);

-- And in position to watch the scoreboard to determine an opponent should Grossmont remain among the first eight teams in the official COA poll, which lists the team solidly in sixth place in Southern California as of Monday's (Oct. 23) release for the second straight ratings period.

Assuming the Griffins take care of business over the next three weeks and defeat winless Antelope Valley this weekend, then San Diego Mesa on the final day of the regular season -- both home at Mashin-Roth Memorial Field, starting at 1 p.m. -- some of the teams listed among Grossmont in the poll still need to play each other. It's the opportunity needed in the hopes of climbing into fourth place to garner a first-round home playoff date.

Among this week's contests, No. 2 Moorpark travels to No. 7 Bakersfield to determine one of the division winners in the Western State Conference, while No. 5 Santa Ana heads down the 57 Freeway in The OC to meet No. 9 Orange Coast in an important Mission Conference, National Division slugfest.

At the sane time Grossmont was staving off Victor Valley, which remained at No. 8 despite its first setback of the season, top-rated Saddleback survived an overtime ballgame with OCC, 23-17, last Saturday. The Gauchos finish the season with Golden West, then consecutive battles with No. 5 Santa Ana and No.3 El Camino.

Thus, Grossmont finds some potential wiggle room to advance after already playing its toughest regular-season opponents, while others still need to play the meaty portion of their schedule.
---
Red zone defense carries Grossmont
in thrilling showdown for Foothill lead
(c) East County Sports.com
VICTORVILLE (10-22-06) -- Grossmont College wasn't just in a battle for the Foothill Conference championship Saturday (Oct. 21), the contest was also a matter of pride for the team's defensive unit.
Longing to validate ownership of the best defense -- on-field, if not statistical -- in the entire state, the nationally 15th-ranked Griffins proved the point in dramatic fashion.
With Victor Valley on the doorstep of completing a thrilling, fourth-period rally to take the lead with a first down at the Grossmont-1, VALENTINO TOFAEONO and RYAN GLAZER forced a fumble which was recovered in the end zone by NATE DOLAN for a touchback with 5:03 remaining, as the Griffins went on to topple the previously undefeated and 25th-ranked Rams, 16-7, at Newton T. Bass Stadium.
The victory all-but-mathematically lifted Grossmont (7-1 overall, 6-1 FC) to its fourth consecutive Foothill crown. Victor Valley, in search of its first-ever football title, fell to 7-1 (5-1). The Rams are 0-13 all-time against the Griffins.
The forced fumble and recovery was the final blow in a 6-turnover performance, featuring three interceptions by freshman NATE SCHAD. MATT MOSS and Dolan also converged on a Rams back to force a fumble which went out of the side of the end zone for a safety.
"We wanted to let them know we have the best defensive line in the conference," said Moss, who was among the Grossmont tackle leaders, including a quarterback sack in the game's final minute. "The defensive line was great all game, but that one play really showed the type of team we are. It was perfect timing."
The biggest difference in the showdown of defensive giants came not on stopping the opposition's offense, but how the stops were made.
The Rams limited Grossmont to just 213 yards in total offense, but usually got the ball back on punts. Meanwhile, the Griffins still managed four scoring opportunities, two going for touchdowns on runs of 9 and 42 yards by CEDRIC WARREN, plus a pair of missed field goals -- one blocked and the other barely wide right.
On the flip side, the Grossmont defense finished by forcing six turnovers (compared to one for VVC) and a mere 148 yards in offense for the Rams. Included, of course, was the gut-wrenching fumble when Victor Valley -- on the verge of the biggest victory in school history -- was inches away from taking the lead after trailing 9-0 through three quarters
"On the sidelines, we still were holding onto some hope -- we all knew we gotta dig deep inside to make something happen," noted Warren, who carried seven times for 67 yards. "Everything rested with the defensive line -- and they did it."
The momentum swing came in the opening minute of the fourth quarter when a botched center exchange gave Victor Valley the ball at the Griffins-36. Two plays and a penalty later, the Rams ended a 47-plus minute shutout streak when quarterback Michael Woods went over the top and hit Kendrell Barthelemy on a 23-yard touchdown pass to trim the margin to 9-7.
The Rams defense quickly forced a three-and-out, then marched the ball 67 yards to within inches of the goal line.
"I just dove in, then someone recovered the ball," Tofaeono recalled. "I didn't even know he fumbled or that I even hit him."
Tofaeono, who once grabbed a tipped ball for an interception, then lateraled to a teammate for a touchdown to lead Carson to a victory over L.A. Crenshaw for the Los Angeles City CIF championship, lists the plays among the best in his football career.
"I guess it was the biggest play of the season," the defensive lineman added.
Glazer, a Grossmont High product, concurred.
"We wanted to show them we were the better defense," noted Glazer. "So me and 'Tofa' (Tofaeono) just surged forward and something good happened."
Clutch Time

THE BLOCK -- Applied by Sean Tuiofu (35)...
THE HOLE -- Run through by Cedric Warren (6)...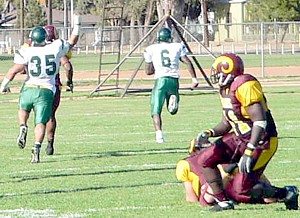 AND THE SCORE -- To devastate Victor Valley, 16-7.
(Photos by Gary Grimm)

Warren, who posted the only score of the first half on a 9-yard, first-period run to cap a 72-yard drive, then iced the victory for the Griffins.

Receiving a solid block by fullback SEAN TUIOFU to take out a linebacker, Warren rambled through a tackle attempt by VVC All-America candidate Charlton Hankston when the Rams placed 10 defenders in the box, racing 42 yards for the game-clinching score with 2:03 left.

"Sean was having a tough game blocking because Victor Valley's linebackers are really quick," noted Warren. "But when we really needed a block, Sean found his man and locked him up to open the hole and I was off to the races -- it was a perfect play, exactly when we needed it."

Schad became the fifth Griffin to register at least three interceptions in a game.

His first pick came on the Rams' second play from scrimmage. Schad grabbed a ball which nearly flew out of bounds, setting up Warren 's touchdown.

The second theft came on the first series of the second half on a ball tossed right to his mid-section, then racing 24 yards on the runback. And finally, pick No. 3 came with 1:04 left to end Victor Valley's championship dreams.

"I had a feeling they were going to pick on me because our other four safeties are experienced sophomores, while I'm just a little guy," explained Schad, an El Cajon Valley HS alum. "All week, we emphasized covering the deep ball because they like to throw it. We saw that on the (video) tape -- they like to go deep all the time."

Schad, in his third career start, now has a team-high four interceptions for the season.

Grossmont quarterback JOHN SOLI kept the game from becoming a shootout with a ball-control approach. He completed 11-of-20 passes for 102 yards, without any interceptions. The strategy kept the Rams offense off the field, as the Griffins ran 56 plays compared to just 45 by Victor Valley.

BRANDON BRYAN collected four receptions for 39 yards, but was wary to stay inbounds to keep the clock running.

Glazer, Moss and AVENI LEUNG-WAI registered three sacks of Woods (7-13-3, 78 yards). In addition to his participation on the hit on the goalline stand, Glazer and TERRY MIXON combined to force another fumble which Mixon ultimately recovered early in the second quarter.

DO THE MATH: Entering the contest, the teams had four common opponents (See PREVIEW CHART Below), with Grossmont outscoring the quartet by 125 points compared to just 90 by Victor Valley. That's an average differential of 8.8 points per contest -- the Griffins won by 9.

GRIFFINS 16, RAMS 7
At Newton T. Bass Stadium, Victorville
Grossmont College (7-1, 6-0).................................. 7 0 2 7 -- 16
Victor Valley College (7-1, 5-1)............................... 0 0 0 7 -- 07

FIRST QUARTER
Scoring Play (PAT), Time of Score/Qtr. (Drive: Plays, Yards, TOP)
GC -- Warren 9 run (Ballman kick), 5:27 (9-72-5:01)


SECOND QUARTER
No scoring

THIRD QUARTER
GC -- Safety, Moss and Dolan force fumble out of end zone, 7:07

FOURTH QUARTER
VV -- Barthelemy 23 pass from Woods (Hoegerl kick), 12:25 (2-36-1:24)
GC -- Warren 42 run (Ballman kick), 2:03 (5-80-3:00)
Att.: 700.
---
What team will Grossmont face
for Foothill Conference crown?
DB Mixon, LB Leung-Wai make Division I commitments

(c) East County Sports.com
VICTORVILLE (10-19-06) -- Where do the series of woes start and end at Victor Valley College?

"There are thousands of kids on our campus who have a misdemeanor on them."

-- Victor Valley College
head football coach
Dave Hoover
Source: Victorville Daily Press

Before you believe this is another story on the series of arrests of Rams football players for an array of alleged crimes in recent months, you'd be wrong.

This is an expose' on the intellectual fraud being offered about the quality of the undefeated VVC football team, which is ranked 8th in Southern California, two positions below the Griffins.

Despite missing several players -- one is currently on trial for stabbing a fellow Rams player; at least five others were originally charged with felonies when a shotgun was involved in a dispute between teammates from different cities at a strip bar -- the Rams own the best record among 72 teams in the entire state of California at a stellar 7-0.

Or is the record a house of cards?

Among the seven victories, none came against teams with winning records. Zero -- although three opponents now own 3-3 ledgers. In fact, the combined season record of Rams' foes is a dismal 13-31 (.295). Grossmont's opposing teams are 21-19 (.525), including a three-point loss to No. 5 Mt. San Antonio.

Nonetheless, Grossmont College will travel to this High Desert community for Saturday's (Oct. 21) showdown for the conference championships, as the Griffins (6-1 overall, 5-1 FC) seek their fourth consecutive title. Kickoff at on-campus Newton T. Bass Stadium is at 1 p.m.

The teams own four common opponents, with Grossmont holding the advantage in scoring margin in the series of ballgames.
GROSSMONT

VICTOR VALLEY

Opponent
Score/Date

+/-

Score/Date

+/-

Chaffey
W 21-0 (Oct. 7)

+21

W 26-16 (Sept. 23)

+10

Desert

W 37-14 (Oct. 14)

+23

W 7-0 (Sept. 30)

+7

SBVC

W 44-6 (Sept. 30)

+38

W 42-3 (Sept. 16)

+39

Southwestern
W 49-6 (Sept. 23)

+43

W 41-7 (Oct. 14)

+34

MARGIN

............................

+125

............................

+90
In addition, Grossmont has never lost to the Rams in 12 previous encounters, although Victor Valley made its best effort here two seasons ago, holding a halftime lead on the Griffins before falling, 39-26.

The only other occasion when the Rams were in position to defeat Grossmont came in 1995, but All-American AKILI SMITH threw a touchdown pass in the final 37 seconds to pull out a 34-29.

Recent published stories on the condition of community college football in California didn't receive any help from Victor Valley coach Dave Hoover, who told reporters from The Victorville Daily Press that the situation of Rams player arrests is "under control," and that he dealt with the young men, "appropriately."

Asked to explain in greater detail, Hoover told the reporter, "That's none of your business," according to the paper.

Apparently, that is status quo at the oasis that is Victor Valley College; the coach also noted, "There are thousands of kids on our campus who have a misdemeanor on them."

Listen to the game here: LINK

Oddly, there have been no reports of police raids in the Mathematics or Earth Sciences buildings of late. And -- believe it or not -- the call letters for the local radio station which broadcasts Rams football is Hesperia's KRAK-AM 910.

Mixon joins D-back parade to ASU

(c) East County Sports.com
TEMPE, Ariz. (10-19-06) -- Grossmont College cornerback TERRY MIXON, who is on several watch lists for All-America recognition this season, has committed to play for Arizona State University next season.

Mixon ranks among the state leaders in kick returns, averaging 37.9 yards per kickoff return, including two for touchdowns through the season's first seven contests. On defense, he has a pair of interceptions and is among the team's top coverage corners and is the top tackler on the ballclub.

Mixon becomes the fourth member of the Griffins to join the Sun Devils secondary in recent years. Last season, the Pac-10 school featured a pair of former Grossmont standouts in JOSH GOLDEN and MAURICE LONDON, while BRETT HUDSON played for the Griffins in 2002 before starting in the Devils' secondary in 2003-04.

Mixon is expected to contribute heavily at Arizona State, just like his three predecessors.

Golden was an All-CIF Southern Section selection, but came to the Fletcher Hills campus when no major college wanted him out of high school. He actually played only eight plays before he was sidelined with an injury. The Sun Devils obviously like what little they saw.

London was an ASU two-year starter at free safety after earning All-State and All-America awards for the Griffins when the school captured the Southern California championship in 2003.

Hudson, a Patrick Henry High alum who graduated from ASU in 2004, was awarded the 2002 Joe Roth Memorial Award as the top community college player in San Diego County while with Grossmont.

Another Griff to Cougar country

PROVO, Utah --Grossmont College sophomore linebacker AVENI LEUNG-WAI made a commitment to attend Brigham Young University before this season started.

The contest is even more pivotal since the loser would be hard-pressed to gain a COA postseason playoff berth reserved for the top eight ranked teams in Southern California. The Griffins have won six straight since a season-opening loss at Mt. SAC. Victor Valley has never qualified for the state playoffs, thus, a win would all but lock them into postseason play.

Victor Valley features both the rushing and passing leaders in the conference.

Freshman running back Isaac Newton is the lone runner in the conference averaging 100 yards per game, hitting the target exactly with 300 yards in three Foothill outings. Meanwhile, quarterback Michael Woods throws at a 208.4 yards per game clip, including a conference-high 14 touchdowns in seven starts.

The Rams' top receiver, Jahan Jones, is second in the Foothill with 32 receptions, good for a conference-leading 829 yards and 11 TDs.

DEFENSIVE STALWARTS: Grossmont's game centers around its defense. In fact, the Griffins (7.4 ppg) are second only to Victor Valley (3.9 ppg) among state leaders for points allowed. Same order for yards allowed -- Victor Valley (165 ypg), Grossmont (190.1 ypg).

STATE LEADERS: Grossmont sophomore JARED BALLMAN is tied for the state lead in kick scoring with 44 points (7 field goals, 23-of-24 PATs). Blamman is also the state's 4th-best punter, averaging 41.7 on 24 boots. . . GC's JUSTIN JOHNSON is third in the state for returning punts, averaging 19.2 yards on 24 returns.

RATINGS GAME: The Griffins have crawled up to No. 15 in the J.C. Grid-Wire national rankings. Victor Valley is No. 25 in the same poll.
---
Griffins rated above undefeated Rams
(c) East County Sports.com
SACRAMENTO (10-17-06) -- The buildup to this Saturday's (Oct. 20) showdown for the Foothill Conference football title gained a new dimension when the latest COA Southern California rankings came out Monday (Oct. 16), as Grossmont College (6-1) was listed above a pair of undefeated teams, including Victor Valley (7-0), the Griffins' upcoming opponent.
Grossmont, which suffered its lone setback on opening day against No. 5 Mt. San Antonio, is listed sixth with 190 voting points in the Southland. The ranking is narrowly ahead of Glendale (6-0, 176 points), a team which lost to the Griffins, 42-10, in last season's playoffs. In the latest poll, Victor Valley, which owns more victories than any other team in California, is ranked No. 8.
COA Southland Poll -- Oct. 16th
First-place votes in parenthesis

1. Saddleback (13)
09. Orange Coast
2. Moorpark
10. Bakersfield
3. Santa Ana
11. Allan Hancock
4. El Camino
12. Mt. San Jacinto
5. Mt. San Antonio
13. Palomar
6. Grossmont
14. Chaffey
7. Glendale
15. Long Beach
8. Victor Valley
16. Fullerton

Others -- 17. Citrus; 18. Los Angeles Southwest; 19. Canyons; 20. Cerritos.
The poll (www.COA.org/PDF format) is used as the official basis to determine playoff berths and pairings, as the five conference champions gain automatic entry along with the next three highest-ranked ballclubs.

At present, Grossmont would meet No. 3 Santa Ana if the postseason began today, but with the Mission Conference divisional play in just its second week, all playoffs projections would be premature.

Saddleback is the unanimous No. 1 team in the Southland with all 13 first-place votes. The Gauchos are followed by Moorpark and Santa Ana -- all three are 6-0.

Next at No. 4 is El Camino, which defeated No. 5 Mt. SAC earlier this season, but then fell to Saddleback.

On the outside of the Big 8, all with 5-1 marks, are: 9. Orange Coast; 10. Bakersfield; 11. Allan Hancock; and 12. Mt. San Jacinto. Teams listed 13-thru-18 all have 3-3 records and must win their conference or division to advance to postseason competition, including No. 13 Palomar.
---
Muheize eats up Roadrunners with stuffing

(c) East County Sports.com
PALM DESERT (10-15-06) -- Although Thanksgiving is more than a month away, Canada celebrated the holiday this past Monday. That's good enough reason as any to pass around the cranberries as far as Grossmont College safety ABRAHAM MUHEIZE sees it.

And when Muheize eats his bird, it comes with a lot of stuffing.

Stuffing as in a Grossmont school-record three blocked punts by the freshman from El Cajon Valley High, as Muheize stuffed the punter once for a safety, then the third stuff was picked up by teammate JUNIOR FALIUGA and returned to just short of the goal line to setup a field goal, lifting the 19th-ranked Griffins to a 37-14 stuffing of host College of the Desert at Boone Field.

Saturday's (Oct. 14) victory was the 32nd consecutive Foothill Conference triumph by Grossmont (6-1, 5-0), setting up next week's battle for the championship against Victor Valley. The Rams (7-0, 6-0) whipped Southwestern, 41-7, to maintain the status quo at the top of the conference standings.

It was the usual script for the Griffins: the offense starts slow, yet is at full throttle in the second half; the defense allows one long drive in the first half, then is near perfect the rest of the way; and special teams again puts on a show.

Included was the game's opening kickoff, which Grossmont returned for a touchdown for the third time in four outings. However, the 77-yard return by TERRY MIXON was trimmed to just 40 yards due to a penalty.

Grossmont committed four turnovers on its first five possessions, then fell short on a fake field goal. The lone scoring drive of the first period came courtesy of a 1-yard dive by SEAN TUIOFU. The plunge came one play after JOHN SOLI connected with tight end NAEEM WALCOTT on a 24-yard pass play.

Soli posted remarkable numbers in his three quarters of action. He completed his first eight passes, finishing 19-of-22 (86.4 percent) for 189 yards. But because of the turnovers, the Griffins defense needed to take charge.

Early in the second period, Grossmont thought it had its first punt block when JEREMY YOUNG broke through for the stuff, with JOE WYNN collecting the football for an apparent touchdown. However, an offsides penalty nullified the play, yet Grossmont still scored on the very next play when the punt snap sailed over everybody and went out of the end zone for the first of two safeties by the G-House.

Three minutes later, GEOFFERY HOWARD intercepted a pass by Desert quarterback Thaddeus Adams (4-21-1, 64 yards), returning the ball 23 yards for the touchdown and a 15-0 lead (the PAT was blocked).

Adams recovered to march COD (0-7, 0-5) on an 87-yard scoring drive to close the half, but as the Grossmont offense has done all season, it woke up following some halftime adjustments.

KEVIN SMITH capped a 51-yard drive with a nifty 11-run TD run, breaking three tackles on his run to the right side for a 22-7 lead to ignite a string of 22 consecutive points by the visitors.

Muheize followed with his first punt block for two points, then JARED BALLMAN kicked the first of his two field goals -- a 40-yarder --for a 27-7 margin.

Two possessions later, Wynn raced past the defense to make a remarkable, diving grab of a straight fly pattern pass from HUNTER FLYNN for a 32-yard touchdown and a 34-7 lead. Ballman followed with a 36-yard field goal for a 30-point lead.

By that time, Desert had gained just 77 yards in total offense, then collected 67 cosmetic yards on its final drive, which covered 87 yards (aided by three Grossmont penalties) and capped on a 3-yard run by Brandin Williams, the Roadrunners' leading rusher (16-63).

Smith paced the Grossmont ground game with 77 yards on 11 carries. The receiving corps saw BRANDON BRYAN nab five receptions for 37 yards, while JUSTIN JOHNSON (54 yards) and Wynn (48) collected four catches each.

On defense, Faliuga also recovered a fumble for Grossmont, while TANU PALEAFEI registered the team's lone sack.

GRIFFINS 37, ROADRUNNERS 14
At Boone Field, Palm Desert
Grossmont College (6-1, 5-0)............................... 7 8 12 10 -- 37
College of the Desert (0-7, 0-5)........................... 0 7 00 07 -- 14

FIRST QUARTER
Scoring Play (PAT), Time of Score/Qtr. (Drive: Plays, Yards, TOP)
GC -- Tuiofu 1 run (Ballman kick), 8:24 (2-29-0:36)


SECOND QUARTER
GC -- Safety, punt snap went out of end zone, 11:14
GC -- Howard 23 interception return (kick blocked), 8:27
COD -- Soffel 15 pass from Adams (Ladesma kick), 5:03 (7-91-3:11)

THIRD QUARTER
GC -- K.Smith 11 run (Ballman kick), 9:58 (5-51-2:37)
GC -- Safety, Muheize blocked punt out of end zone, 7:10
GC -- FG Ballman 40,2:39 (9-47-4:20)

FOURTH QUARTER
GC -- Wynn 32 pass from Flynn (Ballman kick), 12:37 (4-58-1:20)
GC -- FG Ballman 36, 7:56 (4-(-21)-1:25)
COD -- Williams 3 run (Ladesma kick), 1:38 (12-87-6:07)
Att.: 350.
The Griffins offensive line gets set against College of the Desert.
(Photo by Gary Grimm)
---
Grossmont faces Desert
sans Hall of Fame coach
(c) East County Sports.com
PALM DESERT (10-13-06) -- The last time the Grossmont Griffins traveled to meet College of the Desert, it was the battle of two of the winningest coaches in California community college history.
During the summer, both retired from their respective posts, leaving the schools in different situations.
For the Griffins, DAVE JORDAN left Grossmont with a state and national championship, with the team still rolling under the leadership of his son, MIKE, who has his club on a five-straight victories roll and a No. 19 national ranking.
However, College of the Desert is seemingly wandering lost among the cactus in the desert since the retirement of head coach Ken Swearingen, a member of the state community college Hall of Fame.
COD, sans Swearingen, now rests at the basement of the Foothill Conference, winless in all six starts. The Roadrunners are surrendering more than 30 points per outing this year and has been trampled by Grossmont 37-2 and 65-7 the past two years.
That's a composite 102-9 success. Could Grossmont score 100 points this week alone? Biggest problem here is not looking ahead to a showdown with unbeaten Victor Valley.
On paper, the battle in the desert shouldn't be much of a challenge as the Griffins just hope to avoid injuries in preparations for their first-place showdown with undefeated Victor Valley on Oct. 21 in Victorville.
Grossmont's defense now ranks second in the state in scoring defense (6.3 points per game) and is fourth in total defense (197.8 ypg). And with COD resting second-from-the bottom in scoring in the conference, the Griffins will be gunning for their second straight shutout.

---
Griffins eliminate Chaffey from title consideration
(c) East County Sports.com
EL CAJON (10-8-06) -- You can simply label the Grossmont Griffins as wildlife conservationists -- when one sees a wounded animal, they should make every effort to track, find and kill it.
Here comes the Boom 1
Chaffey receiver Mike Williams (4) catches the ball for an instant, but gets separated on a big hit by Grossmont defensive back Abraham Muheize.
(Photo by Travis Downs)

The visiting Chaffey College Panthers were a pack of wounded animals. After dropping their Foothill Conference opener to Victor Valley, the Panthers could not afford another setback, or hopes for a conference championship would be gone.

And the Griffins vanquished the dream with their very first shot.

JEREMY YOUNG took the opening kickoff and raced 100 yards for a touchdown, then the Grossmont defense limited Chaffey to just 201 yards in total offense in Saturday's (Oct. 7) whitewashing of the Panthers, 21-0, at Mashin-Roth Memorial Field.

Following a series of bounces on a short kickoff which first hit at the Griffins-20, Young saw the ball bound over his shoulder before finally recovering at the goal line. However, with the blocking wedge already dissipated, Young needed to quickly improvise.

Here comes the Boom 2 & 3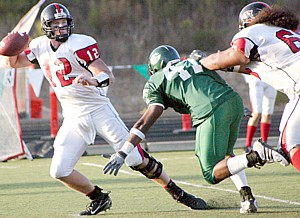 Griffins defender Jimmy Pinkney closes on Chaffey quarterback David Nieman (top). Meanwhile, cornerback Sharrod Davis (2) breaks up a pass by reaching around the Panthers receiver.
(Top photo by Greg Eichelberger)
(Bottom photo by Travis Downs)

"We were able to make something out of nothing," said Young, who broke the school record of 98 yards set a year ago by DERRELL HUTSONA, the 2005 J.C. Grid-Wire national Co-Offensive Player of the Year who now plays for Washington State. "Chaffey thought we couldn't play a physical game, so we went out there to prove something."

Grossmont's defense took the next step, denying Chaffey entry into its red zone to maintain the 7-0 lead throughout the first half. Freshman safety ABRAHAM MUHEIZE, the 2005 CIF-San Diego Section Offensive Player of the Year, led the hit parade with seven of his game-high 10 tackles before the intermission. Muheize also laid-out a Panthers receiver with a big hit to force an incompletion.

Again, Muheize's focus was on the trash-talking by Chaffey.

"For us, there's no better rivalry than Chaffey," noted Muheize. "I knew there were some sophomores in front of me, so it felt great to finally get in there and show I can play."

Gone with the Wynn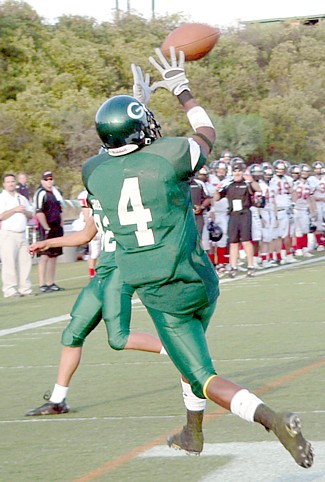 Joe "Lefty" Wynn is all alone in the corner of the
end zone on this 5-yard TD pass from John Soli.
(Photo by Gary Grimm)
Grossmont received extra motivation after coaches posted published comments attributed to the Panthers on the Griffins' lack of physicality. The quotes gained the attention of the offensive line.
"They came up to the line huffing-and-puffing and talking -- their linebackers were screaming our numbers at us," noted left guard DAN TUFELE. "It became a challenge for us, so we kept our head and came out on top."
Although the Griffins missed a scoring chance in the first half, failing on a fourth-down from the Panthers-1 and missing a field goal, the offense found the scoreboard after the intermission.
Following a fumble recovery by linebacker NATE DOLAN, running back KEVIN SMITH capped a short, 13-yard drive with a 1-yard TD dive midway through the third period. Grossmont then marched 62 yards to open the fourth period, capped on a 5-yard scoring pass from JOHN SOLI to receiver JOE "Lefty" WYNN.
"Little Johnny just tossed me the rock," noted Wynn, who was wide open in the right corner of the end zone. "Chaffey stacked the line thinking we were going to run and we passed it right over them."
Meanwhile, the defense limited the Panthers to just 75 total yards in the second half to preserve the shutout. Nose guard RYAN GLAZER registered 2 1/ 2 sacks, while MATT MOSS had 1 1/2 sacks, as Grossmont has yielded just 38 points all season -- they lead the state at 6.3 points allowed per game.
"They said we weren't good enough to handle them," added defensive end TANU PALEAFEI. "We proved them wrong -- 21-to-nothing is sweet -- we never let Chaffey run on us."
The secondary also chipped-in their share. The Griffins saw Chaffey complete a mere 9-of-32 passes, with SHARROD DAVIS and NATE SCHAD registering fourth-period interceptions to maintain the shutout.
Grossmont, which has four games left in the regular season, remains in a first-place deadlock with Victor Valley (6-0, 4-0), which blanked last-place Antelope Valley, 34-0. The teams meet in Victorville in two weeks. The Griffins' three other opponents own a combined 2-15 record, making the Oct. 21 showdown the last obstacle for Grossmont to claim its fourth consecutive Foothill crown.
But first, the Griffins must deal with College of the Desert in a rare 7 p.m. conference game next Saturday (Oct. 14) in Palm Desert.
GRIFFINS 21, PANTHERS 0
Chaffey College (1-2, 2-3)............................... 0 0 0 0 -- 00
Grossmont College (4-0, 5-1).......................... 7 0 7 7 -- 21
FIRST QUARTER
Scoring Play (PAT), Time of Score/Qtr. (Drive: Plays, Yards, TOP)
GC -- Young 100 kickoff return (Ballman kick), 14:39

SECOND QUARTER
No scoring
THIRD QUARTER
GC -- K.Smith 1 run (Ballman kick), 6:12 (4-13-1:51)
FOURTH QUARTER
GC -- Wynn 5 pass from Soli (Ballman kick), 10:47 (11-62-4:04)
Att.: 1,500.
---
Desperate Panthers face Griffins in must-win game
(c) East County Sports.com
EL CAJON (10-6-06) -- Call it the luck of the schedule.
Everyone knew Grossmont and Chaffey community colleges would again be front-runners in the Foothill Conference football race, but few knew Victor Valley would gain imports from throughout the country to become competitive.
COA Southland Poll -- Oct. 2nd
First-place votes in parenthesis

1. Saddleback (14)
09. Victor Valley
2. Moorpark
10. Bakersfield
3. Santa Ana
11. Allan Hancock
4. Orange Coast
12. Mt. San Jacinto
5. El Camino
13. Long Beach
6. Mt. San Antonio
14. Citrus
7. Grossmont
15. Chaffey
8. Glendale
16. Palomar

Others -- 17. Cerritos; 18. Riverside; 19. Fullerton; 20. Pasadena.
Competitive? Following 11 consecutive losses, it turned into the best conference opener for the team in Victorville in more than a decade, shocking Chaffey, 26-16.

And the Panthers didn't know what hit them until it was too late, falling short in their rally after trailing early, 23-0.

"You can't be among the state's best unless you beat one of the elite in the state, and Chaffey is," said VVC head coach Dave Hoover. "I feel like we are a good football team. This was a big win for this team, and Chaffey is that good."

And desperate, too.

If Chaffey's Panthers (2-2 overall, 1-1 conf.) want to remain in the hunt for the Foothill crown, they must win this weekend. Period. No exceptions. And the Grossmont Griffins (4-1, 3-0) stand in their way in Saturday's (Oct. 7) 3 p.m. showdown at Mashin-Roth Memorial Field.

When Chaffey fell to the Rams, Hoover wanted to take advantage of the Panthers' aggressive defense style.

"Our plan was to take it deep," said Hoover. "Nine of (quarterback Michael) Woods' passes were for more than 20 yards, because they are so aggressive. It was a good opportunity to make big plays."

The Griffins may need to adjust their offense in a similar manner. However, the deep pass has been an element missing from the Grossmont attack in recent weeks, despite a 4-game winning streak.

The difference could be Grossmont's team speed, similar to last season's rally from 21 points down to stun the Panthers, 38-31. A blocked punt and a pair of long touchdown passes allowed the Griffins to score 35 consecutive points, the key run which allowed the team to capture a third straight conference title.

Last week, Chaffey began its comeback march by whipping Southwestern, 35-7, an opponent Grossmont downed, 49-6, a week earlier. The Griffins have won the last four games in the series, including a pair of 2004 victories, as Grossmont also won a COA playoff contest in addition to its regular season meeting.

In fact, the last time the Panthers defeated the G-House, Chaffey needed to go three overtimes before securing a 43-35 decision. The loss is the only setback for Grossmont at home since the installation of its artificial surface, and the team's last loss in conference. The Griffins will attempt to extend a 30-game Foothill winning streak this week.

Plus, the entire state will be tuning in to this contest. Via the unique COA scheduling system, every conference in the state -- sans the Foothill -- received a bye date this week. So scouts and other representatives from four-year colleges will be filling the stands.

Ratings Game: For some reason, the Griffins continue to fall in the California Community College Football Coaches Association State Poll. In the last two weeks, the Griffins have dropped from No. 9 to No. 12 despite winning handily each week. Hummm?

By the same token, Grossmont has inched up in the national J.C. Grid-Wire ratings to No. 19. The Griffins remain at No. 7 in the SoCal Poll for the third consecutive week.
---
Griffins field a Special football team(c) East County Sports.com
EL CAJON (10-1-06) -- The emphasis on special teams play is becoming so important, many major college coaches no longer devote just the final 5-to-10 minutes of practice to them."We try to treat it as one-third of the game," Tennessee coach Philip Fulmer recently told USA Today. "We try to designate the practice time to it so we can be efficient.

According to Kentucky coach Guy Morriss, "Coaching staffs are now emphasizing (special teams play) as a weapon. We preach it; we want to win a game or two a year with our special teams play."

The best of the best in special teams over the past decade is Frank Beamer's Virginia Tech Hokies, which average six blocked kicks per season. Tech has blocked a remarkable 61 kicks (30 punts, 17 PAT, 14 FG), with nine of those returned or recovered for touchdowns.

Among the best in community college football may be right here in our own neighborhood at Grossmont College. After returning a pair of kickoffs for touchdowns against Southwestern last week, the Griffins' special teams units continued to add to their ledger.

Captains of Crunch
A trio of Grossmont defenders converge on SBVC quarterback Brad Sorensen, forcing a fumble (click picture for enlargement to see) for one of four turnovers garnered by the Griffins in a 44-6 pasting.
(Photo by Greg Eichelberger)

JUSTIN JOHNSON scooted 46 yards for a touchdown on a punt return, while JUNIOR FALIUGA blocked another punt which JEREMY YOUNG recovered and raced 7 yards for another score, as Grossmont rocked San Bernardino Valley, 44-6, in Saturday's (Sept. 30) Foothill Conference home opener at Mashin-Roth Memorial Field.

"It was just a scoop-and-score," noted Young, who was known for his long-distance scoring runs playing for El Cajon Valley High last season. "The coaches just ask us to go get the ball, and Junior came in and stepped up."

Faliuga, who hopes to eventually gain a starting role in the secondary, relishes his role to contribute on special teams in any capacity.

"It's our job to go out there and make plays, just like regular defense," noted Faliuga, a freshman from Hawai'i. "Coach (MIKE) YEAGER is the running back coach, but he does the special teams real well, too. So on the block, we didn't need to do anything special. It was an even rush and I just got inside."

Yeager once was named the top special teams performer at the University of Houston, which makes him a welcome addition to the staff of head coach MIKE JORDAN.

"Plus, we have so much talent on this team, everybody can't play on offense or defense," noted Jordan. "So some of these guys have to play on special teams if they want to get into the game."

Other facets of Grossmont's special teams are already known. JARED BALLMAN ranks second in California in punting average, while TERRY MIXON -- courtesy of his two TDs against Southwestern -- is the state leader in kickoff returns entering Saturday's action.

Meanwhile, the Griffins offense is quickly maturing, utilizing some big plays to get past San Bernardino Valley.

After the Wolverines took a quick 6-0 lead, JOHN SOLI tossed the first of two scoring passes for the Griffins. The first came with a little bit of luck, starting an onslaught of 44 consecutive points.

Soli's pass was tipped by SBVC lineman Shaun McCoy. Instead of the ball floating incomplete, it landed in the arms of Grossmont receiver PERRY GARDNER, who received a pair of blocks from other receivers on a 74-yard TD run.

Then the Grossmont defense settled in. After allowing 141 yards over the first two SBVC drives, the linebackers took away the Wolverines shovel pass to limit the visitors to just 117 yards in total offense over the balance of the contest.

Included were several solid tackles by middle linebacker NATE DOLAN, who also garnered his third interception and forced a fumble.

"We ran a blitz and (defensive end) MATT MOSS got in there quick," recalled Dolan. "I hung out waiting for the ball and the quarterback threw it right to me."

Dolan returned the ball 14 yards to the SBVC-14, setting up Soli's second TD pass, a 13-yard delivery to Johnson midway through the third period. Two minutes later, Johnson scored again on his punt return, and the Griffins (4-1) went on to register their fourth straight victory.

Following a 2-0 start, the Wolverines (2-2) are 0-2 in the Foothill, with setbacks to conference favorites Grossmont and Victor Valley (both 3-0 in conference play).

Also scoring for Grossmont was running back CEDRIC WARREN, who went around the right side for a 9-yard TD run and a 14-6 halftime lead, then REGGIE ROSS romped 62 yards on a similar play in the third period.

Even the Grossmont defense got into the act, placing two points on the scoreboard when lineman TANO PALEAFEI sacked Wolverines quarterback Brad Sorensen in the endzone for a safety.

In 2 1/2 quarters of action, Soli completed 9-of-16 passes for 187 yards. However, he lost what would have been an unusual school-record 99-yard pass play because of a penalty.

Following a goal line stand by the G-House defense late in the first period, Soli was forced to start from the Grossmont-1. He found IOSEF OBERWAGER racing down the field along a seam on a breakaway pass play, but an SBVC defender caught the receiver and punched the ball away for a fumble, which bounced 20 yards forward into the endzone.

Ryan McCarthy recovered for the touchback, resulting in a 99-yard play, but a turnover as well. However, the wild, record-setting play was nullified as SBVC was ruled offsides, so Grossmont took the penalty yardage.

The Griffins also forced their share of fumbles, including a strip by LEONARD BROWN, which was recovered by Faliuga, while Paleafei and Moss combined for a sack which resulted in a fourth-quarter fumble.

RANDY HORN turned in a game-high 11 tackles for the Griffins, who have won 30 consecutive Foothill Conference contests.
---
Griffins hoping to snub
Wolverines' rebound bid

(c) East County Sports.com
EL CAJON (9-29-06) -- The dryspell for the San Bernardino Valley College football program has lasted nearly a decade. So when the Wolverines carried a 17-13 lead into the second half of last season's game in the Inland Empire, Grossmont was embroiled in its closest Foothill Conference showdown of the season.

The Wolverines defense went on to do their job, shutting out the Griffins in the second half, but an interception return for a touchdown by the G-House defense kept their undefeated streak intact. Cornerback GEOFFREY HOWARD raced 62 yards with 6:12 remaining for the only score by either team in the second half for a 20-17 victory.

Talk about a crossroads -- Grossmont went on to capture the state championship; SBVC lost 6 of its final 7 contests.

The teams' path will cross again this Saturday (Sept. 30), when Grossmont hosts the Wolverines in its conference home opener at 3 p.m. at Mashin-Roth Memorial Field. However, the strides of improvement gained by the Wolverines (2-1, 0-1) may have dwindled.

Following a pair of nonconference victories over East L.A. (25-13) and L.A. Pierce (14-6), SBVC was swamped in its Foothill opener by Victor Valley, 42-3. And they were never in the contest against a team which could seriously challenge Grossmont's 3-year reign at the top of the Foothill standings.

"We are throwing this (Victor Valley) tape right in the trash can," San Bernardino Valley coach Pat Meech told the San Bernardino County Sun. "You want to address this, but you don't want to harp on it too much because you don't want it to linger. We haven't done anything all season that showed that we were capable of playing like this."

And with a week off to heal their wounds, which Wolverines squad will show up on the 2-hour trek south: The one that hasn't defeated the Griffins since 1997, or one which could end Grossmont's 29-game conference winning streak?

On the defensive side, Grossmont ranks No. 2 in the state for fewest points allowed (8 ppg) and fourth in yards allowed (182 ypg).

Meanwhile, Grossmont will strive not to look too far ahead to next week's battle with Chaffey. And all three facets of the Griffins' game are shifting into high gear.

While the defense and special teams have been solid all season, the improving offense put five touchdowns on the scoreboard against Southwestern in a 49-6 pasting. The offense has scored more points with each ensuing week, going from 10 to 25, then 30 and 35 -- could 40 be too far away?

RANKINGS
The Griffins, who lead the all-time series over San Bernardino, 21-5, are ranked No. 20 in the nation, No. 11 in the state and No. 7 in Southern California.

GRIFFINS STATS LEADERS
Grossmont's TERRY MIXON is the state leader for kickoff returns with a 62.3-yard average and two touchdowns on three runback. . . JARED BALLMAN is No. 2 in the state with a 43.2 punting average on 17 boots, and is No.6 in kick scoring with 26 points. He is tied for third in the state with five field goal. . . JUSTIN JOHNSON ranks 4th in the state for punt returns, averaging 23.4 yards on 14 returns.
---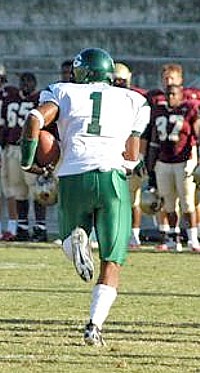 With Sam Horn (33, click picture for enlargement) leading the way to open a hugh hole, the Griffins' Terry Mixon (1) races coast-to-coast with one of his two kickoff returns for touchdowns against Southwestern.
(Photo by Dawn Adams)
Six former Griffins are now playing for the Sacramento State Hornets.
Story HERE.
Griffins Mixon up Jaguars
Returns kickoffs 93 & 92 yards
for first-period touchdowns
(c) East County Sports.com
CHULA VISTA (9-24-06) -- How close did Grossmont College come to shutting out Southwestern College? The lone Jaguars touchdown came on a fortuitous fumble recovery at the goal line by an offensive lineman after the snapped ball slipped off the quarterback's hands and bounced off several pairs of legs.
Otherwise, the only thing stopping the Griffins were the Griffins themselves, as they stumbled and bumbled for a half before streaking to an impressive second half and a 49-6 pasting over Southwestern at DeVore Stadium.
However, in the first half, nobody could stop Grossmont sophomore TERRY MIXON.
The cornerback returned the game's opening kickoff 93 yards for a touchdown. Then after Jags lineman Julian Mendez covered a loose ball in endzone to trim the Grossmont lead to 14-6, Mixon again raced 92 yards for his second sprint through Southwestern's porous kick-coverage unit.
"Our blocking -- wow! -- our blocking was tremendous," declared Mixon, who went through the wedge, then angled to the right side to the front of the Southwestern bench on his way to both coast-to-coast romps. "We executed like we do all week at practice, but to do it twice, it was like God was there. I got the ball, then took it to the house."
Mixon also added a pair of interceptions -- one in each half -- and defended several passes, throwing his hat into the ring for state player of the week honors.
Nose guard SONNY SALANOA anchored a defensive line which had its way with the Jaguars, finishing with five turnovers, four sacks and more than a dozen hits on a pair of Southwestern quarterbacks.
Although the statistical results were solid, Salanoa bases his performance to higher standards.
"It was a good effort, but we still need to cut down on our mistakes and errors," noted Salanoa. "Overall, it was a pretty good effort, but there were too many missed tackles."
Well, not too many. Southwestern rushed 28 times for a mere 57 yards, while completing just 8-of-26 passes (less than 31 percent) for 125 yards -- just 182 yards in total offense.
""We had a set of goals -- force turnovers and play hard," said linebacker SAM HORN, who paced Grossmont with seven tackles and returned a fumble 49 yards only to be stopped just short of the goal line on the final play of the first half. "We're a second-half team and we won it with one-on-one coverage as a unit and not letting people run on us."
Griffins defensive back Terry Mixon (center) leaps in front of a Southwestern receiver to register the interception. Grossmont vanquished the Jags, 49-6.
(Photo by Dawn Adams)

Meanwhile, only Grossmont (3-1 overall, 2-0 Foothill Conference) stopped itself on offense before shoring things up during the intermission. The Jags fell to 2-2 (1-1 conference).

The Griffins moved the ball into Jags territory on their first four possessions, but only scored on their first drive, when JOHN SOLI found JUSTIN JOHNSON on a 22-yard pass for a 14-0 lead. The remaining marches ended on a lost fumble sandwiched around a pair of interceptions.

No such mistakes in the second half.

REGGIE ROSS, in his first significant action of the season, rushed for touchdowns on 11 and 42 yards in the third period and a 35-6 advantage. CEDRIC WARREN setup the first score with a nice 24-yard run into the red zone, while linebacker DEREK HINKLEY recovered a fumbled Southwestern snap to set up the second score.

It was more of the Grossmont ground game in the fourth period.

Following SHARROD DAVIS' second interception of the season, DAVID HADNOT capped a 51-yard drive with a 3-yard burst. Soli went 3-for-3 on the drive, each reception good for a first down.

Grossmont then scored on its third straight possession when fullback REUBEN MAUGHN muscled in from the Southwestern-1. On the previous play, JOE WYNN hooked-up with LUIS GONZALES on a 44-yard halfback pass connection.

Soli finished completing 14-of-18 passes for 162 yards, as the Griffins gained 242 yards through the air. Ross gained 80 of the team's 134 yards on the ground for 376 total yards.

Southwestern's Travis Crawford registered a pair of first-half interceptions. East County products RYAN KING (El Cajon Valley) and JUSTIN HORNSBY (Steele Canyon) registered both of the Jags' sacks.

King also recovered a fumble, but Grossmont won the turnover battle in the second half, 3-0, with ABRAHAM MUHEIZE also partially blocking a punt and JEREMY YOUNG downing a punt at the Jaguars-2 following a 53-yard effort by punter JARED BALLMAN (4-for-42.8 average).

GRIFFINS 49, JAGUARS 6
At DeVore Stadium, Chula Vista
Grossmont College (2-0, 3-1).......................... 21 0 14 14 -- 49
Southwestern College (1-1, 2-2).................... 06 0 00 00 -- 06

FIRST QUARTER
Scoring Play (PAT), Time of Score/Qtr. (Drive: Plays, Yards, TOP)
GC -- Mixon 92 kickoff return (kick failed), 14:46
GC -- J.Johnson 20 pass from Soli (Warren run), 10:22 (9-65-3:30)
SW -- Mendez fumble recovery in end zone (kick failed), 7:37 (6-62-2:33)
GC -- Mixon 92 kickoff return (Ballman kick), 7:18

SECOND QUARTER
No scoring

THIRD QUARTER
GC -- Ross 11 run (Ballman kick), 12:20 (3-44-1:18)
GC -- Ross 44 run (Ballman kick), 2:30 (4-42-1:33)

FOURTH QUARTER
GC -- Hadnot 3 run (Ballman kick), 13:23 (6-51-2:19)
GC -- Maughn 1 run (Ballman kick), 10:08 (2-55-0:27)
Att.: 1,500.
---
Improving Jaguars seek respect from Grossmont
(c) East County Sports.com
CHULA VISTA (9-21-06) -- Veteran coach Jan Chapman has seen his share of changes in his 45 years of coaching. Inducted into the Hall of Fame at two different colleges, the 70-year-old coach is again guiding Southwestern College -- Grossmont's opponent on Saturday (Sept. 23) -- for what could be his second stint, or his third stint, or even his fourth if you count time as a co-head coach.
Either way, the Jaguars, like the rest of the Foothill Conference, are making strides in both improvement and results on the scoreboard. Despite a narrow loss in the season opener to Glendale, a team Grossmont defeated in last year's playoffs, the Jaguars have posted wins over East Los Angeles, 17-16, and Antelope Valley, 25-3.
In other words, Grossmont (2-1), ranked No. 23 in the nation, No. 9 in the state and No. 7 in Southern California, will be ill-advised to look any father ahead on its schedule than Saturday's 5 p.m. meeting with the Jaguars at DeVore Stadium.
Southwestern lists players from eight of East County's 13 football-playing high schools, including former All-East County running back J.D. Lucas (Steele Canyon '03), who leads the conference with 484 yards in three contests. Lucas teams with former Chula Vista High standout Larry "Sweet Pea" Richardson to form a strong running tandem.
Monte Vista product DAVID MAKIN serves as the backup quarterback, while starter Brett Milke is second in passing to Victor Valley's Michael Woods.
Lucas' brother, Victor, is also a former All-East County selection as a defensive back. He is among the conference leaders in kickoff returns (25.3 avg.). Grossmont's advantage on special teams may also be limited, too, as the Jaguars are second to the G-House in several categories, including punting, while listed first in turnover margin.
Thus, Grossmont's JUSTIN JOHNSON and JARED BALLMAN, both special teams leaders and Foothill players of the week, will need to shine. Johnson returned three punts for a 39.3.average, including two for 50 yards each in last week's 30-10 Foothill Conference-opening win at Mt. San Jacinto.
Meanwhile, Ballman, went 3-for-4 on field goals and pumped a boot of 71 yards on his lone punt against Mt. San Jacinto.
Running back KEVIN SMITH (Helix) leads Grossmont's ever-improving offense. DBs TERRY MIXON and SHARROD DAVIS (Monte Vista) head up the Griffins defense.
GRIFFIN GRAFITTI: Grossmont leads the all-time series over Southwestern 21-12-3. . . The Griffins have won six straight, the last three victories coming by a composite score of 152-46.
---
COA Southern California Rankings

East County Sports.com
SACRAMENTO (9-18-06) -- The 2006 California Community College Football Poll is a service of the Commission on Athletics and the California Community Colleges Football Coaches Association. Each regional poll includes community college football coaches, sports information directors and media members. The poll is recognized as the official regional state ranking and will be used for selection of post-season and state championship game participants. In the south region, the five conference champions advance to postseason play along with the next three highest-ranked schools.
COA Southland Poll -- Sept.18th
First-place votes in parenthesis

1. El Camino (12)
09. Glendale
2. Saddleback (2)
10. Palomar
3. Mt. San Antonio
11. Victor Valley
4. Moorpark
12. Chaffey
5. Santa Ana
13. Bakersfield
6. Orange Coast
14. Allan Hancock
7. Grossmont
15. Mt. San Jacinto
8. Riverside
16. Canyons

Others -- 16. Fullerton, 17. L.A. Harbor, 18. Long Beach, 19. Pasadena, 20. San Bernardino Valley, 21. South-western, 22. Citrus, 23. Cerritos, 24. L.A. Southwest.

Northern California -- 1. San Francisco, 2. Reedley,
3. San Mateo, 4. Foothill, 5. Santa Rosa, 6. Fresno, 7. Feather River, 8. Sequoias, 9. Modesto, 10. Laney, 11. Sierra, 12. Chabot, 13.Monterey Peninsula, 14. Solano, 15. Diablo Valley, 16. Contra Costa, 17. West Valley and San Joaquin Delta (tie), 19. Sacramento, 20. Mendocino.
---
Griffins defense throws second-half shutout

(c) East County Sports.com
SAN JACINTO (9-17-06) -- After allowing 83 points when these teams met a year ago, Mt. San Jacinto College must have been giddy after assuming a 7-6, second-quarter lead after Grossmont College's first three drives stalled, forcing the Griffins to settle for field goal attempts (making 2-of-3).

Grossmont 30,
Mt. San Jacinto 10
FINAL

DID YOU KNOW?... The North County Times

also publishes a newspaper in south Riverside County, called

The Californian.

To read its coverage of the game,

CLICK HERE

.

However, whatever intangibles were leftover from last season's state championship team might have carried over to a struggling offense as the Eagles' short-lived lead lasted a mere 45 seconds. Grossmont bolted down the field 68 yards on three long gainers, as the Griffins (2-1, 1-0) opened defense of their Foothill Conference crown with a 30-10 triumph over previously undefeated Mt. San Jacinto (2-1, 0-1).

The rally came with hockey-like precision.

Not only did HUNTER FLYNN enter the game at quarterback, an entire new set of offensive linemen joined him -- a line change, if you will. The result: a 17-yard run by KEVIN SMITH was sandwiched around completions of 38 and 13 yards to BRANDON BRYAN, the latter a TD that propelled Grossmont back in front to stay, 13-7.

"Me and the whole line came in as a group, which I really like because I get to work with and be comfortable with the same center all of the time," said Flynn, a 2005 red-shirt at City College of San Francisco, which lost to the Griffins in the state title game last December. "I don't mind rotating in because it's a competition between JOHN (SOLI) and I. Besides, this gives coach a chance to jaw at us."

The Grossmont defense then stepped forward despite a choppy effort. Although troubled by the Eagles' option, they still kept the hosts off the scoreboard in the second half. Meanwhile, the special teams units again proved to be among the best-ever for the Fletcher Hills school.

Included was the kicking of JARED BALLMAN, who converted 3-of-4 field goals while also booming a personal-best 71-yard punt. The effort equaled the second-best punt in school history (KEN WILSON against Antelope Valley, 1977), falling just short of the school mark of 73, established by MARV BROWN against Saddleback in 1974 -- the year Grossmont captured its first state championship.

In addition, JUSTIN JOHNSON continued to inch closer to a punt return for a touchdown. After the last man finally took him down twice last week against Canyons, Johnson twice more came within an eyelash of going coast-to-coast with a pair of 50-yard returns.

"I just follow the blockers," noted Johnson. "The coaches say the hole will be there and I just hit it."

Johnson finished returning three punts for 118 yards (39.3 average), as the Griffins outgained Mt. San Jacinto in return yardage by a whopping 171-to-0 count, making up for the statistical deadheat in total offense -- the Eagles gained a single additional yard, 270-269.

And the defense did its job, too.

Courtesy of strong play at nose guard by SONNY SALANOA, the defense recorded four sacks. Linebacker DEREK HINKLEY gained two sacks, MATT MOSS added a solo sack, while ABRAHAM MUHEIZE and RYAN GLAZER shared the other.

Following Ballman field goals of 21 and 33 yards in the opening period, Mt. San Jacinto scored its lone touchdown on an 8-yard run on an option pitch to the left side by Kevin Slaughter to move in front with 9:55 left in the half. The Eagles' 75-yard drive was benefited by two Grossmont penalties for first downs, while a hit by Muheize resulted in a fumble, but the loose ball skipped out-of-bounds.

After Grossmont answered 45 seconds later, the Eagles kicked a field goal to end the half with the Griffins leading, 13-10.

In the second half, Mt. San Jacinto moved into Grossmont territory three times, but came away empty each time, including an interception by NATE DOLAN. Earlier, SHARROD DAVIS returned a pick 47 yards.

""We made some adjustments and started making some plays, basically," said TERRY MIXON, who was the leading tackler in the secondary for Grossmont. "We're still young and getting better, but we welcome the opportunity and the chance to hit somebody out there."

Ballman then punted his 71-yarder, dooming the Eagles with poor field position the rest of the afternoon.

MSJC quarterback Jordan Hudson actually ran for more yards (19-for-79) than he passed for (11-24-2, 75 yards), as the option gave Grossmont fits throughout the contest. Yet they continued to post big stops to prevent any scoring plays.

"Just too many mistakes," said Eagles coach ED CARBERRY, the former highly successful head coach at Monte Vista High, who turned MSJC into a bowl participant last season. "Our aspirations are higher now, so we have to tighten down a bit if we want to move to the next level."

Flynn completed 5-of-11 passes for 102 yards, including three to Johnson for 82 yards. Smith rushed 13 times for 85 yards.

The choppy contest included 30 accepted penalties, including four personal fouls on the frustrated Eagles in the late going.

GRIFFINS 30, EAGLES 10
Grossmont College (2-1, 1-0).......................... 6 7 7 10 -- 30
Mt. San Jacinto College (2-1, 0-1)................... 0 10 0 0 -- 10

Scoring Play (PAT), Time of Score/Qtr. (Drive: Plays, Yards, TOP)
GC -- FG Ballman 21, 9:09/1st (13-62-4:58)
GC -- FG Ballman 33, 6:03/1st (9/(-5)/1L53)
MSJC -- Slaughter 8 run (Lamoreux kick), 9:58/2nd (12-75-6:05)
GC -- Bryan 13 pass from Flynn (Ballman kick), 9:10/2nd (3/68/0:35)
MSJC -- FG Lamoreux 29, 1:59/2nd (11-67-6:59)
GC -- J.Johnson 19 pass from Soli (Ballman kick), 2:52/3rd (2-24-1:05)
GC -- K.Smith 9 run (Ballman kick), 13:21/4th (11-77-3:47)
GC -- FG Ballman 41, 2:24/4th (4-(-6)-1:53)
A--750.
---
Roads to becoming a starting quarterback
East County Sports.com
SAN JACINTO (9-15-06) -- Two schools. Two different paths to determine their respective starting quarterbacks.
For Mt. San Jacinto College, only one of head coach ED CARBERRY's signal-callers owned any real experience, even though it was dated. Following a severe shoulder injury which prematurely ended his high school career, it took former Temescal Canyon quarterback Jordan Hudson five years to finally return to action.
"I couldn't sleep; I had the anxious thing going on," Hudson told The (Temecula) Californian. "I wanted to get in there and see what I could do."
Knowing all week his first pass would go deep, Hudson hooked up with Romell Richardson on a 37-yard touchdown strike in a 34-0 pasting of L.A. Pierce.
Even though quality opponents have been lacking on Mt. San Jacinto's preconference schedule, Carberry's turnaround of the lowly program has been apparent. The Eagles advanced to a bowl game last season, narrowly falling to perennial power Saddleback, and now is one of just three Foothill Conference teams standing at 2-0 entering Saturday's (Sept. 16) conference opener against Grossmont (1-1) at 1 p.m.
While Carberry -- a highly successful coach at Monte Vista High and the Griffins defensive coordinator in 2000 -- has transformed Mt. San Jacinto into the highest scoring team (26.5 ppg) in the Foothill Conference. Grossmont is seeking stability with a pair of young and inexperienced freshmen vying for the quarterback spot.
"I wouldn't call it a controversy, but more of a competition," said Griffins coach MIKE JORDAN. "It's just like any other position with players competing, but when it's the quarterback, for some reason people always say it's a controversy."
While Hudson ranks first in total offense, Grossmont's JOHN SOLI and HUNTER FLYNN are off the Foothill charts, continuing to share duties under center until one can break through to grab the reins as the clear-cut starter.
"Both are young guys trying to find their way," added Jordan.
Soli received the start in last week's 25-3 victory over College of the Canyons, but it was Flynn who came in and directed a pair of short scoring drives in the third period to distance the Griffins from the Cougars.
Of course, Grossmont's defense and special teams units can take credit for gaining great field position. And it showed in this week's Foothill award winners. Linebacker NATE DOLAN and punter JARED BALLMAN were each named among the conference's players of the week.
Dolan registered nine tackles and an interception, while Ballman averaged 44.8 yards on six punts plus nailed a 35-yard field goal. Included among his punts were boots of 61 and 59 yards, while he lost distance on his overall average with a pair of punts downed inside the 10-yard line.
Also named from Grossmont was receiver JUSTIN JOHNSON, who nearly broke two punt returns for scores, finishing with four returns for a 20.9 average while also grabbing a scoring pass.
Hudson was the QB of the week (17-28-0, 248 yards, 3 TDs), along with teammate Darrell Thornton (8-164, 2 TDs), as MSJC pair connected on two TD passes -- including a 63-yarder for a score -- to beat L.A. Pierce.
"That was our play all week," said Hudson, part of a scouting envoy that pegged Brahmas' safeties as a weakness. "All night long, I was like, 'How's it going to go? Is it going to be a touchdown?'"
However, Grossmont's secondary owns a tad more respect than Valley or Pierce. Canyons never completed a pass for more than 10 yards all contest against the Griffins, who rank first in Foothill total defense (137 yards/game). The Eagles rate second at 147 ypg.
GRIFFIN NOTES -- Not that ratings mean a whole lot at this point, but Grossmont is ranked No. 8 in SoCal and No. 12 in the state by JCAB, while the Eagles are No. 15 in SoCal and No. 27 in the same poll. . . GC's JUSTIN JOHNSON is the No. 1 punt returner in the state with a 21.7 ypr average. . . The Griffins owns a 13-2 series edge over MSJC.
---
Secondary proves All-America worthy
in clash of recent national champions
East County Sports.com
EL CAJON (9-10-06) -- On the same day the JC Grid-Wire preseason All-America team was announced locally, Grossmont College defensive back TERRY MIXON proved worthy of his selection.
Mixon joined with teammates SHARROD DAVIS and GEOFFERY HOWARD in the secondary to put the clamps on the College of the Canyons passing game Saturday (Sept. 9), powering the No. 24 Griffins to a dominant 25-3 triumph at Mashin-Roth Memorial Field.
READ HERE

the game story published by

The Signal

newspaper of Santa Clarita.

The clash among the latest JC Grid-Wire national champions went the way of the 2005 titlist Griffins from the very start. The defense yielded just 21 yards on the ground and only 87 more through the air, blanking the 2004 champs for more than 55 minutes of play.

"Our defense has the ability to be that good every week," said Grossmont head coach MIKE JORDAN, who earned his first collegiate victory after replacing his father, the retired DAVE JORDAN -- the emeritus head coach -- over the summer. "We have Division I defensive backs who all played great games."

With Canyons working on Davis' side the majority of the time, the Monte Vista High product collected a team-high seven tackles and never allowed a big-gainer. Davis also kept Canyons standout receiver Tenerce Scott from making any impact. Despite 10 receptions by Scott, each were on swing passes at or behind the line, leaving him with a mere 47 yards all contest.

In otherwords: no impact.

The psyche for both nationally ranked ballclubs were on the line following opening-week losses by both sides. However, Grossmont quickly returned to stable condition by taking advantage of an early Cougars miscue, then forcing three additional turnovers to place the struggling-to-develop offense in scoring position.

The lone score of the first half came on a 1-play, 1-yard drive, setup after a poor snap on a Canyons punt saw the ball tapped-on and recovered by ANDREW LEALOFI just short of the goalline.

"Our defensive coordinator (STEVE JOHNS) gave us a great scheme," said Davis. "He keeps us well-disciplined and we executed."

SEAN TUIOFU carried the ball for the touchdown just 4:58 into the contest, then Tuiofu busted up the middle for a 2-point conversion and an 8-0 lead after the Cougars were offsides on the kick and the ball was advanced half-the-distance to the goal.

Grossmont's defense and special teams units setup the offense for a pair of scores over a 2:12 span midway through the third period.

First, punter JARED BALLMAN booted a 59-yarder which was downed at the Canyons-7. Following a 3-and-out by the Grossmont defense, JUSTIN JOHNSON raced 15 yards on a punt return.

Quarterback HUNTER FLYNN then completed a pair of 9-yard passes, the latter to Johnson for the score and a 15-0 lead.

Johnson also returned six Cougars punts for 87 yards, including a 38-yarder which almost went for a touchdown except for a diving tackle by Canyons' punter. Meanwhile, Ballman, an honorable mention preseason All-America pick, had a career outing averaging 44.4 on seven punts which included a 61-yarder. Ballman also added a 35-yard, fourth-quarter field goal to extend the lead to 25-0.

Howard garnered his first interception on the Cougars' next play from scrimmage. Five plays later, KEVIN SMITH, Grossmont leading ground-gainer (12-41) raced 12 yards up the middle for a 22-0 lead.

"This feels like a shutout -- they didn't get any touchdowns," said Howard. "Sure, they kicked a field goal because that's what they had to do to not get shutout -- well, things like that happen."

Which brings back the point about a team's psyche.

Following a late trio of 15-yard penalties, Canyons moved deep into Grossmont territory before facing a fourth down at the Griffins-15. But instead of going for the touchdown with 4:37 remaining in an out-of-reach contest, the Cougars elected to kick a field goal as Paul Weinstein converted from 32 yards.

According to several players, even the referees were jawing at the Canyons coaching staff for the un-manly move by not going for six points to truly earn its points to avoid the shutout. The positive could turn into a negative as a vote of no confidence for a team with high expectations, yet which now owns an 0-2 record.

Meanwhile, the Griffins (1-1) look ahead to their Foothill Conference opener, traveling to Mt. San Jacinto next Saturday (Sept. 16) for a 1 p.m. kickoff. The Eagles, guided by former Monte Vista head coach ED CARBERRY, are one of two undefeated teams remaining in the conference following victories over L.A. Pierce (34-0) and L.A. Valley (27-13).

Notes -- Grossmont saw three players named to the preseason All-America team, with offensive lineman C.J. BRYANT garnering a second-team nod. . . Including COC's loss to Grossmont in last year's Southern California regional championship, Canyons has now dropped three games in a row, the most since football was reinstated in 1998.

GRIFFINS 25, COUGARS 3
College of the Canyons (0-2).................................... 0 0 00 3 -- 03
Grossmont College (1-1)........................................... 8 0 14 3 -- 25

Scoring Play (PAT), Time of Score/Qtr. (Drive: Plays, Yards, TOP)
GC -- Tuiofu 1 run (Tuiofu run), 10:02/1st (1, 1, 0:10)
GC -- J.Johnson 9 pass from Flynn (Ballman kick), 7:41/3rd (3, 16, 1:16)
GC -- K.Smith 12 run (Ballman kick), 5:29/3rd (5, 38, 1:34)
GC -- FG Ballman 35, 14:17/4th (3, 5, 1:31)
COC -- FG Weinstein 32, 4:37/4th (9, 39, 4:07)
---
It's Griffins vs. Canyons again, with a twist
Loser will fall to 0-2 in battle of recent national champions
East County Sports.com
EL CAJON (9-8-06) -- The most anticipated football game over the summer suddenly becomes a battle of survival after both Grossmont College, the 2005 national champions, and College of the Canyons, the 2004 national champions, were humbled with setbacks in the opening week of the season.
Unlike a year ago, when the Griffins scored in the final minutes to nip Mt. San Antonio, Grossmont was unable to score in the second half as the Mounties hung on to a slim 13-10 decision by stranding the G-House at the Mounties' 4-yard line as time expired. Meanwhile, Canyons fell 29-23 to Chaffey, Grossmont's top competitor in the Foothill Conference in recent seasons.
For the Griffins, the setback snapped a state-best 12-game winning streak, dropping from first to 15th in the state JC Athletic Bureau Poll. For the Cougars, their loss brought an end to a 38-game regular-season winning stretch, dropping COC from third to 13th.
ALUMNI DAY INFO
Kickoff is at 3 p.m., following an Alumni Day Tailgate by Ranch Catering at Grossmont College Parking Lot No. 5 (directly south of the stadium) which starts at
1 p.m. -- the cost is $20, which includes admission to the football game. All former students are invited to attend, along with area high school players and coaches.
In other words, both teams are still even -- very even. And one team will shockingly fall to 0-2 following Saturday (Sept. 9) afternoon's match-up at Mashin-Roth Memorial Stadium.
Canyons is becoming a common non-conference opponent for Grossmont. The teams have met in the postseason each of the past three years (the Griffins hold a slight 2-1 advantage), with Saturday's match-up the second straight meeting in the regular season.
While Grossmont has displayed a balanced offensive attack over the past few seasons, Canyons seems to be going exclusively with the pass. The Cougars threw the ball for more than 300 yards against Chaffey, but rushed for a mere 45, as both Grossmont and Canyons were slowed by opponents with strong defensive lines.
Canyons was also listed with 113 yards in penalties, but were flagged just five times -- something doesn't add up there. But the Cougars' main weakness seemed to be in the secondary, according to game reports in The Signal newspaper in Santa Clarita.
If Grossmont quarterbacks can avoid interceptions -- their top duo was picked off five times by Mt. SAC last week -- then the Griffins could improve their home-field remarkable record of 32-1 in six seasons since the installation of an artificial surface.
Honorable -- Griffins defensive back TERRY MIXON (10 tackles) was among the week one Foothill Conference players of the week and is the Griffins' most prominent player in JC Grid-Wire's preseason All-America listings.
---
Mt. SAC bounces defending champions
East County Sports.com
WALNUT (9-3-06) -- It was a less than auspicious opening day for the defending national champion Grossmont College Griffins Saturday (Sept. 2) afternoon at Mt. San Antonio College.
READ HERE

the game story published by

The L.A. Daily News/San Gabriel Valley Tribune.

Too little offense. Too many mistakes.

The result: Mt. SAC 13, Grossmont 10.

Defeats these days have been few and far between for the Griffins, who posted a 64-9 record over the previous six seasons.

Hot smoggy weather on top of an early wake-up call didn't help matters, but the five interceptions thrown by Grossmont freshman quarterbacks JOHN SOLI and HUNTER FLYNN proved to be deadly.

Soli, who completed only three of 14 passes for 97 yards in a starting role, did manage an early connection with JOE WYNN that covered 52 yards for a game-tying touchdown that made it 7-7 with 30 seconds left in the opening quarter.

Then it became a game of defense and field goals.

A 26-yard field goal by JARED BALLMAN gave Grossmont a 10-7 halftime edge. This so-called drive took nine plays to net 28 yards before Ballman broke the tie.

Mt. SAC's Richard Parkhouse tied it 10-10 with a 21-yard field goal in the third quarter. One of Grossmont's six turnovers set up that score. The mighty Mounties offense advanced the ball only 7 yards on three plays

Parkhouse eventually decided the issue with a 20-yard field goal with 4:22 remaining.

Even in defeat, Grossmont claimed an unspectacular 192-167 advantage in total yards. Each team had 11 first downs. By no stretch did this look like any Grossmont offense in recent memory.

Although Mt. SAC is drawing rave reviews on the various JC internet blogs for knocking off the Griffins, the Mounties must be aware that they pulled off a great escape.

Ten of Mt. SAC's points were the result of Grossmont misfires. Only twice did the Mounties put together drives longer than 25 yards against a strong Grossmont defense led by safety TERRY MIXON (8 tackles).

Grossmont's defense made eight tackles for losses and MATT MOSS and CASEY PUGHE combined for the lone sack.

Offensively, though, the Griffins were as poor as theyâ'e been in several seasons. KEVIN SMITH (13 carries, 48 yards) led a ground game that netted a forgettable 85 yards on 36 attempts. On the passing end, Grossmont was 4-of-21 for 197 yards. The interceptions speak for themselves.
---
Griffins seek to defend titles
Season opens at Mt. San Antonio on Saturday
East County Sports.com
WALNUT (9-1-06) -- Championship football has been a way of life for the Grossmont College football team the past decade. Even more impressive is the Griffins' 64-9 record over the past six seasons, which includes four Foothill Conference championships, a pair of SoCal crowns, a state title and a national title.
So what do the Griffins have on tap for an encore? Plenty. The offensive firepower, which has helped Grossmont average more than 40 points per game the past five seasons, is reloaded. The defense is reloading.
All those ingredients add up to a No. 3 preseason ranking for the Griffins by JC Grid-Wire and a top state billing by JC Athletic Bureau entering Saturday's (Sept. 2) opener at Mt. San Antonio College, the 1997 national champions. Kickoff is at 1 p.m.
If veteran quarterback Blake Sutton had returned at quarterback as expected, the Griffs might have rated higher than City College of San Francisco and Pearl City ( Miss.) on the national scene. Sutton, however, has chosen a path other than football, leaving the Griffins with more than a handful of freshman quarterbacks.
Indiana product JOHN SOLI takes over under center for the defending national champion Griffins.
Despite the change in leadership, putting points on the board should not be a problem for the Griffins, who averaged more than 43 points per outing last season.
A strong offensive line secured by sophomore C.J. BRYANT (6-1, 320) promises to give openings for hard-charging running backs KEVIN SMITH (126 carries, 761 yards, 8 TDs), PERRY GARDNER (60-313, 2 TDs) and SEAN TUIOFU (5-10, 215).
Defense will once again be Grossmont's strength. Lineman MAGNUM MAUGA (6-0, 275), linebacker AVENI LEUNG-WAI (6-2, 235), safety TERRY MIXON (6-2, 205), corner SHARROD DAVIS (6-0, 185) and freshman safety ABRAHAM MUHEIZE are among the Griffins' stalwarts.
Grossmont's schedule is as tough as it's ever been. Following Mt. SAC, the Griffins host College of the Canyons, the 2004 national champions and the team Grossmont downed to take last season's Southern California regional final. The home opener kicks-off at 3 p.m.
GRIFFIN GRAFFITI: The Griffins have beaten the Mounties only three times in 15 meetings, including 21-17 in last season's opener. That victory came on a long TD pass in the final three minutes. . . Grossmont College will host a Tailgate Party at 1 p.m. Saturday (Sept. 9) prior to the first home football game matching the Griffins' National Champs against 2004 College of the Canyons National Champions at 3 p.m. at Mashin-Roth Field. A BBQ, hosted by Ranch Catering, will be in Lot 5 (home entrance) for $20 per person. Price includes admission to the game.
---
Griffins ranked No. 1 by Street & Smith

Preseason perch will be challenged early
East County Sports.com
EL CAJON (7-15-06) -- Preseason ratings tend to be a reflection of the previous season's results. Grossmont College won National and State championships with a school-record 13 victories a year ago to anchor itself among the country's elite community colleges football programs.
Winning is nothing new to these Griffins, who have compiled a 64-9 record over the past six seasons. Grossmont has earned three straight Foothill Conference championships and won 37 of its last 40 games. The Griffins have reached the state finals two of the last three years.
Perennial power?
The editors of the highly regarded national publication Street & Smith's 2006 College Football Yearbook certainly think so. Grossmont College is ranked No. 1 with rival College of the Canyons of Valencia rated No. 2 in the 2006 preseason poll. To fuel the fire 'these teams will meet on Sept. 9 at Grossmont College.
So what do these preseason polls mean? Little more than to fan the flames among interested parties.
Street & Smith, however, is no small time outfit in that they have been producing their annual college football yearbook since the 1950s.
Some 40 players return from last year's championship squad, including defensive stalwarts -- linemen MAGNUM MAUGA and AVENI LEUNG WAI, both of whom have Mountain West Conference scholarships in tow along with can't-miss safety TERRY MIXON – blue chip receiver CHRIS JOHNSON and hard-charging running back KEVIN SMITH.
In all, 13 starters return for the Griffins, who have received an influx of Division I bounce-backs and a host of talented freshmen that includes San Diego CIF Player of the Year ABRAHAM MUEHEIZE and speedy receiver JEREMY YOUNG, products of El Cajon Valley's 10-3 Division II finalist.
---
Brunker heads to Saginaw Valley State
East County Sports.com
SAGINAW, Mich. (7-1-06) -- MARIO BRUNKER, the second-leading receiver on the 2005 California state and national champion Grossmont College football team, will transfer to NCAA Division II power Saginaw Valley State for the 2006 season.
Brunker, a 6-2, 190-pound wide receiver, caught 26 passes in nine regular season contests last season, going for 514 yards and six touchdowns. Two of the scores came during Grossmont's record-setting 83-35 scorefest against Mt. San Jacinto.
"Bronc" also collected a 27-yard score in the Southland semifinals against El Camino, a touchdown which capped a streak of 31 consecutive points to rally the Griffins from a 34-14 deficit.
---
Mauga makes '07 commitment to BYU
East County Sports.com
PROVO, Utah (6-14-06) -- Less than two months after losing former Helix High receiver TODD WATKINS in the National Football League draft to the Arizona Cardinals, Brigham Young University is reloading on its share of talent from the Highlanders.
On Friday (June 9), Cougars head coach Bronco Mendenhall announced a verbal commitment from MAGNUM MAUGA, a 6-foot, 265-pound defensive end prospect who played a variety of positions for Grossmont College as a freshman last season, helping the Griffins capture both the state and national community college football titles.
"BYU is the right place for me," Mauga recently told The Total Blue Network. "It has what I need to become a better person and achieve my football, spiritual and academic goals. It has everything. I love the coaches, the players, and just everything about BYU, and that's why I committed while on my trip."
Mauga filled in at defensive tackle and middle linebacker for Grossmont, while also playing a touch at fullback. However, Mauga is penciled in at defensive end for the 2007 Cougars after he concludes his playing career with the Griffins this season.
According to the website CougarBlue.com, among others, Mauga was recruited by Washington State, Auburn, Arizona, Florida, Boston College, Nebraska, UCLA, Colorado, Colorado State, Kansas State, Oregon State and SDSU. In addition to BYU, Mauga received scholarship offers from Arizona, Washington State and Auburn.
In other words, Mauga is a hot commodity.
Mauga was a consistent force for Grossmont College last season, including a 6-tackle performance against El Camino in the Southern California semifinals, and a season-high 8 tackles in the regular season home finale against Victor Valley.
Mauga was also a turnover maker, grabbing a key interception to help the Griffins rally from 21 points downs to upend Chaffey for the Foothill Conference title, and caused an important fumble which ignited a 31-6 rout of Southwestern.
Mauga also returned an intentionally short kickoff, racing 25 yards to setup a touchdown against Mt. San Jacinto.
During the current offseason, two of Mauga's brothers -- defensive lineman DALLAS and fullback RAINBOW -- committed to play for Sacramento State.
---
Grossmont's King overcomes severe injury
East County Sports.com
HONOLULU (6-5-06) -- During the California state championship game last December, Grossmont College defender Stephen King was injured while making a tackle. Little did anyone know at the time, but the damage to his neck was life-threatening.
Although his football career is over, luckily for King, he is on his way to a full recovery, as detailed in this story published in The Honolulu Advertiser.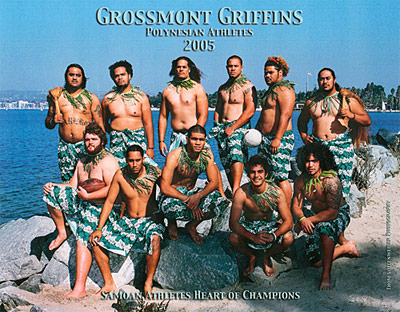 The Polynesian athletes of the 2005 Grossmont Griffins.
(Grossmont College courtesy photo)
---
<< Back