Griffins Notepad: SNM tabs G-House at nation's best
© East County Sports.com
EL CAJON (6-9-09) — Albeit it is a bit presumptuous for making community college football predictions in early June, Sporting News Magazine has rated Grossmont College the No. 1 team in the nation in its preseason rankings.
The Griffins' coaching staff looks upon that recognition as flattering, but little else. Grossmont, which finished 5-5 a year ago, is still in the process of building its team.
It's a long time before the Griffins kick off the season Sept. 5 at San Diego Mesa College, so who knows who has what in terms of player personnel.
Scholarships — Grossmont must have set some sort of record when all three of last season's tight ends signed Division I scholarships. KYLE HIPP (Cathedral Catholic) is headed for New Mexico State, converted linebacker A.J. CAZARES (Chula Vista) is bound for Northern Arizona University and KYLE HOWARD (Hilltop) is on his way to Northwestern State (Natchitoches, La.).
Other late signings include freshman defensive back LARRY PARKER (St. Augustine) to San Diego State University; GAREN DEMERY (Valhalla) to St. Francis of Fort Wayne, Ind.; corner LUIS VILLAVICENCIO (Point Loma) to the University of San Diego; and safety AUSTIN BEDART to NAIA Southern Oregon (Ashland, Ore.).
Parker was a man of many choices. An All-Southern Conference National Division selection in his freshman season, Parker received scholarship offers from the University of Houston, BYU and Louisville. He wanted to stay closer to home and was prepared to play his sophomore season at Grossmont College.
When SDSU made a scholarship pitch, Parker was sold.
So far Grossmont has landed a dozen scholarships, including Patrick Henry kicker BRANDON BOGOTAY (Georgia), Christian High's CHAD O'DONNELL ( Idaho State ) and El Cajon Valley safety ABRAHAM MUHEIZE (Florida A&M).
Ex-Charger joins staff — Former San Diego Chargers linebacker CARLOS POLK has joined the Grossmont College football staff. He will coach the Griffins' outside linebackers this season.
Polk, a 4th round pick out of the University of Nebraska by the Chargers in the 2001 National Football League draft, played seven seasons in San Diego before concluding his career with the Dallas Cowboys in 2008. During his stay with the Chargers, Polk was named Special Teams Player of the Year in 2002 and was tabbed the Most inspirational Player in 2007.
Another addition to the Griffins coaching staff is LUI FUGA, a 6-foot-1, 301-pound four-year starter as a defensive tackle at Hawai'i. Fuga, signed by the Chargers as an undrafted free agent in 2007, has taken over chores as Grossmont's defensive line coach. He could well still be playing with the Chargers had an injury not ended his career a year ago.
---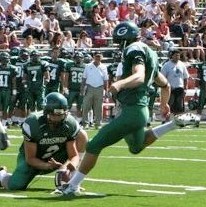 Griffins kicker Brandon Bogotay
signed a full-ride scholarship
with the University of Georgia.
(Photo by Tori Mills)
Bogotay signs with Georgia Bulldogs
© East County Sports.com
EL CAJON (4-15-09) – It's not very often that the University of Georgia's football recruiting net stretches as far as California in search of talent.
That's what makes the Bulldogs' scholarship award to Grossmont College freshman kicker BRANDON BOGOTAY so special.
"We're excited to have Brandon joining our 2009 signing class and look forward to him competing on our kick off, field goal and extra point teams," Georgia head coach Mark Richt said.
Bogotay arrived at Grossmont College last fall as a virtual unknown. The 6-foot-3, 200-pounder was a four-year starter and all-league soccer player at Patrick Henry High School . Football was merely a secondary adventure when he was in high school.
Bogotay came into his own in his only football season with the Griffins. In 2008, he was successful on 15 of 23 field goal attempts and ranked third in the state in kick scoring with 72 points.
Georgia's football tradition attracted Bogotay, who also had a scholarship offer from Hawaii on the table.
"I want to play at the highest level I can and Georgia gives me that opportunity," Bogotay said. "I was so excited when they offered that scholarship that I went out and bought as much Bulldog gear as I could find."
Grossmont College defensive coordinator and special teams coach DAVE JORDAN recalls when Bogotay first walked onto the Griffins' Mashin-Roth Memorial Field.
"He could barely kick the ball between the uprights," Jordan said. "But he was a worker, you could tell that from the start. He was willing to spend hours perfecting his kicking technique."
Bogotay said all he did as a football senior at Patrick Henry was kick off.
"I had so much fun at Grossmont College," he said. "I never saw myself playing college football. I never dreamed it would get me where I'm going."
More than its football tradition wooed Bogotay to Georgia.
"When I made my (official recruiting) visit back there (Athens, Ga.), I was amazed," Bogotay said. "There are so many trees, tall trees. And the facilities are brand new, top notch."
Bogotay noted the expanded football facilities, which include three practice fields.
"Things are a lot more intense and organized at Georgia ," he said. "The whole town is passionate about football."
Bogotay visited the Hawaiian Islands first, which one might think would catch his eye. But Georgia got the final word.
"Hawai'i is nice, but too laid back for me," he said.
Sounds like Bogotay is ready for the big time.
---
Griffins safety Abraham Muheize
signs with Florida A&M Univ.
(File photo by Tori Mills)
Muheize accepts FAMU offer
© East County Sports.com
TALLAHASSEE, Fla. (2-10-09) – Grossmont College sophomore safety ABRAHAM MUHEIZE has accepted a football scholarship to Florida A&M University.
"I was looking for a school that really wanted me, one that would let me come in and play right away," Muheize said. "FAMU fit the bill in all areas."
Another attraction to the NCAA Division I-AA university is FAMU will face the University of Miami (Fla.) in week five (Oct. 10) at Dolphin Stadium.
"That's pretty exciting," said Muheize, the Griffins defensive MVP of a year ago. "It doesn't get much bigger than that."
FAMU is directly across the street from Florida State University.
"When I tripped to Florida A&M I loved it," Muheize said. "They have so many alumni that are still part of the program. The support for football is unbelievable."
Muheize said people he'd never met came up to shake his hand and welcome him to the FAMU family.
"I don't know where they got them but a lot of people said they'd seen my highlight films and that's how they knew of me."
A handful of other schools also expressed interest in Muheize. Probably No. 2 on that list was Texas State in San Marcos, Texas.
"The guy who recruited me out of high school for Montana State is on the Texas State staff," Muheize said. "He wanted me to come there, but the head coach apparently didn't agree."
The 6-foot, 190-pound Muheize led the Griffins in tackles with 136 tackles, notched seven career interceptions and blocked five punts.
At FAMU, Muheize will be playing for the legendary coach of the Rattlers, Joe Taylor, who posted more than 200 victories during his lengthy career. The Rattlers were 9-3 a year ago.
Muheize, who holds several records as a running back, quarterback and defensive back at El Cajon Valley High, was a two-year starter for the Griffins after bouncing back from Montana State. His 4,050 yards passing as a senior remains a San Diego CIF record.
A Kinesiology major, Muheize hopes to "go into coaching some day."
---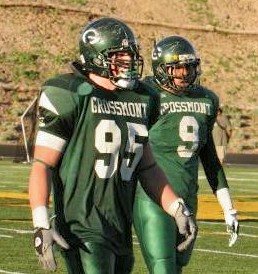 Grossmont College DE Chad O'Donnell (95, left), pictured with LB Jesse Swann,
accepted a scholarship at Idaho State.
(File photo by Tori Mills)
O'Donnell accepts
starting DE role
with Idaho State
© East County Sports.com
EL CAJON (01-29-09) – It was a tough decision to be sure for Grossmont College sophomore CHAD O'DONNELL when he declined football scholarship offers from Oklahoma and Arizona State University.
Instead, the 6-foot-2, 260-pound defensive end out of Christian High has accepted a football ride to Idaho State University in Pocatello, Idaho. The Bengals, coming off a dismal 1-10 season, expect O'Donnell to start.
"Yeah, I know people might think I'm crazy for passing up a chance to play at Oklahoma or ASU," O'Donnell said. "But that's just it. How much would I play if I went to either of those places? I don't want to sit on the bench."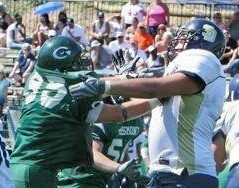 DE Chad O'Donnell (95, left) gets held
by a San Diego Mesa College player.
(File photo by Tori Mills )

That's a moot point now. O'Donnell will call Idaho State home for the next two years. He plans an accounting major.

"This is a nationally renowned college for accounting," said O'Donnell. "And I'm really excited about the opportunity I'll have in football."

"Unlike those bigger schools, I don't feel like I'm just a number here."

O'Donnell played both ways in the trenches at Christian High, but specialized on defense at Grossmont. He spent two seasons with the Griffins where he logged 58 tackles and 6 sacks last season and earning All-Southern Conference as a sophomore.

Three other East County products have one more year at Idaho State – fullback KEN CORNIST, running back KENYON BLUE and JASON WRIGHT. All three are products of Helix High.

BOAT LOAD OF UNDECIDED
Grossmont College freshman defensive back LARRY PARKER (St. Augustine) is a hot ticket, but seems to be a bit choosy about who wants him to come their way. The speedy Parker has already turned down offers from the University of Houston and BYU.

The Griffins freshman place-kicker BRANDON BOGOTAY turned down a scholarship offer from Nevada-Reno.

More opportunities are sure to spring up for these two in the future.

Grossmont's All-American tight end KYLE HIPP and safety ABRAHAM MUHEIZE are still shopping around. Muheize had Texas State and Florida A&M on his list, while Hipp has yet to identify who is courting him.
---
2008 STANDINGS

NATIONAL - Div. I
Southern Conf ALL
*Fullerton 6-0 10-2
*Saddleback 5-1 7-4
Grossmont 3-3 5-5
Palomar 3-3 8-3
Santa Ana 3-3 7-4
Long Beach 1-5 4-6
Orange Coast 0-6 4-6

Northern Conf ALL
*Canyons 6-0 12-1
*Allan Hancock 4-2 7-4
Pasadena 4-2 7-4
Bakersfield 3-3 4-6
Ventura 2-4 5-5
Moorpark 1-5 4-6
Glendale 1-5 3-7

Central Conf ALL
*Mt.San Antonio 5-1 12-2
*El Camino 5-1 10-2
Cerritos 4-2 7-4
Desert 3-3 6-5
Chaffey 2-4 5-5
Riverside 1-5 3-7
Citrus 1-5 2-8

AMERICAN - Div. II
Mountain Conf ALL
*San Diego Mesa 6-1 6-5
Southwestern 6-1 7-4
Golden West 5-2 6-4
Victor Valley 4-3 4-6
Compton 3-4 4-6
L.A. Harbor 2-5 3-7
Mt. San Jacinto 2-5 2-8
San Bernardino 0-7 0-10

Pacific Conf ALL
*Antelope Valley 6-1 6-5
Santa Barbara 6-1 6-4
L.A. Valley 5-2 6-4
West L.A. 3-4 4-6
Santa Monica 3-4 3-7
L.A. Pierce 2-5 2-8
L.A. Southwest 2-5 2-8
East Los Angeles 1-6 1-9
*clinched playoff berth
PLAYOFF/BOWL SCHEDULE
Sat., Nov. 29
Canyons 36, El Camino 27
Mt. San Antonio 34, Fullerton 27 (2-OT)
Sat., Dec. 6
Southern California Championship
Mt. San Antonio 51, Canyons 44 STATS
Sat., Dec. 13
CCCAA Championship Game
At Orange Coast
Butte (12-0) 17, Mt. San Antonio 9 STATS
---
Grossmont sophomore tight end Kyle Hipp,
recipient of the 2008 Joe Roth Memorial Award.
(Photo by Kevin Hipp)

Hipp wins Roth Award
© East County Sports.com
MISSION BAY PARK (11-21-08) – Grossmont College sophomore tight end KYLE HIPP has been named the winner of the 32st annual Joe Roth Memorial Award. A graduate of Cathedral Catholic High, Hipp was presented the Griffins' most coveted honor at Thursday's (Nov. 20) team awards banquet held at Marina Village.
This award is given to the San Diego County community college football player that best exemplifies the high academic standards, athletic excellence, humility, leadership, character and class that the late Joe Roth exhibited during his All-America career.
Roth, a gifted quarterback, guided the Griffins to their only undefeated season and first state championship in 1974. He led Cal to its only Pac-10 championship in 1975 and was considered a potential NFL first-round draft pick before he died of cancer in February, 1977.
Hipp, who is being recruited by several major colleges, was a preseason All-American and a first team All-Southern Conference this season. The 6-foot-5, 240-pound sophomore is a quality target who has all the ingredients to find success at the next level.
Other major award winners at the banquet included safety ABRAHAM MUHEIZE (MVP-Defense) and running back GAREN DEMERY (MVP-Offense).
Muheize intercepted a team-high 5 passes and ranked second on the team in tackles. Demery was easily Grossmont's top offensive threat with a team-best 908 yards and 38 points on 141 carries.
Muheize and Demery were voted the defensive and offensive captains by their teammates.
More Griffins honored were: JUAN BOLANOS (Best OL); CHAD O'DONNELL (Best DL); JESSE SWANN (Best LB); MICHAEL YAMAGUCHI (Best RB); MILES McPHERSON (Best WR); LUIS VILLAVICENCIO (Best DB); kicker BRANDON BOGOTAY (Top Specialist with 15 FGs); lineman CHARLES WILEY (Most Improved Offense); end TERRANCE JOYNER (Most Improved Defense); Linebacker PAT KELLY (Tackler of the Year); and JONATHAN DARBY (Best Special Teams).
---
Half-dozen Griffins tabbed All-Southern Conference
© East County Sports.com
LONG BEACH (11-19-08) — Six members of the Grossmont College football team were honored by conference coaches, voted to the All-Southern Conference first team. Two Griffins were selected from each of the team's units, covering offense, defense and special teams.
From the defensive unit, which ranked among the state's best all season, are freshman lineman YUN TA'ALA and sophomore free safety ABRAHAM MUHEIZE. On offense, the coaches selected tight end KYLE HIPP, who was a preseason All-America choice of JC Grid-Wire, and running back GAREN DEMERY, both sophomores.
Meanwhile, Grossmont took half of the first-team special teams berths in placekicker BRANDON BOGOTAY and return specialist XAVIER MARTIN, both freshmen. Bogotay was one of seven unanimous honorees, ranking among the state leaders in field goals and kick-scoring all season.
Second team picks featured: offensive tackle JUAN BALANOS and cornerback LUIS VILLAVICENCIO.
Honorable mention honoress from Grossmont include: center BILLY DAWSON, defensive lineman CHAD O'DONNELL, defensive back LARRY PARKER, running back JAMAR REID, wide receiver CHRISTOPHER SMITH, and outside linebacker JESSE SWAN.
Southern Conference coaches deadlocked on the player of the year award on offense, with Fullerton quarterback Jeff Fleming and Saddleback running back Jai Morris sharing the award. On defense, Orange Coast end Dean DeLeon was tabbed, while Timy Byrnes of conference titlist Fullerton was honored as coach of the year.
---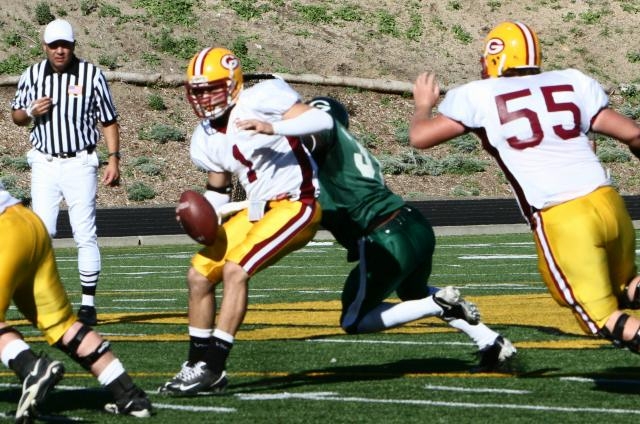 Grossmont linebacker Calvin Pearce sacks the Saddleback quarterback.
(Photo by Tori Mills)


Saddleback eliminates Griffins
from SCFA playoff consideration

© East County Sports.com
EL CAJON (11-16-08) – It's what every competitor plays for: a shot to advance to the playoffs and capture a championship. And for the Grossmont Griffins, despite a turbulent up-and-down campaign, the dream continued right down to the final day of the regular season.

Saddleback Gauchos at Grossmont Griffins
(Slideshow by Kevin Hipp)

Alas, not everyone makes the postseason tournament.

Saddleback College, which also faced the situation of win and you're in or go home, jumped out to a 28-6 advantage early in the second half, eliminating Grossmont from playoff consideration following Saturday's (Nov. 15) relatively easy 38-21 Southern Conference victory at Mashin-Roth Memorial Field.

Saddleback Gauchos at Grossmont Griffins
(Slideshows by Tori Mills)

The Gauchos (7-3, 5-1 SC) finish in second place behind Fullerton (9-1, 6-0), with teams both advancing into the field of eight of the Southern California Football Association playoffs.

Meanwhile, Grossmont (5-5, 3-3 SC) fell one position short of extending its season, missing the postseason for the second straight season for the first time in more than a decade.

"We were just trying to execute as well as possible, but it seemed like we couldn't jam the No. 2 receivers of Saddleback," said Grossmont linebacker CALVIN PEARCE. "They were able to run completely across the field because we couldn't apply enough pressure on the quarterback."

"That jam was so vital because the quarterback got so much time, so that the No. 2 receiver was always wide open."

Two Saddleback passers combined for 393 yards through the air, even though Grossmont managed six sacks on the day, including two by ELLIOT CHAPMAN. The others were registered by CHAD O'DONNELL, EDWIN SHEPARD, PAT KELLY and TERRANCE JOYNER.

"We struggled in the secondary, but it's not all on them – we all struggled and couldn't get the momentum going," said Chapman. "We can't do anything but grow for next year."

Meanwhile, the injury-plagued offensive unit sputtered throughout, at first finding it difficult to complete drives in settling for a pair of first-half field goals, then fighting just to gain first downs. The Gauchos took advantage by gaining possession just shy of midfield on four occasions, scoring each time to carry a lead of 28-6 early in the second half.

Included were a pair of David Ingram touchdown passes to Nick Hutter of 25 and 51 yards in the second period for a 21-6 halftime lead. After Ingram was knocked around by O'Donnell to make him retreat to the sidelines, the Gauchos starting quarterback Brian Shrock returned in the third quarter to toss a 40-yard TD strike to Shane Henry.

All Grossmont could muster in the first half were a pair of 31-yard field goals by BRIAN BOGOTAY to trail 7-6 after one period before Saddleback ran off 21 consecutive points. Bogotay, a Patrick Henry product, finished with 15 field goals — second most by a Grossmont kicker during the regular season.

In the contest, Saddleback held possession for nearly 40 full minutes, out-gaining Grossmont in yardage, 478-340.

"When you don't have the ball it's pretty hard to score," said Grossmont head coach MIKE JORDAN.

The Griffins were a paltry 2-of-15 on a combination of 3rd and 4th down conversions, while Saddleback was 12-of-21.

"We weren't efficient as an offense on 3rd downs," Jordan added. "We had guys open but we just couldn't hit them."

Even more astounding, the Griffins defense forced four turnovers, including interceptions by CORY BELL and LUIS VILLAVICENCIO, plus fumble recoveries by JESSE SWANN and CALVIN PEARCE.

Sophomore quarterback DAN LEWIS came through late with a pair of scoring passes, but was only accurate on 15 of 34 tosses in the game. He connected with KENYON PETIS on a 68-yard TD pass late in the third, then found PETER ROZOK in the back of the endzone from 10 yards out in the fourth period.

"That was the last pass I'll throw for Grossmont, but we never quit – we never gave up," said Lewis, who total for 261 aerial yards. "I know I misfired on some throws and we had a lot of opportunities, but we're happy that we continued to keep scoring. We never hung our heads."
---
Final SCFA playoff berth to be decided,
Griffins host second-place Saddleback
© East County Sports.com
EL CAJON (11-14-08) — Despite playing just one tick above the .500 mark, Grossmont College's chances for a postseason berth are still alive. Time is running out, however, as the Griffins face a put-up or shut-up situation when they host Saddleback in the regular season finale Saturday (Nov. 15) at 1 p.m.
The Griffins (5-4 overall) can conceivably earn a second place finish in the Southern Conference with a victory over Saddleback (6-3, 4-1) and a berth in the SCFA Southern Conference playoffs.
The only way the Griffins could win and still be denied a spot in the 8-team playoffs would be if Santa Ana (6-3, 3-2) were to upset first-place Fullerton (8-1, 5-0). Santa Ana earned the tie-breaker with Grossmont by beating the Griffins in the final minute a week ago in Orange County.
The Grossmont-Saddleback match-up is intriguing because it pits the 7-team conference's top offense against the circuit's best defense.
Saddleback is a scoring machine. Three times the Gauchos have scored 63 points or more and are averaging 40 points and 483 yards per game.
"They run the old 'single wing' offense and they run it well," said Grossmont College defensive coordinator DAVE JORDAN. "We're going to know we've been in a football game because they are a very physical team."
Jai Morris (102 carries, 849 yards, 9 TDs) and Micah Abreu-Laybon (96-639, 6 TDs) give the Gauchos the conference's best 1-2 rushing punch. Quarterback Brian Shrock is no slouch either, having completed 64 percent of 159 passes for 1,477 yards and 13 touchdowns. Shrock's favorite receiver is Jay Wisner, who is averaging more than 20 yards for his 35 receptions.
Playing on a short field much of the season, the Griffins' defense has still managed to allow less than 17 points and 274 points per game.
Grossmont's defense is led by safeties ABRAHAM MUHIEZE (60 tackles, 5 interceptions) and LARRY PARKER (38 tackles, 3 int.), corners AUSTIN BEDART (40 tackles, 2 int.), LUIS VILLAVICENCIO (3 int.), linebackers PAT KELLY (65 tackles, 5 sacks, 1 in.), ELLIOT CHAPMAN (39 tackles, 2 sacks) and JESSE SWANN (40 tackles, 5 sacks) and linemen CHAD O'DONNELL (48 tackles, 6 sacks) and YUN TA'ALA, among others.
BRANDON FRICKE will make his third start at quarterback for the Griffins. He will be joined in the backfield by running back GAREN DEMERY – the team's leading offensive threat with 830 yards and 5 touchdowns on 132 rushes. JAMAR REID, who has been banged up for much of the season is also an integral part of the Griffin offense with 333 rushing yards and 8 touchdowns in six games.
Another threat Grossmont has going is kicker BRANDON BOGOTAY, who ranks 2nd in Southern California with 13 field goals. He trails only Mt. San Antonio 's Jacob Harfman, who has 15.
GRIFFIN GRAFFITI – Former Grossmont High standout AKONI LASCONIA is Saddleback's third-leading tackler… the Gauchos lead the all-time series between these two teams 11-4-1… word is the University of Colorado is highly interested in Grossmont's O'Donnell (6-2, 250)... Saddleback is rated No. 17 nationally by J.C. Grid-Wire… the Gauchos are rated No. 9 in the state and No. 6 in Southern California… Grossmont is rated No. 11 in Southern California and No. 24 in the state.
---
Griffins lacking offensive spark

© East County Sports.com
SANTA ANA (11-9-08) — Everything accomplished by the Grossmont College offense could be directly attributed to exploits of the Griffins defense in Saturday's (Nov. 8) key Southern Conference football contest. But when the defensive contributions began to dwindle, the door was open for Santa Ana College.

Grossmont Griffins at Santa Ana Dons
(Slideshow by Kevin Hipp)

Trailing 15-3 at the half, the Dons scored a pair of second-half touchdowns, including the game-winning touchdown with 40 seconds remaining to stun Grossmont, 18-15, at Santa Ana Stadium's Eddie West Field.

Matt Cardenas collected a 12-yard pass from Ray Contreras to rally the Dons, who trailed for virtually the entire contest. The pair also converted a 2-point conversion, which – like the TD pass – went to the left corner of the endzone.

Grossmont (5-4, 3-2 SC) gained excellent field position thanks to the defense, but six short drives to reach the red zone resulted in just a single touchdown. And when the offense stalled out completely to go scoreless in the second half, Santa Ana (6-3, 3-2) finally found the ability to finish off a pair of drives for its second victory in the closing minutes this season.

Four weeks ago, the Dons scored with 1:12 remaining to stun Orange Coast , 28-27.

Despite the setback, Grossmont still controls its own destiny, needing to defeat second-place Saddleback in next Saturday's (Nov. 14) regular-season finale at Mashin-Roth Memorial. With a victory, the Griffins can catch the Gauchos (6-3, 4-1) for second, taking the tiebreaker with the head-to-head triumph.

The only catch finds Santa Ana gaining a chance to make it a 3-way tie for second place, but the Dons must go on the road and defeat Southern Conference leader Fullerton in the teams' annual Key To the County game.

Another stellar effort by Grossmont's defenders started on the very first snap taken by Santa Ana . After the Griffins failed to convert on 4th-down from the Dons-4, defensive lineman CHAD O'DONNELL found his way into the endzone to sack Contreras for a safety just 4:25 into the contest.

The ensuing free kick saw Grossmont gain possession at the Santa Ana-41,with MICHAEL YAMAGUCHI capping an 8-play drive on a 1-yard dive for a 9-0 lead.

The Dons got on the board with a 24-yard field goal by James Brillantes, but Grossmont closed the half with field goals of 41 and 46 yards by BRANDON BOGOTAY, who now has 13 three-pointers — third most by a Grossmont kicker in a season.

The first Bogotay boot was set up on a 37-yard interception runback by ABRAHAM MUHEIZE on a pass first tipped by AUSTIN BEDART. It was Muheize's team-leading 5th interception.

On the next Santa Ana possession, Contreras dropped the ball on a pump-fake for a fumble, with CORY BELL recovering near midfield.

Through the first half, Santa Ana mounted a mere 70 yards in total offense compared to 184 by Grossmont.

In the second half, Santa Ana copied the Griffins' script.

Dons cornerback Derek Hines returned an interception 53 yards, setting up a 16-yard TD rush by Michael Clemmons midway through the third period to trim the deficit to 15-10.

Grossmont then was unable to gain a first down over the final 12 minutes, including a series which ended with 3:05 left, giving Santa Ana its shot to pull out the victory.

Yet, Grossmont had two chances in the final seconds, maintaining possession on a two-fumble play, but Dons' linebacker Justin Blackburn ended the contest with his second sack of the afternoon.

ELLIOT CHAPMAN paced the Griffins with 10 tackles, while PAT KELLY and Bedart registered 8 stops each. JESSE SWAN recorded both of Grossmont's two sacks, including one which forced a fumble that was recovered by QUINTON GAYTON. LUIS VILLAVICENCIO logged his third interception and Grossmont's 19th as a defense.
---
Grossmont begins stretch drive
© East County Sports.com
SANTA ANA (11-7-08) – Grossmont College travels to Santa Ana Stadium for a key CCCAA encounter against Santa Ana College on Saturday (Nov. 8). Kickoff is at 1 p.m.
For the Griffins (5-3, 3-1), this is a game of survival. A victory in Orange County this weekend sets up a home game finale against Saddleback that could earn Grossmont a berth in the eight-team Southern California Football Association playoffs.
Bowling over the Dons will be no simple task, although Grossmont has won its last two road games.
Santa Ana (5-3, 2-2) used a 20-0 scoring run in the fourth quarter to overcome a 20-15 deficit to knock off Long Beach City College a week ago. Grossmont, which had a bye, belted LBCC, 33-7, earlier in the season.
Look for BRANDON FRICKE to make his second start after guiding the Griffins to a 21-13 win over Orange Coast in the Pirates den two weeks ago. Running back JAMAR REID, who has missed the past three games due to injury, returns to the backfield with GAREN DEMERY.
Grossmont's defense, led by free safety ABRAHAM MUHIEZE, linebackers PAT KELLY and ELLIOT CHAPMAN and end TERRANCE JOYNER, continues to be the Griffins anchor.
GRIFFIN GRAFFITI – Santa Ana holds a 6-4 edge in the all-time series that began in 1962 – Grossmont's inaugural season. The Dons won that game 48-0.
---
Demery honored by conference
© East County Sports.com
LONG BEACH (10-27-08) – Grossmont College running back GAREN DEMERY has been named the Southern Conference player of the week on offense for his performance against Orange Coast.
Demery, a sophomore out of Valhalla High, rushed for 106 yards and a decisive 72-yard touchdown in the final miniutes to give the Griffins a 21-13 triumph over host Orange Coast.
Also receiving honorable mention from the conference was linebacker ELLIOT CHAPMAN and free safety ABRAHAM MUHEIZE.
Chapman (Marian Catholic) registered 10 tackles (3 for losses, including two on solo quarterback sacks) to help stop the Pirates.
Muheize (El Cajon Valley) blocked one punt which led to a touchdown, then later intercepted a pass which led to another score. He also recorded 7 tackles.
Grossmont (5-3, 3-1 SC) have a bye this week, returning to action in November to close the regular season with two contests: Nov. 8 at Santa Ana,, and Nov, 15 at home to Saddleback. Both kickoff at 1 p.m.
---
Other Game Stories
The Daily Pilot HERE
OCC Website HERE
Orange County Register HERE
Griffins back-up the backup
© East County Sports.com
COSTA MESA (10-26-08) — Grossmont College requested only one thing from former third-string and now starting quarterback BRANDON FRICKE: Don't force anything and simply manage the game.
Overcoming an early interception, Fricke took advantage of a couple of key situations handed to him by the Griffins defense to upend host Orange Coast, 21-13, Saturday (Oct. 25) at LeBard Stadium.
Fricke, who completed 13-of-29 passes for 165 yards and a touchdown, seemed reasonably comfortable in his first collegiate start.
"There were some butterflies, but that's what I work for – I had to perform," noted Fricke. "I found out at the beginning of the week on Monday or Tuesday – it wasn't for sure, but by the end of the week, I knew for sure that I was starting."
Meanwhile, the Grossmont defense and special teams units again performed admirably, limiting Orange Coast to just 278 yards in total offense, including a mere 53 rushing yards on 41 carries.
Leading the charge was ELLIOT CHAMPAN, who registered 2.5 of the Griffins' five quarterback sacks. Nine other plays went for losses, including a long chase sequence by TERRANCE JOYNER, who finally captured Pirates quarterback Taylor Hughes for a key 24-yard loss in the fourth quarter.
Following a scoreless first quarter, Grossmont special teams set-up Fricke with excellent field position. ABRAHAM MUHEIZE broke through the line to block an OCC punt, with KYLE BROWN recovering the ball at the Pirates-30.
Fricke followed by converting consecutive third-down passes, hitting GREG CORDER for 17 yards, then finding MILES McPHERSON for a 12-yard touchdown.
"On the first punt, it was a little guy (blocking), so I ran him over," noted Muheize. "So the second time, I swam on him and blocked it – our whole defense came out nasty."
In the final minute of the half, LARRY PARKER recorded the first of several key plays by the defensive back.
Parker, who was forced to switch from safety to cornerback, broke a pair of tackles on a 15-yard punt return into OCC territory with 21 seconds remaining. On the very next play, Fricke found a wide open PAUL AUBIN on a stop-and-go route, completely confusing a Pirates linebacker for an easy 45-yard score and a 14-0 halftime lead.
"We got lucky when they blew that coverage and Paul was wide open," added Fricke. "And on the first score, Miles ran a quick-out and the defense let him go."
"So now it's all up to us to finish strong to make a playoff run."
Coast effectively beat the Grossmont defense on just one play all evening, but it moved the Pirates back into contention.
Running back Kevin Ah-Hi slipped into the left flat behind a blitzing linebacker and was left undefended. Hughes found him and Ah-Hi romped 51 yards on the first play of the fourth quarter.
However, the conversion was blocked by Parker, who also returned a first-half interception 48 yards and broke up three other pass plays.
With 2 minutes to go, a final Coast drive stalled when AUSTIN BEDART knocked the ball out of the hands of a Pirates receiver just shy of the goal line on a fourth-down play.
"They tried to run a corner on me, but I remember watching that on the film on goal line situations," recalled Bedart. "The (OCC) receivers and I were going back-and-forth all game, but they never ran to the corner all game, so I was waiting for it and sure enough he ran it."
Grossmont tried to run out the clock, when suddenly running back GAREN DEMERY found some daylight on the right side.
"I had a key block to spring me by 'Y-Y' (MICHAEL YAMAUCHI-YAMATE) and I just saw an open field," said Demery. "And now we get a week off to heal up and get ready to go and try to get into the playoffs."
Demery, who finished with 106 rushing yards, then burst down the sideline on a 72-yard touchdown run for a 21-6 lead. But the celebration was quickly subdued when OCC's Dean DeLeone returned the ensuing kickoff 97 yards for a score.
However, the onsides kickoff with 1:21 remaining was left untouched by all – OCC waited for the ball to go the prerequisite 10 yards (it only went 7 yards); Grossmont left it to roll out of bounds – then the Griffins ran out the clock with a series of kneel-downs.
Grossmont (5-3, 3-1) moved into a second-place deadlock with Saddleback (5-3, 3-1), which fell 24-21 to Southern Conference leading Fullerton (6-2, 3-0). The Griffins host Saddleback on the final day of the regular season which could be a one-on-one showdown for a CCCAA playoff berth.
---
Griffins can maintain playoff destiny
© East County Sports.com
COSTA MESA (10-24-08) — The first of three steps for Grossmont College to earn a CCCAA state football playoff berth begins Saturday (Oct. 25) when the Griffins mark their return to LeBard Stadium for the first time in more than 20 years to meet Orange Coast College. Kickoff is 6 p.m.
Following last week's 44-15 smack down at the hands of Fullerton , the Griffins still control their own path to the postseason. If they can capture their last three games, they can finish no worse than second place in the Southern Conference. And if Fullerton should slip down the stretch — the Hornets (5-1, 2-0) still need to defeat Saddleback (5-2, 3-0) — another league title would not be out of line for Grossmont.
The Griffins have been riddled with injuries in recent weeks. So much so that coach MIKE JORDAN isn't sure who he'll start at quarterback. If he does know, he isn't saying.
Meanwhile, Orange Coast is in a mini-freefall after being ranked among the top 10 schools in the nation following a 4-0 start. Once the Pirates entered conference play, the tables turned as they fell to Fullerton , 34-27, and then got nipped by Santa Ana, 28-27.
Orange Coast had a bye last week and realizes any chance it has for postseason play could be dashed should Grossmont prevail.
GRIFFIN GRAFFITI – Running back GAREN DEMERY, linebacker PAT KELLY and free safety ABRAHAM MUHEIZE were included among the J.C. Grid-Wire national players of the week... The Griffins have beaten the Pirates only three times in 18 meetings with one tie. The key Grossmont win this series came in the 1974 state championships game 34-17 at old Aztec Bowl. The late JOE ROTH was Grossmont's quarterback in that title bout... Despite its slow start in conference play, Orange Coast is ranked No. 7 in Southern California, while Grossmont is No. 11.
---
Fullerton College at Grossmont College
(Slideshow by Tori Mills)
Grossmont's Isia Falo (center) scores after picking up a Fullerton punt attempt which was blocked by teammate Brandon Davis.
(Photo by Tori Mills)

Griffins feel the sting
Drop first-place showdown
against Fullerton, 44-15


© East County Sports.com
EL CAJON (10-19-08) — An injury-induced, revolving door at quarterback left the Grossmont College defense in a difficult predicament.

While the Griffins offense danced the cha-cha in the first half (ah-1-2-3-punt, 1-2-3-punt), visiting Fullerton College finally took advantage of the tiring defenders in the second quarter, breaking open a scoreless contest by posting 24 consecutive points, as the Hornets downed Grossmont in a battle of Southern Conference leaders, 44-15, Saturday (Oct. 18) at Mashin-Roth Memorial Field.

Fullerton (5-1, 2-0) kept pace with Saddleback (5-2, 3-0), a 63-44 winner over Long Beach, while Grossmont (4-3, 2-1) ) fell a game back of the leaders after its 3-game winning streak was snapped.

"All we do is come out next week on Monday – because this game is now in the past – and do what we normally do," said Griffins linebacker CALVIN PEARCE. "It's all on us right now. We're young, but need to come out fighting. If we want to be contenders, you need to beat a man to be a man."

The precarious quarterbacking situation reached a new low after Grossmont's opening drive stalled on a failed fourth down at the Hornets-4, then three Grossmont signal-callers were unable to move the football effectively the rest of the afternoon, despite 184 rushing yards by running back GAREN DEMERY.

"The defense, as a unit, are not pointing fingers or making excuses. We needed to man up better and play with more discipline," added Pearce. "(Quarterback) JOHN SOLI and (running back) JAMAR REID are part of the core of our team and should be back soon." Both are hampered by injury.

Meanwhile, Fullerton quarterback Jeff Fleming passed for 157 yards and a touchdown and rushed for another 86 yards, taking advantage of excellent field position throughout the contest.

"We couldn't really get anything going (on offense), but the defense can't let them score points either," noted cornerback LUIS VILLAVICENCIO. "We still have got to try and win out and still make the playoffs."

The floodgates opened when Hornets defender Robert Archuleta returned an interception 36 yards to the Grossmont-21. Three plays later, Sam Apraku scored the first of his two touchdowns on a 4-yard run for a 10-0 lead.

Grossmont ended the shutout on a 37-yard field goal by BRANDON BOGOTAY midway through the third period. Demery keyed the drive with a 50-yard rush to the Hornets-7.

"We knew we could run the ball on them, but that's hard to do when you are playing catch-up the whole game," Grossmont coach MIKE JORDAN said. "Not much went our way today."

The Hornets extended their lead to 44-3 before the Griffins finally reached the endzone twice in a 1:46 span.

CEDRIC JEFFCOAT capped a 60-yard drive with a 1-yard plunge. Fullerton then was forced to punt on a 3-and-out, but the boot was rejected by BRANDON DAVIS, with ISIA FALO collecting the blocked football and romping 14 yards for the score.

"We can regroup and come and get it," stated defensive back LARRY PARKER. "We're motivated and still could play Fullerton again in the playoffs."

Fullerton's victory avenges a loss in its last appearance at Grossmont, when the Griffins registered a 47-30 victory in the 2003 Southern California championship playoff contest.



Fullerton College at Grossmont College
(Slideshow by Monica Munguia)
---
Fullerton visits the G-House
in battle for conference lead
© East County Sports.com
EL CAJON (10-17-08) — The biggest football game of the season to date features a rematch of the 2003 Southern California championship final, when Fullerton College comes to town on Saturday (Oct. 18) to battle Grossmont College. Kickoff is at 1 p.m.
Both ballclubs are undefeated in the new Southern Conference. The Griffins (4-2 overall) are tied for first place with Saddleback at 2-0 after Grossmont overwhelmed Long Beach City last weekend, 33-7. Fullerton, which is ranked 20th nationally by J.C. Grid-Wire, had a bye and remains 1-0 in conference play while owning the top overall record among "Super 7" programs at 4-1.
Grossmont, which has won three in a row, is ranked No. 22 in the same national poll.
The Hornets seek revenge from an ugly loss in 2003, the last time the school visited Mashin-Roth Memorial Stadium, as Grossmont mounted a 47-17 lead through three quarters in cruising to a 47-30 triumph. A week later, the Griffins fell in the final 33 seconds of the state championship game 38-35 to City College of San Francisco in Fresno.
Against Long Beach, the Griffins were on the path to another slow start after the Vikings took the opening kickoff then marched 77 yards for a touchdown. But the defense yielded just 97 yards over the balance of the contest, as the team tallied 33 unanswered points to gain an easy triumph at Veterans Memorial Stadium.
The second half shutout means that the Grossmont defense has allowed just a single touchdown in the fourth quarter all season, that coming in Week 2 at College of the Desert just 31 seconds into the final stanza.
Against Long Beach, the defense registered nine quarterback sacks – including a pair each by linebackers JESSE SWAN and PAT KELLY – and intercepted three passes, featuring one for a 17-yard touchdown by ABRAHAM MUHEIZE. All three were finalists for Southern Conference and Pacific Coast Conference player of the week honors.
Meanwhile, the Griffins' special teams units partially blocked two punts. Kicker BRANDON BOGOTAY booted four field goals (and narrowly missed a 59-yard effort), while XAVIER MARTIN posted a 52-yard kickoff return.
Running back Devon McCullough (6-1, 191) leads the Hornets in rushing, while Jeff Fleming is the primary quarterback. Jeremy LaFrance is the top receiver and kick return specialist.
GRIFFIN GRAFITTI — These teams go way back. In fact, Grossmont's second game ever – 1962 – was televised live from Fullerton by KCOP Channel 13. The Hornets blanked the Griffins, 22-0, that night. In 1969, the Hornets defeated Grossmont, 49-19, in a state playoff game before a crowd of 4,000 at Balboa Stadium... The latest rematch in this series will be broadcast live on the Internet, at KBCsports.com... Fullerton leads the all-time series, 12-4.
---
Grossmont defense drowns Long Beach
READ THE GAME STORY FROM
LONG BEACH PRESS TELEGRAM
Long Beach City College's Darren
Tubbs tries to get past Grossmont
safety Abraham Muheize (7),
while Tila Case pulls him down.
(Jeff Gritchen/Staff Photographer;
Courtesy, Press Telegram)

READ THE GAME STORY FROM
LB POST SPORTS.com
Includes Video (below) & Photos

Video of the "very excitable"
Grossmont Griffins.. lol

© East County Sports.com
LONG BEACH (10-12-08) – With little stress or concern, Long Beach City College quarterback Josh Powell marched his Vikings on a 9-play, 77-yard scoring drive to open Saturday's (Oct. 11) Southern Conference contest against visiting Grossmont College.

Grossmont 33
Long Beach 7
FINAL

"That was embarrassing," admitted Griffins free safety ABRAHAM MUHEIZE. "So we started to put some pressure on their quarterback – we let him know we were around after we started to man up."

Nine sacks and three interceptions later – including a 17-yard touchdown runback on a theft by Muheize – Grossmont ran off 33 unanswered points to roll over the Vikings, 33-7, at Veterans Memorial Stadium.

The triumph leaves the Griffins and Saddleback – a 24-21 winner over Palomar – on top of the "Super 7" conference. Idle Fullerton, which visits Grossmont next Saturday (Oct. 18) at 1 p.m., is also unbeaten in conference play at 1-0.

Muheize was tagged by a Long Beach blocker on a punt play. So when the Vikings punted again, he noticed something different.

"Earlier, I got lit up a little bit on a punt return," Muheize recalled. "Then I noticed that guy wasn't in on the next punt – it was a little guy and that got me to think. So when I rushed, no one blocked me. And he threw the ball right to me."

The fake saw the Vikings punter try to pass the ball to the player who replaced the man that sent Muheize flying to the turf earlier. However, the Griffins sophomore was now in front of the intended receiver, collecting the football and racing untouched into the endzone.

The "pick 6" wasn't the only big play by the Griffins. The unit partially blocked a pair of punts on penetration by ARTHUR HOBBS and BRANDON DAVIS.

In addition, the field goal unit saw kicker BRANDON BOGOTAY connect on field goals of 44, 25, 31 and 30 yards, while a 59-yard effort was dead-center on target, but fell just short after hitting the post which connects the crossbar to the ground.

And on kickoff returns, XAVIER MARTIN took the second half kick 52 yards into Vikings territory.

"The special teams have been going crazy -- we've been preaching on how we haven't done anything for five weeks," added Muheize. "But we went at it today."

Following Long Beach's initial drive, the Vikings were left bumbling the rest of the night, collecting a mere 97 yards in additional offense, The sacks resulted in 40 yards of losses, featuring two putdowns of Powell by Grossmont's JESSE SWAN, CHAD O'DONNELL and PAT KELLY.

The Vikings (3-2, 0-1) were rationed to a net 5 yards rushing (on 32 attempts) – the 7th lowest total allowed by a Grossmont defense in 46 years.

"We just wanted to pick up the intensity and rush the quarterback," said Swan, an inside linebacker who paced the Griffins with nine tackles. "We got big pressure from the D-line -- TERRANCE (JOYNER), YUN (TA'ALA), Big MIKE (MIKAELE VAIMASANU) and Ja'RODD (WATSON)."

Joining Muheize with interceptions were LARRY PARKER and ELLIOT CHAPMAN, as LBCC completed 16-of-32 passes for just 169 yards.

How intense was the pressure? One of Powell's passes was batted right back to the quarterback for a reception, resulting in a 5-yard loss.

Meanwhile, Grossmont quarterback DAN LEWIS threw for 147 yards in his return as starting quarterback with JOHN SOLI out of uniform with an injury. The ground game saw GAREN DEMERY rush for 71 yards and a pair of second-period touchdowns (22 and 4 yards) to give the Griffins a 17-3 advantage.

Following a slow start to the season, the young group of offensive linemen is gaining synchronicity.

"We did good -- we did our jobs by being aggressive and playing hard on the line," said freshman right guard ROBERT TOLEAFOA. "It was 50-50 between running and passing plays, and a win is a win."

Unsung fullback LEVI UELI led the charge for Demery and the ground game, then was rewarded for his strong play by getting the game's final carry (gaining 3 yards).

"The blockers all did a good job," noted Ueli. "We just need the tailbacks to read the blocks better and know when to cut inside or to cut outside. But they did a much better job and got through the holes real well."

The biggest hit of the night came in a deadball situation. And it was a complete accident.

Following a big pass rush on the Long Beach quarterback, the referee charged toward the pile to make sure no pushing match ensued. One Griffins defender, down on his stomach, quickly popped up without realizing the referee was above him. His helmet caught the official in, shall we say, an awkward place.

Since the contest was down to the final two minutes and the outcome decided, no one bothered to stop the running clock, as about 50 seconds ran off without objection.
---
Griffins seek first road victory
utilizing defense at Long Beach
© East County Sports.com
LONG BEACH (10-10-08) — Fresh off a stunning 49-3 SCFA National Division Southern Conference rout of Palomar, the Griffins travel north to Veterans Memorial Stadium where they will take on Long Beach City College Saturday (Oct. 11) at 6 p.m.
"I think we'll match up with them pretty well," said Grossmont coach MIKE JORDAN. "In many ways, they are a lot like Chaffey."
The Griffins (3-2, 1-0) rank No. 8 among the state's top offenses, 36.2 points and 446 yards per game. They stand 12th in the state on defense (18.8 ppg, 259.2 ypg).
Quarterback Josh Powell, 6-foot-4, 215-pound sophomore from Spokane , Wash. is the Long Beach City College ringleader. Powell has completed 78 of 145 passes for 1,059 yards and six TDs for the Vikings (3-1), ranked No. 12 in the state – one rung ahead of the Griffins. LBCC's top receivers are Brandon Joseph (21-271, 2TDs) and Stephen Burton 17-302, 4 TDs).
Fortunately, for the Griffins the secondary – led by ABRAHAM MUHEIZE and LUIS VILLAVICENCIO – is their strong suit. Linemen TERRANCE JOYNER and CHAD O'DONNELL and linebackers PAT KELLY and JESSE SWAN have also been Grossmont standouts.
GRIFFIN GRAFFITI – Grossmont is 3-0 at home, but 0-2 on the road... Grossmont has outscored its last two foes by a composite 100-19. Both of those were home games... The Vikings lead this series 7-4 over the Griffins, Grossmont having won the last meeting 20-10 in 2004. In 2003, Grossmont rolled over the Vikings 60-7. It won't be anything like that this time around.
---
READ THE GAME STORY FROM
THE NORTH COUNTY TIMES

Includes Photo Slideshow
Griffins blossom when it counts,
rattle Palomar with ease, 49-3
© East County Sports.com
EL CAJON (10-5-08) -- For more than three decades, Grossmont and Palomar colleges never played a football game of any great significance, sans a couple of bowl games.
When the new Southern California Football Association was recently formed, it was only natural to place these geographic rivals -- finally -- in the same conference. On Saturday (Oct. 4), the schools met in a conference game for the first time since the mid-1970s. And it was the inaugural contest in the new Southern Conference to boot.
So it must've come as a surprise when the San Marcos based Comets, who draw from 16 SDCIF Division I and II high schools, came calling to Mashin-Roth Memorial Field to meet the Griffins, who draw from only 11 public high schools of which just one competes at the SDCIF Division I classification.
Of course, the setup is obvious.
David dominated Goliath after Grossmont scored touchdowns over four consecutive possessions to mount a 26-0 first-half advantage, as the Griffins made the previously undefeated and 15th nationally ranked Comets look "Foothill-ish" in a 49-3 victory.
"It was almost a perfect game except for that one field goal," noted linebacker CALVIN PEARCE. "Our front seven is stepping up major for us -- TERRANCE JOYNER, PAT KELLY – all of them."
"Palomar has been running the ball up the gut all season, but we made adjustments and were plugging the holes all day."
Early on, Grossmont, after winning a 1974 state championship, was placed in the powerful South Coast Conference. Meanwhile, Palomar, then a small school, was in the original Mission Conference.
A decade later, Palomar joined the big boys in a realigned Mission , while the Griffins were perceived as the big fish in a small pond known as the Foothill Conference, capturing the championships on a regular basis.
However, another state title for Grossmont in 2005 probably hinted to that state officials consider altering conference affiliations. Little did they know that the Grossmont, one of the smallest of the 21 schools in the SCFA's top division of competition, could dominate a ballclub such as Palomar with ease – at least on this particular afternoon.
"People don't realize that our D-line is young, but now it's the fifth game and they came out aggressive and are making it happen for us," explained Griffins free safety ABRAHAM MUHEIZE. "They came out screaming, ready to play."
The defensive line of the Griffins, powered by Joyner and CHAD O'DONNELL in the middle, held the Comets ground game to just 129 yards (including 41 yards in losses). Then the pressure by the line allowed the secondary to register five interceptions, part of seven total turnovers forced by Grossmont.
"I could just feel it slipping away," said Comets head coach Joe Early. "Everything we did went wrong -- Grossmont took it to us."
Included were a pair of interceptions by ELLIOT CHAPMAN. AUSTIN BEDART, LUIS VILLAVICENCIO and LARRY PARKER also garnered picks against three Palomar quarterbacks. Bedart also registered a fumble recovery.
Setting the trend early was Muheize, who forced a fumble just four minutes into the contest, then stood up from the pile with the loose football held high right in front of the Comets bench without argument.
Moments later, JAMAR REID rushed 3 yards for the first of his three touchdowns. He added a 50-yard scoring burst to close the first quarter with a 20-0 lead, then posted a 2-yard TD early in the fourth period.
"It was a good day -- credit the offensive line once again. They were beasts up front," noted Reid on his second straight 3-TD performance. "We watched film of them all week and they barely beat College of the Desert, and we could've beat Desert if it wasn't for turnovers."
"When we play the way we're supposed to play, like today, we feel nobody can beat us."
Meanwhile, Grossmont quarterback JOHN SOLI looked poised and comfortable in the pocket, completing 12-of-20 passes for 141 yards. And when he was pressured, he escaped several times to rush for first downs, including a 21-yard scamper, plus two short bursts for scores.
Soli also connected with tight end KYLE HIPP for a key first-period scoring pass, a 29-yarder which seemed to deflate the Comets after they left the preseason All-America selection completely uncovered for an uncontested touchdown.
"Their defense thought we would wedge it up the middle, either on a QB wedge or a fullback dive," noted Hipp, who led the team with four receptions. "So I was wide open and Soli threw the ball right to me. I didn't have to do much after that except run the ball into the endzone."
"We're really coming together as a team in all aspects. They came in here as an undefeated team and we went out there and played our game."
GAREN DEMERY (9-125 yards) pushed the lead to 39-3 with a 73-yard TD run late in the third period, allowing both sides to flood the field with substitutions.
Grossmont handed Palomar its biggest setback since falling 61-12 to City College of San Francisco in the 2001 state title game.
Grossmont even capitalized on special teams.
While Griffins kicker BRANDON BOGOTAY was booting kickoffs consistently through the endzone for touchbacks -- along with connecting on a 52-yard field goal to cap the scoring -- Palomar kickers scrambled all contest. Included was a snap which sailed over the punter's head, leading to kick from the endzone which resulted in a net-loss of 8 yards, while another punt was shanked and traveled just 11 yards.
Grossmont defenders took pride in keeping Palomar out of the endzone.
"I went with the coaches to scout the Palomar-Desert game last week, and I knew our defense could handle them," added Pearce. "They were a big team, so I didn't want to underestimate them, but everyone on our team was hungry."
Grossmont rests in a 3-way tie for first with Fullerton and Saddleback, the two teams predicted to dominate the Southern Conference in preseason polls. The Griffins next meet Long Beach City at Veterans Memorial Stadium in Long Beach, starting at 6 p.m. on Saturday (Oct. 11). The Vikings were idle this week, but probably had scouts watching this blow out.
---
Opener in new conference
brings old rival to town
© East County Sports.com
EL CAJON (10-03-08) — It's been more than two decades since Grossmont College last defeated the Palomar Comets. But the Griffins, who have dropped nine consecutive decisions to their North County rivals, will get another shot at Palomar when the two clubs open the Southern California Football Association National Conference season Saturday (Oct. 4). Kickoff is set for 1 p.m. at Grossmont's Mashin-Roth Field.
Although the season is less than half over, both teams have suffered some key injuries, but so far have been able to patch up the holes.
Palomar moved up to No. 15 in the J.C. Grid-Wire national rankings after Saturday night's 47-41, four-overtime victory over College of the Desert -- when the Comets (4-0) handed the Roadrunners their first regular-season loss since the 2006 season. JCGridiron.com has the Comets ranked No. 16.
That win over the Roadrunners was a home game for the Comets, while Grossmont spotted COD a 40-14 advantage in Palm Desert and then fought back only to fall short 47-40.
Another common foe is Southwestern. The Griffins killed themselves with penalties and wound up losing to the Jaguars 14-10. Palomar edged the Jags at home 21-19, although Southwestern had the ball within field goal range when time expired.
Quarterbacks Steve Carroll (13-for-17 passing, 184 yards, four touchdowns) and Matt Christian, who threw the game-winning 1-yard touchdown pass and also ran for a TD, had a hand of six of Palomar's seven touchdowns in the win over COD. The two signal-callers are expected to each draw playing time against Grossmont, which throttled Chaffey 51-16 a week ago.
Running backs GAREN DEMERY (48-247, TD) and JAMAR REID (505 all-purpose yards, 5 TDs) and quarterback JOHN SOLI seem to have Grossmont clicking. The Griffins led Chaffey 44-7 after one half.
Safety ABRAHAM MUHEIZE, corner LUIS VILLVICENCIO and linebacker PAT KELLY anchor the Grossmont defense.
GRIFFIN GRAFFITI – The Comets lead this all-time series 14-9... Palomar won a 56-42 scoringfest a year ago at Grossmont... The Comets have not lost to a San Diego County team in 29 games... Grossmont, which is ranked No. 17 in SoCal, last beat the Comets 21-16 in 1987.
---
Griffins return to form, drill Chaffey

© East County Sports.com
EL CAJON (9-28-08) — Running the football in obscurity most of the season, Grossmont College tailback JAMAR REID worked seemingly unnoticed by even his own coaching staff.

With his name listed as "Reed" throughout the opening weeks, Reid burst from the shadows Saturday (Sept. 27), proving that there is indeed an 'I" in team.

Reid, a sophomore out of New Berlin, N.Y. , registered three touchdowns, including a back-breaking 80-yard kickoff for a score moments after visiting Chaffey finally got on the scoreboard, lifting the Griffins to an easy 51-16 win over the previously undefeated Panthers in non-conference action at Mashin-Roth Memorial Stadium.

"I got my 'I' back -- it feels a lot better," said Reid. "We came back home and worked hard all week as a whole team (after losing to Southwestern) and finally got a win out of it."

Over the past decade, either Grossmont and Chaffey has captured the Foothill Conference championship. But due to realignment, this might be the final meeting between the schools for several years in a hard-fought rivalry.

And just like the majority of those Foothill encounters, the Griffins (2-2) held the advantage for the first time all season by striking early to put away Chaffey (3-1), exploding to a 21-0 lead just 6 1/2 minutes into the contest.

"It's so much easier playing with the lead and not playing catch-up," added Reid. "The O-line was a beast -- I love my big uglies up front. I'm running harder and try to keep my pad level low."
0A

Quarterback JOHN SOLI, who was sacked just once all afternoon, started the streak after the Griffins defense forced a pair of early turnovers. The sophomore sneaked the ball in from the Panthers-1 for a touchdown, then connected with MOHAMED FOFANA on a 7-year pass just 1:43 later following another Chaffey turnover. It was the first time Grossmont scored first in four starts this season.

"The offensive line gave me a lot of time so it made it pretty easy," said Soli, who collected 323 yards total offense. "Overall, our whole teams was a lot more focused this week."

GAREN DEMERY then hauled in a 48-yard scoring pass from Soli (18-37-0, 264 yards in less than th ree quarters).

"John just checked down on me on the back side and I was open from there -- I just got an opportunity and scored," noted Demery. "The offense showed what we're capable of, with the O-line coming together really well."

Grossmont finished with 450 yards in total offense, including 345 in the first half to secure a 44-7 advantage by intermission.

"We played really hard and got to work our feet -- it showed what we can do when we keep the ball," said right guard MIKE McGRATH, a sophomore out of El Capitan . "Every day we improve and work hard."

Following minimal yardage on the ground in the first three ballgames, Grossmont's O-line busted some big holes for the backs to run through.

"We really clicked together after making lots of mistakes the last couple of games -- penalties have been killing us," added right tackle JUAN BOLANOS, a freshman from Mount Miguel . "We practiced real hard this past week. Hopefully, this will carry over when we play Palomar next week."

The second quarter featured three consecutive field goals by BRANDON BOGOTAY (25, 43 and 33 yards), then Reid capped a 73-yard drive with a score from the 6 for a 37-0 bulge .

Chaffey took advantage of a botched Grossmont punt to score on a 28-yard drive to get its sideline fired up. But the moment was fleeting when Reid grabbed a short kickoff at the Grossmont-20, racing through the right side to reach the endzone to silence the visitors.

Meanwhile, the Grossmont defense was solid throughout, forcing six turnovers and surrendering a mere 242 yards to the Panthers.

Linebacker HOMER MAUGA started the parade of picks with the first of four interceptions by the Griffins. The others were garnered by DEXTER THOMPSON, LUIS VILLAVICENCIO and ABRAHAM MUHEIZE, who raced 50 yards with the return to set-up Reid's final score.

"I just read the quarterback's 3-step drop and just jumped it and caught it," said Villavicencio . "Our turnover margin wasn't that good coming in, but today a D-lineman had one (interception) and a linebacker had another."

"We expected a hard game with Chaffey, because they beat Southwestern, who beat us. But we came to play finally."

The Griffins got to Chaffey quarterbacks on three occasions; the Panthers completed just 13 of 37 passes, gaining less than 4 yards per attempt.

"CHAD O'DONNELL was able to put on a lot of pressure, then I was able to stick my hand out and I got him," recalled defensive end TERRANCE JOYNER on his sack. "The whole defense picked it up because we're all still playing for spots in the line-up."

Even when Chaffey made a good play, something bad would happen. After a blocked Grossmont field goal, the Panthers grabbed the ball and raced 78 yards down the sideline, only to get pushed out of bounds by the Griffins kicker, who caught the opponent at the 2.

Grossmont opens its inaugural Southern Conference campaign next Saturday, hosting Palomar at 1 p.m. Already dubbed the "Super 7" conference, each of the seven schools have captured at least one national championship.
---
Griffins seek A New Beginning
© East County Sports.com
EL CAJON (9-26-08) — Perhaps the Grossmont Griffins should try a different means of beginning a football game.
Early turnovers have pushed the Griffins (1-2) on their heels the past two weeks – three in the first quarter of losses at College of the Desert and Southwestern. All three Grossmont foes have scored first, including San Diego Mesa – a team Grossmont came back to beat. COD led 23-0 after one period. Southwestern and Mesa each opened up with a 7-0 edge.
Overall, the Griffins have committed 14 turnovers. Their opponents have made only eight. That equation does not add up to a winning season.
Grossmont will attempt to get its act together Saturday (Sept. 27) when it welcomes former Foothill Conference rival and No. 19 state-ranked Chaffey (3-0) to Mashin-Roth Memorial Field. Kickoff is set for 1 p.m.
Despite their nearly five miscues per game, the Griffins have been able to move the ball. They are averaging 27 points and 446 yards per game. GAREN DEMERY (40-24, TD) and JAMAR REID (23-171, 2 TD) lead Grossmont's ground forces.
On the defensive side, Grossmont is surrendering just 276 yards and 25 points.
GRIFFIN GRAFFITI — Grossmont owns an all-time 14-9 edge in this series, including six straight wins. . . The Panthers last won, 43-35, in triple-overtime during the 2002 season. . . One comparison this year is Chaffey edged Southwestern, 28-24, with a late touchdown, while the Griffins played catch-up most of the night.
---
Grossmont College running back Jamar Reid
(Photo by Russell Scoffin, SWC Media Relations)


Jaguars jab Griffins, 14-10

© East County Sports.com
CHULA VISTA (9-21-08) — In a near identical script from last week's setback, Grossmont College dominated on defense to keep giving its offense an array of second chances, but the Griffins reached the end zone just once in a frustrating setback to Southwestern College, 14-10, in Saturday's (Sept. 20) non-conference contest at DeVore Stadium.

The Jaguars' victory was their first over Grossmont in nearly a decade, snapping an 8-game losing streak dating back to 1999.

"It's frustrating, but were still coming together" said linebacker PAT KELLY, who registered an interception and a sack. "It's no one's fault and we can't blame the offense -- we win as a team and lose as a team, and that's all that matters at Grossmont."

Similar to a loss at College of the Desert, Grossmont's offense dropped the ball to the tune of three fumbles (two lost) in the opening eight minutes. The miscues allowed the Jaguars (1-2) to grab an early 7-0 lead on a 10-yard scoring pass from Ryan Nelson to receiver George Bell.

Southwestern would keep the advantage throughout, making a winner of Jaguars coach ED CARBERRY, a former Griffins assistant.

Leading the pack was former Helix running back KENSLOW SMITH, who paced the Jags attack with 174 yards on 38 carries.

"Once we find an inch we keep scratching it," Carberry said. "And tonight I think we found it."

The Jaguars continually handed the ball off to Smith, who ran primarily between the tackles.

Grossmont collected 287 yards in total offense in the first half, but managed just a field goal to trail 7-3 at the intermission. Smith then played a game of keep-away, taking huge chunks off the game clock with 22 rushes in the second half, including a third-quarter touchdown for a 14-3 lead just 3:10 into the third quarter.

Grossmont countered on a 10-play, 63-yard drive, capped on a 1-yard dive by JAMAR REID. The back finished with 81 yards on 12 carries, second to team leader GAREN DEMERY (14-94).

"At halftime, we told coach we wanted to pound and pound the ball, but coach said we have to throw the ball because they were keying on me and Demery," said Reid, "Every time I came in, they were saying, '32, 32, he's getting the ball.'"

Grossmont collected an impressive 194 rushing yards in only 37 carries (5.2 yards per attempt) with two healthy runners for the first time this season.

"It was the first game where we both were on pace and had a good game -- we both were on the same page," Reid added.

Down the stretch, the visitors had one final chance to pull out a last-second victory, but quarterback DAN LEWIS fumbled while being sacked by Southwestern linebacker David Ferris. The sophomore from Bonita Vista also registered an interception.

"We had plenty of opportunities to go down and score, we had plenty20of chances in the red zone, and an opportunity at the end," noted Lewis, who completed 16-of-30 passes for 163 yards. "Finishing is the story -- which is something we need to focus on."

For the second straight week, safety ABRAHAM MUHEIZE led the team in tackles with 8, followed by LUIS VILLAVICENCIO with 7, and Kelly with 6.

AUSTIN BEDART, HOMER MAUGA, CHAD O'DONNELL and BYRON BARMER also contributed 5 tackles apiece for the Griffins.

Triple-figure totals in penalty yards also limited Grossmont, flagged 14 times for 123 yards.

The Griffins return home for their final non-conference contest, hosting former Foothill Conference rival Chaffey next Saturday (Sept. 27). A week later, the debut of the Southern Conference (i.e., the "Super 7" conference) finds Grossmont hosting Palomar. Both kickoff at 1 p.m.
---
Griffins take on familiar foe
© East County Sports.com
CHULA VISTA (9-19-08) — These long-time rivals are no longer in the same league, but will continue to face off in a non-conference setting. The Jaguars of Southwestern College host the Grossmont Griffins Saturday (Sept. 20) at Devore Stadium starting at 6 p.m.
Both teams are coming off frustrating losses. Southwestern (0-2), in fact, has suffered two setbacks in games in the final minutes – 21-19 at No. 14 Palomar and 28-24 at Chaffey against the No. 23 Panthers.
The Griffins (1-1) had little difficulty disposing of San Diego Mesa 31-14 and nearly overcame a 40-14 deficit against No. 16 College of the Desert before falling 47-40 in Palm Desert.
Slow starts have racked the Griffins this season. They fell behind Mesa two series into the opener and then fumbled three times to trail 23-0 after one period in the desert. They might not get away with that against Southwestern, which arguably has played a tougher schedule than the Griffins.
Grossmont's offense has not been the explosive unit it has been in the past, although the Griffins have shown some signs of flash, to the tune of 35.5 points and 451 yards per game. Singling out one or two offensive stars is not easy with this group since so many players have contributed. GAREN DEMERY (Valhalla) has established himself as the top running back, averaging 5 yards per carry on 26 chances.
Quarterbacks JOHN SOLI (142.5 ypg, 3 TDs) and DAN LEWIS (132.5 yds, 3 TDs) have each had major moments for Grossmont. Tight end KYLE HIPP (8-175, 2 TDs), a preseason JC Grid-Wire All-American, is among 14 receivers having caught a pass in the first two games.
Safety ABRAHAM MUHEIZE (El Cajon Valley), corner LUIS VILLAVICENCIO (Chula Vista), linebacker PAT KELLY (Christian), linebacker HOMER MAUGA (Helix), linebacker ELLIOTT CHAPMAN and tackle CHAD O'DONNELL (Christian) are among the Griffins' defensive leaders.
Southwestern's defense is led by middle linebacker ALEX MORALES (Helix), who recorded 10 tackles against Chaffey. TAELOR WORRELL (El Capitan) and DERRICK PERRAULT (Helix) are veterans in the secondary.
The Jags also have an excellent quarterback in Ryan Nelson (34-62, 383 yards. 5 TDs) with a talented trio of receivers Joshua Sipho (11-109, 2 TDs), George Bell (10-83, TD) and Sheldon Galoway (9-202, 2 TDs). KENSLOW SMITH (Helix) is the leading rusher averaging 84 yards per game.
GRIFFIN GRAFFITI — The Griffins have won the last eight meetings from the Jaguars, including 34-14 last year. Grossmont leads the all-time series 23-12-1... Last time Southwestern beat the Griffs was 34-27 in 1999 – GC turned the ball over nine times that night in Chula Vista.
---
Griffins rally falls short
© East County Sports.com
PALM DESERT (9-14-08) -- The Grossmont Griffins gift-wrapped three early turnovers which eventually gave College of the Desert a 23-0 first-quarter lead. But when the Griffins switched quarterbacks, Grossmont was in position for the second-greatest comeback in school history.

Game Story from COD's perspective

in

The Desert Sun HERE

Paced by the return of DAN LEWIS, the sophomore threw for 265 yards in the second half, including three touchdowns over the final 7:46 of the fourth period. But when the Roadrunners covered an onsides kickoff with 1:10 remaining, they released a long sigh of relief after holding on to Saturday's (Sept. 13) tight 47-40 non-conference triumph at Boone Field.

"If we gave up on the field, a lot of guys in the locker room would be feeling down and things just wouldn't be right," said Lewis. "But this lets our guys know we can still play football -- we've got a good team and we're coming together."

A year ago, Lewis was knocked out of the Desert contest following just two plays with an ankle injury. This year, he continued to sit while JOHN SOLI operated the offense after winning the job in the season opener.

But with the offense sputtering and the blockers finding difficulty handling the Roadrunners' blitz, a more mobile Lewis was called upon while trailing 40-14 midway through the third quarter.

Lewis, initially, wanted to simply salvage team unity. Little did he know such a mammoth comeback was in the offing.

"We had a rough first quarter, so I wanted them to take something home to keep their pride at least," added Lewis. "I feel really good about our guys."

With COD pass-rushers unable to reach Lewis due to a variety of rollouts to either side, Lewis capped one drive with a 1-yard TD run late in the third period. He then completely shined in the final period, completing 11-of-14 passes for 209 yards, as Grossmont out-gained Desert, 472-to-300, in total offense,.

Included was a touchdown pass of 20 yards to tight end KYLE HIPP, then a pair of scoring strikes of 29 and 8 yards to XAVIER MARTIN, with 3:51 and 1:12 remaining, respectively. Hipp was the game's leading receiver with four receptions for 80 yards, while Martin caught four for 50 yards.

However, COD's Trey Mays fell onto the football on the squib kick to defuse the comeback effort and avoid giving Grossmont an opportunity to force the contest into overtime.

"We had a chance to win it, but if we don't make a couple of mistakes here or there… we're right in it," added Lewis.

In the first quarter, Desert took advantage of a muffed punt to get the ball at the Griffins-26, settling for a field goal and a 3-0 lead. Over the next pair of Grossmont possessions, the team ran just three plays, losing the ball twice on fumbles which led to a pair of short COD scores and a 17-0 lead.

And when a short punt again gave Desert possession on the Griffins' side of the 50, COD needed just one play to go 42 yards when quarterback Thomas DeMarco (9-for-22, 129 yards) connected with Deon Lee for a 24-0 lead with 2:48 left in the opening period.

No one blamed the defense, which faced tough field-position situations throughout the early going. Sophomore safety ABRAHAM MUHEIZE led the way with 11 tackles and five assists, and freshman linebacker PAT KELLY made 9 stops.

"We showed that we're really men -- we showed heart," explained Kelly. "If we see these guys again, we going to beat them handily,"

The Griffins also registered five sacks of DeMarco, including solo stops by Kelly, JAVI LOGOAI, EDWIN SHEPARD and CALVIN PEARCE, while JESSE SWANN and ELLIOT CHAPMAN shared a takedown. However, the ballclub fell just short of digging a huge, early hole.

With Lewis controlling the passing game, the ground attack flourished behind running back GAREN DEMERY (14 rushes, 83 yards).

For Desert, running back Leonard Mason broke loose for a 64-yard burst to open the fourth quarter to set-up his own 2-yard score on the next snap, finishing with 126 yards on 18 carries.

Grossmont limited its attempt to rally with a rash of penalties, flagged 19 times for an incredible 190 yards (three others were declined),

"We had some rough times with the refs and the turnovers," added Kelly. "It isn't one person's fault, it was all of us making mistakes -- we can play a lot better."

The final onsides kickoff was delayed 10 minutes when Grossmont receiver CHRISTOPHER SMITH was taken by ambulance to a local hospital. He collapsed on the sidelines following a hit some 20 minutes earlier. Smith was conscious and moving all of his extremities.
---
Griffins hope to beat the heat, reel in 'Runners

© East County Sports.com
PALM DESERT (9-12-08) — The revamped College of the Desert football program was responsible for ending Grossmont College's reign of four consecutive Foothill Conference championships, soundly thumping the Griffins, 66-28, in one of the school's top 10 largest losses in history.

The result ended Grossmont's 7-game winning streak over the Roadrunners dating back to a 1999 setback when the Griffins -- who lead the all-time series, 13-6-3 -- missed a field goal at the gun.

Desert went on to share the Foothill crown with Antelope Valley a year ago, leading to a host of reasons Grossmont seeks revenge when the teams meet Saturday (Sept. 13) at COD's Boone Field.

Game time in the low desert is a state-mandated 6 p.m. (instead of the usual 7 p.m. start time), despite predictions of temperatures at 100 degrees or hotter.

According to Grossmont athletic director JIM SPILLERS, the time change was instituted by the new Southern California Football Alliance. Teams without lights must kickoff at 1 p.m. Those capable of playing night games must start at 6. PERIOD!

Both ballclubs opened with impressive victories. While the Griffins (1-0) registered 31 consecutive points to again embarrass San Diego Mesa, 31-14, Desert (1-0) raced to a 27-0 halftime advantage in clipping visiting San Bernardino Valley, 34-17.

A year ago, Desert went through the air to post five touchdowns on Grossmont. However, the Roadrunners had a 180-degree turnabout in the offseason by now going with the ground game.

Last week against the Wolverines, four of their five TDs came on rushes. Included were three scores by Leonard Mason, who rushed 18 times for 99 yards, while Larry Williams carried 12 times for 70 yards.

In 2007, Grossmont quarterback DAN LEWIS strained an ankle on the second play of the contest, as the Griffins eventually reached to a 4th-string signal-caller to run the offense.

Lewis would like another shot at Desert, but right now, JOHN SOLI will get the starting nod after beating out the sophomore after the pair rotated running the offense in the first half against Mesa. Soli accounted for 218 yards and a touchdown completing 18 of 28 passes.

However, the difference should be on defense. Both sides forced three turnovers in Week One and yielded less than 250 yards in offense to their opponent.

Desert is ranked No. 17 in the state and No. 9 in Southern California by the California Community College Football Coaches Association. The Griffins are rated No. 10 in SoCal and No. 18 in the state.
---
G-House runs over the Olympians

Grossmont registers 31 straight points in rout
© East County Sports.com
EL CAJON (9-7-08) — Grossmont College held an audition of sorts in Saturday's (Sept. 6) season-opening 31-14 victory over visiting San Diego Mesa College at Mashin-Roth Field.
Head coach MIKE JORDAN was pleased to note that this was the first time in his 3-year tenure that the Griffins had won their opening game. MORE BELOW
Phi Mesa Face-a
Austin Bedart returns this interception 34 yards, helping the defense toss a shutout after allowing
an early score to pace Grossmont over Mesa.
(Photo by Tori Mills)
San Diego Mesa College at Grossmont College
(Slideshow by Tori Mills)
"That was a good feeling," Jordan said. "We made the usual first-game mistakes and all that, but we probably played between 80 and 90 guys. The guys that didn't get in shouldn't think that we're discounting them. Some of them aren't quite familiar with the offense, others have minor injuries, but even in practice when reps are so important, it's difficult to operate with a squad this large."
At present Grossmont's roster features 115 players.
"Normally we wouldn't carry this many," Jordan said. "But we have a lot of good players and we need to evaluate them all."
Grossmont is the only team in the state that did not conduct a scrimmage against an outside opponent.
Meanwhile, against Mesa, sophomore quarterback JOHN SOLI clearly established himself as the starter. Having sat out all of last season due to injury, Soli had signs of rust.But it's hard to argue with his success as he completed 18 of 28 passes for 194 yards. That included a 44-yard touchdown strike to tight end KYLE HIPP.
"I think we did a pretty good job of throwing the ball," said Hipp, who registered team highs of 4 receptions for 95 yards in abbreviated action.
His scoring connection with Soli was a thing of beauty, though, as it tied the game 7-7 with 4:36 left in the first quarter. "It was a hash-4 vertical designed to stretch the field," Hipp said of his TD grab. "When their safety broke outside, it left the middle wide open. All I had to do was catch-and-run."
A fumble recovery by the Griffins' ELLIOT CHAPMAN early in the 2nd quarter at the Mesa 13-yard line set up a 4-play scoring drive that concluded with GAREN DEMERY's 1-yard scoring dash into the endzone.
After Mesa shanked a punt Soli took the Griffins on an 8-play, 63-yard scoring march. Soli took the ball into the endzone himself from two yards out to put the Griffins up by 21-7.
Due to the wholesale substitutions by Jordan, no one was in position to set many records.
"We wanted to see as many good players as we could," Jordan said.
Among the standouts was sophomore running back JAMAR REID, who rushed for 90 yards and a touchdown in 10 carries. Demery finished with 56 yards on 16 chances.
Recent Scores

Year

2008
2007
2006
2005
2004
2003
2002

31
66
58
64
70
24
48

14
17
0
3
7
17
28

Pts

362

86

Avg

51.7

12.3
On the defensive side for Grossmont, sophomore safety ABRAHAM MUHEIZE set the pace with 8 tackles and an interception.

"I haven't seen the films yet, but all in all, we accomplished what we wanted to do," Jordan said.

West Hills grad PHILIP STABACK completed 11 of 28 passes for 80 yards and rushed for 13 more to pace Mesa.

Notes — Since 2002, Grossmont has out-scored Mesa, 362-86, over seven consecutive victories.
---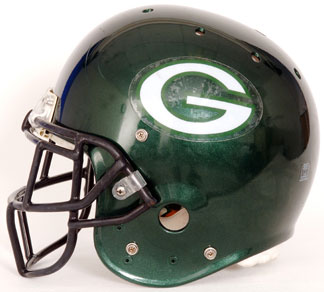 Complete Southland
Schedule HERE
Grossmont meets Mesa in opener
Special to East County Sports.com
EL CAJON (9-5-08) — With a solid mix of young talent and veteran leadership, Grossmont College coach MIKE JORDAN feels good at gaining a shot at redemption from last season's 5-5 campaign heading into Saturday's (Sept. 6) season opener against county rival San Diego Mesa. Kickoff is at 1 p.m. at Mashin-Roth Memorial Field.
"Right now we are just ready to play a 'real' football game and quit hitting each other," Jordan said.
Grossmont was the lone school among 37 in Southern California not to scrimmage another opponent, but with 140 players on the preseason roster, split squads of 70 per unit proved to be equally effective.
"We've had so much competition at every single position that I can't wait to see my team play on Saturday and find out what I have to work with for the rest of 2008," added Jordan. "Our coaching staff worked so hard this off-season in recruiting and it paid off."
Jordan is looking for strong leadership from his sophomores on offense like quarterback JOHN SOLI, tight end KYLE HIPP, running back ELIJAH BROWN, running back GAREN DEMERY, and wide receiver CHRIS SMITH. Hipp was a preseason All-America selection by J.C. Grid-Wire.
Defensively, Jordan appointed his father DAVE JORDAN, the legendary and former head football coach of the Griffins, to coordinate the defense once again.
With Division I prospects all over the Griffins defense, the staff expects middle linebacker PAT KELLY, outside linebacker HOMER MAUGA and the experienced secondary which includes free safety ABRAHAM MUHEIZE, strong safety AUSTIN BEDART, cornerback LARRY PARKER and cornerback LUIS VILLAVICENCIO to be leaders on this team.
"I expect this defense to do their individual jobs and to play hard and fast at all times," said Dave Jordan.
With the new additions and realignment of his coaching staff, the Griffins believe they will be serious contenders in the new and highly competitive National Conference's Southern Division.
---
Hipp tabbed preseason All-American
© East County Sports.com
EL CAJON (9-2-08) — Grossmont College sophomore tight end KYLE HIPP has been named to the J.C. Grid-Wire/JCFootball.com Pre-season All-America Football third team.
Hipp, a 6-foot-4, 250-pound tight end, caught 10 passes for 194 yards and 4 touchdowns as a freshman. He is a graduate of Cathedral Catholic High School and a much sought after four-year college prospect.
---
Griffins rated longshot to claim
title in new 'Super 7' conference
© East County Sports.com
COSTA MESA (8-28-08) — Saddleback and Palomar community colleges are selected to finish 1-2 in the new Southern California Football Association's National Conference Southern Division — quickly becoming known as the 'Super 7' — by a vote of media members and conference sports information directors this week.
Grossmont College, winners of four of the last five championships in the now defunct Foothill Conference, have been tabbed to finish in a distant fifth in a seven-team circuit which have combined for 18 mythical national community college championships — the most of any conference/division in the country — with all seven schools capturing at least one national title each.
'SUPER 7'
PRESEASON MEDIA/SID
PREDICTIONS
1. Saddleback (9), 56 points
2. Palomar (2), 46
3. Fullerton (1), 43
4. Santa Ana (1), 38
5. Grossmont (1), 33
6. Orange Coast, 21
7. Long Beach, 15
First-place votes in parenthesis
Saddleback captured four of nine first-place votes and totaled 56 points to earn the top spot. Ten points behind in preseason voting in second place is Palomar, which totaled 46 points and received two first-place votes. Following closely in third is Fullerton with 43 points, also receiving the one first-place nod, as did Santa Ana and the Griffins.
Santa Ana was tabbed fourth, Orange Coast sixth and Long Beach City College seventh.
Member schools in the new National Conference Southern Division may be in the toughest alignment in history.
Long Beach tops the list with four national championships followed by three each by Palomar, Fullerton and Santa Ana. Saddleback and Orange Coast were national titlists twice each, while Grossmont recently captured the 2005 crown along with on-field state championships that season and in 1974.
The Griffins went 5-5 a year ago, and will be challenged as they attempt to rebuild.
Team standouts include sophomore safety ABRAHAM MUHEIZE, speedy RB GAREN DEMERY and swift WR ELIJAH BROWN.
San Diego State transfer offensive tackle JUAN BOLANOS (6-7, 310), blue chip tight end KLYLE HIPP, WR CHRIS SMITH, Grossmont South League Defensive Player of the Year HOMER MAUGA and Christian High linebacker PAT KELLY are a few of the Griffins aces onboard this season.
---
CCSF tabbed to repeat

Griffins tops honorable mention list
Courtesy, J.C. Athletic Bureau
SAN MATEO (8-20-08) -- Defending state champion City College of San Francisco gets the nod ahead of Bakersfield and Mt. San Antonio in the official California Community College Football Coaches Association 2008 preseason state poll, compiled by J.C. Athletic Bureau.
CCSF has finished atop the final ratings seven times over the last 14 years. The Rams defeated Mt. San Antonio, 31-28, in the 2007 state championship game to win their fifth official state championship since the California Community College Athletic Association resumed playoffs in 1997.
Also expected to give chase in 2008 are College of the Canyons, 2006 state champion El Camino, Foothill, and Sierra. Grossmont College, the 2005 state titlist, heads the list of honorable mention ballclubs.
The 2008 California community Colleges championship game will be played at Orange Coast College in Costa Mesa on Saturday afternoon, Dec. 13.

2008 PRESEASIN POLLS
(State Coaches Association Rankings)

Southern Calif.
Northern Calif.
1. Bakersfield
2. Mt. San Antonio
3. Canyons
4. El Camino
5. Moorpark
6. Saddleback
7. Fullerton
8. Palomar
9. Ventura
10. Desert
11. Antelope Valley
12. Pasadena
13. Citrus
14. Cerritos
15. Grossmont
16. Glendale
17. Riverside
18. Allan Hancock
19. Orange Coast
20. Santa Ana
1. San Francisco
2. Foothill
3. Sierra
4. Reidley
5. San Mateo
6. Laney
7. Butte
8. Fresno
9. Santa Rosa
10. San Joaquin Delta
11. Modesto
12. Mendocino
13. Cabrillo
14. Sequoias
15. Feather River
16. Siskiyous
17. American River
18. Yuba
19. Merced
20. Monterey Peninsula

State Rankings

1. San Francisco (12)
2. Bakersfield (2)
3. Mt. San Antonio (1)
4. Canyons (2)
5. El Camino (1)
6. Foothill
7. Sierra
8. Moorpark
9. Saddleback
10. Reidley
11. San Mateo
12. Laney
13. Fullerton
14. Butte
15. Palomar
16. Fresno

17. Ventura
18. Santa Rosa
19. Coll. of the Desert
20. Antelope Valley
21. Pasadena
22. Citrus
23. San Joaquin Delta
24. Cerritos
25. Modesto
Honorable Mention -- Grossmont, Riverside, Allan Hancock, Orange Coast, Santa Ana, Chaffey, L.A. Harbor, Cabrillo, Golden West, Sequoias, Feather River, Siskiyous.
*
---
Old faces in new places
Grossmont '08 schedule disclosed

© East County Sports.com
SACRAMENTO (1-29-08/Revised) — The California Community College Athletics Association, in association with the state football coaches association, has distributed the proposed 2008 football schedule for the newly-formed Southern California Football Alliance.

Included is the proposed 10-game slate for Grossmont College, which is leaving the Foothill Conference after 7 championships over the past 10 seasons to join a new conference which has ties to the Griffins' past.


GROSSMONT COLLEGE
2008 FOOTBALL SCHEDULE

Date
Opponent
Sept. 6
Sept. 13
Sept. 20
Sept. 27
San Diego Mesa
at Coll. of the Desert
at Southwestern
Chaffey
Oct. 4
Oct. 11
Oct. 18
Oct. 25
*Palomar
*at Long Beach
*Fullerton
*at Orange Coast
Nov. 1
Nov. 8
Nov. 15
bye
*at Santa Ana
*Saddleback
*Conference game
Grossmont will compete in one of three 7-team conferences in Division I comprised of elite ballclubs from Southern California, which will be eligible to place two schools each into the state championship playoffs. The Griffins are featured in a group which includes Palomar, Saddleback and Long Beach, plus three schools from the old South Coast Conference in Fullerton, Orange Coast and Santa Ana.

The Griffins will open the season on Sept. 6 by hosting San Diego Mesa at Mashin-Roth Memorial Field, then 2 weeks later, travel to play Southwestern at Devore Stadium on Sept. 20.

Mesa and Southwestern are in Division II among one of two 8-team conferences. However, only the two conference champions in Division II make the playoffs, while the top two teams from the three Division I conferences advance to the postseason field.

The other pair of non-conference contests for Grossmont feature a pair of Foothill rivals in College of the Desert (Sept. 13, in Palm Desert), then hosting Chaffey (Sept. 27), the only school to beat Grossmont at home since the installation of an artificial surface prior to last season.
SOUTHERN CALIFORNIA FOOTBALL ALLIANCE
2008 CONFERENCE ALIGNMENT
NATIONAL DIVISION
(Top 2 teams from each conference advance to state playoffs)
Southern Conference
Central Conference
Northern Conference
Grossmont
Palomar
Saddleback
Orange Coast
Santa Ana
Fullerton
Long Beach
Chaffey
Citrus
College of the Desert
El Camino
Mt. San Antonio
Riverside
Victor Valley
Allan Hancock
Bakersfield
College of the Canyons
Compton
Glendale
L.A. Harbor
Moorpark
AMERICAN DIVISION
(Conference champions only advance to state playoffs)
Pacific Conference
Mountain Conference
Antelope Valley
East L.A.
L.A. Pierce
L.A. Southwest
L.A. Valley
Santa Barbara
Ventura
West L.A
Cerritos
Golden West
Pasadena
Mt. San Jacinto
San Bernardino Valley
San Diego Mesa
Santa Monica
Southwestern
---
---
---
<< Back