Old faces in new places
Grossmont '08 schedule disclosed

© East County Sports.com
SACRAMENTO (1-29-08/Revised) -- The California Community College Athletics Association, in association with the state football coaches association, has distributed the proposed 2008 football schedule for the newly-formed Southern California Football Alliance.

Included is the proposed 10-game slate for Grossmont College , which is leaving the Foothill Conference after 7 championships over the past 10 seasons to join a new conference which has ties to the Griffins' past.

GROSSMONT COLLEGE
2008 FOOTBALL SCHEDULE

Date
Opponent
Sept. 6
Sept. 13
Sept. 20
Sept. 27
San Diego Mesa
at Coll. of the Desert
at Southwestern
Chaffey
Oct. 4
Oct. 11
Oct. 18
Oct. 25
*Palomar
*at Long Beach
*Fullerton
*at Orange Coast
Nov. 1
Nov. 8
Nov. 15
bye
*at Santa Ana
*Saddleback
*Conference game
Grossmont will compete in one of three 7-team conferences in Division I comprised of elite ballclubs from Southern California, which will be eligible to place two schools each into the state championship playoffs. The Griffins are featured in a group which includes Palomar, Saddleback and Long Beach, plus three schools from the old South Coast Conference in Fullerton, Orange Coast and Santa Ana.

The Griffins will open the season on Sept. 6 by hosting San Diego Mesa at Mashin-Roth Memorial Field, then 2 weeks later, travel to play Southwestern at Devore Stadium on Sept. 20.

Mesa and Southwestern are in Division II among one of two 8-team conferences. However, only the two conference champions in Division II make the playoffs, while the top two teams from the three Division I conferences advance to the postseason field.

The other pair of non-conference contests for Grossmont feature a pair of Foothill rivals in College of the Desert (Sept. 13, in Palm Desert), then hosting Chaffey (Sept. 27), the only school to beat Grossmont at home since the installation of an artificial surface prior to last season.
SOUTHERN CALIFORNIA FOOTBALL ALLIANCE
2008 CONFERENCE ALIGNMENT
NATIONAL DIVISION
(Top 2 teams from each conference advance to state playoffs)
Southern Conference
Central Conference
Northern Conference
Grossmont
Palomar
Saddleback
Orange Coast
Santa Ana
Fullerton
Long Beach
Chaffey
Citrus
College of the Desert
El Camino
Mt. San Antonio
Riverside
Victor Valley
Allan Hancock
Bakersfield
College of the Canyons
Compton
Glendale
L.A. Harbor
Moorpark
AMERICAN DIVISION
(Conference champions only advance to state playoffs)
Pacific Conference
Mountain Conference
Antelope Valley
East L.A.
L.A. Pierce
L.A. Southwest
L.A. Valley
Santa Barbara
Ventura
West L.A
Cerritos
Golden West
Pasadena
Mt. San Jacinto
San Bernardino Valley
San Diego Mesa
Santa Monica
Southwestern
---
Johns accept Navy promotion
© East County Sports.com
ANNAPOLIS, Md. (1-22-08) -- Grossmont College doesn't just help its athletes reach the 4-year college level, now another member of the coaching staff has gained a promotion, too.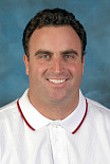 Steve Johns
On Jan. 5, the U.S. Naval Academy announced the hiring of Griffins defensive coordinator STEVE JOHNS as the new linebackers coach for the Midshipmen. Johns will rejoin Navy head coach Ken Niumatalolo, after spending six years together on the UNLV coaching staff.
"Steve Johns has a bright, innovative football mind and is an important addition to our coaching staff," said Niumatalolo. "He was a highly successful linebackers and special teams coach at UNLV and will be a valuable asset for us as a recruiter on the West Coast. I am excited that Steve is joining our staff."
Johns, a college coach for 18 seasons, served as defensive coordinator at the University of La Verne on 2005 after a stint of 6 season (1999-2004) with Niumatalolo at UNLV, where he coached linebackers and special teams under legendary head coach JOHN ROBINSON.
"I am very excited to be back working with coach Niumatalolo, especially at a place like the Naval Academy ," noted Johns. "The Naval Academy is a special place with special young men and women and I am excited to be able to help out in any way that I can."
In 2006, the Griffins were Foothill Conference champions and posted a 10-2 record thanks to a defense that gave up a school-record 7.6 points per contest. Four of his defensive backs off that team were offered Division I scholarships as TERRY MIXON went to Washington State, SHARROD DAVIS accepted a scholarship to Fresno State, JEFF HOWARD went to UNLV and ABRAHAM MUHEIZE matriculated to Montana State.
In 2005, Johns served as defensive coordinator at the University of La Verne,where he helped guide the Leopards to their first winning season in eight years.
At UNLV, Johns served as a graduate assistant (defensive ends and punt team) for one year before being hired on full time and coaching the linebackers, coordinating the special teams and handling the recruiting coordinator duties for the final five seasons.
Two of his linebackers, Ryan Claridge (New England Patriots) and Adam Seward (Carolina Panthers), were drafted in the 2005 NFL Draft.
---
Brown, Mauga, named All-State
© East County Sports.com
SAN MATEO (1-4-08) -- In the final major awards announcement of the postseason, two members of the Grossmont College football team have been selected to the All-State team, as chosen by the J.C. Athletic Bureau.
Tabbed to first-team berths were wide receiver ELIJAH BROWN and defensive lineman MAGNUM MAUGA.
Brown, the Griffins' leading receiver this past season, was one of the few freshmen selected to the select squad. Meanwhile, Mauga earned a scholarship to Brigham Young University for his play this season.
Left off the list was another Grossmont defensive lineman, MATT MOSS, who was a community college All-America selection by J.C. Grid-Wire, earning a scholarship to Texas A&M.
---
Mauga takes sure thing -- heads for BYU
© East County Sports.com
EL CAJON (12-20-07) -- MAGNUM MAUGA has come full circle.
The 6-foot, 289-pound Grossmont College defensive lineman signed with BYU on Wednesday (Dec. 19) and will report to Provo, Utah, in time for the spring semester.
In accepting BYU's offer, Mauga turned down a full-ride to Nevada-Reno and last-minute inquiries from Michigan State, Colorado and UNLV. The Cougars initially coaxed a verbal commitment out of Mauga last spring.
Mauga is the fourth member of the 2007 Grossmont College football team to accept a four-year college football scholarship.
Grossmont recruiting coordinator DAVE JORDAN anticipates several more Griffins will be moving on to the next level, including defensive end RYAN GLAZER and quarterback BLAKE SUTTON.
Michigan State, Colorado, BYU want Mauga
© East County Sports.com
EL CAJON (12-19-07) – Three and possibly four members of the Grossmont College football team are expected to sign scholarship papers with major colleges Wednesday (Dec. 19).
While linemen MATT MOSS (Texas A&M), CHARLES MILLENBAH (Louisville) and KEVIS WATKINS (Alabama-Birmingham) have their minds made up, MAGNUM MAUGA has had more last-minute offers pitched his way.
BYU has offered the 6-foot, 289-pound Mauga a scholarship. So has Nevada-Reno. But, as late as Tuesday night (Dec. 18), Michigan State , Colorado and UNLV came into the picture.
"I don't know what he's going to do," Grossmont College recruiting coordinator DAVE JORDAN said.
Apparently, Michigan State and Colorado want to talk about Mauga's future. BYU has been interested for more than a year. UNLV appears to be a long shot.
Mauga, the 2007 recipient of the Joe Roth Memorial Award as San Diego County Player of the Year, narrowed his selections to two schools but is expected to sign with Nevada . The defensive lineman is expected to huddle with the Wolfpack along with his cousin — Grossmont South League Defensive Player of the Year HOMER MAUGA of Helix High.
Meanwhile, Moss, who like Magnum Mauga, was named to the J.C. Grid-Wire All- America team, is a defensive lineman who will sign with Texas A&M. At 6-foot-4, 285 pounds, Moss is expected to contend for a starting position immediately upon his arrival to College Station.
Millenbah (La Jolla HS) and Watkins were both standout offensive linemen. Millenbah, whose father ran the OId Mission Beach Athletic Club for more than 25 years until recently, will join nationally-ranked Louisville, while Watkins is ticketed for Alabama-Birmingham.
---
WEEK 15
CCCAA Playoffs
Sat., Dec. 8
California State Championship
San Francisco 31, Mt. San Antonio 28
---
WEEK 14
CCCAA Playoffs
Sat., Dec. 1
Southern California Final
Mt. San Antonio 47, Bakersfield 42 STORY
Northern California Final
San Francisco 24, Sierra 10
---
Griffins trio named All-America

© East County Sports.com
EL CAJON (11-30-07) -- Three members of the Grossmont College football team have been named to 2007 J.C. Grid-Wire/JCFootball.com All-America team.

Griffins sophomore end MAGNUM MAUGA was selected the third team defense.

Sophomore defensive tackle MATT MOSS and freshman wide receiver/return specialist ELIJAH BROWN received honorable mention recognition.
---
WEEK 13
CCCAA Playoffs
Southern California Semifinals
Sat., Nov. 24
Mt. San Antonio 59, Moorpark 35
Bakersfield 48, Canyons 45 (2-OT)
---
Eight Griffins named all-conference

All-America candidate Moss ignored
© East County Sports.com
EL CAJON (11-22-07) -- Eight Grossmont College Griffins were named to the 2007 All-Foothill Conference football team as selected in balloting conducted by the nine head coaches.
Four Griffins received offensive recognition on the first team, including Foothill passing leader BLAKE SUTTON (1,946 yards, 22 TDs in eight games) and the circuit's top all-purpose yardage gainer, ELIJAH BROWN. The freshman speedster, who also led the Griffins in receiving (29 catches, 539 yards, 7 TDs), averaged a conference-best 154.2 yards per game in all-purpose running.
Other first-round picks were: sophomore place-kicker BRET HAASE -- the Griffins' scoring leader (46-of-47 PATS and 9 of 12 field goals for 73 points); and sophomore offensive lineman CHARLES MILLENBAH (6-4, 295).
Surprisingly, Grossmont has only one first team pick on the defensive side -- sophomore lineman MAGNUM MAUGA (6-foot, 289).
Missing Moss
How these coaches could miss selecting Grossmont sophomore defensive lineman MATT MOSS -- to the first or second team -- boggles the mind.
The 6-foot-4, 280-pound Moss -- an All-America candidate by J.C. Athletic Bureau -- had a brilliant season and is being wooed by Division I college powers Oregon and Texas A&M.
This is a clear case of bias against Grossmont, which has dominated this Mickey Mouse conference for more than a decade. Or it could be just plain ignorance among those with the power to cast votes. It's scary that some coaches have this kind of power, and unfortunate that they choose to abuse it.
Grossmont's second team picks were: sophomore tight end KYLE MARSOM (19 catches, 229 yards, 4 TDs); defensive end RYAN GLAZER; and freshman corner LUIS VILLAVICENCIO.
---
WEEK 12
CCCAA Playoffs
Southern California Quarterfinals
Sat., Nov. 17
Upper Bracket
National Bowl -- No. 3 Mt. San Antonio 49, No. 6 Antelope Valley 15
American Bowl -- No. 7 Moorpark 42, No. 2 El Camino 41 (OT)
Lower Bracket
Western State Bowl -- No. 4 College of the Canyons 34, No. 5 Saddleback 24
Golden Empire Bowl -- No. 1 Bakersfield 45, No. 8 College of the Desert 35

Other Bowl Games
Sat., Nov. 17
Southern California Bowl -- Ventura 39, Palomar 34
Orange County Bowl -- Fullerton 34, Citrus 24

Make-up Games
Fri., Nov. 16
Mt. San Jacinto at Southwestern, ccd.
Sat., Nov. 17
Victor Valley 23, San Diego Mesa 21
---
Mauga claims Roth Award

© East County Sports.com
EL CAJON (11-14-07) -- Grossmont College sophomore defensive lineman MAGNUM MAUGA has been named the winner of the 31st annual Joe Roth Memorial Award.

This award is given to the San Diego County community college football player that best meets the high academic standards and athletic excellence that the late Joe Roth exhibited during his All-America career.

Roth, a gifted quarterback, guided the Griffins to their only undefeated season and first state championship in 1974. He led Cal to its only Pac-10 championship in 1975 and was considered a potential NFL first-round draft pick before he died of cancer in February 1977.

Mauga, who is being recruited by BYU among others, was also the first defensive lineman named to the All-Foothill Conference team.
---
WEEK 11
Griffins go out in style -- post 79 points
© East County Sports.com
EL CAJON (11-11-07) -- This was the Grossmont College football team many expected to see back in September.
Looking like the ballclub which captured the Foothill Conference crown over the previous four seasons, in addition to landing a state and national title, the Griffins overcame an injury-plagued slow start by closing the season out in grandeur after pasting visiting Mt. San Jacinto College, 79-21, at Mashin-Roth Memorial Field.
The landslide allowed Grossmont (5-5 overall) to finish in third place at 5-3.
Quarterback BLAKE SUTTON, one of two dozen Griffins playing their final game for the Green & Gold, threw for 357 yards and six touchdowns before leaving early in the second half. He completed 22-of-32 passes, including a pair of scoring passes to tight end KYLE HIPP.
It was a banner day for a number of Griffins, including the 6-foot-4, 225-pound Hipp who is coming back from a broken collarbone suffered early last season.
"I broke before the second game in pregame warmups," recalled Hipp, who had three receptions for 94 yards against Mt. San Jacinto.
It was all roses for Hipp on this afternoon.
"The line was holding their blocks for our quarterbacks, who made the right reads," Hipp said. "It helped that their safeties were playing up. We got on top of them and they couldn't cover four verticals."
The 79 points is second-most in Grossmont annals, with only the 83-35 pasting of this same Eagles ballclub in a 2005 contest being higher. The Griffins collected 737 yards in that game compared to the 651 yards gathered in this latest meeting.
LUIS GONZALES opened the floodgates by accepting a 14-yard TD pass from Sutton just 3:33 into the contest. Hipp followed with a 40-yard score, then DANTE ANDERSON ran the ball in from the Eagles-1 for a 21-0 lead.
Mt. San Jacinto (1-8,1-6) finally answered on the first of three TD passes by Collin Wigley. However, ELIJAH BROWN quickly canceled the score, returning the kickoff coast-to-coast on a 95-yard TD runback. Brown later caught a scoring pass from ANDREW RUIZ, one of five different quarterbacks utilized by the Griffins.
On defense, MATT MOSS registered a pair of sacks against Wigley, while STEFAN WILLIAMS recorded both Grossmont interceptions, returning one for 49 yards. The runback actually went 81 yards to the Eagles-1, but was marked down due to a penalty on the return.
Five different Griffins rushed for more than 30 yards, topped by CHRIS DANIELS (11 for 74 yards), MICHAEL YAMAGUCHI (5-68) and GAREN DEMERY (3-67, TD), which including a 53-yard burst by Demery.
Throw in the last week's total of 767 yards in offense during a 66-17 romp over San Diego Mesa, the G-House collected 1,418 yards and 145 points in two weeks.
Kicker BRET HAASE went 10-for-11 on PATs (one blocked), converted a 23-yard field goal, and was excellent on kickoffs, featuring a pooch kick that went just beyond the necessary 10 yards before Grossmont recovered, and three strategic kicks to the corners (but not out of bounds), which led to minuscule runbacks. Haase never needed to punt, as Grossmont went 9-for-9 in the red zone.
Many of the sophomores expect to receive scholarships in upcoming weeks. One which was announced will be the signing of offensive lineman CHARLES MILLENBAH to Louisville. The signing period commences during the final week of November.
Others in line for a four-year ride include Moss (Texas A&M) and MAGNUM MAUGA (BYU).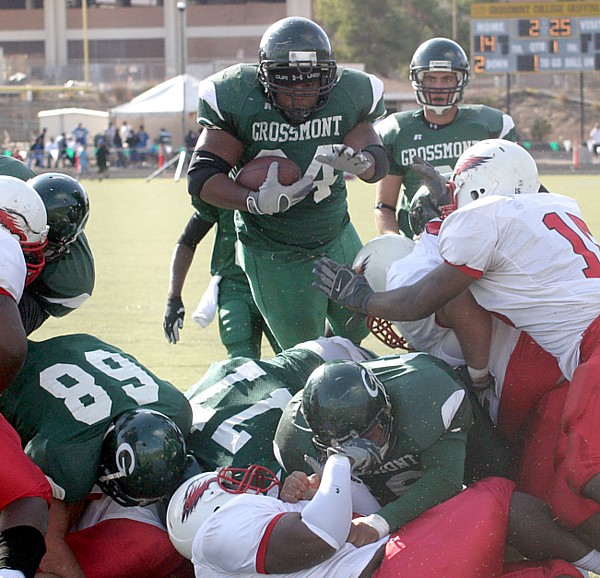 Dante Anderson leaps over the pile for the touchdown, courtesy of blocks by
(l-r) Charles Millenbah (68), Kevis Watkins (77) and Daniel Rios (66).
Grossmont defender Ted Togafau (left) snags Mt. San Jacinto running back
Anthony Washington by the shirttail for the tackle in the Griffins' 79-21 win.
Matt Moss (middle) with one of his two sacks of Eagles quarterback
Collin Wigley, assisted by teammate Calvin Pearce (37).
(Photos by Greg Eichelberger)
---
Griffins seek to fly past the Eagles
© East County Sports.com
EL CAJON (11-9-07) — For the first time since 1999, the Grossmont College Griffins will not be involved in community college post-season play.
The Griffins will conclude their season Saturday (Nov. 10) at Mashin-Roth Memorial Field when they host Mt. San Jacinto College at 1 p.m.
The immediate goal for Grossmont will be to finish the season at the .500 mark, which means the Griffins need a victory over the Eagles (1-8, 1-6) to wrap up the campaign at 5-5 overall and 5-3 in the Foothill Conference. A victory will give the Griffins a third-place finish in the 9-team league.
For one of the few times all year, Grossmont played at full strength last week at San Diego Mesa. The result was a 66-17 blowout. The Griffins are at full strength again this week, which doesn't bode well for Mt. San Jacinto, which is allowing a conference high 39.5 points per game.
Quarterback BLAKE SUTTON – the No. 2 passer in the Foothill Conference with 16 touchdowns and averaging 227 yards per game ­– leads a healthy Grossmont offense.
Grossmont's running game, which also ranks No. 2 in the circuit, is led by CHRIS DANIELS (79 carries, 655 yards, 4 TDs) and GAREN DEMERY (37-259, 4 TDs).
Versatile freshman ELIJAH BROWN continues to lead the conference in all-purpose yardage with 1,353 yards and 6 TDs.
GRIFFIN GRAFFITI — The Griffins lead the all-time series over the Eagles, 14-2, including seven straight. . . The last time MSJC prevailed was in 1999 when the Eagles rolled 41-17 in 1999 in Hemet. . . Grossmont, which won last year's encounter 30-10, registered a record 83 points in a 2005 blowout. . . Grossmont also won 63-0 in 2003. . . BRET HAASE has converted all 36 of his PAT attempts as well as making 8 of 11 field goal tries for a team-best 60 points.
---
Recent Scores

Year

2007

66

17

2006
2005
2004
2003
2002

58
64
70
24
48

0
3
7
17
28

Pts

331

72

Avg

55.2

12.0
Griffins roll up hefty numbers on Mesa
Daniels sets Grossmont rushing record
© East County Sports.com
KEARNY MESA (11-4-07) -- In a game which was as predictable as the previous half-dozen or so in this series, Grossmont College easily survived one early body-shot from San Diego Mesa College, then landed a series of its own blows to bloody the Olympians for the 10th consecutive meeting, this time waltzing to an easy 66-17 decision at Merrill Douglas Stadium.
"Man, we just came out to play -- we rule 'Dago' now; we run San Diego," said All-America candidate MAGNUM MAUGA. "The defense stepped up and put it down and shut down the run and forced Mesa to pass -- they couldn't do much about it."
Grossmont running back CHRIS DANIELS established a school record by rushing for 213 yards on 16 carries. Included was a 1-yard run for a touchdown, followed later by sprints of 74 and 51 yards to shred the Mesa defense. Daniels became the 5th Griffins back to eclipse the 200-yard barrier in school history.
"We were having fun back there, and the line made everything easier for us," said Daniels. "The front line on the defense did most of the work. The O-line was great, too."
The majority of the records in the Grossmont annals are focused on the Griffins vaunted passing game. But Daniels' record sprint puts him in a sometimes forgotten yet an elite class of big-time running backs. Daniels passes the likes of CONAN SMITH (211 yards in 1995), REY BRATHWAITE (208 in 2001), MICHAEL YANCEY (206 in 2001) and RICK BLANCHARD (201 in 1966).
The official count reached 767 yards in total offense for Grossmont at Mesa's expense. In the last four meetings, the Griffins have out-scored Mesa by a composite count of 258-27 in what could be the teams' final Foothill Conference meeting. If a proposed re-leaguing scheme is approved by the CCCAA (California Community College Athletic Association), Grossmont will continue to contend for the state championship in the Blue Chip Division I, while the Olympians will drop to Division II status.
Mesa held a glimpse of idealistic optimism for about 30 seconds when Monte Vista product COREY THOMPSON raced 40 yards on the team's first play from scrimmage. But after the G-House defense held firm and forced Mesa to settle for a field goal, the Griffins quickly rebounded and raced to a 31-10 halftime advantage.
Included among the scores was a 92-yard hookup between quarterback BLAKE SUTTON to receiver ELIJAH BROWN -- the 4th-longest pass play from scrimmage in Grossmont history -- leaving Mesa's players obviously despondent heading to the locker room.
Sutton's finest game of the season included 360 yards on 22-for-34 passing. His four TD passes were second only to a 5-TD effort against Victor Valley, elevating Grossmont into third place in the conference at 4-3 (4-5 overall) heading into next week's season finale at home against Mt. San Jacinto.
Four different receivers hauled in at least three passes, topped by ROBERT HOWARD's four grabs for 82 yards, while Brown finished with 3 catches for 116 yards.
Meanwhile, the Grossmont ground game -- fueled by Daniels -- finished with 400 yards, complimented by the return of GAREN DEMERY from a torn quad muscle. The Valhalla High product collected 96 yards and two scores on just six carries. QB Sutton and LEVI UELI also reached the end zone on short bursts.
The Mesa passing game, once a national power when current head coach Matt Kofler quarterbacked the team in the early 1980s, sputtered throughout. Included was an 0-for-14 stretch which included three of Grossmont's four interceptions on the afternoon.
The Olympians (3-5, 1-5) managed just 154 yards on 36 pass attempts. Grossmont's interceptions were registered by DARRYL FEEMSTER, ANTHONY SHALL, ROBERT CALDWELL, and a pick in the end zone for a touchback by LUIS VILLAVICENCIO.
Officially, Grossmont's lone sack came courtesy of nose guard TERRANCE JOYNER, although MATT MOSS hurried and punished a pair of Mesa quarterbacks in the backfield all contest, knocking the Olys starter out for a quarter after a hit left him with a cut chin.
"I do what I do," noted Joyner. "I ripped and had the open lane, so I just ran for the sack. Seeing the scoreboard 66-to-17 is a good feeling."
Feemster noted, "The D-line put a lot of pressure up front, which gave the DBs time to work and we made some great plays coming up with the ball. The quarterbacks got hit every play and it took a toll on them -- they were throwing it up for grabs."
Including the 101 yards on the ground by Thompson, Mesa managed 301 yards in total offense.
The Olympians last victory in the series came in 1993, when most of the players on both teams were either in 1st grade or kindergarten.
---
Recent Scores

Year

2006
2005
2004
2003
2002

58
64
70
24
48

0
3
7
17
28

Pts

264

55

Avg

52.8

11.0
Grossmont -- the value leader
Griffins dominate in series with Mesa
© East County Sports.com
KEARNY MESA (11-2-07) -- A pair of teams with just three victories each meet Saturday (Nov. 3), when Grossmont College heads across town to tangle with long-time rival San Diego Mesa at Douglas Stadium. Kickoff is set for 1 p.m.
Both sides have gone through difficulties, but the smart comparison shopper will note major differences between the programs.
While the Griffins (3-5 overall) opened the season against several of the best programs in both the state and nation, the Olympians (3-4) own as many victories, but the difference is tremendous.
Mesa gained early triumphs over Santa Monica , then East Los Angeles in double overtime. The Corsairs and Huskies have posted a composite 1-16 record. Then Mesa's lone Foothill Conference win came against 1-6 Southwestern, 17-14, on a last-second field goal.
Each of these teams seems to play to the level of the competition although this one should have the added spice of familiarity. Grossmont would like to think the history will repeat itself, since the Griffins have pummeled the Olympians, 70-7, 64-3 and 58-0 over the last three seasons.
As one-sided as those three games have been, not in its wildest dreams can Grossmont expect to win this one in lopsided fashion. Just pulling out a victory should be satisfying enough for the Griffins who are hoping to avoid their first losing season since a 4-6 finish in 1999.
GRIFFIN GRAFFITI: Grossmont leads the all-time series 21-13-1, including nine consecutive victories over the Olympians. Mesa's last win was a 28-27 nod in 1993 that was decided in the final seven seconds. . . GC's versatile ELIJAH BROWN leads the Foothill Conference in all-purpose running averaging 145.6 yards per game. . . Mesa's ground attack is led by freshman COREY THOMPSON (Monte Vista) who has garnered 686 yards and 5 TDs on 129 carries.
---
Sat., Oct. 27
Antelope Valley 18, College of the Desert 13
Chaffey 49, San Bernardino Valley 24
Mt. San Jacinto at Southwestern, ppd.
San Diego Mesa at Victor Valley, ppd. (rescheduled for Nov. 17)
Grossmont -- BYE
---
JC Grid-Wire
National Top 25
Thru Oct. 22nd

Rk

Team

W-L

1
2
3
4
5

Gulf Coast MS
Bakersfield
Snow UT
Butler KS
Foothill

6
7
8
9
10

El Camino
Fresno
Saddleback
Blinn TX
San Francisco

6-1
7-0
6-1
7-1
6-1

11
12
13
14
15

Santa Rosa
Jones County MS
Kilgore TX
Reedley
Eastern Arizona

6-1
7-1
7-1
6-1
7-0

16
17
18
19
20

Desert
Sierra
Canyons
Garden City KS
Mt. San Antonio

8-0
6-1
6-1
7-1
5-2

21
22
23
24
25
tie

Itawamba MS
Laney
Antelope Valley
Pasadena
Iowa Central
Palomar

7-1
6-1
7-0
5-2
7-1
6-1
Marauders top Grossmont on punt blocks

© East County Sports.com
LANCASTER (10-21-07) -- Antelope Valley College blocked a pair of punts which were returned for first-half touchdowns Saturday (Oct. 20), powering the Marauders to an early 28-0 lead en route to downing visiting Grossmont College, 34-17.

Marcus Wyre returned the first block 31 yards for a 6-0 lead, then Christopher Blackstone raced 25 yards on the second rejection to push the margin to 20-0 early in the second period, officially ending any postseason aspirations of the Griffins (3-5 overall, 3-3 conference).

Meanwhile, Antelope Valley (7-0, 5-0) looks forward to next weekend's battle with College of the Desert (8-0, 6-0) to determine the Foothill Conference champion. Both schools, which posted a composite 1-19 record in 2006 (COD defeated AVC for the only win), are undefeated.

Facing the top-rated rushing defense in the nation, Grossmont was able to move down the field by gaining 144 yards on the ground, as heavy High Desert winds -- which caused several traffic fatalities on the area freeways earlier in the week -- hampered the pass attack.

CHRIS DANIELS led the ground game with 97 yards on 19 carries, 69 coming in the first half, while MICHAEL YAMAGUCHI carried seven times for 35 yards. But when Grossmont needed to throw for a first down, the wind played havoc with quarterback BLAKE SUTTON, who completed just 10-of-32 passes for a diminutive 85 yards. Sutton came in averaging 229 yards per game.

Grossmont gained its only points of the first half on a punt block, too, but needed to settle for a field goal. After the ball was covered at the AVC-12, the Griffins went 3-and-out, so BRET HAASE cleaned up with a 28-yard field goal to trim the deficit to 28-3 with 38 seconds left in the half.

On the opening drive of the second half, Grossmont defensive lineman NICK ARMSTRONG tipped a pass, collecting the ball and racing 6 yards for the touchdown on an interception runback. However, Antelope Valley quarterback Rodney Dorsette bounced back with a 33-yard TD pass to Eddie Russ.

Dorsette passed for a season-high 99 yards and two scores. The first TD went to Terrance Shepard on a 10-yard aerial.

Grossmont's offense finally reached the end zone with 10:48 remaining, when Sutton found a wide-open ELIJAH BROWN on a 13-yard strike. The short drive was created when Griffins defender MAGNUM MAUGA forced a fumble at the AVC-15.

Antelope Valley All-America candidate Eric Leon was credited with 18 tackles (8 solo), including a sack.

GRIFFIN GRAFFITI -- Antelope Valley is now 7-0 for the first time since the 1954 Marauders went 10-0. In 1990, the school opened 6-0-1, but the tie turned into a forfeit victory following the season... The Marauders snapped a 7-game losing streak to the Griffins for their first win in the series since 1999, doing so by their biggest margin of victory ever; the previous best was 12 points. Grossmont, which once downed AVC 67-6, still holds a commanding 15-5 series advantage...
It was the second time this season Grossmont faced an undefeated yet unranked team this season. Earlier, Desert actually dropped out of the national J.C. Grid-Wire poll prior to meeting the Griffins... Grossmont has its bye next weekend, closing the season with a pair of local contests... On Nov. 3, the G-House plays at San Diego Mesa, then completes their season at home to Mt. San Jacinto on Nov. 10. Both contests start at 1 p.m.
---
Griffins head new CCCAA alignment
© East County Sports.com
SACRAMENTO (10-18-07) -- For more than three years, the football coaches' committee of the Commission on Athletics, the governing board for community college athletics in California, searched for a releaguing proposal acceptable to schools of all sizes in Southern California.

It's a long drive, so...
© East County Sports.com
LANCASTER (10-16-07) -- The broadcast partner for East County Sports.com and Grossmont College announced that this Saturday's (Oct. 20) Griffins football game in the High Desert against Antelope Valley College will not be offered -- but there is an alternative.
Magic 1340 AM (KTPI-AM Tehachapi/Lancaster), the voice of Marauders football for more than 50 years, is offering live, streaming audio of its radio broadcast with William Calvert doing the play-by-play. Kickoff is scheduled for 1 p.m.
The link for Magic 1340 AM is HERE.
Grossmont College's broadcast team will be back "on the air" for the Foothill Conference contest at San Diego Mesa College on Nov. 3.
Although far from perfect, the basis for a new plan has been released, returning Grossmont College to a division full of familiar rivals from the past.

The Griffins were placed in a 7-team circuit which features local rival Palomar, which played against the G-House in the original Mission Conference; Orange Coast, Santa Ana and Fullerton, from the original South Coast Conference; Saddleback, a charter member of the (non-football playing) Pacific Coast Conference; and Long Beach.

This alignment of seven schools into the new Southern Conference was calculated using a running average of each team's winning percentage over the last six seasons among all 37 Southland teams.

Three numbers -- a team's winning percentage over the past 2, 4 and 6 years -- were averaged together to gain a power rating. The top 21 schools were then split into three conferences within the National Division (see chart below) based on geographic placement. The remaining lower 16 schools were split among two American Division conferences.

Grossmont, the 2003 Southern California and 2005 California state titlists, finished first among all schools in power ratings. The Griffins were followed by College of the Canyons, defending state champion El Camino, Saddleback and Bakersfield.

Currently, only teams from the National Division would be eligible for the state playoffs, which leaves several burning questions.

If three division champions advance into the state tournament, would one school receive a bye or would a fourth school be added to fill-out the bracket. And how would these decisions be arrived upon.

However, if such a system was utilized this season, schools like Antelope Valley, College of the Desert and Pasadena -- all ranked in the Top 10 -- would theoretically be ineligible to compete for the state title since they would be from "Division II" conferences.

However, an addendum playoff formula has been devised -- if approved -- which would allow all schools a shot at the state championship.

The proposal states that the three "power conferences" will receive two postseason berths each, while only the conference champions from the two American Division leagues advancing, making for an 8-team playoff bracket similar to the postseason tournament currently utilized.

In the current, 4-round tournament, Grossmont College has thrived. The Griffins have played 12 extra contests since 2003 -- more than any other school in the state, compiling a 9-3 record -- allowing for greater exposure and additional scholarship opportunities for their players.
PROPOSED 2008 SOUTHERN CALIFORNIA CONFERENCE ALIGNMENT
NATIONAL DIVISION
(Top 2 teams advance to state playoffs)
Southern Conference
Central Conference
Northern Conference
Grossmont
Palomar
Saddleback
Orange Coast
Santa Ana
Fullerton
Long Beach
Chaffey
Citrus
El Camino
Mt. San Antonio
Mt. San Jacinto
Riverside
Victor Valley
Allan Hancock
Bakersfield
College of the Canyons
Compton
Glendale
L.A. Harbor
Moorpark
AMERICAN DIVISION
(Conference champions only advance to state playoffs)
Pacific Conference
Mountain Conference
Antelope Valley
East L.A.
L.A. Pierce
L.A. Southwest
L.A. Valley
Santa Barbara
Ventura
West L.A
Cerritos
College of the Desert
Golden West
Pasadena
San Bernardino Valley
San Diego Mesa
Santa Monica
Southwestern
---
Griffins whip Victor Valley, 52-34

Is bowl berth available with sweep?
© East County Sports.com
EL CAJON (10-14-07) -- Unthinkable as recently as a week ago, suddenly the Grossmont Griffins could approach the season's stretch drive with renewed interest and a new goal on the horizon: a bowl berth.
Although a fifth straight Foothill Conference title and a CCCAA postseason state playoff berth may be out of reach, a closer inspection of the standings shows all three teams above the Griffins still need to battle each other.
Translation: that means someone must lose, so if Grossmont can close the slate with four consecutive victories -- a potential string which began Saturday (Oct. 13) with a 52-34 triumph over visiting Victor Valley College -- suddenly second place and a possible bowl berth could loom ahead.
"The possibility of a bowl game would be great since this is still a good team," said right guard JOHN CALLAWAY. "Although we still have some very good teams to play down the line, I think we can still win out and get to a bowl game."
Thus, an invitation to a bowl becomes an inviting carrot.
"Especially for the sophomores, it would be good to get exposure," added Callaway. "I had some schools looking at me last year, but I decided to stay because we have a fun atmosphere here at Grossmont. And now I have some D-2s (NCAA Division II schools) looking at me."
And with more and more injured players returning to the G-House lineup -- especially on offense -- the better the possibility of being thrown into the playoff mix.
Heading the list of returnees is quarterback BLAKE SUTTON, who threw for five touchdowns and rushed for a 6th, lifting Grossmont (3-4, 3-2 Foothill) to a 31-3 halftime lead to quickly put away the Rams at Mashin-Roth Memorial Field.
"We're clicking, although a little too late which sucks. But we have some dignity and are going to try to win out these last three games," said Sutton, who completed 19-of-37 passes for 291 yards, 219 of which came in the first half when the team looked like the vintage Griffins of the past five seasons. "A lot of people are trying to show their talent to get on to the next level, so to get another game in front of some scouts would be awesome. These games will be used to show our talent."
Running back CHRIS DANIELS, who returned a week ago, was back in 100 percent form, opening the game with a 9-yard TD run just 5:20 into the contest. Sutton followed with a 55-yard scoring strike to ELIJAH "E.J." BROWN less than three minutes later and the romp was on.
"Everyone is focused and fired-up -- we had a lot of momentum going into the game," noted Brown. "We'll be able to do it."
Seven different players scored touchdowns for the Griffins. Sutton followed the Brown score with TD strikes to CHRISTOPHER SMITH, KEN FIELDS and KYLE MARSOM, then scored on a sneak from the Rams-1 to close the third quarter.
Victor Valley (1-6, 1-4 Foothill) moved to within 45-34 against the second unit when De'Mario Ewell returned an interception 27 yards with 12:15 remaining. But Sutton returned to toss a 3-yard TD pass to PAT OBERG, raising the Griffins' all-time record against VVC to 15-0.
On defense, the Rams mustered just 107 first-half yards, as the Griffins' D-line took control early.
"We just played hard with everyone doing their jobs," explained nose guard VALENTINO "Tank" TOFAEONO. "The linebackers were floating and filling the gaps and make plays happen."
"The defense is starting to play together and the offense is growing -- we're going to close 4-0."
With the 6-1, 350-pound Tofaeono clogging up the middle, his teammates credit him for making life easier for those around him.
"The D-line is making a lot of plays out there because we've got a good rotation going," said defensive end RYAN GLAZER. "And Tank helps because he gets double-teams up front to leave the rest of us one-on-one battles."
"So to get to a bowl game would be big for our recruiting class and all the kids trying to move up."
Meanwhile, kicker BRET HAASE continued his torrid accuracy streak. The sophomore booted his 6th field goal in 8 tries -- a 30-yarder into the wind -- plus nailed 7 conversions to move to 25-for-26 on PATs this season.
---
Griffins, Rams in CCCAA playoff rematch

© East County Sports.com
EL CAJON (10-11-07) — A year ago, Victor Valley and Grossmont community colleges were both CCCAA playoff contenders. Now the two are forgotten also-rans.

Victor Valley (1-5, 1-3) visits the Grossmont Griffins (2-4, 2-2) on Saturday (Oct. 13) in a Foothill Conference contest at Mashin-Roth Memorial Field. Kickoff is 1 p.m.

The Rams and Griffins collided twice a year ago, with the Griffs winning 16-7 during the regular season and 49-7 in the first round of the Southern California playoffs.

Grossmont is 14-0 against Victor Valley, which doesn't mean a whole lot considering both teams are floundering this season. What it comes down to is whether the Griffins have enough pride to continue their unbeaten streak against the Rams.

Grossmont has been an injury-riddled team thus far. Head coach MIKE JORDAN had to reach deep into his pocket of reserves to place freshman MATT JARVIS – his 4th string quarterback – into active duty.

Jarvis came through with 2 passing touchdowns and a pair of rushing scores in last week's 66-28 disaster to unbeaten College of the Desert. Jarvis, an El Capitan High grad, was burned by 5 turnovers.

The Rams are well-acquainted with the agony of defeat. They chased the Southwestern Jaguars all over Chula Vista last week, but came up short in a 39-37 loss when a field goal attempt in the final 16 seconds was blocked.

The bottom line here is, which one of these teams here have given up – is ready to quit.
---
Griffins title hopes demolished
© East County Sports.com
EL CAJON (10-7-07) -- The disappointment sank deep. Everyone acknowledged the effort should've been better.
Yet without any finger pointing or excuse making, Grossmont College tipped its collective hats to College of the Desert, which soundly downed the Griffins, 66-28, all but mathematically eliminating the four-time defending Foothill Conference champions from gaining a fifth consecutive crown.
COD quarterback Brent Rausch tossed five touchdown passes -- three to Edgard Theliar and a pair to Keiton Mayes -- while the COD defense returned a pair of interceptions for scores, marching the undefeated Roadrunners (6-0 overall, 4-0 Foothill) to a 31-0 lead midway through the second quarter. They never looked back.
Among the runbacks was a 96-yarder by Stefaun Dorsey in the third quarter, quickly canceling Grossmont's comeback momentum following a pair of TD passes by MATT JARVIS, the Griffins' third quarterback of Saturday's (Oct. 6) ballgame at Mashin-Roth Memorial Field.
Jarvis, who was Grossmont's 4th-string quarterback two weeks ago, was thrust into action after DAN LEWIS sprained an ankle on the second play of the game. No. 1 QB BLAKE SUTTON was already nursing an injury and didn't even dress.
Freshman ANDREW RUIZ attempted to pick up the slack, but had little luck, going 2-of-10 for 16 yards and two thefts, including one for a 21-yard TD by Desert cornerback Lorain Mallory.
"We've got to come together -- the offense must come to play; the defense must come to play," said Jarvis, an El Capitan High product who transferred from Pima (Ariz.) College. "We've got plenty of talent, we just have to come together, then we'll win."
With Jarvis operating the offense, Grossmont kept pace with the Roadrunners, exchanging score after score. But with an opportunity to trim into a 45-21 deficit late in the third period, Dorsey romped coast-to-coast with his second pick to end the Griffins' comeback hopes.
"Our team has talent 3-deep and 4-deep at almost every position," Jarvis added. "Right now, it's not about one player. It's about lines, it's about quarterbacks, it's about receivers, or safeties or linebackers -- everybody."
Jarvis finished with 235 yards on 18-for-38 passing, including TD strikes to LUIS GONZALES and PAT OBERG. Jarvis also rushed for a pair of 1-yard scores, but Rausch was even better, going 17-of-27 for 358 yards and five touchdowns.
Desert, undefeated yet unranked in the J.C. Grid-Wire national rankings after earning a No. 25 nod two weeks ago, finished with 666 yards in total offense, 430 coming in the first half to mount a 38-14 advantage at the intermission.
The Roadrunners also forced eight turnovers, including six interceptions, limiting the G-House (2-4, 2-2) to 369 yards in offense. The 66 points allowed is a record against Grossmont.
---
Which is the real Foothill power?
4-time champ Griffins meet 5-0 COD

© East County Sports.com
EL CAJON (10-05-07) — If the Grossmont College Griffins plan to extend their string of Foothill Conference championships to five this year, they'll most likely have to run the table over the final five weeks of the regular season.

The first step for Grossmont — should it be up to the challenge — comes Saturday (Oct. 6) when the Griffins (2-3, 2-1) host undefeated College of the Desert (5-0, 3-0) at Mashin-Roth Memorial Field at 1 p.m.

Desert, a perennial also-ran the past few years, is the Foothill Conference's No. 1 offensive unit. Under the direction of first-year head coach Dean Dowty, a COD alum and former assistant coach of the Los Angeles Avengers of the Arena Football League, the Roadrunners are averaging 47.2 points per game.

Running back Undre Sails, the Foothill's rushing leader, scored 4 TDs in a 65-24 rout of Southwestern last week. QB Brent Rausch is the circuit's top passer with 952 yards and 11 TDs.

Desert does defense, too. The Roadrunners have created 18 turnovers while turning the ball over just five times.

Those are mighty impressive statistics.

Grossmont, meanwhile, is in regroup mode. Decimated by injuries, the Griffins came on strong in the second half at Chaffey for a 29-7 victory. It's a matter of maintaining that momentum this week.

Some of the Griffins have healed and should be ready to go against Desert. That will help in the depth department. Freshman DAN LEWIS will make his second straight start at quarterback.

GRIFFIN GRAFFITI — Desert is making a drastic turn-around from last year's 1-9 finish. The Roadrunner' avoided a winless season by defeating Antelope Valley 13-9 on the final night of the season -- AVC finished 0-10 … At the midway point this season, both of those squads have climbed out of the cellar to stand 5-0. . . GC owns an all-time 13-5-3 advantage over the Roadrunners. . . The Griffins have won seven straight over COD, last suffering a loss in 1999 when a 27-yard field missed the mark on the final play.
---
Griffins offense rises like a Phoenix
Huge second half stuns Chaffey, 29-7

© East County Sports.com
RANCHO CUCAMONGA (9-30-07) -- The Grossmont College defensive unit returned to its state-caliber form, displaying another standout performance against Chaffey while waiting for the team's offense to match its quality.

And they waited. And they waited.

Fortunately, following more than two quarters of, frankly, inept offense, running back MICHAEL YAMAGUCHI came through with a near-record play.

Seemingly tackled on a short dive up the middle, Yamaguchi rolled off the top of the pile and scampered 86 yards for a touchdown -- the second-longest rush in school history -- to ignite the offense, as the Griffins caught fire and collected 29 unanswered points in the second half to stun Chaffey, 29-7, in Saturday's (Sept. 29) heavyweight bout between the top two programs in the Foothill Conference over the past decade.

Over each of the past eight seasons, the winner of this contest would take the conference title and advance to the CCCAA playoffs, while the other annually took second place and hoped for a wild card berth.

Thus, Yamaguchi's sprint to the endzone created ramifications felt throughout the circuit. Not bad for a runner with anything but a stellar resume, headed for a season on the bench.

"I know I had one 100-yard game in high school, but that's about it," said Yamaguchi, a freshman from Pearl City, Hawai'i. "But the team's had so many injuries, so now I'm playing."

Yamaguchi, who was listed somewhere below the bottom on the Griffins depth chart entering training camp, knew he was never down and took advantage by coming off the pile.

"The Chaffey guy who tackled me rolled me on top of him, so I just planted my arm into the ground, spun off and started running," he noted. "The first half was frustrating for us, but we did what we needed to do and we stuck together. I feel we're bonding together, so now only good things can happen."

While most of the Panthers defenders were tangled in the pile-up, not a single defender was chasing Yamaguchi, who was escorted to the Grigsby Stadium endzone by a pair of Grossmont receivers. The freshman finished with a career-high 106 yards on 9 carries.

The momentum swing became even more apparent on the conversion attempt.

A pair of penalties pushed the ball back to the Chaffey-23, forcing a 40-yard PAT kick. So holder MIKE BAKER-DENSON took the snap, stood up and rolled to the right, tossing his first collegiate pass to a wide-open KYLE MARSOM for a 2-point conversion and an 8-7 lead.

And while Chaffey (2-3, 1-2 Foothill) did little on offense the rest of the ballgame, the Griffins (2-3, 2-1) responded after the 93-yard drive with marches of 80, 72 and 74 yards -- all for touchdowns -- to closeout the team's 6th consecutive victory (including a postseason triumph) over the Panthers.

Not bad for an offense which opened the contest by going 3-and-out on its first six possessions, needing 21 plays to finally achieve its initial first down with six minutes left in the half.

"I mean, I haven't played in almost two years, so you got to give me a chance to shake some of the rust off," quipped quarterback DAN LEWIS, who was making his first collegiate start in place of the injured BLAKE SUTTON. "It took a while to get going, but once we did, the offensive line completed their assignments to give me time to throw the ball."

Lewis completed 17-of-32 passes for 196 yards, but just as the momentum started to soften, backup quarterback MATT JARVIS sneaked onto the field as a wide receiver, took a handoff from Lewis on an end-around and tossed a 41-yard strike to CHRIS SMITH for a key first down early in the fourth quarter.

Three plays later, JAMAR REID rushed for a 2-yard TD and a 22-7 lead. Lewis sealed the victory with a 39-yard pass connection with KYLE HIPP for the score.

Grossmont's second touchdown came on a 3-yard run by converted linebacker KIMBI SUTTON, capping a 16-play march which took more than half of the time off the clock in the third quarter.

The Griffins finished with 445 yards in total offense -- including 344 and 16 first downs in the second half -- including 107 yards on six receptions by Smith.

Meanwhile, the G-House defense yielded a mere 208 yards to the Panthers. Included were four sacks, three other plays for losses -- featuring the primary tackle or an assist by CALVIN PEARCE on each -- and interceptions by ANTHONY SHALL and LUIS VILLAVICENCIO.

"All the defense was thinking was,'Man, we're holding our side, and we're sure the offense would come along,'" said defense co-captain MAGNUM MAUGA. "Once Dan got his feel back, the offense definitely pulled through. Hard work pays off."

With neither team advancing the ball early on, it looked like Chaffey's 7-0 halftime lead might be enough. Tight end Josh Trimble made a 2-yard pass from David Vazquez with 2:10 left in the first period to cap a short, 39-yard drive.

But the next five times the Panthers crossed midfield, Grossmont shut the door, never allowing Chaffey to get closer than the Griffins-26.

The first two were ended by Shall on an interception and a tackle on a quick-out to end drives. Pearce, MATT MOSS and RYAN GLAZER jammed the middle to stop a 3rd-and-1 rush up the middle to force a punt. Then in the fourth period, the Grossmont secondary successfully defended a pair of 4th-down passes to regain possession.

"We realized to bounce back in this conference, we had to stick together and bond as a family," noted Pearce, a freshman outside linebacker from El Cajon Valley High. "The pressure of the line and the blitzes of the linebackers really intimidate Chaffey's O-line in the second half -- they seemed to abandon running the ball."

Along with Peace, the other Grossmont sacks were registered by SCOTT MATHESON, RICHARD CALDWELL, and a shared sack by Mauga and MATT BRENNER. Meanwhile, Lewis, although pressured at times, was never sacked.

"(Chaffey) only touched me a few times all game," noted Lewis. "That's how much our O-line play has improved. After that first half, (our line) just decided they would not get beat and I had ample time to throw. They also run-blocked really effectively."

GREGORY PALMER also intercepted a Chaffey pass and returned it 52 yards to the endzone, but the play was nullified by a penalty early in the 4th period.
---
Griffins trying to stay alive

© East County Sports.com
RANCHO CUCAMONGA (9-27-07) — For the greater part of this decade the Foothill Conference championship was determined by the annual winner of the Grossmont-Chaffey game.

Hardly, a USC-UCLA, Michigan-Ohio State or Army-Navy rivalry, but the Griffins and the Panthers had come to know that this was THE GAME in the Foothill Conference.

When Chaffey hosts Grossmont on Saturday (Sept. 29) at 5 p.m., championship overtones could ring true. Sure, College of the Desert (4-0, 2-0) and Antelope Valley (4-0, 2-0) are the surprise early leaders in the conference. But the outcome is yet to be decided as neither of those teams has tangled with Grossmont (1-3, 1-1) or Chaffey (2-2, 1-1).

After seeing their 36-game conference winning streak end with a 27-25 loss at San Bernardino Valley last week, the Griffins can either fold or rebound and run the table. Closing the regular season campaign with six consecutive wins would assure the Griffins of nothing less than a share of the conference crown. Should they stumble at Chaffey, they would no longer be considered playoff-worthy. A loss at this point would leave Grossmont an unattractive invitee to a post-season bowl game.

Injuries hounded Grossmont last week at San Bernardino. Many of the fallen players play key roles, especially on offense.

Just who will be in the lineup on Saturday remains to be seen.

GRIFFIN GRAFITTI — Sophomore BRET HAASE ranks 2nd in conference kick scoring with 9.5 points per game, trailing only Chaffey's Justin Veazie who produces 10 points per game with his foot. Haase leads the circuit with five field goals. . . The Griffins, who have beaten Chaffey in the last four meetings, lead the all-time series with the Panthers 13-9. . . Chaffey last beat Grossmont 43-35 in triple-overtime at Mashin-Roth Memorial Field in 2002.
---
Wolverines shock Grossmont, 27-25
Foothill streak ends at 36 straight victories
despite INT TD, 2 safeties by defense

© East County Sports.com
SAN BERNARDINO (9-23-07) -- When you put together a 36-game winning streak, there are always some close calls along the way in order to maintain the pace. Playing at San Bernardino Valley College was one place where Grossmont College always seemed to tempt fate -- this time, once too often.

Despite mounting an early 21-0 lead, the Griffins offense went into the deep freeze over the final three periods, allowing the Wolverines to rally for a stunning 27-25 upset for their first victory over the G-House in a decade. The setback also snapped Grossmont's record win streak in Foothill Conference play -- its first loss since a triple-overtime defeat to Chaffey in 2002.

"Our defense did their job -- they gave everything they had," said Griffins coach MIKE JORDAN. "San Bernardino hung around long enough to get us."

Two years ago, the Griffins were shutout in the second half, but a late interception return for a touchdown provided the margin in a 21-17 victory.

This time, despite 10 points from the defense in the first three quarters, Grossmont's tiring defense (SBVC held a clear edge in time of possession) still produced fourth-quarter interceptions by ANTHONY SHALL and MAGNUM MAUGA, but no turnover magic was translated into points while the offense again shot blanks.

"We didn't capitalize on any chances we had," Jordan added. "We need to find people to make plays."

The Grossmont coaching staff did not offer excuses, yet they were readily available and apparent.

The Griffins' two leading rushers -- GAREN DEMERY and CHRIS DANIELS -- were absent. So was leading receiver and record-breaking kick returner JEREMY YOUNG. That was prior to the kickoff. Midway through the contest, starting quarterback BLAKE SUTTON was forced to the sidelines.

Despite the laundry list of injuries, SBVC (1-2, 1-0 Foothill) was about to get steamrolled in the first quarter when Grossmont scored on its first four possessions. Out-gained in yardage -- 187 to 15 -- the Wolverines stayed close with three red zone stops, forcing a trio of BRET HAASE field goals of 27, 29 and 20 yards.

In between, Sutton found ELIJAH BROWN on a 30-yard touchdown pass (the PAT was missed) for a 15-0 lead.

And when linebacker BRIAN RAY returned an interception 33 yards for another score just 1:03 into the second period, Grossmont was headed for an apparent one-sided victory by holding a 21-point lead. In fact, every time SBVC was tagged for a personal foul penalty -- they were charged for 8 of them -- the Griffins would react with a score in the penalty-filled contest (a combined 340 yards in fouls, plus 11 other declined penalties).

SBVC closed the half with 20 unanswered points -- half coming as a result of lost Grossmont fumbles -- capped at the gun by Michael Langston's second field goal, this one from 45 yards.

"It wasn't going good, but we knew we were making mental mistakes that we could overcome as long as we play better," said SBVC quarterback Mike Stadler. "Once we got some confidence and scored, we didn't want them to score again."

However, Grossmont's defense and special teams took all the momentum away in the third. Consecutive Haase punts were downed at the SBVC-1, each resulting in safeties.

KAYMAN SUTTON broke through the line to drop running back DeShawn Smith in the end zone. Then 3:26 later, the Wolverines tried their other back in Rodney Armstrong, only to also get dropped behind the line by RYAN GLAZER for another two points and a 25-20 lead.

However, Stadler tossed his second TD pass, finding Robert Anderson on the left side for a 19-yard TD and the team's first lead with 1:07 left in the third period.

Little did anyone know that the 4th period would only produce additional penalty yards yet no points.

"We just wanted to move the ball and took a couple of shots when their safeties were well off the ball," added Stadler. "We played smart and ran the ball to milk the clock, then made the plays on third down when we had to."

Grossmont totaled 189 yards in offense in the first period, but none of Sutton's reserves could move the ball, as the Griffins mustered just 85 yards over the balance of the contest. SBVC gained just 15 yards in the opening 15 minutes, then went for 238 yards the rest of the way, despite allowing three scoring plays to the G-House defense.

Along with Ray's interception, MATT MOSS recovered a fumble and recorded the team's lone sack.

GRIFFIN GRAFFITI -- The topsy-turvy Foothill standings show College of the Desert and Antelope Valley -- the circuit's last-place ballclubs the past two seasons -- on top at 2-0 (4-0 overall). Thus, Grossmont remains in contention for a fifth straight conference title, now seeking to become the first team in a decade to claim the Foothill crown without sweeping the field. . . Meanwhile, preseason contenders Victor Valley and Chaffey are tied with the Griffins at 1-1 in conference play. Grossmont next plays at Chaffey (2-2 overall) next Saturday at 5 p.m.
---
You're on notice -- The G-House is back!
(Photos by Travis Downs)
Griffins hope to muzzle Wolverines
© East County Sports.com
SAN BERNARDINO (9-20-07) — Grossmont College (1-2, 1-0) hopes to extend its Foothill Conference winning streak to 37 games Saturday (Sept. 22) when the Griffins travel to San Bernardino Valley College at 7 p.m.
The Griffins are coming off an impressive come-from-behind 34-14 romp over Southwestern, while San Bernardino (0-2) is coming off two tough defeats in losing to powerful Palomar (34-14) and Los Angeles Southwest (45-28). This will be the Wolverines' Foothill Conference opener.
Grossmont (1-2, 1-0) has traditionally bullied San Bernardino, posting nine straight wins for an overall all-time series advantage of 22-5, but all of those victories have not been in cakewalk fashion.
Although the Griffins belted Berdoo 44-6 a year ago, they scrambled on the road to avoid an upset in 2005 when GEOFFREY HOWARD (now at UNLV) returned an interception 62 yards with 6:12 remaining for what proved to be the game-winning touchdown in a 20-17 victory.
After a slow start, the Griffins are now averaging 29.7 points and 346.7 yards per game.
The big thing about the Griffins is they've redesigned their defense and established a solid running game. That's quite an improvement from the team that was totally disorganized in a season-opening 56-13 wipe out at El Camino.
GRIFFIN GRAFITTI — GC punter BRET HAASE ranks 8th in the state with a 40.5-yard punting average on 13 kicks. . . The only team the Griffins have beaten more than SBVC is Southwestern — 23 times in 36 meetings. . . Grossmont owns a 40-2 home record since they installed Field Turf in 2002. . . A starting corner for the Rebels, GEOFFREY HOWARD made seven tackles in UNLV's latest game against offensive powerhouse Hawai'i.
---
Course corrections engaged
Grossmont ship back on track;
whip Jaguars in Foothill opener
© East County Sports.com
EL CAJON (9-16-07) -- The demise of the Grossmont Griffins has been greatly exaggerated.
Playing perhaps the toughest non-conference schedule in California, Grossmont sputtered early on, going winless in two starts -- their poorest debut in nearly two decades. However, reaching the CCCAA state playoffs is all about winning your conference, something the Griffins do as well as nearly anyone in the state.
On Saturday (Sept. 15), Grossmont's vaunted defense returned to form. The front line limited visiting Southwestern to negative yards in rushing, while the revamped secondary saw LUIS VILLAVICENCIO return an interception 59 yards for a touchdown, powering the Griffins past the Jaguars, 34-14, at Mashin-Roth Memorial Field.
"We really turned it on in the second half, getting a lot of pressure -- crazy pressure -- on the quarterback today," said defensive tackle MATT BRENNER. "It was a lot more than before."
Grossmont (1-0, 1-2), the four-time defending Foothill Conference champions, extended its conference winning streak to 36 consecutive ballgames. The last loss came late in the 2002 season -- the memorable triple-overtime setback to Chaffey.
"We're real comfortable in the conference -- we haven't lost in a few years," said kicker BRET HAASE, who booted field goals of 38 and 39 yards, while averaging 42 yards on five punts. "I hope we can build on this and keep winning and winning and get to the championship."
Southwestern (0-3, 0-1 Foothill) reached the end zone just once against the G-House defense, executing the 2-minute drill late in the first half to take a 14-10 lead to the locker room. It would be the lone blemish against the Griffins defenders, who pitched a second-half shutout, including Villavicencio's TD pick to cap the third period with a 24-14 advantage.
Not bad for a team which allowed 112 points -- 56 each outing -- in the first two weeks of the season, yet now look like the 2006 Griffins ballclub which yielded a mere 82 points over 12 games.
"The secondary needed to step up, and we got a lot of 3-and-outs -- it was a good effort," noted Villavicencio, as Grossmont allowed the Southwestern offense into the red zone just once all afternoon. "On the interception, I was able to break on the pass because of the pressure by the D-line."
Grossmont registered four sacks, spending a good portion of the game in the Southwestern backfield. For the contest, the Jags recorded minus-10 yards rushing.
"We got accustomed to the 4-3 this week and we worked on tackling a lot and made some great efforts," added lineman RYAN GLAZER. "We seem to be coming together. Everyone did their jobs today."
Added defender MATT MOSS, "We were embarrassed by the 112 points, but we wanted to show everyone else what kind of defense we are and get back to where we were last year."
The Griffins also held the better of it on offense and special teams.
It took the offense more than a quarter to get in gear, but a 26-yard, diving touchdown grab by LUIS GONZALES ignited the offense in the second quarter.
"It was a rough game, little bit because a lot of the players know each other and because we had to win -- it was a must-win game," said Griffins quarterback BLAKE SUTTON. "But we'll take the victory."
"Everything will be alright -- the defense is coming together and we stepped up with the run game."
Grossmont went on to collect 407 yards in total offense, including exactly 100 rushing yards by GAREN DEMERY, and including the go-ahead touchdown with 1:15 left in the third.
"We go out and work hard, so now it's clicking more and more every week," said Demery. "Our defense was ready to make some plays today -- they wrapped up and made some tackles."
CHRIS DANIELS capped the scoring by scooting around the right end and racing 36 yards for a score.
Southwestern took advantage of the slow start by the Grossmont offense early, as linebacker Robert Williams (14 tackles) forced a fumble which Derrick Perrault (Helix) scooped and returned 79 yards to open the game's scoring on the first play of the second period.
GRIFFIN GRAFFITI -- Grossmont kick returner JEREMY YOUNG just missed making all of the national sports highlights shows with -- almost -- the longest play in college football history. Intentionally allowinged a kickoff to bound deep into the end zone, Young collected the ball just inches from the end line and bounded up the middle. Young raced past a half-dozen Jaguars, however, was caught by the shirttail by the last defender in just missing a historic runback. . . In contrast, Southwestern's kicking game suffered, missing three field goals and shanking a punt for minus-1 yards.
---
Griffins, clean slate, await Foothill opener
© East County Sports.com
EL CAJON (9-14-07) — There have been some crazy games between San Diego County rivals Grossmont and Southwestern over the years.
For instance, in 2003, the two teams combined for 110 points and 819 yards. Grossmont won that one 76-34. In 1992, Southwestern won a 64-57 scoring derby.
And then, just four years ago the Griffins won 20-17 on a 31-yard field goal by JERRY HOLSTROM with 0:06 remaining.
The Griffins (0-2), who host the Jaguars (0-2) Saturday (Sept. 15) at Mashin-Roth Memorial Field at 3 p.m. in the Foothill Conference opener, have won seven straight from Southwestern.
Nice historical facts, but that won't help jump-start the Griffins, who have suffered back-to-back losses to open a season for the first since 1988. Southwestern, as well, has fallen out of the chute, dropping a tough decision to Riverside (34-28) and 53-27 to Pasadena last week.
Coming off a strong performance in a 56-42 loss to Palomar a week ago, Grossmont's BLAKE SUTTON (46-84, 544 yards, 4 TDs) ranks 14th among state passers. Southwestern's Drew Westling (45-88, 507 yards, 4 TDs) ranks 18th in the state.
Versatile JEREMY YOUNG has 294 yards in kickoff returns – second highest in the state. He narrowly missed scoring three TDs on kick returns against Palomar. The El Cajon Valley High product leads the Griffins with nine pass receptions.
Helix High alum KENSLOW SMITH has been multi-talented performer for the Jaguars. He's caught 13 passes and scored 4 TDs.
GRIFFIN GRAFITTI — Grossmont linebacker KAYMAN SUTTON has a team high 20 tackles. DE MAGNUM MAUGA has 15 tackles as does GREGORY PALMER. . . Southwestern safety DERRICK PERRAULT (Helix) tops the Jags with 19 stops, three more than freshman TAELOR WORRELL (El Capitan). . . Grossmont leads this all-time series 22-12-1. . . The Jaguars last beat the Griffs 34-27 in 1999 – GC turned the ball over nine times that night in Chula Vista.
---
In the third quarter, Grossmont was about to score
the game-tieing touchdown, but this fumble rolled out
of the side of end zone for a Palomar touchback.
(Photo by Frank Gregorek)
Griffins RB Chris Daniels
(Photo by Greg Eichelberger)
ECS Exclusive
Sutton sets record in loss
© East County Sports.com
EL CAJON (9-9-07) – Despite starting the season 0-2 for the first time in nearly two decades, all is not dismal for the Grossmont Griffins. Even in defeat, Grossmont has attacked the record books on a successful note.
Sophomore quarterback BLAKE SUTTON turned in a record-breaking effort in the Griffins' 56-42 loss to Palomar on Saturday (Sept. 8) at Mashin-Roth Field.
The 6-foot-5, 215-pound Sutton,known as "The Blonde Bomber," connected on 33 of 46 passes for 393 yards and three TDs. The sophomore signal-caller etched his name into the Griffins' record book for most completions, breaking the previous mark of 30 shared by JORDAN ADAMS (set against Antelope Valley in 2003) and BRYAN HALSEY (vs. Air Force Academy JV in 1998 in Colorado Springs).
Sutton's 393 passing yards ranks 9th on the Griffins' all-time tables. His completion percentage of 71.7 is 13th best on the Grossmont books.
Palomar pulls Griffins' rug
© East County Sports.com
EL CAJON (9-9-07) -- Six touchdowns and more than 500 yards in total offense usually is enough to secure a football victory. But when the Grossmont College defense failed to secure tackle after tackle, Palomar College was able to break free for several easy scores, racing to a 56-42 non-conference victory over the Griffins in the first regular season meeting between the traditional national-ranked programs since 1994.
The Comets rolled to 707 yards in total offense for their eight touchdowns, including three by running back Leiyon Myers. The University of Washington signee out of Lynwood High accounted for much of the damage with 227 yards -- the third-best total in Palomar history -- and three scores, handing Grossmont just its second-ever loss at Mashin-Roth Memorial Field since an artificial surface was installed seven years ago.
"It was fun and we had a good game plan, despite Grossmont doing a lot of stuff we weren't expecting," said Palomar quarterback Hunter Wanket, who passed for 236 yards and rushed for another 80. "But we capitalized on all of the opportunities -- our running backs had a field day."
The only other Grossmont loss on its rug was a triple-overtime setback by Chaffey in 2002.
Myers rushed for scores from 9 and 24 yards, helping Palomar mount a 42-21 advantage through three periods. However, after the Griffins rallied to within seven points with 10:08 remaining, Myers capped a quick, 3-play drive on a 38-yard romp to the end zone to break the run.
After Grossmont back GAREN DEMERY (Valhalla HS) scored on a 1-yard dive to trim the deficit to 42-35, Palomar receiver Stephan Towns was left uncovered on the next play from scrimmage, grabbing a quick-out pass from Wanket for a 41-yard gain. Two plays later, Myers romped around left tackle, touched yet never secured by three tacklers to complete his hat trick.
"And you can't point at any one part because we all play defense together -- all of us," noted Grossmont defensive lineman MAGNUM MAUGA, a JC Grid-Wire preseason All-America selection. "So we all have to work hard on fundamentals and working our duty individually."
Meanwhile, Palomar's defense was tagged for 506 yards, including three TD passes by Griffins quarterback BLAKE SUTTON. Included was a 2-yard flare to tight end KYLE HIPP to cap the first period with a 21-14 lead. Sutton (33-46-1, 393 yards) also connected on short scoring passes to KYLE MARSOM and KEN FIELDS.
Palomar running back Donnell Fulford scored two TDs, including a score just 2:38 into the ballgame for a 7-0 lead. But Grossmont answered with two scores over a 43-second span, as CHRIS DANIELS (6 rushes, 92 yards) scored from the 15, then DANTE ANDERSON scored from the Palomar-2 moments after the Comets fumbled on the kickoff.
Despite allowing 56 points for the second straight outing after a pair of state-ranked teams, Grossmont's defensive line was credited with strong play. Mauga, who was making his first home-field start since tearing an Achilles' tendon, again proved his status with a game-best 12 tackles, while linebacker KAYMAN SUTTON added 11 stops.
"We're going to have to take it day-by-day and reconstruct the whole defense," Mauga lamented. "We just have to come up big and work harder."
"We have a lot to work on, but it will be done. Our heads aren't down at all. We have a young team right now and we have to grow up together and have the sophomores show the freshmen how to become winners."
However, missed tackles by the linebacking corps and the secondary doomed the defense.
"We weren't wrapping up on our tackles -- we were making plays, but just not wrapping up," noted Kayman Sutton. "You can't just dive in with your heads, so we have to work harder and make it right."
Fortunately, despite dropping two ballgames against arguably the toughest schedule in the state, the Griffins (0-2) start even next week when they begin their quest for a fifth consecutive Foothill Conference championship. On Saturday (Sept. 15), Grossmont will host improving Southwestern, starting at 3 p.m.
---
Griffins hope to regain prominence
© East County Sports.com
EL CAJON (09-08-07) — Get used to it – Grossmont vs. Palomar may become an annual event as it should be, starting next season. More than that, these two teams may be in the same league.
But the focus of the moment is taking care of what's at hand – Saturday's (Sept. 8) non-conference game between the Comets (1-0) and the Griffins (0-1) at Mashin-Roth Memorial Field. Kickoff is 3 p.m.
Grossmont is coming off an embarrassing 56-13 loss to top-ranked and reigning state champion El Camino. The Comets, meanwhile, sailed past San Bernardino Valley 34-14.
Neither team is openly offering any predictions for this first Grossmont-Palomar match-up in five years. That is a bit unusual, since the majority of the past 22 meetings have created plenty of pre-game banter.
Perhaps this is because both teams are approaching this one with shut-mouth optimism.
Palomar is ranked No. 15 in the nation by JC Grid-Wire. The Griffins, who began the season rated the No. 6 team in the country, have not opened the season with back-to-back losses since 1988.
This year's meeting is not lacking in stars. Palomar receiver Tobias Shanks, out of Port Gibson (Miss.) is one of the top JC receivers in the nation. Grossmont's strength would appear to be in its front seven on defense. Grossmont freshman linebacker KAYMAN SUTTON is on the verge of stardom.
If the Griffins are to be successful they must light a spark under their running game. Against El Camino they were held to minus-24 yards rushing.
---
Griffins hope to rebound from early pratfall
© East County Sports.com
TORRANCE (9-02-07) — No need to haul the Grossmont College record book off the shelf. The performance by the Griffins in Saturday's (Sept. 1) season opening disaster at El Camino was far too miniscule to create a memory bank.
Defending state-champion El Camino, the nationally-ranked top team heading into this season hit the visiting Griffins much like a tsunami, swamping the Griffins 56-13.
An inspired El Camino squad came out of the chute to take a 21-0 lead midway through the 1st quarter and then continued to pile it on to deal Grossmont its worst lopsided loss since a 58-6 drubbing at the hands of Palomar in 1988.
How ironic – the Griffins will open the home season Saturday (Sept. 8) against Palomar College at 3 p.m.
The last time the Griffins faced Palomar was in the 2002 Southwestern South County Bowl when the Comets gained a 20-19 victory in the final 92 seconds.
All that history should have little impact in Saturday's rematch of county rivals. The Comets opened their campaign by smothering San Bernardino Valley 34-14 as quarterback Hunter Wanket passed for 326 yards and 3 touchdowns.
The focus of the Grossmont coaches, however, was not on what the Comets did, but rather on what the Griffins didn't do.
Although El Camino gained a 604-127 advantage in total yardage, the Warriors' veteran coach John Featherstone is not ready to discount the Griffins this season.
"I thought it was going to be an even battle in the trenches because Grossmont had some nice defensive linemen and some sound offensive linemen," Featherstone said. "I think where we beat them is we were a little bit better in the skill positions."
Facing off against Palomar will be no respite as the Comets are loaded at the skill positions as well.
As Grossmont's coaches looked for positives, they realized that several adjustments need to be made. And so they will do. Given that, the Grossmont team which faced El Camino won't be the same team that hosts Palomar in week two.
Griffin Graffiti: Three Griffins were names to the J.C. Grid-Wire preseason All-America team. ABRAHAM MUHEIZE was a first-team pick, linebacker MAGNUM MAUGA was named to the second team, and defensive tackle MATT MOSS was named to the third team. . . Grossmont's coaches were impressed by the defensive aggression of linebacker KAYMAN SUTTON, who posted a team-high 10 tackles, including 2 for losses while forcing one fumble. GREGORY PALMER also logged 9 tackles and had one pass break-up. Punter BRET HAASE averaged 39.8 on 6 boots. . . Palomar leads the season all-time series against Grossmont 13-9.
---
Griffins face off against defending state champs
© East County Sports.com
EL CAJON (8-31-07) — Some might say that the tremendous turnover in community college football doesn't lend itself to creating any major match-ups outside of the post-season playoffs.
Not so.
El Camino rolled over City College of San Francisco 49-35 last winter in Fresno to claim the 2006 state championship. A year earlier, Grossmont topped CCSF 41-38 to take not only the state title but the national crown as well.
Nice history, but none of that will mean a whole lot when the Griffins open the season Saturday (Sept. 1) against El Camino in Torrance at 6 p.m. LISTEN TO THE GAME HERE
Sophomore BLAKE SUTTON, who was a backup quarterback for the Griffins' national champions, will grab the starting reins this season. He'll be surrounded by a huge offensive line and a herd of speedy running backs led by Valhalla alum GAREN DEMERY (334 career points and 4,281 rushing yards).
Returning sophomore JEREMY YOUNG, a :4.4 sprinter, and lanky freshman CHRIS SMITH out of Helix High are the aces of a strong Grossmont receiving corps.
Sophomore linemen MAGNUM MAUGA (6-0, 289), RYAN GLAZER (6-3, 275) and MATT MOSS (6-4, 283) are Grossmont's main defensive cogs up front. Georgia-grown twin linebackers KIMBI and KAYMAN SUTTON should make an immediate impact as should Kentucky transfer QUINTON GAYTEN and Steele Canyon freshman TONY MINNIFIELD.
The secondary is in a rebuilding mode, with sophomore safety ABRAHAM MUHEIZE serving as the cornerstone.
Last year was supposed to be a rebuilding year for the Warriors, who shunned the predictors by finishing the regular season 8-2. Tabbed the No. 4 seed in the SoCal playoffs, El Camino went on a four-game tear beating Moorpark (9-1), Saddleback (11-0), Bakersfield (11-1) and San Francisco (12-1) to finish 12-2 and capture its third state championship trophy and finished an eyelash away from a third national championship appearance.
With 18 starters returning this season, El Camino College will not be perceived as an underdog.
GRIFFIN GRAFITTI: One thing is certain — when these teams meet it will be a scoring fest. The Griffins claimed a 52-43 nod in the 2005 playoffs, but lost 35-34 in the 1996 Simple Green Bowl. In 1993, Grossmont took a big lead early and held on to a 37-35 victory.
---
Griffins football broadcasts on ECS
© East County Sports.com
EL CAJON (8-27-07) -- East County Sports.com is going "on the air" -- sort of.
To enhance our coverage, East County Sports.com will begin offering Internet broadcasts of local sporting events, beginning with coverage of Grossmont College football this season.
The LINK willl feature all 10 regular season broadcasts of the Griffins, who have been nationally ranked for five consecutive years and are seeking their fifth consecutive Foothill Conference championship.
In addition, East County Sports.com cybercast partners will feature a weekly preview show, which will debut on Wednesday (Aug. 29) at 7 p.m. This show will feature a look at Saturday's season opener, when Grossmont (10-2 overall and ranked 9th in the nation last season) takes on defending state titlist El Camino (13-1). This is a classic match-up, considering the Griffins were the national as well as state champions in 2005.
This week's preview program features interviews with Griffins head coach MIKE JORDAN, Warriors coach JOHN FEATHERSTONE (brother of Grossmont men's volleyball coach FRED FEATHERSTONE), plus national community college football media analyst BRAD HOISETH of JCGridiron.com.
And unlike other cybercast outfits in town, Griffins football games on East County Sports.com will be handled by veteran announcers, including SCOTT OATHOUT to call the action. Oathout covered University of Arizona football last season. He will be joined by AUSTIN OLSON, who will take care of the color commentary.
While Grossmont enters the season ranked 6th in the nation by J.C. Grid-Wire, El Camino, which will be celebrating its 60th anniversary this school year, was tabbed No. 1 in the country by Street and Smith's preseason rankings.
Kickoff from El Camino's Murdock Stadium in Torrance is set for 6 p.m.
---
Griffins host Compton in scrimmage on Saturday
© East County Sports.com
SAN MATEO (8-24-07) — Preseason rankings are little more than guesswork. Most of those involved in the compiling of the ratings base their opinions on last season and historical performances of the perennials powers.
While second-year head coach MIKE JORDAN's Griffins are ranked No. 6 in the nation by JC Grid-Wire's preseason poll, it should come as no surprise that the Griffins are ranked No. 8 in the state in a poll of California Community College Football Coaches Association representatives compiled by veteran Fred Baer of the JC Athletic Bureau.
In other words nobody really knows.
The Griffins, who are 47-5 with four Foothill Conference championships, one national title and one state crown over the past four seasons, are rated No. 4 in Southern California regional rankings by the JCAB group.
Grossmont College, 74-11 over the past seven seasons, is considered the Foothill Conference preseason favorite ahead of No. 18 ranked Victor Valley and No. 20 Chaffey. Southwestern, under new head coach ED CARBERRY, is the darkhorse in that race.
The newest edition of Grossmont College football team will make its home debut with a preseason scrimmage against Compton College on Saturday (Aug. 25) at Mashin-Roth Memorial Field at 2 p.m.
---
2007 GROSSMONT COLLEGE ROSTER
| | | | | | | | |
| --- | --- | --- | --- | --- | --- | --- | --- |
| No | First | Last | Pos | HT | WT | Year | Last School |
| 1 | Garen | Demery | RB | 5'10" | 170 | Fr | Valhalla |
| 2 | Christopher | Smith | WR | 6'2" | 190 | Fr | Helix |
| 3 | Blake | Sutton | QB | 6'5" | 215 | So | West Hills |
| 4 | Miles | McPherson | WR | 5'10" | 165 | Fr | Horizon |
| 5 | Jeremy | Young | WR | 5'9" | 185 | So | El Cajon Valley |
| 6 | Robert | Howard | WR | 6'3" | 200 | So | Lake Weir |
| 7 | Abraham | Muheize | DB | 5'11" | 185 | So | El Cajon Valley |
| 9 | Lavar | Harper | WR | 6'2" | 195 | So | Dillard |
| 10 | Kimbi | Sutton | LB | 6'0" | 206 | Fr | Creekside |
| 13 | Dan | Lewis | QB | 6'2" | 238 | Fr | Tigard |
| 14 | Matt | Jarvis | QB | 6'2" | 225 | Fr | El Capitan |
| 15 | Brandon | Washington | WR | 5'11" | 165 | Fr | Jennings |
| 16 | Ken | Fields | WR | 6'4" | 197 | So | Redondo |
| 17 | Andrew | Ruiz | QB | 6'0" | 195 | Fr | Imperial |
| 18 | Stefan | Williams | DB | 6'2" | 188 | So | Dominguez |
| 19 | Gerard | Davis | DB | 5'9" | 170 | Fr | Tualatin (OR) |
| 20 | Jared | Francis | DB | 5'10" | 170 | Fr | Granite Hills |
| 21 | Chris | Daniels | RB | 5'8" | 170 | Fr | Serra |
| 22 | Kayman | Sutton | LB | 6'0" | 205 | Fr | Creekside |
| 23 | Oscar | Cortez | WR | 5'5" | 150 | Fr | Hillsdale |
| 24 | Dante | Anderson | FB | 5'9" | 240 | So | Bameker |
| 25 | Donavan | Darrington | WR | 6'0" | 180 | Fr | Mount Miguel |
| 26 | Darryl | Feemster | DB | 5'10" | 165 | Fr | Hug |
| 27 | Gregory | Palmer | DB | 5'10" | 180 | Fr | Dillard |
| 28 | Stanley | Pu'u | LB | 6'1" | 210 | So | Tafuna (AS) |
| 29 | Raymond | Tatum | LB | 6'2" | 240 | Fr | Morningside |
| 31 | Luis | Villavicencio | DB | 6'0" | 175 | Fr | Point Loma |
| 32 | Jamar | Reid | RB | 5'10" | 200 | Fr | Riverhead |
| 33 | Timothy | McKenzie | DB | 6'0" | 190 | Fr | Morningside |
| 34 | Michael | Yamaguchi | RB | 5'5" | 190 | Fr | Pearl City (HI) |
| 35 | Elliott | Chapman | DB | 6'0" | 195 | Fr | Marion Catholic |
| 36 | Anthony | Shall | DB | 6'1" | 200 | Fr | Big Bear |
| 37 | Calvin | Pearce | DB | 6'1" | 195 | Fr | El Cajon Valley |
| 38 | Kyle | Marsom | TE | 6'3" | 250 | So | Farrington |
| 39 | Jonathan | Williams | K | 5'10" | 185 | So | Point Loma |
| 40 | Edwin | Shepard | DB | 6'1" | 190 | Fr | Belleview |
| 41 | Quinton | Gayten | LB | 6'1" | 225 | Fr | Camden Milit Acad |
| 42 | Tony | Minnifield | LB | 6'2" | 210 | Fr | Steele Canyon |
| 43 | Mana | Kauhola | LB | 5'10" | 185 | Fr | Kapolei |
| 44 | Magnum | Mauga | DL | 6'0" | 289 | So | Helix |
| 45 | Brian | Ray | LB | 6'0" | 220 | Fr | Serra |
| 46 | Bryan | Walls | LB | 6'3" | 220 | Fr | Centennial |
| 47 | Cody | Furr | LB | 6'3" | 235 | Fr | El Capitan |
| 48 | Austin | Bedart | DB | 6'0" | 195 | Fr | Pierce |
| 49 | Matt | Alofaituli | LB | 6'0" | 205 | Fr | Redford |
| 50 | John | Buchanan | LB | 5'10" | 215 | So | Kapolei |
| 51 | Mike | Baker-Denson | K | 5'10" | 200 | Fr | Coronado |
| 52 | Martin | House | P | 5'10" | 180 | So | Helix |
| 53 | Bret | Haase | K/P | 6'2" | 175 | So | Monte Vista |
| 54 | Isaiah | Holt | LB | 6'2" | 200 | Fr | Kailua |
| 55 | Scott | Matheson | OL | 6'5" | 300 | Fr | West Lake Village |
| 56 | John | Callaway | OL | 6'2" | 300 | So | Channel Island |
| 58 | Ziph | Spencer | LB | 5'11" | 210 | Fr | Kailua |
| 60 | Luke | Simpson | LB | 6'2" | 210 | Fr | Granite Hills |
| 61 | Matt | Moss | DL | 6'4" | 280 | So | West Hills |
| 62 | Timoteo | Mauga | LB | 6'2" | 225 | So | Pearl City (HI) |
| 63 | Alex | Muckle | OL | 6'3" | 290 | Fr | Mira Mesa |
| 64 | Chris | Ma'ake | OL | 6'3" | 300 | So | Pearl City |
| 65 | Landis | Provancha | OL | 6'5" | 305 | Fr | Sprague |
| 66 | Daniel | Rios | OL | 6'1" | 290 | So | San Diego |
| 67 | AJ | Ulutu | OL | 6'0" | 290 | Fr | Mira Mesa |
| 68 | Charles | Millenbah | OL | 6'4" | 295 | So | La Jolla |
| 70 | Tyrone | Ross | OL | 6'0" | 260 | Fr | San Diego |
| 71 | Tony | Augafa | OL | 6'3" | 275 | Fr | Pearl City (HI) |
| 76 | Kevis | Watkins | OL | 6'5" | 340 | Fr | Creekside |
| 77 | Kevin | Bailey | OL | 5'11" | 280 | Fr | Needles |
| 79 | Valentino | Tofaeono | DL | 6'1" | 350 | So | Carson |
| 80 | Brandon | Bryan | WR | 6'4" | 200 | So | Glendora |
| 81 | Luis | Gonzales | WR | 6'3" | 203 | So | Grossmont HS |
| 82 | Fidel | Zeigler | WR | 5'11" | 170 | Fr | Mission Bay |
| 83 | Pat | Oberg | TE | 6'3" | 210 | Fr | Point Loma |
| 84 | Elijah | Brown | WR | 5'10" | 165 | Fr | West Hills |
| 86 | Charles | Mullen | TE | 6'5" | 275 | So | Madison |
| 87 | Kyle | Hipp | TE | 6'2" | 225 | Fr | Cathedral |
| 88 | Anthony | Cazares | TE | 6'2" | 233 | Fr | Chula Vista |
| 89 | Raysean | Sharpe | WR | 6'4" | 180 | Fr | Morse |
| 90 | Levi | Ueli | FB | 5'8" | 280 | Fr | Samoa |
| 92 | Ted | Togafau | DL | 6'0" | 250 | So | Lincoln |
| 93 | Ken | Macaraeg | DL | 6'1" | 257 | Fr | El Cajon Valley |
| 94 | Nick | Armstrong | DL | 6'4" | 255 | Fr | West Hills |
| 95 | Chad | O'Donnell | DL | 6'2" | 255 | Fr | Christian |
| 96 | Andrew | Robinson | DL | 6'4" | 250 | Fr | West Hills |
| 97 | Terrance | Joyner | DL | 6'3" | 250 | Fr | Pine Bush |
| 98 | Matt | Brenner | DL | 6'2" | 270 | Fr | Highland |
| 99 | Ryan | Glazer | DL | 6'3" | 275 | So | Grossmont HS |
---
Griffins enter'07 at No. 6
© East County Sports.com
SANTA ANA (8-12-07) -- Following four straight seasons ranked among the nation's elite, it came as no surprise when Grossmont College was rated 6th in the nation when J.C. Grid-Wire recently announced its 2007 preseason football rankings.
Grossmont, 9-2 in 2006 after claiming the Grid-Wire's mythical national championship after capturing its second state title in 2005, will be quickly tested in order to maintain its lofty purch. The Griffins will take to the road in their Sat., Sept. 1 season opener, meeting defending state titlist El Camino. The Warriors were tabbed No. 1 heading into the season by Grid-Wire editor Hank Ives.
Following El Camino at the top ratings include: City College of San Francisco, Butler (Kan.), Pearl River (Miss.), and Bakersfield, which eliminated Grossmont in the Southern California semifinals last season.
The second five features Grossmont at No. 6, followed by Santa Rosa, defneding national champion Blinn (Texas), Fresno and Saddleback. Grossmont's Week 2 opponent, Palomar, is ranked No.16, but surprisingly none of the Griffins' Foothill Conference rivals made the list.
The Griffins and Comets will meet at Grossmont's Mashin-Roth Memorial Field on Sat., Sept. 8. Kickoff is set for 3 p.m.
The remainder of the preseason Top 30 is: No. 11 Snow (Utah), No. 12 Mt. San Anrtonio, No. 13 Georgia Military, No. 14 College of the Sequoias, No. 15 Coffeyville (Kan.), No. 16 Palomar, No. 17 Moorpark, No. 18 Cisco (Texas), No.19 Jones County (Miss.), No. 20 College of San Mateo.
Also, No. 21 Copiah-Lincoln (Miss.), No. 22 Foothill, No. 23 Sierra, No. 24 Mississippi Gulf Coast, No. 25 Garden City (Kan.), No. 26 Joliet (Ill.), No. 27 Riverside, No. 28 Arizona Western, No. 29 Pasadena and No. 30 Lackawanna (Penn.).
---
Griffins'07 schedule released
© East County Sports.com
EL CAJON (7-10-07) -- Grossmont College has announced its 2007 football schedule, which starts with a pair of non-conference games, followed by eight Foothill Conference contests, as the Griffins seek a fifth consecutive conference championship.
The opening games are of great interest, as Grossmont (10-2 in 2006), the 2005 state champions, meet defending state titlist El Camino on the road Sept. 1. The Griffins home opener is the following weekend on Sept. 8, hosting San Diego County rival Palomar, although the teams have not met since the Comets nipped the G-House, 20-19, in te 2002 South County Bowl. In fact, Palomar has not lost to a county foe in more than 20 years, but rarely played Grossmont since the schools are in different conferences and the CCCAA now slates each schools' complete schedule.
However, since that setback, Grossmont has finished ranked in the California state Top 10 each of the past four seasons, finishing 2nd (2003), 3rd (2004), 1st (2005) and 7th (2006) -- also placing in the national Top 10 each year, too.
In the opener against El Camino, the Warriors are coached by John Featherstone, the brother of Grossmont men's volleyball coach Fred Featherstone. It will be the second time in three seasons that Grossmont will meet the defeneding state or national champions in the non-conference portion of the schedule ('04 champion College of the Canyons).
The 2007 Griffin Football Schedule is as follows:
Date -- Site/Opponent/Time
Sept. 1 -- @ El Camino (Torrance), 6 pm
Sept. 8 -- Palomar, 3 pm
Sept. 15 -- Southwestern, 3 pm
Sept. 22 -- @ San Bernardino Valley, 7 pm (time change)
Sept. 29 -- @ Chaffey (Rancho Cucamonga), 5 pm
Oct. 6 -- College of the Desert, 1 pm
Oct. 13 -- Victor Valley, 1 pm
Oct. 20 -- @ Antelope Valley (Lancaster), 1 pm
Oct. 27 -- BYE
Nov.3 -- @ San Diego Mesa, 1 pm
Nov. 10 -- Mt. San Jacinto, 1 pm
Nov. 17 -- CCCAA Playoffs
---
---
<< Back