---
Griffins scholarship list grows
© East County Sports.com
EL CAJON (6-17-11/Revised 6-18-11) — Grossmont College, which competes in California's National Division Southern Conference – the most widely respected community college football group in the nation – has 24 players in line for four-year colleges (20 on scholarships) despite a mediocre 6-5 finish a year ago.
Bottom line here is if you play against the best competition, you will be rewarded with a blue-chip scholarship regardless of the team's overall record.
"We know what is important to these kids – making it to the next level," said Grossmont College head coach MIKE JORDAN. "Sure, we want to win games and that is always a goal. But bringing the big time coaches to see our kids is just as important."
Among those advancing from last season's crew include nose guard HENRY SIMON (Iowa State), defensive end CRAIG COFER (Hawai'i), quarterback RYAN WOODS (San Jose State), wide receiver TOMMY ALEXANDER (Idaho), corner and Valhalla grad IVAN MAY (SUNY-Stony Brook). Linebacker PAT KELLY of Christian High to Neb.-Kearney, while Santana tight end JAKE PODPORA (Chowan Univ., Memphis, Tenn.) and El Capitan O-lineman DERYCK "Bear" BEVERIDGE (Central Oklahoma) have also found new homes.
Wide receiver ALEX McLELAND is headed for UC Davis, while JOSHUA UDEH is locked in at Alabama A&M. Mount Miguel alum linebacker KEVEN WOODS is bound for Mississippi Valley State – which was the stepping stone for Jerry Rice to become the NFL's most prolific receiver.
Alexander lands scholarship at Idaho
By Mario Renteria, Sports Editor
Imperial Valley Press
Special to East County Sports.com
CALEXICO (7-2-11) — When Grossmont College's TOMMY ALEXANDER played sports at Vincent Memorial High a few years ago, he stole headlines.
Football and basketball were his domain, dominating many opponents with his blazing speed, toughness, athleticism and agility.
Since he graduated in 2008, he's been quiet, working toward his ultimate goal of making the NFL Draft.
His dream has come within reach this summer after signing a Letter of Intent to play at the University of Idaho, an NCAA Division I FBS school, on a full-ride scholarship.
At UI, he'll look to continue to steal headlines with the Vandals.
"I just hope that I get to be in a good position to be successful like I was at Vincent Memorial," Alexander said. "And just work hard and play two years and try to enter the Draft."
After graduating from Vincent Memorial, and after most of his scholarship offers were revoked because of coaching changes from those respective schools, he went to Eastern Arizona Junior College in Thatcher, Ariz., for one season.
The EAC Gila Monsters started him off at quarterback, where he scored four touchdowns his first game as a Gila Monster. They later moved him to wide receiver.
He didn't shine as much at EAC since the Gila Monsters ran the option.
A friend attending Grossmont told him the Griffins needed wide receivers.
In one year at Grossmont, he put up 36 catches for 650 yards and scored three touchdowns.
"It went really well," Alexander said of his year at Grossmont. "They needed wide receivers and they passed the ball more."
The Vandals then came knocking, offering him a spot on the squad.
"The coaches liked my highlights tape," Alexander said.
He was also contacted by the University of Cincinnati, but he chose Idaho.
"Idaho really wanted me to go there," Alexander said. "They were trying really hard to get me there."
The 6-foot-1, 187-pound receiver will major in business at Idaho. He will make the move to Moscow in the state's Latah County in early August.
For now, he's living in San Diego where he's working out with a professional trainer and still visits his family in the Valley often.
"My coaches at Vincent Memorial, Jeff Deyo, Pete Contreras, they were the people that pushed me hard and showed me how to be a hard worker," Alexander said. "And I want to thank the Hermosillo family for all they've done for me."
He also praised his father.
"I just want to thank him for sacrificing everything just for me to have a good education and pushing me to work hard," Alexander added
2011 GROSSMONT COLLEGE FOOTBALL SCHOLARSHIPS
Pos Name (HS/Hometown) / College / Affiliation
DL Craig Cofer (Livermore) – Hawai'i – NCAA I
DL Henry Simon (Eastlake) – Iowa State – NCAA I
DB Joshua Udeh (Scripps Ranch) – Alabama A&M – NCAA I
DB Ivan May (Valhalla) – Stony Brook – NCAA I
LB Keven Woods (Mount Miguel) – Mississippi Valley St. – NCAA I
QB Ryan Woods (Granite Bay, CA) – San Jose State – NCAA I
WR Alex McLeland (Scripps Ranch) – UC Davis – NCAA I
WR Tommy Alexander (Calexico) – Idaho – NCAA I
LB Pat Kelly (Christian) – Neb.-Kearney – NCAA II
DL Yun Taala – Northeastern – Oklahoma State – NCAA II
DL Adrian Perricone (Alameda) – Central Missouri – NCAA II
DB Caleb Farrel (Christian) – Harding – NCAA II
DB Tramaine Wilkes (Springdale, MD) – Harding – NCAA II
WR Roland Brooks (Memphis, TN) – Chowan – NCAA II
TE Jake Podpora (Santana) – Chowan – NCAA II
OL Deryck Beveridge (El Capitan) – Central Oklahoma – NCAA II
OL Joshua Spence (Chesapeake, VA) – Missouri Southern – NCAA II
OL Michael Robles (West Hills) – Western New Mexico – NCAA II
LB Shane Pinson (Santana) – Benedictine – NAIA
OL Ruben Cardenas (Eastlake) – Southern Virginia – NAIA
---
DL Lewis Fai'i – California Lutheran – NCAA III
OL Alika Lewis (Mililani, HI) – Chapman, NCAA III
LB Derek Holsapple (St. Augustine) – (turned down Southern Missouri; walking on at SDSU)
RB Darrin Alix (Patrick Henry) – TBA
---
Griffins host annual OL camp
© East County Sports.com
EL CAJON (3-16-11) — Grossmont College football is now accepting registration for its fifth annual camp devoted exclusively to offensive linemen, which is open to football players from throughout San Diego and Imperial counties currently in grades 9-12.

The techniques camp will be held on Sat., Apr. 30, at on-campus Mashin-Roth Memorial Field, the home of the 2005 state and national champion Griffins, from 9 a.m. to 1 p.m.

The camp is just $25, with team rates available of five for $100, or $20 per player for groups of six or more.

Activities include fundamentals in both the running and passing game, conditioning, and specialty notes for tackles, guards and centers.

For further information or to register, click HERE for the camp brochure, or contact Grossmont College offensive line coach KEN WILMESHERR at (619) 370-0765 or by Email.
2011 SCHEDULE
Date
Opponent

Date

Sept. 3
Sept. 10
Sept. 17
Sept. 24
Oct. 1
Oct. 8
Oct. 15
Oct. 22
Oct. 29
Nov. 5
Nov. 12
at San Diego Mesa
at El Camino
SOUTHWESTERN
at Orange Coast
COLL. of the CANYONS
Bye
SADDLEBACK
at Mt. San Antonio
FULLERTON
at Pasadena
PALOMAR

6 pm
6 pm
1 pm
6 pm
1 pm

1 pm
6 pm
1 pm
6 pm
1 pm
Beveridge headed Eastbound
© East County Sports.com
EDMOND, Okla. (4-21-11) — Grossmont College left tackle DERYCK BEVERIDGE, a second-team All-Southern Conference selection who helped the Griffins to a second consecutive Beach Bowl berth last season, has accepted a scholarship to play for the University of Central Oklahoma.
The Broncos just finished their final season as members of the Lone Star Conference in 2010. This fall, the school will play as an independent before joining the NCAA Division II Mid-America Intercollegiate Athletics Association in 2012.
"The team is rebuilding, so they expect me to walk right in there and start for them," said Beveridge, who will major in business. "I'm excited to be a part of the team. I love the coaching staff and I fit right in with the guys, plus the surrounding area reminded me of home."
Beveridge (6-8, 295) was also a standout performer for El Capitan High School, gaining a 2007 first-team All-East County berth while blocking for quarterback TANNER RUST, the 2007 East County Offensive Player of the Year.
Beveridge was also an All-Grossmont North League performer as a junior in 2006, helping the Vaqueros to an 11-1 record and a league championship behind quarterback RYAN LINDLEY, who was also the East County Offensive Player of the Year.
Rust is now a standout in baseball for New Mexico State. Lindley led San Diego State to a Poinsettia Bowl berth this past season.
Out of high school, Beveridge committed to UTEP, where he spent two years (playing one season) before returning to play for Grossmont following a coaching change with the Miners.
With the Griffins, Beveridge was one of seven players named to the blue chip All-National Division Southern Conference team as selected in balloting by the circuit's six head football coaches.
---
East County quintet honored by NFF, including Griffins' Kelly
© East County Sports.com
MISSION VALLEY (3-19-11) — Five East County football players were honored for on-field and academic excellence in the annual awards banquet conducted by the San Diego and Imperial counties chapter of the National Football Foundation & Hall of Fame, held Friday (Mar. 18) at the Scottish Rite Masonic Center.
The honorees include: Grossmont College linebacker PAT KELLY, Steele Canyon High wide receiver JAKE WRAGG, Christian High running back/linebacker TYRONE SAULS, Helix High defensive lineman SAM MEREDITH, and Grossmont High linebacker/defensive end COLTON ALEXIO.
Each year, 26 of the area's best and brightest high school and college football players are honored at a banquet attended by more than 400 people. The event is one of the most prestigious athletic/academic functions in the region.
More than $30,000 worth in scholarships were distributed.
The NFF chapter's co-founder and College Football Hall of Fame Gold Medal winner, Walter J. Zable, earned the honor of having the chapter named after him by being one of the football foundation's greatest supporters. It serves a community of more than 3 million residents, making it one of the nation's largest.
---
All-state honors for Griffins' LB Kelly
© East County Sports.com
EL CAJON (1-4-11) — Sophomore linebacker PAT KELLY (Christian HS) – Grossmont College's leading tackler – has been named to the All-State Region IV first team defense in a vote of the California Community College Football Coaches Association.
Kelly was also a unanimous pick on the Southern California Football Association All-National Division Southern Conference first team.
At the moment, the 6-foot-2, 230-pound Kelly is sifting through four-year college offers.
Grossmont, which finished 6-5 last season, was ranked No. 12 in Southern California and No. 24 in the state in the final CCCFCA/JC Athletic Bureau ratings.
---
WEEK 14 SCOREBOARD
Sat., Dec. 11
State Championship
At Walnut
Mt. San Antonio 34,
CC San Francisco 7
STATS
WEEK 13 SCOREBOARD
Sat., Nov. 27
So. California Final

Mt. San Antonio 51,
Cerritos 0
STATS
Mt. SAC claims state championship,
declared mythical national champ
Special to East County Sports
WALNUT (12-12-10) — Mt. San Antonio College successfully defended its California Community College Athletic Association football championship Saturday, turning back 5-time champ City College of San Francisco 34-7, in front of a partisan crowd of 7,460 at Hilmer Lodge Stadium.
It was also a mythical national championship battle of America's two remaining major unbeaten JC/CC teams, ranked 1 (Mt. SAC) & 2 (CCSF) in the country. Mt. SAC finished with the best record (13-0 of any of the nation's 140 teams and as champion of the largest 2-year college association (71 teams) in claiming the mythical national crown ahead of the Rams (11-1). The Mounties also increased their national-leading win streak to 23 games.
All-America quarterback Nick Lamaison completed 23 of 33 passes for 223 yards to earn player of the game honors. Mounties wide receiver Michael Edwards was the offensive player of the game with 6 catches for 67 yards and a TD. Defensive player of the game honors went to Mt. SAC lineman Boja Filimoeatu (6-2, 250), with 8 tackles (6 unassisted), including two sacks.
---
WEEK TWELVE SCOREBOARD
Sat., Nov. 20
So. California Semifinals
National Bowl
At Walnut
(4) Bakersfield 26
(1) Mt. San Antonio 36
Southern California Bowl
At Mission Viejo
(3) Cerritos 34
(2) Saddleback 14
Other Southland Bowl Games
Beach Bowl
At Santa Ana
Grossmont 43
Santa Ana 52
---
Western State Bowl
At Rancho Cucamonga
Moorpark 21
Chaffey 14
---
Golden Empire Bowl
At Bakersfield
College of the Canyons 49
Fullerton 64
---
Central Bowl
At Riverside
(Tier Two Schools)
L.A. Harbor 14
Riverside 31
---
American Bowl
At Woodland Hills
(Tier Three Schools)
San Bernardino Valley 36
L.A. Pierce 58
100-yard return can't save Grossmont
Santa Ana ends Griffins' record 5-game
winning streak in bowl games, 52-43
© East County Sports.com
SANTA ANA (11-21-10) — The most memorable play of Grossmont College's football season turned into a 14-point turnaround when defensive back CALEB FARREL raced 100 yards with an interception on the final play of the first half, giving the Griffins a 26-21 lead.
But when Santa Ana's Kris Brown registered his own 'Pick 6' with a dazzling runback moments into the fourth quarter, the huge momentum swing allowed the Dons to capture Saturday's (Nov. 20) Beach Bowl, 52-43, before a rain-tempered gathering of just 700 fans at Santa Ana Stadium's Eddie West Field.
The loss snapped Grossmont's 5-game bowl winning streak, finishing the season with a 6-5 overall record. Despite the Griffins' first bowl loss since 2002, the school has played in more postseason contests than any other San Diego County school over the past decade.
Farrel, a Christian High product, knew he needed to come up with a big play with his team, trailing 21-19, about to fall into a deeper hole.
"We were in Cover 2-man, so I was sitting on the slant," noted Farrel, who has gained interest from Cal Poly among other colleges. "I saw the quarterback check the running back and when he turned and committed to him, I was able to jump the route."
The triple-figure return resulted in a record-tying school mark, matching the runback by MICHAEL WILLIAMS against the Air Force Academy JV in Colorado Springs in 1995.
Santa Ana responded by out-scoring Grossmont, 10-0, in the third period, with a chance to score more. However, a goal-line stand kept the Dons (9-2) out of the end zone.
Griffins linebackers CAMERON SAVINI and PAT KELLY made stops at the 1-yard line on second and third downs, respectively, then Santa Ana fumbled on fourth down, with YUN TAALA making the recovery.
However, four plays later, Brown came through with one of Santa Ana's four interceptions on the night. He grabbed the ball along the right flat, reversed course to the opposite side of the field, juked a pair of defenders near the 10, then dived and hit the pylon while getting rocked by a pair of Grossmont players for the dramatic score.
For his effort, coupled with a game-high 12 tackles (8 solo) and four defended passes, Brown was tabbed the defensive player of the game.
MVP honors for offense went to Griffins quarterback RYAN WOODS after the sophomore completed 28 of 65 passes for 323 yards and three touchdowns (despite more than half-a-dozen drops).
The overall game MVP went to Dons running back Akeelie Mustafa, who accounted for four TDs. After rushing for 115 yards in the first half, the freshman did even better down the stretch, finishing with 293 yards on the ground and three scores. Included was a 69-yard romp for a 7-3 lead in the first quarter, then fourth-quarter bursts of 31 and 12 yards to put away the triumph.
"No. 23 (Mustafa) was very much deserving," noted Woods. "It's not great to end your (Grossmont) career with a losing effort although we fought hard."
Mustafa also caught a TD pass from Andrew McDonald (15-for-22, 207 yards, 2 TDs).
"Grossmont came out to play, but we knew they were banged up," noted Mustafa. "So our team just kept on pushing, while I just gave glory to God."
Grossmont's shortage of starters on defense found a never-ending parade of line-up juggling.
"We had receivers playing at safety, linebackers at defensive end, and ends playing at tackle," said ADRIAN PERRICONE, an end who was found at five different spots during the ballgame. "But we were on the field too long, and when they got the 'Pick 6' there was a huge swing in momentum."
Perricone, on an assist from TRAMAINE WILKES, opened the second half with a fourth-down stop when Santa Ana went for it from the Grossmont-26. Perricone registered nine tackles, including the team's lone sack, finishing one stop behind Savini and Farrel, who led the Griffins with 10 tackles each.
Woods tossed a pair of TD passes to JAKE PODPORA, covering 43 and 9 yards, in the first half, He later found DONTAE INGRAHM from 10 yards in the closing minutes.
Podpora collected four receptions (for 78 yards), matching Ingrahm and DARRIN ALIX, while Woods' favorite target was JUSTIN SALUM (5-44). Alix was also the team's leading rusher with 47 yards, as Grossmont posted 405 yards.
On special teams, Grossmont kicker SPENCER SWORD was perfect on a trio of field goal attempts, converting from 36, 32 and 39 yards.
---
Griffins' all-conference selections
© East County Sports.com
LONG BEACH (11-19-10) — Seven Grossmont College Griffins were named to the blue chip All-National Division Southern Conference team as selected in balloting by the circuit's six head football coaches.
Sophomore linebacker PAT KELLY (Christian) – Grossmont's leading tackler, ranked No. 3 in the NDSC – was a unanimous first-team choice, which makes him eligible for an All-State berth.
Representing Grossmont on the second-team defense were: freshman end SHANE PENNIX (Valhalla) and sophomore linebacker KEVEN WOODS (Mount Miguel).
Griffins named to the second-team offense were: tackle DERYCK BEVERIDGE (El Capitan, 6-8, 300); wide receiver ALEX McLELAND (Scripps Ranch); running back DARRIN ALIX (Patrick Henry); and quarterback RYAN WOODS (Granite Bay).
Fullerton College running back Kelvin York was selected the NDSC Offensive Player of the Year, while Mt. San Antonio tackle Bojay Filimoeatu was tabbed the NDSC Defensive Player of the Year. Mt. SAC's Bob Jastrab was chosen the conference coach of the year.
East County graduates playing in the second tier earning All-Central Division East Conference are Southwestern College players. First team offense recognition went to Monte Vista freshman lineman MARK POUVAVE (6-3, 320). Second team offensive honors went to Jaguars lineman FRANKIE KASCINTA (Steele Canyon).
Named to the third tier All-American Division Mountain Conference second team was San Diego Mesa corner CORY JACKSON (El Cajon Valley).
Alix wins coveted Joe Roth Award
© East County Sports.com
SAN DIEGO (11-19-10) — Grossmont College sophomore running back DARRIN ALIX has been selected the winner of the 34th annual Joe Roth Memorial Award.
A graduate of Patrick Henry High, the 5-foot-11, 205 Alix, who led the pass-happy Griffins (6-4) in rushing (119-494, 7 TDs), was presented the football program's most coveted honor at Thursday's (Nov. 18) team awards banquet held at Marina Village.
This award is given to the San Diego County community college football player that best exemplifies the high academic standards, athletic excellence, humility, leadership, character and class that the late Joe Roth exhibited during his All-America career.
A graduate of Granite Hills, Roth, a gifted quarterback guided the Griffins to their only undefeated season and first state championship in 1974. He led Cal to its only Pac-10 championship in 1975 and was considered a potential NFL first-round draft pick before he died of cancer at age 22 in February, 1977.
Alix owns a 3.6 grade-point-average with hopes of becoming an engineer.
Other award winners at the team's banquet attended by more than 250 were: Offensive MVP quarterback RYAN WOODS (205-340, 2,757 yards, 25 TDs); Defensive Co-MVPs linebacker PAT KELLY (Christian) and linebacker KEVEN WOODS (Mount Miguel); defensive lineman YUN TAALA winner of the inaugural Coaches Mauga Award; Defensive Rookie of the Year end SHANE PENNIX (Valhalla); Specialist of the Year MATT POULIN (St. Augustine); best Defensive Back of the Year corner IVAN MAY (Valhalla); and Best Receiver ALEX McLELAND (Scripps Ranch).
The Griffins will once again extend their season with a bowl game as they take on Santa Ana (8-2) in Saturday's (Nov. 20) Beach Bowl at Santa Ana Stadium.
Grossmont will be looking for its sixth straight bowl game victory.
---
Listing of All Southland
Bowl Games
HERE
Griffins gain bowl berth
Seeks 6th straight bowl victory
in return trip to Beach Bowl


© East County Sports.com
LONG BEACH (11-14-10) — Grossmont College was rewarded for posting a winning record despite playing in what is arguably the toughest conference in the nation, gaining a second consecutive berth to the Beach Bowl.
The Griffins (6-4 overall) will meet East Conference runner-up Santa Ana (8-2) at Santa Ana Stadium this Saturday (Nov. 20), starting at 6 p.m. The Dons were conference rivals to Grossmont before SCFA realignment following the 2009 season.
Grossmont was one of only two undefeated teams in the Southland at the midway point of the season, but then struggled against the nation's best in going 1-4 in Southern Conference action.
However, with an array of teams hovering near the.500 mark, strength of schedule and being among the highest ranked of all mid-level teams was good enough to fill one of 14 spots among seven bowl games.
Last season, Grossmont traveled to Torrance to upend host El Camino in the Beach Bowl. The 27-22 triumph was the Griffins' fifth straight bowl victory, dating back to 2003.
RECENT GRIFFINS BOWL SUCCESS
| | | | |
| --- | --- | --- | --- |
| Year | Bowl | Site | Result |
| 2009 | Beach Bowl | El Camino | df. El Camino, 27-22 |
| 2006 | So. Calif. Bowl | Grossmont | df. Victor Valley, 49-7 |
| 2005 | So. County Bowl | Southwestern | df. Glendale, 42-10 |
| 2004 | Verizon Bowl | Chaffey | df. Chaffey, 26-7 |
| 2003 | So. Calif. Bowl | Southwestern | df. Citrus, 38-28 |
In its conference, Santa Ana finished second to Riverside (9-1), which will meet West Conference champion L.A. Harbor (8-2) in the Central Conference Championship Bowl for Division II schools.

The Division III bowl – called the American Conference Championship Bowl – will feature Mountain Conference winner San Bernardino Valley going to Pacific Conference titlist L.A. Pierce. Both teams are 7-3 overall.
Other postseason games feature Moorpark at Chaffey in the Western State Bowl, while College of the Canyons meets Fullerton in the Golden Empire Bowl at Bakersfield.
The Southland semifinals finds top-ranked and unbeaten Mt. San Antonio (10-0) hosting No. 4 Bakersfield (8-2), while No. 2 Saddleback (8-2) entertains No. 3 Cerritos (8-2).
---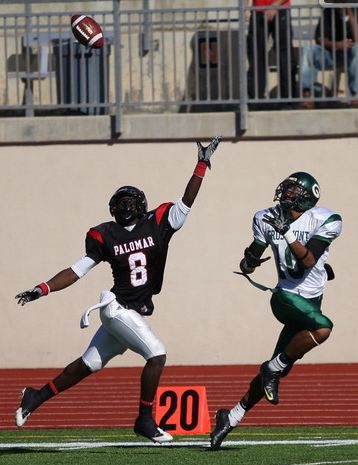 Grossmont's Roland Brooks (right)
gets behind Palomar cornerback
Devin Willis for the touchdown.
Brooks finished with two TD grabs.
(Photo by youatplay.com)

ADDITIONAL PHOTOS
HERE
WEEK ELEVEN SCOREBOARD
DIVISION I
Southern Conference
Palomar 43, Grossmont 35
Mt. San Antonio 33, Pasadena 30
Saddleback 42, Fullerton 39
Northern Conference
Bakersfield 41, Canyons 14
Cerritos 28, Allan Hancock 7
El Camino 56, Ventura 31

---
DIVISION II
East Conference
Rivereside 47, Southwestern 17
Santa Ana 41, Orange Coast 20
Golden West 37, Desert 7
West Conference
Chaffey 35, Antelope Valley 10
Long Beach 32, Citrus 31
LA Harbor 46, Moorpark 14
---
DIVISION III
Mountain Conference
San Diego Mesa 28, Compton 0
SBVC 40, East LA 21
Mt. San Jacinto 43, Victor Valley 23
Pacific Conference
LA Pierce 24, LA Valley 23
West LA 36, Santa Monica 14
Glendale 42, LA Southwest 27
END REGULAR SEASON
SCFA Playoff Scenarios
HERE
Once 5-0, Griffins conclude
regular season on sour note

© East County Sports.com
ESCONDIDO (11-14-10) — It was a disappointing conclusion to a season that began with so much promise.
At the midway point of the campaign, Grossmont College was 5-0 – including a forfeit win over El Camino – standing as one of only two unbeaten teams in Southern California at the time.
Once Grossmont entered play in the National Division Southern Conference they began to come up short. Albeit the Griffins were in all five games, they came away with only one win in their final five starts.
One of the more frustrating contests was Saturday's (Nov. 13) regular season finale against rival Palomar at Escondido High. The Griffins gave up a season high to the Comets as they dropped a 43-35 decision.
"Our defense was horrible... just embarrassing," said Griffins coach MIKE JORDAN. "We had guys out of position quite a bit, and Palomar took advantage. We just had too many breakdowns – gave up too many big plays."
Indeed.
Palomar (5-5, 2-3 NDSC) converted 7 of 15 third downs and 5 of 6 fourth downs. On the flip side the Griffins were 0 for 11 on third down plays and 4 of 5 on fourth downs.
"I don't know what was going on out there but we gave up a lot of fourth down conversions," Grossmont defensive end CRAIG COFER said. "I know we were pretty short-handed in the defensive line. We had no rotation because we only had four guys. I'm not sure but I think I only came out of the game for six plays."
Palomar executed 83 plays in the game.
In seven of their 10 games Grossmont's defense surrendered 30 or more points. However, in three of those games Grossmont's offense did a good job of covering that up – scoring 42, 45 and 69 points.
"We missed too many assignments on defense," said Griffins sophomore linebacker PAT KELLY, who registered a game high 14 tackles. "They didn't out-hit us, they weren't more physical than us. What we needed to do is do a better job of thinking on our feet. That didn't happen often enough today."
Palomar took the opening kickoff and drove 85 yards on 12 plays to take a 7-0 lead. That was one of the longest drives anyone has put together against Grossmont and proved to be an omen for the day.
It took the Griffins just 1:46 to counterpunch. DANTE INGRAHM returned the ensuing kickoff 41 yards to the Grossmont-48. Quarterback RYAN WOODS connected with DEREK WHITE on the Griffins first play from scrimmage, covering 26 yards. From there the Griffs kept the ball on the ground for the next four plays as DARRIN ALIX scored the first of his two touchdowns on a 5-yard run.
SPENCER SWORD kicked the first of his five PATs to tie it at 7-all.
Palomar quarterback Nate Ong threw three touchdown passes in the first quarter as the Comets took a 21-7 lead. The sophomore signal-caller finished with 314 yards and a career best 5 touchdowns despite being sacked three times – once each by DEREK HOLSAPPLE, ADRIAN PERRICONE and PREVIN JOHNSON.
Woods, who clicked on 23 of 37 passes for 208 yards and 3 touchdowns – two of them to ROLAND BROOKS – rallied the Griffins to take a 28-27 lead with 10:13 left in the third quarter. The go-ahead score was a 10-yard pass from Woods to Brooks. After that Grossmont's offense went flat and its defense followed suit.
Although a fourth-down interception by CALEB FARREL stifled one Palomar drive, the Comets rebounded to score 16 points on their next three possessions.
Grossmont made a desperation comeback bid, blowing through a Palomar defense for 58 yards on 6 plays and culminating on a 5-yard touchdown pass from Woods to SHAUN EDWARDS with 1:50 remaining.
It appeared that Grossmont would get a chance to force overtime. With Palomar attempting to run out the clock, the first two Comets' plays resulted in losses of 5 yards and 10 yards. But the Griffins – who used two of their three timeouts and had 1:32 remaining on the clock – seemed to be in good position to force a possible overtime.
However, once again Grossmont was burned on third down – this time on a questionable pass interference call. Instead of it being fourth-and-25 for the Comets at their own 45, Palomar was awarded an automatic first down due to the infraction against the Griffins.
Palomar eventually ran the clock down to 7 seconds before relinquishing the ball to Grossmont at its own 38-yard line for one last Hail Mary.
Woods heaved the ball deep downfield where the Comets' Devin Taverna intercepted it to put an end to a maddening afternoon for the Griffins.
"Thirty-five points should be enough to win a game," Jordan lamented. "But we just did too many things wrong today for that to happen."
---
County kingpin, bowl bid on the line
when Grossmont visits Palomar
© East County Sports.com
ESCONDIDO (11-12-10) — Grossmont College will close the National Division Southern Conference season against Palomar College Saturday (Nov. 13) at Escondido High School at 1 p.m.
The visiting Griffins (6-3, 1-3 NDSC), ranked No. 9 in Southern California, need a victory over the Comets (4-5, 1-3) to gain a legitimate shot at earning a postseason bowl bid.
Injuries have eaten away at these teams like termites, which has only added to their struggle while competing in the state's toughest conference.
Grossmont snapped out of the doldrums last week when they power-punched Pasadena City College 69-34. The Griffins, who built a 42-7 lead, generated 611 yards while holding Pasadena to a minus-11 yards rushing in that rout.
Palomar, meanwhile, was in a scoring free-for-all of its own in last week's 51-38 loss at Saddleback. The Comets and nationally 18th-ranked Saddleback combined for 91 points, 1,042 offensive yards and 58 first downs. Comets quarterback Nate Ong made his best argument for a big-time scholarship, completing 23 of 40 passes for 338 yards and three touchdowns against the Gauchos.
Grossmont quarterback RYAN WOODS, who like Ong has been hit by a series of injuries, completed 13 of 15 passes for 278 yards and four touchdowns playing less than half the game against Pasadena.
The biggest surprise for Grossmont in the romp over the Lancers was its running game which ripped off 225 yards and three TDs in 36 carries. Rarely have the Griffins been so consistent on the ground.
Both teams have a handful of Division I defensive standouts, which sometimes get overlooked when the offenses are clicking at full tilt.
GRIFFIN GRAFFITI — Grossmont captured two of the top National Division Southern Conference players of the week awards for the Pasadena game. Sophomore wide receiver ALEX McLELAND was named the NDSC Offensive Player of the Week after hauling in 8 passes for 217 yards, including touchdowns of 48, 24 and 57 yards... Defensive Player of the Week honors went to sophomore DEREK HOLSAPPLE, who logged 9 tackles and returned an onside kick 34 yards for a touchdown... Running back DARRIN ALIX earned honorable mention recognition... Palomar leads the all-time series over the Griffins 14-11, but Grossmont has won the last two – 29-26 last year and 49-3 in 2008... The 69 points the Griffins posted against Pasadena is 6th highest on the Grossmont books.
---
WEEK TEN SCOREBOARD
DIVISION I
Southern Conference
Grossmont 69, Pasadena 34
Mt. San Antonio 27, Fullerton 23
Saddleback 53, Palomar 38
Northern Conference
Cerritos 27, Bakersfield 21
Canyons 37, Ventura 24
El Camino 29, Allan Hancock 21
---
DIVISION II
East Conference
Santa Ana 33, Southwestern 10
Riverside 42, Desert 33
Golden West 33, Orange Coast 17
West Conference
Citrus 20, Moorpark 15
LA Harbor 53, Antelope Valley 48
Chaffey 35, Long Beach 30
---
DIVISION III
Mountain Conference
Mt. San Jacinto 14, SD Mesa 7
East LA 38, Compton 8
SBVC 38, Victor Valley 10
Pacific Conference
LA SW 63, LA Valley 56 (OT)
Santa Monica 28, Glendale 21
West LA 27, Santa Barbara 21
Grossmont mounts 35-0 lead,
buries Pasadena
© East County Sports.com
EL CAJON (11-07-10) — Grossmont College kept its shot at a post-season bowl game alive Saturday (Nov. 6) when the Griffins pounded visiting Pasadena City College, 69-34, in a National Division Southern Conference contest at Mashin-Roth Memorial Field.
It was the first conference win for the Griffins, who are now poised with an overall record of 6-3, hoping for an 11th game after next weekend's regular season finale against Palomar (4-5, 1-3). A win over the Comets would probably earn the Griffins a bowl bid. A loss to Palomar could well leave Grossmont on the outside looking in.
Grossmont outgained Pasadena 611-392, while piling up 29 first downs. Most startling of those numbers for the Griffins was their season-high 225 yards on 36 rushes, which helped build a massive 35-0 advantage.
"The pass opened up the run for us – definitely," said Grossmont sophomore running back DARRIN ALIX, who stormed for 129 yards on 14 rushes. "That and our O-line was knocking people off the ball."
Grossmont linebacker Joshua Udeh (top, center) skies to tackle
Pasadena ball-carrier Tevin McCaskill in the Griffins' 69-34 triumph.
(Photo by Frank Price, youatplay.com)
ADDITIONAL PHOTOS
HERE
Those doing the work in the trenches included DERYCK BEVERIDGE (6-foot-7, 300), ALIKA NONIES-LEWIS (6-1, 275), BLAKE BULLARD (6-3, 275), JOSH SPENCE (6-3, 290), ANTOINE ADAMS (6-3, 305), RUBEN CARDENAS (6-2, 300), and MICHAEL ROBLES (6-3, 280).
"We didn't make any great changes," Beveridge said. "We just worked on basic techniques and how to block the simple run plays that we have instead of trying to do too much. Instead of trying to get to the second-level defenders, we made sure we took care of the first level defenders."
Hobbled by an ankle injury in a brief outing at Fullerton last week, Grossmont quarterback RYAN WOODS came back fit against Pasadena.
"That makes all the difference," Grossmont coach MIKE JORDAN said. "He was healthy enough to be real effective."
Indeed. The sophomore signal-caller connected on 13 of 15 passes for 278 yards, playing less than half the game. Included in his bounty were scoring strikes to ROLAND BROOKS (73 yards), ADRIAN FERGUSON (25 yards) and a pair to ALEX McLELAND (48 and 24 yards).
McLeland also feasted on the serves of backup quarterback NICK CAREY, who called an audible and lobbed a 57-yard TD, making it 62-34 with 7:56 remaining. McLeland led the Griffins' ballhawks with 8 catches for 217 yards, while Carey completed 6 of 13 spirals for 108 yards and two TDs. His final scoring hookup went to Ferguson covering 12 yards.
For Ferguson, the two scoring catches were his first receptions of the season.
"There were a lot of positives for us in this game," Jordan said. "I think we're getting a little better at that running game, finally, and we're going to need it these last two games – against Palomar and a bowl game if we get one."
Much of the improvement credit goes to Alix.
"He runs hard, gets the extra yards," Jordan said. "He's a very, very smart guy who understands the whole offense."
It was Grossmont's first victory over Pasadena in seven meetings. Furthermore, the Griffins' scoring output was the most allowed by a Lancers defense in 86 years of football.
Although this was hardly a defensive masterpiece, the Griffins did make some big plays. They sacked Pasadena 's starting quarterback Cesar Hernandez on five of the first nine snaps.
For the game, the Griffins registered 9 sacks, including 3.5 by linebacker KEVEN WOODS.
Despite the pressure, Pasadena punctured the Grossmont defense for 402 yards through the air. Most of that came on the arm of No. 2 quarterback Nick Owens, who clicked on 22 of 42 passes for 348 yards and five TDs. Four of the scoring aerials went to Reuben Thomas, who burned the Griffins for 7 receptions and 194 yards.
Outside of that combination, it was a long day for Pasadena. None of the eight Lancers' ballcarriers had more than 12 rushing yards in the game. Thirteen of their 28 rushes resulted in losses, which left Pasadena with a net of minus-10 yards.
That equals the third-best defensive stand against the run in Grossmont College history. The Griffins pushed Mt. San Jacinto back for a minus-31 yards on 31 carries in 1984, bullied San Diego Mesa for minus-23 yards on 20 attempts in 2006 and smothered Southwestern for a minus-10 yards on 23 sorties in 2007.
Linebacker DEREK HOLSAPPLE notched a game-best 9 tackles, made one sack and returned an onside kick 34 yards for a touchdown that extended Grossmont's advantage to 42-7 with 4:55 left in the opening half.
---
For Griffins, Lancers, win or go home
© East County Sports.com
EL CAJON (11-05-10) — It's no secret. Both host Grossmont College and the visiting Pasadena City College Lancers need a victory on Saturday (Nov. 6) to avoid finishing in the cellar of the National Division of the Southern Conference. Kickoff is 1 p.m. at Mashin-Roth Memorial Field.
For the Griffins (5-3, 0-3), however, a sweep of their final two games will make them an attractive candidate for a post-season bowl game. Anything less, well... wait 'til next year.
It's been a strange season for Pasadena City College (4-4, 0-3). The Lancers began the campaign with four consecutive wins, including impressive victories over No. 15 Los Angeles Valley (34-17) and No. 17 Allan Hancock (22-14). Since then, however, much like Grossmont, Pasadena has hit the skids suffering four straight losses.
Such is life in the National Division of the Southern Conference – arguably the strongest six-pack in the state.
Injuries have hurt the Griffins of late. Not having quarterback RYAN WOODS – once the state passing leader – at full strength in a 34-16 loss at Fullerton last week made a glaring appearance in Grossmont's offensive style. That followed earlier division setbacks to No. 4 Saddleback (30-20) and top-ranked Mt. San Antonio (34-20).
Many of the Griffins' wounds have healed. So much so that coach MIKE JORDAN is undecided whether Woods or backup NICK CAREY will make the start at quarterback.
"That will be a game-time decision," Jordan said. "Physically, we are as healthy as you can expect for this time of year."
GRIFFIN GRAFFITI — The Griffins have NEVER beaten Pasadena in six meetings... Defensive end HENRY SIMON, and linebackers PAT KELLY and EDLEN HERNANDEZ received Southern California Football Association player of the week honorable mention.
---
Locker rooms robbed during
Griffins-Hornets ballgame
© East County Sports.com
FULLERTON (10-31-10) — Two dozen members of the Fullerton Police Dept. arrived at Fullerton Union (High School) District stadium after Grossmont and Fullerton colleges were involved in a mild pushing situation during post-game handshakes following a Southern Conference football game.
No fight developed as players from both sides quickly restored order before police arrived.
However, police officials needed to stay when both ballclubs discovered that their respective locker rooms had been burglarized during the second half of Saturday's (Oct. 30) contest.
Grossmont saw the room housing its players from the offensive unit robbed of cell phones, wallets, money and jewelry while the Griffins' defensive unit – situated across a walkway in another building – was untouched. Reportedly, all players and coaches from Fullerton were also robbed.
The Fullerton CSI Unit was on the scene within an hour of the game's conclusion looking for clues. The FPD was told of a person of interest in the robbery.
There was no indication of forced entry into any of the locker room facilities.
Grossmont was delayed by more than 30 minutes while making a report to officials. FPD asked Grossmont coaches to have players submit account numbers of lost items and other pertinent information so they may be entered into an FBI database to catch the suspects.
WEEK NINE SCOREBOARD
DIVISION I
Southern Conference
Fullerton 34, Grossmont 16
Palomar 17, Pasadena 10
SDUT / NCTimes / SGVT
Mt. San Antonio 33, Saddleback 31
SGVT / OCRegister
Northern Conference
Bakersfield 21, El Camino 14
Cerritos 31, Canyons 24
Ventura 48, Allan Hancock 19
---
DIVISION II
East Conference
Golden West 30, Southwestern 28
Desert 37, Orange Coast 21
Riverside 37, Santa Ana 35
West Conference
Moorpark 24, Chaffey 21
Long Beach 23, Antelope Valley 14
LA Harbor 28, Citrus 14
---
DIVISION III
Mountain Conference
SBVC 41, San Diego Mesa 7
East LA 26, Victor Valley 21
Mt. San Jacinto 44, Compton 32
Pacific Conference
Santa Barbara 27, Glendale 21
LA Valley 24, Santa Monica 11
LA Pierce 44, LA SW 41 (3-OT)
Fullerton strikes out Grossmont
© East County Sports.com
FULLERTON (10-31-10) — In baseball, you really only get two strikes – you're out on the third one.
Same thing in football. When you get down to your third-string quarterback, chances are you'll need to pack up your gear and get ready for the next game.
That's what happened to Grossmont College after RYAN WOODS and DARRIN ALIX were forced to early exits, then NICK CAREY didn't get the offense going until the second half, as Southern Conference co-leader Fullerton took a wire-to-wire 34-16 verdict over the Griffins.
The Hornets (6-2, 3-0 SC) share the top spot with nationally top-ranked Mt. San Antonio. Meanwhile, the Griffins, who were 5-0 entering conference play, dropped their third straight against perhaps the most difficult scheduling stretch for any team in the country (Saddleback, Mt. SAC and Fullerton).
Even with Woods on the field, the Hornets dominated throughout. While Grossmont saw every first-half series, except one, result in a 3-and-out, Fullerton rushed for 121 yards before the intermission in mounting a 21-0 advantage.
"We got down early, then it's hard to come back against a team as good as Fullerton," said Grossmont linebacker EDLEN HERNANDEZ, who ranked among the team's leading tacklers with PAT KELLY. "We never backed down, but it was too late."
Fullerton's Kelvin York scored on gallops of 11 and 50 yards in the opening quarter. The second score came on the very next snap after Grossmont again went for it on fourth down from near midfield, yet failed again.
Geoff Norwood followed with a 40-yard punt return in the second period, setting up his own 1-yard TD dive to cap a short 20-yard drive.
A few minutes earlier, Woods left when he slipped on the Fullerton Union (High School) District Stadium turf, moisture-filled from rain which fell in Orange County earlier in the morning, aggravating a reported high ankle sprain.
For the half, Grossmont mustered just 61 yards and a trio of first downs.
Carey directed the Griffins to 16 points in the second half.
Following a 27-yard field goal by CONNOR DERBY, Fullerton fumbled the ball away on a punt return, with RAMANDAM AHMAD recovering to give Grossmont a short field to work with. TUCKER SPRUILL cashed in on a 4-yard run to trim the deficit to 21-10.
However, the Hornets answered on a 22-yard TD pass from back-up quarterback Darius Banks to Kenroy Davis, then Brendan Haskins raced 70 yards on an interception runback in the fourth quarter.
"With a young quarterback, he was eyeing his receivers, so I jumped on a route," said Haskins. "And when (the receiver) stayed in the flat instead of coming for the ball, I took it and was gone."
The only other Grossmont score came in the game's final minute, when Carey found MICHAEL MUHAMMAD wide open in the corner of the end zone on a 3-yard toss.
"I saw everything we learned about Fullerton in practice," noted Carey. "They ran a lot of Cover 3 or blitzed a lot on second down. They did nothing fancy, but they are very disciplined and worked well together, so it was tough to move the ball on them."
Fullerton finished with 366 yards in total offense (239 rushing), while the Griffins, sans their top quarterback, collected just 219 yards.
Considering they were on the field for nearly 35 minutes, the Grossmont defense performed fairly well despite poor field position throughout the contest. YUN TAALA and HENRY SIMON registered sacks.
After meeting the conference's top three teams, Grossmont, still eligible for bowl consideration, must sweep its final two contests to receive a bowl bid when the Griffins host Pasadena next Saturday (Nov. 6), then complete the season the following week at Palomar (Nov. 13).
Palomar rallied for a 17-10 road triumph at Pasadena on Saturday.
---
Woods remains in line-up, faces Fullerton
© East County Sports.com
FULLERTON (10-29-10) — Grossmont College head coach MIKE JORDAN was concerned to say the least when he saw sophomore quarterback RYAN WOODS being helped to the sidelines in the final seconds of last week's 34-20 loss to top-ranked Mt. San Antonio College.
Woods was eventually covered with ice packs and carted off to the locker room. It didn't look good for the state's No. 2-ranked passer.
Turns out the injuries weren't as serious as first thought. Thus, Woods most likely will start Saturday's (Oct. 30) National Division Southern Conference game against the Fullerton College Hornets (5-2 overall, 2-0 NDSC) at Fullerton Union District Stadium. Kickoff is 6 p.m.
"I think he'll be good to go by Saturday," Jordan said on Thursday (Oct. 28) night.
Woods is ranked second among state passers averaging 317.1 yards per game and stands in a third-place tie with 18 touchdowns.
Division I colleges have taken notice. Among those showing high interest are Iowa State, UTEP and Akron. Jordan added, "There are four or five more D-I schools that are looking at him, and I'm sure that number is going to grow as people start looking for quarterbacks.
Probably the most astonishing thing about Woods is the 6-foot-2, 190-pound passer's contributions as a freshman at Grossmont College was holding for PATs and field goals.
"I guess I was the No. 5 quarterback last year," Woods recalls.
Jordan admits Woods still has plenty of work ahead to become a complete quarterback this season, but is impressed by how fast he has progressed.
"Nobody knew about him as a freshman, so he's sort of been flying under the radar this year," Jordan said. "He didn't begin working with the quarterbacks much until last spring. He's pretty good right now and is only going to get better."
When and if Woods needs a break, running back DARRIN ALIX – Grossmont's leading rusher ­(87-277, 5 TDs) – and NICK CAREY will be available to step in.
Fullerton is 10 points shy of being undefeated. The Hornets scored a fourth-quarter touchdown to knock off Palomar 26-21 last week.
The Hornets' offense centers around running back Kelvin York (136-941, 9 TDs), quarterback Darius Banks (106-191, 16 TDs) and twin receivers Willie Downs (36-626, 9 TDs) and Lavon Downs (25-349, 5 TDs).
"This an important game big-time for both teams," Jordan said. "For us one of the keys is turnovers – we can't give up seven times like we did against Mt. SAC."
RATINGS GAME — Fullerton is ranked No. 14 nationally (by JCGridiron.com), No. 9 statewide and No. 4 in Southern California by the JC Athletic Bureau. The Griffins fell out of the national rankings, but stand No. 16 in the state by JCAB and No. 9 in SoCal by the CCCAA's Regional ratings.
GRIFFIN GRAFFITI — Freshman kicker CONNOR DERBY was selected the Southern California Special Teams/All-Purpose Player of the week for the Mt. SAC game. He kicked field goals of 40 and 44 yards while averaging 35.8 yards on 6 punts – 2 inside the 20. Other Griffins nominated for SCFA athlete of the week honors were defensive lineman HENRY SIMON (4 tackles, 27-yard interception return) and sophomore PAT KELLY (11 tackles, fumble recovery)... Fullerton leads the all-time series 14-4, including a 30-17 win last year. That was Week 7 and Grossmont's first loss of a season that ended up 8-3.
DID YOU KNOW? Grossmont's second football game in its inaugural 1962 campaign was at Fullerton and televised locally by Los Angeles' KCOP Channel 13. For the record, the Hornets won that one 22-0.
---
OTHER VIEWS
WEEK EIGHT SCOREBOARD
DIVISION I
Southern Conference
Mt. San Antonio 34, Grossmont 20
Fullerton 26, Palomar 21
Saddleback 37, Pasadena 7
Northern Conference
Bakersfield 27, Ventura 27 (OT)
Canyons 30, Allan Hancock 27 (OT)
Cerritos 36, El Camino 20
---
DIVISION II
East Conference
Orange Coast 37, Southwestern 10
Santa Ana 47, Desert 44
Riverside 28, Golden West 20
West Conference
Moorpark 34, Long Beach 0
LA Harbor 41, Chaffey 20
Antelope Valey 31, Citrus 14
---
DIVISION III
Mountain Conference
Victor Valley 6, San Diego Mesa 0
SBVC 49, Compton 10
Mt. San Jacinto 45, East LA 38
Pacific Conference
LA Valley 30, Santa Barbara 24
West LA 26, Glendale 24
Santa Monica 40, LA Pierce 33
No. 1 Mt. SAC holds off Grossmont
© East County Sports.com
EL CAJON (10-24-10) — For Grossmont College's nose guard HENRY SIMON, this was a game he'll never forget.
The 6-foot-4, 290-pound freshman out of Eastlake High did more than simply stuff a screen pass in Saturday's (Oct. 23) joust with defending national champion Mt. San Antonio College at Mashin-Roth Field. He chalked up the first interception of his career and lumbered 27 yards toward the Mounties' goal line, carrying as many as three defenders en route. Simon was finally taken down at the Mt. SAC 18-yard line with the Mounties leading 24-20.
This was no doubt a pivotal point in the National Division Southern Conference football game. The problem after Simon's clutch play was the Griffins' offense went into reverse, allowing the Mounties to maintain their advantage and regain possession at their own 20.
"I really wanted to make a play, get us back into the lead," Simon said. "I didn't really know where I was on the field. I just wanted to score."
Grossmont (5-2, 0-2) did not score over the final 26:50 as the Mounties (7-0, 2-0) posted a 34-20 victory – their 17th straight win dating back to last season.
Although the Griffins were able to grab an early 13-0 advantage, the Mounties virtually shut them down after the first series of the second half. Grossmont produced a paltry 32 yards in its final 27 plays. They finished with a season-low 298 yards overall – netting a mere 18 yards on 29 rushes.
"It wasn't a case of them being more physical than us," Simon said. "They just used our aggressiveness against us. They hurt us with a lot of screen plays and draws."
Mt. SAC's quarterback Nick Lamaison, a transfer from the University of Tennessee, completed 19 of 33 passes for 264 yards and a pair of TDs.
"Their QB is definitely a Division I guy who can put the ball on the money – hit the smallest of places," Grossmont linebacker PAT KELLY said. "That makes their receivers much harder to cover. So we tried to keep the pressure on him."
Safety CALEB FARREL was the only Grossmont defender to notch a sack.
Kelly finished with 11 tackles and a fumble recovery. JOSHUA UDEH chipped in with 10 tackles and an interception, while EDLEN HERNANDEZ pitched in with nine tackles for Grossmont, which held the Mounties to 349 yards.
"Basically they just outsmarted us," Simon said.
That wasn't the case early as the Griffins put up points on their first three possessions. A 24-yard third-down pass from quarterback RYAN WOODS to DARRIN ALIX kept Grossmont's opening series alive. Alix also cranked off 26 yards on the next play, but the Griffins wound up settling for a 40-yard CONNOR DERBY field goal.
On the ensuing Grossmont series, Woods connected for three passes in a row but once again the Griffins wound up settling for a 44-yard Derby field goal and a 6-0 advantage.
It took two pass plays from Woods to ROLAND BROOKS for Grossmont to score its first touchdown. The touchdown came on a 51-yard bomb when Brooks caught the aerial in stride and outran two defenders to make it 13-0 with 7:31 left in the first period.
"We should have scored more in the first quarter alone," Grossmont coach MIKE JORDAN said. "You can't miss scoring chances against teams like Mt. SAC." Or Saddleback, a team the Griffins led 10-0 before surrendering 27 consecutive points en route to a 30-20 loss last week.
Trailing 24-13 at intermission, the Griffins made an early bid for a comeback in the third quarter. Woods fired a 37-yard completion to DONTAE INGRAHM that set up a 24-yard scoring strike to SHAUN EDWARDS. Derby collected his 8th kicking point with the second of his three PATs.
The crowning blow to the disappointing afternoon was losing Woods on the final play of the game. The sophomore signal-caller suffered an ankle and a knee injury. The severity was unknown.
For the game, Woods – the No. 2-ranked passer in the state – was sacked five times for the second week in a row. Despite being under siege, he managed to complete 25 of 46 passes for 269 yards and his 17th and 18th TDs.
Seven turnovers (four interceptions, three fumbles) helped short-circuit the Griffins.
"These guys were tough, deserving of their ranking," Kelly said. "We were pretty much in step with them, but just didn't make enough big tackles."
Grossmont travels to Fullerton (5-2, 2-0) next weekend.
"Every game in our league is like a playoff game," Kelly concluded.
---
Top-ranked Mt. SAC visits Grossmont
© East County Sports.com
EL CAJON (10-22-10) — After dropping its National Division Southern Conference opener at Saddleback last week in Mission Viejo, the Grossmont College Griffins hope to get back on track when they host defending national champion Mt. San Antonio College Saturday (Oct. 23) at Mashin-Roth Memorial Field at 1 p.m.
While the Griffins (5-1, 0-1) were losing to the Gauchos 30-20, the Mounties were marching past Palomar 20-17. It was actually a narrow escape by Mt. SAC, which nearly saw a 20-3 second half advantage evaporate in the final 21 minutes. That left Mt. SAC as the only undefeated team in Southern California.
"They have a very strong defensive front, a lot of big guys," Grossmont coach MIKE JORDAN said. "They do a lot of different things that don't always have any rhyme or reason. But they definitely try to confuse you with their various blitzes."
Grossmont quarterback RYAN WOODS was roughed up by Saddleback, suffering a season high five sacks. He completed 18 of 39 passes for 316 yards and a pair of touchdowns, but did not seem to be at the top of his game.
"Woods, like a lot of our guys, was trying to do too much," Jordan said. "He was jumping the pocket too early and that made him vulnerable. He tried to beat (Saddleback's defenders) deep and rushed his passes too often."
None the less, Woods continues to rank among the state leaders with 1,951 yards and 16 touchdowns, completing 138 of 233 passes.
RATINGS GAME — Mt. SAC is ranked No. 1 – nationally (by JCFootball.com), statewide and in Southern California. The Griffins are No. 24 nationally by JCGridiron.com, No. 14 in the state by the JC Athletic Bureau), and No. 5 in SoCal by the CCCAA's official bowl game poll.
GRIFFIN GRAFFITI — Dating back to last year's national championship season, Mt. SAC has won 16 games in a row... Grossmont players recognized by the Southern California Football Association for weekly honors for the Saddleback game include wide receiver ROLAND BROOKS, strong safety CALEB FARREL, linebacker KEVEN WOODS and kicker/punter CONNOR DERBY... Mt. SAC leads the all-time series 13-3, including a 13-10 win over the Griffins in the 2006 opener. In 2005 Grossmont opened the season with 21-17 win over the Mounties.
---
WEEK SEVEN SCOREBOARD
DIVISION I
Southern Conference
Saddleback 30, Grossmont 20
Mt. San Antonio 20, Palomar 17
Fullerton 56, Pasadena 28
Northern Conference
Bakersfield 29, Allan Hancock 7
Canyons 26, El Camino 9
Ventura 28, Cerritos 21
---
DIVISION II
East Conference
Desert 23, Southwestern 16
Riverside 45, Orange Coast 20
Santa Ana 24, Golden West 22
West Conference
Chaffey 20, Citrus 13
L.A. Harbor 34, Long Beach 24
Moorpark 20, Antelope Valley 12
---
DIVISION III
Mountain Conference
East LA 30, San Diego Mesa 7
SBVC 56, Mt. San Jacinto 31
Victor Valley 27, Compton 13
Pacific Conference
Santa Barbara 39, LA Pierce 35
LA Southwest 27, Santa Monica 15
West LA 24, LA Valley 21
Griffins suffer deja vu in The OC
© East County Sports.com
MISSION VIEJO (10-17-10) — In a contest which mirrored the 2009 regular season finale between these same ballclubs, Grossmont College surged to an early lead, then gave it all back to host Saddleback.
The only difference found the Griffins roaring back to make things interesting in the fourth quarter, yet still fell short in Saturday's (Oct. 16) 30-20 setback to the Gauchos as SCFA National Division Southern Conference action opened throughout Southern California.
Saddleback (5-1) is tied for first place with nationally No. 1 ranked Mt. San Antonio and Fullerton, while the previously undefeated Griffins (5-1) are a game back with Palomar and Pasadena in the newly-realigned stable of six schools. Grossmont hosts the undefeated Mounties (which nearly blew a 17-point lead in a 20-17 victory over Palomar) next Saturday (Oct. 23) at 1 p.m.
Grossmont quarterback RYAN WOODS passed for 316 yards and a pair of touchdowns. Included was a pair of mammoth strikes to receiver ROLAND BROOKS, the first covering 70 yards for a 10-0 lead. Brooks was left completely unattended when the Saddleback free safety elected to help his corner instead of an over-matched linebacker who had one-on-one coverage on the Griffins sophomore from Memphis, Tenn.
The pair later connected on a 71-yard completion, giving Brooks a career-high sum of 188 yards on six receptions.
"We were putting a lot of pressures on their corners, so after a while, they tried to double-cover me," said Brooks, who posted 117 of his receiving yards in the first half. "But we still found a way to get back into the game."
However, a risky, fourth-down decision by the Grossmont coaching staff with the Griffins leading 10-7 in the second quarter back-fired and turned the momentum to Saddleback, which went on to post three consecutive touchdowns to mount a 27-10 advantage.
Immediately following a score by Saddleback running back Michael Campana from 1-yard out to trim the deficit to three points, Grossmont was stopped on three plays, but elected to go for it on a 4th-and-1 from the Griffins' side of the 50. However, ball-carrier DARRIN ALIX, the team's leading rusher, was stuffed in the backfield by Gauchos defenders Gary Stevenson and Andrew Douglass.
"Coach is a gambler sometimes, but we don't mind because he trusts us to make stops," noted Griffins linebacker CRAIG COFER, who registered a sack along with teammate PAT KELLY. "The defense gets used to playing with our backs against the wall, but we overcome adversity."
The scales then tipped toward Saddleback in terms of field position, gaining the lead two possessions later on a 17-yard Sean Reilly pass to Tavaurus Abram with 1:11 remaining in the first half.
Unlike a year ago in a 44-27 setback, Grossmont did not fold.
The offense answered when Woods went over the top of the Saddleback defense, finding JEDON MATTHEWS on a 46-yard TD strike to move to within 27-20 with 4:20 remaining.
The Grossmont defense followed suit to prevent the Gauchos from running out the clock. Included were run stuffs by HENRY SIMON and JOSHUA UDEH, then PAT KELLY deflected a pass to force a punt.
Saddleback punter Brendan Rowland saw his 43-yard boot downed at the Grossmont-12. With time running out, Grossmont quarterback Woods – under heavy pressure – threw back-to-back incomplete passes. Woods third aerial of the series was intercepted by Matt Reza, who returned the ball 26 yards to the GC-2 to set-up a game-clinching field goal by the Gauchos in the final minute.
The ballclubs entering the contest ranked 1-2 in the Southland in net punting. Meza finished with 4 of his 6 punts landing inside the 20 in an important and overlooked aspect of the game.
In addition, Saddleback collected five sacks thanks to strong work in the secondary, as Woods usually receives plenty of time to throw, but many of his receivers were covered on this night. This allowed Douglass to register 2.5 sacks for a unit ranked second in the Southland in getting to the quarterback.
For Grossmont, cornerback IVAN MAY was solid in pass coverage, at one time successfully defending all three passes on a Gauchos' 3-and-out in the first half, twice knocking the ball away from the receiver.
"We were able to get good containment on their receivers early on," said May. "But when our ends stopped getting good pressure on them, we had to play a little more back and that opened the field for Saddleback in the second and third quarters (when the Gauchos scored 27 points)."
CONNOR DERBY kicked field goals of 23 and 31 yards for Grossmont. For Saddleback, Timmy Smith went 79 yards with a kickoff return, then saw a 95-yard TD runback nullified by a penalty.
Meanwhile, it was a homecoming of sorts for Cofer, who attended Southern Oregon last year along with current Saddleback linebacker Scott Graves.
---
Unbeaten Griffins open difficult
conference slate at Saddleback
© East County Sports.com
MISSION VIEJO (10-15-10) — Grossmont College opens play in the toughest league in Southern California Saturday night (Oct. 16) when they travel to Orange County to tackle the Saddleback Gauchos in a National Division Southern Conference game at 6 p.m.
The Griffins (5-0), thanks to a forfeit win from El Camino, come in as only one of two undefeated teams in Southern California. (The nation's No. 1 ranked team, Mt. San Antonio is also 5-0.) In the other corner is Saddleback with a 4-1 mark, the Gauchos' lone setback coming at the hands of Bakersfield, 41-24.
"It's a great feeling to be 5-0 at this point," Grossmont coach MIKE JORDAN said. "But it doesn't mean a whole lot if we don't do well in our league, which I think is by far the best league in the state."
Saddleback, which celebrates homecoming this weekend, survived a 17-point, second-half scoring barrage and the defense held firm deep in its own red-zone, turning back Cerritos' final drive and preserving a 28-24 win over the Falcons.
The Gauchos then opened up a 21-7 halftime lead only the see the Falcons take a 24-21 edge on a 36-yard field goal with 10 minutes to play. Again, Saddleback would answer right back by putting together an 11-play, 63-yard scoring drive as Donnell Dickerson carried the ball in from about three inches away out of the wildcat formation on fourth down. Dickerson (6-1, 220) is Saddleback's leading rusher (72-412, 5 TDs).
Dickerson finished with 18 carries for 117 yards, while quarterback Sean Reilly was 20-for-32 for 181 yards, and Tavaurus Abram caught five passes for 59 yards and two TDs.
The defense was led by Scott Graves and Matt Reza with 10 tackles apiece.
Defense is Grossmont's strength and that was evident in the Griffins 36-18 romp over College of the Canyons in Valencia two weeks ago. Linebacker PATRICK KELLY logged a career-high 16 tackles for the Griffins. End CRAIG COFER and linebacker DEREK HOLSAPPLE have been the cornerstones for a Grossmont defense that ranks among the state leaders.
Grossmont's sophomore quarterback RYAN WOODS (120-195, 1635 yards) is the state second-leading passer averaging 327 yards per game. He is No. 1 in SoCal with 14 TD passes. His No. 1 target is ALEX McLELAND (31-414, 4 TDs), who is tied for 10th among state receivers for catches.
"He has good body balance and quickness. He can adjust to make a catch when the ball is at it's highest point," Jordan said of McLeland.
The Griffins and Gauchos have one common opponent – Orange Coast. The Griffins edged the Pirates 42-35, while the Gauchos rolled over the Bucs 37-6.
RATINGS GAME — JCFootball.com ranks Saddleback No. 9 and Grossmont No. 13 nationally, while the Gauchos are No. 13 and the Griffins are No. 19 in the JCGridiron.com Dirty 30. The Junior College Athletic Bureau rates Saddleback No. 7 in the state and Grossmont No. 10. In terms of the Southern California rankings, JCAB/COA lists Saddleback No. 3 and Grossmont No. 5.
SADDLEBACK LIVE STREAMING — For those that cannot attend the game, the Grossmont-Saddleback game can be viewed live via streaming video on the Gaucho Sports Network for a fee of $10. Coverage begins at 5:55 p.m. To sign up for the event, please visit the following LINK.
GRIFFIN GRAFFITI — Saddleback leads the all-time series 13-4-1, including victories over the last two seasons – 44-27 (2009) and 38-21 (2008)... Griffins SCFA Players of the Week for the Canyons game include freshman running back DAVIS FLUKER, sophomore fullback DARRIN ALIX and sophomore linebacker Kelly.
---
WEEK SIX
Sat., Oct. 9
Southern Conference
All teams have byes
Pacific Conference
LA Pierce 42, Glendale 40
Santa Barbara 35, Santa Monica 38
West LA 34, LA Southwest 20
Non-Conference
Southwestern 45, SBVC 42
Riverside 28, Citrus 14
El Camino forfeits make Grossmont
one of two SoCal undefeated teams
© East County Sports.com
EL CAJON (10-5-10) — Grossmont College won a game on Monday (Oct. 4) without needing to take a snap.
A statement released by Southern California Football Association Commissioner Jim Sartoris on Monday (Oct. 4) read:

The El Camino (College) Athletic Administration has reported that an ineligible player has participated in the first four football games of the 2010 season. Therefore, these games are forfeited as per Article 7.4.12.3 of the CCCAA/COA Constitution.
Games played on Sept. 4 (vs. L.A. Southwest), Sept. 11 (Grossmont), Sept. 18 (Golden West), and Sept. 25 (L.A. Harbor) are declared forfeitures. Overall season records will be adjusted for El Camino (0-5) and their opponents. Individual statistics for these games will not be modified.
Only the final team scores are updated. According to NCAA rules, the games are officially scored 1-0.
Thus, thanks to El Camino, Grossmont College now joins Mt. San Antonio as the only undefeated teams in Southern California. The Griffins (5-0) and Mounties (5-0) have byes this week. They will meet head-on Saturday, Oct. 23 at Grossmont's Mashin-Roth Memorial Field.
---
SOUTHLAND RANKINGS thru Week 5:
1. Mt. San Antonio (13) (5-0, 260 pts), 2. Bakersfield (4-1, 242),
3. Saddleback (4-1, 235), 4. Cerritos (4-1, 210),
5. Grossmont (4-1, 198),
6. El Camino (4-1, 191), 7. Santa Ana (4-1, 184), 8. Palomar (3-2, 172),
9. Pasadena (4-1, 157), tie-10th Ventura (3-2, 117) & Allan Hancock (3-2, 117).
---
Grossmont linebacker Pat Kelly
registered 16 tackles vs. Canyons
(Photo by Hal Summers)
WEEK FIVE
Sat., Oct. 2
Southern Conference teams
Grossmont 36, Canyons 18
Palomar 25, El Camino 21
Allan Hancock 35, Fullerton 28
Saddleback 28, Cerritos 24
Ventura 33, Pasadena 29
Mt. San Antonio 34, Bakersfield 20
Non-Conference
Southwestern 43, Mt. San Jacinto 41 (3-OT)
Orange Coast 18, SD Mesa 7
Antelope Valley 31, East LA 17
Desert 16, Victor Valley 0
Golden West 31, LA Harbor 24
Moorpark 39, Compton 7
Riverside 32, Chaffey 26
San Bernardino Valley 57, Citrus 44
Santa Ana 43, Long Beach 7
Pacific Conference
LA Pierce 42, West LA 38
LA Valley 27, Glendale 21
Santa Barbara 26, LA Southwest 21
Griffins' 'D-House' crushes Canyons
© East County Sports.com
SANTA CLARITA (10-3-10) — Following impressive displays by the offense all season, it was an evening for the Grossmont College defense to shine.
Powered by a career-best 16 tackles by Christian High alum PAT KELLY, the Griffins limited host College of the Canyons to a mere 249 yards in total offense in an easy 36-18 drubbing at Cougar Stadium. The game was a pairing from the 2005 Southern California championship, which Grossmont won 24-19 at Canyons en route to claiming state and national crowns.
"After we came out flat last week, the coaches had us prepared for this one," noted Kelly, who also forced one of an astounding 10 fumbles by Canyons. "They tried to get the jump on us in the second half, but we came out ready."
Grossmont exploded for 16 points over a 3:45 span early in the second quarter to break open a 7-7 contest.
The go-ahead score came in the form of the second touchdown pass from RYAN WOODS to receiver ALEX McLELAND. Both scores – covering 11 and 14 yards – came on fade patterns to the corner of the end zone.
Running back DAVIS FLUKER followed by busting up the middle on a 50-yard score for a 21-7 lead. The scoring stretch was capped by a safety when the Canyons center sailed the snap over his punter's head and through the back of the end zone.
Then the defense took over, forcing Canyons to switch to a pair of back-up quarterbacks to generate some sort of offense. All three Cougars signal-callers failed while the team kept putting the ball on the ground.
While Kelly plugged holes on the interior of the line, the rest of the Grossmont defense placed an umbrella on Canyons. Included were a pair of sacks by defensive end SHANE PENNIX, one which forced a fumble.
"We hung together like a family out there," noted Pennix, a product of Valhalla High. "We picked up the pieces and played our best ball of the season in the second half."
Along with Pennix, Grossmont received sacks from MATT NILMEYER, plus a shared takedown by Kelly and CRAIG COFER. Among the forced fumbles were hits by DEREK HOLSAPPLE and CAMERON SAVINI.
"The pressure we put on Canyons was tremendous," said Savini, a linebacker. "Everyone just flew to the football and knocked people over."
Meanwhile, defensive back IVAN MAY posted an interception for the fifth turnover by Canyons.
Fluker finished with 96 rushing yards, while DARRIN ALIX added 81 yards and a pair of second-half TD runs of 34 and 1 yards.
Woods completed 18-of-38 passes for 212 yards, including 140 in the first half to help lift Grossmont to a double-digit lead.
---
Griffins need Magic to climb the Mountain

Meet Canyons in rematch of 2005 SoCal title tilt
© East County Sports.com
VALENCIA (10-1-10) — Sophomore quarterback RYAN WOODS, the leading passer in the state, will guide Grossmont College into its toughest tilt to date when the Griffins tackle host College of the Canyons Saturday (Oct. 2) at 7 p.m.
Woods is averaging 355.8 yards through the air, having completed 102 of 157 passes. He's delivered a dozen scoring passes while suffering only five interceptions.
Fourteen Griffins have caught passes from Woods, whose favorite target is wide receiver ALEX McLELAND, ranked 5th in Southern California with 27 receptions for 366 yards and 2 touchdowns.
While the passing game is averaging 362.8 yards per game, Grossmont's ground game is generating only 63 yards per outing.
"There's no secret that since so many teams run the spread offense that the defensive strategy includes a multitude of blitzes," said Griffins coach MIKE JORDAN. "Canyons runs a 3-5 look and a 40 look – they definitely like to blitz."
Grossmont (3-1), ranked No. 8 in Southern California and No. 13 in the state, has scored 87 points in its last two outings – victories over Southwestern and Orange Coast.
Meanwhile, College of the Canyons (3-1) has run over Antelope Valley 35-7, Citrus 38-24 and East Los Angeles 33-6. The Cougars' lone setback came at the hands of Mt. San Antonio – the No. 1 ranked team in the state – 34-19 in week two.
In their latest outing the Cougars limited East L.A. to 221 total yards. The only score for the Huskies came on an interception return. Canyons forced four turnovers and allowed just four net yards rushing on the night.
Grossmont could have a difficult time running the ball against the Cougars. That will put further burden on the Griffins' passing game which so far has lived up to the challenge in the previous four games.
Practice was disrupted at Grossmont on Thursday (Sept. 30) due to thunderstorms and lightning in the area.
"We were off the field for about 35 minutes but still got in an hour and a half of work," Jordan said.
GRIFFIN GRAFFITI – The Griffins lead the all-time series 4-3, with Grossmont winning the most recent meeting 25-3 in 2006... GC also edged the Cougars 24-19 to capture the SoCal Championship in 2005. The Griffins continued on to take the state crown and earned the mythical National Championship with a 41-38 nod over CC San Francisco a week later... Woods, linebacker PATRICK KELLY (12 tackles, including 4 for loss and one sack), and strong safety CALEB FARREL (10 tackles) were SCFA honorable mention for the Orange Coast game... Canyons is ranked No. 9 in Southern California and No. 14 in the state.
---
WEEK FOUR
Sat., Sept. 25
Southern Conference teams
Grossmont 42, Orange Coast 35
Santa Ana 49, Palomar 27
Fullerton 37, Golden West 12
Saddleback 49, Victory Valley 20
Pasadena 34, Desert 14
Mt. San Antonio 36, Riverside 10
Elsewhere
Bakersfield 54, Citrus 6
Canyons 33, East LA 6
Cerritos 44, West LA 7
Chaffey 12, Ventura 10
Compton 13, Antelope Valley 7
El Camino 56, LA Harbor 37
Allan Hancock 44, Glendale 28
Long Beach 38, LA Pierce 35
LA Valley 28, San Diego Mesa 20
Moorpark 35, Santa Barbara 29
Mt. San Jacinto 35, LA So'west 21
SBVC 37, Santa Monica 17
BYE – Southwestern
Late Griffins rally clips Coast
© East County Sports.com
EL CAJON (9-25-10) — Heading into the season Grossmont College coach MIKE JORDAN knew victories would not come easily.
Not even against a team like Orange Coast College, which arrived at Mashin-Roth Field Saturday (Sept. 25) winless in three starts. The visiting Pirates were anything but patsies. In fact, they had the Griffins – ranked No. 9 in Southern California and No. 16 in the state – on the ropes 28-27 with 7:56 remaining.
But Grossmont (3-1) refused to fold, scoring 15 points in 4½ minutes to take what it felt was a commanding lead. Not so. OCC (0-4) punched across a late touchdown and forced the Griffins to convert a 4th-and-1 with 32 seconds left before they could claim a 45-38 victory.
"They did a good job of keeping the ball out of our hands," Jordan said of the Pirates.
And so they did. Orange Coast won the battle of possession – 33:34 to 26:26 – and launched 78 plays compared to Grossmont's 59. Yet, the Griffins gained a 440-379 edge in total yards.
"We got the tough yards when we needed to," said Jordan, noting that Grossmont had an average gain per play of 7.5 yards compared to OCC's 4.9.
Once the Pirates took their one point advantage, it didn't take quarterback RYAN WOODS long to right the Grossmont ship. Woods connected with former Valhalla standout DEREK WHITE for a 17-yard pass play taking the ball to the OCC 41.
Three plays later Woods lofted a pass between three Pirates defenders to 5-foot-9, 185-pound DONTAE INGRAHM for a 42-yard touchdown. Woods then caught the Pirates by surprise as he ran the 3 yards to tack on a two-point conversion, giving Grossmont a 35-28 edge.
With 3:01 remaining the Griffins had a first down at their own 18-yard line and were probably content to run out the clock. They might have been able to do that had the officials not blown a pass from Woods to ALEX McLELAND that would have put the ball at midfield. Two of the officials signaled a "catch," but the back judge – one of the farthest away from the play – came running in to overrule and call it "no catch."
Said McLeland, the Griffins leading receiver, "Yeah, I caught the ball – I saw the ref signal the catch, then when I got up to give them the ball I saw them waving it off. Unbelievable."
Thus the Griffins had to give the ball up on a punt, having run only 58 seconds off the clock.
With three timeouts available and the ball at the Pirates 37-yard line, quarterback Zach Emde dropped back to pass. The first thing he saw was Griffin lineman HENRY SIMON (6-foot-4, 290) headed his direction. Emde fired a pass over the middle where it was intercepted by DAMIEN SMITH at the OCC-45. Smith followed an escort of three Grossmont blockers to the endzone for the touchdown.
"I just maintained my assignment, watched my guy and made the play," said Smith, who was inserted into the secondary as a nickelback. "It wasn't scary. We're used to winning the battles and then the wars. Once I got the ball I started heading for the goal line and never looked back."
CONNOR DERBY executed his sixth conversion kick, giving the Griffins a 14-point lead with 1:48 remaining.
After Orange Coast parlayed a long kickoff return, a 10-yard pass completion and a 2-yard touchdown run to cut Grossmont's lead in half, the Pirates started thinking overtime or maybe a last second win.
However Orange Coast would not get the ball back as the Griffins relied on their inconsistent running game to exhaust the clock. The Pirates added to their own demise by jumping offside to turn a 4th-and-6 into a 4th-and-1 with 52 seconds left.
DARRIN ALIX took the handoff, and instead of just crashing into the middle, bounced outside for a 6-yard gain and a victory-clinching first down. Grossmont ran out the clock from there.
"We ran a play that we just threw in there this week," said Alix, a product of Patrick Henry High. "The O-line got a good push and opened up a big hole. (The OCC defenders) were trying to rip the ball out of my hands, but I had a pretty good grip on it."
One of the key blockers on Alix's pivotal last second run was 6-foot-7, 300-pound freshman tackle DERYCK BEVERIDGE (El Capitan).
"This was part of the Magnum Package we put in just this week," Beveridge said. "It was just about man-against-man... the guy across from you... whose gonna want it more. And we wanted it more.
"Alix hit the hole really hard. He just bounced out and just kept his feet going and did everything he's been taught to do.
"I blocked down on a defensive tackle and then my guard (RUBEN CARDENAS) took him over and I went up on a linebacker."
Woods overcame four sacks to complete 21 of 35 passes for 376 yards and three touchdowns. He ranks among the state leaders, having connected on 102 of 157 passes for 1,423 yards and 12 TDs in four games.
Against Orange Coast Woods fired touchdown passes to ROLAND BROOKS (19 yards), White (38 yards) and Ingrahm.
"We came out unfocused in the first half and it took us until the second half to get going," said Brooks. "I think we just thought we could take them with ease because they were 0-3, and they proved us wrong.
"We came out on top but we've gotta stop playing games like this – we have to start playing at the beginning, not in the middle."
Added Beveridge, "No question, Orange Coast came out swinging because they had nothing to lose."
TRAIVONNE BROWN (Valhalla) led the Grossmont rushing game with 46 yards and a touchdown on three carries.
McLeland and JUSTIN SALUM caught five passes apiece, producing 79 and 36 yards, respectively. Ingrahm had three grabs for 119 yards, and White hauled in three passes for 60 yards.
On the defensive side, the Griffins had more tackles than usual since they didn't have the ball as much as they are accustomed to.
Linebacker PAT KELLY (Christian HS) led the Griffins with 12 tackles. Safety CALEB FARREL (Christian HS) added 10 stops, while KEVEN WOODS (Mount Miguel) notched six tackles and two sacks. CRAIG COFER chipped in with seven tackles, and JOSHUA UDEH accounted for six tackles and an interception.
---
Griffins seek to drive down the Coast
© East County Sports.com
EL CAJON (9-24-10) — These are the kind of games that the head coach of the favored team approaches with guarded optimism. Grossmont College skipper MIKE JORDAN knows the feeling. He and his Grossmont Griffins host winless Orange Coast of Costa Mesa on Saturday (Sept. 25) at Mashin-Roth Memorial Field at 1 p.m.
The Griffins (2-1) – ranked No. 9 in Southern California and No. 16 in the state – are only four minutes away from a perfect record. Two costly miscues over that span in week No. 2 helped give El Camino a 21-14 win at Grossmont.
That's in the past and Jordan's focus is the future.
Orange Coast has been battered by Saddleback (37-6), Long Beach City (31-12) and Los Angeles Harbor (46-10). The Griffins blew past San Diego Mesa 36-7, before falling to El Camino. Grossmont rebounded to outslug Southwestern 45-31 last week as sophomore quarterback RYAN WOODS completed 31 of 41 passes for 452 yards and 6 TDs.
"His totals should have been even better because he had a couple of drops," Jordan said. "He was spot on."
Jordan noted that the visiting Pirates are vulnerable to the long ball.
"They've had a tendency to get beat by big plays," the coach said. "Obviously, we hope to exploit that."
Much like Southwestern, OCC has shown a preference to load the defensive box. The Jaguars stacked as many as nine defenders in that area and managed to limit Grossmont to 39 yards.
"OCC runs about eight guys in the box, with a cover 2 and 'robber,'" Jordan said. "We play a spread offense and the thinking by most teams is the best way to stop it is by blitzing. That's why we work so hard on pass pro."
GRIFFIN GRIFFITI – Grossmont swept the major National Division Southern Conference Offensive and Defensive players of the Week for its romp over Southwestern College. Woods was named the Offensive pick, while 6-foot-4, 290 lineman HENRY SIMON was awarded the defensive honor... Orange Coast has beaten up on the Griffins over the years, claiming a 14-5-1 edge in the all-time series. Grossmont has won the last two meetings, 43-12 last year and 21-13 in 2008.
---
OTHER VIEWS
SignOnSanDiego
WEEK THREE
Sat., Sept. 18
Southern Conference teams
Grossmont 45, Southwestern 31
Palomar 40, San Diego Mesa 3
L.A. Pierce 24, Fullerton 21 (OT)
Mt. San Antonio 36, Desert 10
Pasadena 34, L.A. Valley 17
Saddleback 17, Chaffey 13
Elsewhere
Bakersfield 63, Antelope Valley 7
Canyons 38, Citrus 24
Cerritos 48, Loing Beach 28
East L.A. 33, Glendale 13
El Camino 34, Golden West 7
L.A. Harbor 46, Orange Coast 10
L.A. Southwest 21, Compton 14
Moorpark 22, Allan Hancock 21
Riverside 16, Victor Valley 7
Santa Ana 56, Santa Monica 17
Ventura 45, Santa Barbara 34
West L.A. 38, Mt. San Jacinto 27
Soft-spoken Woods wields big arm
Equals Roth passing mark with 6 TDs
© East County Sports.com
CHULA VISTA (9-19-10) — Grossmont College quarterback RYAN WOODS put together a record-breaking passing night but refused to take the credit for his success.
Woods, who was the Griffins 5th string quarterback a year ago, didn't throw his first Grossmont pass until this year. And the aerials just keep on coming.
A 6-foot-2, 190-pound marksman, Woods clicked on 31 of 41 passes for 452 yards and 6 touchdowns as the Griffins socked host Southwestern College, 45-31, Saturday night (Sept. 18) at Chet Devore Stadium.
Oh, did Woods have plenty to talk about.
Let's start with his TD pass count, which tied the Grossmont record set by GREG GLEASON (1969) and equaled by JOE ROTH (1974), TERRY MORRIS (1984) and BLAKE SUTTON (2007).
His 31 completions are second-best in a game by a Griffins quarterback. Sutton set the standard of 33 (in 46 attempts) against Palomar in 2007. Woods' passing yardage total is 3rd on the Grossmont books, trailing only JORDAN ADAMS (531 in 2004) and Gleason (459 in 1969).
"Actually, I threw some bad balls and my receivers made some great catches," Woods said.
Southwestern coach ED CARBERRY touted Grossmont's receivers as acrobatic before the game, and was even more convinced after he saw them in action on Saturday.
"Those guys catch everything – even if they're laying on the ground," Carberry said. "And the quarterback gets the ball where it needs to be. In the case of those receivers that would be anything they can reach. And you have to credit their offensive line for providing max pro. They have the quarterback time to throw."
Grossmont (2-1) built a 21-0 lead nine minutes into the game. All three scores came through the air, including 36 and 38 yarders to JEDON MATTHEWS. ROLAND BROOKS also reeled in an 8 yard scoring strike from Woods.
Before the half was over, Woods and Matthews hooked up a third time, extending Grossmont's advantage to 28-7 by intermission. Matthews finished with 5 receptions for 113 yards.
Grossmont's leading receiver was ALEX McLELAND, who had 10 catches for 163 yards.
"A-Mac made some great catches, Roland, all sorts of guys," Woods said.
Eleven different Griffins contributed to the receiving party.
"We always knew Woods was going to be a good one, but hitting 75 percent (.756) of his passes like he did tonight – that's crazy good," said Grossmont head coach MIKE JORDAN.
Grossmont enjoyed its biggest lead when TOMMY ALEXANDER hauled in a 16-yard scoring pass from Woods, making it 38-14 with 4:25 left in the third period.
The Jaguars scrambled back and trailed by 14 points with 6 minutes left in the game. It was at that point that Grossmont's defense came up with a key momentum switch when JOSHUA UDEH intercepted a deflected Jaguars' pass at the Grossmont goal line and returned it 35 yards.
From there the Griffins went on a 65-yard, 7-play scoring march, climaxed by a 13-yard TD toss from Woods to PATRICK ARIZE.
CONNOR DERBY, who contributed 9 points in the game, converted his 6th PAT kick to all but put the game away with 3:29 left.
One thing Southwestern did do to frustrate the Griffins was halt their running game. In fact Grossmont finished with just 34 yards on 28 rushes.
"Southwestern played the whole game with nine guys in the box – bent on stopping the run," Jordan said. "You're not going to run the ball with that many guys in the box. They tried to stop us with cushion man coverage, and Woods was able to still put the ball on the money."
Jordan said he was surprised that Southwestern didn't change its defensive philosophy. "They liked to blitz, and we knew that," he said. "We welcomed their blitz because we worked so hard on pass pro all week in practice."
That much was obvious, as Woods was sacked only one time.
---
Local rivalry revisited on Saturday

© East County Sports.com
CHULA VISTA (9-17-10) — Even though neither team is in the same conference or division, when Grossmont College visits long-time rival Southwestern Saturday (Sept. 18) at 6 p.m. from Chet DeVore Stadium, the fray promises to offer a playoff-like atmosphere.
"This is a big game to us because it's so big to them," Grossmont coach MIKE JORDAN said about the neighborhood rivalry. "I don't know if I'd call it a must-win, but we need a victory to build some momentum going into our league season. I'm sure they feel the same way."
Southwestern is coming off a 26-0 romp over San Diego Mesa. Quarterback Victor Perez, making his first collegiate start, passed for 169 yards and one touchdown while clicking on 17 of 29 attempts. Sophomore Rob Jones had 5 catches for 75 yards and the line aerial score. Slotback Andrew Grimes reeled in 9 passes for 88 yards as the Jaguars dominated the Olympians.
The star of the show for Southwestern (1-1), however, was sophomore outside linebacker Ramsey Iapala. He recorded a safety, an interception and several tackles for losses as the Jaguars recorded their first shutout since 2003.
Freshman linebacker Will Clark also returned an interception 30 yards for a touchdown.
The Jaguars average nearly 300 pounds across their defensive front. Their offensive line is even bigger, anchored by Monte Vista product MARK POUVAVE (6-4, 340), and Steele Canyon's FRANKIE KASCINTA (6-1, 305).
"Southwestern has some really tough defensive schemes," Jordan said. "They have complicated blitzes and, in the first game, showed a lot of man-to-man coverage. There's no question they play a gambling defense. Hopefully you get them more than they get you."
Grossmont's defense has been rock solid as the Griffins have split their first two contests, blowing past Mesa 36-7 before falling to No. 5 ranked El Camino 21-14.
"Grossmont is very defensively oriented – just been stifling," said Southwestern coach ED CARBERRY. "You take away about four minutes of the El Camino game and they would have given up 13 points in eight quarters."
The cornerstones for the Grossmont defense are end CRAIG COFER (6-5, 250) and linebacker DEREK HOLSAPPLE (6-2, 245).
"That No. 55 (Cofer) doesn't stay blocked," Carberry said. "When we were looking at the El Camino film we saw him pick up a 300-pound lineman and throw him at the quarterback."
Quarterback RYAN WOODS will direct Grossmont's offense. He completed 28 of 48 passes for 357 yards and a touchdown against El Camino.
ALEX McLELAND (12 catches, 124 yards, 2 TDs) is the ace of a deep stable of receivers.
"They're more explosive offensively than we've been," Carberry said. "They have acrobatic receivers – anything they can touch, they'll catch."
Carberry was also high on Woods (50-81, 595 yards, 3 TDs in two games).
"He has a nice athletic throwing motion – kinda like a baseball pitcher. He can whip that ball around," Carberry noted. "He throws well on the move. We're going to have our hands full with him."
Sounds like it ought to be a good one.
GRIFFIN GRAFFITI — Senior LANDIS PROVANCHA, a Grossmont starter in 2008, is in his second season as the starting left guard for the Marshall University Thundering Herd... Another Grossmont product – junior ROKEVIOUS "KEVIS" WATKINS – is the starting right guard for the 23rd ranked South Carolina Gamecocks... The Griffins have beaten Southwestern 24 times – more than any of the 46 foes they've faced in their 49-year history. Although the Griffins lead the all-time series 24-13, the Jaguars won 14-10 two years ago in Chula Vista... Southern Conference honorable mention picks for the El Camino game included quarterback Woods, linebacker Holsapple and return specialist-kick returner DONTAE INGRAHM... In the season-opening win over San Diego Mesa CONNOR DERBY was selected the Southern Conference Special Teams Player of the Week... Grossmont is ranked No. 9 in Southern California and No. 17 in the state by the JC Athletic Bureau of San Mateo.
---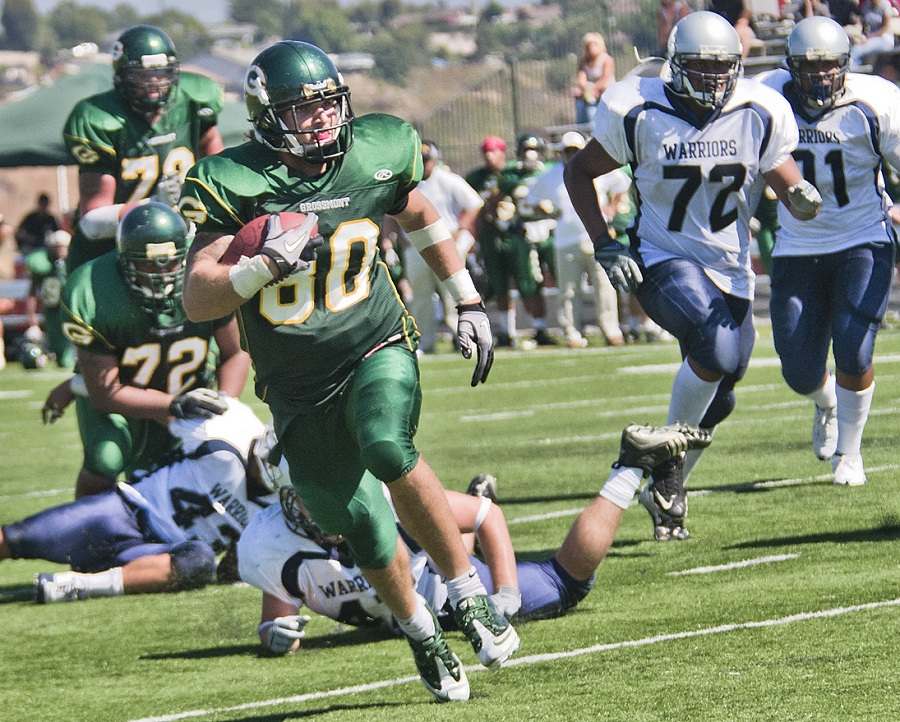 Grossmont's Jake Podpora races for extra yards
following this pass reception against El Camino.
(Photo by Hal Summers)
ADDITIONAL PHOTOS
HERE
WEEK TWO
Southern Conference teams
El Camino 21, Grossmont 14
Fullerton 40, Ventura 27
Mt. San Antonio 34, Canyons 19
Bakersfield 41, Saddleback 24
Cerritos 34, Palomar 17
Pasadena 22, Allen Hancock 14
Elsewhere
Southwestern 26, SD Mesa 0
Long Beach 31, Orange Coast 12
Riverside 64, San Bernardino Valley 28
Santa Ana 34, Victor Valley 3
West LA 30, Compton 14
Chaffey 23, Mt. San Jacinto 19
LA Harbor 21, LA Southwest 7
LA Pierce 38, Moorpark 36
Santa Barbara 30, Antelope Valley 14
Desert 21, LA Valley 19
Golden West 39, Glendale 22
Santa Monica 6, East LA 3
The wrong side of onside
© East County Sports.com
EL CAJON (9-12-10) — Grossmont College coach MIKE JORDAN didn't want to blame the outcome of Saturday's (Sept. 11) loss to visiting El Camino on one play. But his thoughts kept coming back to one particular onside kick that occurred with 1:43 left to go in the game.
"I'm not going to make a bunch of excuses because we had our chances – left a lot of points out there on the field today," Jordan said after El Camino escaped with a 21-14 victory. "I think we're equally as good as that team."
Still, Jordan was puzzled by the onside kick that did not go in the Griffins' favor. Granted, if the Griffins had gotten possession on the kick they would have still had to drive 55 yards in the final 100 seconds, with two timeouts available.
Trailing 21-7 the Griffins drove 87 yards in nine plays with quarterback RYAN WOODS firing a 9-yard touchdown pass to ALEX McLELAND, cutting the deficit to 7 points with 1:48 remaining.
The Griffins (1-1) then opted for an onside kick attempt, which came as no surprise to El Camino (2-0). The Warriors loaded their receiving team with receivers and running backs to make sure they received the kick without a turnover.
Grossmont appeared to have out-maneuvered the Warriors when kicker CONNOR DERBY pooched a kickoff about 15 yards downfield, where teammate ROLAND BROOKS made a leaping grab of the kickoff, landing inbounds in front of the Grossmont bench.
The Griffins were certain they had successfully executed the onside kick.
"I heard the guy (head linesman) on our side say "Green ball,"" noted Grossmont veteran secondary coach MARK DEESING.
Others – players and coaches alike – said the linesman had signaled that it was Grossmont's ball. However, officials further away from the play came racing to the scene to discuss the call with the linesman.
"The referee told me that they (El Camino) had to be allowed to catch the ball," Jordan said. "Or it has to hit the ground. But they didn't call for a fair catch."
Bottom line is Brooks stunned El Camino when he came on with a Superman-like arrival and catch. It was highlight reel material for sure.
"We should have got that ball," Jordan fumed. "We pooch kicked it into the open spot so that we can go down and catch it on the fly… and we did that."
The onside kick rule says the ball must travel 10 yards without being touched by the defending team. Derby 's kick sailed 15 yards and was originally spotted by the linesman as such.
"Roland made such a great play – just like we practiced it," Jordan said. "And they took it away from him, and from us. I'm not saying we would have driven down and scored a winning touchdown, but I sure think we deserved a chance."
Said Brooks, "I had my eye on the ball the whole way, and once I got it I wanted to make sure my feet were inbounds. And I know they were."
There was no dispute in that regard. Brooks had no contact with an El Camino player.
It was just a blown call by the officials.
"You could tell they weren't sure what they were calling because they took a long time to reverse the call," Jordan pointed out. "But there's nothing we can do about it. We have to look ahead to the next game."
Grossmont took the early lead with a 32-yard, 10-play drive set up by a PAT KELLY interception. DARREN ALIX capped the drive with a 1-yard plunge on a 3rd-down play. Derby, who missed two field goals on the day – as did the El Camino kicker – converted the first of his 2 PATs, giving the Griffins a 7-0 edge with 5:29 left in the 1st period.
El Camino tied the game with 1:42 left before the end of the half when quarterback Omar Herrera turned a 3rd-and-17 play into a 22-yard touchdown scramble.
Herrera and the Warriors burned the Griffins with a pair of screen passes that went for lengthy touchdown plays (62 yards, 47 yards) over a four minute stretch in the 3rd quarter.
"I can't remember when the last time was we got burnt on screen passes like that," said Deesing.
Grossmont's Woods completed 28 of 48 passes for 357 yards. He suffered two interceptions and was sacked three times.
Brooks (6 catches, 59 yards), TOMMY ALEXANDER (5-106) and McLeland (4-48, TD) were the leaders among 10 Grossmont receivers.
Where Grossmont suffered the most was in the running game where the Griffins netted only 29 yards on 22 attempts.
DEREK HOLSAPPLE led the Grossmont defense with 7 tackles and a pair of sacks. Kelly also had 6 tackles and a pair of pressures to go with his interception.
TRAMAINE WILKES also had an interception for Grossmont, while KEVEN WOODS contributed one of Grossmont's three sacks.
HENRY SIMON and SHANE PENNIX shared a sack and they each had 5 tackles.
---
Against Warriors, Grossmont must 'come out and play'
© East County Sports.com
EL CAJON (9-10-10) — State power El Camino College of Torrance will make a rare appearance at Grossmont College's Mashin-Roth Memorial Field Saturday (Sept. 11) when the Warriors and Griffins clash claws in a major non-conference contest at 1 p.m.
El Camino is coming off a 56-7 rout of Los Angeles Southwest in last week's opener. Grossmont kicked off the campaign with a 36-7 romp over San Diego Mesa last weekend.
Known more for their precision passing game, the Warriors came out running last week, compiling 636 yards – 390 yards coming on 50 rushes. Five-foot-5 Marcus Darden has dazzling speed and circus moves. He put all of his talents on display for the first time last week, finishing with 118 yards on eight carries playing only in the first half.
"He's an incredible back," said Grossmont coach MIKE JORDAN.
Two other backs averaged more than 10 yards per carry as El Camino pounded LA Southwest with its running game. Much of the reason for that is due to the men in the trenches.
"They have a huge offensive line that allows them to pound the ball right at you," Jordan said, noting a group that includes Jay Morgan (6-6, 350), Eric Oliva (6-3, 335) and Andrew Kersten (6-6, 305). "Physically, this is as good a team as we'll play."
Grossmont, meanwhile opened the season with a pinpoint passing game led by sophomore RYAN WOODS. The Griffins totaled 391 yards, but more impressive, saw its defense ration Mesa to 58 yards on 48 plays.
The Griffins came from behind to dump host El Camino 27-22 in the postseason US Bank Beach Bowl last year in Torrance. Scoring on three straight possessions in the fourth quarter, the Griffins were able to turn a 12-3 deficit into a 27-15 advantage.
Meanwhile, the defense limited the potent Warriors, who averaged a state-best 40.4 points per game during the regular season, to their lowest point total of the season.
El Camino's head coach John Featherstone – a former Griffins assistant coach and SDSU wide receiver in his 25th season at the Warriors' helm – has a long memory.
"I remember when we beat them in the playoffs in our national championship year (2005) they came back and clobbered us (56-13) in the season opener the following year," Grossmont coach MIKE JORDAN recalled. "They have an awfully good team again, but we can't let them get to us on our field."
Said El Camino's 6-4, 265-pound sophomore tight end Joe Don Duncan, "We're just as good as we were last year, but people think we are a bunch of nobodies. We like it like that."
Duncan was referring to the state's No. 11 preseason ranking affixed to El Camino. The Warriors have since been ranked No. 14 nationally by JC Grid-Wire.
Jordan has a respectful take on the Warriors.
"I think they are a whole lot better than that," he said. "Of course, some people don't think too much of us either and we believe we're a pretty good team too."
GRIFFINS GRAFFITI — Grossmont leads the all-time series 3-2... The National Division Southern Conference teams posted a 6-0 record on opening day last week... Woods (22-of 33, 238 yards, 2 TDs), kicker CONNOR DERBY (3 FGs, 40.7 yds on 3 punts and 65 yards on 7 kickoffs) and linebacker PATRICK KELLY (5 tackles and a sack) received NDSC Player of the Week honors.
---
McLeland honored
© East County Sports.com
SAN MARCOS (9-6-10) — Grossmont College wide receiver ALEX McLELAND was among the first honorees for the 2010-11 season as Pacific Coast Athletic Conference male athletes of the week.
McLeland, a 6-3, 180-pound wide receiver from Scripps Ranch High, caught 8 passes for 76 yards as the Griffins downed San Diego Mesa, 36-7.

McLeland tallied a touchdown on a 10-yard reception from quarterback Ryan Woods. The freshmen shared the award with Palomar football safety Devin Taverna, who helped the Comets stave a late rally by Southwestern, 23-13.
---
Phi Mesa Face-a
Recent Scores
GC vs. Mesa
Year

2010
2009
2008
2007
2006
2005
2004
2003
2002

36
47
31
66
58
64
70
24
48

7
13
14
17
0
3
7
17
28

Pts

445

106

Avg

49.4

11.8
Griffins blaze over Mesa
© East County Sports.com
EL CAJON (9-5-10) — Temperatures on the synthetic playing surface at Grossmont College's Mashin-Roth Memorial Field soared above 100 degrees when the Griffins and visiting San Diego Mesa College kicked off the season Saturday (Sept. 4) at 1 p.m.
WEEK 1 SCOREBOARD
SCFA National South (6-0)
Grossmont 36, SD Mesa 7
Fullerton 41, Santa Ana 10
Mt. SAC 61, Victor Valley 14
Palomar 23, Southwestern 13
Saddleback 37, Orange Coast 6
Pasadena 41, Glendale 20
Elsewhere
Long Beach 20, Golden West 14 (OT) (played Friday)
Santa Monica 21, Compton 10
Citrus 36, West L.A. 25
Allan Hancock 51, Santa Barbara 6
Canyons 35, Antelope Valley 7
Chaffey 28, San Bernardino Valley 7
Mt. San Jacinto 25, Desert 22 (OT)
L.A. Valley 28, East L.A. 21
El Camino 56, L.A. So'west 7
Ventura 44, Moorpark 21
Cerritos 29, L.A. Harbor 14
Bakersfield 52, L.A. Pierce 41
Despite the heat wave the Griffins, who were decked out in their home Forest Green jerseys and pants, breezed past the Olympians 36-7 before a sun-soaked crowd of 800.
"I don't care who you are or where you are from, heat like this wears on you," said Grossmont College sophomore receiver ALEX McLELAND, a product of Scripps Ranch High School. "We've been out here in this heat all week and it's something I know as a player that you never get used to."
The heat didn't seem to hamper McLeland on game day, as he hauled in eight passes for 76 yards, including a 10-yard touchdown pass from sophomore quarterback RYAN WOODS.
The Griffins, who gained a 391-58 advantage in total yardage, kept the heat on the Olympians all afternoon. Making his first Grossmont start, Woods completed 22 of 33 passes for 238 yards and two TDs.
"They were playing a deep cover 4 and we just picked them apart underneath," McLeland said. "Ryan was really sharp with his passes."
Grossmont, which has won 13 straight from Mesa, took the opening kickoff and drove 80 yards in 9 plays with DARRIN ALIX bolting the final 2 yards with 11:28 left in the 1st quarter. CONNOR DERBY kicked the PAT, which was to be the first
of 12 points in his Grossmont debut. Derby also booted field goals of 25, 20 and 37 yards.
The Griffins did all of their scoring before Mesa capitalized on a Grossmont fumble in the final seconds and returned it 76 yards for its lone TD.
"We played sound defense, and basically it was a great game for us all around," said sophomore linebacker PATRICK KELLY. "It was pretty tough watching from the sidelines all last season after having surgery and going through rehab. It sure is great to be back out there."
Grossmont limited Mesa's two quarterbacks to a mere three pass completions and 18 yards in 15 attempts. TRAMAINE WILKES logged an interception for the Griffins, who also got sacks from Kelly, SHANE PENNIX and HENRY SIMON.
"When our defense is clicking like it was today we can stop anybody," added Kelly.
Mesa couldn't budge on the ground either. The Olympians averaged 1.2 yards per carry, netting 40 yards on 33 attempts.
"You gotta like those numbers," Kelly said. "But this is only one game and we've gotta keep it up."
Eight Griffins contributed to Grossmont's rushing attack, which was hardly spectacular with a net of 125 yards on 38 attempts.
TUCKER SPRUILL, who played in the waning moments, wound up Grossmont's leading rusher with 47 yards on 4 carries. Workhorse Alix was limited to 40 yards on 13 carries but did manage to find the end zone twice.
Looking ahead to the rest of the schedule, the Griffins must find a way to boost their running game if they are going to be able to compete in their National Division/Southern Conference.
"We're off to a pretty good start but I think we left some points out there today," said Grossmont head coach MIKE JORDAN. "But we dominated pretty well, like I expected. We have a lot of guys with a lot of talent out here – guys that can get it done for sure."
Grossmont will get a better idea of just exactly where it stands on Saturday (Sept. 11) when it hosts El Camino – a 56-7 winner over L.A. Southwest in Saturday's opener.
"Now it's gonna get real tough real quick," observed Jordan.
---
Griffins host Mesa in '10 opener
© East County Sports.com
EL CAJON (9-3-10) — No question this figures to be the toughest football schedule Grossmont College has faced in the 49-year history of the Griffins' football program.
Scary? Not really.
Grossmont alum and long-time offensive coordinator MIKE JORDAN, who begins his 4th season as Griffins head coach, welcomes the challenge.
And why shouldn't he? The Griffins have faced California's elite over the last 10 years, posting a 92-24 record (.793 pct).
Given that the roster is basically a revolving door, expectations are difficult to predict. The Griffins will get a hint just where they stand when they kick off the season against visiting San Diego on Saturday (Sept. 3) at Mashin-Roth Field at 1 p.m.
Jordan is more than proud that 28 players from last year's 8-3 team that knocked off El Camino 27-22 in the post-season Beach Bowl have advanced to four-year colleges.
That's all in the past.
The primary focus is Mesa at the moment.
Known more for its passing game over the past decade, Grossmont may focus more on the running game this season.
If the Griffins can control the ball via the running game they should have the defense to shut down the Olympians and opponents down the road.
NEW AND FAMILIAR FACES: Grossmont's East County contingent includes corner IVAN MAY (Valhalla); defensive back CALEB FARREL (Christian); linebacker KEVEN WOODS (Mount Miguel); running back TRAIVONNE BROWN (Valhalla); defensive line SHANE PENNIX (Valhalla); running back MAURICE PAYNE (Monte Vista); running back ANDRAY JACKSON (Helix); linebacker ELIOTT LONG (Valhalla); running back PATRICK ARIZE (Helix); SHANE PINSON (Santana); linebacker CALEB GARDNER (Foothills Christian); linebacker PAT KELLY (Christian); defensive lineman RAMANDAM AHMAD (El Cajon Valley); offensive line MICHAEL ROBLES (West Hills); defensive line TUPU LOGOAI (Helix); offensive lineman DERYCK BEVERIDGE (El Capitan); tight end JAKE PODPORA (Santana); offensive line YOUSIF KHOURY (Steele Canyon); wide receiver DEREK WHITE (Valhalla); defensive line RICARDO RODRIGUEZ (Valhalla) and defensive line ANTHONY CHAVEZ (Helix),
LOCAL FOES: Mesa's roster includes East County graduates NICK McDANIEL (West Hills), COREY JACKSON (El Cajon Valley), LUCAS STAFFORD (El Cajon Valley), LAMANCE LYNCH (linebacker) and ISAIA OSIOIMALO (Helix).
GRIFFIN GRAFFITI: For what it's worth, the Griffins enter the season ranked No. 20 in the nation by JCGridiron.com... The Olympians lead the all-time series over the Griffins 21-16-1, including 47-13 last year. Six first half Grossmont turnovers helped the Olympians take a 10-6 halftime lead. In spite of making eight turnovers in the game, Grossmont finished with 570 yards (304 rushing, 266 passing) on 91 plays in what became a rout... The Griffins have rolled to 12 consecutive wins over Mesa, which last edged Grossmont 28-27 in the final 0:07 of a game played in a downpour at Mesa's Merrill Douglas Stadium.
---
Grossmont enters season at No. 20
© East County Sports.com
SANTA ANA (7-21-10) — Grossmont College is ranked 20th in the nation according to the JC Gridiron preseason community college football rankings.
Such ratings – no matter who they are compiled by – carry little impact. Case in point is Grossmont was rated No. 1 by The Sports News a couple years back and fell a half-dozen rungs shy of achieving the lofty mark.
Arizona Western College out of Yuma is ranked No. 1 by JC Gridiron in this year's preseason guessing. Blinn (Texas) is No. 2, while El Camino, which lost to the Griffins in the 2009 U.S. Bank Beach Bowl last fall, is third.
Griffins' list hits 25
© East County Sports.com
EL CAJON (7-21-10) — Three additional Grossmont College football players have signed scholarship letters, bringing the number of signees to a school-record 25.
Latest to ink a pact is cornerback ARTHUR HOBBS, who signed with NCAA II University of Nebraska Kearney of the Rocky Mountain Athletic Conference.
A 5-foot-11, 180-pound sophomore, Hobbs is the second Griffin to join UNK this year. In January, corner KENNY HILL transferred to UNK. Last fall, Hobbs made 20 tackles and had six pass breakups to help Grossmont go 8-3 and win the U.S. Bank Beach Bowl.
As a senior at Mount Miguel High, Hobbs earned 1st-team all-Grossmont South League honors.
Six-foot, 190-pound sophomore wide receiver NICK HILL, a product of Patrick Henry High, has signed with Central Methodist University in Fayette, Mo. The Eagles play in the NAIA Heart of America Conference.
Last season Hill caught 17 passes for the Griffins for 199 yards for an average of 11.7 ypg.
In another late signing, sophomore quarterback MATT JARVIS (6-2, 230), an El Capitan alum, has signed with NCAA II St. Cloud State University of the Northern Sun Conference. Jarvis is a case of perseverance as he returned to the Grossmont College huddle after graduating from El Capitan in 2005.
In seven games at Grossmont, Jarvis completed 50 of 102 passes for 909 yards and 11 TDs last season.
---
Griffins' scholarship roll reaches 22
© East County Sports.com
EL CAJON (7-8-10) — The list of four-year scholarships off the 2009 Grossmont College football team has swelled to 22 as sophomore offensive lineman BILLY DAWSON and freshman running back JOSEPH DeMARTINO have advanced to the next level.
Dawson, a 6-foot-3, 310-pound center out of Helix High, has accepted a full ride to Division I-AA Lamar University in Beaumont, Texas.
DeMartino, a 5-11, 205-pound graduate of Mt. Carmel, will attend Utah State in Logan in the fall with four years to play three. He led the Griffins (8-3) with 107 all-purpose yards last year as a freshman. DeMartino averaged 91.8 yards rushing, scored 7 touchdowns and caught 12 passes in nine games.
Clearly a multiple threat, DeMartino figures to be a double threat for the Aggies. He joins former Griffins teammate, receiver-kick return specialist XAVIER MARTIN, who previously signed with Utah State.
"Joey is definitely a catch and run guy," Grossmont coach MIKE JORDAN said. "I think he could make an immediate impact for them."
Dawson has the size and experience to step into a starter's role at Lamar University.
---