GROSSMONT COLLEGE FOOTBALL — 2011 SEASON
2005 J.C. GRID-WIRE NATIONAL CHAMPIONS
2009 BEACH BOWL CHAMPIONS
2010 BEACH BOWL FINALISTS
GROSSMONT COLLEGE
2012 Football Schedule (rev. Apr. 17)
Date
Opponent
Time

Sept. 1
Sept. 8
Sept. 15
Sept. 22
Sept. 29
Oct. 6
Oct. 13
Oct. 20
Oct. 27
Nov. 3
Nov. 10

at Desert
San Diego Mesa
Citrus
*at Santa Ana
*Orange Coast
*at Mt. San Antonio
*at Golden West (at OCC)
Bye
*Fullerton
*at Saddleback
*Palomar


6 p.m.
1 p.m.
1 p.m.
1 p.m.
1 p.m.
1 p.m.
1 p.m.

1 p.m.
6 p.m.
1 p.m.
*Southern Conference game
Griffins lineman Khoury
gains D-1 scholarship
© East County Sports.com
EL CAJON (4-12-12) — Grossmont College's YOUSIF KHOURY, a 6-foot-6, 310 pound offensive lineman out of Steele Canyon High, has accepted a scholarship to Florida International University – a Division I school in the Sunbelt Conference.
This is an up-and-coming program. The last two years the Bulls have been invited to bowl games both seasons. Khoury carries a GPA of 3.50. He moved from Iraq to the United States at the age of 2. His father passed away 5 years ago.
"Khoury worked very hard this last year to get to this point in his football career," said Grossmont offensive line coach KEN WILMESHERR.
---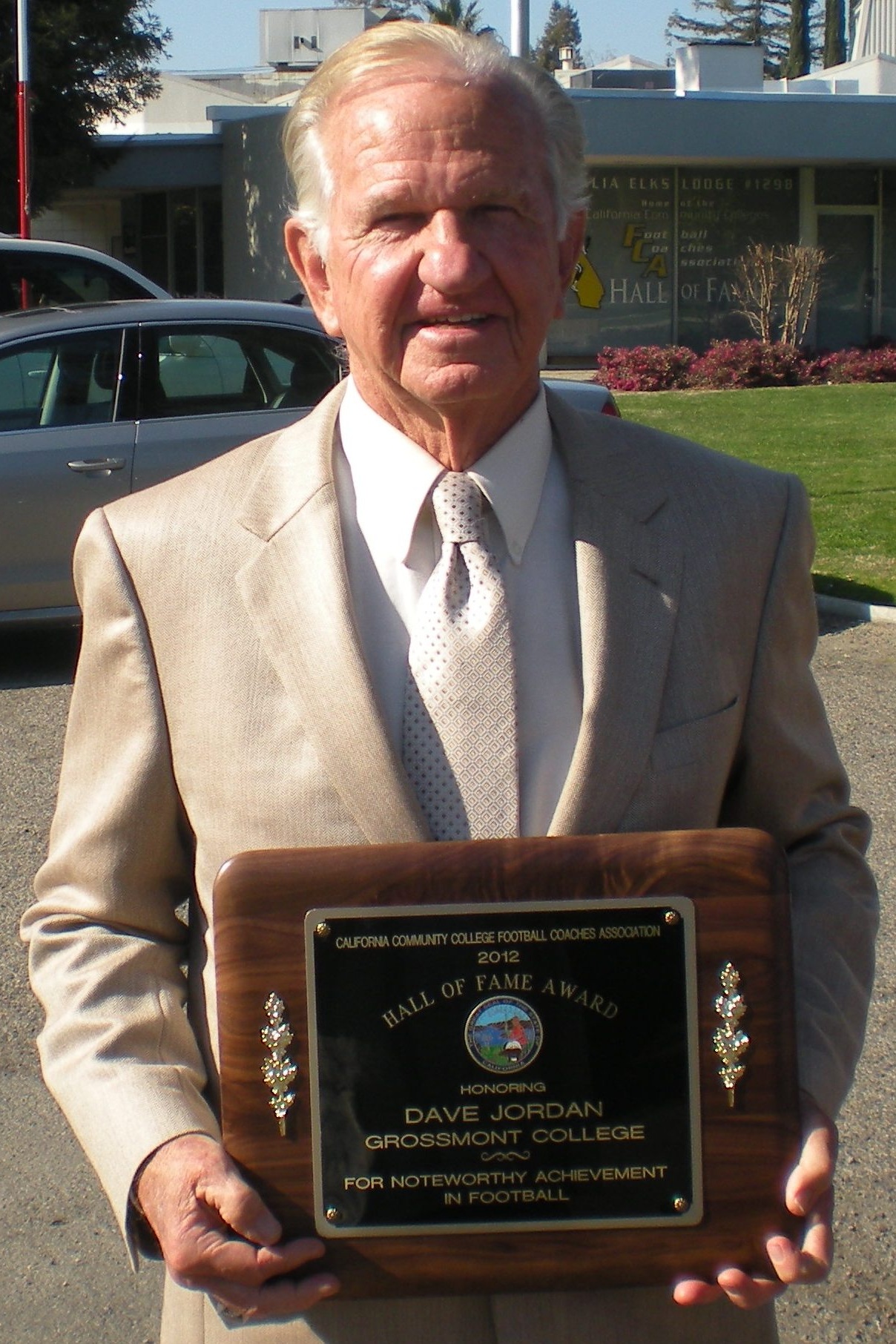 Dave Jordan with his plaque, indicating his enshrinement into the
California state Community College Football Coaches Fall of Fame.

Jordan inducted to state Hall of Fame
Resume includes two state football crowns

© East County Sports.com
VISALIA (3-6-12) — Former Grossmont College football coach DAVE JORDAN, who directed the Griffins to state championships in 1974 and 2005, was inducted into the California Community College Football Coaches Hall of Fame on Saturday (Mar. 3).

"This honor is very special to me," Jordan said.

Jordan attended Compton Junior College in the "glory years" when Compton was consistently playing for the National Championship. He was the starting offensive guard in 1955 when Compton played in the Junior Rose Bowl in Pasadena vs. Jones JC from Mississippi before 59,000 fans. Compton defeated Jones, and it was the largest crowd to ever see a JC football game.

Jordan transferred to Whittier College and played for two great coaches, Don Coryell and George Allen. After graduating he began his teaching and coaching career at Chowchilla High School, first as an assistant and the second year as the head coach, turning their program around.

His final stop in coaching high school football was at St. Johns. He had winning programs at all of the high schools where he coached.

In 1970 for his next step, he helped establish the new program at CSU Fullerton as an assistant coach to Dick Coury. Jordan also earned his Masters Degree from CSU Los Angeles that year.

In 1971, Jordan became head coach at Grossmont College, which started his career of community college coaching success. In 1974 Grossmont went undefeated en route to caputring the State Championship and was ranked No. 3 nationally.

Jordan left coaching in 1978 and later returned in 1981 as an assistant. He again took the reins of the program in 1990 and during the next 16 years Grossmont compiled a tremendous record, posting three undefeated regular seasons and five seasons of only one loss.

Jordan has had many awards presented to him. He has been the Conference Coach of the Year selection by his peers 8 times, 3 times California Community College Coach of the Year, and in his last year of coaching, 2004, was named National Coach of the Year. The San Diego Press Club honored him in 2003 at the 31st Headliners Banquet for his College Sports Leadership.

One statistic that Jordan is particularly proud of is that of having 70 plus percent of his players continue on to 4-year colleges.

Jordan has been active in the Fellowship of Christian Athletes for 20 years. He and his wife Jean have four sons, Kenneth, Brent, Michael, and Dave Jr., and one daughter Dee Ann.
---
Griffins' Pennix headed for Nevada
By Bill Dickens
© East County Sports.com
EL CAJON (2-2-12) — The pieces to the community college scholarship puzzle are still coming together.
No doubt the premier recruit is Grossmont College defensive end SHANE PENNIX (Valhalla), an All-America pick lauded by numerous four year colleges. He eventually selected Nevada over Boise State.
Other Griffins heading out include safety DAVID EDGERSON (Portland State), tight end TREVOR ROE (Torrey Pines-Northern Colorado), corner ELDREDGE CALHOUN (Stonybrook), quarterback RYAN WOODS (Mississippi Valley State) and tight end ASHTON POWELL (Serra-Central Washington). Kicker TYLER STRICKLAND (Granite Hills) was going to San Jose State, but has since changed to Arkansas-Pine Bluff, a NCAA Div. I FCS school. Punter STEFFAN MOS (Clairemont-Southern Methodist) was also exploring Cal.
Meanwhile, Monte Vista-Southwestern offensive tackle MARC POUVAVE has signed with Utah; Granite Hills-Southwestern running back AARON HARRIS has hooked on with Cincinnati; Grossmont High receiver-DB NICK FLOYD will advance to Duquesne University in Pittsburgh; Steele Canyon-Southwestern FRANKIE KASCINTA will move on to NAIA Central Methodist (Mo.) and ZAC BUTTS to NAIA Midland University.
Harris, a state-caliber track sprinter, is the all-time leading rusher for the Jaguars.
Former West Hills lineman NINO LA RUSSA is transferring from Iowa Wesleyan to Western New Mexico.
No report of East County athletes from Palomar or San Diego Mesa.
---
Conference Realignment returns
© East County Sports.com
EL CAJON (1-13-12) — One thing about community college football is there are always changes in two-year increments in terms of league realignment.
The Southern California Football Association has announced a new conference and division structure that will be in place for the next two years, beginning with the fall 2012 season.
Over the past two seasons, the SCFA consisted of three divisions. In this new structure, the National and Central divisions have been combined and will form three seven-team conferences in the new National Division. The American Division will remain the same as the past two seasons, but with the addition of three teams formerly in the Central Division, will contain two eight-team conferences.
Grossmont College will compete in the National Division Southern Conference along with Palomar, Saddleback, Fullerton, Golden West, Orange Coast and Santa Ana,
"Geographical considerations and maintaining competitive balance were key factors in the placement process," said SCFA commissioner Jim Sartoris.
Meanwhile, Southwestern and San Diego Mesa will compete in the 8-team American Division Mountain Conference.
Four teams will qualify for the Southern California Playoffs. The playoff teams will consist of the champions of each National Division Conference with the next highest-ranked team in the final CCCAA/CCCFCA Southern California poll earning a berth.
The champions of each American Division Conference will also qualify for a division championship bowl game.
Pennix tabbed first-team All-State
© East County Sports.com
EL CAJON (1-6-12) — Grossmont College sophomore defensive end SHANE PENNIX has been named to the All-State elite first team by the California Community College Football Coaches Association.
The 6-foot-3, 245-pound Pennix – a unanimous All-Southern Conference first team choice – is being recruited by Boise State, BYU, Texas Tech, Nevada, Indiana, New Mexico State and Texas State among others.
Other East County graduates recognized in the coaches all-state voting in the second tier were Southwestern offensive tackle MARC POUVAVE (Monte Vista grad committed to Utah) and Jaguars running back AARON HARRIS (Granite Hills).
The lone third tier all-state selection with East County ties chosen was San Diego Mesa College safety LUCAS STAFFORD (El Cajon Valley).
---
Sat., Dec. 10
CCCAA State Championship
CC San Francisco 52, Mt. San Antonio 42

Sat., Nov. 26
CCCAA Southland Championship
Mt. San Antonio 17, Cerritos 14

Sat., Nov. 19
CCCAA Southland Semifinals
SCFA Bowl: Cerritos 45, Palomar 28
National Bowl: Mt. San Antonio 34, El Camino 7
Other Games
Central Conf. Championship Bowl: Golden West 51, Long Beach 36
American Conf. Championship Bowl: East L.A. 42, Santa Monica 28
Beach Bowl: Ventura 17, Desert 16
Golden State Bowl: Riverside 31, Saddleback 14
Western State Bowl: Allan Hancock 58, L.A. Harbor 11
2012 Southland Conference Alignment
National Conference (Division I)
Southern Conference
Fullerton
Golden West
GROSSMONT
Orange Coast
Palomar
Saddleback
Santa Ana
Central Conference
Citrus
Desert
El Camino
Long Beach
L.A. Harbor
Mt. San Antonio
Riverside
Northernn Conference
Bakersfield
Canyons
Cerritos
Allan Hancock
Moorpark
Pasadena
Ventura
American Conference (Division II)
Mountain Conference
Chaffey
Compton
East Los Angeles
Mt. San Jacinto
San Bernardino Valley
San Diego Mesa
Southwestern
Victor Valley
Pacific Conference
Antelope Valley
Glendale
L.A. Pierce
L.A. Southwest
L.A. Valley
Santa Barbara
Santa Monica
West Los Angeles
---
Griffins gain conference laurels
© East County Sports.com
EL CAJON (11-18-11) — Nine Grossmont College football players earned All-National Division Southern Conference honors. Sophomore defensive end SHANE PENNIX (6-3, 245) was a unanimous first-team choice, which makes him eligible for All-State recognition.
All-Conference Selections
(From Grossmont College, plus East County products)
ALL-NATIONAL DIVISION SOUTHERN CONFERENCE
(*denotes unanimous selection)
Second Team Offense
OT Blake Bullard, Grossmont 6-3 270 So.
TE Ashton Powell, Grossmont 6-3 265 So.
WR Tim Patrick, Grossmont 6-4 185 Fr.
First Team Defense
DE *Shane Pennix, Grossmont 6-3 245 So.
Second Team Defense
DT Vainini Espenesa, Grossmont 6-3 270 Fr.
ILB Donnie Walsh, Grossmont 6-0 230 Fr.
CB Eldridge Calhoun, Grossmont 6-0 175 So.
S David Edgerson, Grossmont 5-11 205 So.
P Steffan Mos, Grossmont 6-1 190 Fr.
ALL-CENTRAL DIVISION EAST CONFERENCE
First Team Offense
OT *Marc Pouvave, Southwestern (Monte Vista) 6-5 325 So.
RB Aaron Harris, Southwestern (Granite Hills) 6-0 190 So.
Second Team Defense
S Nick Floyd, Southwestern (Grossmont HS) 5-11 180 So.
ALL-AMERICAN DIVISION MOUNTAIN CONFERENCE
First Team Defense
S Lucas Stafford, SD Mesa (El Cajon Valley) 6-4 205 So.
---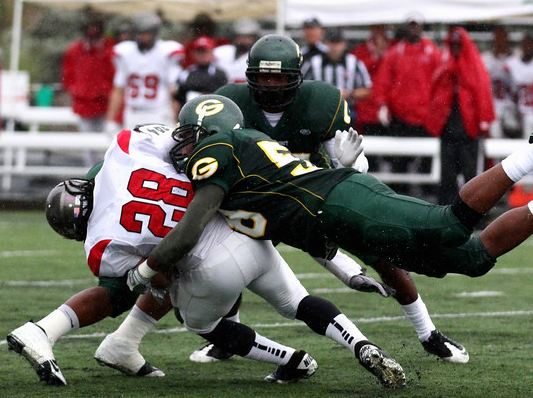 Grossmont linebacker Lakeem Lewis
levels Palomar's Jermaine Carter.
(Frank Price photo, youatplay.com)
VIEW/PURCHASE
PHOTOS
Week 11 Scoreboard
Sat., Nov. 12
Tier One
Southern Conference
Palomar 34, Grossmont 21
Mt. San Antonio 27, Pasadena 14
Saddleback 44, Fullerton 40
Northern Conference
Ventura 31, El Camino 27
Bakersfield 45, Canyons 35
Cerritos 35, Allan Hancock 27
---
Tier Two
East Conference
Riverside (10-0) 59, Southwestern 24
Golden West 30, Desert 28
Orange Coast 25, Santa Ana 22
West Conference
L.A. Harbor 38, Ventura 16
Citrus 28, Long Beach 6
Antelope Valley 44, Chaffey 39
---
Tier Three
Mountain Conference
San Diego Mesa 53, Compton 14
East L.A. 48, SBVC 44
Mt. San Jacinto 33, Victor Valley 32
Pacific Conference
L.A. Pierce 47, L.A. Valley 17
L.A. Southwest 56, Glendale 50 (OT)
Santa Monica 32, West L.A. 21
Bye: Santa Barbara
Grossmont RB Joshua Bell
(Frank Price photo, youatplay.com)

VIEW/PURCHASE
PHOTOS
Another 3-point setback for Griffins
Palomar clinches playoff berth, 34-31
By Bill Dickens
© East County Sports.com
EL CAJON (11-13-11) — Grossmont College had its chances of denying rival Palomar a berth in the Southern California Community College football playoffs.
Hosting the Comets in the regular-season finale during a steady rain Saturday (Nov. 12) at Mashin-Roth Memorial Field, the Griffins were about 10 yards away from a possible game-tying field goal in the fourth quarter.
They fumbled the ball away at the Palomar 33-yard line and David Moodie recovered with less than five minutes left.
Grossmont would have one more chance, but the Comets clinched their playoff berth and a 34-31 victory over the Griffins when Jonathan Simpson intercepted a pass at the 44 with 1:32 remaining.
Palomar will advance to next weekend's SoCal playoffs and will most likely face Cerritos, a team the Comets beat 41-27 the second week of the regular season. Pairings for the four-team playoff will be announced on Sunday (Nov. 13).
"Grossmont played really well and we knew they were going to," Palomar coach JOE EARLY said. "We played uninspired on defense especially in the first half."
And the Griffins were able to capitalize, grinding out 498 yards on 55 plays – an average of 9.1 yards per snap.
Quarterbacks MIKE KARLS of Grossmont and David Fisher of Palomar did remarkably well considering the non-stop precipitation. They were delivering a slippery ball and that was obvious although each man suffered but a single interception.
Karls clicked on 11 of 24 throws for 223 yards, including scoring strikes to ALEX CORNIST (55 yards), LAVANT MOORE (32) and TREVOR ROE (6). Fisher connected on 13 of 25 for 187 yards and a TD.
"The passing game wasn't what it would have been if we'd played in dry weather," Early said. "But I think both guys did well considering the elements."
Moore led Grossmont's receivers with four catches for 83 yards.
"Catching the ball is all about focus," said Moore, who is from Omaha, Neb.
Moore's TD catch came when he reached over a Palomar defender to grab the ball and then made a pivot and dash to the end zone, cutting the Comets advantage to 21-14 in the second quarter.
"Their guy didn't touch it – it was all me," Moore added.
"It was a tough season," added the freshman receiver. "We should have won this one. But I'll be back next year looking for bigger and better things."
Grossmont running back TUCKER SPRUILL, who spent half the season as a linebacker, rushed for a game-high 133 yards and one TD on 15 carries. He made a critical fumble when he muffed a handoff that Palomar recovered for a touchback in the second quarter.
Palomar pounded out 511 yards on 92 plays, including 324 on 67 carries.
"I'm glad it's over," Early said. "Our conference is extremely tough and to go 4-1 says something about our players."
It was a strange season for the freshmen-oriented Griffins, who suffered their first non-winning campaign since 1999. They wound up 4-6 overall and 2-3 in the National Division Southern Conference – the toughest six-team circuit in the state.
Three of Grossmont's losses came by three-point margins.
Safety DAVID EDGERSON led the Griffins with 13 tackles, JOSH CANUP had 11, and VAININI EPENESA had 10. Corner DORION HOWARD had an interception and 4 pass breakups.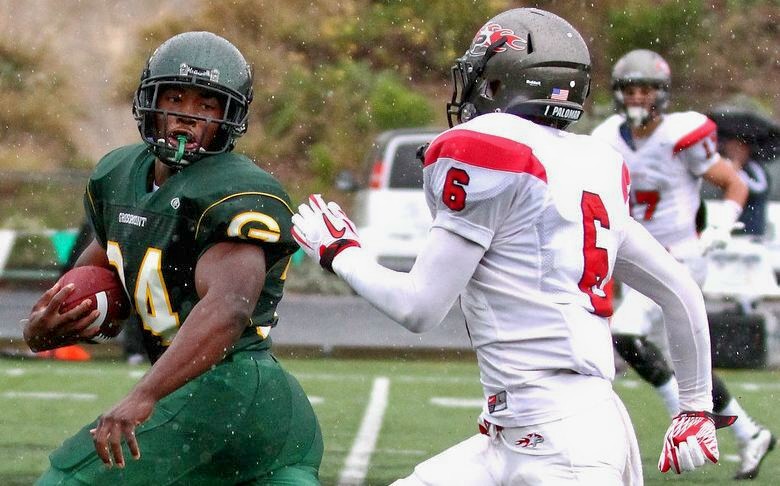 Grossmont receiver Alex Cornist (left) pulls away from Palomar
defender Brandon Green on this long, 56-yard touchdown pass.
(Photo by Frank Price, youatplay.com)
---
Second place up for grabs when Griffins host Palomar

© East County Sports.com
EL CAJON (11-11-11) — At the very least, Grossmont College has a chance to play spoiler when the Griffins close the regular season hosting Palomar Saturday (Nov. 12) at Mashin-Roth Memorial Field at 1 p.m.
If the Griffins (4-5, 2-2) were to upset the Comets (6-3) and Fullerton (5-4) somehow found a way to knock off Saddleback (7-2) in Saturday's finales, Grossmont would finish second in the rugged National Division Southern Conference at 3-2. Palomar would also be 3-2, while Saddleback would be eliminated for SoCal playoff consideration.
Palomar pulled out a 44-41 victory over Saddleback last week in Escondido, while the Griffins pounded Pasadena 42-13 in the City of the Roses.
The Comets have two of the state's top receivers in 6-foot-5, 210-pound Alex Wheat and 6-3, 190-pound sophomore Nigel Westbrooks. Each of them has reeled in 10 TD passes and they surely will create physical size mismatches for Grossmont's secondary.
Thus, the role of keeping Palomar from going on a roll will be up to the Griffins' front seven. Pressuring the quarterback will be the order of the day.
Speaking of quarterbacks, Palomar has a pretty good one in David Fisher (24 TDs, 238.9 ypg).
Grossmont's defense has been lightning of late. Led by end SHANE PENNIX (41 tackles, 7 sacks), tackles VAININI EPENESA and JAMES TRIPLETT, linebackers DONNIE WALSH (60 tackles) and LAKEEM LEWIS, along with safeties DAVID EDGERSON and JOSH COX.
GRIFFIN GRAFFITI — Palomar leads the all-time series 15-11, but the Griffins have won two of the last three meetings. Yet again, Palomar won last season 43-35... The Comets have scored 40 or more points in seven of their nine games this year... QB MIKE KARLS and defensive end SHANE PENNIX received conference player of the week honorable mention honors... A Grossmont record 23 receivers have caught passes this season with TIM PATRICK leading the way with 21 grabs and seven TDs.
---
Week 10 Scoreboard
Sat., Nov. 5
Tier One
Southern Conference
Grossmont 42, Pasadena 13
Palomar 44, Saddleback 41
Mt. San Antonio 35, Fullerton 24
Northern Conference
Canyons 36, Ventura 34 (Canyons: 25-yd FG with three seconds left)
Cerritos 41, Bakersfield 19
El Camino 38, Allan Hancock 14
---
Tier Two
West Conference
Long Beach 45, Chaffey 21
Moorpark 27, Citrus 21
L.A. Harbor 59, Antelope Valley 52
East Conference
Santa Ana 35, Southwestern 17
Golden West 27, Orange Coast 20
Riverside 44, Desert 31
---
Tier Three
Mountain Conference
Mt. San Jacinto 49, San Diego Mesa 24
East L.A. 45, Compton 13
SBVC 59, Victor Valley 41
Pacific Conference
West L.A. 34, Santa Barbara 13
L.A. Valley 35, L.A. Southwest 32
Santa Monica 47, Glendale 41
L.A. Pierce - Bye
Griffins drop Pasadena,
moving into third place
© East County Sports.com
PASADENA (11-6-11) — On paper, Grossmont College's matchup with Pasadena seemed to be an even push with both teams coming into the matchup with identical records at 3-5 overall, 1-2 in conference. With history on the side of PCC owning an overall mark of 6-1 against the Griffins, it was a do-or-die game for Grossmont if they wanted to avoid their first losing season since 1999.
It turned out that on the field Saturday (Nov. 5) night at Jackie Robinson Stadium it was a complete mismatch as the Griffins dismantled the Lancers 42-13 to bring them back to.500 in the SCFA National Division Southern Conference.
After losing its first six contests with Pasadena, the Griffins have not only made their mark in the record books by establishing the highest number of points against them with the 69 they hung on them last year, but they made a new mark with a two-game span of 111 by one opponent against the Lancers.
Everything seemed to click on this night.
"We played great on both sides of the ball and guys were just making plays left and right," said Grossmont coach MIKE JORDAN proudly.
After spotting PCC the opening touchdown of the game Grossmont lineman VAININI EPENESA blocked the PAT attempt. Sophomore quarterback MIKE KARLS then led his Griffins 60 yards on just 8 plays and hit TIM PATRICK for a 26-yard touchdown pass while only taking 1:51 off the clock.
"We came out and did exactly what we wanted to do on offense," Karls said after posting 185 yards and 4 scores through the air. "Put points up as fast as possible."
The offense put up big numbers on the night, compiling a season-high 515 yards on 88 plays.
Not to be outdone was a stingy Grossmont defense.
The Lancers roster owns the No. 1 receiver in the state in receptions – Wayne Peters – averaging 8.4 receptions a game. He was virtually shut down, pulling down only three balls for 12 yards. In fact the entire PCC team was held to a miniscule 197 yards on 62 plays thanks to SHANE PENNIX (Valhalla) Co.
"Our coaches did a great job preparing us what plays they were gonna run based on the formations they lined up in," Pennix acknowledged after collecting 6 tackles and registering his 7th sack of the season.
The secondary had just as much responsibility for the Griffins' defensive domination. The quartet of corners DORION HOWARD and KENNAN SANDERS along with safeties DAVID EDGERSON and JOSHUA COX were dialed in all night. PCC ended the game completing only 10 of 33 passes (30 percent) for 132 yards for a forgettable 4 yards per attempt.
Trailing early in the second quarter Karls connected with Patrick on their second touchdown and that was the beginning of 35 unanswered points as the Griffins never looked back.
To make both scoring strikes even more impressive, the Lancers were called for pass interference on both scoring strikes, but Patrick still made the plays. JOSHUA BELL scored on an 18-yard aerial and ALEX WOLF hauled in a 31-yard pass to complete Karls' scoring total. Ten receivers shared in the aerial total.
"Last week against Fullerton I struggled," Patrick said after registering a team-high 5 catches for 69 yards. "Usually when that happens I tend to have a good game the next week. Mike usually doesn't have enough time to find us deep down field, but tonight he did."
The unsung stars for Grossmont were the offensive linemen as they dominated in the trenches, allowing 10 different ball carriers to amass 261 yards on the ground in 51 attempts.
Leading the pack was the not-so newcomer to the backfield TUCKER SPRUILL. Being thin in the linebacker corps Spruill was snatched off offense after the first game this season, but after Coach Jordan thought he wasn't being used enough on defense he decided to put him back in the offensive backfield and has reaped the benefits.
Spruill rushed 14 times for 86 yards and added a 1-yard touchdown plunge against Pasadena. But his attitude in which he did so didn't go without notice. At 5-foot-10, 200 pounds he hit the hole like a 275-pound fullback, running defenders over while also jumping over any defender that attempted to lower his pads on him.
"This was my first game back on offense and as soon as Coach Jordan put me in there I was just ready to go," he said. "I'm just happy to have a good game."
Not only did the hogs up front poke holes in the Pasadena defense to open up the ground game, they also allowed their quarterbacks plenty of time in the pocket to find receivers. Whenever things seemed like they were breaking down Karls summoned his inner Michael Vick and scrambled around buying more time to find open receivers. He also finished the night rushing 7 times for 55 yards.
When asked about his offensive line's play, Karls just grinned.
"Those guys stepped it up big tonight and I even had enough time for a coke and a smile back there," he said. "It really was awesome! I'm gonna take the extra hour we get tonight when we set our clocks back and just enjoy this one a little more."
---
Griffins face historic Pasadena
© East County Sports.com
PASADENA (11-4-11) — Located in a city that comes to life on Dec. 31 and Jan. 1, Pasadena City College annually has the infamous Rose Parade march past its confines on New Year's Day.
Little of that hoopla probably does not mean much to the Pasadena CC football players nor the Grossmont College Griffins, who will face off in a National Division Southern Conference encounter Saturday (Nov. 5) at the Lancers' Jackie Robinson Stadium at 6 p.m.
These teams have identical records of 3-5 (overall) and 1-2 (NDSC) and are hoping to balance the books by the conclusion of the season.
For Grossmont, defense has more often than not been the winning ticket. Winning offensive shootouts, which was the Griffins mantra in the past, has not been the case this season. When the Griffins play well and do not commit turnovers they are 3-0.
The mainstays of the Grossmont tackling machine include safety DAVID EDGERSON (51 tackles, 4 for loss, 2 interceptions), end SHANE PENNIX (6 sacks) and linebacker DONNIE WALSH (57 tackles, 9 for loss and 2 sacks).
Pasadena's Wayne Peters leads the SCFA with 8.4 catches per contest this season. Peters is also in the top-five in all-purpose yards, averaging 150.4 ypg.
Lancers QB Cesar Hernandez is averaging 206 ypg game through the air. This is the sixth time this season that the Griffins will be facing a top-30 QB.
GRIFFIN GRAFFITI — Pasadena leads the all-time series 6-1 with Grossmont's only victory coming last year by a count of 69-34... High score, you bet. But the Griffins' record for points in a game is 83 points against Mt. San Jacinto in 2005 when they captured the state and national championships... STEFFAN MOS has been chosen the SCFA Southern Conference special teams player of the week. Mos was awarded the honor after his 40.6 average (on seven punts) performance against Fullerton. Three of his punts were inside the 20, including one that was downed at the one and led to a safety... Honorable mention conference player of the week honors went to Pennix and Griffins quarterback MIKE KARLS (220 yards total offense, 2 TD passes).

HISTORICAL HERITAGE — Brooklyn Dodgers baseball great Jackie Robinson – the first black player to play in the Major Leagues (1947) – for whom the stadium is named, attended Pasadena CC in the late 1930s where he participated in basketball, football, baseball, and track before moving on to UCLA. On the Lancers football team, Robinson played quarterback and safety. He was a shortstop and leadoff hitter for the baseball team, and he broke school broad jump (long jump) records that still stand.
---
Week 9 Scoreboard
Sat., Oct. 29
Tier One
Southern Conference
Grossmont 19, Fullerton 13
WATCH THE REPLAY
HERE
(From Fullerton College Internet)

HINT: Griffins' Plays o' the Game at 49:20 (off.) and 1:41:01 (def.).
Mt. San Antonio 38, Saddleback 34
Palomar 40, Pasadena 6
Northern Conference
Cerritos 48, Canyons 42 (2-OT)
El Camino 31, Bakersfield 7
Ventura 29, Allan Hancock 28
---
Tier Two
West Conference
Citrus 24, L.A. Harbor 14
Long Beach 58, Antelope Valley 45
Moorpark 27, Chaffey 17
East Conference
Golden West 35, Southwestern 10
Desert 28, Orange Coast 24
Riverside 35, Santa Ana 27
---
Tier Three
Mountain Conference
San Diego Mesa 21, SBVC 10
East L.A. 24, Victor Valley 7
Mt. San Jacinto 53, Compton 16
Pacific Conference
Glendale 38, Santa Barbara 17
L.A. Southwest 26, L.A. Pierce 19
Santa Monica 26, L.A. Valley 22
West L.A. - Bye
Obit: Murphy, 72, former long-time coach at FC & CSUF
(OC Register)
WEEK NINE
Grossmont stings Fullerton,
sending Hornets to cellar

Pennix interception clinches 19-13 win
© East County Sports.com
EL CAJON (10-30-11) — Grossmont College hasn't suffered through a losing football season since 1999 when the Griffins finished 4-6.
Although they lost five of their first seven contests this year, the Griffins have a shot at reaching the.500 mark if they can win their final two games – next week at Pasadena and Nov. 12 at home against Palomar.
Led by a rough and tumble defense, the Griffins staved off visiting Fullerton, 19-13, in a National Division Southern Conference encounter Saturday (Oct. 29) at Mashin-Roth Memorial Field.
This was a game of big plays for the Griffins (3-5, 1-2), especially on the defensive side.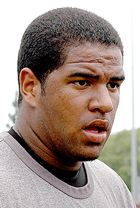 Shane Pennix

On Fullerton's final series of the day, the Hornets marched 45 yards on 13 plays to the Grossmont 22-yard line. With 39 seconds left, Griffins sophomore end SHANE PENNIX picked off a Fullerton screen pass at the Grossmont 23 and returned it 13 yards to seal the victory.

"When the offense struggles it's up to the defense to pick them up," Pennix said. "I think this was our best defensive game of the year so far."

The Griffins were definitely resistant in that last series with the game on the line. LAKEEM LEWIS chalked up one of Grossmont's six sacks during that stretch and JOSH COX tackled Hornets 6-foot-3, 200-pound quarterback Conor Bednarski for a 4-yard loss on a QB scramble.

On the play prior to Pennix's key theft, inside linebackers ELLIOT LONG and DONNIE WALSH combined to sack Bednarski.

"We shot the 'B' gap," Long said. "Donnie hit him high and I hit him low."

Of Fullerton's 72 plays, six resulted in sacks and eight in tackles for losses. Cox intercepted his third pass of the season and rolled up eight tackles. Safety DAVID EDGERSON led the Griffins with nine stops, eight of them solo.

Pennix and Lewis had a pair of sacks apiece in the game.
Grossmont pass rusher Vainini "Vice"
Epenesa (55) gets held by a lineman from
Southwestern earlier this season.
(File photo by Frank Price, youatplay.com)

"We were mixing it up pretty much," Grossmont tackle VAININI EPENESA said. "Sometimes we would attack the quarterback. But they ran a lot of zone plays so we had to stay home a lot, too."

After a 45-yard punt by STEFFAN MOS was downed by JOSH CANUP at the Fullerton 1-yard line with the score knotted at 7-7 in the third quarter, Cox and JAMES TRIPLETT tackled the Fullerton ball carrier 2 yards deep in the end zone for a safety.

Other Grossmont defensive standouts included corner DENZEL PLEASANT and Walsh.

Mos averaged 40.6 yards on seven punts. Three of them landed inside the 20.

Grossmont sophomore quarterback MIKE KARLS, who was scrambling much of the afternoon, completed 12 of 21 passes for 174 yards. That included a 21-yard scoring strike to LAVANT MOORE to make it 7-0 in the second quarter. Moore stepped in front of a Fullerton defender who was preparing to make an interception in the end zone.

Then after a 35-yard field goal by TYLER STRICKLAND extended Grossmont's advantage to 12-7 in the third period, Karls hit wide receiver ASHANTE BOYD with a scoring pass that covered 80 yards and stretched the score to 19-7 late in the third quarter.

"I'm proud of my guys for not giving up on the season," Grossmont head coach MIKE JORDAN said. "When you aren't winning it wears on your mind. That is a tribute to all the kids and coaches out here. Nobody is happy when you're losing. But it shows what kind of people we have."
---
Griffins, Fullerton, both looking up
© East County Sports.com
EL CAJON (10-28-11) — The Grossmont College Griffins are no doubt pleased to be back home and playing in the daylight after last week's blackout at Mt. San Antonio College.
No question the National Division Southern Conference is the toughest community college football bracket in the nation. Thus, when Fullerton College (5-2, 0-2) and Grossmont College (2-5, 0-2) faceoff Saturday (Oct. 29) at Mashin-Roth Memorial Field at 1 p.m., it will be more than just a battle of last place teams.
While the Hornets were being knocked around by Palomar 41-18 last week, Grossmont was suffocated by defending champion Mt. SAC 28-6.
So the goal for both teams is escaping the cellar, although Fullerton remains in the running for a post-season bowl game. Grossmont has been eliminated from postseason consideration for only the third time in 11 seasons.
MAURICE PAYNE (55 carries, 414 yards, TD), E'LON SPIGHT (42-223, 2 TD) and quarterback MIKE KARLS (77-195, 4 TDs) lead Grossmont's running game.
Karls is the Griffins' top passer with 890 yards and 10 TDs. He has spread his 75 completions (out of 148 attempts) among 22 receivers, which ties a Grossmont record.
TIM PATRICK leads the Griffins with 14 catches for 186 yards and five touchdowns.
On the defensive side, the Griffins have improved every week. Among the mainstays are safety DAVID EDGERSON, corner DENZEL PLEASANT, linebackers CAMERON SAVINI, LAKEEM LEWIS, and linemen SHANE PENNIX and JAMES TRIPPLETT.
GRIFFIN GRAFFITI — After a 5-0 start, the Fullerton Hornets – ranked No. 7 in Southern California – have dropped their first two conference games, falling to Pasadena 30-20 and Palomar 41-18... The Hornets lead the all-time series 15-4, including victories each of the last three years... Grossmont's last win over Fullerton was 47-34 in the 2003 SoCal finals, when the Griffins dominated early to mount a 30-point lead... GC linebacker DONNIE WALSH received honorable mention Southern Conference player of the week recognition after making eight tackles, one for loss... FC defensive back Tra Sumler also received honorable mention after recording 12 tackles vs. Palomar.
---
Week 8 Scoreboard
Sat., Oct. 22
Tier One
Southern Conference
Mt. San Antonio 28, Grossmont 6
Palomar 41, Fullerton 18
Saddleback 56, Pasadena 21
Northern Conference
Allan Hancock 34, Canyons 27
Cerritos 42, El Camino 21
Ventura 13, Bakersfield 0
Tier Two
West Conference
Chaffey 16, L.A. Harbor 13 (OT)
Citrus 37, Antelope Valley 30
Long Beach 35, Moorpark 12
East Conference
Orange Coast 34, Southwestern 31 (2-OT)
Riverside 44, Golden West 13
Santa Ana 31, Desert 24
Tier Three
Mountain Conference
Victor Valley 40, San Diego Mesa 17
East L.A. 31, Mt. San Jacinto 13
SBVC 40, Compton 13
Pacific Conference
L.A. Valley 27, Santa Barbara 0
Santa Monica 37, L.A. Pierce 31
West L.A. 35, Glendale 13
L.A. Southwest - Bye
WEEK EIGHT
Defending state champs top Griffins
© East County Sports.com
WALNUT (10-23-11) — It's no question to say that two-thirds of the way through the 2011 season of the rebuilding Grossmont College Griffins has been nothing short of a rollercoaster ride.
After losing their first three games the Griffins bounced back by winning the next pair, outscoring their opponents 76-31.
The last two weeks have added up to frustration, including Saturday's (Oct. 22) loss to nationally ranked No. 4 Mt. San Antonio 28-6.

Such is life in the National Division Southern Conference, which is recognized as the top six-team circuit in the state. The Mounties (6-1, 2-0), the two-time defending state and national champions, used a bone-crushing defending to stymie the Griffins (2-5, 0-2).
The Mounties marched down the field on a 9-play 58-yard drive and in the end it would turn out that it was all they needed.
The very first play facing a 7-0 deficit was a sign of things to come for Grossmont as a read play resulted in a fumble that the Mounties corralled on the 29-yard line. After a questionable pass interference call on 3rd -and-long kept the drive alive, Grossmont's JOSHUA COX made a huge play as he forced a fumble at the 2-yard line on the receiver's way into the end zone. The ball bounced out of the end zone for a Griffin touchback.
When a team has 24 penalties for 229 yards as the Mounties did, they were just begging for defeat. But again, Mount SAC provided itself on the defensive as it limited the Griffins to 67 total yards in 50 plays.
There are many deceptive stats just on paper. But one that is glaring is Grossmont was 1-for-13 on third down conversions.
The Griffins kept getting awarded the opportunity to make something happen, but were just never able to capitalize on all the Mounties mistakes as the refs threw flag after flag. In fact they only got into Mt. SAC territory twice all night.
In the final count Mt. SAC had 84 plays for 451 yards and held a time of possession advantage of 38:50 to 21:50.
DONNIE WALSH led the defense with 8 tackles while former Valhalla standout SHANE PENNIX registered a sack.
With the Griffins down 28-0 late in the game, No. 3 quarterback HARRISON STEWART saw his first action of the season and made the most of it as he led Grossmont 74 yards on an 8-play drive, connecting with TIM PATRICK on a 31-yard pass with only 100 seconds left in the game.
It might have seemed to be a small victory, but it saved the Griffins from being shutout for the first time since College of the Canyons kept them scoreless in the second round of the SoCal playoffs 30-0 in 2004. That's a span of 74 games and that streak now lives on.
---
Griffins tangle with power Mt. SAC
Mounties: two-time state, national champs
© East County Sports.com
WALNUT (10-21-11) — Just the thought of playing a football game against Mt. San Antonio College should strike fear in an opponent.
Of course the fact that Mt. SAC is the two-time defending state and national champions makes the Mounties more than simply a formidable foe. They have, however, stumbled once in six starts this season after falling to unbeaten Riverside 29-26 last month.
Grossmont College (2-4, 0-1), which tees it up in the Mounties' yard on Saturday (Oct. 22) at 6 p.m., in a National Division Southern Conference contest, is heading north looking to spring an upset.
The Griffins have some positive comparisons in that they clobbered College of the Canyons 38-14, while the Mounties (5-1, 1-0) escaped 17-10.
While Grossmont killed itself with turnovers in a 37-23 loss to top-ranked Saddleback in last week's conference opener, Mt. SAC pinched Palomar 27-14 on the strength on three touchdown passes by Cameron Deen.
But it was Mt. SAC's ground game (267 yards) that controlled the Palomar game. National Division Southern Conference Offensive Player of the Week Alapeti Magalei barged for 163 yards to pace the Mounties.
Grossmont fell behind Saddleback 21-0 after one quarter but scrambled back to close the deficit to four points midway through the third quarter. But the Griffins six turnovers and a blocked punt spoiled Grossmont's upset bid which certainly was within reach.
GRIFFIN GRAFFITI — Grossmont punter STEFFAN MOS (Clairemont High) was selected the National Division Southern Conference Special Teams Player of the Week. The 6-foot-2, 209-pound sophomore averaged 43.6 yards per kick, four of which landed inside the 20-yard line... Running back DONTAE WILLIAMS, who came off the bench to lead the Griffins with 105 yards and 2 TDs against Saddleback earned conference honorable mention honors as did safety DAVID EDGERSON (8 tackles, fumble recovery and an interception)... Mt. SAC leads this all-time series 14-3... The Mounties won 34-20 last year and 13-10 in 2006 – coach MIKE JORDAN's first game as head man... In 2005, the Griffins opened the season with a 21-17 win over the Mounties and continued on to capture the state and national championships with a 13-1 record under Coach Mike's father, DAVE JORDAN.
---
Week 7 Scoreboard
Sat., Oct. 15 (unless noted)

Tier One
Southern Conference
Saddleback 37, Grossmont 23
Mt. San Antonio 27, Palomar 14
Pasadena 30, Fullerton 20
Northern Conference
El Camino 42, Canyons 28
Cerritos 31, Ventura 24
Allan Hancock 35, Bakersfield 28
Tier Two
West Conference
Citrus 30, Chaffey 23
Moorpark 41, Antelope Valley 24
Long Beach 31, L.A. Harbor 28
East Conference
Golden West 30, Santa Ana 17 (Thurs.)
Desert 45, Southwestern 14
Riverside 61, Orange Coast 17
Tier Three
Mountain Conference
East L.A. 21, San Diego Mesa 6
Mt. San Jacinto 43, SBVC 28
Victor Valley 41, Compton 13
Pacific Conference
L.A. Pierce 17, Santa Barbara 7
Santa Monica 56, L.A. So'west 34
West L.A. 28, L.A. Valley 26
Glendale - Bye

WEEK SEVEN
Grossmont turnovers ruin
bid to top Southland's best

© East County Sports.com
EL CAJON (10-16-11) — Although the Grossmont College Griffins are obviously a much improved team than they were when they gave away their season opener to San Diego Mesa due to turnovers and penalties, Saturday's (Oct. 15) National Division Southern Conference opener against visiting Saddleback had an eerie resemblance to the Mesa game.

There were many glaring differences, however, between that 33-30 loss to the Olympians and the league opener against the undefeated Gauchos, the No. 1 ranked team in Southern California.

None of those differences were statistically speaking as Saddleback ran its record to 6-0 with a 37-23 victory over the Griffins (2-4). In both games Grossmont turned the ball over six times and rolled up double digit penalties.

All of Saddleback's points were due to Grossmont's miscues, which included a blocked punt that set up a 4-yard scoring drive for the Gauchos.

Mesa has lost five straight since the Griffins committed 16 penalties that helped set up 23 points for the Olympians.

The Saddleback-Grossmont duel was a physical encounter that featured 170 plays, including 98 passes. Had the Griffins played the same level against Mesa as they did against the Gauchos, their record would stand at.500. Four of Saddleback's "scoring drives" were of 25 yards or fewer, including junkets of 4 and 6 yards.

Both the Griffins and the Gauchos played better defensively than the score indicates. Grossmont forced five turnovers (three fumble recoveries and two interceptions).

Safety DAVID EDGERSON, a sophomore out of New Orleans, made some jarring hits for the Griffins as he notched a team-high eight tackles. He also recovered a fumble and intercepted his second pass in as many games.

JOSHUA COX, who hails from Miami, Fla., grabbed his second interception of the season, and defensive player of the week SHANE PENNIX (Valhalla) kept the pressure on Gauchos quarterback Ben Gomez, the state's leading passer all afternoon.

Other defensive standouts for Grossmont included corner DENZEL PLEASANT (Clovis, N.M.) who recorded 7½ tackles and recovered a fumble. JAMES TRIPLETT (Otay Ranch) also fell on a fumble for the Griffs.

Offensively the Griffins rolled up 368 yards on 91 plays. DONTAE WILLIAMS (Houston, TX) came off the bench to rush for 105 yards and two touchdowns on 16 carries. E'LON SPIGHT (St. Louis, Mo.) was one of 10 receivers to catch a pass from quarterback MIKE KARLS (Palm Springs). Spight caught 7 balls for 87 yards, while Karls completed 23 of 48 passes for 211 yards and a 5-yard scoring toss to WYMAN ASHTON POWELL (San Diego Serra).

Except for one costly blocked punt, STEFFAN MOS (Clairemont) averaged 43.6 on seven kicks – four of those landing inside the 20.

"We just need to learn how to hang onto the ball and how to finish," said Grossmont offensive line coach KEN WILMESHERR. "We started out with a very young team and the transition from high school to this level is much tougher than most of these kids ever imagined.

"The game is a lot faster at this level – there is a lot more going on. Freshmen are going to struggle, and we have a lot of freshmen. When they come in here out of high school they're overwhelmed because there is so much information. You try to keep it as simple as you can within the scheme. Plain and simple, there is a lot of difference than when you have a lot of sophomores.

"But I'll say this, we're a lot better team than we were at the beginning of the year. We've made a lot of progress but we've got a long ways to go."
---
Griffins open conference play
vs. undefeated Saddleback

© East County Sports.com
EL CAJON (10-14-11) — Most coaches do not complain when they have a bye in the schedule, but Grossmont College coach MIKE JORDAN isn't sure if that is a plus considering his Griffins posted back-to-back wins after opening the season 0-3.

So just how good are these Griffins?

Facing off against Saddleback (5-0) – the No. 1-ranked team in Southern California Saturday (Oct. 15) at 1 p.m. – will be no small chore. The Gauchos are averaging 43.8 and 486 yards per game. On top of that they rank No. 6 on defense in the region.

Grossmont (2-3) has rolled over Orange Coast (38-17) and College of the Canyons (38-14).

In its latest outing Saddleback slew Cerritos 56-21 as Ben Gomez, the state's No. 1 passer, completed 24-of-30 passes for 330 yards and three touchdowns.

Grossmont's offensive leaders include quarterback MIKE KARLS (44-84, 608 yards, 9 TDs), who is also a superb scrambler as is evident by his 824 yards and 13 TDs.

MAURICE PAYNE (42-371, TD) is the mainstay of the Griffins ground attack.

Twenty-one Griffins have caught passes, which is one shy of the Grossmont College record. TIM PATRICK is the leader of the pack with nine receptions for 107 yards and four touchdowns.

Sophomore lineman SHANE PENNIX, freshman linebacker DONNIE WALSH and sophomore strong DAVID EDGERSON are the anchors of the Grossmont defense.

GRIFFIN GRAFFITI — Saddleback has won 12 road games in a row...The Gauchos led the all-time series 14-4-1 over Grossmont, including three in a row. The Griffins last win over Saddleback came in 2001 when they prevailed 44-21.
---
Week 6 Scoreboard
Sat., Oct. 8
Grossmont – Bye
Riverside 38, Citrus 24
L.A. Pierce 28, Glendale 20
Santa Monica 33, Santa Barbara 9
Southwestern 31, SBVC 20
West L.A. 55, L.A. Southwest 28
WEEK SIX
Like Pennix, Griffins on a rise
© East County Sports.com
EL CAJON (10-04-11) — For the third time in five weeks a Grossmont College athlete has been named the Southern California Football Association Southern Conference Defensive Player of the Week.
Sophomore defensive end SHANE PENNIX, a graduate of Valhalla, is the latest Griffins defender to receive the coveted weekly honor. The bullish Pennix kept the pressure on all three College of the Canyons quarterbacks in Saturday's 38-14 victory over the visiting Cougars.
Previous Grossmont defensive winners were strong safety DAVID EDGERSON and linebacker CAMERON SAVINI.
Cracking the top 20
For the first time this season perennial power Grossmont College has been included in the coaches top 20 Southern California rankings.
The Griffins, who have grown accustomed to being included in the top 10, are ranked No.19, which isn't surprising since they began the season 0-3, but have rebounded by knocking off two ranked foes.
Taking a bye
Grossmont has a bye this week before beginning its treacherous stroll through the SCFA Southern Conference circuit. No doubt this is annually the toughest league. The Griffins host Saddleback in the Saturday (Oct. 15) opener at Mashin-Roth Memorial Field at 1 p.m.
---
Dive! Dive! Dive!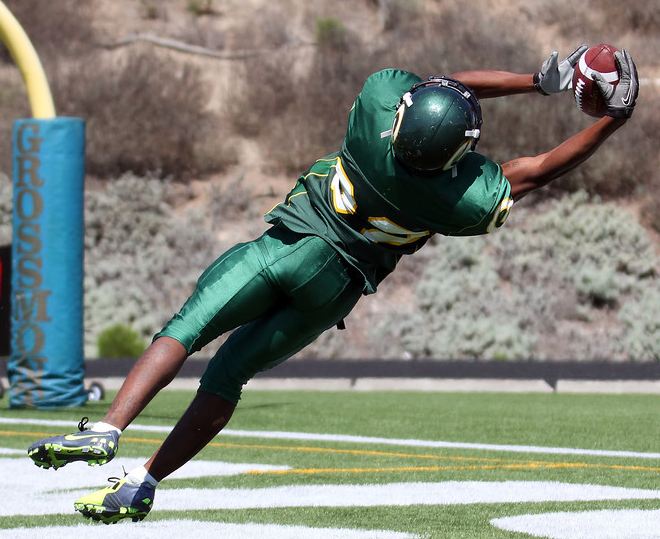 Wide receivers and defensive backs put on an acrobatic clinic during Saturday's ballgame. The best grab (top) was this touchdown reception by Grossmont sophomore Derek White (83).
Other top efforts include (clockwise from left):
Grossmont's Joshua Bell (22), Canyons' Matt Szymanski (14), and an interception by Griffins
defensive back Eldredge Calhoun (21).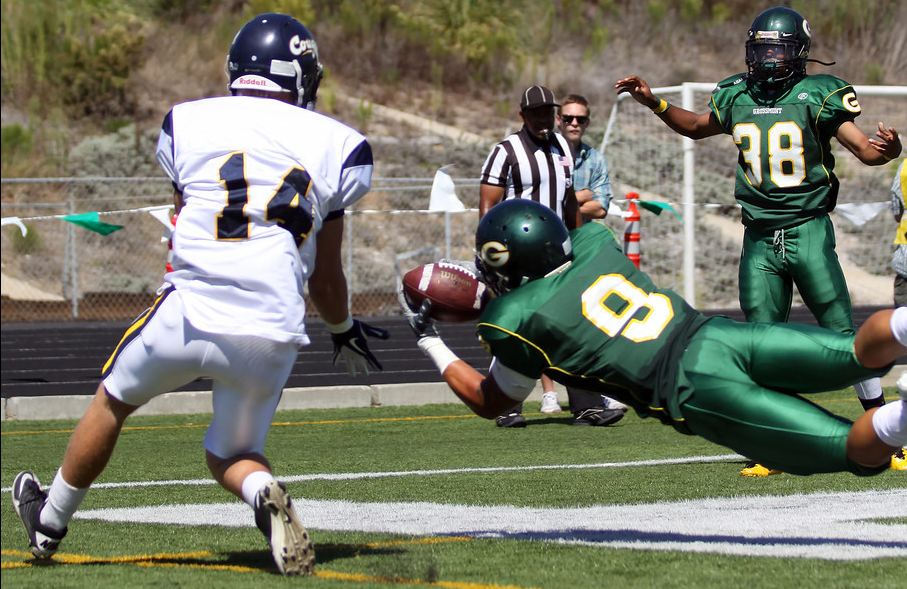 The Griffins' David Edgerson (9) with the dive for

the touchdown to help down the Cougars, 38-14.

(Photos by Frank Price, youatplay.com)

ADDITIONAL PHOTOS

HERE

WEEK FIVE
Real Griffins turnaround
season, bury Canyons

By Bill Dickens
© East County Sports.com
EL CAJON (10-01-11) — Three games into the season Grossmont College football coach MIKE JORDAN had to wonder whether his Griffins would win a game. They were 0-3 against the weakest part of their schedule.

Grossmont has since posted back-to-back victories, including a 38-14 romp over visiting College of the Canyons of Valencia in Saturday's (Oct. 1) non-conference ballgame at Mashin-Roth Memorial Field.

With a bye next week and the start of Southern Conference action two weeks away, Jordan – albeit his team rates as an underdog – believes his club could make a run for a championship.

Reasons for his optimism are many starting with quarterback MIKE KARLS, a deep corps of receivers and strong stable of running backs anchored by MAURICE PAYNE.

Perhaps the most improved group of the bunch is the offensive line. The starting front five in Grossmont's latest conquest consisted of right tackle YOUSIF KHOURY (6-5, 300) out of Steele Canyon, right guard CHRISTIAN TAUSAGA (5-11, 295) from Monte Vista, center ANTOINE ADAMS (6-3, 300) from Miami, left guard JOE GIBSON (6-5, 320) out of West Covina, and left tackle BLAKE BULLARD (6-3, 275) Killeen, Texas. Tight end TREVOR ROE (Torrey Pines), who caught a 38-yard TD pass from Karls to close the scoring, also contributes to the blocking wall as does tight end LUIS SOLIS (Pt. Loma).



Week 5 Scoreboard

Sat., Oct. 1
Grossmont 38, Canyons 14
El Camino 28, Palomar 23
Fullerton 25, Allan Hancock 20
Mt. San Antonio 41, Bakersfield 27
Saddleback 56, Cerritos 21
Ventura 31, Pasadena 19
Others
Citrus 35, SBVC 14
Desert 47, Victor Valley 17
East L.A. 35, Antelope Valley 28
L.A. Harbor 21, Golden West 14
L.A. Southwest 41, Santa Barbara 7
L.A. Valley 30, Glendale 21
Moorpark 48, Compton 7
Orange Coast 38, San Diego Mesa 17
Riverside 68, Chaffey 14
Santa Ana 45, Long Beach 44
So'western 20, Mt. San Jacinto 10
West L.A. 44, L.A. Pierce 21
Bye - Santa Monica

"I think one thing that separates me from the rest is having those big guys in front of me so I have time to read defenses and put our team in the best position possible," said Karls, who completed 13 of 20 passes for 194 yards and 4 touchdowns. He also rushed for 95 yards and one score on 11 carries.

"This group of linemen work so hard and treat me with so much respect that I will do anything for these guys. Those points on the board is me playing through them. I love these guys," Karls added.

Grossmont churned out 522 yards on 68 plays. Payne led a relentless running game with 114 yards on 14 carries. It marked the third time Payne – a Monte Vista High graduate – had broken the century mark in rushing.

JOSHUA BELL, LAVANT MOORE and TIM PATRICK also caught touchdown passes for the Griffins.

On the defensive side, Grossmont notched a season high 6 sacks while holding the Cougars to 320 yards. DORION HOWARD was the leading tackler with 8 stops. SHANE PENNIX racked up two sacks and kept the pressure on three COC quarterbacks all afternoon.

"We knew (Canyons) was a passing team," said Pennix, a sophomore out of Valhalla. "It's like our coaches said, it was a matter of assignment and alignment. I was pressuring, did my moves and their quarterbacks knew I was coming every down."

FRANK COLLINS and LAKEEM LEWIS also had 2 sacks apiece for the Griffins.
---
Griffins hosts powerful Canyons

© East County Sports.com
EL CAJON (9-30-11) — When Grossmont College hosts College of the Canyons Saturday (Oct. 1) at Mashin-Roth Field at 1 p.m., the Griffins will have their hands full.

This is a regular season game, which is rare considering when these teams are accustomed to colliding is during the post-season.

Bottom line is the visiting Cougars are 3-1. The Griffins are 1-3 going into this encounter, coming off a 38-17 squeezing of Orange Coast.

Thus far Grossmont has proven to be a better running team than passing team, which is definitely opposite of the Griffins tradition. MAURICE PAYNE (28 carries, 257 yards, TD) and E'LON SPIGHT (27-176, 2 TDs) give the Grfifins a formidable one-two rushing punch.

Not that the Griffins can't pass. Six-foot-7 CHRIS BONNER (22-62, 347 yards, 2 TDs) is a standup guy in the pocket and 5-foot-11 scrambler MIKE KARLS (31-64, 414 yards, 5 TDs) raises havoc with his ability to run out of trouble.

Canyons employed three quarterbacks in posting a 42-17 romp over East Los Angeles in its latest outing.

The Cougars, who usually kick off their home games at 7 p.m., struggled in a 1 p.m. start at Citrus and trailed 10-0 in the second quarter. However, three quick TD passes from Chris Rinni in the first half provided the wakeup call and the Cougars' defense came alive in the second half to protect a 31-22 victory.

COC lost to Mount Antonio by only a 17-10 count after opening the season with a 44-23 knockout of Antelope Valley.

GRIFFIN GRAFFITI — Linebacker CAMERON SAVINI has been selected the SCFA Southern Conference Defensive Player of the Week. He recorded 13 tackles, including six solo (2 for loss), forced a fumble and intercepted a pass in the victory over Orange Coast... Running back E'LON SPIGHT and punter STEFFAN MOS received honorable mention... The second quarter has been the toughest 15 minutes of the game in each of the Griffins first four encounters. They have been blanked by a composite 40-0 over that period... Grossmont owns a 5-3 all-time series lead over perennial state power Canyons. The Griffins caged the Cougars 36-18 last year... Twenty different Grossmont receivers have hauled in passes this season... The school record is 22.

---
Week 4 Scoreboard
Sat., Sept. 24
Grossmont 38, Orange Coast 17
Riverside 29, Mt. San Antonio 26
Santa Ana 54, Palomar 45 (2-OT)
Fullerton 29, Golden West 26 (OT)
Saddleback 48, Victor Valley 14
Desert 58, Pasadena 28
Others
Antelope Valley 43, Compton 22
Bakersfield 31, Citrus 13
Canyons 42, East L.A. 17
Cerritos 26, West L.A. 10
Chaffey 31, Ventura 25 (OT)
El Camino 27, L.A. Harbor 13
Allan Hancock 41, Glendale 17
Long Beach 54, L.A. Pierce 47
L.A. Valley 24, San Diego Mesa 12
Moorpark 24, Santa Barbara 9
Mt. San Jacinto 35, L.A. So'west 32
SBVC 40, Santa Monica 35
Southwestern – BYE
Grossmont collects 506 total yards,
bury Orange Coast for first triumph

Griffs outscore OCC, 24-0, in second half
© East County Sports.com
COSTA MESA (9-25-11) — After starting the season 0-3 for the first time in 23 years, Grossmont College faced a tall task Saturday (Sept. 24) as the Griffins faced an Orange Coast College squad which boasted the No. 1-ranked rushing attack in the SFCA averaging 326 yards per game.
Don't let the Griffins record fool. Two of the losses were by a total of 6 points where mistakes doomed themselves in before mounting furious comebacks only to fall short.
This team is loaded with talent, but it's young and lacks experience, so like any team you just have to grow and learn from your mistakes. Holding the dubious honor of averaging 154.7 penalty yards per game, which is the most in SCFA, doesn't help either.
"Man it feels good to win," head coach MIKE JORDAN said after Grossmont beat the Pirates at their own game and righted the ship for the time being coming away with a 38-17 victory at LeBard Stadium.
Not only did the Griffins outrush OCC by 42 yards, but they compiled 506 total yards in 79 plays while the defense held the Pirates to 382 yards on 73 plays.
Halfway through the first quarter both offenses started to find their groove.
Sophomore MAURICE PAYNE (Monte Vista) broke off a 39-yard run on the Griffins first play of their second possession. After a personal foul put them back into a 2nd-and-25 CHRIS BONNER hit MARCUS HAIGLER for a 41-yard pass to setup a Payne 2-yard touchdown run.
It took the Pirates only 42 seconds to respond though with a score of their own on a 4-play 76-yard drive to knot things up.
After Bonner hit tight end WYMAN POWELL for a 22-yard score the Pirates scored the next 10 points and took a 17-14 lead into the locker room at half.
That's when the defense of Grossmont took over the game. The Pirates gained the majority of their rushing yards on direct snaps to the halfback, but when they lined up in the Wing T they got absolutely nowhere.
Once they were aligned in that formation the Griffins' defense countered by putting all 11 men in the box and it not only worked, it stymied OCC's attack.
"We knew they only throw it 10 times a game, so if you're gonna beat us, man up one-on-one and prove it," Grossmont freshman linebacker DONNIE WALSH said.
Walsh spent the majority of the night in the Pirates backfield as he seemed to make one play after another.
"Our defensive coordinator (GARRETT ROBINSON) put in a special blitz package for tonight and I thought it was brilliant," Jordan said.
CAMERON SAVINI and the rest of the crew put that plan into effect the entire second half. Savini finished the game with 13 tackles, an interception and a fumble recovery.
With 3:55 remaining in the 3rd E'LON SPIGHT entered with fresh legs and ran all over the worn down front 7 for OCC behind a much quicker offensive line. At the same time MIKE KARLS took over at quarterback.
"I thought Mike did a great job of managing the game. He even made five or six checks which the play ended up better than the one I called," Jordan gladly admitted.
The Griffins immediately responded with a 7-play 70-yard TD drive that gave Grossmont its first lead since late in the first quarter once Spight scampered in from 4 yards out. He amassed 54 yards on five carries that drive, but wasn't done yet.
After the defense put the ball back into the offense's hands they held the ball for a 14-play 60-yard drive that ended with an ANDRES CARRILLO 35-yard field goal to make it a 24-17 Grossmont lead.
"We just kept driving and driving," Spight said. "Our offensive line did a great job and just kept blocking so we wanted to waste the clock and keep the ball as long as we could."
Grossmont had kept its mental mistakes to a minimum by cutting its penalty yardage to half its average, but after a 15-yard personal foul penalty gave the Pirates a first down at the Griffins' 46 the defense came up big again.
Spotting OCC 5 yards on first down the defense then clamped down, as it went from 2nd-and-5 to 4th-and 7. FRANK COLLINS then dropped the runner for no gain and a turnover on downs. He finished with the 2.5 tackles for a loss.
"It was a power right," Spight recalled of the next play. "I just saw the hole and I was gone. Speed kills."
That handoff was taken 57 yards for a game sealing touchdown to put things on ice.
Walsh then abruptly ended things when he leveled a running back in the backfield, forcing a fumble that Savini swallowed up to thwart any chance of a comeback.
"With all the hard work the entire team has been putting in to finally get a 'W' feels great so we can get on a roll before league starts," Walsh stated.
Beating the Pirates at their own game by outrushing the opponent was anything but expected. As Jordan admitted, not even he can remember the last time the Griffins had two players rush for over 100 yards each.
Payne finished the game with 13 carries for 102 yards and 1 score. While Spight ended the day with 11 handles for 132 and two TDs.
---
Griffins seek to drive the Coast
By Bill Dickens
© East County Sports.com
COSTA MESA (9-23-11) — Grossmont College is going to catch host Orange Coast College on the run in Saturday's (Sept. 24) non-conference football encounter that kicks off at 6 p.m. in Orange County.
Although the Pirates have lost two of three decisions, they have somehow captured a No. 20 ranking in the latest Southern California Poll as conducted by the California Community College Football Coaches Association.
Since losing its season opener to Saddleback 44-20, OCC has edged Long Beach CC 38-31 and then lost to Los Angeles Harbor 34-28.
Make no mistake about it – OCC is a running team, averaging 326 yards per game. The Pirates rely on a potent smash-mouth double-wing, ball-control attack. Grossmont (0-3), meanwhile, is allowing 186.7 yards rushing on the defensive side.
Not one to stand pat, count on Grossmont College coach MIKE JORDAN to show some new offensive looks this week. Just what those will be Jordan isn't saying.
LIVE COVERAGE — To watch and listen to the webcast of this game, go to www.socalcollegesports.com and click onto Saturday's live Web stream.
GRIFFIN GRAFFITI — The Griffins are only 6-14-1 in the all-time series against Orange Coast. However, Grossmont has won the last three years, including 42-35 last season... Quarterback MIKE KARLS, linebacker DONNIE WALSH and punter STEFFAN MOS were the Griffins receiving honorable mention in the SCFA Southern Conference for the Southwestern game... GC freshman JOSHUA BELL ranks 3rd in the SCFA with a 32.6-yard kickoff return average.
---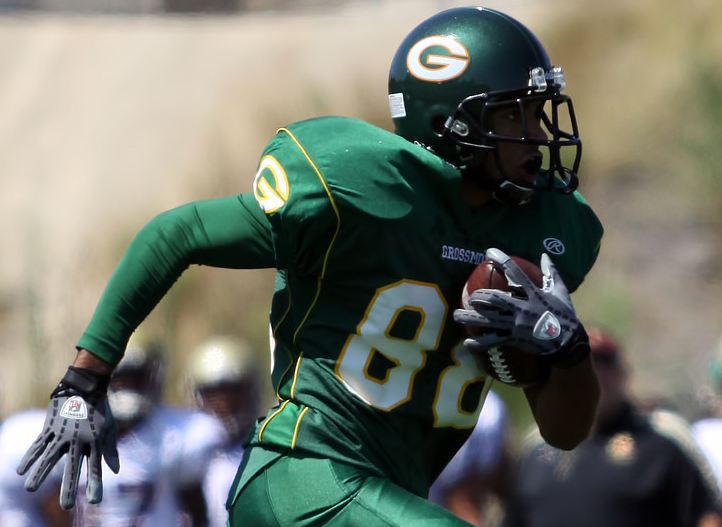 Griffins receiver Mervin Stewart races for
a first-half touchdown vs. Southwestern.
(Photo by Frank Price, youatplay.com)
ADDITIONAL PHOTOS
HERE
& BELOW
Ruben Lawhorn with
34-yard KO runback

GC Tyquandas Byrd
forces the fumble.

Marquise Deadwiler

GC's Donnie Walsh
stops Aaron Harris

Marquise Deadwiler

Jags' Robert Savoy
Week 3 Scoreboard
Sat., Sept. 17
Non-Conference
Southwestern 40, Grossmont 37
Palomar 42, San Diego Mesa 14
Mt. San Antonio 27, Desert 24
Fullerton 28, L.A. Pierce 7
Saddleback 40, Chaffey 24
Pasadena 39, L.A. Valley 9
Others
Bakersfield 28, Antelope Valley 0
Canyons 31, Citrus 22
Cerritos 52, Long Beach 34
East L.A. 48, Glendale 17
El Camino 24, Golden West 21
Allan Hancock 44, Moorpark 17
L.A. Harbor 34, Orange Coast 28
Mt. San Jacinto 45, West L.A. 42
Riverside 73, Victor Valley 7
Santa Ana 53, Santa Monica 27
L.A. Southwest 20, Compton 8
Ventura 48, Santa Barbara 0
San Bernardino Valley / BYE
Jaguars stop Griffins comeback

GC: 0-3 for first time since 1988
© East County Sports.com
EL CAJON (9-17-11) — The predominantly freshmen Grossmont College Griffins are struggling, to say the least.
For the first time since 1988, the Griffins are 0-3 following Saturday's (Sept. 17) 40-37 loss at to visiting Southwestern College at Mashin-Roth Memorial Field.
In fact, in that woeful campaign of 23 years ago the Griffins actually opened the year with five consecutive setbacks. They finished that year 2-8.
In their latest encounter against the Jaguars, the Griffins had two excellent quarters and two others where they were essentially flat.
Grossmont jumped out to a 17-7 first-quarter lead. In fact the Griffins scored on a 63-yard TD pass from CHRIS BONNER to MERVIN STEWART on the second play of the game.
On their third possession the Griffins made it 10-7 on a 29-yard field goal by ANDRES CARRILLO.
It was all Grossmont at that point after ELDRIDGE CALHOUN picked off a Jags pass and returned it 61 yards to the Southwestern 1-yard line. PATRICK ARINZE carried across the final yard and the Griffins were breezing.
After that Grossmont's offense went stagnant and Southwestern's (2-1) caught fire. The Jaguars outscored the Griffins 26-0 in the middle two quarters and the game was on the verge of becoming a rout.
Helping provide the spark for the Jags was slotback MARQUISE DEADWILER, who caught 12 passes for 110 yards, including touchdowns of 15 and 14 yards as Southwestern closed the 3rd quarter with a 33-17 lead.
Quarterback Brett Nelson, who completed 26 of 39 passes for 275 yards and two scoring strikes to Deadwiler, guided a Southwestern offense that was predicated on short passes to the slots.
"Basically they were trying to cover me with a linebacker and a safety and that led to a mismatch," said the speedy Deadwiler, a graduate of Helix High. "This was a great victory for us because they've beaten us a lot in the past."
Grossmont, in fact, has beaten Southwestern 10 of the last 12 years.
"We're pretty awful on defense right now," said Griffins coach MIKE JORDAN. "You can't be giving up 40 points (not to mention 471 yards on 88 plays)."
After an injury sidelined starter Bonner, MIKE KARLS came into the game midway through the 4th quarter with the Griffins trailing by 16 points. Karls was blazing hot.
In his first series he completed 3 of 3 passes for 83 yards, including a 38-yard touchdown pass to JOSHUA BELL. The signal-caller from Palm Springs ran across the 2-point conversion and suddenly it was one-possession game.
Three plays later the Griffins were in business again as JOSH CANUP (Point Loma High) intercepted a Nelson pass and returned it to the Jaguars 9-yard line. One play later Karls connected with TIM PATRICK (University City) for a touchdown that cut Southwestern's lead to 33-31.
In a bid to tie, Karls overthrew his intended receiver on a 2-point conversion pass attempt with 2:34 remaining.
The Griffins still had hope as they had their full complement of timeouts, but the Jaguars were determined to execute the upset as they drove 60 yards in five plays for what proved to be the victory-clinching touchdown.
A key play on that drive was a 15-yard face-masking penalty against Grossmont. Nelson scored the knockout punch on a 9-yard quarterback keeper with 1:41 to play.
Karls, who collected 172 total yards in 16 plays over the final half-quarter, drove the Griffins 80 yards in 9 plays, hitting Patrick with a 9-yard score for the second time. Unfortunately for the Griffins that was the last play of the game.
"I don't know how many third-and-long plays they executed, but it seemed like they were doing it to us all day long,' Jordan said.
Officially the Jaguars were 8 for 19 in converting third-down plays and 1 of 2 on fourth-down.
"You just can't let that happen if you want to win," Jordan concluded.
Griffins linebacker DONNIE WALSH turned in his second strong game in a row with a game-high 13 tackles, including 5 solo stops and 2 for losses.
Other high points for Grossmont included Bonner's first college start, which featured 161 yards passing on 11 of 23 completions.
Punter STEFFAN MOS averaged 39.8 yards on 5 punts, driving three of them inside the 20.
---
Life's tough on the road
Winless Griffins finally play home opener, meet Southwestern on Saturday
By Bill Dickens
© East County Sports.com
EL CAJON (9-16-11) — Southwestern College redshirt sophomore running back AARON HARRIS returns to East County Saturday (Sept. 17) to help the Grossmont College Griffins open their home season at Mashin-Roth Memorial Field in a 1 p.m. kickoff.
The only thing stopping Harris – a Granite Hills High graduate – the past two-plus season has been a serious of nagging injuries. He left last week's 31-10 win over San Diego Mesa after scoring on a 57-yard run despite a crippling series of leg cramps.
"Aaron was OK to play in the second half, but we felt we could win the game without him and allow him to play at full strength on another day," said Southwestern coach ED CARBERRY.
That day will come against the struggling Griffins, who have opened the season with back-to-back losses to Mesa (33-30) and El Camino (34-7). It's only the second time since 1988 that Grossmont has begun a campaign with consecutive setbacks.
Consistency has plagued the Griffins, who meshed a combination of turnovers and penalties into a losing effort at Mesa. Against El Camino, the Griffins were 2 seconds shy of taking a 7-3 edge to the locker room. Of course, El Camino is a perennial Top 10 team.
Sophomore quarterback MIKE KARLS is a bit unorthodox, but is an excellent scrambler who makes the Grossmont offense go. The sophomore from Palm Springs is producing 146.5 yards per game and has scored three touchdowns and passed for a pair.
MAURICE PAYNE (Monte Vista) heads up the Grossmont ground game with 146 yards in two games.
End SHANE PENNIX (Valhalla) is the cornerstone of the Grossmont defense.
GRIFFIN GRAFFITI — Harris ranks 4th in all-purpose running in SoCal with 343 yards in less than six quarters... Grossmont leads the all-time series 25-13-1, including wins in 10 of the past 11 meetings. The Griffins won 45-31 last year, but the Jaguars finished on top three years ago 14-10... Grossmont freshman linebacker DONNIE WALSH (St. Augustine) received SCFA honorable mention recognition for recording a dozen tackles in last week's loss at El Camino.
---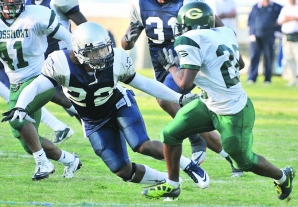 Griffins running back Maurice Payne (right)
with a nice gain against El Camino College.
(Courtesy, ECC 'Union' student newspaper)
Week 2 Scoreboard
Sat., Sept. 10
El Camino 34, Grossmont 7
Allan Hancock 55, Pasadena 21
Mt. San Antonio 17, Canyons 10
Palomar 41, Cerritos 27
Fullerton 31, Ventura 7
Saddleback at Bakersfield, ppd., lightning (moved to Monday)
Others
Southwestern 31, S.D. Mesa 10
Victor Valley 44, Santa Ana 43 OT
Antelope Valley 27, Santa Barbara 7
Chaffey 42, Mt. San Jacinto 22
Desert 41, L.A. Valley 9
L.A. Harbor 44, L.A. Southwest 10
Moorpark 54, L.A. Pierce 7
Orange Coast 38, Long Beach 31
Riverside 53, San Bernardino Valley 6
Golden West 34, Glendale 7
Santa Monica 26, East L.A. 20 OT
West L.A. 54, Compton 0
Mon., Sept. 12
Saddleback 31, Bakersfield 17
No rally cry for Grossmont
ELCO avenges forfeit loss from 2010
© East County Sports.com
TORRANCE (9-11-11) — After falling behind Mesa in their season opener the Grossmont offense finally woke up. Although coming just a bit short of a victory they put up 20 points in the final 19 minutes of the game while compiling 396 yards on offense.
That same offense traveled up north to Torrance on Saturday (Sept. 10) with what seemed to be the same pair of track shoes on as they jumped out of the gates, bursting onto the scoreboard on their first offensive series against El Camino.
The Griffins marched down the field on their first drive 80 yards for the game's opening score. It also turned out to be their only time they saw the scoreboard change in their favor as El Camino claimed a 34-7 victory.
E'LON SPIGHT had 3 carries for 18 yards on the first drive and quarterback MIKE KARLS, fresh off a 4 TD performance the week before, found MARTELL ESTEEN twice through the air for 53 yards, which included a 48-yard touchdown strike to give the Griffins an early 7-0 advantage.
The defense kept par through the first quarter as they held the Warriors to a pair of three-and-outs on their first two possessions. After a bad snap on a punt attempt set El Camino up with great field position on the Griffins 34, freshman safety JOSHUA COX came up with a big interception on an overthrown pass and returned it 12 yards, but more importantly preserved the 7-0 lead.
On the ensuing drive Karls hit Esteen two more times for 40 yards as they drove downfield only to see a field goal attempt come up just short.
That was the end of the first quarter and the Griffins had amassed 114 yards of total offense to that point. They only gained 68 more from there on out.
Reigning SCFA Southern Conference Defensive Player of the Week strong safety DAVID EDGERSON jumped a hitch route for an interception on the Warriors first play of their next drive, but the play was nullified because of a roughing the passer call against Grossmont.
A week after being called for 16 infractions, costing them 148 yards, the Griffins were flagged 11 times for 141 yards in the contest.
All that said it looked like they would take a 7-3 advantage into the locker room at halftime when El Camino called its final timeout of the half with :10 seconds remaining.
Out of timeouts the Warriors decided to take one final shot into the end zone before settling with at least a last second field goal attempt.
After failing to find an open receiver at first the Warriors offensive line gave their QB just enough time to find an open man in the back of the end zone with only :02 seconds left on the clock to take the lead and the momentum with them into the locker room.
Grossmont never recovered in the second half as El Camino held them to only 34 yards of offense while the Warriors drove up-and-down the field for 24 second half points.
Head coach MIKE JORDAN knows his troops are young and going through growing pains.
"We're not ready to win against good football teams yet, but we're on our way," he said. "Still too many young mistakes and they're too good a defensive football team to do that against."
---
By the numbers, Griffins expect improvement at El Camino
© East County Sports.com
TORRANCE (9-9-11) — Based on the offensive-vs.-defensive statistics, Grossmont College should have buried San Diego Mesa College in last Saturday's (Sept. 3) season opener won by the Olympians, 33-30.
The Griffins outgained Mesa 396-187, but came up short on the scoreboard due to 16 penalties and five turnovers (that led to 23 points). That style of play adds up to certain defeat – definitely so against a high-quality crew as is perennial power El Camino.
The Warriors opened their season with a 43-17 romp over Los Angeles Southwest. El Camino rolled up 536 yards of offense, with 321 of it coming via the passing game compared to 299 yards overall for the Cougars.
El Camino quarterback Omar Herrera completed 18 of 27 passes for 268 yards and a touchdown, while running back Ricky Johnson led the ground attack with 110 yards rushing and two touchdowns.
"We had a nice blend of run and pass," El Camino coach John Featherstone said. "I thought Omar had a good game, the receivers did a nice job and the running backs ran hard. I'm proud of the way our offense performed."
The Warriors jumped on the Cougars early and 16-0 with 14:27 left in the second quarter.
It was just the opposite for Grossmont, which fell behind Mesa 30-10 only to fall short in a belated charge. QB MIKE KARLS rushed for three TDs and passed for a fourth.
Sophomore MAURICE PAYNE rushed for 140 yards on 10 carries for Grossmont.
GRIFFIN GRAFFITI — Griffins strong safety DAVID EDGERSON was named the Southern California Football Association Southern Conference Defensive Player of the Week with 8 tackles and a fumble recovery in the unbelievable loss to Mesa... Payne received honorable mention recognition... Grossmont leads the all-time series over the Warriors, 4-2, thanks to El Camino's forfeit of a 21-14 on-the-field victory last year... Former Grossmont assistant football coach JOHN FEATHERSTONE is the head coach at El Camino.
---
Chasing Green
Grossmont receiver Maurice Payne (23)
is off on a long, 63-yard romp vs. Mesa.

(Photo by Frank Price, youatplay.com)
ADDITIONAL PHOTOS
HERE
WEEK ONE / Sat., Sept. 3
San Diego Mesa 33, Grossmont 30
Palomar 45, Southwestern 13
Mt. San Antonio 51, Victor Valley 21
Saddleback 44, Orange Coast 20
Fullerton 21, Santa Ana 13
Pasadena 49, Glendale 28
COMPLETE SCOREBOARD HERE
Five turnovers doom Grossmont
in first loss to Mesa since 1993
© East County Sports.com
SAN DIEGO (9-4-11) — Grossmont College quarterback MIKE KARLS proved that he is the master of the broken play. The 5-foot-11, 185-pound sophomore out of Palm Springs kept everybody guessing in Saturday's (Sept. 2) opener at San Diego Mesa College,
One thing about Karls is he makes things happen. Not always good.
Karls rushed for three touchdowns and passed for a fourth but it wasn't enough to overcome five turnovers as the Griffins lost to the Olympians 33-30. The victory snapped Mesa's 13-game losing streak to the Griffs.
The Olympians last beat the Griffins in a downpour 28-27 in 1993. The outcome was decided on a 2-point conversion in the final 7 seconds.
Brett Trimble with the diving reception.
(Photo by Frank Price, youatplay.com)
ADDITIONAL PHOTOS HERE

This one was almost as close although the Olympians built a 30-10 advantage with 4:38 remaining in the 3rd quarter. After that Mesa showed signs of tiring and Grossmont seemed to maintain a better grip on the ball.

Oh yes, then there's Karls... who dazzled both teams with various scrambles. Grossmont's belated comeback began in the final minutes of the 3rd period as Karls left the Mesa defenders flat-footed on four carries for 27 yards – the last 17 coming on a third down touchdown romp which brought to score to 30-17.

Grossmont limited the Olympians to 200 yards on 68 plays while grinding out 365 yards on 75 plays. That kept the Griffins hopes for a favorable conclusion alive.

Strong safety DAVID EDGERSON forced a fumble – which was Mesa's only turnover in the game – to set Karls & Company in motion early in the 4th quarter. Karls completed two passes for 29 yards, the latter one a scoring strike to TIM PATRICK with 11:18 remaining. However, Grossmont failed to convert the PAT, which only heightened the suspense.

Penalties punished the Griffins throughout the contest. They were whistled for 16 infractions, costing them 148 yards and setting up 23 points for the Olympians.

Mesa, which was clearly losing momentum, was pinned down on a 3rd and 24 at its own 6-yard line with just over 7 minutes to play. That's when the Griffins went on another penalty binge, beginning with a roughing-the-passer call that gave the Olympians a first down and allowed them to maintain possession at their own 21.

In the same possession, Grossmont had Mesa staring at a 3rd-and-6 at its own 25 only to be tagged with a phantom pass interference call.

First down, Mesa.

In the same drive the Olympians escaped a 4th-and-9 at their own 48 when the Griffins were slapped with yet another questionable pass interference call.

Even with all those faux pas the Griffins managed to force the Olympians to give up the ball via a punt.

Neither team could advance the ball in ensuing possessions. But an interception by the Olympians Davis Callejon setup a 44-yard field goal by Marcus Diaz that gave Mesa a 33-23 advantage with 3:37 remaining.

A 42-yard kickoff return by JOSHUA BELL set the Griffins up at the Olympians 42-yard line. Five plays later (and two penalties against them) the Griffins scored on an 11-yard scramble by Karls. After ANDRES CARRILLO's PAT kick, the Griffins trailed by 3 points with 1:23 left.

However, the Griffins still had all three of their timeouts in pocket so the prospects of forcing overtime or pulling out a last second victory was imminent.

But Grossmont could not punch the ticket for any further drama as Mesa's Corey Mootz smothered a following onside kick. After that the Olympians were able to run out the clock.

"When you're as young as we are you have to expect a lot of mistakes and we sure made our share," said Grossmont head coach MIKE JORDAN. "Look at the numbers… too many penalties, too many turnovers."

Jordan sees a bright future for Karls.

"We had a lot of protection problems because three of our offensive linemen had never played in a college game before," Jordan said. "We couldn't catch a break but they're all gonna get better."

Sophomore running back MAURICE PAYNE was pretty good against the Olympians, as he dashed for 132 yards on 10 carries.

On the defensive side the Griffins were solid among the front seven. DAVID EDGERSON recorded eight tackles and forced and recovered a fumble, while linebacker DONNIE WALSH led Grossmont with nine tackles.

Not to be overlooked was sophomore defensive end SHANE PENNIX (seven tackles), who harassed the Olympians all night long along with CAMERON SAVINI (six tackles and a sack).

"I know we're gonna have to get better in a hurry because we don't play a soft schedule like some of the teams around here do," said Jordan. "I think we can because the talent's here. It's just a matter of us developing that talent. Like I said before, we're very, very young."
---
San Diego County
Community College Preview
Courtesy, SignOnSanDiego
No. 19 Griffins open in 'oblivion'
Grossmont seeks to continue
decade of dominance over Mesa
© East County Sports.com
SAN DIEGO (9-2-11) — San Diego Mesa College has trudged in the doldrums for more than a decade except for gaining a state berth four years ago.
Phi Mesa Face-a
Recent Scores
GC vs. Mesa
Year

2010
2009
2008
2007
2006
2005
2004
2003
2002

36
47
31
66
58
64
70
24
48

7
13
14
17
0
3
7
17
28

Pts

445

106

Avg

49.4

11.8
The Olympians broke the trend in 2008 when they qualified for the state playoffs before succumbing to Fullerton. Since that breakout year, however, Mesa has compiled a 3-17 record.

Arguably, the Olympians have faded into oblivion.

The addition this year of veteran coach Dave Lay and Ron Hamamoto, however, gives Mesa hopes of a bona fide comeback.

Just how great that rebound will be begins on Saturday (Sept. 3) when the Olympians host Grossmont College at 6 p.m.

Neither one of these teams flashes brilliance from the get-go, although the visiting Griffins believe they have a talent edge. Guess we'll find out in Saturday's opener as the two teams figure who are their leaders.

One thing about the Griffins is they are loaded with question marks. However, at least one thing is certain – SHANE PENNIX (6-4, 245) is bullish on the defensive front

Sophomore MAURICE PAYNE is the ringleader of what could be a solid Grossmont College running game.

The Griffins quarterback battle shapes up between 6-foot-7, 215-pound freshman CHRIS BONNER (Clairemont) and Palm Springs sophomore MIKE KARLS (5-11, 185).

Grossmont coach MIKE JORDAN believes that he has good depth on the offensive and defensive lines.

Griffin Graffiti— Mesa leads the all-time series 21-17-1, but the Griffins have won the last 13 meetings... The Olympians last edged Grossmont 28-27 in the final 0:07 of a game played in a downpour at Merrill Douglas Stadium in 1993... Grossmont is ranked No. 19 in the state and No. 10 in SoCal by the California Community College Football Coaches Association.
---
Griffins scholarship list grows
© East County Sports.com
EL CAJON (6-17-11/Revised 6-18-11) — Grossmont College, which competes in California's National Division Southern Conference – the most widely respected community college football group in the nation – has 24 players in line for four-year colleges (20 on scholarships) despite a mediocre 6-5 finish a year ago.
Bottom line here is if you play against the best competition, you will be rewarded with a blue-chip scholarship regardless of the team's overall record.
"We know what is important to these kids – making it to the next level," said Grossmont College head coach MIKE JORDAN. "Sure, we want to win games and that is always a goal. But bringing the big time coaches to see our kids is just as important."
Among those advancing from last season's crew include nose guard HENRY SIMON (Iowa State), defensive end CRAIG COFER (Hawai'i), quarterback RYAN WOODS (San Jose State), wide receiver TOMMY ALEXANDER (Idaho), corner and Valhalla grad IVAN MAY (SUNY-Stony Brook). Linebacker PAT KELLY of Christian High to Neb.-Kearney, while Santana tight end JAKE PODPORA (Chowan Univ., Memphis, Tenn.) and El Capitan O-lineman DERYCK "Bear" BEVERIDGE (Central Oklahoma) have also found new homes.
Wide receiver ALEX McLELAND is headed for UC Davis, while JOSHUA UDEH is locked in at Alabama A&M. Mount Miguel alum linebacker KEVEN WOODS is bound for Mississippi Valley State – which was the stepping stone for Jerry Rice to become the NFL's most prolific receiver.
Alexander lands scholarship at Idaho
By Mario Renteria, Sports Editor
Imperial Valley Press
Special to East County Sports.com
CALEXICO (7-2-11) — When Grossmont College's TOMMY ALEXANDER played sports at Vincent Memorial High a few years ago, he stole headlines.
Football and basketball were his domain, dominating many opponents with his blazing speed, toughness, athleticism and agility.
Since he graduated in 2008, he's been quiet, working toward his ultimate goal of making the NFL Draft.
His dream has come within reach this summer after signing a Letter of Intent to play at the University of Idaho, an NCAA Division I FBS school, on a full-ride scholarship.
At UI, he'll look to continue to steal headlines with the Vandals.
"I just hope that I get to be in a good position to be successful like I was at Vincent Memorial," Alexander said. "And just work hard and play two years and try to enter the Draft."
After graduating from Vincent Memorial, and after most of his scholarship offers were revoked because of coaching changes from those respective schools, he went to Eastern Arizona Junior College in Thatcher, Ariz., for one season.
The EAC Gila Monsters started him off at quarterback, where he scored four touchdowns his first game as a Gila Monster. They later moved him to wide receiver.
He didn't shine as much at EAC since the Gila Monsters ran the option.
A friend attending Grossmont told him the Griffins needed wide receivers.
In one year at Grossmont, he put up 36 catches for 650 yards and scored three touchdowns.
"It went really well," Alexander said of his year at Grossmont. "They needed wide receivers and they passed the ball more."
The Vandals then came knocking, offering him a spot on the squad.
"The coaches liked my highlights tape," Alexander said.
He was also contacted by the University of Cincinnati, but he chose Idaho.
"Idaho really wanted me to go there," Alexander said. "They were trying really hard to get me there."
The 6-foot-1, 187-pound receiver will major in business at Idaho. He will make the move to Moscow in the state's Latah County in early August.
For now, he's living in San Diego where he's working out with a professional trainer and still visits his family in the Valley often.
"My coaches at Vincent Memorial, Jeff Deyo, Pete Contreras, they were the people that pushed me hard and showed me how to be a hard worker," Alexander said. "And I want to thank the Hermosillo family for all they've done for me."
He also praised his father.
"I just want to thank him for sacrificing everything just for me to have a good education and pushing me to work hard," Alexander added
2011 GROSSMONT COLLEGE FOOTBALL SCHOLARSHIPS
Pos Name (HS/Hometown) / College / Affiliation
DL Craig Cofer (Livermore) – Hawai'i – NCAA I
DL Henry Simon (Eastlake) – Iowa State – NCAA I
DB Joshua Udeh (Scripps Ranch) – Alabama A&M – NCAA I
DB Ivan May (Valhalla) – Stony Brook – NCAA I
LB Keven Woods (Mount Miguel) – Mississippi Valley St. – NCAA I
QB Ryan Woods (Granite Bay, CA) – San Jose State – NCAA I
WR Alex McLeland (Scripps Ranch) – UC Davis – NCAA I
WR Tommy Alexander (Calexico) – Idaho – NCAA I
LB Pat Kelly (Christian) – Neb.-Kearney – NCAA II
DL Yun Taala – Northeastern – Oklahoma State – NCAA II
DL Adrian Perricone (Alameda) – Central Missouri – NCAA II
DB Caleb Farrel (Christian) – Harding – NCAA II
DB Tramaine Wilkes (Springdale, MD) – Harding – NCAA II
WR Roland Brooks (Memphis, TN) – Chowan – NCAA II
TE Jake Podpora (Santana) – Chowan – NCAA II
OL Deryck Beveridge (El Capitan) – Central Oklahoma – NCAA II
OL Joshua Spence (Chesapeake, VA) – Missouri Southern – NCAA II
OL Michael Robles (West Hills) – Western New Mexico – NCAA II
LB Shane Pinson (Santana) – Benedictine – NAIA
OL Ruben Cardenas (Eastlake) – Southern Virginia – NAIA
---
DL Lewis Fai'i – California Lutheran – NCAA III
OL Alika Lewis (Mililani, HI) – Chapman, NCAA III
LB Derek Holsapple (St. Augustine) – (turned down Southern Missouri; walking on at SDSU)
RB Darrin Alix (Patrick Henry) – TBA
---
Griffins host annual OL camp
© East County Sports.com
EL CAJON (3-16-11) — Grossmont College football is now accepting registration for its fifth annual camp devoted exclusively to offensive linemen, which is open to football players from throughout San Diego and Imperial counties currently in grades 9-12.

The techniques camp will be held on Sat., Apr. 30, at on-campus Mashin-Roth Memorial Field, the home of the 2005 state and national champion Griffins, from 9 a.m. to 1 p.m.

The camp is just $25, with team rates available of five for $100, or $20 per player for groups of six or more.

Activities include fundamentals in both the running and passing game, conditioning, and specialty notes for tackles, guards and centers.

For further information or to register, click HERE for the camp brochure, or contact Grossmont College offensive line coach KEN WILMESHERR at (619) 370-0765 or by Email.
2011 SCHEDULE
Date
Opponent

Date

Sept. 3
Sept. 10
Sept. 17
Sept. 24
Oct. 1
Oct. 8
Oct. 15
Oct. 22
Oct. 29
Nov. 5
Nov. 12
at San Diego Mesa
at El Camino
SOUTHWESTERN
at Orange Coast
COLL. of the CANYONS
Bye
SADDLEBACK
at Mt. San Antonio
FULLERTON
at Pasadena
PALOMAR

6 pm
6 pm
1 pm
6 pm
1 pm

1 pm
6 pm
1 pm
6 pm
1 pm
Beveridge headed Eastbound
© East County Sports.com
EDMOND, Okla. (4-21-11) — Grossmont College left tackle DERYCK BEVERIDGE, a second-team All-Southern Conference selection who helped the Griffins to a second consecutive Beach Bowl berth last season, has accepted a scholarship to play for the University of Central Oklahoma.
The Broncos just finished their final season as members of the Lone Star Conference in 2010. This fall, the school will play as an independent before joining the NCAA Division II Mid-America Intercollegiate Athletics Association in 2012.
"The team is rebuilding, so they expect me to walk right in there and start for them," said Beveridge, who will major in business. "I'm excited to be a part of the team. I love the coaching staff and I fit right in with the guys, plus the surrounding area reminded me of home."
Beveridge (6-8, 295) was also a standout performer for El Capitan High School, gaining a 2007 first-team All-East County berth while blocking for quarterback TANNER RUST, the 2007 East County Offensive Player of the Year.
Beveridge was also an All-Grossmont North League performer as a junior in 2006, helping the Vaqueros to an 11-1 record and a league championship behind quarterback RYAN LINDLEY, who was also the East County Offensive Player of the Year.
Rust is now a standout in baseball for New Mexico State. Lindley led San Diego State to a Poinsettia Bowl berth this past season.
Out of high school, Beveridge committed to UTEP, where he spent two years (playing one season) before returning to play for Grossmont following a coaching change with the Miners.
With the Griffins, Beveridge was one of seven players named to the blue chip All-National Division Southern Conference team as selected in balloting by the circuit's six head football coaches.
---
East County quintet honored by NFF, including Griffins' Kelly
© East County Sports.com
MISSION VALLEY (3-19-11) — Five East County football players were honored for on-field and academic excellence in the annual awards banquet conducted by the San Diego and Imperial counties chapter of the National Football Foundation & Hall of Fame, held Friday (Mar. 18) at the Scottish Rite Masonic Center.
The honorees include: Grossmont College linebacker PAT KELLY, Steele Canyon High wide receiver JAKE WRAGG, Christian High running back/linebacker TYRONE SAULS, Helix High defensive lineman SAM MEREDITH, and Grossmont High linebacker/defensive end COLTON ALEXIO.
Each year, 26 of the area's best and brightest high school and college football players are honored at a banquet attended by more than 400 people. The event is one of the most prestigious athletic/academic functions in the region.
More than $30,000 worth in scholarships were distributed.
The NFF chapter's co-founder and College Football Hall of Fame Gold Medal winner, Walter J. Zable, earned the honor of having the chapter named after him by being one of the football foundation's greatest supporters. It serves a community of more than 3 million residents, making it one of the nation's largest.
---
All-state honors for Griffins' LB Kelly

© East County Sports.com
EL CAJON (1-4-11) — Sophomore linebacker PAT KELLY (Christian HS) – Grossmont College's leading tackler – has been named to the All-State Region IV first team defense in a vote of the California Community College Football Coaches Association.

Kelly was also a unanimous pick on the Southern California Football Association All-National Division Southern Conference first team.

At the moment, the 6-foot-2, 230-pound Kelly is sifting through four-year college offers.

Grossmont, which finished 6-5 last season, was ranked No. 12 in Southern California and No. 24 in the state in the final CCCFCA/JC Athletic Bureau ratings.
---
SPONSORS

2011 SCORES/STANDINGS
GROSSMONT COLLEGE Schedule
| | | |
| --- | --- | --- |
| Date | Opponent | Score/ Time |
Sept. 3
Sept. 10
Sept. 17
Sept. 24
Oct. 1
Oct. 8
Oct. 15
Oct. 22
Oct. 29
Nov. 5
Nov. 12
at San Diego Mesa
at El Camino
SOUTHWESTERN
at Orange Coast
COLL. of the CANYONS
Bye
SADDLEBACK
at Mt. San Antonio
FULLERTON
at Pasadena
PALOMAR
SoCal website for standings and more HERE

STANDINGS
| | | | | |
| --- | --- | --- | --- | --- |
| SCFA Southern Conf. | Conf | All | PF | PA |
| Mt. San Antonio Mounties | 5-0 | 10-1 | 351 | 210 |
| Palomar Comets | 4-1 | 7-4 | 397 | 304 |
| Saddleback Gauchos | 3-2 | 8-3 | 445 | 293 |
| Grossmont Griffins | 2-3 | 4-6 | 261 | 263 |
| Pasadena Lancers | 1-4 | 3-7 | 240 | 366 |
| Fullerton Hornets | 0-5 | 5-5 | 249 | 242 |
ARCHIVES
21st CENTURY OVERVIEW HERE

JOE ROTH
Learn about Roth's legacy HERE
2005 NATIONAL CHAMPIONS
CLICK FOR GRIFFINS VIDEO HIGHLIGHTS
(PLAYOFF CLIPS NOW AVAILABLE)

Hutsona accepts national award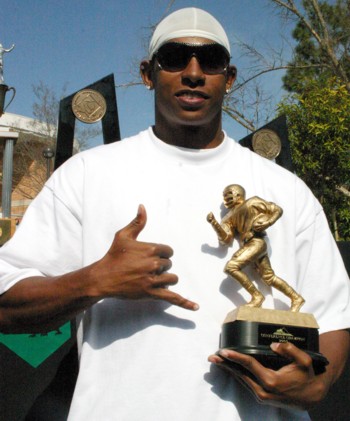 © East County Sports.com
EL CAJON (2-2-06) – Derrell Hutsona is pictured after accepting his J.C. Grid-Wire National
Co-Offensive Player of the Year Award at a special on-campus celebration Wednesday afternoon (Feb. 1). Also presented to the Grossmont College football team were: its third straight Foothill Conference title trophy, a second straight Southern California Bowl plaque, the trophy for its second Southern California Playoffs Title in three years, plus the public display of the COA State Champioship Trophy. Of course, the J.C. Grid-Wire National Title Trophy (pictured below) was re-presented and placed on public display, while the all-conference, all-state and all-America winners were honored, along with players who received scholarships from four-year college and universities. In addition, head coach Dave Jordan (below,right) accepted his state and national Coach of the Year awards.
See Hutsona's Washington State
PROFILE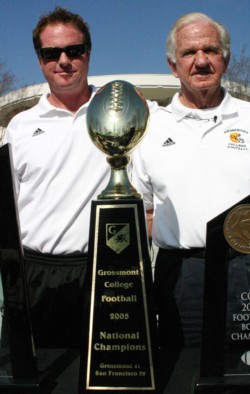 The father-son coaching combination of Mike
(son, left) and Dave Jordan pose with the
J.C. Grid-Wire National Championship Trophy, awarded to the school at ceremonies on the Fletcher Hills campus Wednesday (Feb. 1).
(Photos by Greg Eichelberger)
RECENT TEAM LOGS / STANDINGS
2010: 6-5 overall, 1-4 conference

Sept. 4
Sept. 11
Sept. 17
Sept. 25
Oct. 2
Oct. 9
Oct. 16
Oct. 23
Oct. 30
Nov. 6
Nov. 13
Nov. 20

SAN DIEGO MESA
EL CAMINO
at Southwestern
ORANGE COAST
at College of the Canyons
BYE
*at Saddleback
*MT. SAN ANTONIO
*at Fullerton (Fullerton HS)
*PASADENA
*at Palomar (Escondido HS)
Beach Bowl at Santa Ana
*Southern Conference game; FW - Forfeit win.
SCFA Website HERE
2009: 8-3 overall, 3-3 conference

*SCFA National Division
/Southern Conf. contest

SCFA Website HERE

2010 FINAL STANDINGS
| | | | | |
| --- | --- | --- | --- | --- |
| SCFA Southern Conf. | Conf | All | PF | PA |
| Mt. San Antonio Mounties | 5-0 | 13-0 | 469 | 237 |
| Saddleback Gauchos | 4-1 | 8-3 | 362 | 275 |
| Fullerton Hornets | 3-2 | 7-4 | 409 | 291 |
| Palomar Comets | 2-3 | 5-5 | 268 | 264 |
| Grossmont Griffins | 1-4 | 6-5 | 376 | 339 |
| Pasadena Lancers | 0-5 | 4-6 | 269 | 310 |
*Points For and Against do not reflect forfeits.
2009 FINAL STANDINGS
SCFA Southern Conf.
"The Super 7" 2009

Conf

All

PF

PA

Fullerton Hornets

6-0

10-2

432

201

Palomar Comets

4-2

10-3

389

240

Saddleback Gauchos

4-2

9-2

412

216

Grossmont Griffins

3-3

8-3

369

230

Long Beach Vikings

2-4

3-7

254

405

Orange Coast Pirates

1-5

5-5

220

307

Santa Ana Dons

1-5

4-6

300

297