More awards for Campbell
© East County Sports.com
PERU, Neb. (12-1-12) — The awards continue to pile up for former Foothills Christian High standout GARRET CAMPBELL.

For October, Campbell was named the male athlete of the month at Peru State College. Then in November, the Heart of America Athletic Conference named him as both Special Teams player of the week for his performance vs. Central Methodist on Nov. 10, then a week later placed him among the honorable mention to the HAAC all-conference team for his play at defensive back.
Campbell totaled 530 yards in kickoff returns on 24 attempts, averaging 22.1 yards per attempt. Against Avila, Campbell 's 66-yard kickoff return, his longest of the year, set up the game-tying field goal. In addition, Campbell had one punt return for 27 yards.

He was also among eight Bobcats named to the 2012 Daktronics-NAIA Football Scholar-Athletes.

Chicken & Stars for Campbell

© East County Sports.com
PERU, Neb. (11-4-12) — Foothills Christian High alum GARRET CAMPBELL was a big part of the Peru State win over Central Methodist last Saturday (Nov. 3), where he had an impact on defense and specials teams. His efforts earned him both the Heart of America Conference's Special Team Player of the Week citation and the Bobcats' Male Athlete of the Month award for October.

The junior blocked a punt in the first quarter, which led to a Bobcat touchdown. In the second quarter, Campbell recovered a fumble on a Central Methodist fake punt and returned it 48 yards for a touchdown. He also had a punt return for 27 yards and had another 27 yards on a pair kickoff returns.

Campbell has had 21 kickoff returns during the season for 444 yards, averaging 21.1 yards per return. He has had 23 total tackles – ten of which were solo. In addition, Campbell has had two tackles for a total loss of four yards and leads the team with two interceptions with 96 yards in returns.


Garret Campbell (13) scrambles for 48 yards for a touchdown on a fumble recovery
after Central Methodist dropped the ball on a fake punt. Peru State won 40-23,
in the final game at the Oak Bowl before major stadium rennovations commence.
Campbell enjoys the other side of football
© East County Sports.com
PERU, Neb. (10-9-12) — Former Foothills Christian High standout GARRET CAMPBELL,, who set a national record with 11 career kickoff return touchdowns with the Knights, is now enjoying life on the other side of the ball at Peru State (Neb.) University.
On Saturday (Oct. 6), Campbell, now a college junior, posted his best defensive outing since signing with the Bobcats by blocking a pair of punts and registering an interception, leading to a 47-21 conquest of Trinity Bible College at Oak Bowl.
On his interception, Campbell noted, "I read the quarterback and made the pick in the end zone. When I looked out and realized I would not get too far, I just took a knee."
Campbell finished the ballgame with four total tackles – three solo, including one for a loss of three yards – nearly had two more interceptions for Peru State (3-3). The defensive back also was credited for breaking up two additional passes by the Lions (2-4).
The first blocked punt came on Trinity's first possession, setting up a Peru State touchdown to open the scoring. His interception was good for a touchback to halt a deep Lions drive.
For his very busy day, Campbell was named the team's player of the game.
---
Helix alum Toilolo helps Stanford to Big Game victory over Cal
By Bill Dickens
© East County Sports.com
EL CAJON (10-25-12) — Six-foot-8 Helix High graduate, tight end LEVINE TOILOLO helped No. 22-ranked Stanford win the "Big Game" with a 21-3 victory over Cal last week. Toilolo contributed to the scoring with a 9-yard TD catch from backup Kevin Hogan – normally a read-option QB – to put the Cardinal ahead 14-3 on the first throw of his career.
Toilolo, a junior, has tallied 15 catches for 288 yards and 3 touchdowns, starting in all seven of Stanford's football games this season.
---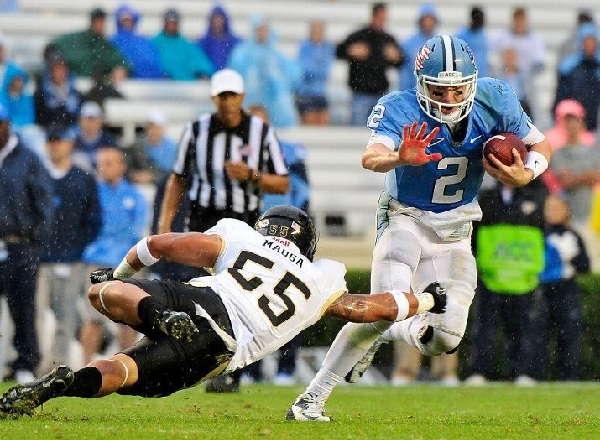 CHAPEL HILL, N.C. (9-29-12) — North Carolina's Bryn Renner (2) scrambles to avoid
Idaho senior Homer Maugua
(55), the former Helix High and Grossmont College standout.
The linebacker registered a team-high 9 tackles. The Tar Heels won, 66-0, at Kenan Stadium.
(Photo by Grant Halverson/Getty Images)
---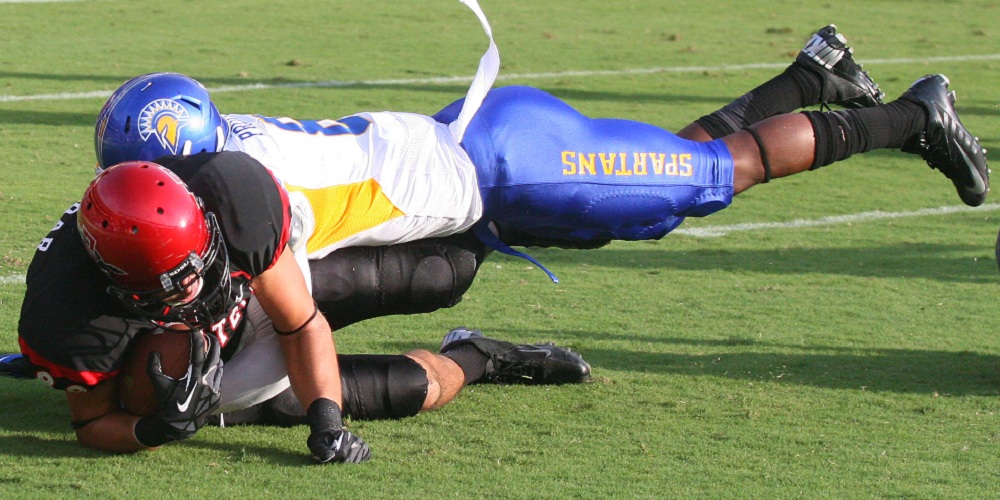 San Jose State's Jimmy Pruitt (top) takes down SDSU's Gavin Escobar, limiting
the play to just a 1-yard gain, as the visiting Spartans stun the Aztecs, 38-34
(Photo by Philip Brents)
Helix High alum Anthony Larceval (far right) is
a three-year starter for San Jose State.
(Photo by Philip Brents)
Sixty years later, San Jose State wins in San Diego
© East County Sports.com
SAN DIEGO (9-23-12) — In a wild, frantic fourth quarter which saw four lead changes, San Jose State quarterback David Fales fired his third touchdown pass of the quarter with 50 seconds remaining, lifting the Spartans past San Diego State, 38-34, in Saturday's (Sept. 22) non-conference shootout at Qualcomm Stadium.
Fales connected with wide receiver Chandler Jones on a 14-yard reception, giving SJSU (3-1) its first victory in San Diego in 10 tries since 1952.
Over the final 12 minutes, Fales completed 13-of-16 passes for 187 yards and three scores. His game totals saw 260 yards and a season-best four TDs -- to four different receivers -- on 21-of-31 passing.
Though San Diego State (2-2) outgained San Jose State, 484 to 367, the Spartans won the game with drives of 80, 77 and 65 yards on just 17 total plays.
The Aztecs ran up 271 rushing yards in the first half while San Jose State fumbled the ball away three times, but the teams came away even at 17-17 at the intermission following big plays by the Spartans. Included was a 97-yard kickoff return by Tyler Ervin, then running back Adam Muema, who rushed for 202 yards on 25 carries, sprinted for an 83-yard touchdown run.
The Aztecs had one last gasp, but Spartans defensive end Travis Johnson recorded the team's fifth sack of the game on fourth down on SDSU's final offensive play. Also registering a sack for San Jose State was Helix High product ANTHONY LARCEVAL, a third-year starter at defensive end.

East County quintet, San Jose State, arrives to meet Aztecs
© East County Sports.com
SAN DIEGO (9-21-12) — Five East County products will lead San Jose State against the Aztecs of San Diego State in Saturday's (Sept. 22) non-conference game at Qualcomm Stadium at 5 p.m.
The Spartans (2-1) look to receivers SEAN LINTON (Helix) and HANSSELL WILSON (Valhalla) to lead the Spartans' aerial game.
Other local standouts for San Jose include offensive lineman JAKE PETERSON (6-4, 316, West Hills) and junior defensive tackle ANTHONY LARCEVAL (6-2, 284, Helix). Also making his mark as corner back is JIMMY PRUITT, a 6-0, 175 Helix grad.
Three-year starter Larceval is one of the key anchors to the Spartans' defense.
Local East County members of the San Diego State squad include defensive lineman MALCOLM JACKSON (6-3, 255, Mount Miguel), defensive tackle SAM MEREDITH (6-3, 255, Helix), defensive lineman ROBERT CRAIGHEAD (6-4, 275, El Capitan). All are freshmen.
Sophomore JOEL ALESI from Christian is one of the Aztecs' punters.
The game will be broadcast on KUSI Channel 51 television.
---
Mills beats the clock, USD tops Western NM

© East County Sports.com
ALCALA PARK (9-9-12) — USD quarterback MASON MILLS, who prepped at both Christian and Coronado high schools, passed for 303 yards and four touchdowns, including the game-winning score with exactly one minute remaining, lifting the Toreros to a dramatic 34-27 decision over Western New Mexico in Saturday's (Sept. 8) non-conference game at Torero Stadium.

Mills, who completed 27-of-37 passes, connected with Reggis Bell on a 28-yard TD strike, completing a rally from a 27-20 fourth-quarter deficit. His third TD pass went for 12 yards to Brandon White to knot the contest with 5:29 remaining, then Mills directed a 9-play, 84-yard game-winning drive.

More than 4,000 fans filled the stadium, with a large chunk supporting the visiting Mustangs, which features 18 players from San Diego County, including sophomore defensive tackle NINO LaRUSSA (West Hills; transfer from Iowa Wesleyan), freshman running back DAKOTA FURR (El Capitan), and freshman kicker JOSH McINTIRE (West Hills).

Western New Mexico (1-1) is coached by former West Hills and Grossmont College standout ADAM CLARK.

Invasion of the locals – Saturday: Western NM at USD

© East County Sports.com
ALCALA PARK (9-6-12) — Former East County football standout ADAM CLARK brings his Western New Mexico University football team to town on Saturday (Sept. 8), as the Mustangs meet the University of San Diego in a 6 p.m. contest at Toreros Stadium.

Clark, an all-conference player at West Hills High and an all-state player for Grossmont College, is in his third season with WNMU, located in Silver City, N.M. And because of his Southern California roots, he uses the region as his main recruiting locale.

Included are Wolf Pack alums NINO LaRUSSA and JOSH McINTIRE, DAKOTA FURR from El Capitan, plus players from Morse, Mira Mesa, Ramona, Oceanside and Fallbrook.

Meanwhile, USD (0-1) are led by quarterback MASON MILLS, who prepped at Christian and Coronado high schools. Mills, a red-shirt junior, is backed up by freshman BRANDON LEWIS, who guided Helix High to the CIF Division II state bowl series championship last season.

Other East County products on the Toreros include frosh running back DARRION HANCOCK (Helix), plus frosh offensive linemen ANDRES MEZA and CARL MARTIN of El Capitan.
---
Campbell gains early honors
© East County Sports.com
PERU, Neb. (7-23-12) — Former Foothills Christian High football player GARRET CAMPBELL has been named a preseason All-American for Peru State College of the Heart of America Conference.
Campbell was among those named by the Omaha World Herald as an honorable mention recipient among NAIA colleges, as well as being a member of the Bobcats 3.0 Club for his academic achievements.
---
Jackson takes 'Action' in another direction

© East County Sports.com
ALVA, Okla. (6-24-12) — ANTHONY "Action" JACKSON, a 2010 graduate of El Cajon Valley High School, has accepted a football scholarship to NAIA Northwestern Oklahoma State University. Jackson will play slotback for the Rangers of the Central States Football League.

The 5-foot-11, 190-pound Jackson played at Midland Lutheran College in Fremont, Neb., for a year then returned to San Diego, planning to play for Grossmont College in the fall.

In the meantime, however, Jackson was approached by NW Oklahoma St. and changed directions.

At El Cajon Valley in 2009, Jackson played wide receiver although his senior season was cut short due to injury. In the five games he played for the Braves, he caught 33 passes for 591 yards (17.9 average) and six touchdowns.
---
Molzen on D-2 watch list

© East County Sports.com
LIBERTY, Mo. (6-15-12) — Although the summer heat has yet to reach furnace-like levels, talk of football is already in the breeze.

Former El Capitan High and Grossmont College standout JON MOLZEN, a 6-foot-4, 220 pound senior wide receiver at William Jewell College, is among the NCAA Division II football players to watch for the 2012 season. He is rated the No. 2 Great Lakes Valley Conference player to watch by the BSN College Network (Beyond Sports Network), which also made the Division II preseason picks.

Molzen is the main threat for the Cardinals after registering 49 receptions, 565 yards, and 5 touchdowns last season.

In 2009 as a freshman at Grossmont, Molzen had 11 pass receptions for 272 yards and 5 touchdowns for an 18.1 average.

At El Capitan, Molzen made 44 catches for 807 yards and 10 touchdowns for an 18.3 average as a senior. Molzen was also selected to the first team All-Grossmont North League as a senior.
---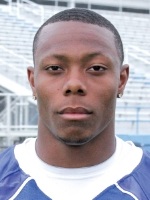 Arthur Hobbs

All-America honors for Hobbs

© East County Sports.com
KEARNEY, Neb. (2-3-12) — Former Mount Miguel High and Grossmont College defensive back ARTHUR HOBBS of Nebraska-Kearney has been named to the 2011 Associated Press' Little All-America Team.

The A.P. Little All-America team dates back to the early 1930's and includes players from NCAA Division II and III schools, as well as NAIA institutions.

Hobbs, a resident of Lemon Grove, recently named to the Daktronics/Sports Information Directors All-America team, is just the ninth Loper selected to the A.P. squad. Of the nine chosen, seven have come since UNK joined Division II in 1990.

In 2011, Hobbs picked off six passes for a Division II-leading 295 yards. A two-year Loper, he also had 54 tackles (36 solo), 18 pass break-ups and two fumble recoveries.

Against Northeastern State in September, Hobbs set a D-2 record for most interception return yards in a game (214) when he picked off three passes with two of those coming back for scores.

In that game, Hobbs covered Trey McVey, who earned first-team A.P. All-American honors. McVey ended that game with just four catches for 53 yards.
---
Report: Valhalla alum Thomas to NC State

© East County Sports.com
RALEIGH, N.C. (1-26-12) — According to published reports by CBS.com on Wednesday (Jan. 25), former Valhalla High passing phenom PETE THOMAS is transferring from Colorado State to North Carolina State. The move was also confirmed by Thomas' personal quarterback coach George Whitfield

The 6-foot-5, 225-pounder Thomas started the past two seasons for the Rams of the Mountain West Conference. He completed 63 percent of his passes and threw for more than 4,200 yards. His TD-INT ratio was 18-21 and he was sacked a stunning 71 times.

Thomas also considered Vanderbilt and UCLA among other schools to relocate. He was slated to visit the campus this weekend where he will meet with the Wolfpack coaching staff.

Thomas will be eligible for the starting job in the 2013 season at the Atlantic Coast Conference institution. He figures to battle for the vacated starting QB job since Mike Glennon, who came into his own in 2011, will be a senior next year. Thomas started as a true freshman in 2010, and does have his redshirt year still available, which he will use in 2012.

Did you know? Chargers quarterback Philip Rivers graduated from North Carolina State eight years ago.

Pros eye Lindley at Senior Bowl

© East County Sports.com
MOBILE, Ala. (1-26-12) — Former El Capitan High and San Diego State standout RYAN LINDLEY will be one of three quarterbacks playing for the South All-Stars in Saturday's (Jan. 28) Senior Bowl. The game will be televised by the NFL Network (Cox Chl. 332) at 1 p.m.

Mike Shanahan and the Redskins' staff will coach the South in the game that features the country's best senior collegiate football players. This is the second consecutive year that a player from SDSU has participated in the Senior Bowl, as current Chargers receiver Vincent Brown competed in last season's game.

Lindley is the fourth quarterback in Aztec school history to play in the contest and the first since Dan McGwire in 1990.

Lindley threw for 3,153 yards and 23 touchdowns this season, capping off his year with 413 yards passing and three touchdowns in the New Orleans Bowl. The 6-foot-4, 230-pound signal-caller finished the year ranked second in the Mountain West in passing yards per game (242.5) and third in completions per game (18.23) and total offense (238.62 ypg.).

The Senior Bowl is the nation's most unique football game and football's premier pre-draft event, annually featuring the country's best senior collegiate football stars and top NFL draft prospects on teams representing the North and South which are coached by the entire coaching staffs from two National Football League teams.

Senior Bowl practices are also attended by over 800 general managers, head coaches, assistant coaches, scouts and other front office personnel from the 32 National Football League teams, making Mobile and the Senior Bowl the week-long host to a one-of-a-kind NFL Coaches Convention.
---
Draheim, Parker win major honor


© East County Sports.com
SAN DIEGO (12-9-11) — Two former East County football standouts, now at San Diego State, have been named to the All-Mountain West Conference first team.

Senior tackle TOMMIE DRAHEIM, a product of El Capitan High, was selected to the first team offense, while senior corner LARRY PARKER, who played his freshman season at Grossmont College, was chosen to the first team defense.

Draheim is the first Aztec offensive lineman to be picked to the first-team all-league since Brendan Darby in 2003. Draheim, who has started 29 consecutive games, helped SDSU rank 10th in the country in fewest sacks allowed (0.83 per game).

Parker picked up his first all-league award setting career highs in every category. He had 56 tackles (2.5 TFL), seven interceptions, seven pass breakups, three forced fumbles and a fumble recovery. His seven picks are tied with two others for the second most in the nation, the most by a San Diego State player since 1969 and tied for the third most in a season in program history.

Mills claims All-Pioneer League berths
Quarterback led USD to conference championship;
Toreros' Oliaro named Defensive Player of the Year

© East County Sports.com
ALCALA PARK (12-4-11) — University of San Diego sophomore quarterback MASON MILLS, a transfer from New Mexico State, has been named to the All-Pioneer Football League team after leading the Toreros to a share of the conference crown.

Mills, who played locally at both Christian and Coronado high schools, earned a second team berth. He was also tabbed the Toreros' Offensive Player of the Year after leading the team to a 9-2 mark (5-0 at home).

"We had a great season, accomplishing many of our pre-season goals, the most important of course was capturing the PFL championship," said Mills. "And even though we ended up with the same record as Drake University (co-champs), we beat them during the season, which gives us the tie-breaker."

USD's balanced attack saw Mills rank among PFL leaders in passing (2,370 yards, 22 TDs,.617 pct), while teammate Kenny James was the conference's leading rusher with 1,149 yards.

"We have a lot of players returning on both sides of the ball and are already preparing for next season," he added. "We open with three league champs, Cal Poly, Azusa Pacific and Harvard. Our whole team is looking forward to the challenge of a repeat title and a chance for a playoff berth next season."

In addition, Mills earned a second-team berth on the PFL All-Academic team. The biology major owns a 3.10 grade-point average.


USD defensive lineman Blake Oliaro was the league's Defensive Player of the Year and Toreros head coach Ron Caragher was tabbed PFL Coach of the Year. The league's freshmen awards went to San Diego wide receiver Brandon White (offense) and Drake linebacker Travis Merritt (defense).
---
Bruder gains academic laurels at Humboldt State

© East County Sports.com
SPOKANE, Wash. (11-14-11) — Humboldt State kicker MATT BRUDER has received recognition for his success in the classroom. The sophomore out of Steele Canyon High was named to the Great Northwest Athletic Conference Academic all-conference team.

Bruder, an Environmental Resources Engineering, posted a 3.50 grade-point-average.

Last season, Bruder established school records by going a perfect 44-for-44 on PATs, including 9 in a single conest. This season, Humboldt State posted a 9-1 record, claiming the GNAC championship.
Sultans alums boost Redlands into NCAA D-3 playoffs
© East County Sports.com
REDLANDS (11-17-11) — A trio of former standouts at Santana High lifted 13th-ranked University of Redlands into the NCAA Division III playoffs after posting an 8-1 regular-season record.
The former Sultans include senior middle linebacker BRETT ROMERO, and senior receivers KYLE ROMERO, and TYLER AUBREY.
Aubrey paced Redlands in punt returns at a solid 10.4 yards per runback, while placing third in receiving with 21 receptions and a pair of touchdowns. Kyle Romero also recorded a pair of TD catches, while brother Brett was a special team and pass defense specialist who registered a sack this season.
The 32-team tournament finds the Bulldogs traveling to Belton, Texas, to meet No. 4 Mary Hardin-Baylor. The undefeated Crusaders (10-0) are en route to taking the American Southwest Conference title. Redlands, which placed second in the Southern California Intercollegiate Athletic Conference, seek its first-ever postseason win in the school's fifth trip to the playoffs (the first since 2007).
The squads square off for the first time in history at Tiger Field, starting at 10 a.m. PT. Earlier in the season, Redlands downed another 4th-ranked ballclub in North Central (Ill.) University.
The winner of the Redlands-UMHB game faces the victor of the McMurry vs. Trinity (Texas) showdown.
---
East County showdown of quarterbacks in the MWC
El Cap's Lindley (SDSU) vs. Valhalla's Thomas (Colorado State)
By Andrew Smith
© East County Sports.com
FORT COLLINS, Colo. (11-9-11) — Any typical November afternoon in this Rocky Mountain town would go unnoticeable to most people in East County. This particular Saturday (Nov. 12), however, has several ties closer to home than usual.
Only five quarterbacks from East County have eclipsed the 2,000 yard mark passing at least twice in their careers in the 21st century and two of them will meet head-to-head when El Capitan High alum RYAN LINDLEY (SDSU) will face off against Valhalla product PETE THOMAS (Colorado State) as the Aztecs travel a mile high for a Mountain West showdown. The game can be seen live at 3 p.m. PDT on The Mountain (channel 320 on Cox) and also on Channel 4 San Diego.
Lindley holds the only victory between the two former All-East County standouts on the college level after winning last year's contest 24-19 at Qualcomm Stadium. To be honest, Thomas didn't have half the talent Lindley was surrounded with to call it a fair bout. Lindley had a solid running attack with Mountain West freshman of the year Ronnie Hillman while two NFL-caliber wide outs – Vincent Brown and DeMarco Sampson – caught everything thrown their way.
Throwing for 5,551 yards his junior and senior year combined, Thomas more than made his mark as a Norseman in the 2008-09 seasons. Lindley also flashed the East County skies by tossing for 5,741 his last two years as a Vaquero.
The two have not disappointed on the next level either as they have combined to throw for 15,583 yards to this point or in other words the length of 156 football fields combined.
CSU coach Steve Fairchild is impressed by Lindley.
"Ryan did kind of what they all do. He had a redshirt year but they threw him in there, I believe my first year as a head football coach. He was playing as a redshirt freshman bouncing around. He had his ups and downs for a couple years and then you could really see the light come on the last two years and I really think he has a future."
One anonymous NFL scout proclaimed after studying their college tapes, "They have the arm strength, mindset and ability to both play on Sundays and have potential bright careers as professionals."
A former Patrick Henry High southpaw quarterback, Fairchild recognizes talent when he sees it.
"(Lindley) has got good size, a good arm. He stands in the pocket. He can make every throw; you saw that more last year when they stretched the field. He can put the ball from a hash mark all the way out to a deep cut; he can throw the deep ball. He's in that (NFL) style of offense, too. He's playing underneath center, he's doing some of the play-action thing he'll need to do. I'd be surprised if he doesn't get a real good look."
Attacking the scheme of Aztecs' defensive maestro Rocky Long is no small task.
"It's just unusual because it's multiple; it's very pressure-oriented," Fairchild said. "They play both man and zone but they challenge you man-to-man. From a structure standpoint it's unlike what you're used to going against the majority of the year. It's like defensively trying to stop Air Force; it's so unique it's hard to simulate and obviously you have some things from a protection standpoint that you've got to get worked out in a short week."
SDSU has its concerns defending Thomas.
"I see a guy who has improved a lot, plays with more confidence," Long said. "He has a better handle on their offense this year and is not playing like a rookie anymore. He is playing like a veteran."
---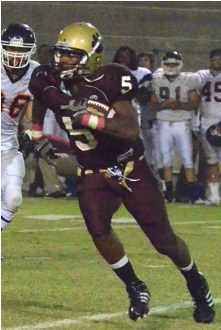 Granite Hills High product Aaron Harris established Southwestern College records for career rushing.
(Photo by Russell Scoffin)
Harris eclipses Jaguars rushing marks
Aaron Harris
(Photo by S.J.)
© East County Sports.com
CHULA VISTA (11-02-11) — Former Granite Hills High standout AARON HARRIS has established four rushing and scoring records during his stint at Southwestern College. Latest of his milestones is becoming the all-time career rushing leader, a mark he cleared Saturday (Oct. 29) with 138 yards in a setback to Golden West.
The Jaguars' 6-foot, 190-pound redshirt sophomore running back now has 1,763 career rushing yards with two games remaining in the regular season. He breaks a 37-year-old Southwestern career mark set by Donnell Kinard, who rushed for 1,685 during the 1973-4 seasons. Harris also holds rushing records for single season (1,128 yards in 2009), touchdowns (14 in 2009) and career rushing TDs (21 and counting).
---
Locals shine at other Nebraska football power
© East County Sports.com
KEARNEY, Neb. (10-25-11) — Four East County products are making an impact in the Nebraska-Kearney football program.
Senior corner ARTHUR HOBBS, who played at Mount Miguel and Grossmont College, is the top defensive back in the secondary for the Lopers, who sport a 7-1 record and No. 2 ranking in Region III of the NCAA Division II poll.
Hobbs, who led the Lopers in solo tackles with 42 a year ago on his way to earning second team All-Rocky Mountain Athletic Conference second team honors, is on course to nailing down a first team berth this year. After eight games, Hobbs has a team-best 29 solo stops with six interceptions and a fumble recovery.
Sophomore KENNY HILL, a Grossmont College standout, starts adjacent to Hobbs in the Nebraska-Kearney secondary. Hill ranked sixth in tackles as a redshirt freshman for the Lopers a year ago. He has 25 tackles and nine pass break-ups this season.
Other East County contributors to the Nebraska-Kearney cause include sophomore kicker MICHAEL GRUBER (Christian High) and junior inside linebacker PAT KELLY, a graduate of Christian High and Grossmont College.
After scoring a team-high 74 points as a redshirt freshman, Gruber has clicked on 12 of 13 PATs this season. A year ago, Gruber converted 7 of 12 field goals and 47 of 50 PATs.
Kelly has notched 10 tackles in seven games in his first season with the Lopers.
---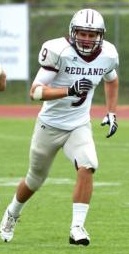 Tyler Aubrey

College Football Notebook (Week 5):
Former Sultan Aubrey is something special

© East County Sports.com
REDLANDS (10-4-11) — Santana High alum senior wide receiver/kick return specialist TYLER AUBREY of the University of Redlands has been named as a semifinalist for the 2011 National Football Foundation William V. Campbell Trophy, which honors the sport's best scholar-athlete in the nation. In addition, Aubrey remains in the running as one of possible 16 recipients of the NFF Scholar-Athlete Postgraduate Award of $18,000. The Campbell Trophy, endowed by Health South, increases the amount of the recipient's grant by $7,000 for a total postgraduate scholarship of $25,000.

Aubrey is among 126 other candidates from all levels of collegiate football, including 29 from NCAA Division III. He is the sole representative of the Southern California Intercollegiate Athletic Conference (SCIAC) and the West Coast.

Candidates for these awards must be in their final year of eligibility, boast a minimum GPA of 3.2, possess outstanding football ability as a significant contributor, and have demonstrated strong leadership and citizenship.

With a cumulative GPA of 3.563, Aubrey continues his work toward a degree in Financial Economics while pursuing minors in Accounting and Business Administration. Among his scholarly achievements, this six-time Dean's List member landed on the 2010 College Sports Information Directors of America Academic All-District First Team and collected his third of likely four UR Scholar-Athlete awards.

Joining Aubrey at Redlands is

Santana teammate

Kyle Romero

shown scoring a touchdown on Sept. 17 at Whitworth University

in Spokane, Wash.

VIDEO HERE

As a football player, Aubrey played an integral role in the Bulldogs' historical 8-1 run during the 2010 campaign. He made 20 catches for 183 yards, including a long of 41 yards and one touchdown. He also led the team with 12 kick returns for a total of 300 yards. Among these, he uncorked an impressive 83-yard return into the end zone during the team's 21-17 victory over Chapman University.

Earlier this season, Aubrey made strong contributions to the Redlands ' upset win over then-third-ranked North Central College (IL), as well as the solid road victory of familiar foe Whitworth University (WA).

Beyond football, Aubrey consistently gives back to the community while revealing his compassionate leadership skills. During the 2010 May Term break, he organized and participated in Bulldog football's Strong Hands, Soft Hearts campaign for Camp Ronald McDonald for Good Times®. He specifically coordinated housing, meals, and work crews for 75 teammates whose work continues to benefit 1,700 children with cancer and their families each year.

Aubrey also served as an active participant in the Benevolent Bulldog program, which takes $100 seed money and grows it into as much as possible for a worthy cause. He joined forces with three teammates to raise a combined $5,900 for the Susan G. Komen San Diego Breast Cancer Research Fund during the past two summers.

"I am often amazed by Tyler 's talent, high energy and profound commitment to shine at everything he does. Be it academics, service to the community, or football, Tyler Aubrey always brings his best effort and comes through with excellence," stated head coach Mike Maynard.

Redlands penned Aubrey as its nominee earlier this September and looks forward to the official announcement of the NFF Scholar-Athletes on Oct. 26. All honorees will attend the 54th Annual NFF Awards Dinner on Dec. 6 in New York City at the Waldorf-Astoria where one member of the group will be announced live as the winner of the coveted Campbell Trophy.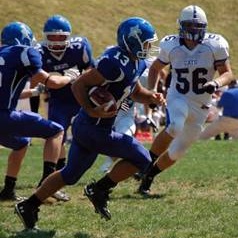 Peru State's Garret Campbell with yet
another kickoff runback for a touchdown.
(Photo by Darrell Wellman)
Helix alum in step with Thundering Herd
Former Helix High running back TRAVON VAN is gaining steady footing as the Marshall University season progresses. The 5-foot-10, 200-pound Van rushed for a team-best 54 yards on 15 carries as the Thundering Herd edged host Louisville 17-13. It was Marshall 's first win over a BCS opponent since 2003.
Van ranks as the No. 2 rusher for Marshall (2-3) with 161 yards on 61 carries. He has also caught eight passes for 52 yards and has started all five games in the Thundering Herd backfield.
Campbell tabbed Bobcat of the month
Peru State College (PSC) Athletic Director Steve Schneider has announced that Foothills Christian alum GARRET CAMPBELL has been selected as one of the two Bobcat Athletes of the Month for September.
Campbell, a sophomore defensive back and kick returner, was picked for his record-setting performance on Sept. 10, as well as his overall performance for the month. (see previous stories).
---
---
Trevon Van

Elliott Taylor

College Football Notebook

© East County Sports.com
EL CAJON (9-6-11) — East County high school gridiron standouts are beginning to surface at some new places.

Running backs TRAVON VAN (Helix) is now a starter at Marshall University, while ELLIOT TAYLOR (Mount Miguel) made the Arizona travel squad as a walk-on from the Wildcats' track team.

Van received national television coverage in Saturday's (Sept. 3) Coal Bowl against the Mountaineers of West Virginia in Morgantown. The game was finally called in the fourth quarter after nearly seven hours of on-again, off-again play due to severe weather, with West Virginia leading the Thundering Herd, 34-13.

Lightning was seen close by the stadium in the afternoon and the field and stands at Milan Puskar Stadium were cleared with just about five minutes left in the third quarter. West Virginia led 27-13 at the time. The game was halted again early in the fourth quarter and did not resume.

Obviously neither team could generate much rhythm and Van – listed as a redshirt freshman – finished with a net of 1 yard rushing. However, making it to the Division I-FBS university is a plus for Van, who was the 2009 Offensive MVP at Milford Academy in New Berlin, N.Y. in what he thought was a course to the University of Florida.

Taylor (5-foot-10, 186-pounds), meanwhile, was a rushing leader for the Matadors, but got lost in the shuffle at Southwestern College before focusing his attention on track when he transferred to the Pac-12 school.

"Just the fact that he convinced the football coaches to let him walk on says something about the kid," Mount Miguel coach TOM KARLO said.

Arizona meets Oklahoma State in Stillwater, Okla. on Thursday (Sept. 8) in a game to be televised nationally by ESPN at 5 p.m.





Colorado State quarterback Pete Thomas




Pete Thomas

Dominique
Bradley

Garret Campbell

Thomas exhibits pinpoint passing
ALBUQUERQUE, N.M. — Colorado State sophomore PETE THOMAS, who became the Rams' first returning starting quarterback since 2007, enjoyed the second-most accurate day ever by a CSU passer. The Valhalla High product clicked on 22 of 26 passes for a lofty 84.6 completion percentage in a 14-10 Mountain West Conference win at New Mexico on Saturday (Sept. 3).

That is not surprising considering Thomas entered the season as the most career accurate passer in CSU history.

Former Foothiller Bradley picked DAC player of the week
CROOKSTON, Minn. — Mayville State (N.D.) defensive back DOMINIQUE BRADLEY has been named the Dakota Athletic Conference Defensive Player of the Week. The 6-foot-2, 185-pound sophomore out of Grossmont High returned an interception 25 yards for a touchdown in Saturday's (Sept. 3) 31-29 setback at Minnesota-Crookston on Saturday (Sept. 3). Bradley also had 6 solo tackles, 2 assisted tackles and 0.5 sacks for the Comets.

Quick Strike by Campbell at Peru State
PERU, Neb. — In its first ever Heart of America Athletic Conference (HAAC) football game, Peru State (Neb.) was buried by Baker University, 55-12, Saturday (Sept. 3). One of the few highlights was provided by Santee resident and Foothills Christian graduate GARRET CAMPBELL, a sophomore for the Bobcats, who returned a kickoff 88 yards for a touchdown.
---
Highlanders highlight Saturday's Stanford-San Jose State clash

© East County Sports.com
PALO ALTO (8-30-11) — Former Helix football standouts ANTHONY LARCEVAL (Class of 2009) and SEAN LINTON ('10) of San Jose State University will lead the Spartans against the high-powered Stanford Cardinal and LEVINE TOILOLO (Helix '09) at 2 p.m. Saturday (Sept. 3).

A year ago, the Cardinal soared to new heights, closing an historic 12-1 season as a Top 5 team and returning home as the Discover Orange Bowl champion.

Toilolo saw his season come crashing down to a premature conclusion on the second offensive play of the season in Stanford's Sept. 4 game against Sacramento State in 2010. The 6-foot-8, 263-pound Toilolo suffered a tear of the anterior cruciate ligament in his right knee on the second play of the Cardinal's 52-17 win over Sacramento State.

Then Stanford head coach Jim Harbaugh reported that Toilolo was struck by a defender's helmet after a 27-yard gain in his first collegiate game.

"It sickens me for the youngster," Harbaugh he told the San Francisco Chronicle.

"He prepared himself so well in the last 12 months he was here."

That mishap followed an injury a year earlier when he had a screw inserted in his foot as a precaution from a broken bone suffered during the basketball season his senior season.

"The most devastating part, he was waiting for this for the last year and a half," said his father, RAY TOILOLO.

Waters running big for Midland

© East County Sports.com
FREMONT, Neb. (8-30-11) —Former Grossmont High standout KHALID WATERS opened the college football season with a bang Saturday (Aug. 27), rushing for 200 of Midland University's 293 yards on the ground to power the NAIA 17th-ranked Warriors past visiting Dakota State (S.D.), 47-20, at Memorial Field.

Waters' 200 yards, which included a touchdown romp, are the most by a MLU back since the 2005 season. His score came on a 15-yard handoff up the middle to mount a 21-0 second-quarter lead.

Overall, Midland (8-3 last season) posted 519 yards in total offense.

The Warriors next play on Sept. 10, traveling to Lincoln, Neb., to play the city's other strong football power, Nebraska Wesleyan University.
---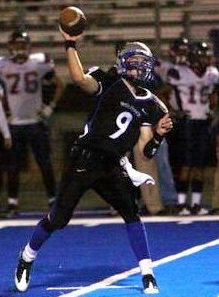 Former West Hills quarterback
Gary Isaacson.
(WHHS courtesy photo)
Isaacson remains on comeback trail
© East County Sports.com
LAS CRUCES, N.M. (7-29-11) — For players who suffer the type of injury GARY ISAACSON absorbed in the first game of his senior football season at West Hills, it usually spells the end of a career.
That could well have happened to Isaacson had he not had a football scholarship to New Mexico State University dangling in his face. More than that, though, was Isaacson refused to give up.
"It's been a long road, but I realized right away that I'd rather be on the field than holding a clipboard on the sideline," Isaacson said. "I went through reconstructive ACL surgery one month after I went down. It was our homecoming game against El Cap and I begged the doctor to let me be there."
And so he was.
"I wanted to be with my team even though I couldn't play," Isaacson said. "They found me a wheel chair and I was there to lead our team in a pregame prayer. We went on to win the game 13-7. That was the highlight of the season for me."
After transferring from Helix following his freshman season, Isaacson elected to remain on the junior varsity so he could play quarterback rather than line up as a varsity receiver.
As a junior, Isaacson earned the starting quarterback post and completed 76 of 119 passes for 1,069 yards and a dozen touchdowns. He proved himself as a bona fide scrambler, although the coaches insisted he remain in the passing pocket.
Rated a blue chip signal-caller heading into his senior season, Isaacson was injured on a scramble in the 2010 season opener at Santana.
"I was running down the sideline, and I got hit which left me a little bit off balance," he said. "I was trying to make a cut when I got hit in the knee. My foot turned and I went down."
After being helped from the field, Isaacson was laying on the trainer's table when West Hills took possession of the ball. He tried to return to the field, but was denied.
"I got off the table and tried to run, but I could barely walk," he said. "I knew I was done."
Since then Isaacson's days have been all about rehab. He credits Wolf Pack assistant coach HONDO HERRERA and quarterback coach DICK VAN RAAPHORST in helping rebuild his career.
"I know I'm about 80 percent right now," Isaacson said. "Coach Van Raaphorst has done a great job of working with my mechanics. He has helped me with my footwork, throwing a tight spiral and how to break down a defense."
More than that is Isaacson praised the New Mexico State coaches for not giving up on him.
"When they were recruiting me I was able to see their spring game," Isaacson said. "I felt a great vibe when I was there. But more than that I'm really happy that (head NMSTU coach DeWayne) Walker and (receivers coach-recruiter (Todd) Littlejohn have stuck by me."
Isaacson will gray shirt this season, but plans to be on the sideline for the Aggies' 2011 season opener against Ohio University on Sept. 3 at home in southeastern New Mexico.
"I am definitely driven to play," Isaacson said. "I know they have a senior quarterback (Palomar JC transfer Matt Christian) and Hawai'i sophomore Andrew Manly battling for the starting berth this season."
Isaacson plans to make his move in 2012.
I work out every day with (West Hills alums) JARRETT DALE (Azusa Pacific) and defensive end STEVE ARMSTRONG (Iowa Wesleyan)," Isaacson said.
"I'm going to New Mexico State to play quarterback. If I they want me to utilize my talents at other positions, so be it. I just want to play as soon as possible."
---
2010 Poinsettia Bowl

AZTECS 35

NAVY 14

Top: Aztecs quarterback Ryan Lindley, who threw for 276 yards and 2 touchdowns. Bottom: SDSU lineman

Tommie Draheim

(60), an El Cap alum, helped open this hole for Aztecs running back Walter Kazee, who breaks loose into the Navy secondary.

(Photos by Frank Price, youatplay.com)


ADDITIONAL PHOTOS

HERE
SDSU's Lindley, Hillman
on Maxwell Award Watch List

© East County Sports.com
SAN DIEGO (7-7-11) — Former El Capitan High passing phenom RYAN LINDLEY, who is preparing for his senior season at San Diego State, is one of two Aztecs among the 66 candidates nominated 2011 Maxwell Award Watch List for the annual honor that is presented to the nation's most outstanding collegiate football player.

Lindley and sophomore running back Ronnie Hillman are the first San Diego State student-athletes tabbed to the watch list since former running back Lynell Hamilton in 2006.

Lindley returns for his fourth year as SDSU's starting signal caller and has already amassed 9,537 career passing yards and 67 touchdowns in 36 contests.

A resident of Alpine, Lindley had his best season a year ago, throwing for 3,830 yards and 28 TDs to lead the Mountain West in passing (294.6 ypg.) and total offense (292.2 ypg.). Lindley was a second-team all-conference selection as a junior and enters 2011 within striking distance of the school's all-time career passing record currently held by Todd Santos (11,425).

San Diego State is one of 15 schools to have two or more players on this year's Maxwell Award Watch List. Overall, 47 schools are represented, including fellow Mountain West members Boise State and TCU.

The 66 players nominated this season were picked by the Maxwell Football Club's selection committee and evaluated on past performance and future potential. Additions and deletions to the watch list may be made throughout the season and the award's winner will be voted on by members of the Maxwell Football Club, NCAA sports information directors, head coaches and selected national media.

The Maxwell Award has been given out annually since 1937, and is named in honor of sportswriter Robert W. "Tiny" Maxwell. This year's group of semifinalists will be announced on Oct. 31, while the finalist will be unveiled on Nov. 21. The winner of the award will be recognized on Dec. 8, as a part of the Home Depot ESPNU College Football Awards Show and the formal presentation takes place at the Maxwell Football Club Awards Gala in Atlantic City, N.J., on March 2.
---
Roth winner Darby named best
at Southwestern Oklahoma State
© East County Sports.com
WEATHERFORD, Okla. (5-6-11) — Junior safety JONATHAN DARBY, a product of West Hills High and Grossmont College, has been recognized as the top male athlete of the year at Southwestern Oklahoma State University. The award is based on the student's athletic achievement, academic standing, community involvement and citizenship.
Darby made an instant impact on the Bulldogs football team this season, leading the Bulldogs with 91 tackles despite missing the last two games with an ankle injury. He was Southwestern's lone representative on the Lone Star Conference's first-team North Division squad. Darby is majoring in education where he carries a 3.97 grade point average.
In his final season at Grossmont College, Darby received the 33rd annual Joe Roth Memorial Award, which goes to the Griffins football player that best exemplifies the high academic standards, athletic excellence, humility, leadership, character and class that the late Joe Roth exhibited during his All-America career.
Elsewhere
Midland Lutheran running back KHALID WATERS, a product of Grossmont High, has been named to the All-Nebraska NAIA Football First Team Offense.
---
NAIA awards for East County talent
© East County Sports.com
GRAND ISLAND, Neb. (1-30-11) — A trio of former East County football players gained national and regional awards while playing at NAIA colleges during the 2010 season.
Included was an All-America citation for former West Hills High quarterback PHILIP STABACK. After leading the nation in passing for Lindenwood University (Mo.), Staback, who now resides in Oceanside, gained a second team berth along with Lions teammate Dan Jones as an offensive lineman.

It was Staback's second All-America award in as many seasons with Lindenwood.
In addition, former Steele Canyon running back JAMIE DALE earned honorable mention on the All-America list after a standout season at South Dakota Mines.
Dale, a junior from Alpine, rushed for 1,057 yards for the Hardrockers (7-3), a total which included a season-high effort of 198 yards against Valley City State.
Meanwhile, Midland University running back KHALID WATERS (Grossmont HS) was tabbed to the All-Nebraska NAIA football team, as selected annually by the Omaha World Herald. Waters was one of 10 Warriors chosen by the publication.
Waters, a junior, was also an All-Great Plains Conference honoree after rushing for a team-high 817 yards and 11 touchdowns for the Warriors. He was also one of the top punt returners in the conference, with runbacks of almost 10 yards per attempt.
The awards were announced by the NAIA and the Victory Sports Network.
---
Ekeweozor, Villanova, in FCS national semifinals
© East County Sports.com
CHENEY, Wash. (12-16-10) — For the second year in a row, former Mount Miguel High standout CHIDOZIE EKEWEOZOR will a be a starting offensive tackle for defending national champion Villanova (9-4).
Villanova will play in the FCS semifinals of the Division I-AA Football Championship series against No. 5 seed and host Eastern Washington (11-2) in a game that will take place Friday (Dec. 17) at 5 p.m. at Roos Field. The contest will be nationally televised on ESPN2.
Villanova is the defending NCAA Football Championship Subdivision champion. A year ago the Wildcats defeated top-seeded and undefeated Montana, 23-21, for its first national title at Finley Stadium.
This season marks the ninth appearance in the FCS playoffs and the third straight for Villanova, which is currently riding a three-game overall winning streak and a six-game postseason winning streak. The string of three straight years in the playoffs is a first for the program, which captured its first national title last season.
Friday night's game against Eastern Washington will be the third straight game for the Wildcats against a program they had never faced prior to this season.
---
Lindenwood QB Philip Staback
named 2010 NAIA All-America
(Lindenwood Univ. courtesy photo)

All-America citation for
Lindenwood's Staback

© East County Sports.com
LIBERTY, Mo. (12-15-10) — Former West Hills High quarterback PHILIP STABACK, who recently signed an indoor football professional contract, was named Tuesday (Dec. 14) to the 2010 NAIA All-America football team by the American Football Coaches Association.

Staback becomes the first Lindenwood University quarterback to receive such a citation after being named the Heart of America Athletic Conference player of the year on offense by becoming the second player in NAIA history to complete more than 70 percent of his passes.

Staback re-wrote the Lions record book by throwing for 3,329 yards and 34 touchdowns, and had just eight interceptions. He led the NAIA in pass efficiency (225.0) and passing yards per game (332.9), and was third in total offense per game (344.2).

Among the single-game records broken were total offense and most touchdown passes. Single-season records set included total offense, total offense per game, passing yards per game, and completion percentage.

For his career, the senior threw for 6,710 yards in just two seasons. He set a Lindenwood career record with 70 touchdown passes. Staback completed over 70 percent of his passes and averaged 279.6 passing yards a game. He also rushed for 328 yards and eight touchdowns.

Staback directed a Lindenwood offense that led the NAIA this past season with 52.5 points, 358.7 passing yards, and 551.5 total offense yards per game. Fueled by Staback, the Lions (9-2) advanced to the NAIA Football Championship Series for the fourth straight season.

---

Philip Staback

Staback turns pro in Green Bay

© East County Sports.com
GREEN BAY, Wis. (11-30-10/Revised 12-3-10) — Fresh from receiving NAIA All-American honors for Lindenwood University, former West Hills High quarterback PHILIP STABACK recently signed a professional contract to join the Green Bay Blizzard of the American Indoor Football Association.

Staback, the national NAIA leader in passing efficiency (225.0) and yardage (332.9) this past season, will immediately join the Barons for training camp. The season opens in February 2011.

"Philip is coming from a program that's high tempo which will help him greatly with the transition into indoor football," stated Blizzard assistant head coach Jarrod Rogol. "Also, he is the kind of player that isn't satisfied with good and is always driven to be great."

Staback was originally going to sign with the AIFA Reno Aces, but welcomed a better opportunity in Wisconsin.

"Green Bay is a better fit for me," said Staback." It is a better program that will help me succeed, and it is a successful program that has experience in the playoffs which I hope to lead to the championship this year."

"There will be heavy competition. too, which will help me expose my true talent at the arena level."

Over the last two seasons at Lindenwood, Staback has proven to be one of the top quarterbacks in the NAIA and the Heart of America Conference.

After setting Lindenwood's single-season passing touchdown record (36) in 2009, Staback posted exceptional numbers this fall. In one game he completed 19-of-21 passes, another game saw him toss six touchdown passes, leading the Lions to a 9-1 regular season record and a berth in the NAIA playoffs.

Jon Molzen

Molzen helping William Jewel make strides

© East County Sports.com
LIBERTY, Mo. (12-8-10) — It may be a few baby steps, but for former El Capitan High and Grossmont College standout JON MOLZEN, the 2010 football season must be called a success.

Playing for William Jewel College, an NAIA program, which posted just a single victory in 2009, Molzen and a cast of fresh recruits arrived at the western Missouri campus just outside of Kansas City and posted with three additional triumphs in a 4-7 campaign.

Included were a pair of road victories before closing the season by limiting Lindenwood University, which averaged more than 50 points per game behind former West Hills High quarterback PHILIP STABACK, to just 29 points -- the second-fewest registered by the Lions all season.

Molzen, a sophomore, finished as the Cardinals' second-leading receiver, finishing with 20 receptions for 235 yards and a touchdown, as William Jewel finished in the middle of the Heart of America Conference in a tie for 6th place among 11 schools.

Molzen was joined by high school teammate MARK PEREZ, who gained more time on the offensive line as the season progressed. Also at William Jewel is Lemon Grove resident FEALT COOPER, who played his high school ball at Kearny, then became the Cards' leading rusher with 605 yards to gain an All-HAAC honorable mention berth.


Darby earns All-Lone Star Conference

© East County Sports.com
WEATHERFORD, Okla. (11-30-10) — West Hills alum JONATHAN DARBY, the 2009 Joe Roth Award winner out of Grossmont College, continues to gain honors at Southwestern Oklahoma State.

Darby was among a handful of Bulldogs selected to the All-Lone Star
Conference North Division team, the league office announced.

Darby, a junior defensive back, was a first-team selection after leading the team with 91 tackles, ranking seventh-best in the conference.

Bradley, Dale – like dis & like DAC

© East County Sports.com
DICKINSON, N.D. (11-30-10) — A pair of former East County players have gained postseason honors in the Dakota Athletic Conference.

Earning first team honors are Mayville State defensive back DOMINIQUE BRADLEY (Grossmont HS) and South Dakota Mines running back JAMIE DALE (Steele Canyon).

Bradley, a freshman, was one of only two non-seniors (the other was a
sophomore) to make the first team, as voted by DAC coaches. He was a conference player of the week in three categories – offense, defense and special teams – during the season.

Dale rushed for a DAC-best 1,057 yards along with 8 touchdowns, finishing as the only player in the conference to rush for more than 100 yards per contest at 132.1, helping SD Mines (7-3, 6-3 DAC) to a second-place finish.
---
| | |
| --- | --- |
| | |
| SDSU's Ryan Lindley | CSU's Pete Thomas |
Lindley vs. Thomas: East County QBs
clash in Saturday shootout at Qualcomm
© East County Sports.com
SAN DIEGO (11-4-10) — In the history of East County football not many shootouts get bigger than Saturday's (Nov. 6) Mountain West Conference Colorado State versus San Diego State shootout at Qualcomm Stadium.
Kickoff is 7 p.m. when the visiting Rams quarterback and Valhalla High graduate PETE THOMAS takes aim at the Aztecs, who are led by El Capitan High grad and SDSU junior RYAN LINDLEY.
Thomas, a true freshman, has completed 187 of 276 passes for 2,007 yards and 9 touchdowns for CSU (3-6, 2-3 MWC).
Lindley, a three-year starter for the Aztecs (6-2, 3-1 MWC), has completed 142 of 265 passes for 2,255 yards and 15 TDs this season.

Having won three consecutive games for the first time in eight years, having matched its best eight-game record in the last 33 seasons and posting its best record in 14 years, SDSU opens a stretch of three of its final four regular-season contests at home.
The joust with Colorado State will also be televised by The Mountain television network on Cox channel 320. The game can be heard on AM 600 KOGO.
Dominique
Bradley

One-of-a-kind Triple Crown by Grossmont High grad


© East County Sports.com
MAYVILLE, N.D. (11-3-10) — Mayville State (N.D.) University freshman DOMINIQUE BRADLEY – a graduate of Grossmont High – has pulled off a hat trick of sorts. That is, Bradley carried the ball 26 times for 181 yards and two touchdowns in the Comets' 21-14 win over Dakota State to earn Dakota Athletic Conference Offensive Player of the Week.

The Spring Valley native has now won Player of the Week honors on three separate occasions this season. He was the defensive player of the week after the Comets' win over Trinity Bible College on Sept. 11 and was named the special teams player of the week after the Comets' game against Jamestown College.

Midland Lutheran's Waters makes like a Comet

© East County Sports.com
FREMONT, Neb. (11-3-10) — Former Grossmont High running back KHALID WATERS rushed for a team high 119 yards on 23 carries and scored three touchdowns as Midland Lutheran (Neb.) won its fifth straight by bouncing Briar Cliff (Sioux City, Iowa) University 31-10 on Saturday (Oct. 30). Waters also caught three passes for 27 yards.

Waters scored on runs of 24, 14 and 5 yards for the Warriors (7-2 overall), who are tied for third place in the Great Plains Athletic Conference at 6-2.
---
Sultans have Redlands rolling
© East County Sports.com
REDLANDS (11-3-10) — Four East County graduates are helping the Redlands University Bulldogs make a run for the Southern California Intercollegiate Athletic Conference football championship this season.
The quartet includes Santana High products TYLER AUBREY, the ROMERO brothers – BRETT and KYLE – and Valhalla freshman MATTHEW SWANGER.
Aubrey, a 5-foot-11, 180-pound junior wide receiver, has reeled in 16 passes for 170 yards and a touchdown for the second-place Bulldogs (6-1, 4-1). He also leads the team in kickoff returns with 174 yards on nine runbacks, and totals 359 all-purpose yards.
Kyle Romero, also a junior, has five receptions for 65 yards and a TD, while linebacker Brett Romero is making his hits on the other side of the ball.
Although he is on the Bulldogs roster, it would appear that Swanger is red-shirting this year.
---
Lindley leads Aztecs to win, become bowl eligible
© East County Sports.com
LARAMIE, Wyo. (10-30-10) — San Diego State, following Saturday's (Oct. 30) 48-38 victory at Wyoming, are now bowl eligible for the first time in 12 seasons. Aztecs quarterback RYAN LINDLEY (El Capitan) completed 16-of-32 passes for 365 yards and 3 touchdowns for SDSU (6-2, 3-1 MWC).
---
Bradley establishes NAIA national record
© East County Sports.com
MAYVILLE, N.D. (10-25-10) — Former Grossmont High safety DOMINIQUE BRADLEY of Mayville State University was recently named the Dakota Athletic Conference Special Teams Player of the Week for his performance against Jamestown College (N.D.). He was also listed among the honorable mention for the NAIA national award.
The Comets freshman broke a 29-year-old NAIA record with his 99-yard punt return for a touchdown.
He also returned six kickoff returns for a total of 173 yards, while on defense recorded 10 tackles on the day – including nine solo tackles and two tackles for a loss.
The previous NAIA record for longest punt return of 97 yards was set by Ron Fuller of Evangel (Mo.) against Missouri Southern in 1981.
Earlier in the season, Bradley was named the DAC Defensive Player of the Week when Mayville State blanked Trinity Bible College, 31-0, in September.
---
Stabach takes "the 5th" for Lindenwood
Lions offense posts school-record 90 points
© East County Sports.com
ST, CHARLES, Mo. (10-19-20) — Former West Hills passing phenom PHILIP STABACH earned his fifth Heart of America Athletic Conference Offensive Player of the Week honor after leading Lindenwood University past Culver-Stockton, 90-19, on Saturday (Oct. 16). PHOTOS
It took Stabach and his cohorts just 38 seconds to put the Lions on the scoreboard, as the San Diego Mesa College product delivered a 38-yard TD pass. The Lions scored on 13 of their 16 possessions as Staback completed 15 of 19 passes for 277 yards and three touchdowns
The school set marks for points and margin of victory, and finished with 721 total yards, the second-most ever by the Lions (6-1), in winning their 23rd straight home game on homecoming.
For the season, Stabach has completed 151 of 223 passes for 2,329 yards and 24 touchdowns.
Thomas blasts UNLV

3 TD passes by true freshman
© East County Sports.com
COLORADO SPRINGS, Colo.
(10-20-10) — Former Valhalla High standout PETE THOMAS, the first true-freshman starting quarterback at Colorado State since at least World War II, completed 10 of 14 passes for 233 yards and 3 touchdowns as the Rams buried visiting UNLV 43-10 in Saturday's (Oct. 16) Mountain West Conference action.
Thomas has completed 151 of 223 passes for 1,566 yards and 8 TDs for the 2-5 Rams.
---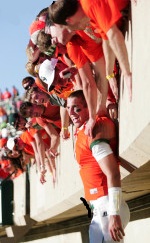 Colorado State University
quarterback Pete Thomas
celebrates with fans
after leading the Rams
past visiting Idaho
(Photo by Dan Byers,
CSU media relations)
Thomas receives MWC honors
© East County Sports.com
COLORADO SPRINGS, Colo. (9-27-10) — Former Valhalla High standout PETE THOMAS, the first true-freshman starting quarterback at Colorado State since at least World War II, earned Mountain West Conference honors in just his fourth collegiate outing.
On Saturday (Sept. 25), Thomas led the Rams to a last-minute, game-winning drive to defeat Idaho, earning conference player of the week honors. Thomas orchestrated a 12-play, 66-yard drive over the final 2:38 of regulation, setting up Ben DeLine's 35-yard game-winning field goal at the gun in a 36-34 triumph over the Vandals.
He also guided the Rams on six other scoring drives, the most critical of which were quick touchdown marches in the final 5 minutes of the first half, erasing a 13-0 deficit and giving the Rams an important advantage entering the locker room. In a game that featured three lead changes and a tie, he also directed a seven-play, 64-yard touchdown drive, hitting T.J. Borcky on an 11-yard score, that nearly tied the contest at 34 with just over 6 minutes left (prior to a missed PAT).
The third-youngest QB in CSU history, Thomas completed 29-of-36 pass attempts (80.6 percent) for 386 yards and three touchdowns, against a defense that entered ranked No. 7 in the country against the pass, allowing just 120.33 yards per game.
His 386 passing yards were the most by a CSU QB since Justin Holland had 419 in a 39-31 win over Wyoming in Fort Collins, Oct. 22, 2005. Thomas, who earned his first win as a collegiate QB, became the first Rams player to string together consecutive 300-yard passing games since Holland threw for 405 vs. Wyoming (Oct. 22, 2005) and 312 at New Mexico (Oct. 28, 2005), a 35-25 win.
In completing 80.6 percent of his passes (29 of 36), he notched the sixth-best single-game completion percentage in school annals. However, his mark is the No. 1 percentage among CSU passers with at least 36 attempts. After his first-quarter interception, he threw the last 32 without a pick.
Thomas, who ranks 21st in the nation with 270.2 passing yards per game, becomes the first CSU player to win the MWC's weekly offensive award since RB Gartrell Johnson on Oct. 6, 2008.
---

Mason Mills
Mills tabbed starting
quarterback for USD
© East County Sports.com
ALCALA PARK (9-22-10) — MASON MILLS, a former football and baseball standout for Christian and Coronado high schools, has been named starting quarterback for University of San Diego for the balance of the season. The freshman had been playing baseball on scholarship for New Mexico State last season before deciding to switch back to football.
Mills gained his first start last week against UC Davis. Despite falling, 38-24, Mills completed 24 of 40 passes for 221 yards and a pair of touchdowns.
The Toreros, 0-3 following one of the most difficult pre-conference schedules in school history, open Pioneer Football League action Saturday at Butler.
In high schools, Mills established a CIF San Diego Section single-season record by completing 72 percent of his passes, posting 2,970 yards and 37 touchdowns for the Islanders as a senior in 2008.
West Hills grad No. 1 passer in NAIA
© East County Sports.com
ST. CHARLES, Mo. (9-21-10) — Former West Hills High quarterback PHILIP STABACK, a senior signal-caller at Lindenwood University, has earned NAIA National Offensive Player of the Week.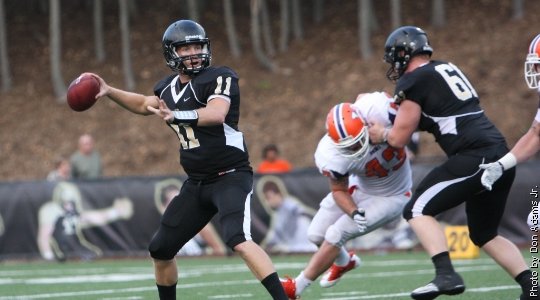 Lindenwood quarterback Philip Staback

Staback completed 27-of-40 passes for 404 yards, the fourth-highest total in Lindenwood history for a game. He threw a pair of touchdown passes in the first quarter and rushed for another touchdown in the third quarter to keep the No. 2 Lions undefeated following a 45-27 victory over No. 8-ranked Missouri Valley.

Missouri Valley came into the game allowing just 5.0 points and 80.5 yards of offense a game. Staback led Lindenwood to over 500 yards of total offense and the Lions scored seven out of 11 times that they touched the ball.

For the year, Staback has completed 63 of 79 passes (79.7 percent) for 1,119 yards and 10 touchdowns. He ranks first in the NAIA in pass efficiency, passing yards per game and total offense yards per game.

Staback completed 19-of-21 passes in the first half of Lindenwood's 68-7 season-opening win over Evangel for 385 yards and three touchdowns. Nine of his completions were for 20 yards or more and he had the fifth-highest passing day in Lindenwood history. The Lions scored touchdowns on all seven drives that he was under center.

He clicked on 17 of 18 passes for 330 yards and 5 TDs against Central Methodist 69-7 in the second game of the season.
---
Matadors making their mark
Ekweozor visits The White House

© East County Sports.com
SPRING VALLEY (9-15-10) — Three graduates of the Mount Miguel High football program continue to excel across the country.

CHIDOZIE EKWEOZOR, a 6-foot-5, 320-pound sophomore, has recovered from a torn ACL suffered during Villanova's 2009 run to the Div. IA National Championship. The big fella has regained his starting spot this season, anchoring the right tackle spot in games against Temple and Lehigh.

No doubt equally as exciting for Ekweozor was being part of Villanova's visit to the White House on Monday (Sept. 13).

More than 30 NCAA championship teams took over the White House lawn. Fueled by cookies and lemonade, the student-athletes' excitement was hard to contain. Some posed for photos, others took time to get to know their fellow student-athletes.

Once President Barrack Obama took the stage, the energy was quite focused. The President offered inspirational words to the student-athletes, thanking them for their contributions to their communities, both on the field and off.

Gruber getting his kicks
at Nebraska-Kearney

© East County Sports.com
KEARNEY, Neb. (9-15-10) — When MICHAEL GRUBER was competing in a three-sport career at Christian High, he probably thought baseball would be his ticket to the next level.

The jury is still out on that option.

At the moment, though, the 6-foot, 180-pound true freshman is handling the place-kicking duties for the Antelopes of Nebraska-Kearney.

In his first two games for the Lopers, Gruber has kicked field goals of 33 and 24 yards and is 4-4 on PATs.

Chances are Gruber – a catcher for four seasons at Christian – hasn't played his last baseball game either.

Notepad — Junior cornerback ARTHUR HOBBS (5-11, 180), a product of Mount Miguel High and Grossmont College, has racked up 23 tackles in two games as a starter for the Antelopes of DII Neb.-Kearney (1-1). In the Lopers season-opening 24-17 loss to Wayne State (Neb.), Hobbs logged 15 tackles with an interception and a pair of pass break-ups. He was selected the Rocky Mountain Conference Player of the Week for his efforts against Wayne State. The Lopers, ranked No. 23 in the nation for DII, bounced back to defeat No. 13 Neb.-Omaha 32-29 in week No. 2.

Playing as a true freshman at DII Western State College in Gunnison, Colo., NATONE MORGAN (5-10, 170) had a 27-yard kickoff return against Montana and 2 tackles against Fort Hays State (Kan).

Former Grossmont College offensive lineman KEVIS WATKINS is the starting right guard for the 23rd-ranked South Carolina.... Another Grffins O-line alum, LANDIS PROVANCHA, is in his second season as starting left guard at Marshall.
---
Mayfield State defensive
back Dominique Bradley


Former Grossmont star wins conference honor


© East County Sports.com
MAYVILLE, N.D. (9-14-10) — Mayville State University defensive back DOMINIQUE BRADLEY was named the Dakota Athletic Conference Player of the Week for his performance during the Comets' win over Trinity Bible College on Saturday (Sept. 11) in Ellendale, N.D.

The 6-foot-2, 185-pound freshman out of Grossmont High racked up two interceptions and returned a fumble for a 30-yard touchdown during MSU's 31-0 win over TBC. The win boosted Mayville's record to 1-1 overall heading into the conference opener this Saturday (Sept. 18) in Minot, N.D.

Bradley also had three solo tackles and four assist tackles in the contest, including one tackle for a loss.

Steele Canyon products
doing well at Humboldt State


© East County Sports.com
ARCATA (9-14-10) — Head coach Rob Smith and his Humboldt State Lumberjacks, lost their season-opener against Cal Poly, 23-17, on Sept. 4, but rebounded to win the following week against Dixie State in St. George, Utah, 49-14.

Placekicker MATT BRUDER, a 5-foot-7, 152-pound true freshman out of Steele Canyon High School in Jamul, has emerged as the Jacks' starter at that position. Bruder kicked a 40 yard field goal against SLO, 2 PATs and 4 kickoffs for 221 yards (55.2 average).

Against Dixie State, Bruder kicked off 8 times for 439 yards (54.9 average). He was a perfect 7-for-7 on PATs.

The Jacks' first scrimmage indicated the defense is closer to being game-ready than the offense is.

"The defense ran to the ball well and forced some turnovers," Smith said. "The offense is lagging behind and is going to have to pick up the pace."

Defensive players who flashed signs of readiness include another Steele Canyon alum, JUSTIN HORNSBY, who was knocked out of action by an injury last year, but appears completely recovered in time for his second chance at a senior year on the defensive line.

Elsewhere — Former Steele Canyon running back ALEX PERLIN, East County's second-leading rusher in 2009, will red-shirt at Central Missouri this season.
---
Q&A: Stanford TE Levine Toilolo

By Rick Jones
© Special to East County Sports.com
PALO ALTO (9-3-10) — With Andrew Luck at quarterback, the Stanford offense looks to be dangerous and two weapons in the Cardinal arsenal will be Helix alum LEVINE TOILOLO, named the starter by (former San Diego Charger quarterback) JIM HARBAUGH, and new wide receiver Corey Gatewood. We caught up with both for a Q & A.

The pair are ticketed to start in Saturday's (Sept. 3) season opener at home with Sacramento State.

Following are excerpts from that interview…


How are things shaping up with the tight ends?
LEVINE TOILOLO has had a great camp and he's our starting tight end.

Levine is listed at 6-foot-8 but looks 6-foot-9 to me.

Is that any kind of a problem in terms of getting leverage for blocking?
Not if you can bend. It's about bending no matter what height you are and he does a great job of bending and he's had a great camp. We were talking about leverage, it's a matter of, if you can't bend at 6-foot-7, 6-foot-8, then you have a real problem getting underneath pads. If you can bend then those long arms become a great asset in leverage.

Did he have to do any kind of special exercises to help with flexibility and getting his butt down?
He's a very fluid athlete that's been blessed by mom, dad, and God to have that kind of physique and flexibility.

Is it a bit of a surprise that the two young guys have outstripped the veteran players at that position?
Well, I wouldn't say that Fleener has been outstripped. He and Ertz are right there. They say a similar position where Levine…They're all tight ends but they're used differently. So Fleener hasn't been outstripped by any means.

Getting back to Levine, what has he done particularly well to justify this promotion?
Just the way he's practiced. He's been a real dynamic combination of a blocker and a guy that can get down the field in the passing game, which is truly what you look for in a tight end that can do both of those things very well. His mental discipline has been outstanding in the meeting room, and it's carried over onto the field. He's really been on the screws in terms of what his assignments and alignments are. Then physically, he's made a lot of plays. He's been consistently good.

Is his leaping ability commensurate with his height? Could he be a major weapon down at the goal line situation with a short pass?
Put it this way, he has a big catch radius. At 6'8 with long arms, that radius is wide.

When coach Harbaugh told Toilolo he was the starter at tight end, did it come as a surprise to the Helix giant?
This whole off-season, from spring ball on it has been a tight competition among all the tight ends. We have all gotten a lot or reps. And, yeah if I am leading I know all the other tight ends aren't far behind. I think they are all doing great. I mean it's just a title. I feel like we've rotated so much, I appreciate that, but I still feel like I have to keep working the same way. I feel like all the tight ends are working hard and we're right there with each other, so I feel like it's just a title.

What have you improved on from spring?
I've been working on trying to get me leverage low, and just my mental game as well. Really trying to know all the concepts, knowing not just my route but knowing if I am hot, if they are bringing blitzes. Knowing all the different protections. That has been one of the big things for me, the mental game. Knowing your assignment completely helps with you confidence during the play and going full speed knowing you are doing the right thing.

Did the redshirt year last year help you get into the playbook more, almost a blessing in disguise.
Yeah, exactly. I wasn't ready physically or mentally. So to get in there and get coached up by the veterans and get instruction from by the coaches was great. And having this whole off-season of getting into the playbook helped as well.

What kind of things are you hoping to work on this next week?
Blocking, even during the season, that is something I can work on. Also working on building trust with the quarterback and the coaches. Try to come out here every day, every practice and do things the right way. Get the job done so the coaches have that trust in me perform whenever called on. And so the quarterback can trust me in those clutch moments to make plays.

Health aside, how different is it entering your second year here at Stanford from your first?
I think just that comfort level is what has been the biggest thing for me. Getting comfortable with the team, trusting one another and getting comfortable out there, just that connection that you build in the huddle, and like I said, that extra year of being in the offense and learning the system has definitely been a big help."

Stanford's Toilolo
out for season

© East County Sports.com
STANFORD (9-9-10) — Helix High graduate and Stanford's promising tight end LEVINE TOILOLO saw his season come crashing down to a premature conclusion on the second offensive play of the season in Saturday's (Sept. 4) game against Sacramento State.

The 6-foot-8, 263-pound Toilolo suffered a tear of the anterior cruciate ligament in his right knee on the second play of the Cardinal's 52-17 win over Sacramento State.

Stanford head coach Jim Harbaugh reported Tuesday (Sept. 7) that Toilolo was struck by a defender's helmet after a 27-yard gain in his first collegiate game.

"It sickens me for the youngster," Harbaugh he told the San Francisco Chronicle.

"He prepared himself so well in the last 12 months he was here."

Toilolo earned the starting tight end job over veterans Coby Fleener and Konrad Reuland. He redshirted a year ago after having a screw inserted in his foot as a precaution from a broken bone suffered during the basketball season at Helix High School.

"The most devastating part, he was waiting for this for the last year and a half," said his father, RAY TOILOLO, a freshman football coach at Helix, alma mater to the 49ers' ALEX SMITH, New Orleans Saints' REGGIE BUSH and basketball great BILL WALTON.

Much like the wounded tight end, Harbaugh maintains a positive attitude.

"His attitude right now is, 'That's football, I'll be back,'" Harbaugh said.

"Levine said, "I'll be back bigger, stronger and better,' " reported RAY TOILOLO of Lemon Grove, in a statement to the San Jose Mercury News.

Toilolo will have surgery to repair the damaged knee.

---
Larceval to start vs. No. 1 Alabama
© East County Sports.com
TUSCALOOSA, Ala. (9-1-10) — Former Helix High standout ANTHONY LARCEVAL will face the biggest assignment of his life as a starting defensive tackle for San Jose State University when the Spartans open the season Saturday (Sept. 4) against top-ranked Alabama.

It will be the second time in San Jose State's 93-year football history opening against the preseason No. 1 (Nebraska, 2000) as they make the journey to the Deep South and Bryant-Denny Stadium.

The last time SJSU defeated a nationally-ranked opponent came in the 2000 season when the Spartans defeated No. 9 TCU featuring LaDainian Tomlinson, 27-24 in Spartan Stadium. But to turn the trick on the road, the Spartans need to turn the page back to 1980 and a 30-22 victory over Baylor, which featured linebacker Mike Singletary, safety Vann McElroy and running backs Walter Abercrombie and Dennis Gentry and went on to win the Southwest Conference championship.

Of San Jose State's 56 players listed on the August 25 depth chart, eight players (four offense and four defense) are in line for their first major college start, including Larceval.

The 6-1, 265-pound red-shirt freshman will participate in his first ballgame since falling in the 2008 CIF Division II title game to Oceanside, 23-19, after sweeping to the Grossmont South League title en route to being tabbed the East County Defensive Player of the Year.
---
Waters brothers capsize Dakota State
© East County Sports.com
MADISON, S.D. (8-29-10) — Junior KHALID WATERS rushed for 197 yards and two touchdowns on 20 carries, while sophomore brother JEFF WATERS scored on a 6-yard run, leading Midland Lutheran (Neb.) to a 38-7 Great Plains Athletic Conference rout of host Dakota State University Saturday (Aug. 28) at Trojan Field.
It was the season opener for both teams.
Midland Lutheran scored on its opening drive of the game as Khalid Waters bolted 53 yards to make it 7-0.
With 3:52 left before intermission, the Warriors used a 3-play, 50-yard scoring drive, capped off by a Khalid Waters 14-yard scoring burst to make it 28-0.
MLC's Jeff Waters closed the scoring with a 6-yard TD dash.
Midland Lutheran outgained the Trojans 306-61 in rushing yards.
---
Mauga makes impact in Moscow
© East County Sports.com
MOSCOW, Idaho (8-16-10) — HOMER MAUGA, a junior transfer from Grossmont College, is making a swift impact at the University of Idaho.
A 6-foot, 225-pound linebacker, Mauga – a Helix High graduate – recorded a team-best 8 tackles in the Vandals' first intra-squad scrimmage last weekend.
Defense figures to be Idaho's strength this season as 10 lettermen return from last year's fourth-place finish in the Western Conference. The Vandals posted an 8-5 record and edged Bowling Green, 43-42, in the Humanitarian Bowl last season.
High-scoring games such as that may be the exception rather than the rule this season. The Vandals return only one offensive lineman and must find a way to protect a huddle full of quality skill position players.
Thus, the defense must carry the Vandals' hopes, especially in the early stages of the season, which includes a road trip to Nebraska the second week of the campaign.
Sticking together
Vandals linebackers connect on field and at home
By Josh Wright
Special to East County Sports.com
From The Spokane Spokesman-Review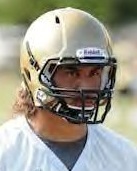 Homer Mauga

MOSCOW, Idaho (8-29-10) — Come Thursday night, Idaho football fans will have a better sense of how the Vandals' starting linebacker crew has coalesced. Already, though, this much is certain: They fit together splendidly at their off-campus home.

JoJo Dickson and Robert Siavii are from Hawaii, HOMER MAUGA's family used to live in Honolulu, and all three have carried the laid-back islands' vibe to their house.

Football, movies, food – there's little disagreement among them on these and other topics.

"The chemistry with all of us is good at home," said Siavii, a junior from Wahiawa, Hawai'i. "It's basically like three brothers living together without a mom and dad."
The familial ties run deeper than that, actually. Just a month ago, Mauga, the newest projected starter on the Idaho defense, discovered his parents were close friends – and very distant relatives – with Siavii's mother and grandparents in Hawaii in the 1980s.

"(It's a) small world," Mauga said. "I basically stick with those guys, and they're a great big help."

This is the story of Mauga and his two roommates – each with similar backgrounds and frenetic playing styles, and each a key element in the Vandals' most promising defense in years.

Mauga's first true taste of football beyond the junior college level comes Thursday (Sept. 2), in Idaho 's season opener versus North Dakota at the Kibbie Dome.
In a way, though, the Helix High and Grossmont College graduate with a superb Samoan football pedigree is more than prepared. He's spent a large portion of his life watching family members – bunches of them – filter through college and the NFL.

Mauga's cousin is Junior Seau, a linebacker who became an NFL superstar. His father's cousin is Dan Saleaumua, a Pro Bowl defensive lineman who ended his career in Seattle in 1998.

JOSH MAUGA, another cousin, is fighting for playing time with the New York Jets.
But that's not all. In Mauga's immediate family, the ties to football are also extensive.

Among his five brothers, four have played collegiately. His twin brother, HUTCH, is still at Grossmont College in California, where Homer played the last two years.

One of his older brothers, MAGNUM, completed his career recently at Utah State. Yet another brother, DALLAS, starred at Sacramento State and later came close to grabbing an NFL roster spot.

"The NFL – that's the goal for Samoan athletes," said BENSON MAUGA, Homer's father.

Benson, 50, retired from the Navy in 2001. He spent the last 12 years of a 22-year Navy career near San Diego, where his six boys thrived on the football field. While in Honolulu in the '80s, Benson met Siavii's grandfather, who did security and police work. Each had similarly aged children, and so the Maugas and Siaviis struck a bond.

Eventually, Shana Siavii, Robert's mother, became so close that she would stay at the Mauga's home during weekend sleepovers.

"We called them our kids," Benson said.

When Homer signed with Idaho, Shana phoned her son and asked about the new recruit's full name.

"She was in shock that his last name was Mauga," Robert said. "That's the last name of the family that raised her when she was a kid."

Immediately comfortable in his new environment, Homer has made a big enough splash with Vandal coaches to earn a starting gig at strongside linebacker. While just 6-foot and 215 pounds, the junior's speed and aggressive approach have been a perfect fit for a defense that looked sluggish at times last year.

"You always need to play faster and get more speed out on the field, and I think we're close to being able to do that," coach Robb Akey said.

Like Mauga, Siavii – 6-2, 216 pounds – is small for his position. He's so slender that people often confuse him for someone other than a linebacker.

Once, at the Super China Buffet in Moscow, a woman saw him wearing an Idaho football T-shirt and asked what position he played. After Siavii told her, she replied, "You do not look like a linebacker."

"I just laughed and said, 'Thank you, ma'am. Thanks for the compliment,'?" he recalled.

The junior was a decorated player at Leilehua High, earning defensive player of the year honors from the Honolulu Advertiser and garnering interest from Hawaii and other schools. Since joining Idaho in 2008, he's started 17 games. And through fall camp and the spring, he's been one of the Vandals' most consistent playmakers.

Dickson, a 235-pound senior, has predominantly played on the outside during his productive career. But as part of offseason tinkering, coaches moved him to middle linebacker to better showcase his speed and coverage skills.

So far, it seems to be working.

"Being outside gives teams a way to run away from me," Dickson said. "Me being in the middle, I can make plays on both sides of the field."
---
Thomas is the man at Colorado State
© East County Sports.com
FORT COLLINS, Colo. (8-21-10) — Quarterback PETE THOMAS knew what he was doing when he worked feverishly to secure his high school diploma in January. Early graduation from high school is already paying dividends.
The 6-foot-5, 218-pound freshman out of Valhalla High has battled his way in to a starting role as the quarterback at Colorado State University.
In spite of his youth, Thomas has begun to mature and is turning into a leader on and off the field according to CSU officials. Recently, after an off-the-mark pass, Thomas, ran over to talk to a CSU receiver about where he wants the ball in certain situations. Also in recent days, Thomas has been high-fiving the offensive line after every team period.
Practice has been kind to Thomas, who has hit numerous receivers in stride and also connected on a few deep balls.
Junior wide receiver Matt Yemm caught his second touchdown of the day when he hauled in a strike at the back corner of the end zone. The other offensive highlight came when Marquise Law used his size and jumping ability to catch a touchdown.
Even though not injured Thomas wore a red jersey for a portion of practice of the Aug. 18 practice. The jersey, which usually symbolizes a player recovering from a malady, was a precautionary measure by coaches so that Thomas would not get hit during the live period.
'Nuf said.
Thomas, at least for the moment, is the man in Ft. Collins.
The Rams head football coach, STEVE FAIRCHILD, will bring his team to Qualcomm Stadium to face San Diego State on Saturday (Nov. 6). It should be a gala homecoming considering Fairchild is a graduate of Patrick Henry and San Diego Mesa College, as well as a former SDSU assistant coach.
In addition it will be a firing match between former East County high school rivals Thomas and El Capita's ­– and now Aztecs quarterback – RYAN LINDLEY.
---
Van takes detour from Florida to Marshall
© East County Sports.com
HUNTINGTON, W.V. (6-14-10) — Former Helix High running back TRAVON VAN, who was ticketed to attend the University of Florida, has changed course after spending last season at Milford Prep Academy.
The 5-foot-11, 195-pound Van will be eligible to play for the Thundering Herd this season if he clears academic tests. If he fails that test, Marshall first-year head coach John 'Doc' Holiday said he will apply for a hardship scholarship to the NCAA for Van
Van rushed for 315 yards and three touchdowns on 86 carries. Serving much of his time as a slotback at Milford, Van also caught 24 passes for 289 yards for the Falcons. Milford's 13-game schedule included games against the Army Prep squad, Yale JV and Lehigh University JV, as well as a few junior college teams.
Over the past three years, Milford Academy located in West Berlin, N.Y., has sent 98 percent of its students on to colleges. Perhaps more notably, more than two-thirds of these graduates received full four-year scholarship offers. Van hopes to continue that tradition.
Milford Academy was opened in 1916 and has been a non-profit institution since 1965. In that same year, the school introduced a Division 1 level post-graduate football program that enjoyed immense success over the years.

"Travon missed by an eyelash of passing the test to get in at Florida," said Helix coach TROY STARR, a former coaching associate of Holiday. "But he's working hard, showing up for his classes every day at Marshall. He is a much improved student as well as a good football player."
Marshall is an upcoming power that opens the 2010 season with games against Ohio State and West Virginia.
---

Magnum Mauga
Mauga joins SWC staff
© East County Sports.com
CHULA VISTA (5-18-10) — Southwestern College has added longtime East County star football player MAGNUM MAUGA to its coaching staff.
A three-year starter at Helix High and an all-conference pick for two seasons at Grossmont College, Mauga recently graduated from Utah State.
A middle linebacker in high school and a defensive lineman in college, Mauga will make the transition to the offensive side of the ball coaching the Jaguars' running backs in his first assignment. He will also work as the director of Southwestern College's Fellowship of Christian Athletes Huddle on campus.
Adam Clark
Former Griffins standout Clark
makes contact in New Mexico
© East County Sports.com
SILVER CITY, N.M. (5-15-10) — Former West Hills High-Grossmont College linebacker ADAM CLARK has been named head football coach at NCAA Division II Western New Mexico University.
Originally, Clark was hired to be the Mustangs' defensive coordinator in February of this year before being elevated to the top post.
Clark has spent his football career as both a player and a coach with winning programs. He has won eight or more games nine out of the last 10 years at the college level. He has also won seven conference championships and had two runner-up conference finishes as a player and as a coach during that span.
Clark came to WNMU after back-to-back second-place finishes in the Rocky Mountain Athletic Conference at the Colorado School of Mines (Golden, Colo.), where he was the defensive line coach and strength and conditioning coordinator.
Clark helped build the Orediggers to an RMAC powerhouse, finishing just one game behind conference champion Neb.-Kearney last season. While at Mines, Clark coached the RMAC Defensive Player of the Year and three all-conference defensive linemen selections in 2009. The team also finished ranked in the top 25 in the nation in run defense the past two seasons. Mines head coach Bob Stitt credited Clark's strength program as a major reason for Mines' success.
"I am extremely excited to have the opportunity to be the head football coach at Western New Mexico University," Clark said. "I see so much potential in this program, and I believe we will turn this program into something the entire WNMU community and Silver City will be proud of."
Prior to tending to the Mines, Clark spent the 2007 season as the defensive coordinator/assistant head coach at St. Ambrose University, where he was selected as the MSFA Assistant Coach of the Year. Clark's 2007 defense was ranked in the top five nationally in four categories, including scoring (fourth, 12.8 points per game), pass defense (second, 134 yards per game), pass defense efficiency (second, 80.6) and turnovers forced (fourth, 38). Clark helped guide the Fighting Bees to a final national ranking of No. 9 in the country.
Clark also spent three seasons (2004-06) as the defensive secondary and strength and conditioning coach at Graceland University (Lamoni, Iowa). In 2005, the Jackets finished 9-3, won the school's first conference championship in 30 years, and advanced to their first-ever national playoff. Clark also coached the Defensive Player of the year in the Heart of America Conference in 2005.
A 2002 graduate of St. Ambrose University, Clark earned his bachelor's degree in sociology. Clark, who went on to earn his Master's in organizational leadership from St. Ambrose, also served as a graduate assistant for his alma mater from 2002-04.
Clark was a two-year letter winner on the St. Ambrose football team during his undergraduate career. During his time with the Fighting Bees, Clark raked in all-conference and all-American honors. Prior to attending St. Ambrose, Clark played football at Grossmont College (1997-98) for two years, earning all-conference and all-state accolades.
While at West Hills (1994-96), Clark set a Wolf Pack career record with 9 interceptions. He also owns the Pack's season mark of six thefts in 1996. Although the exact number was not available Clark also paced the Wolf Pack in tackles as a junior and a senior.
---
Waters, Brown, tabbed all-Nebraska
© East County Sports.com
OMAHA (12-26-09) — In San Diego, football coaches select all-league and all-CIF divisional teams, while the media chooses regional (e.g., all-East County, all-North County) all-star squads, including the official All-San Diego Section teams.
The same process holds true across the nation, including Nebraska, where the Omaha World-Herald named the state's All-NAIA college team.
Two former East County standouts were honored.
Named to the World-Herald's first team were running back KHALID WATERS (Grossmont HS) and BRANDEN BROWN (Steele Canyon), a defensive back. The La Mesa residents are both sophomores for Midland Lutheran University.
Only three other sophomores were named to the 25-man squad by the publication.
Brown registered a pair of interceptions while finishing third in tackles and second in forced fumbles for MLU (6-5). Waters rushed for 591 yards in 9 contests, losing the team rushing title by a mere 4 yards despite playing in two fewer contests.
Brown was also one of three Warriors named by coaches to the All-Great Plains Athletic Conference football team.
Other East County products on the MLU roster include sophomore defensive back MICHAEL GRAHAM (Grossmont HS), sophomore running back JEFF WATERS (Grossmont HS), freshman wide receiver DERRICK BEEBE (Christian HS), and sophomore linebacker A.J. VINES (Horizon).
---
Special teams foils title for Staback

© East County Sports.com
ROME, Ga. (12-20-09) — When the football game's most outstanding player is announced and a kicker is named, two things occurred. There was no one else worthy to select, yet that team probably won anyway.

If you're former West Hills High quarterback PHILIP STABACK, perhaps all you can do is shrug your shoulders when the opposing placekicker Braden Wieking of Sioux Falls won the award.

On Saturday (Dec. 19), Staback threw for 144 yards and a pair of touchdowns against the top-rated defense in NAIA football. Then the defensive unit of his Lindenwood (Mo.) University Lions limited top-ranked and undefeated Sioux Falls (S.D.) to just a single trip into the end zone.

However, special teams proved to be the difference after Wieking booted three field goals and sophomore Adam Lopez returned the second-half kickoff 91 yards for a touchdown, as Sioux Falls (15-0) successfully defended its NAIA national championship after nipping Lindenwood, 25-22, at Barron Stadium.

Staback completed 16-of-26 passes for the Lions, while running back Denodus O'Bryant rushed for 60 yards on just six attempts, just enough to finish his season with exactly 1,000 rushing yards.

The contest featured five lead changes, but despite collecting 142 yards in the fourth quarter, Lindenwood never could regain the advantage after Wieking booted a tie-breaking, 42-yard field goal with 9:50 remaining.

Sioux Falls, in winning its fourth national title in its history, has now captured 29 consecutive ballgames.

After trailing at halftime for the first time all season, Lopez' runback gave the Cougars a 15-14 lead.

Staback directed the Lions back in front in short order on a 6-play, 63-yard march. O'Bryant found the end zone on a 45-yard run at the 11:39 mark of the third quarter, then Staback ran in the two-point conversion for a 22-15 lead.

However, Sioux Falls running back Ryan Lowmiller made it a 22-22 deadlock after a 2-yard rushing score at the 9:45 mark of the third, then Wieking's third field goal gave the Cougars their final margin of victory.

Earlier, Staback, who passed for over 3,300 yards and 34 touchdowns this season, hit Matt Bramow on a 19-yard touchdown strike with 7:30 to go in the second. The catch was Bramow's 11th touchdown catch of the year, which tied the single-season Lindenwood record.
---
Harvey plays decoy in Nova's NCAA championship
© East County Sports.com
CHATTANOOGA, Tenn. (12-19-09) — With the deep passing game absent due to rainy conditions, former Monte Vista High standout BRANDYN HARVEY was anything but unhappy after going without a reception Friday (Dec. 18).

Instead, Villanova (14-1) went with short passes and the ground game to rally past top-seeded and undefeated Montana, 23-21, for its first NCAA Football Championship Subdivision title at Finley Stadium. MORE

Matt Szczur rushed for 159 yards and two touchdowns and had another 68 yards receiving, as the Wildcats rallied from a 14-3 deficit by scoring 20 straight points, then held on after a late Grizzlies TD and an onside kick. STATS

The title was especially welcomed by Nova head coach Andy Talley, who had friends warn him about undergoing heart tests a few days before traveling to the national championship game. They didn't want the Villanova coach to suffer complications before the big game.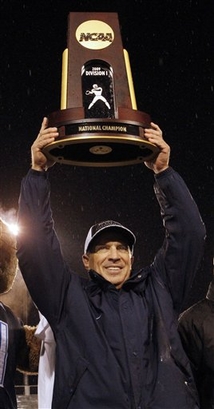 Villanova head coach Andy Talley.
(Courtesy photo from
Villanova University website)
MORE ON THE CHAMPIONSHIP
HERE
After waiting 25 seasons for his first shot at a title, Talley didn't heed their warnings.
"If I died here winning the national championship, that would be a pretty good death," Talley told reporters following the contest. "Does that tell you how much it means to me?"

Brandyn Harvey


Chidozie
Ekwoezor
Meanwhile, Montana (14-1), making its record 17th consecutive postseason appearance, fell to 2-5 in the title game, including a loss to Richmond last season.

Villanova quarterback Chris Whitney directed an 81-yard drive, running for 22 yards on one play and connecting with Szczur for 26 yards on another. Whitney hit Chris Farmer with a 3-yard TD pass to give Villanova 16-14 lead with 5:26 left in the third quarter.

Whitney directed an attack of short passes, going 10 for 13 for 142 yards, even with Harvey, the Wildcats' leading receiver getting shutout. Whitney also rushed for 102 yards.
Also on the Villanova roster is redshirt freshman CHIDOZIE EKWEOZOR, an offensive tackle out of Mount Miguel High, who was named to the 2007 All-East County second team.

Montana's Andrew Selle threw a 53-yard touchdown pass to Jabin Sambrano to pull the Grizzlies to 23-21 with 1:07 left, but the onside kick attempt went out of bounds. Nova then regsitered a first down before running out the clock.

Szczur racked up 270 all-purpose yards, including a career-high 159 rushing, en route to being named the championship game's Most Outstanding Player.
The title is the 18th national championship in Villanova history, and the second in the last four weeks. Villanova claimed the women's cross country national title in Terre Haute, Ind. last month.
---
Harvey, Nova advances to FCS finale
© East County Sports.com
CHATTANOOGA, Tenn. (12-16-09) — After winning a CIF championship at Monte Vista High in 2003, former Monarchs standout BRANDYN HARVEY will attempt to gain a collegiate crown on Friday (Dec. 17; 5 p.m. PT on ESPN2) at Finley Stadium.


Brandyn Harvey

Harvey, the starting wide receiver for Villanova, will play for the NCAA Football Championship Subdivision (formerly Division I-AA) crown against No. 1 Montana. In the semifinals, Nova scored late to nip William & Mary, 14-13, while the Grizzlies eliminated Appalachian State, 24-17.

It's the first title game appearance for Villanova (13-1), the second seeds. The Wildcats have won 8 straight contests to set a school single-season record for victories.

Harvey was instrumental on the game-winning drive with a key third-down reception. He was initially ruled out of bounds, but the call was overturned based on an official review in the booth, giving him a 16-yard completion to the Tribe-6. Nova would score moments later.

Harvey paced the Wildcats with three catches for 65 yards, including a 40-yard reception in the first half. The senior leads Nova with 53 grabs fror 694 yards and 5 touchdowns.

Earlier in the season, Harvey made a one-handed grab of Chris Whitney's fourth-down pass for a 29-yard touchdown with 59 seconds left to stun defending FCS national champion Richmond, 21-20, ending the Spiders 17-game win streak on Nov. 7.
---
NAIA National Semifinals: Game-winning touchdown pass by
Philip Staback to lead Lindenwood University over host Carroll College.
Staback plays for NAIA title
© East County Sports.com
HELENA, Mont. (12-8-09) — The last time former West Hills High quarterback PHILIP STABACK was involved in postseason play, it was a rather forgettable experience. Starting for Mesa College, the Olympians were shutout by Fullerton, 26-0, as Staback threw for just 166 yards and a pair of interceptions.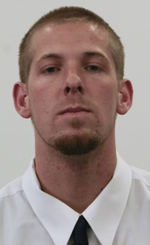 Philip Staback

Vowing for such a debacle to never occur again, Staback is now within one game of capturing a national championship.

Now the starting quarterback for Lindenwood University of St. Charles, Mo., Staback threw for 374 yards and three touchdowns Saturday (Dec. 5) to lead the 3rd-ranked Lions past No. 2 Carroll College, 42-35, in the NAIA national semifinals.

The winning touchdown came with 49 seconds remaining when Staback capped an 88-yard drive with a 10-yard scoring pass to senior receiver Matt Bramow. The Lions offense finished with 568 total yards against the second-rated defense in the NAIA, as Staback, a criminal justice major, completed 25-of-35 passes.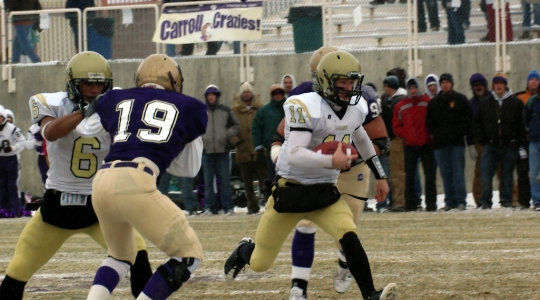 Lindenwood Univeristy quarterback Philip Staback (11) surprised Carroll College with this run.
The West Hills High product threw for three touchdowns, including the game-winner with
10 seconds remaining to lead the Lions to a 42-25 win in the NAIA national semifinals.
(Lindenwood University courtesy photo)

The triumph snapped a 24-game home winning streak for Carroll, the Frontier Conference champions.

Lindenwood (13-0) will face top-ranked and defending champion Sioux Falls (S.D.) in the 54th Annual Russell Athletic-NAIA Football National Championship in Rome, Ga., on Dec. 19. Kickoff is set for 9 a.m. PT, and broadcast nationally on the CBS College Sports (Chl. 321 on Cox Cable).

Sioux Falls, a 3-time national titlists (1996, 2006 and 2008) won its 28th straight game and 42nd straight home contest following a 48-6 triumph over St. Xavier (Ill.) in the other semifinal. The Cougars will make their sixth title game appearance; it's the first trip for the Lions.

After capturing the Heart of America Conference crown with a clinching 73-6 pasting over William Jewell (Mo.) to close the regular season on Nov. 14, Lindenwood captured home playoff victories over Langston (Okla.), 42-14, and Ottawa (Kan.), 64-26.

For the season, the Lions have scored an amazing 722 points (55.5 per game) with Staback barely playing into the second half of most ballgames. Still, the junior threw for 3,229 yards on 67.9 percent accuracy (220-for-324) with 34 touchdowns and just 6 interceptions.
---
Memorial for Hoover, former Monarchs standout

Courtesy, Eastern Illinois University
CHARLESTON, Ill. (12-6-09) — A memorial service to honor the life of Eastern Illinois assistant football coach Jeff Hoover was held Saturday (Dec. 5) afternoon in the Grand Ball Room of the Martin Luther King Jr., Student Union on the EIU campus.

Hoover, 41, a 1986 graduate of Monte Vista High School, where he was a standout football player and wrestler, will also be honored with a a memorial service on Dec. 13 at Portland State University, where Hoover coached previously to joining the EIU staff.

Hoover lost his life in a tragic car accident when returning from the Panthers first round FCS playoff game in Carbondale, Ill. Hoover had just completed his third season as a member of the EIU coaching staff.

Currently, EIU strength coach Eric Cash and his wife Sherri are currently in fair condition at Carle Hospital in Champaign, Ill., after also being injured in the accident. The Cash's child and all three members of the Hoover family have been released from the hospital. As further updates on the Cash family are available they will be posted.

In lieu of flowers, a Jeff Hoover Children's Education Memorial Fund has been established through First Mid-Illinois Bank & Trust.

Jeff Hoover Children's Education Fund
c/o First Mid-Illinois Bank & Trust
701 Sixth Street
Charleston, IL 61920
(217) 345-8325


The EIU football team is also accepting gift card donations to help both the Hoover and Cash families. Donations can be sent to:

EIU Football Office
Attn: Hoover/Cash Family Donations
600 Lincoln Avenue
Charleston, IL 61920

Please do not send cash donations to the EIU football office.

LOCAL COLLEGE FOOTBALL 2009
Click on Logo for further information




Wes Davis

What a Treat!
Davis to Emerald Bowl

© East County Sports.com
SAN FRANCISCO (12-6-09) — Former Steele Canyon High standout WES DAVIS and his Boston College Eagles were rewarded for a solid 8-4 season, gaining a berth in the Emerald Bowl.

The Eagles will meet the USC Trojans (8-4) at AT&T Park on Sat., Dec. 26, with kickoff on ESPN set for 5 p.m. PT. Executive director Gary Cavalli extended the Emerald Bowl bid to each team today (Sun., Dec. 6).

Meanwhile, earlier in the day, Davis was recognized at BC's annual Scanlan Awards Banquet, the recipient of the Jay McGillis Scholarship Award.



Emerald Bowl website

HERE

Davis overcame a potential career-threatening injury in 2007 to become one of the top defenders for BC. The free safety ranked fifth on the Eagles in tackles, second in interceptions (1st in return yards), starting in 11 of 12 ballgames this season.

In 2008, Davis ranked fourth on the ballclub in tackles. His on-field and classroom excellence earned him The Devlin Family Athletic Scholarship that season.

Boston College continued its amazing run of consecutive bowl appearances, going to postseason play for the 11th straight year dating back to 1999. The Emerald Bowl appearance marks USC's ninth consecutive bowl game appearance dating back to 2001, which includes four straight Rose Bowl contests [2005-08] plus the 2004 National Championship game in the Orange Bowl.

In preseason polls, Boston College was selected to finish at the bottom of the Atlantic Coast Conference. But the Eagles were undeterred under Frank Spaziani, in his first year as head coach but with 13 overall in the BC program. Season highlights included home wins over Wake Forest, Florida State and N.C. State, and two road victories at Virginia and Maryland late in the season.
---
Steele Canyon products earn All-NWC honors

Arlin Taylor

Luis Guerra

© East County Sports.com
SALEM, Ore. (11-27-09) — A pair of former East County standouts have been recognized for their success on the football field at Willamette University.

ARLIN TAYLOR and LUIS GUERRA, both Steele Canyon alums, have been selected to the All-Northwest Conference team.

Taylor, a junior strong safety, was chosen to the all-first team defense. He made 33 tackles for the Bearcats while starting all 10 games this season. Sixteen of his tackles were solo stops. He also intercepted one pass, giving him three interceptions the past two years.

During his three seasons with the Bearcats, Taylor has played in all 32 games, while achieving 128 total tackles. He has broken up 10 passes, forced four fumbles, recovered five fumbles and intercepted three passes. He scored on a 37-yard fumble recovery against Southern Oregon University on Sept. 19. He also earned first team All-NWC honors in 2008.

Willamette University was represented on the second team offense by Guerra, a junior offensive guard, who started each of the past two seasons.

Guerra helped the Bearcats run 458 times for 2,344 yards, an average of 5.1 yard per carry. Willamette completed 56.7 per cent of its 203 passes and the Bearcats quarterbacks were sacked only 13 times.

Guerra received honorable mention All-NWC in 2008.

The Bearcats finished the regular season ranked 20th nationally in the NCAA Division III Coaches Poll released by the American Football Coaches Association.
---
Ex-Vaquero earns honor

© East County Sports.com


Jeff Schiller

ST. PAUL, Minn. (11-20-09) – Coaches from the Northern Sun Intercollegiate Conference named former El Capitan standout JEFF SCHILLER (OL, 6-6, 300, So.) of Minnesota-Crookson to the All-NSIC team.

Schiller, the center for the Golden Eagles, made nine starts this season, gaining an NSIC second-team berth. He was a leader on the offensive line that helped Golden Eagles running backs average 99.4 yards/game.

He was an All-East County pick as a Vaqueros senior in 2007.
From near-death injury,
Toilolo in NCAA playoffs

© East County Sports.com
THOUSAND OAKS (11-18-09/Updated 11-24-09) — As the starting quarterback for Helix High in 2004, senior JERICHO TOILOLO guided the Scotties deep into the CIF playoffs before finally falling to Oceanside in the championship contest.

In 2009, as a senior at Cal Lutheran University, Toilolo feels fortunate to even having played in Saturday (Nov. 21) NCAA Division III playoffs. Never mind that the Kingsmen lost the game 38-17 to Linfield (Ore.) in McMinnville, Ore. Toilolo completed 18 of 34 passes for 155 yards in the defeat.

Jericho Toilolo

OTHER VIEWS

Earlier this season, feeling weak following several ballgames, it was Kingsmen teammate Ebere Winston who convinced Toilolo to head for the hospital after he had passed out.

Doctors report the decision came just in time.

Toilolo not only suffered a broken rib, the bone punctured a lung and caused internal bleeding; he easily could've died without seeking immediate treatment.

"Probably one of the dumbest things I've ever done in my life," Toilolo told the Ventura County Star, noting he simply believed he was dehydrated. "I ended up getting yelled at by almost every nurse and doctor in the hospital for not going to the hospital sooner. And our trainers yelled at me, too."

Now, Toilolo has guided Cal Lutheran (8-1) to its first postseason appearance in 27 years.

Toilolo's resume includes a 14-1 career mark as CLU's starting quarterback (8-1 in SCIAC conference play). Included was a mammoth 464-yard, 6 touchdown effort in his second collegiate outing as a sophomore, then a 4 TD performance against Claremont-Mudd-Scripps in the game he was injured.
---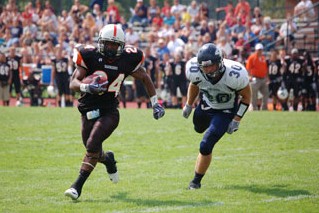 Former Grossmont High standout Khalid Waters rushed for 143 yards vs. Concordia in Week 1.

(MLC courtesy photo)

MORE

HERE

Locals help Midland Lutheran to near upset

© East County Sports.com
FREMONT, Neb. (10-29-09) — Midland Lutheran College, a member of the NAIA Great Plains Athletic Conference, continues to play well with a quartet of East County products on its squad. However, the Warriors keep coming up just short against nationally ranked opponents.

For the third time this season, MLC held a lead against a Top 25 foe. But this latest time, a 21-6 halftime lead disappeared in a 38-27 setback to 5th-rated Morningside College. The loss dropped the Warriors to 5-3 overall – they are 0-3 against ranked teams, yet a perfect 5-0 against all others.

Grossmont High grad KHALID WATERS is the top ball-carrier for Midland Lutheran. Through 8 contests, Waters, a member of the 2007 All-East County team, owns 559 rushing yards this season.

On defense, Steele Canyon High alum BRANDEN BROWN ranks second on the Warriors in interceptions and third in total tackles.

Midland also features former Grossmont High standouts MICHAEL GRAHAM and JEFF WATERS.
---
Dale big in Dakotas

© East County Sports.com
RAPID CITY, S.D. (10-21-09) — Former Steele Canyon standout running back JAMIE DALE, majoring in Metallurgical Engineering at the South Dakota School of Mines & Technology, leads the Hardrockers in rushing with 593 yards and 6 touchdowns on 100 carries.

The 5-foot-9, 180-pound sophomore also leads the Dakota Athletic Conference in all purpose running with 1,042 yards (173.7 ypg) and scoring with 42 points (7 TD). Dale was selected to the 2008 All-DAC team.

The Hardrockers (3-3, 2-3 DAC) pride themselves as "the only university in the nation where starting salaries average more than total costs."

The 2007 Grossmont South League Offensive Player of the Year, Dale was also selected to the 2007 All-East County Football Team.

Helix' Van steamrolls Army Prep

© East County Sports.com
NEW BERLIN, N.Y. (10-21-09) — Former Helix High running back TRAVON VAN, who has accepted a scholarship to the University of Florida, is taking his handoffs at Milford Academy this season.

The 5-foot-11, 195-pound Van is making the most of his chances to run wild as he proved Oct. 18 in the team's 48-40 victory over Army Prep.

Selected the player of the game Van rushed for 196 yards and a TD, while hauling in three passes for 26 yards and another score.
---
Young is ace of Arkadelphia
© East County Sports.com
ARKADEPHIA, Ark. (9-29-09) — Before a packed home crowd, No. 21 ranked Ouachita Baptist turned in the most impressive victory in school history on Saturday (Sept. 26), with a 38-14 win over No. 9 Delta State.
The triumph raised the Tigers' record to 4-0, with JEREMY YOUNG, a senior standout out of El Cajon Valley High, at center stage.
Young put together another stellar night receiving with 151 yards on 12 catches. Young also added three rushes for 39 yards, including a 10-yard touchdown run. He totaled 240 yards of all-purpose yardage on the night.
In his last two games, Young, the NCAA Division II Player of the Week, has reeled in 24 passes for 412 yards.
Young leads the 11-team GSC circuit with 32 receptions for 417 and ranks third in all-purpose yards with 749 yards (187.2 ypg).
For the second consecutive week, Ouachita Baptist (4-0, 3-0) defeated a top-25 Gulf South Conference opponent after a 24-14 victory over former top-25 member Valdosta (Ga.) State in week three. The victory extends the current winning streak to nine games to set a new school record that stretches back to the final five games of 2008.
The Tigers' victory over Delta State (Miss.) snapped the 25-game Gulf States Conference winning streak that the Statesmen compiled in the last 3.5 years of GSC play.
---
Stanford's Snyder steps above the crowd

© East County Sports.com
STANFORD (9-25-09) — It seems almost yesterday when Monte Vista High graduate CLINTON SNYDER was involved in his final athletic event which was a basketball playoff game at University City.

The University City crowd was raucous to say the least, holding up placards bearing Snyder's face and continually hollering at him. Although he was angry, Snyder kept his emotions hidden.

Now the Cardinal defensive leader, Snyder, a 6-foot-4, 240-pounder, has a fumble recovery and made 21 tackles – 15 solo – in the three games. Stanford (2-1) claims victories over Washington State (39-13) and San Jose State (42-17), losing only to Wake Forest (24-17).

A candidate for the Bronko Nagurski Trophy, Chuck Bednarik Award, Butkus Award, and a Lombardi Award Candidate, Snyder will lead the Cardinal into Saturday's (Sept. 26) host encounter against Washington, which is coming off a 16-13 upset of USC a week ago.

The leader of a talented group of linebackers, the fifth-year senior has started 34 of 36 games over the last three seasons. He will transition from "sam" to "mike" linebacker this season. He is one of the players who sets the tone for the Stanford defense with his physical presence and leadership skills.
---
Former ECV Braves standout sets record

© East County Sports.com
ARKADELPHIA, Ark. (9-22-09) — After setting a school record 261 yards on 13 pass receptions on Saturday (Sept. 19), Ouachita Baptist University senior wide receiver JEREMY YOUNG was named the Gulf South Conference Offensive Player of the Week.

Football Flashback

From 2006: Video of Jeremy Young setting a Grossmont College record

with 100-yard kickoff return

HERE

.

A former El Cajon Valley High standout, Young earned his first-ever honor, leading the OBU offense in a 24-14 home upset of No. 16 Valdosta (Ga.) State. The senior caught 13 passes for 261 yards and a 20.1 per catch average along with touchdowns catches of 60 and 56 yards. He didn't stop there, also returning three punts for 32 yards and three kickoffs for 46, upping his all-purpose yardage to 339.

Young set the school record for receiving yards in a game which also placed him sixth on the all-time GSC list. His receptions and yards were also the most by any GSC player this season.

With the victory, Ouachita improves to 3-0 on the season and 2-0 in Gulf South Conference play. The Tigers are riding a current winning streak of eight games dating back to last season. It is the longest win streak by OBU since 1968.

The victory was OBU's first in 10 meetings against Valdosta State since Ouachita joined the Gulf South Conference in 2000. It also was the first victory over a top-25 opponent since the 2003 season, when the Tigers defeated Southeastern Oklahoma State and Central Arkansas.
---
Poinsettia Bowl extends contract with sponsor
Local company to continue support of community enhancement event
Courtesy, Poinsettia Bowl committee
SAN DIEGO (9-15-09) — San Diego County Credit Union has extended its title sponsorship of the San Diego County Credit Union Poinsettia Bowl, 2009 Bowl President Barbara Warden announced today. The extension is for sponsorship through the 2010 contest, with options for 2011 and 2012. Financial terms were not disclosed. San Diego County Credit Union served as title sponsor since the game's inception in 2005.
"The entire San Diego community owes San Diego County Credit Union a great deal of thanks for their name-in-title partnership," said Warden. "Their investment makes it possible for the game to annually attract thousands of fans to the region and produce millions of dollars for the San Diego economy."
We are excited to extend our title sponsorship of the Poinsettia Bowl," said Irene Oberbauer, President & CEO of San Diego County Credit Union. "We are committed to the success of this great event and proud to continue the partnership with this game's beneficiary, the Make-A-Wish Foundation of San Diego."
In what was widely recognized as one of the premier bowl match ups last season, the 2008 San Diego County Credit Union Poinsettia Bowl saw the 11th-ranked TCU Horned Frogs upset the 9th-ranked and previously undefeated Boise State Broncos 17-16 in front of 34,628 fans at San Diego's Qualcomm Stadium. The game garnered a 3.74 television rating on ESPN, the highest ever for a pre-Christmas bowl game on the all-sports network.
The San Diego County Credit Union Poinsettia Bowl was established in 2005 and is produced by the non-profit San Diego Bowl Game Association. The mission of the Association is to generate tourism, exposure, economic benefit and civic pride for San Diego and its citizens by producing the nation's most exciting bowl games and festivals of events. The San Diego Bowl Game Association also produces the annual Pacific Life Holiday Bowl. In 2008 the two games combined to produce $52.3 million for the regional economy.
The 2009 San Diego County Credit Union will be played at 5 p.m. on Wednesday, December 23rd at Qualcomm Stadium. The game will pit the second selection from the Mountain West Conference against a Pacific-10 or Western Athletic Conference opponent.
For ticket and event information, call the San Diego County Credit Union Poinsettia Bowl ticket office at (619) 285-5039 or visit www.PoinsettiaBowl.com.
---
Aztecs' classic four

© East County Sports.com
SAN DIEGO (8-30-09) – East County will be well represented at San Diego State with four Inlanders wearing pads and helmets for the Aztecs this fall.

El Capitan High graduate TOMMIE DRAHIEM (6-4, 285) is slated to start at left tackle, while his highly-touted El Capitan teammate RYAN LINDLEY handles the quarterbacking chores.

The Aztecs, who open the season at UCLA on Saturday (Sept. 5) at 4:45 PDT in Pasadena's Rose Bowl, also welcome two East County transfers to their lineup.

JACOB TAUANUU, a product of Helix High and Grossmont College, was a defensive stalwart at Alabama-Birmingham last season as a sophomore. The 6-2, 240-pound defensive end played in all 12 games for the Barons, racking up 48 tackles, including two sacks.

Grossmont College transfer LARRY PARKER should make an impact in the Aztecs secondary after leaving St. Augustine to spend his freshman year with the Griffins. Parker was recruited by Houston, BYU and Michigan as well as the Aztecs.

---

Fiege transfers to USD

© East County Sports.com
ALCALA PARK (8-30-09) – Former West Hills High standout ERIC FIEGE has left Louisiana Tech University after one season and plans to play football this fall at the University of San Diego

A 5-foot-9, 170-pound sophomore wide receiver, Fiege saw limited playing time for the Western Athletic Conference Bulldogs as a freshman. The versatile Fiege mustered 1,424 all-purpose yards, collecting 10 touchdowns while earning 2007 All-East County offense and defense.

Fiege is one of three East County products – which includes Helix quarterback TY CULVER and Grossmont defensive back KEVIN WRIGHT – ticketed to play for the Toreros.

Another East County touch is USD quarterbacks coach TANNER ENGSTRAND, who begins his fifth season on the Toreros coaching staff. He is a former Grossmont, Grossmont College and SDSU quarterback.

Locals play in Big 5 showdown

© East County Sports.com
PHILADELPHIA (9-2-09) — Two East County graduates will be in Villanova University's starting lineup Thursday (Sept. 3) when the Wildcats tangle with Temple University in the inaugural Philadelphia Mayor's Cup Game at Lincoln Financial Field, home of the Philadelphia Eagles.

CHIDOZIE EKWEOZOR, a redshirt freshman out of Mount Miguel High, has earned his first collegiate start for Villanova. He'll be the Wildcats' starting right offensive tackle, with four returning veterans making up the remainder of the Wildcats' offensive blocking wall.

"I guess you could say I'm kinda in shock," said the 6-foot-5, 305-pound Ekweozor. "But I've been waiting a year to get this chance."

Monte Vista High product BRANYDN HARVEY will begin his senior season as a starting receiver. A year ago, Harvey ranked second in receiving for Villanova with 43 receptions for 552 yards and three TDs.

The Wildcats are ranked No. 5 in the Collegiate Commissioner's Association Coaches Poll released this week and are one of eight teams from the Colonial Athletic Association listed in the top 25.

Villanova returns 15 starters and 31 letter winners from last year's NCAA quarterfinal team that went 10-3 overall and 7-1 in CAA play. The Wildcats have been picked along with defending national champion Richmond to win the CAA in 2009.

ANOTHER MATADOR STUCK IN PAUSE MODE
DAVIS – Former Mount Miguel southpaw quarterback JEFF FREEMAN has made a smooth transition converting to a full time free safety at UC Davis. His biggest problem has been injuries.

Freeman appeared in seven games as a reserve in 2007 as a reserve, recording five tackles. A year ago Freeman played in four games – three starts – but missed the rest of the season after suffering a broken arm against Northeastern University of Boston.

"I guess you'd say I'm not very lucky," Freeman said.

Freeman was ticketed to be the Aggies starting safety this season, but was knocked out of the box when he suffered a torn meniscus early in camp. If all things go his way, Freeman will return to the UC Davis starting lineup when the Aggies travel to Boise State on Oct. 3.
---
Lindley Named to Manning Award Watch List for Nation's Top QB
Quarterback is one of just 38 players on the list and one of only six sophomores
Courtesy, SDSU Media Relations
SAN DIEGO (8-18-09) – San Diego State sophomore RYAN LINDLEY (El Capitan HS) has been named to the preseason watch list for the Manning Award, presented to the nation's top collegiate quarterback. Lindley, who set school and Mountain West Conference records last season for passing yards by a freshman, is one of 38 quarterbacks on the list and one of just six sophomores.
Lindley becomes the second Aztecs player to be named to a national award watch list this season, joining center Trask Iosefa (Rimington Trophy watch list). He is one of three MWC quarterbacks on the Manning Award Watch List along with TCU senior Andy Dalton and Brigham Young senior Max Hall.
A native of Alpine, Lindley earned team offensive most valuable player honors last season as a redshirt freshman. He started 10 games, completing 242-of-427 passes for a 56.7 completion percentage with 16 touchdowns and 2,653 yards. Lindley ended the season ranked 24th nationally in passing average, including second among freshmen, and 42nd in total offense (fourth among freshmen). He also had the seventh-best passing efficiency among all freshmen at 117.01. He also became just the second freshman in school history to start a season-opening game for the Aztecs, joining two-time All-American and the school's all-time career passing leader, Todd Santos.
Against Idaho last year, Lindley threw for a career-high 433 yards to become the 14th quarterback in school history to record a 400-yard passing game. Lindley, who also had four 300-yard passing days on the season, finished his freshman campaign on a high note, completing 35-of-50 passes for 387 yards with two touchdowns and no interceptions in San Diego State 's 42-21 victory over UNLV.
The Manning Award was created by the Allstate Sugar Bowl in honor of the college football accomplishments of Archie, Peyton and Eli Manning. Ten finalists will be determined by a selected panel of national media covering college football, as well as each of the Mannings. That list will be released on Monday (Nov. 30). The winner will be announced by the Allstate Sugar Bowl on Jan. 14.
The first four winners of the Manning Award reads like a Who's Who list at the quarterback position. USC's Matt Leinart was the inaugural winner of the award in 2005, followed by Texas ' Vince Young in 2006. Both went on to be top-10 NFL draft picks. In 2007, LSU's JaMarcus Russell earned the award and was the NFL's No. 1 draft pick. Boston College's Matt Ryan claimed the award in 2008 and was drafted No. 3, quickly becoming the starting quarterback for the Atlanta Falcons.
---
Phi Slamma Jamma
© East County Sports.com
INDIANAPOLIS (2-10-09) — ARLIN TAYLOR, a 5-foot-9, 175-pound sophomore strong safety for the Willamette University Bearcats in Salem, Ore., has been selected to the 2008 All-Fraternity All-America Division II-III/NAIA football team.
A 2006 graduate of Steele Canyon High, Taylor is a member of Sigma Alpha Epsilon fraternity.
The selections were made the under the auspices of the North American Interfraternity Conference.
---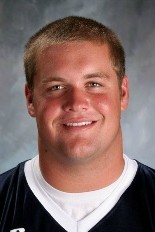 Matt Sutton
Sutton earns postseason honor
© East County Sports.com
DAVENPORT, Iowa (12-18-08) — Redshirt sophomore left tackle MATT SUTTON (West Hills HS) of St. Ambrose University has been named to Mid-States Football Association's All-Midwest League team.
The 6-foot-3, 315-pound Sutton, formerly of West Hills High, led an offensive line that helped SAU average 27.2 points and 380.7 yards of total offense per game this season.
St. Ambrose won its third straight Mid-States Football Association Midwest League title, and led the 2008 MWL selections with five first-team players. Included was wide receiver Michael Hayward, who was named the league's Player of the Year.

---
'First in the West' eliminated by D3 champs
© East County Sports.com
SALEM, Ore. (11-29-08) — Willamette University sophomore strong safety ARLIN TAYLOR (Steele Canyon High) registered a team-high 11 tackles Saturday (Nov. 29), but the Bearcats' perfect season ended in a 30-27 loss to Wisc.-Whitewater, the defending NCAA Division III champions.
Willamette (11-1), the top-ranked West region ballclub, scored 20 fourth-period points to rally yet fell short at McCulloch Stadium.

Stylin' in Salem

NCAA Playoffs
Division III

An interception
by Arlin Taylor
(Steele Canyon)
sets-up the go-ahead score in
an NCAA Div. III
playoff triumph
over Oxy, 48-33.

NCAA Playoffs
Division III

The defending
NCAA Division III
champs end the
Bearcats' season
by handing WU
(11-1) its lone
setback of 2008.
Arlin Taylor led
WU: 11 tackles.

Former Steele Canyon High standouts Arlin Taylor
(left), Luis Guerra and Scott Perlin now compete for
undefeated Willamette University (10-0) in Oregon.
The Bearcats host Occidental in their playoff opener.
(Photos courtesy of Willamette media relations)
'First in the West' is first in the West
© East County Sports.com
SALEM, Ore. (11-21-08) — Willamette University, the first college established in the western United States, is the top-ranked NCAA Division III school in the Western Region entering Saturday's (Nov. 21) opening-round playoff contest against Occidental College at McCulloch Stadium.
And the Bearcats, undefeated in the regular season at 10-0, have a boatload of East County talent on their roster, which also helped them capture the Northwest Conference crown and gain a No. 6 national ranking. Willamette is one position behind defending national champion Wisc.-Whitewater.
Among the locals succeeding in southern Oregon include a trio of Steele Canyon High products: sophomore guard LUIS GUERRA, sophomore defensive back ARLIN TAYLOR, and freshman running back SCOTT PERLIN,
Taylor, who plays at strong safety, was tabbed to the All-NWC first team, along with five other Bearcats defenders.
Taylor ranked fourth on the team during the regular season with 45 total tackles. He earned 21 unassisted tackles and was credited with 24 assists. He forced two fumbles and recovered three fumbles for the Bearcats. He also intercepted one pass and returned it 18 yards for a touchdown against Cal Lutheran in a 31-17 win on Sept. 13.
Taylor has not missed a game in his two seasons with Willamette.
Guerra made the All-NWC team as an honorable mention selection. His efforts have helped WU average 398.5 total yards per game, with at least 400 yards in six games, including each of the last five games. Guerra and the rest of the line also have allowed the Bearcats to complete 58.4 percent of their passes this fall.
Perlin played in just two games in his first season, yet did register a special teams tackle against Lewis & Clark.
---
Cougars help Willamette into D-3 national rankings
© East County Sports.com
SALEM, Ore. (9-25-08) – With a recent influx of East County talent, suddenly Willamette University is gaining a spot in the NCAA Division III football polls.
Fresh off a 31-23 upset of rival Southern Oregon, the Bearcats are rated 25th in the nation according to D3Football.com, while picking up several votes to rank among the honorable mention in the regular NCAA listings.
Willamette features a trio of Steele Canyon High products in sophomore strong safety ARLIN TAYLOR, sophomore offensive guard LUIS GUERRA, and freshman fullback SCOTT PERLIN.
Taylor finished fourth on the team in tackles against Southern Oregon, as Willamette scored 14 unanswered points in the fourth quarter to rally past the Raiders. Meanwhile, Guerra starts on the right side of the Bearcats' O-line, while Perlin is on special teams.
Willamette makes its final Southern California appearance this week, meeting University of La Verne at 1 p.m. Saturday (Sept. 27)..
---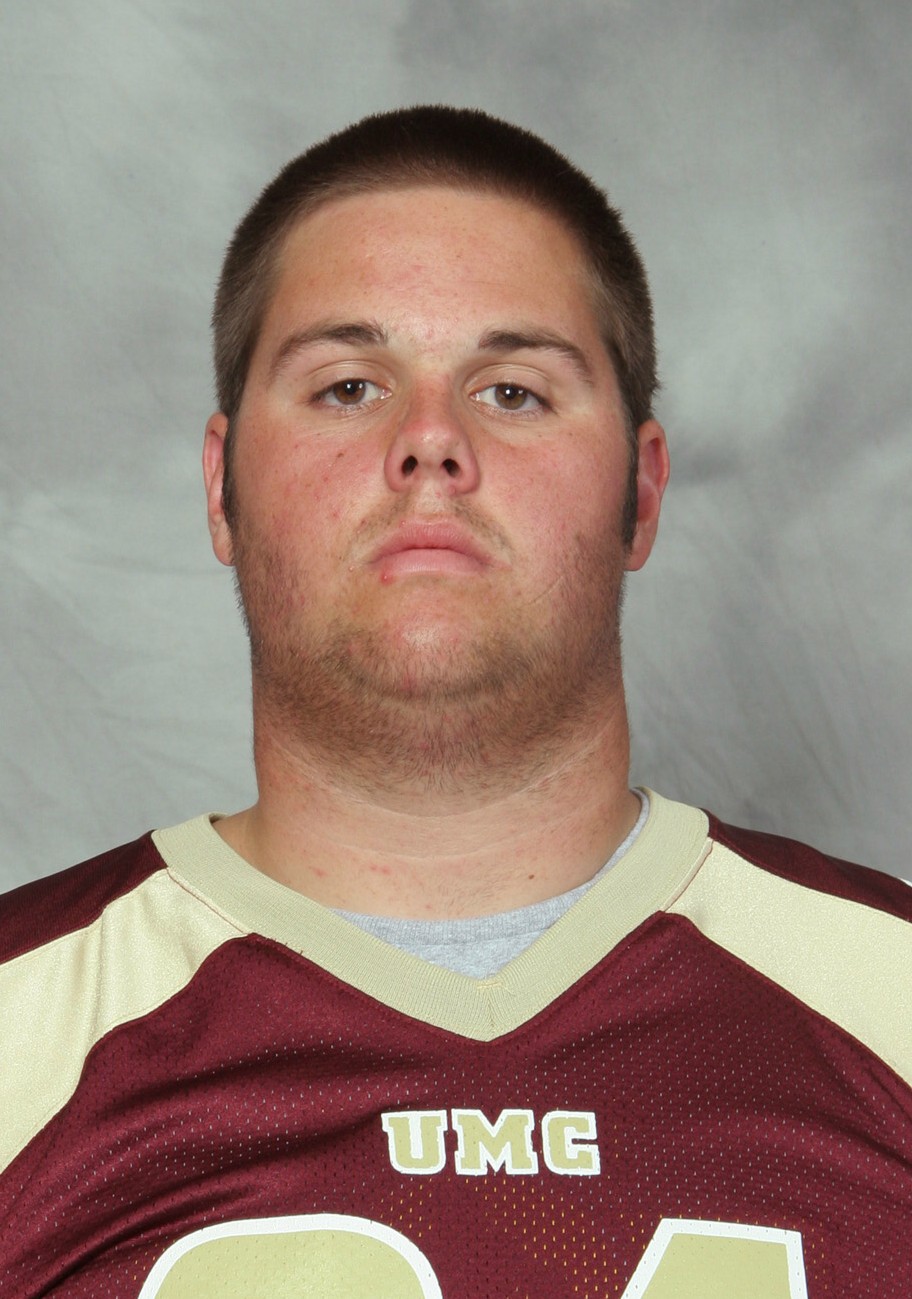 Jeff Schiller
(UMC file photo)
Schiller recognized for All-Conference Honors
© East County Sports.com
ST. PAUL, Minn. (11-12-08) — Freshman offensive lineman JEFF SCHILLER, a graduate of El Capitan High, has been recognition by Northern Sun Intercollegiate Conference for his play this season.
Schiller, a 6-foot-6, 300-pound center, earned NSIC North Division All-Conference honors as a member of the University of Minnesota-Crookston (2-9).
As a Vaqueros senior, Schiller – one of the top pass protectors in the Grossmont North League – was named to the All-GNL first team and to the All-East County second team in 2007.
Other East County players on the Golden Eagles roster include: OL Dominic LaRussa (West Hills), WRs Anthony Conti and Garrett Jarvis (El Capitan), and RB Ben Wilkins (El Capitan).
---
Aztecs quarterback Ryan Lindley (left);
Colorado State Rams at San Diego State Aztecs
(Slideshow by Tori Mills)
---
Can't tame this Tiger

© East County Sports.com
ARKADELPHIA, Ark. (10-10-08) — Former El Cajon Valley High-Grossmont College standout JEREMY YOUNG, now a multi-purpose junior receiver at Ouachita Baptist University, is making a major splash in the NCAA Division II Gulf South Conference.

The 5-foot-10, 190-pound junior leads the Tigers (3-3) in all-purpose running (155.5 ypg) and tops his team in kickoff returns (24.1 avg on 18 chances). To boot, he's Ouachita's No. 2 receiver (32-327 yards, two TDs). Young was a key member of the El Cajon Valley squad that reached the Division II section finals against Oceanside in 2005. He also helped the Griffins reach the SoCal semifinals as a freshman a year later.

Dale digs the Mines

© East County Sports.com
RAPID CITY, S.D. (10-10-08) — Steele Canyon alum JAMIE DALE, the 2007 Grossmont South League Offensive Player of the Year, has been the guiding light for the Hardrockers of the NAIA South Dakota College of Mines and Technology.

Dale leads the eight-team Dakota Athletic Conference in all-purpose running (178.4 ypg) and in scoring (76 points, 12 TDs, 4 PATs). A 5-foot-9, 165-pound freshman, Dale also heads the Hardrockers (4-1) in rushing (76-548, 10 TDs).

Dale earned DAC Player of the Week honors on Sept. 22 against Dakota State.
---
Lindley gains MWC weekly honors
© East County Sports.com
DENVER (9-30-08) – San Diego State quarterback RYAN LINDLEY (El Capitan), after setting several freshmen passing records, has been named Mountain West Conference player of the week. It is Lindley's first such citation.
Lindley established MWC and SDSU records for most passing yards (433) and touchdowns (four) by a freshman in a 45-17 triumph over Idaho. He is the first frosh to capture the award since 2006. His passing rating of 198.87 is the high among all qualifying frosh, ranking 18th overall.
The Aztecs (1-3) travel to Fort Worth, Texas, to meet TCU in their conference opener on Saturday. Kickoff is at 3 p.m. PT.
---
Lindley not blamed for embarrassing Aztecs loss

Pair of school frosh passing records not enough
to avoid last-second 29-26 failure to Cal Poly
© East County Sports.com
SAN DIEGO (8-31-08) — In his first official competitive action in 20 months, San Diego State red-shirt freshman RYAN LINDLEY did almost everything possible to carry the Aztecs to victory.
Lindley, an all-state performer for El Capitan in 2006, established a pair of school records for passing yardage and touchdowns by an SDSU quarterback in his freshman debut. However, Cal Poly bounced back on a 20-yard field goal by Andrew Gardner on the game's final play to secure another shocker over the Aztecs, 29-27, Saturday (Aug. 30) at Qualcomm Stadium.
The victory was the Mustangs' second over San Diego State in three seasons.
Following a slow start in the first quarter, Lindley settled in and tossed for records of 352 yards and three touchdowns. He completed 27-of-45 passes.
"I think I was just rushing a little bit in the first quarter," Lindley explained. "Probably at the end of the first quarter I felt like the whole offense was clicking. The (offensive) line was picking up stuff very well all game. I think that everybody just got in a groove. Then we kind of kicked it up. We just need to go that extra yard, that extra inch to get what we need in the next game."
Just think how well the former Vaqueros standout could've done with some assistance from his teammates. Lindley was intercepted twice, both times on tipped passes off the hands of his receivers. The Aztecs also dropped no less than a half-dozen passes.
Lindley, in his first collegiate appearance, refused to point fingers.
"Any one play could've turned this thing around and it obviously did for them unfortunately," said Lindley. "There were a couple of good plays where we would build momentum and build momentum, then all of the sudden we slipped up. It happens, but I feel extremely confident that we can turn it around next week."
Cal Poly led throughout by taking advance of five San Diego State turnovers. Meanwhile, the Aztecs defense was burned for 480 total yards.
Lindley led the comeback with TD tosses to Brand Sullivan (16 yards), Robert Wallace (30) and Vincent Brown (23), then he directed a 77-yard scoring drive to finally give the Aztecs the lead at 27-26 with 6:51 remaining on a 5-yard TD rush by Sullivan. SDSU failed on a 2-point conversion attempt to leave the door open for the Mustangs, who capped a 9-play, 63-yard drive with Gardner's second field goal of the contest at the gun.
"The silver lining in there was Ryan Lindley," said head coach CHUCK LONG. "He really threw the ball well after a rough start. He really came on and showed a lot."
Up next for San Diego State (0-1) is a nationally televised contest at Notre Dame on Sept. 6. The Aztecs return home to meet Idaho on Sept. 27.
---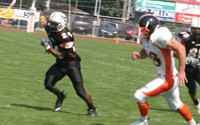 Grossmont HS alum Khalid Waters records his first collegiate TD on this 11-yard run to give Midland Lutheran an early 7-0 lead.
(Midland Lutheran courtesy photo)
DOUBLE-CLICK TO ENLARGE
Waters, Brown 'Get'r Done' for MLC
© East County Sports.com
FREMONT, Neb. (9-25-08) – Midland Lutheran College is off a fast start at 3-0 with the assistance of a pair of East County alums, gaining an NAIA national ranking.
Blue Collar football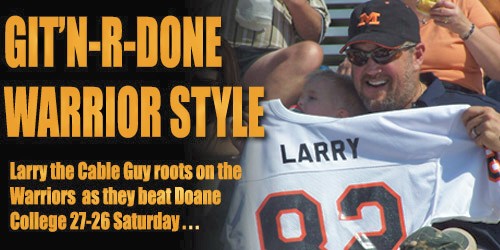 Midland Lutheran honored Larry the Cable Guy
with his own team jersey, then the Warriors beat Doane, 27-26, on a 2-point PAT with 1:06 left.
(Midland Lutheran College courtesy photo)
Aided by the efforts of running back KHALID WATERS (Grossmont HS) and safety BRANDON BROWN (Steele Canyon), the Warriors are ranked 23rd nationally after nipping Doane College (Neb.), 27-26, last Saturday. MLC scored a touchdown with 1:06 to play, then completed a 2-point conversion for the dramatic victory at Memorial Field.
Stand-up comedian Larry the Cable Guy was in attendance to make sure the Warriors "Get'r Done." Waters did by finishing the contest with 109 all-purpose yards, scoring the game's opening touchdown on an 11-yard rush. Meanwhile, Brown was the Warriors' second-leading tackler, which included a shared quarterback sack.
For their efforts, both freshmen are expected to gain their first starts of the season this Saturday, when Midland Lutheran, which is celebrating its 125th anniversary, travels to Sioux City, Iowa, to meet Briar Cliff University.
---
El Cap's Conti has crisp debut for Golden Eagles
Receiver joins four East County products at Minn.-Crookston
© East County Sports.com
MARSHALL, Minn. (9-2-08) — It was a less than auspicious debut for five East County football players, all of who have accepted football scholarships to the University of Minnesota–Crookston. On Saturday (Aug. 30), the Golden Eagles were crushed by host Southwest Minnesota State, 54-14, to open the season.
The lone bright spot for the team was provided by ANTHONY (A.J.) CONTI of El Capitan High, who reeled in six passes for 52 yards and kicked two conversions.
In addition to Conti, El Capitan grad JEFF SCHILLER started at center and West Hills product DOMINIC LaRUSSA started at left guard for the Golden Eagles. GARRETT JARVIS, a wide receiver/tight end out of El Capitan, and former Vaqueros running back BEN WILKINS are also on scholarship to Minnesota–Crookston but did not play in the opener.
---
Clinton Snyder on Bronko Nagurski watch list
Award Honors College Football's Top Defensive Player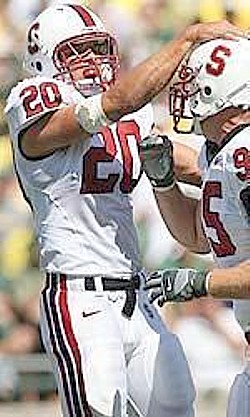 Clinton Snyder
(Stanford photos)

Special to East County Sports.com
STANFORD (7-7-08) – Former Monte Vista High standout and Stanford outside linebacker CLINTON SNYDER has been included on the watch list for the 2008 Bronko Nagurski Award, which goes to the best defensive player in college football. There are 88 candidates nationwide nominated for the award, which is sponsored by the Charlotte Touchdown Club.

The Football Writers Association of America All-America Committee selects the Bronko Nagurski Trophy winner from the association's 11-man All-America defensive team in November. The watch list was developed by the FWAA All-America committee with the help of schools and conferences.

Snyder, who earned second team All-Pac-10 Conference honors last season, ranks as Stanford's active career leader in tackles (179), sacks (10.0), fumbles forced (7) and is tied for first in fumbles recovered (3) and tackles for loss (18). He ranked among the Pac-10 leaders in virtually every defensive category in 2007, including fumbles forced, tackles for loss, fumble recoveries, sacks and tackles.

As a senior at Monte Vista, Snyder was the East County Sports.com Defensive Player of the Year in 2004. He was also a first-team tight end in the East County Sports.com selections.

The Bronko Nagurski Trophy has been presented since 1993 and is awarded in memory of the legendary Nagurski, a former All-America lineman at Minnesota in 1927-29 who went on to star for the Chicago Bears in the 1930s.
---
Stanford linebacker
Clinton Snyder
(Stanford Univ. photo)

In Thursday's (Aug. 28) NCAA opener, former Monte Vista standout CLINTON SNYDER, now a starting linebacker for Stanford, helped lead the Cardinal over visiting Oregon, 36-28, placing Stanford as the early leader in the Pacific 10.
Ex-Monarch Snyder, Stanford shock No. 1 USC

© East County Sports.com
LOS ANGELES (10-7-07) – It wasn't just another victory, it was a program maker for Stanford outside linebacker CLINTON SNYDER. The former Monte Vista High standout was among the leading tacklers for the Cardinal in Saturday's (Oct. 6) 24-23 shocker over top-ranked USC at L.A. Memorial Coliseum.

"It's more than a landmark. It's a great step for us that we need as a program to show people that we're not the old Stanford," said Snyder, one of three Cardinal defenders with 10 tackles. "I didn't know how it would feel. We haven't done this in a long time."

Under the leadership of former University of San Diego head coach JIM HARBAUGH, the rebuilding process seemed headed for a long, bumpy road following embarrassing Pac-10 Conference losses to UCLA (45-17), Oregon (55-31) and Arizona State (41-3) – all at home – earlier in the season.

Perhaps playing on the road is the ticket for the Cardinal, which snapped USC's 35-game home winning streak. Oh yeah, the last time the Trojans were toppled in the Coliseum was at the hands of Stanford in 2001. That was USC coach Pete Carroll's first year as the Trojans' head man.

"It's incredible. We came into this game with only a win against a WAC team (San Jose State), and we weren't performing like we knew we could," added the 6-foot-4, 230-pound Snyder, Stanford's top returning tackler from a year ago. "This game, we came out and ground it out, and performed the way the Stanford Cardinal needs to perform in the future."

The youthful Cardinal committed mistake-after-mistake, but switching to Tavita Pritchard at quarterback last week against Arizona State seemed to be the catalyst, as the offense took giants steps forward while Snyder & Co. held the line on defense.

"All the little mistakes we were making in the other games didn't happen," noted Snyder, a redshirt sophomore. "We got some good breaks on defense with all the turnovers. It's a game of turnovers. Whoever wins the turnover battle usually wins the game."

Snyder, the 2004 East County Defensive Player of the Year who set a Grossmont Conference record of 44 sacks, went on to say:

"We got those turnovers on defense and helped the offense out by giving the offense good field position, and they made good adjustments. They moved the ball down the field and scored some points for us, and we came out on top."

Snyder, who made 61 tackles for losses during his Monte Vista career, came through with several of those key plays. He forced a fumble which led to a turnover, then he registered one of three sacks on Trojans quarterback J.D. Booty late in the 4th quarter which led to Stanford getting the ball back for its game-winning drive.

The Cardinal offense rebounded with the game-winning touchdown in the final 2:50. Included was a 4th-down reception by Richard Sherman to the USC-9, then Pritchard found Mark Bradford on the left-side of the endzone with 49 seconds remaining for another 4th-down conversion.

"We said focus and finish, which is what we've been saying all year," Snyder said. "Focus and finish is a big thing for us. That's what we stress, finishing in the fourth quarter. We went out there and got a good stop on defense."

USC, ranked No. 1 in one major poll and No. 2 in the other, had one last chance, but Booty's bomb was intercepted by Bo McNally.

"Just to see Bo catch that ball and slide down there knowing that the game is over and we had won the game is just great," said Snyder, who now has 117 tackles in five games this season. "It's awesome; it's a dream. This is a great win for the program."
---
<< Back