MLB Season Debut
Corriea joins fellow San Diegan in Phillies rotation
© East County Sports.com
PHILADELPHIA, PA (6-13-15) — Former Grossmont High – Grossmont College standout right-handed pitcher KEVIN CORRIEA had his career reborn on Friday (June 12) as a member of the Philadelphia Phillies against the Pittsburgh Pirates.
In his first start of this season as a member of the Phillies Corriea pitched 5 2/3 shutout innings.
Correia limited the Pirates to five hits and one walk. He struck out four and only one runner made it past third base in a start that seemed a distant memory at the end of a 13-inning affair the Pirates won 1-0 on Starling Marte's walk-off single.
His start was his first in the big leagues since he gave up seven runs (five earned) in three innings against the New York Mets as a member of the Los Angeles Dodgers on Aug. 24, 2014.
MLB FIRST-YEAR PLAYER DRAFT
Final day of the MLB Draft sees four more drafted
By Bill Dickens
© East County Sports.com
EL CAJON (6-11-15) — Four more East County athletes were selected in the third and final day of the Major League Baseball free agent draft on Wednesday (June 10).
Longtime East County baseball standout FRANK CALIFANO, a product of Steele Canyon, has been a record breaker at Youngstown State University (Ohio). The junior southpaw was drafted as a centerfielder by the Chicago White Sox with the 562nd pick in the 19th round.
Other East County athletes selected in the final round include Granite Hills third baseman JORDAN VERDON, who was the 719th pick in the 21st round by the New York Mets.
The list continues with El Capitan-Southwestern College graduate KEVIN GINKEL, who was taken as the 771st pick in the 26th round by the Boston Red Sox.
Not to be overlooked was ROBBY NESOVIC, a 6-foot-4, 210 pound corner infielder off the UC Santa Barbara campus in the 27th round by the Atlanta Braves. In his last season with the Gauchos he batted .342 with 40 RBI.
Nesovic played 3 years of varsity baseball and basketball for the Grossmont High Foothillers. As a pitcher in his junior year he posted a 1.02 ERA with an 11-0 record and hit .418 with 6 HRs. He helped Grossmont to 3 league championships and a CIF Section championship his sophomore year.
Under the leadership of MICKEY DEUTSCHMAN, Nesovic was a standout pitcher-infielder for the San Diego Stars semi-pro baseball team.
"We just try to make ballplayers. That's all we care about," said Deutschman. "Nesovic could make it as a pitcher or an infielder."
During the 40-round draft, seven East County baseball players heard their name called. KYLE HOLDER went to the Yankees in the first round; pitcher CODY POTEET was selected in the fourth round by the Miami Marlins; catcher JESSE JENNER was the seventh round choice of the St. Louis Cardinals.
Poteet and Jenner both go on day two of the MLB Draft
© East County Sports.com
EL CAJON (6-10-15) — When CODY POTEET was a freshman at Christian High in 2009, he was one of the hardest throwing pitchers in San Diego County. Strikeouts was the name of his game as he registered 78 punchouts in 71 innings en route to a 9-1 record as a freshman. That was the spark of a bright future.
Poteet eventually received a scholarship to UCLA for the last three seasons.
The junior right-handed pitcher was selected on day two of the 2015 Major League Baseball Draft on Tuesday (June 9). The 6-foot-1, 188-pound Poteet was selected by the Miami Marlins as the 116th overall pick in the fourth round.
Poteet set career-bests in wins and ERA this season at UCLA, posting a 7-1 record with a 2.45 ERA in 27 appearances (13 starts). His 68 strikeouts ranked second on the team and he held opposing batters to a .230 average over 73.1 innings. A two-time Pac-12 All-Academic honorable mention selection, Poteet has racked up 14 wins in his career at UCLA and currently ranks second on the team in career starts (39).
A Bonita native, Poteet was previously selected out of high school in the 27th round of the 2012 MLB Draft by the Washington Nationals.
JESSE JENNER CLIMBS LADDER
Former Steele Canyon High and Grossmont College standout JESSE JENNER, a senior catcher at the University of San Diego, was selected by the St. Louis Cardinals with the 221st pick in seventh round of Tuesday's (June 9) second day of the 2015 MLB Draft.
Jenner, an All-WCC selection the past two seasons, posted a .314 batting average in 2015 with two home runs and 27 RBI, while playing exceptional defense (.995 fielding percentage).
Jenner, who resides in Jamul, batted .348 in his junior season, his first with the Toreros. He began his career at Cal State Fullerton, then transferred to Grossmont College, before winding up at USD for his final two years.
The final day featuring rounds 11-40 will be tomorrow, June 10, beginning at 9:00 a.m. PT. The final day can be watched live on MLB.com.
2015 MLB FIRST-YEAR PLAYER DRAFT
Holder Drafted in First Round by Yankees
Photo courtesy of USD Athletic Communications.
© East County Sports.com
SAN DIEGO (6-9-15) — University of San Diego junior shortstop KYLE HOLDER, a product of Grossmont College, was selected in the first round, No. 30 pick overall, in the 2015 Major League Baseball Draft by the New York Yankees.
Holder is the seventh San Diego student-athlete to capture West Coast Conference Player of the Year honors since 2007 and the third consecutive.
Named to the 30-player Golden Spikes Award Watch List, Holder hit .387 with 13 doubles, two triples, one home run and 19 RBI during league play. The junior shortstop turned in a .976 fielding percentage, committing just three errors in 127 chances and contributed to 10 double plays during WCC games. Overall, Holder hit .348 with 78 hits, 14 doubles, two triples, four home runs, and had 31 RBI.
Holder is also currently a semi-finalist for the Brooks Wallace Award, which honors the nation's best collegiate shortstop.
If he elects to sign, Holder could make up to $1-million dollars signing bonus.
Former Granite Hills star receives Tony Gwynn Award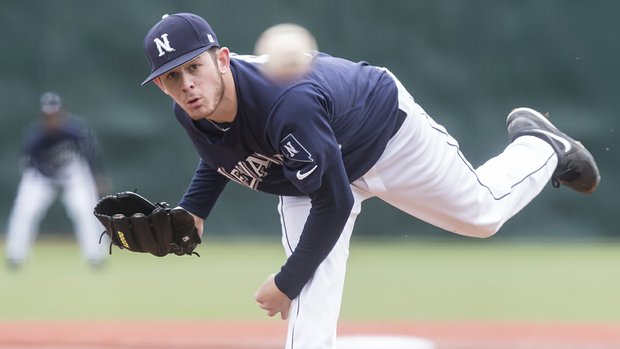 Photo courtesy of John Bryne, Nevada athletic communications.
Special to East County Sports.com
RENO, Nev. (6-3-15) — Former Granite Hills High star now at Nevada has been named Mountain West Player of the Year, receiving the inaugural award named for former San Diego State head baseball coach.
Nevada sophomore outfielder/pitcher TRENTON BROOKS was selected for the Mountain West's Tony Gwynn Player of the Year trophy.
Brooks helped Nevada to the Mountain West regular season championship this season. The 6-foot, 170-pound Brooks batted .364 with three home runs and 51 RBIs. In addition, the left-hander went 4-1 on the mound with a 3.23 ERA.
"It's an absolute honor to receive this award," Brooks said. "Growing up in San Diego and looking up to Tony Gwynn makes it extremely special to me. I'm at a loss for words right now. I am just extremely thankful."
Utah baseball: Freshman pitcher Jayson Rose earns Pac-12 honorable mention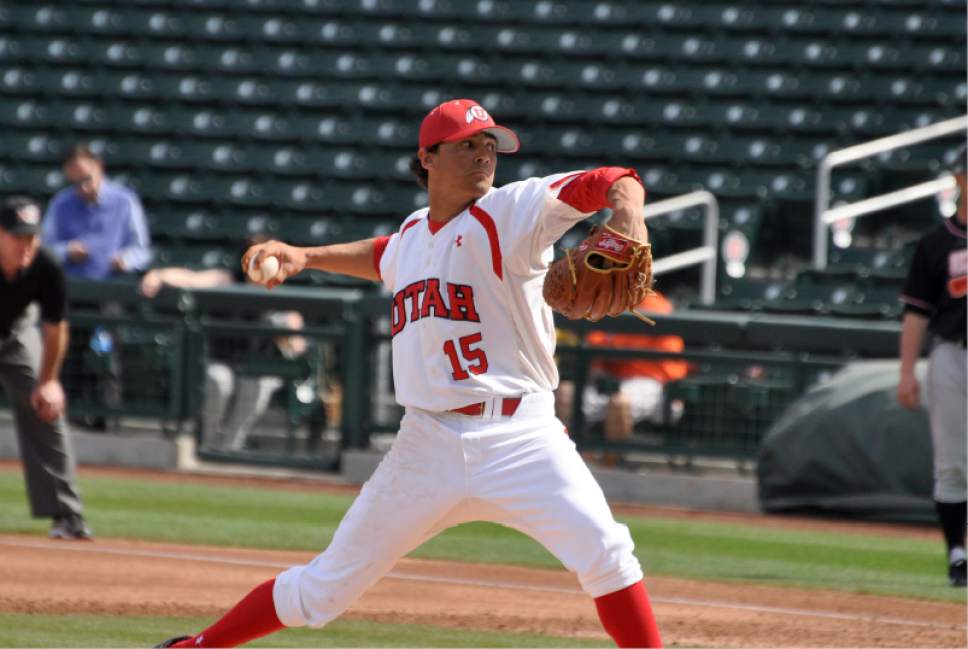 Photo courtesy of Univeristy of Utah. Jayson Rose (Granite Hills) lead Utah in ERA (3.54) and strikeouts (68) during the 2015 season.
By Matt Piper and Kyle Goon
Special to East County Sports.com
SALT LAKE CITY (6-3-15) — Utes starter and former Granite Hills standout JAYSON ROSE was the only Ute to earn Pac-12 honors on the heels of a 16-36-1 season (7-22-1 for last place in the Pac-12). Rose led the team with 68 strikeouts, No. 8 in the conference, and had a team-best 3.54 ERA. He earned Pac-12 pitcher of the week earlier in the season.
In another down season for Utah baseball, there's a ray of hope: The Utes have young talent, and one of their most promising hurlers earned all-conference honors this year.
The youthful Rose (3-5) as Utah's Sunday starter this season, earned all-Pac-12 honorable mention as the league announced its top players and coaches.
Reliever Andrew Bellatti impresses again for Rays
By Marc Topkin, Staff Writer
Courtesy Tampa Bay Times
MINNEAPOLIS (5-22-15) — Rookie RHP ANDREW BELLATTI, former Steele Canyon standout, impressed again Saturday in his second solid outing since his unexpected call-up to the Tampa Bay Rays.
And though the end result was being sent back to Triple-A Durham, as the Rays are activating infielder Nick Franklin off the disabled list, Bellatti certainly showed worthy of further opportunity.
"He came up here and did everything he could possibly do to showcase himself really well," manager Kevin Cash said. "I would definitely envision (that) he put himself in that mix when we need arms."
Bellatti, 23, who got the win in his May 9 debut, came on in the fourth Saturday with the Rays down 3-1 and kept it there, working 2 2/3 scoreless innings, most impressive in the sixth when he allowed a walk and a double then struck out the next three.
"I've just tried to kind of come in and go for it," Bellatti said. "Not really hold anything back, not really shy away from anyone. I feel like I've held my own pretty well."
Holder named WCC Player of the Year
By Chris Davis
© East County Sports.com
SAN BRUNO (5-21-15) — Former Grossmont College shortstop KYLE HOLDER (University City/Grossmont College) was awarded the West Coast Conference Player of the Year award on Wednesday (May 20). Holder and JESSE JENNER are both former Griffins to be playing for the WCC Coach of the Year Rich Hill for the 2015 WCC regular season champions.
Holder led the Toreros with a .357 average over his 213 at bats while playing in all 52 games this season. Kyle was second on the team with 13 doubles to go along with a pair of triples and a trio of home runs. Holder was involved in 25 of the 34 double plays that USD turned this season.
Jenner (Steele Canyon/Grossmont College) was third this regular season on the Toreros in batting average in slightly limited play this season. The senior catcher hit .327 (48-147) in a limited 41 games (39 starts) for the Blue and White. Jenner was slow to start this season due to injuries he sustained at the end of summer ball last year. The two time All-East County Sports.com member had 10 extra base hits with 35 RBI. Defensively, Jenner threw out over a quarter of runners attempting to steal against him.
USD (32-20, 19-8 WCC) is the top seed in this weekend's WCC tournament being held at Banner Island Ballpark on the Stockton riverfront. Banner Island Ballpark is celebrating its 10th anniversary season this year and is the home of the Stockton Ports (Oakland A's affiliate) of the California League.
Astros' Musgrove turns the page
Right-hander dominating with River Bandits after rocky start to career
By Curt Rallo
Special to East County Sports.com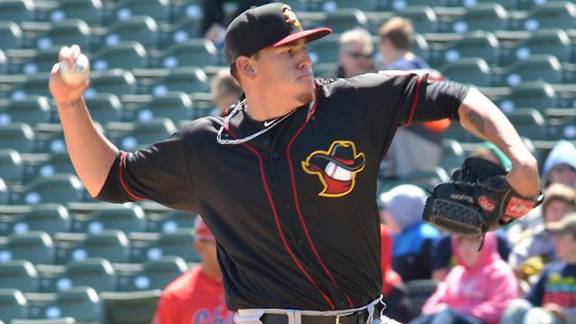 Joe Musgrove was drafted by the Blue Jays with the 46th overall
pick in 2011. (Paul R. Gierhart/MiLB.com)
This is the way it was supposed to be: JOE MUSGROVE, a supplemental first-round selection (46th overall) in the 2011 Draft, overpowering the competition.
The 6-foot-5, 230-pound right-hander and former Grossmont High standout is off to a 3-1 start with the Quad Cities River Bandits. Now 22, he owns a brilliant 0.87 ERA, striking out 20 and walking only one in 20 2/3 innings.
But an arduous journey kept Musgrove in short-season leagues for the first four years of his pro career. Injuries took a toll on Musgrove, who was drafted by the Blue Jays and then traded to the Astros in 2012. Expectations became burdens, not goals. Doubt loomed.
"Being a first-rounder in 2011, I'm obviously not where I should be, or where people expected me to be," Musgrove said. "It bothered me for a while. I felt like I let down myself, my family. I felt like I wasn't giving the Blue Jays or Astros what they paid for, what they expected."
In October, Musgrove underwent reconstructive collar-bone surgery. During his rehab, he built up his body and his resolve.
"I did a lot of thinking, and I realized everyone's book is written a different way," Musgrove said. "Some people's books are 10 pages, and some are 10 chapters. I just have a few extra pages in my book.
"I battled injuries for a while. I hope I have those out of the way. I learned a lot from the injuries. I learned how to take care of my body better, and how to maintain myself throughout a season, how to pace myself. I learned a lot about my body. I wouldn't have planned it this way, but I also wouldn't change it for anything."
Having endured the hottest fires of adversity, Musgrove has forged a steely demeanor that has him displaying the Major League talent that earned him a first-round selection.
"Joe is not the first guy for that to happen to," Quad Cities pitching coach Dave Borkowski said of Musgrove struggling with high expectations. "There's a lot of pressure for a young kid being drafted in the first round. He's expected to move fast. He's expected to dominate at every level. You see that happen to young kids, to put big expectations on themselves and falter.
"I think Joe has finally gotten to that mature point where he takes care of himself and does what he can do within his parameters, and he's learned to do that very well. Now he's living up to his expectations, by doing it his way."
Borkowski sees Musgrove's mental toughness in his performances and in between starts. He displays intensity and focus in his sidework and fielding drills. His passion and focus carries over into the game.
"Joe is off to a very good start," Borkowski said. "I think the thing that sticks out most ... he has one walk in 20 innings. He's aggressive, he pounds the zone, he has three-plus pitches that he'll throw at any time. The best thing is -- he's got fire in him. He wants to go out there and compete and do the best for his team each and every day."
Musgrove is throwing in the 90-to-96 mph range this season. He handcuffs batters with a hard slider and a lethal changeup. Not having to re-invent himself as a pitcher is critical in an important season for Musgrove.
"Being my Rule 5 year, I understand that this is a big deciding year where my career goes," Musgrove said. "I did a lot of mental work this offseason, along with the physical training and rehab to get myself ready, knowing that I'm going to be going through a full season of 142 games. That's something I'm not used to. That's a big mental and physical obstacle to go through -- will my arm hold up? Can I get through a full season?"
Mental training that incorporated tenets of martial arts has enabled Musgrove to develop a pitcher's vision.
"I'm able to focus on the task at hand," Musgrove said. "It allows me to stay in the moment and not get emotionally attached to one pitch or one at-bat."
Musgrove's focus on the present, rather than his past, has him on a path to a brilliant future.
"It's been hard," Musgrove said. "There were plenty of times I wanted to get angry that I wasn't moving, that I wasn't healthy. I just stuck to the process and understood this was part of a plan. It allowed me to sit back and absorb everything, instead of being angry about where I was, and not being somewhere else. Right now, I'm taking it game by game and listening to my body."