Sultans pitcher goes to Fullerton
East County Sports.com
FULLERTON (9-14-06) -- Perhaps one of the best kept baseball secrets in the East County last season was JOHN BASNIGHT. Quietly going about his business, Basnight produced a .402 batting average with 30 RBIs and 39 hits while playing as a senior for the Santana Sultans. The 3-year varsity performer compiled one of the best pitching records in Santana's history. In his final season with the Sultans, Basnight had 13 pitching appearances with 52 strikeouts in 42 innings without a single loss.
Basnight had been talking to numerous baseball schools throughout the Southland, selecting on Cal State Fullerton. He was recruited as a pitcher for a team whi\ch posted a 50-15 record under head coach George Horton and pitching coach Bill Kernen, eventually falling in the final round of the College World Series to North Carolina, 6-5.
---
Rauch signs with Rockies
East County Sports.com
LAKESIDE (6-14-06) -- El Capitan catcher AUSTIN RAUCH has signed with the Colorado Rockies and is settling in with his host family in Casper, Wyo., of the Class A Pioneer Rookie League.
Rauch, a burly catcher with power, speed and a strong arm, received a $75,000 signing bonus plus college money to reach an agreement to turn pro.
Nearly every major league organization had an eye for Rauch, a defensive stalwart behind the plate with a shotgun arm. This guy has power as was evident by his 13 home runs on a weak hitting El Capitan squad this season.
Among the plans for Rauch's future are the transition of becoming a switch-hitter. He dabbled with going both ways as a junior, but enjoyed limited success. He batted .329 with 13 home runs hitting exclusively from the right side as a senior.
The Pioneer League season begins on Tue., June 20.
---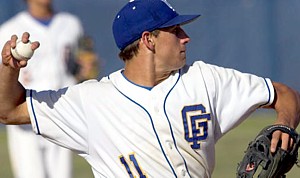 Grossmont third baseman Nick Sobel throws out
a batter from Hilltop during the CIF semifinals.
(Photo by Chris Edwards)

Hillers' Sobel to continue career at UCSD

East County Sports.com
EL CAJON (6-12-06) -- NICK SOBEL, co-captain of the Grossmont Foothillers' drive to back-to-back Division II SDCIF championships, will attend UCSD and play baseball for the NCAA Division II Tritons.

Although he batted only .267, Sobel, a third baseman by trade, supplied Grossmont's championship drive with five home runs -- several of the tape-measure variety.

In the Foothillers' march to a Grossmont North League title and a repeat SDCIF championship, Sobel had a .520 batting average and a .612 on base average with 3 home runs, including a long home run to defeat Montgomery 2-1 in a game played the last week of the regular season. Sobel also hit a first pitch leadoff home run against Hilltop in a game that positioned the Hillers for the SDCIF championship re-match against Montgomery.



Grossmont grabs West's No. 9 ranking

East County Sports.com
ARLINGTON, Va. (6-13-06) -- Only one team in the San Diego CIF was able to attract attention in the USA Today final baseball rankings this spring. And it's probably not the team most experts might have believed it to be.

Bottom line is the Grossmont Foothillers (26-8) was rated No. 9 in the West Coast by USA Today. This is a ballclub that began the season in disarray, losing five of its first nine decisions.

Grossmont rebounded and finished in a rush, collecting a Grossmont North League pennant and the SDCIF Division II title in the process of stringing together an 11-game victory streak.

Bolstered by a 3.80 GPA, Sobel was attracted to UCSD more for his academic prowess than his glove or bat. He has been admitted to the college's astrophysics program.


Sobel also helped lead the Foothillers football team to the Grossmont North League title in 2005, and was named First Team All-East County as a defensive back. In the pivotal game against El Cajon Valley, Sobel intercepted a pass at the goal line and returned the interception 100 yards for the go-ahead TD, tying a school, league and conference record.

Sobel also performed for Grossmont's Red Robe Choir, and traveled to Italy, Spain and France, performing in some of the world's most historic cathedrals. His interest in choir led him to teach himself to play piano, and earn a college scholarship for choir. Instead, Sobel has chosen to continue his baseball-playing career.
---
Coaches recognize Rauch, Griffin
as CIF divisional players of the year
East County Sports.com
EL CAJON (6-10-06) -- El Capitan senior catcher AUSTIN RAUCH and Grossmont High senior pitcher-first baseman A.J. GRIFFIN were named the San Diego CIF Division III and Division II Players the of the Year, respectively, in balloting by a panel of baseball coaches.
Section champion Valhalla dominated the Division III picks as did champion Grossmont in Division II.
Valhalla landed junior center fielder TOMAS KARAGIANES and senior right fielder JASON KUTZLER on the Division III first team. El Capitan senior pitcher CRISTIAN GARCIA also made the first team. Second-team picks from Valhalla are senior southpaw ERIC JULIENNE, versatile sophomore pitcher-infielder RYAN O'SULLIVAN, sophomore right-hander BOBBY WILKINS and junior middle infielder GREG GARCIA.
Others chosen to the Division II first team were El Cajon Valley senior outfielder CLIFTON THOMAS, Grossmont High junior pitcher TAYLOR WOHLWEND and Foothillers'sophomore infielder BRYAN HAAR. Second-team picks included Foothillers'junior outfielder AUGIE WILLIAMS, senior outfielder TREVOR BERRY and sophomore catcher DEREK BAUM.
Christian High placed two players among the coaches Division IV selections. Versatile senior southpaw SHANE STANOVIC made the first team and sophomore shortstop EDDIE YOUNG made the second team.
Granite Hills, the Grossmont South League champion and Division I semifinalist, landed junior pitcher ERIC KRAUSE and junior catcher TRAVIS TAIJERON on first team. Sophomore outfielder BRIAN HUMPHRIES was named to the second team.
---
2006 ALL-GROSSMONT CONFERENCE BASEBALLTEAMS
Selected by League Coaches based on Conference Statistics only

ALL-GROSSMONT NORTH LEAGUE

Player of the Year -- A.J. Griffin, Grossmont
Pitcher of the Year -- A.J. Griffin, Grossmont
Rookie of the Year -- Bryan Haar, Grossmont
Coach of the Year -- Rob Phillips, Grossmont

Pos

Name
School

Year

RHP
RHP
INF-P
C
2B
CF
OF
OF
OF
DH-OF
UTIL

A.J. Griffin
Cristian Garcia
John Basnight
Austin Rauch
Josh Simms
Clifton Thomas
Joe Mello
Augie Williams
Jonathan Tippin
Chris Diaz
Bryan Haar

Grossmont
El Capitan
Santana
El Capitan
Grossmont
El Cajon Valley
West Hills
Grossmont
Santana
Santana
Grossmont

12
12
12
12
10
12
12
11
11
12
10

SECOND TEAM

Pos

Name
School

Year

RHP
RHP
LHP
2B-P
C
1B
SS
OF
OF
OF
OF

Stephen Strasburg
Taylor Wohlwend
Aaron Richardson
Richard Martinez
Derek Baum
Nick Longmire
Shain Stoner
Trevior Berry
Ryan Inverso
Vinny Nazzal
Kyle Secciani

West Hills
Grossmont
West Hills
Santana
Grossmont
Grossmont
West Hills
Grossmont
El Capitan
El Capitan
Grossmont

HONORABLE MENTION
El Cajon Valley: Derek Perez-Sr.;
Cameron Sines-Sr.
El Capitan: Shane Sullenger-Sr.; Josh Royer-Sr.
Grossmont: Nick Sobel-Sr.; Justin Mason-Jr.
Santana: Ryan Brosnan-Sr.; Brandyn Bell-So.
West Hills: Travis Irvin-Sr., Jon Eddy-Sr.

ALL-GROSSMONT SOUTH LEAGUE

Player of the Year -- Travis Taijeron, Granite Hills
Pitcher of the Year -- Eric Krause, Granite Hills
Rookie of the Year -- Jason Kutzler, Valhalla
Coach of the Year -- James Davis, Granite Hills

Pos

Name
School

Year

RHP
INF-P
OF-P
C
INF
INF
3B
OF
OF
DH
.

Eric Krause
Danny Harris
Danny DeAnda
Travis Taijeron
Greg Garcia
Cody Minich
Austin Coleman
Brian Humphries
Derek Ancrum
Cody Crawford

Granite Hills
Steele Canyon
Monte Vista
Granite Hills
Valhalla
Steele Canyon
Granite Hills
Granite Hills
Helix
Granite Hills

11
12
12
11
12
12
11
10
11
12

SECOND TEAM

Pos

Name
School

Year

LHP
LHP
RHP
P-INF
P-SS
P-1B
SS-P
INF
SS
OF
OF

Garrett Russell
Eric Julienne
Eric Ponce
Goldie Simmons
Ryan O'Sullivan
Anthony Lopez
Ross Epperson
David Smith
Randy Perez
Josh Miller
Tomas Karagianes

Granite Hills
Valhalla
Helix
Monte Vista
Valhalla
Monte Vista
Steele Canyon
Valhalla
Helix
Granite Hills
Valhalla

HONORABLE MENTION
Granite Hills: Billy Sylvester-Sr.; Louis Cazares-Jr.; Josh Queriones-So. Helix: Zach Tanida-Jr.; Matt Cobb-Jr.; Raul Ritchie-Jr.; Mahi La Bastida-Jr. Monte Vista: Cory Cooper-Jr.; Anthony Marcon-So. Mount Miguel: Jaime Sandoval-Sr.; Chris Freeman-Sr.; James Trebus-So. Steele Canyon: Garrett Jenner-Sr.; Mike Lange-Sr.; Will Murray-Sr. Valhalla: Jeff Sopata-Sr.; David Frank-Sr.; Bobby Wilkins-Jr.

ALL-CENTRAL LEAGUE

Player of the Year -- Chris Jaime, Madison
Pitcher of the Year -- Lance McCormick, Madison

SECOND TEAM

Pos

Name
School

Year

Pos

Name
School

Year

P
P-C
P-OF
C
2B
SS
SS
SS
3B
OF

Lance McCormick
Robert Underwood
Shane Stanovic
Chris Jaime
William Cotton
Eddie Young
Bryan Burkhead
Daniel Moreno
Adrian Hutchison
Adam Perry

Madison
Kearny
Christian
Madison
Madison
Christian
Crawford
Madison
Madison
Christian

12
12
12
12
12
10
10
11
12
12

OF-P
SS-P
C-3B
1B
3B
3B
OF
OF
OF
OF

Blake Gallacher
Nick Geraci
Robert Neeleman
Chad O'Donnell
Eric Hyde
Alex Ventura
Anthony Whyte
Wes Phillips
Curtis Burkhead
Robert Heyenga

Madison
Hoover
Kearny
Christian
Hoover
Crawford
Kearny
Madison
Crawford
Kearny

12
11
11
12
12
12
12
12
12
10
---
2006 All-East County Baseball Team
Selected by East County Sports.com staff

FIRST TEAM

Pos

Name

School

Ht

Wt

Yr

P

A.J. Griffin

Grossmont

6-4

205

12

P

Eric Krause

Granite Hills

5-9

156

11

P

Ryan O'Sullivan

Valhalla

6-0

175

10

P

Eric Julienne

Valhalla

6-1

210

12

C

Travis Taijeron

Granite Hills

6-1

187

11

C

Austin Rauch

El Capitan

6-3

210

12

INF

Danny Harris

Steele Canyon

5-10

155

12

INF

Austin Coleman

Granite Hills

6-1

184

11

INF

Eddie Young

Christian

5-10

175

10

OF

Clifton Thomas

El Cajon Valley

5-9

160

12

OF

Brian Humphries

Granite Hills

6-2

173

10

OF

Dan DeAnda

Monte Vista

6-0

205

12

DH

Chris Diaz

Santana

6-0

194

12

UTL

Shane Stanovic

Christian

6-2

170

12

Player of the Year
A.J. Griffin, Grossmont

Rookie of the Year
Jason Kutzler, Valhalla

Most Improved Player
Chris Diaz, Santana

Unsung Hero Award
Jeff Sopata, Valhalla

Coaches of the Year
Steve Perdue, Valhalla
Rob Phillips, Grossmont

SECOND TEAM

Pos

Name
School

Ht

Wt

Yr

P

Cristian Garcia

El Capitan

5-10

170

12

P

Taylor Wohlwend

Grossmont

6-2

180

11

INF

Cody Minich

Steele Canyon

5-10

175

12

INF

Greg Garcia

Valhalla

5-9

165

11

INF

Richard Martinez

Santana

6-1

180

12

INF

Shain Stoner

West Hills

5-11

165

12

OF

Joe Mello

West Hills

6-0

160

12

OF

Jonathan Tippin

Santana

6-0

155

11

OF

Josh Miller

Granite Hills

5-9

173

12

OF

Tomas Karagianes

Valhalla

6-0

185

11

DH

Cody Crawford

Granite Hills

5-11

180

12

UTL

Anthony Lopez

Monte Vista

6-0

170

11

UTL

John Basnight

Santana

6-3

190

12

UTL

Bryan Haar

Grossmont

6-2

185

10

***
**************
***********
*****
***
***
Grossmont's Griffin is king of the hill

East County Sports.com
EL CAJON (6-7-06) -- Grossmont High pitcher-infielder A.J. GRIFFIN was a double threat for the Foothillers, who won the San Diego CIF Division II championship as well as the Grossmont North League pennant. It was that two-fold value that led the East County Sports.com staff to select the 6-foot-4, 205-pound Griffin East County Player of the Year.

Griffin tied for the SDCIF lead in wins (11) and strikeouts (110 in 91 innings), while compiling an 11-3 record and a 1.46 ERA. The USD-bound right-hander, who was a first-team pick as a junior, completed nine of 16 starts.

The East County Sports.com staff also chose Valhalla outfielder JASON KUTZLER the rookie of the year, Norseman left fielder JEFF SOPATA as the unsung hero and Santana outfielder CHRIS DIAZ as most improved.

East County Coach of the Year honors were shared by Valhalla coach STEVE PERDUE and Grossmont pilot ROB PHILLIPS. The two skippers played key roles in separate divisions while bringing home a SDCIF title in Divisions III and II, respectively.

Six players -- Griffin, Granite Hills pitcher ERIC KRAUSE, Valhalla pitcher-infielder RYAN O'SULLIVAN, El Capitan catcher AUSTIN RAUCH, El Cajon Valley CLIFTON THOMAS and Granite Hills outfielder BRIAN HUMPHRIES -- were repeat first-team winners.
---
Norsemen breakthrough
with first CIF title

East County Sports.com
SAN DIEGO (6-4-06) -- Three batters into Saturday's CIF Division III title game, thoughts of Valhalla's first-ever section title game appearance started to race through the minds of the Norsemen.

Two seasons ago, participating in Div. II at the time, an opportunity for a championship blew up in their faces when underdog El Capitan exploded for seven first-inning runs en route to a comfortable 8-2 decision.

"That wasn't going to happen again," noted starting pitcher BOBBY WILKINS, who has been fighting off a virus of late. "I was a little nervous, but then I came up strong."

As did the rest of Wilkins' teammates, who helped blank Cathedral Catholic the rest of the way as Valhalla stormed back for a 4-1 triumph and the school's first-ever San Diego Section baseball championship.

I haven't been feeling well -- you know, sore throat, feeling light-headed," added Wilkins. "But I came up with a pretty good game."

Wilkins allowed just four hits and struck out four in five solid innings of work, then the bullpen was equally impressive. ERIC JULIENNE held the Dons scoreless in the 6th, then freshman TREVOR FRANK came through with his third postseason save of the week, striking out the side in the 7th to complete Valhalla's run to the title through the consolation bracket.

"I just went out there with a lot of confidence," said Frank. "I wanted it so bad -- I just did it."

A high fastball resulted in the first strikeout. A curve painted the outside corner for a called strike three for the second out. Then a low fastball down and in capped Frank's workload for the week: 4 innings, 1 hit allowed, 0 runs allowed and 3 straight saves.

"I've never seen a freshman do what Trevor did," said Norsemen head coach STEVE PERDUE. "He's the most composed 'Give me the ball' freshman I've ever seen."

Cathedral utilized a one-out triple by Alek Diachenko and a sacrifice fly by Ted Kleist for a quick yet short-lived lead as Valhalla immediately answered with two runs.

With two out and a pair of runners in scoring position in the 1st, left-fielder JEFF SOPATA stroked a sharp 2-run single to left. TOMAS KARAGIANES and GREG GARCIA both scored for a 2-1 advantage.

"He threw his curveball but left it up -- I had a feeling he was going with the curve, so I was ready for it," noted Sopata. "Then we got some great pitching. We have a lot of depth there and that's what I like about this team: pitching and defense."
PAID ADVERTISEMENT

The East County BANDITS Baseball Club

We Congratulate Those Alumni Playing On
"Championship Saturday"

Grossmont Foothillers

Valhalla Norsemen

Trevor Berry*
Mats Matson*
Nick Sobel*
Devin Azevedo
David Frank
Garret Giles
Eric Julienne
Ryan O' Sullivan
Jeff Sopata

Cathedral Catholic Dons

Andrew Burrer*
Craig Dewitt*
Ted (Saints Killer) Kleist*

We Commend Those Who Made (Or Should Have Made)
The 2006 CIF-San Diego Section Baseball Playoffs

Christian Patriots

St. Augustine Saints

Matt Hart
Austin Murray
Dylan Graham
Kurt Ruppert (Injured)
Billy Smelko (Did Not Play)
Gunnar Terhune

El Capitan Vaqueros

Kyle King
Nick McCarthy

Steele Canyon Cougars

Joe Inzone
Cody Minich
* 2005 CIF Champion
Cathedral left two runners stranded in the 4th and 5th via the Norsemen defense.
Third baseman DEVIN AZEVEDO closed the first rally with a long throw from behind the bag for the third out. An inning later, first baseman DAVID SMITH extended to his right to knock down a hard grounder, then got up and beat the Dons runner to the bag.
Valhalla (26-10) immediately answered with two more runs to make life easier on the bullpen, when JASON KUTZLER (single to center) and Garcia (infielder chopper to second) added RBI basehits in the 5th.
"I'll take that hit because it got us a huge insurance run," said Garcia. "The score was still close, but those runs put us over the top."
Cathedral, the defending champion (as USDHS) finishes at 19-13. The Dons advanced to the final after downing Madison, top-seeded University City, then taking 2-of-3 ballgames from arch-rival St. Augustine.
However, Dons pitchers allowed three walks, with two of the runners eventually scoring, as three of Valhalla's four total hits drove home runs.
Foothillers repeat as CIF Div. II champions,
state case as San Diego Section's top ballclub
East County Sports.com
SAN DIEGO (6-4-06) -- One by one, nearly all of the top ballclubs in the San Diego Section fell by the wayside until only a single team was left standing.
The only top-seeded team to survive the playoffs in any division, the Grossmont Foothillers capped another championship season with an exciting 3-2 triumph in eight innings over Montgomery, capturing a second consecutive CIF Division II title. And there could be more.
With teams such as Torrey Pines, Vista and Ramona, among others, failing to even advance to Saturday's (June 3) finals at Tony Gwynn Stadium, the Foothillers could make the case to become the San Diego Section's top-rated team for the entire season when the final polls are released over the next few days. After closing with an impressive 11-game winning streak -- including a perfect 4-0 sweep through the postseason -- the case for the Hillers (26-8) is as good as anybody's.
While such matters are out of Grossmont's control, the Hillers took a firm grip on what they could control, utilizing excellent pitching and several key hits to finally nip the Aztecs for the second time in three weeks.
Following three innings of perfect relief by USD bound senior A.J. GRIFFIN, sophomore catcher DEREK BAUM fouled off a series of off-speed pitches to deliver a sacrifice fly in the bottom of the 8th, allowing another sophomore in BRYAN HAAR to race home with the title-clinching run.
"He was working the outside of the plate, but I finally got on top of one and put it in play," said Baum, who sent a third 2-2 pitch deep enough into right field for his first game-winning RBI of the season. "All of our games with Montgomery have been tough, but we somehow manage to find a way to win."
Twice in the late innings, Haar opened with a single, as Grossmont eventually loaded the bases with no outs in both the 6th and 8th. The first threat failed to snap the deadlock when the Hillers lined into an awkward double play, then Baum popped out to end the inning. However, he wouldn't let a second opportunity slip by in extra innings.
Haar stole second base, with a throwing error sending him to third. A pair of intentional walks loaded the bases, but the Aztecs (22-9) registered a strikeout before facing Baum.
"I thought we'd score at least one run in the 6th, so when I got to third in the 8th, I was getting really anxious -- I really wanted to score," noted Haar. "I was just getting ready to come running down the line as fast as I can."
Baum was also involved in Grossmont's other runs.
In the 2nd, his two-out grounder was misplayed by the Aztecs' shortstop for an error, allowing TREVOR BERRY (single and stolen base) to score from second base for a 1-0 lead.
In the 5th, Baum reached on an infield single to open the inning. JOSH SIMMS reached on a fielder's choice, but he scored on a booming double to the wall in right-centerfield by No. 9 hitter JUSTIN RUTHERFORD.
Meanwhile, Montgomery was held without a hit in seven of its eight at-bats, collecting all three of the team's hits when scoring twice in the top of the 5th. The tying run came home on a double play grounder, then Francisco Rios doubled and scored the go-ahead run on a basehit by Juan Moriel.
Otherwise, Grossmont starting pitcher TAYLOR WOHLWEND was solid in his five innings, striking out two and walking one. Wohlwend set down the first eight batters he faced, carrying a no-hitter into the 5th.
"I'm just so happy -- I love this team and I love everyone on it," said Wohlwend. "We weren't afraid, we were dedicated -- and now we're CIF champions."
Griffin was even better with three perfect innings of relief to gain the victory. Among the nine batters he faced, three went down on strikes, while left-fielder KYLE SECCIANI raced into foul territory next to the bullpen to make a nice sliding catch to end the 6th.
"I could've gone five innings, but I knew we were going to score," said Griffin, who collected two of Grossmont's nine hits. "I knew what my job was and I got it done."
The title was the sixth overall for the Hillers and the fourth under head coach ROB PHILLIPS.
"Unlike a lot of teams that were senior dominated, we had a lot of young guys take command all year long," said Phillips, who surpassed former Granite Hills coach GORDY THOMPSON for the most CIF titles by an East County coach. "That's something I love about this team."
Montgomery escaped from a bases-loaded situation in the 6th when first baseman Edgar Molina nearly caught a low liner ticketed for the right-field corner. Instead of making the catch, the ball was ruled as a one-hopper, so Molina fired home for the force out, then catcher Brandon Meredith went to third base for the double play.
"We got lucky there -- it was almost a triple play," noted Phillips.
Instead, Grossmont gets to go for a triple championship in 2007.

Thurs., June 1
CIF-San Diego Section Playoffs
Division II -- Championship
(At SDSU's Tony Gwynn Stadium)
FOOTHILLERS 3, AZTECS 2 (8 inn.)

MONTGOMERY
GROSSMONT

.
Moriel ss
Aguilar 2b
Meredith c
Molina 1b
Ayon dh
Spicer dh
Valdez cf
Mora lf
Rivera 3b
Torres ph
Rios rf

ab r h bi
4 0 1 1
2 0 0 0
3 0 0 0
3 0 0 0
2 0 0 0
1 0 0 0
3 1 1 0
2 0 0 0
2 0 0 0
1 0 0 0
2 1 1 0

.
Sobel 3b
Secciani lf
Haar ss-1b
Griffin 1b-p
Berry rf
Williams cf
Baum c
Kinsella pr
Simms 2b
Rutherford dh
Woehlwend p
Mason ss

ab r h bi
3 0 0 0
3 0 0 0
3 1 2 0
3 0 2 0
2 1 1 0
4 0 0 0
3 0 1 1
0 0 0 0
3 1 1 0
3 0 2 1
0 0 0 0
0 0 0 0

Totals 25 2 3 1

Totals 27 3 9 2

Montgomery (23-9)
Grossmont (26-8)


000 020 00 - 2 3 2
010 010 01 - 3 9 1

Two outs when winning run scored.
GWRBI-Baum (1).
E-Moriel, Sobel, Meredith. DP-Montgomery 2. LOB-Montgomery 2, Grossmont 8. 2B-Rios, Rutherford, Griffin. SB-Berry, Secciani, Haar.CS-Haar, Griffin, Moriel. S-Mora. SF-Baum.

Montgomery
Procopio L,7-4
Miller
Grossmont
Wohlwend
Griffin W,11-3

r
3
0

2
0

Procopio faced 1 batter in the 8th.
HBP-by Wohlwend (Rios), by Procopio (Sobel).
T-1:54.

Sat., June 3
CIF-San Diego Section Playoffs
Division III -- Championship
(At SDSU's Tony Gwynn Stadium)
NORSEMEN 4, DONS 1

CATHEDRAL CATH.
VALHALLA

.
Wilson 3b
Diachnko rf-cf
Kleist lf
Sandoval ss
Stphnsn dh-p
Cassolato c
Lawbgh p-1b
Bighames ph
Schultz 1b-rf
Case pr
DeWitt ph
Cheek 2b
Semenza cf

ab r h bi
4 0 1 0
4 1 1 0
2 0 0 1
2 0 0 0
3 0 1 0
3 0 1 0
2 0 0 0
1 0 1 0
2 0 1 0
0 0 0 0
1 0 0 0
2 0 0 0
0 0 0 0

.
Kutzler rf
Karagianes cf
GGarcia c
O'Sullivan ss
Sopata lf
ChThomas dh
DSmith 1b
DFrank c
Alfano pr
Azevedo 3b

ab r h bi
2 1 1 1
3 1 1 0
2 1 1 1
3 0 0 0
3 0 1 2
3 0 0 0
3 0 0 0
2 0 0 0
0 1 0 0
1 0 0 0

Totals 26 1 6 1

Totals 22 4 4 4

Cathedral Catholic (19-13)
Valhalla (26-10)

100 000 0 - 1 6 2
200 020 x - 4 4 0

GWRBI-Sopata (2).
E-Kleist, Sandoval. LOB-Cathedral 7, Valhalla 4. 2B-Karagianes, Wilson. 3B-Diachenko. S-Azevedo. SF-Kleist.

Cathedral Catholic
Lawbaugh L,2-1
Stephenson
Valhalla
Wilkins W,7-3
Julienne
TFrank S,5

r
4
0

1
0
0

T-2:00.
---
Valhalla's David Smith (left) attempts to score on an infield chopper by teammate Devin Azevedo (not shown). Mission Bay catcher Ian Chatfield makes
the catch and applies the tag, but the umpire ruled Smith got under the tag for an important insurance run in the seventh inning, although Smith suffered
the worse of it sliding into the unyielding shinguards of the 220-pound Buccaneers backstop.
(Photos by Gary Sopata)
Hillers, Norsemen eye SDCIF crowns
East County Sports.com
EL CAJON (6-02-06) -- Two East County teams will vie for a San Diego CIF division title on Saturday (June 3) at San Diego State University's Tony Gwynn Stadium -- "Championship Saturday" it's called.
Valhalla's Norsemen (25-10) qualified for a position in the Division III title bout after eliminating Mission Bay 4-2 in Thursday's (June 1) semifinals. Grossmont (25-8) earned a berth in the Division II final two days earlier and will face off against Montgomery (22-8) at SDSU at 4 p.m. Valhalla meets defending champion Cathedral (19-12) at 1 p.m.
Granite Hills wasn't so fortunate, as a last-inning home run at Fallbrook denied the Eagles a berth in the Division I final.
VALHALLA 4, MISSION BAY 2 -- A ballclub which has achieved less than its due all season learned how to become winners just in time.
The Valhalla Norsemen overcame earlier disappointments by completing a two-game road sweep of Mission Bay, capped by Thursday's (June 1) nail-biting victory, to advance to the final round for only the second time in the school's 33-year history.
"It feels great since we were able to reverse roles and jump on Mission Bay early," said center-fielder TOMAS KARAGIANES, who belted a solo homer in the 1st, then rapped an RBI single in the 2nd to jump-start the Norsemen to a 3-1 advantage.
"The last couple of times we played them, their pitchers were throwing a lot of first-pitch strikes, so I jumped on him early -- and it goes far."
Taking advantage of the anticipated fastball, Karagianes' second homer of the season sailed just to the right of the batter's eye in center field.
Such knowledge and adjustments by many of the Norsemen made up for earlier setbacks. In April, Valhalla lost to Santana, 6-5, in the finals of the Grossmont Conference Tournament. Then in May, they fell to arch-rival Granite Hills in a showdown to determine the Grossmont South League title.
Obviously, June blossomed without the gloom to eliminate the Buccaneers and end the high school coaching career of longtime Mission Bay mentor Dennis Pugh, who takes over the reins at the first-year program at Cal State San Marcos.
"We just haven't been much of a hitting team all season," noted Pugh, one of two San Diego Section coaches with 600-plus career coaching wins under his belt. "We had opportunities, but Valhalla's pitchers did a great job in shutting us down."
Norseman starter ERIC JULIENNE was strong in his five innings of work, allowing just one earned run to raise his record to 8-2 (and 21-3 for his career). Freshman TREVOR FRANK then did his "Hell's Belles" number in relief, garnering his second save of the week against Mission Bay after setting down six of the seven Bucs he faced, yielding only a two-out, infield single in the 6th.
"I could never throw like him," said older brother DAVID FRANK, the team's senior catcher. "He's got the arm and it's not the first time -- he's come through numerous times for us."
The elder Frank might be the team's biggest player in stature at 6-foot-4, 200 pounds, so he may have surprised Mission Bay's defense by twice putting down key sacrifice bunts which each led to a run.
Frank reach based on his initial bunt in the 2nd, safe on Mission Bay's second error of the inning. One out later, right fielder JASON KUTZLER scored on a throwing error -- miscue No. 3 of the inning -- to score DAVID SMITH.
Karagianes, who went 2-for-4 with a pair of RBI, followed with a run-scoring single for a 3-1 advantage.
The bottom of the Norsemen lineup again came through with a key insurance run in the 7th.
Smith opened with a double into the left-field corner, with Frank sacrificing him to third. DEVIN AZEVEDO followed with a chopper to the right side, as Bucs second baseman Courtney Morgan fired home. Catcher Ian Chatfield made the catch and tagged Smith, but the home-plate umpire ruled the Norsemen base-runner slipped in for the run.
"I tried to take out his legs," noted Smith, who was briefly shaken up after running into a pair of unforgiving shinguards. "I was just lucky to push my way through a hole."
The comeback to finish two consecutive road games reminded Smith of a similar exploit
"We were in the same situation when Cathedral (then USDHS) came to our place and took it to us," recalled Smith. "A lot of us were freshmen or sophomores at the time, but we remembered it and used it to our advantage."
Half of Mission Bay's six hits -- all singles -- were collected by Sequoya Stonecipher, the Western League player of the year.
"We were actually hitting the ball pretty well, but when the playoffs started it all went away again," said the junior rightfielder. "I don't know what happened, but it just wasn't there."
Mission Bay stranded 11 runners and was just 2-for-10 -- both hits by Stonecipher -- with runners in scoring position. Several of the Buccaneers also noted the absence of their No. 1 pitcher due to off-field circumstances as an emotional factor which may have aided Valhalla.
FALLBROOK 5, GRANITE HILLS 1 -- JAMES DAVIS sat in disbelief as he watched Fallbrook's Erik Castro circle the bases after swatting a walk-off grand slam home run with two outs in the bottom of the 7th inning to deal Granite Hills a stunning and season-ending defeat Thursday (June 1) in North County.
"This was a disappointing way to end the season," said Davis sadly, after his Eagles won 20 of their last 24 games to finish with a 24-9 ledger. "Yeah, I know we had a good season. But it could have been better. I really hate to lose."
The Eagles took a 1-0 lead on JOSH MILLER's fourth home run of the year in the 2nd inning. Senior southpaw GARRETT RUSSELL surrendered a solo homer to his pitching counterpart Mike Leake in the 4th that tied the game 1-1.
It remained that way until the bottom of the 7th.
Russell deserved a better fate, but a costly error gave Fallbrook footing in the decisive 7th. Consecutive bunt singles by Leake and Ryan Smith loaded the bases with nobody out for the Warriors (27-5-1).
At that point Davis replaced Russell with junior ace ERIC KRAUSE.
Fallbrook's Marcos Orozco worked the count to 3-0, but Krause refused to buckle. Orozco and the Warriors elected to attempt a suicide squeeze on a 3-1 pitch. The Granite Hills defense was ready as Krause fielded the bunt and flipped it to catcher TRAVIS TAIJERON for the force out.
"When the count rolled to 3-0, I thought, 'We're going to lose on a walkoff walk,''" Davis recalled. Obviously that didn't happen.
Krause got a second out as Cody Burgener popped up.
Castro took a Krause curveball for strike one. When the Eagles' junior right-hander elected to throw a second curveball, Castro was coiled and ready.
"The ball Castro hit was a home run to dead center field and would have gone out in just about any ballpark," said Davis. "Give him credit -- he hit it well."
It was Castro's 14th home run of the season, one shy of Granite Hills' Taijeron, the county leader.
Davis credited Russell "for dodging bullets all day long." The Warriors tagged Russell for nine hits, but wound up leaving 13 runners on base. "He was like Houdini out there," the coach said.
Granite Hills, which mustered only six hits against Leake (11-1), had a chance to break the tie in the top of the 7th. The Eagles loaded the bases when they sandwiched walks to AUSTIN COLEMAN and BILLY SYLVESTER around a single to LOUIS CAZARES. But Leake thwarted the Eagles' uprising with an inning-ending strikeout.
"Russell did a fabulous job in his last two starts," Davis said. "To come up here and pitch in this hitter's haven and allow only four earned runs in 12 innings is a credit to him. He gave up only dink hits all day in this game, and kept us in a position to win.
"Garrett is not going to blow you away but he proved that he knows how to pitch," Davis continued. "They didn't have very many quality swings against him. I'm just sorry we didn't have more run support for him."
Over and over Davis replayed in his mind what he could have done differently to help the Eagles come out on top.
"We went at them with our best horses, and they beat us with one swing," he said. "Even knowing that, it still hurts to lose. I hated using Krause in that last inning situation since he'd pitched in three games in a row. I asked a lot of him and I'm sorry that it did not end in our favor."
GRANITE HILLS
FALLBROOK

.
Queriones 1b
Humphries cf
Taijeron c
AColeman 3b
JMiller lf
Crawford dh
Cazares 2b
Sylvester rf
Rusasell p
Krause y p

ab r h bi
3 0 0 0
3 0 0 0
3 0 1 0
2 0 0 0
3 1 1 1
3 0 1 0
3 0 2 0
2 0 0 0
3 0 1 0
0 0 0 0

.
Borges 2b
Castro 3b
Burgener lf
Hecht rf
Mellano c
Murphy 1b
Leake p
RSmith ss
Orozco dh
Sanford cf

ab r h bi
5 0 1 0
4 1 2 4
3 0 0 0
4 0 1 0
3 0 0 0
4 0 1 0
3 2 2 1
4 1 3 0
3 1 0 0
0 0 0 0

Totals 25 1 6 1

Totals 33 5 10 5

Granite Hills (24-9)
Fallbrook (27-5-1)


010 000 0 - 1 06 3
000 100 4 - 5 10 1

Two outs when winning run scored.
GWRBI-Castro.
E-Cazares 2, AColeman, Leake. DP-Granite Hills 1. LOB-Granite Hills 5, Fallbrook 13. HR-JMiller (4) 2nd, solo; Leake (8) 4th, solo; Castro (14) 7th, slam.

Granite Hills
Russell L,7-2
Krause
Fallbrook
Leake W,11-1

r
4
1

1

Russell faced 3 batters in the 7th.
HBP-by Russell (Mellano).

VALHALLA
MISSION BAY

.
Kutzler rf
Karagianes cf
GGarcia 2b
O'Sullivan ss
Sopata lf
ChThomas dh
Coats pr
DSmith 1b
DFrank c
Azevedo 3b

ab r h bi
4 0 1 0
4 1 2 2
4 0 0 0
2 0 0 0
3 0 1 0
3 0 1 0
0 0 0 0
3 2 1 0
1 1 0 0
3 0 0 1

.
Sagun ss
Long 3b-p
Stonecipher rf
Cordeiro dh
Morgan 2b
Moran cf-3b
Santos 1b
Chatfield c
JMoore lf-p
Kelley p
Durkin lf-cf

ab r h bi
1 1 0 0
4 0 0 0
4 0 3 2
4 0 0 0
4 0 1 0
4 0 1 0
4 0 1 0
1 1 0 0
3 0 0 0
0 0 0 0
0 0 0 0

Totals 27 4 6 3

Totals 29 2 6 2

Valhalla (25-10)
Mission Bay (27-6)


120 000 1 - 4 6 3
100 100 0 - 2 6 3

GWRBI-none.
E-Azevedo 2, Long 2, Kelly, O'Sullivan. DP-Mission Bay 1. LOB-Valhalla 5, Mission Bay 11. 2B-Dossett. HR-Karagianes (2) 1st, solo. SB-O'Sullivan. CS-Kutzler, Coats, O'Sullivan. S-DFrank 2.

Valhalla
Julienne W,8-2
TFrank S,4
Mission Bay
Kelley L,9-3
Moore
Long

r
2
0

3
0
1

Moore faced 1 batter in the 6th.
HBP-by Julienne (Sagun). WP-Julienne.
T-2:07.
---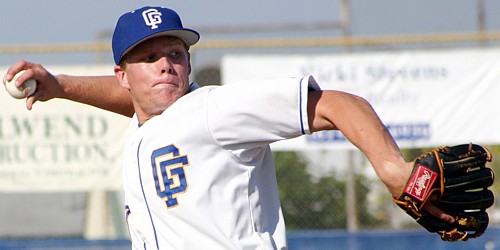 A.J. Griffin not only gained the pitching victory, he also belted a 3-run home run
to place the Grossmont Foothillers into the CIF Division II championship game.
(Photo by Greg Eichelberger)
See Photo Gallery (More than 70 images!) by Chris Edwards
HERE.
Record
onslaught gives Eagles a chance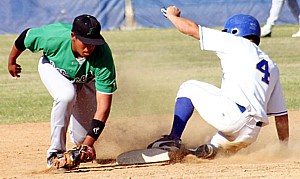 Grossmont's Augie Williams (top) safely slides into second base with the steal, but the Foothillers' A.J. Griffin does even more damage, flipping away his bat knowing he just slugged a 3-run homer to gain a berth in the CIF Division II championship game.
(Photo by Greg Eichelberger)
East County Sports.com
FALLBROOK (5-31-06) -- Granite Hills unleashed a record-breaking attack on host Fallbrook in Tuesday's (May 30) San Diego CIF Division I, fourth round playoff game.
Five Granite Hills home runs added up to a 16-8 victory over the second-seeded Warriors.
That outcome has set up a winner-take-all showdown on Thursday (June 1) between these two teams at Fallbrook at 4 p.m. The winner advances to Saturday's (June 3) Division I title bout at San Diego State's Tony Gwynn Stadium at 7 p.m.
Not unlike many games at Fallbrook's compact stadium, Tuesday's exchange turned into a home run derby.
BILLY SYLVESTER launched Granite Hills' five-homer assault with a grand slam in the opening frame that helped give the Eagles a 6-0 advantage.
That was only the beginning, however, as the Eagles (24-8) won their 11th game in 12 starts. Granite Hills' longball hitting exhibition led to a 16-1 lead in the 5th inning, which is startling considering Fallbrook was ranked No. 2 in the county.
"I think we definitely got their attention," said Granite Hills coach JAMES DAVIS. "Every ball we hit, we hit hard."
Included in those blows was TRAVIS TAIJERON's 15th home run of the season, a 3-run blast in the 5th. That home run tied the Granite Hills school record set by MARK McROBERTS during the 2000 season.
"Everybody knows this park is a hitter's dream, but the ball Travis hit over the trees was a true home run in anybody's park," Davis said.
Taijeron finished with 3 RBI, giving him 48 for the season and broke the Granite Hills record for RBI in a season (46, set by KEVIN JAMES in 2004). Taijeron has a chance to add to that record as he has at least one, if not two, more games to play this season.
Sophomore BRIAN HUMPHRIES hammered a double in the 1st inning, giving him a Granite Hills record 17 two-base hits this season. Humphries' mark breaks the previous Granite Hills record of 12 shared by the Padres' BRIAN GILES and Monte Vista vice principal DONNIE CARROLL.
Granite Hills, which has scored 29 runs in its last two games, also celebrated a milestone victory for pitcher ERIC KRAUSE. The junior right-hander, who gave up three earned runs and seven hits over six innings, struck out 10 en route to his 11th win in 12 decisions. The 11 victories ties Krause with a Granite Hills record for wins in a seasons with MIKE WILSON and RYAN O'COYNE.
It was also Krause's 20th career win, which tied him with O'Coyne for the Granite Hills career record.
Seven home runs in a game is nothing new at Fallbrook -- which has a 355 foot center field fence and 300 foot markers down the left and right field lines.
Fallbrook coach Matt Parker recalls having seen a 12-homer game during his brief career as the Warriors chief.
"The ball flies out at Fallbrook. I'm not going to deny that," Parker told the North County Times. "Give all the credit to Granite Hills -- they swung the bats, period. No excuses, we have to pitch better."
Two outs into the 2nd inning AUSTIN COLEMAN singled and rode home on JOSH MILLER's third home run of the season. CODY CRAWFORD followed with his fifth home run of the campaign.
Granite Hills' home run parade continued with two outs in the 4th inning, as Taijeron singled and scored on Coleman's home run.
An inning later two walks positioned Taijeron for his record-tying home run.
"I felt pretty good leading 16-1," Davis said. "But no lead is safe in this ballpark. It's a scary, scary field. It's so small and the wind blows out. It's a nerve-wracking field to play on. Anything hit in the air has a chance to get out."
The Eagles last won a Division I championship in 1998, and finished in a runner-up position a year ago. They'd like a chance to reach the winner's circle for the fourth time.
GROSSMONT 12, HILLTOP 1 -- For the fifth time in the last 10 years the Grossmont Foothillers have qualified for a berth in the San Diego CIF Division II finals. Grossmont (25-8) will face off against Montgomery (22-8) on Saturday (June 3) at San Diego State's Tony Gwynn Stadium at 4 p.m.
Once again senior A.J. GRIFFIN was the backbone of the Foothillers' elimination of the visiting Hilltop Lancers on Tuesday (May 30).
A seven-run 2nd inning decided the issue. A leadoff single by TREVOR BERRY, followed by an error in the outfield set the Foothillers' offense into motion. AUGIE WILLIAMS slashed an RBI single to left field, DEREK BAUM doubled down the left field line to put runners at second and third with nobody out.
Perhaps the biggest play in the game was executed by sophomore JOSH SIMMS, who laid down a squeeze bunt that allowed Williams and Baum to score. The big inning continued with two outs as KYLE SECCIANI walked and BRYAN HAAR singled up the middle to bring in Simms.
The crowning blow of the Grossmont uprising was delivered by Griffin, who drilled his fifth home run of the season over the left center field fence with two runners aboard to stake the Foothillers to a 7-0 lead.
Griffin pitched five shutout innings, rationing the Lancers (22-10) to three hits while striking out five and walking one. That effort was good enough to earn Griffin his 10th win in 13 decisions.
"Some people might question why I started A.J.," Grossmont coach ROB PHILLIPS said. "Plain and simple -- it was his turn in the rotation. The big thing is he only needed 57 pitches to complete five innings, so he is set up for five innings in the championship game."
Better than that is TAYLOR WOHLWEND, who defeated Montgomery 2-1 with a complete game effort earlier this month, is rested and ready to go in the finale.
Phillips, however, has not decided who his starting pitcher will be against the Aztecs with all the chips on the line.
Giving credit where credit is due, JUSTIN MASON pitched the final two innings to give Grossmont its 21st win in its last 24 starts in the game that eliminated Hilltop. Grossmont out-scored Hilltop 19-1 in dealing the Lancers back-to-back defeats.
Four Foothillers -- Secciani, Haar, Williams, and Baum -- put together multiple hit games at Hilltop's expense.
"We finished as section champions with a 26-8 record last year," Phillips said. "If we can beat Montgomery on Saturday, we'll match that record."
A victory would give Grossmont its fourth section title in 10 years.
"That's all you can ask for," Phillips said. "A chance to win a championship."
VALHALLA 4, MISSION BAY 1 ­-- One of the key players in Valhalla's drive to keep its season alive on Tuesday (May 30) at Mission Bay was senior first baseman DAVID SMITH.
Smith found two ways to badger the second-seeded Buccaneers (27-5) in the 4th round of the SDCIF Division III playoffs. He gave Valhalla (24-10) a 1-0 advantage with a well-hit bases-loaded sacrifice fly in the 2nd inning.
Then, in the bottom of the 7th, Smith used the leather to deny the Bucs what could have been a breakthrough inning.
Valhalla sophomore pitcher RYAN O'SULLIVAN, who sailed through five innings allowing only three hits, can thank Smith for making a victory-saving catch. O'Sullivan walked the first two Buc batters to begin the 7th, and that led Valhalla skipper STEVE PERDUE to call upon his freshman closer TREVOR FRANK to finish the job.
Frank retired all three batters he faced, but not without a brilliant diving grab by Smith that robbed Mission Bay's Ian Chatfield of a run and short-circuited a budding Buccaneers comeback.
"Trevor Frank is the most poised freshman I have ever seen," said Perdue. "To come in under those circumstances… he's oblivious to the pressure. He just says 'Give me the ball.' He's got icicle veins."
Perdue praised the defensive work of his defense in general and Smith in particular.
"That was a great play, probably the biggest of our season," Perdue said of Smith's grab.
Smith has been better than that, as in perfect. No errors all season.
"Our defense has been solid all year," Perdue said.
CHRIS THOMAS collected two of Valhalla's 11 hits. The senior designated hitter's bunt single in the 2nd set up a 2-run Norsemen rally that included Smith's game-winning RBI. Senior DAVID FRANK turned on the speed to avoid hitting into a double play that allowed the Norsemen to score a second run in that frame.
Thomas swatted a solo home run to make it 3-0 in the 4th.
"I put a pretty good swing on it," Thomas said.
A Mission Bay throwing error handed the Norsemen a fourth run in the 5th.
"We jumped on them early," said Thomas. "Ryan threw six pretty good innings, and we played great defense. It was the whole package."
The victory was the fifth in the last six games for the Norsemen ( 24-10), who are one win shy of appearing in their second SDCIF championship game in three years. The Norsemen have never won a section championship.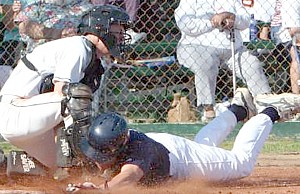 Patriots second baseman Colin McDonald (top) gains the force out on the Islanders' Max Weinfortner. However, the Coronado centerfielder gained his revenge, throwing a strike to catcher Blake Spitzer (bottom) to nail Chad O'Donnell at the plate -- one of two outfield assists in the ballgame by the senior.
(Christian High courtesy photos)
CORONADO 2, CHRISTIAN 0 -- A pair of mirror-like ballcubs matched each other with strong pitching and lukewarm hitting. But when the Islanders started making every defensive play in the book, including a pair of assists on plays to the plate by centerfielder Max Weinfortner, the Beach Boys earned a berth to Saturday's Div. IV title game against Santa Fe Christian.
"The little things killed us," explained Patriots coach MIKE MITCHELL. "We didn't make plays, while they made all of them, and I mean ALL of them."
Even San Diego Padres announcer Jerry Coleman may not have enough stars to hang on the Islanders' outfield, which started by a running grab in the gap by Alex Rowan in the second, then Weinfortner throwing strikes to Coronado catcher Blake Spitzer. The first prevented CHAD O'DONNELL from tying the game in the 4th; the second resulted in a double play when SHANE STANOVIC lined out with the bases loaded and no one out in the 5th, as AUSTIN MURRAY got erased at the plate.
"Really, you have to give a lot of the credit to Blake," said Weinfortner, who later charged toward the infield for a diving catch to end the 6th. "Both throws were off-line just a little, but he blocked the plate and got it done on both accords."
Meanwhile, Coronado (19-14) received strong emergency relief from two pitchers when starter Kyle Couture tweaked his back just two batters into the contest.
Reliever Ryland Gill entered and was tagged for a variety of line drives while allowing five walks over 3 2/3 innings, but he kept Christian off the scoreboard. Chas Marks tossed the final 2 2/3 frames, retiring all eight Patriots batters he faced for his first and most important save of the season.
Stanovic was the hard-luck loser despite allowing just four hits, but his teammates mustered just three safeties while committing three errors, including one which led to an unearned Islanders run scored by Spitzer in the 3rd.
"We didn't deserve to win the game, but Stanovic certainly didn't deserve to lose it, either," Mitchell said.
Coronado's other run came in the 4th immediately following Weinfortner's initial throw home. Leadoff batter Kevin Couture walked, was sacrificed to second and scored on a single to center by Benson Lorden.
"We hit a similar ball to center as Christian, but we scored the run and they didn't," noted Islanders assistant coach Jerry Brown. "We're not the biggest hitting team around, so we've had to do the little things like that to win all season."
ADAM PERRY registered an infield single for Christian (17-13) in the 3rd, beating the throw by out-racing Gill to the base. The other Patriots hits came an inning later when O'Donnell singled, but was cut down at the plate on a basehit by JIMMY DOSSETT.
GRANITE HILLS
FALLBROOK

.
Queriones 1b
Humphries cf
Taijeron c
AColeman 3b
JMiller lf
Crawford dh
Cazares 2b
Sylvester rf
Krause p
Omahen ss
Gay p


ab r h bi
3 2 0 0
5 1 1 0
5 2 2 3
4 4 2 1
3 2 2 4
4 2 4 3
3 1 0 0
3 1 2 4
2 1 0 0
0 0 0 0
0 0 0 0

.
Borges 2b
Castro 3b
Burgener lf
Murphy 1b
Mellano c
Hecht rf
Sanford p
Redo p
Crain p
RSmith ss
Leake cf

ab r h bi
3 2 1 0
3 3 2 3
4 2 3 2
4 0 1 0
4 0 1 0
4 0 0 0
2 0 0 0
1 0 0 0
1 0 0 0
4 0 0 0
3 1 0 0

Totals 32 16 14 16

Totals 33 8 8 5

Granite Hills (24-8)
Fallbrook (26-5-1)


630 250 0 - 16 14 5
100 040 3 - 08 08 1

GWRBI-JMiller (2).
E-Burgener, Queriones 3, Humphries, Cazares. DP-GH 1. LOB-GH 4, Fall 5. 2B-Humphries, AColeman, JMiller, Crawford. HR-Sylvester (4) 1st, slam; JMiller (3) 2nd, one on; Crawford (5) 2nd, solo; AColeman (3) 4th, one on; Taijeron (15) 5th, two on; Castro (13) 5th, two on; Burgener (8) 5th, one on. S-JMiller.

Granite Hills
Krause W,11-1
Gay
Fallbrook
Sanford L,5-1
Redo
Crain
Peters
Vandivork

r
5
3

9
2
2
3
0

HILLTOP
GROSSMONT

.
Pernicano 1b
Bringas 2b-p
CRsmssn 1b
Fariss 3b
Bowen p
Villalobos rf
ERsmssn ss
Kovaco dh
Koch lf
Goelze c
Barbosa rf-2b

ab r h bi
3 1 2 0
3 0 2 0
3 0 0 0
3 0 0 0
2 0 1 0
1 0 0 0
3 0 0 0
2 0 0 0
1 0 1 0
3 0 0 0
1 0 0 0

.
Sobel 3b
Secciani lf
Haar 1b-ss
AGriffin p-1b
Berry rf
Williams cf
Baum c
Mason ss-p
Rutherford ph
Simms 2b
Kinsella ph

ab r h bi
4 0 1 0
4 1 3 2
4 1 3 3
5 1 1 3
4 1 1 0
2 3 2 2
4 2 2 0
2 0 0 0
1 1 1 0
2 2 1 1
1 0 0 0

Totals 25 1 6 0

Totals 33 12 15 11

Hilltop (22-10)
Grossmont (25-8)


000 001 0 - 01 06 2
071 022 x - 12 15 0

GWRBI-Williams (2).
E-Bowen, Barbosa. DP-Gro 2. LOB-Hilltop 4, Gro 9. 2B-Bringas, Koch, Baum. HR-Griffin (5) 2nd, two on; Williams (5) 6th, solo. SB-Williams. S-Simms.

Hilltop
Bowen L,7-3
Bringas
Grossmont
Griffin W,10-3
Mason

r
8
4

0
1

HBP-by Bowen (Williams 2, Sobel).

VALHALLA
MISSION BAY

.
Kutzler rf-p
Katagianes cf
GGarcia 2b
O'Sullivan p-ss
Alfano pr
Sopata lf
ChThomas ph
DSmith 1b
DFrank c
Azevedo 3b
AGonzales 2b

ab r h bi
4 1 2 0
4 0 2 0
3 0 1 0
4 1 2 0
0 0 0 0
3 1 1 0
3 1 2 1
2 0 0 1
3 0 0 1
3 0 1 0
0 0 0 0

.
Sagun ss
Long 3b
Stonecipher rf
Cordeiro dh
Durkin lf
Morgan p-2b
Santos 1b-p
Stokes pr
Moran cf
Chatfield c
JMoore 2b-1b-p

ab r h bi
3 1 0 0
3 0 1 0
3 0 0 0
2 0 0 1
0 0 0 0
3 0 1 0
2 0 1 0
0 0 0 0
2 0 1 0
3 0 0 0
3 0 0 0

Totals 29 4 113

Totals 24 1 4 1

Valhalla (24-10)
Mission Bay (27-5)

020 110 0 - 4 11 0
000 001 0 - 1 04 2

GWRBI-DSmith (4).
E-Sagun, Santos. DP-MB 2. LOB-Val 7, MB 6. 2B-Kutzler. HR-ChThomas (1) 4th, solo. SB-Karagianes, Sagun, Long. S-GGarcia. SF-DSmith, Cordeiro.

Valhalla
O'Sullivan W,7-3
TFrank
Mission Bay
Morgan L,5-1
Santos
JMoore
Kelley

r
1
0

3
1
0
0

Morgan faced one batter in the 4th.
O'Sullivan faced 2 batters in the 7th.

CHRISTIAN
CORONADO

.
Perry cf
Stanovic p
Young ss
O'Donnell 1b
GMills dh
McDonald 2b
Dossett lf
AMurray 3b
Hart c
DMitchell rf

ab r h bi
3 0 1 0
3 0 0 0
3 0 0 0
3 0 1 0
2 0 0 0
2 0 0 0
3 0 1 0
2 0 0 0
1 0 0 0
0 0 0 0

.
Spitzer c
Weinfortner cf
Rowan lf
Gersonde 1b
Thorne ph-1b
KeCouture ss
Leary dh
Cepin dh
Bakr-Densn 3b
Englehart pr
Lorden rf
McMahon 2b
Pokorny ph-2b

ab r h bi
3 1 1 0
1 0 0 0
3 0 0 0
1 0 0 0
2 0 0 0
2 1 1 0
2 0 0 0
0 0 0 0
3 0 1 0
0 0 0 0
3 0 1 1
1 0 0 0
1 0 0 0

Totals 22 0 3 0

Totals 22 2 4 1

Christian (17-13)
Coronado (19-14)

000 000 0 - 0 3 3
001 100 x - 2 4 2

GWRBI-none.
E-Young, Spitzer, O'Donnell, McDonald, Thorne. DP-Cor 1. LOB-Chr 5, Cor. 6. SB-McDonald, Weinfortner. CS-Rowan, Baker-Denson, AMurray. S-GMills, Cepin.

Christian
Stanovic L,3-1
Coronado
KyCouture
Gill W,2-1
Marks S,1

r
2

0
0
0

HBP-by Stanovic (Weinfortner).
T-1:44.
---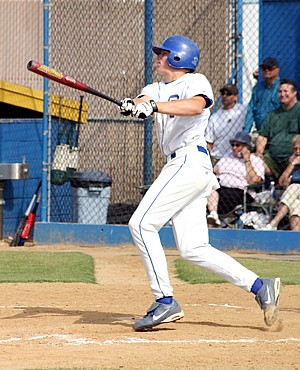 Nick Sobel (11) is congratulated following his leadoff homer in the first inning (top). Three batters later, A.J. Griffin goes deep with a 2-run shot, giving the Foothillers a 3-0 lead over Hilltop in Friday's game.
(Photos by Greg Eichelberger)
Queriones maintains Eagles' title hopes
East County Sports.com
POWAY (5-28-06) -- Faced with indecision and untested playoff-tested pitching, Granite Hills coach JAMES DAVIS rolled the dice and came up with JOSH QUERIONES as the Eagles starting pitcher in Saturday's (May 27) SDCIF Division I contest against Mira Mesa at Poway. BOXSCORE
Davis has been doing a balancing act with a youthful pitching staff all season. Queriones, a sophomore left-hander, did a noble job as the Eagles mauled Mira Mesa 13-5 to advance to Tuesday's (May 30) Round 4 of the playoffs.
Granite Hills (23-7) will travel to No. 2-seeded Fallbrook (26-4-1) in hopes of knocking off the Warriors in back-to-back encounters to earn a berth in the Division I championship game Saturday (June 3) at San Diego State's Tony Gwynn Stadium.
Queriones pitched 3 2/3 innings as a starter, and then after DARREN GAY got the final out in the 4th inning, returned to the mound to start the 5th. Thanks to quality defensive plays by JOSH MILLER in left field and BRIAN HUMPHRIES in center, Queriones got the first two outs in the 5th.
Obviously worn out from a spread out performance, Queriones issued back-to-back walks and then gave way to Gay, who retired the only batter he faced in the 4th. Ironically, Gay was awarded with his second win in five decisions.
Granite Hills batted around in the 4th and 5th innings, producing 10 runs to erase a 4-3 Mira Mesa advantage.
Queriones' triple into the right field corner drove in GARRETT RUSSELL with the go-ahead run in the 4th inning, giving Granite Hills a 5-4 advantage. Humphries added an RBI single, and TRAVIS TAIJERON banged a base hit that should have scored Humphries but the Mira Mesa third baseman was called for obstruction. That paved a highway to the plate for Humphries, giving Granite Hills a 6-4 lead.
Miller, who was 3-for-4 with 4 RBI and a triple short of hitting for the cycle, plated four runs for Granite Hills.
"We got off to a quick start and then struggled for awhile," said Miller, who has been a steady but under-the-radar contributor to the Eagles' success.
Miller capped a 3-run Granite Hills 1st inning with his second home run of the season. He doubled in a run in the Eagles' 5-run 4th, and then singled in a pair in the Eagles' 5-run 5th.
"Josh has done a good job swinging the bat for us," said Davis. "He's had some really key hits."
Miller is batting at a .366 clip with 19 RBI and 10 extra-base hits.
"I don't think there is a pitcher that we can't beat," Miller said. "We have an aggressive lineup and we know how to hit."
It was prom night for the Granite Hills seniors, who could have shined off Saturday's baseball endeavor, but that didn't happen. Four Eagles pitchers shared in completing the task, including ERIC KRAUSE and BILLY SYLVESTER.
The Eagles capitalized on five Mira Mesa errors along with five walks, three wild pitches and one passed ball to roll up the convincing victory.
"This will not go down as one of the finer games in Granite Hills' baseball history," said Davis. "We hit the ball well at the outset then we went into sleep-walking mode."
Mira Mesa starter Evan Kehoe (6-1) threw 41 pitches in the 1st inning, as the Eagles built a 3-0 lead. Queriones started with a walk and Humphries followed with a double. A passed ball allowed Queriones to score, and AUSTIN COLEMAN followed with a sacrifice fly to make it 2-2. Miller's home run gave the Eagles a 3-0 cushion that would not last.
Neither defense was consistent, as the Eagles committed four errors that handed the Crusaders two unearned runs. Five Mira Mesa miscues served up five runs for Granite Hills.
Davis pointed out the efforts of CODY CRAWFORD, who was 2-for-3 with a double, triple and a stolen base. Crawford's leadoff double in the bottom of the 4th inning came after Mira Mesa had gained a 4-3 advantage. The senior standout stole third and eventually scored the tying run on a wild pitch.
"I can't say enough good words about what he did in that situation," Davis said.
Six of Granite Hills' 12 hits went for extra bases.
VALHALLA 3, RAMONA 2 BOXSCORE -- The visiting Norsemen hardly stirred a ruckus with their offensive output in Saturday's (May 27) SDCIF Division III elimination game at Cathedral Catholic High.
As for pitching and defense, the Norsemen (23-10) were gold-plated as they took the bite out of the Bulldogs (23-8).
Valhalla coach STEVE PERDUE rolled the roulette wheel and came up with freshman closer TREVOR FRANK as the starting pitcher against Ramona.
Frank (4-2) was up to the task, as he allowed only four hits and two runs while striking out six in a 5-inning stint that awarded him his fourth win in six decisions. Sterling senior southpaw ERIC JULIENNE sealed the deal with two innings of shutout relief that sent the Bulldogs barking in the dark.
Frank, who was making only his third start, did not have long to mull over his sudden change of role.
"I haven't had a lot of starts," said Frank. "But all that stuff doesn't matter to me. I don't get real emotional or pressured, whether I'm in relief or a starter."
The Norsemen took a 1-0 lead on RYAN O'SULLIVAN's sacrifice fly.
But Ramona regained a 2-1 lead on an RBI single by Jon Houts and on a run-scoring double by Corey Vasquez in the 2nd inning.
Valhalla rekindled its offense in the 5th inning. DEVIN AZEVEDO sparked the comeback with a base hit. A Ramona error gave JASON KUTZLER safety, and the Norsemen duo executed a double-steal.
A groundout by TOMAS KARAGIANES scored Azevedo to tie the score 2-2 in the 5th. Another Mira Mesa error on a ground ball hit by GREG GARCIA allowed Kutzler to score what proved to be the winning run.
Ramona's James Meador, who came into the game with 13 hits in his last 15 at-bats, blasted a deep drive to dead center field in the 4th inning. In most high school ballparks it would have been a home run.
Valhalla centerfielder Karagianes probably didn't read that ground rule. The junior southpaw made a superb catch as he crashed into the wall.
"I don't know how Tomas caught the ball," said Perdue. "He reacts on contact but actually turned the wrong way. But he recovered in time to catch the ball."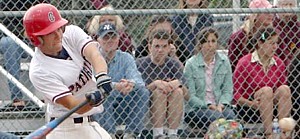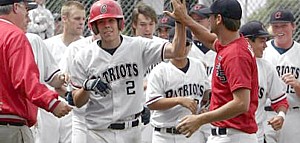 A waist-high fastball means trobule as the ball gets rocketed by the Pats' Austin Murray for a grand slam to erase The Bishop's from the Div. IV playoffs.
(Christian High courtesy photos)
CHRISTIAN 6, THE BISHOP'S 4 BOXSCORE -- AUSTIN MURRAY, who was not having a good day as Christian High's starting pitcher in Saturday's (May 27) SDCIF Division IV playoff elimination game, decided to take a different course to help his teammates.
Walks to EDDIE YOUNG, TAYLOR EICHHORST, and back-to-back base hits to COLIN McDONALD and JIMMY DOSSETT pulled the Patriots even with the Knights at 2-2 in the 3rd inning.
An inning later Murray proved himself to be a primetime player as he knocked a 2-1 pitch over the left field fence for a grand slam that gave Christian (17-12) a 6-2 lead it wouldn't lose.
"It's been 25 games since Murray has had a home run," said Christian coach MIKE MITCHELL. "He had two home runs in the first three games."
McDonald had a big day with two hits, a stolen base and an RBI for the Patriots, who will travel to Coronado (18-14) on Tuesday (May 30) in a must-win situation. Christian needs back-to-back wins over the Islanders to earn a berth in Saturday's (June 3) finals at SDSU's Tony Gwynn Stadium.
TODD JONES, the third Christian pitcher to take the mound, turned the tide for the Patriots. The senior right-hander arrived on the scene with two outs in the 3rd inning and dethroned the Knights over the final 4 1/3 innings, allowing three hits. Jones struck out three and walked one as he posted his sixth win against three losses.
"Todd was back on the mound today and pitching like he's capable of," Mitchell said. "And (senior catcher) MATT HART is starting to get hot -- he's starting to swing the bat a little bit."
Hart was 2-for-3 with a double for the Patriots.
---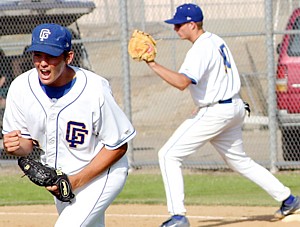 Taylor Wohlwend gives the fist-pump after Grossmont first baseman A.J. Griffin (right) makes the play to end the Hillers' win over Hilltop.
(Photo by Greg Eichelberger)
Hillers one win shy of reaching Tony Gwynn
Grossmont sophomore Kyle Secciani is safe when the ball skips away from Hilltop's third baseman
for a second-inning stolen base.
(Photo by Greg Eichelberger)
East County Sports.com
EL CAJON (5-27-06) -- Facing one of the top underclassmen in the San Diego CIF, the host Grossmont Foothillers struck quickly against Hilltop southpaw Craig Rasmussen in Friday's (May 26) Division II playoff action at Joe Gizoni Field.
NICK SOBEL swatted Rasmussen's first pitch of the game over the left field fence for his fifth home run of the season. KYLE SECCIANI followed with a base hit and one out later A.J. GRIFFIN hoisted a tape-measure shot off the right- center field barrier giving top-seeded Grossmont a 3-0 lead in the opening inning.
That would be more than enough for TAYLOR WOHLWEND, who silenced the visiting Lancers on five hits in a 7-0 Grossmont victory.
FREAKY FRIDAY -- The remaining five East County clubs that took the field in Friday's playoffs came up empty. Third-seeded Granite Hills fell at No. 2 Fallbrook 3-1 in a Division I game that was surprisingly low-scoring; West Hills blew a 7-1 lead and was eliminated by Point Loma 8-7 in a 9-inning Division II encounter; Valhalla dropped a 4-3 Division III decision at No. 2 seeded Mission Bay, while No. 4 El Capitan was eliminated by top-seeded University City 7-5; and third-seeded Christian was beached by No. 2 Coronado 7-5 in a Division IV contest.
GROSSMONT 7, HILLTOP 0 BOXSCORE -- The Foothillers (24-8) won their ninth consecutive game and earned a bye for the remainder of the weekend as they wait to see who they host next on Tuesday (May 30). That will be the winner of Saturday's Point Loma-Hilltop game.
Grossmont, the defending champion, needs one more win to qualify for the SDCIF Division II title bout on Saturday, June 3 at SDSU's Tony Gwynn Stadium at 4 p.m.
"We're in good shape right now," Grossmont coach ROB PHILLIPS said. "The key to this whole double elimination scheme is not to have to play on Saturday (an elimination round)." To a seeded team such as Grossmont, that means winning two games to reach the ledge where the championship ring is very much in sight.
Wohlwend, who had to get the final five outs in Grossmont's first playoff win -- an 18-13 free-for-all versus West Hills -- came back strong.
Phillips was concerned that Wohlwend would be winded in the later innings. If that was the case, it wasn't evident. The junior right-hander finished strong with his third complete game in nine starts. Not bad for a guy that was injured during the winter league season and barely heard the opening bell to the regular season.
"Taylor gave us what we needed and I can't ask for more than that," Phillips said.
Grossmont, which has won 12 out of 13, broke the game open with three runs in the 4th inning. The key hit was AUGIE WILLIAMS' two-run single.
TREVOR BERRY has played a major role in the postseason session for Grossmont with seven hits in eight at-bats and six RBI. The senior southpaw was 3-for-3 against Rasmussen (6-2).
"It's that kind of effort that we need in the stretch run," Phillips said of Berry's breakout. "He's locked in at the right time."
Beating up on Rasmussen is not common.
"He's no slouch," Phillips said. "But we made him work out there."
FALLBROOK 3, GRANITE HILLS 1 BOXSCORE -- Arizona State-bound Mike Leake and Granite Hills senior southpaw GARRETT RUSSELL locked up in a pitching duel at a venue known more for its wild, high-scoring games than pitching gems.
Leake was masterful as he permitted the usually heavy hitting Eagles (22-8) to only five singles en route to his 10th win. Leake also struck out 12 as Fallbrook (26-4-1) snapped the Eagles' nine-game winning streak while dealing them just their second loss in 17 games.
"If you would have told me we could hold Fallbrook to three runs, I would have taken it and expected to win," Granite Hills coach JAMES DAVIS said. "Games like this one don't happen very often at Fallbrook."
The Warriors scored first as James Borges singled and motored to third on Erik Castro's double in the 3rd inning. A wild pitch plated Borges.
Phil Hecht led off the 4th inning with his seventh home run to double the Granite Hills deficit. Later in that same inning, a balk gave the Warriors a 3-0 cushion.
"Russell did a great job for us against a really good team," Davis said. "He kept us in it, but their pitcher was a little bit better today."
An RBI single by AUSTIN COLEMAN in the 6th inning accounted for the only Granite Hills run.
Noting that the Eagles could meet Fallbrook for a second time in the playoffs if Granite Hills eliminates Mira Mesa on Saturday May 27), Davis stated "We'd like to get back up there again and get another shot at them."
MISSION BAY 4, VALHALLA 3 BOXSCORE -- After falling behind No. 2 seed Mission Bay 4-0 in the first three innings, the Norsemen scrambled back and made the most of four hits in Friday's (May 26) SDCIF Division III contest. The problem is, the Norsemen came up a run short and now must win in Saturday's elimination round against Ramona.
Valhalla's belated comeback began in the 4th inning when TOMAS KARAGIANES singled and scored one out later on RYAN O'SULLIVAN's third home run of the year.
The Norsemen closed the deficit to a single marker in the 6th. JASON KUTZLER doubled and advanced to third after walks to GREG GARCIA and O'Sullivan. JEFF SOPATA brought Kutzler home with a deep fly ball to right field. But the Valhalla offense stalled after that.
A costly error in the 3rd inning led to two unearned runs for Mission Bay, and eventually cost the Norsemen a chance at victory.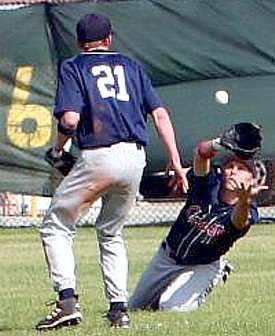 Patriots centerfielder Shane Stanovic makes
the diving catch to rob an Islanders batter.
(Christian High courtesy photo)
CORONADO 7, CHRISTIAN 3 BOXSCORE -- Former Coronado High coach MIKE MITCHELL, who is now the mentor of the Christian High Patriots, returned to the peninsula for Friday's (May 26) Division IV SDCIF playoff game.
Maybe the locals were glad to see Mitchell, but they were more focused on the Islanders (18-14) gaining a victory that would put them in position for a possible section championship.
Three critical Christian errors helped Coronado score four unearned runs that pushed the Patriots (16-12) into a must-win situation on Saturday (May 27) against The Bishop's, a team Christian defeated earlier in the week.
"The big thing was we got runners in scoring position, but our errors hurt us," Mitchell said. "And Coronado drove in four runs with two outs. They had four unearned runs in the 2nd inning."
Christian countered with three runs in the 3rd inning.
Slump-ridden MATT HART led off with a single to right and ADAM PERRY hit a ground ball into the hole between first and second base. The first baseman fielded the ball but the throw to first pulled the cover man off the base and Perry was safe. SHANE STANOVIC's bunt single loaded the bases and EDDIE YOUNG's single scored Hart. One out later GRANT MILLS smashed a ground ball up the middle to score Perry and Stanovic.
Unfortunately for the Patriots, that would be all the scoring Christian could muster.
Coronado workhorse KEVIN COUTURE (7-5) has probably logged as many innings as any pitcher in the SDCIF section. He was up to the challenge in this particular game as he turned in a complete game effort for his seventh win in 12 decisions.
Of the eight strikeouts Couture registered, six came with runners in scoring position.
"Whenever he made an out he sucked it up and managed to make the big pitches. He's a pretty darn good pitcher," said Mitchell.
Both teams finished with seven hits, but the Islanders made theirs count more than the Patriots.
GRANT MILLS was the hard-luck loser for Christian. Only two of the six runs he allowed in 5 1/3 innings were earned.
UNIVERSITY CITY 7, EL CAPITAN 5 BOXSCORE -- For the second time in two playoff outings the El Capitan Vaqueros were unable to protect an early lead in Friday's (May 26) SDCIF Division III playoff game at University City.
The picture looked clear for the Vaqueros in the first inning, as RBI singles by MILES REAGAN and JOSH ROYER staked El Capitan to a 2-0 lead.
However, the Vaqueros (18-13) suffered a pitching breakdown as the normally light-hitting Centurions of University City pelted two El Capitan pitchers for 10 hits.
The Centurions (24-6) generated back-to-back RBI doubles by Eddie Kalankiewicz and Shane Hockaday to forge in front 3-2 in the 2nd inning. Mitch McNamara smacked an RBI single, and El Capitan pitcher KYLE KING balked in a fifth run.
"Kyle didn't have his best stuff today," said El Capitan coach STEVE VICKERY. "He got distracted on a balk call. He's had so many great games this year, but today just wasn't his day."
Third-inning triples by Kevin Santos and Dexter Coleman plated two more runs for the Centurions.
That ended the scoring until the 7th. El Capitan attempted a belated rally as AUSTIN RAUCH walked and scored on a pinch hit two-run homer by CRISTIAN GARCIA. It was Garcia's only home run of the season. The remainder of the Vaqueros could not follow his lead, however, as the curtain fell on the 2006 season.
"It's all the little things," said Vickery. "To be a great team you need to know how to stop the big inning."
POINT LOMA 8, WEST HILLS 7 (9 inn.) BOXSCORE -- Wolf Pack second-year coach SCOTT "HOPPY" HOPGOOD stared in disbelief as he sat in the dugout following Friday's (May 26) SDCIF Division II dismissal from the playoffs.
"We should still be playing," Hopgood said. "We have a 7-1 lead going into the 5th inning with our best pitcher on the mound."
A seven-run 2nd inning propelled the Pack into a 7-1 lead. JOE MELLO chipped in a 2-run single, while starting pitcher AARON RICHARDSON contributed a single and a double, plus an RBI, a stolen base and a run scored.
"We were cruising after four innings with that big lead and Richardson on the mound," Hopgood said. "But Richardson ran out of gas in the 5th."
More than that, Richardson missed the target as he issued a walk and hit three batters to put the Pointers (13-16) in comeback position. Another walk and a critical throwing error added to Point Loma's game-tying rally. The big blow, though, was a two-run triple by Drew Callejon.
It was Point Loma's only hit in the 6-run 5th inning that tied the game 7-7.
"How can we let a team score six runs on us when they only get one hit?" Hopgood pondered.
That was definitely a momentum swing as the Wolf Pack folded its tent and eventually lost on an infield single by Bob Mago, a passed ball, and Phil Cobb's RBI single in the 9th inning.
This was a game that featured nine players hit by a pitch. Point Loma leadoff man Scott Heylman was plunked four times -- three times by Richardson -- and scored two runs.
"I don't know what the umpires were looking at, but that guy was leaning into pitches and trying to get hit," Hopgood grumbled. "I let the first two times go by but after that it got to be obvious to almost everybody."
With one exception.
"You know what I think about the umpiring and this game was no exception," Hopgood said. "We hit the ball well all day and we had our entire pitching staff available. This is so frustrating."
Richardson was 3-for-4 with two doubles and an RBI against Point Loma, and hit .700 (7-for-10) in the three playoff games.
"Richardson was on base all day," Hopgood said. "I think that caught up to him when he reached the 100-pitch mark."
By then it was too late.
---
<< Back